Dodger Thoughts:

Ned Colletti
November, 18, 2011
11/18/11
8:54
PM PT
Ramona Shelburne of
ESPNLosAngeles
hits on the conundrum of why it's okay for the Dodgers to spend big on Matt Kemp but not Prince Fielder and has a theory: that Frank McCourt is using Matt Kemp's lucrative eight-year contract as cover to keep the Dodger payroll low while selling the team.
It all relates to that question we keep coming back to: Does committing big bucks to a major free agent enhance or reduce the value of a franchise?
... Where this really gets interesting is when you listen closely to Kemp, Colletti and Stewart.

Stewart said Friday that Kemp told him he wanted to get this deal done as soon as possible so the team could make a run at the top free agents on the market, most notably Kemp's friend, Prince Fielder. Baseball's winter meetings are Dec. 3-5 in Dallas.

He also explained the Kemp agreed to take less in the first year of the deal to give the team more flexibility this winter.

"The ballclub needed flexiblity, Ned was clear in explaining that," Stewart said. "What was important really was the overall package for Matt.

"He's an unselfish kid. It's been his thought all along that he'd like to get somebody else there that they can put in the lineup that can help him, help the team win."

That all sounds wonderful until you listen again to Colletti, who said Friday that he "didn't know if it was going to be possible" to re-sign pitcher Hiroki Kuroda, and noted earlier in the week that the team wasn't likely to pursue free agents of Fielder's class and price range.

"Unless something changes, I think it looks less realistic," Colletti said. "I think we have to figure out other ways to produce runs."

There's no way Stewart and Kemp could have missed Colletti's previous comments or been unaware of the Dodgers financial issues as they go through this sale process. Remember, Colletti and Kemp are close now. They've repaired their relationship and talk often. Colletti and Stewart go back 30 years.

So you have to wonder whether something else is going on here.

Could Kemp and Stewart be ratcheting up the pressure on McCourt to give Colletti the chance to make a realistic run at Fielder? Or at least not be hamstrung with a budget smaller than last season's? ...
Read
the whole piece here
.
October, 7, 2011
10/07/11
2:56
PM PT
Dodger general manager Ned Colletti gave a long interview to Jim Bowden for
ESPNLosAngeles.com
. Some highlights:
...Matt Kemp is a priority, and I plan on getting with his agent, Dave Stewart, and will work diligently in trying to work out a long-term deal with Matt. There is some urgency because he'll be a free agent at the end of the 2012 season if they don't sign him long term now. Clayton Kershaw's situation is not as urgent because he's only first-time arbitration eligible and won't be a free agent until after the 2014 season. That doesn't mean we won't have conversations and listen, and if we can make a deal that makes sense, we will be open to it -- but not with the same urgency as Kemp.

... We will entertain signing (Andre Ethier) as well, but he's coming off an injury and a subpar season. ... I am not inclined to trade any player that is a key player to our major league club right now, and he fits that category.

... We really need a middle-of-the-lineup impact bat, which would be a very key component to us winning next year. We need to figure out second base. Carroll and Miles are free agents. Right now we have the two young players in Sellers and Ivan DeJesus that we might let compete for that job next year. We need to figure out left field as well, but we're leaning towards Jerry Sands, especially after the way he finished this season with us. Behind the plate, we'll probably let Tim Federowicz and A.J. Ellis handle the duties. They are both good catch-and-throw receivers. If Federowicz can hit .240 with some power, he can be an everyday catcher.

... And finally, although we're pleased with our deep young bullpen, we'd still be open to signing another veteran reliever, but that would be a low priority based on our other team needs.

... We have a need in the middle of our lineup, and if we could do the right deal with a player in terms of duration and money, we would be willing to do it. We have flexibility if we keep catcher, second base, shortstop and left field as non-arbitration eligible players like we have now, then it is definitely possible that we could afford to spend the money on a significant middle-of-the-order bat.

... Kuroda has bought a house in Los Angeles and both of his daughters go to school here. He is an extremely loyal person to both the Dodgers and the city of Los Angeles and really doesn't want to play anywhere else. We hope he decides to stay here because he's a very important part of our rotation and clubhouse.

... Our best prospects in our system right now are mostly pitching prospects, led by Zach Lee, who pitched at the Midwest league this past season but has a chance to be special. Allen Webster and Shawn Tolleson are two other top pitching prospects. Tolleson was our minor league pitcher of the year and a close friend of Clayton Kershaw. Steve Ames is another bullpen arm that we could see as early as next season. Chris Lee, our first round pick from Stanford, of course, is also special, and we're going to try to develop him as a starter.

... We're a lot closer to winning than people realize. If we had gotten just the typical offensive contributions this year from James Loney, Andre Ethier and Juan Uribe, who knows how many games we could have won. But injuries and subpar seasons are just part of the game. If we can make a few key moves this offseason and solve some of the question marks on this team that we've just been talking about, I really believe this club can finish in first in 2012.
There's more, so be sure to read the whole interview, as well as Tony Jackson's
five key offseason questions
and Ramona Shelburne's
own interview with Colletti
.
Also, don't miss the
Kamenetzky Brothers' podcast
with "Breaking Bad" star and longtime Dodger fan Bryan Cranston.
May, 9, 2011
5/09/11
3:55
PM PT
The news comes up again because Bradley, who has generated a .649 OPS and lots of angst in his two seasons with Seattle, has been
designated for assignment by the Mariners
, possibly signaling the end of his major-league career.
My purpose is not to talk about Bradley, who has been discussed here at great length, but just point out how rare it has been that Colletti has ever tried to repeat the method of this trade — exchanging a veteran in his 20s, at or near his peak value, for prospects that could contribute down the road. (Bradley was 27 and coming off a .835 OPS season when Colletti traded him for Ethier in December 2005.)
Looking quickly at the Dodgers' transaction logs on
Baseball-Reference.com
, I can't find one similar deal in the Colletti era. The closest might be the trade of Juan Pierre for John Ely and Jon Link before the 2010 season, but Pierre was already 32 and into his decline phase when the trade occurred. If you want to make a case to include this, I won't stop you, but I'm not sure it qualifies.
It might come as no surprise that a team that regularly contends for the playoffs, like the Dodgers have under Colletti, has arguably not made a single boffo trade for a highly regarded prospect — even one who could have as much near-term impact as Ethier, who was in the majors months after the trade. But it's interesting. We used to wonder whether Colletti would use any of the Dodgers' exciting young players to get a proven veteran — will he ever again use a proven veteran to get any exciting young players? It did work for him before.
* * *
Bud Selig
spoke
to ESPN 1050 AM radio in New York about the Dodgers today:
... Selig was asked why he approved the deal that sold the Dodgers to McCourt in 2004 in the first place. Ironically, Fox had held controlling interest of the club beforehand.

"I'll tell you what happened. There's a lot of history here, which a lot of people don't seem to understand," Selig said. "There were two other bidders. Fox was anxious to get rid of the team. They were all really anxious. I'll tell you what happened. There were a couple of groups: A group led by Dave Checketts and another group. And for whatever reason, they weren't around at the end, so Fox sold the club to the McCourts and presented them to us. So this idea that we ought to examine ourselves, there was nobody else. We have a long relationship with Fox. There were no other bidders." ...
Selig said that MLB has added former Pittsburgh Pirates COO Richard Freeman to its team monitoring the Dodgers.
* * *
Dodger minor-leaguer Dee Gordon can be seen scoring from first base with Roadrunner speed on a sacrifice bunt and an error, in this video posted by Mike Petriello of
Mike Scioscia's Tragic Illness
. Albuquerque Isotopes play-by-play man Robert Portnoy has the call.
* * *
From the In Case You Missed It file: the torpedoes have been damned, and
back-to-back outings for Hong-Chih Kuo have been approved
. Hope for the best ...
The trade of Milton Bradley (and Antonio Perez) for Andre Ethier has often been cited as a great, maybe even the greatest, achievement by Ned Colletti as a Dodger general manager. What was impressive about the yield is that everyone knew that Colletti was under orders from up top (with the support of much of the Dodger fanbase, it should be said) to unload Bradley, after the outfielder reached the point of no return in his tumultuous two years with the Dodgers. It was the kind of trade that could easily have netted a prospect that would never sniff the majors.
April, 26, 2011
4/26/11
4:09
PM PT
ESPNLosAngeles.com
:
Jonathan Broxton was told by Los Angeles Dodgers manager Don Mattingly on Tuesday that he is still the team's closer despite widespread media reports that the team had decided to go with a closer-by-committee approach in the wake of Broxton's blown save on Monday night against the Florida Marlins.

Mattingly saw one of those media reports, on the MLB Network, while working out on Tuesday morning and immediately decided to meet with Broxton to reassure him that the job was still his. That closed-door meeting, which also included pitching coach Rick Honeycutt, took place in the visiting clubhouse at Sun Life Stadium on Tuesday afternoon, a few hours before the Dodgers played the Marlins. The Marlins scored three runs off Broxton after two were out and nobody was on base in the ninth inning on Monday night to beat the Dodgers 5-4.

"I'm the closer right now, so I just have to go out there and continue to throw," Broxton said after the meeting. "I just have to turn the page. That is the big thing about closing or doing anything, setting up, relieving. You have to turn the page. ... [Mattingly] said he liked what he has been seeing and that I'm throwing the ball good. I just have to get back to that attack mode, especially with two outs."

Those media reports stemmed from comments Dodgers general manager Ned Colletti made during his weekly radio interview on Tuesday morning with KABC's Peter Tilden. Although Colletti never used the term "closer-by-committee," he did mention the names of at least two other pitchers -- Hong-Chih Kuo, who is on the disabled list but expected to return as early as Friday, and Vicente Padilla, who came off the disabled list on Friday and has since had one strong outing and one shaky one -- as possible closer candidates.

"I can't help but be concerned," Colletti said when Tilden asked about Broxton. "I'm one of those people who are pretty much concerned about everything anyway. I am concerned about him. Hopefully, we will get Kuo back Friday, and Padilla has been back for a couple of games. Hopefully, we can give Donnie three choices or so at the end of a game and let him make up his mind by matchup or whatever until Broxton can get his confidence back and get settled."

Contacted by ESPNLosAngeles.com, Colletti downplayed the implications of what he had told Tilden earlier in the day.

"I just said when we get Kuo back and Padilla back to 100 percent, it's going to give Donnie some options, depending upon matchups and the previous day's usage, things like that," Colletti said. "But that doesn't mean Broxton isn't the closer."

Both Mattingly and Honeycutt said Broxton wasn't available to close on Tuesday night against the Marlins, but only because he had pitched each of the previous two games. ...
Also,
Jackson reports
that Frank McCourt is meeting in New York on Thursday with MLB execs — but not commissioner Bud Selig.
Finally, Xavier Paul was claimed on waivers by Pittsburgh, where he'll be a teammate of Brandon Wood, recently claimed from the Angels, and former Dodger James McDonald.
Making more front-page drive-in news is Jonathan Broxton. An excerpt follows, but be sure to read the full story on Broxton's status from Tony Jackson at
February, 22, 2011
2/22/11
11:10
AM PT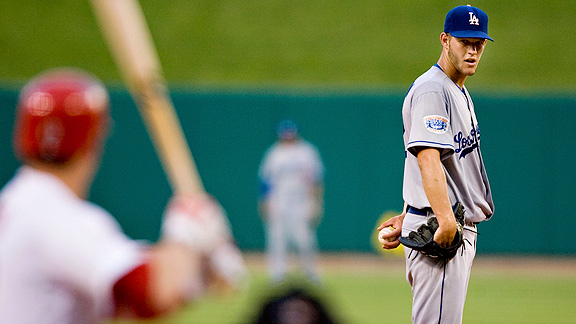 Dilip Vishwanat/Getty ImagesClayton Kershaw has struck out more batters before his 23rd birthday than any other Dodgers pitcher since Fernando Valenzuela.
Clayton.
Nope, not quite.
Kershaw.
Nope, not that, either. Not yet.
He's not a Fernando or a Sandy. Not even a Piazza or (for that brief, baggage-heavy moment) a Manny. He's not a "Bulldog" or a "Game Over."
He's still a plain old guy with two plain old names, with a humble personality to match -- a wolf in sheepish clothing.
If you say
Clayton Kershaw
is the best player on the Dodgers, you won't necessarily get an argument, but you might get a shrug. With disappointment still dripping from the team's 2010 season, "best player on the Dodgers" won't earn you much more than a patronizing pat on the head, maybe an extra juice box after practice. For now, anyway.
Sometimes it happens practically overnight, the way it seemed to with Fernando Valenzuela and Mike Piazza. Other times -- more often, really -- it's years in the making, as with Sandy Koufax, Orel Hershiser and Eric Gagne.
Either way, there's an explosion within reach for Kershaw -- oh, you better believe there is. He turns 23 on March 19, and soon after, he might turn Dodger Stadium back into a place where fans are racing through the crowds for their seats, the way they did for those transcendent heroes of the recent or distant past, for no other reason than to drool over his next pitch or exult in his supremacy.
If baseball is thinking outside the batter's box, it's reserving
Blake Griffin's Kia Optima
for this year's All-Star Game, just in case it's needed for Kershaw to drop one of his magic breaking balls through.
If that all seems a bit fast on the superlative train, if that locomotive seems to have some particularly loco motives, well, maybe so. Maybe we're getting ahead of ourselves. Maybe that train will never quite arrive.
On the other hand, consider that you have a prodigy who has steadily developed, steadily improved every step of the way since he was drafted by the Dodgers 4 1/2 years ago, a pitcher who has met every small step back with two great steps forward.
"If there's anything surprising," Dodgers pitching coach Rick Honeycutt told Dodger Thoughts about Kershaw, "it's at such an early age, the maturity of him and the way he goes about [his work]. He's really a true professional ... to the point that he's really one of those gems that just strives to be the best and is not satisfied with being anything less."
Rebound magnet
By the time he finished his first full season
in the minors
, in 2007, the Kershaw shorthand had been established: an uncommonly talented pitcher who would go as far as his control would allow him. His entire minor league career, which included not a day in Triple-A, lasted but 48 games and 220 1/3 innings, in which he had a 2.49 ERA and 11.3 strikeouts per nine innings. But, the walks ...
In 2007, Kershaw split time between Class A and Double-A. He walked 4.6 per nine innings at the lower level and a whopping 6.2 after his promotion to Jacksonville. In 2008, Kershaw reduced his Double-A walk rate by more than half to 2.8. A pattern had begun: lose control, but rein it in and blast forward. With an ERA in the low 2s, he knocked so hard on the major league door that the Dodgers had to open it, making him, at age 20, their youngest big leaguer since Edwin Jackson.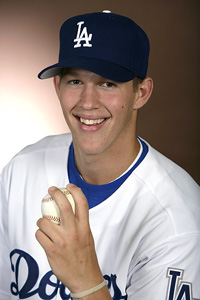 Jon SooHoo/Los Angeles Dodgers
Kershaw's first Dodgers mugshot
In his debut, Kershaw pitched six innings of two-run ball against Albert Pujols and the St. Louis Cardinals. Then he got knocked out in the fourth inning of his second start, in New York, walking four and needing 83 pitches to get 11 outs. Over his next six starts, he had a respectable 4.03 ERA and 7.4 strikeouts per nine innings. But he also was walking nearly as many as he was striking out; he didn't make it through six innings once.
"The bumps were command," Dodgers general manager Ned Colletti said. "Obviously, he's got a great arm and he's a smart kid and he's coachable, but command was the first issue -- rushing his delivery and just kind of being out of whack a little bit, and that happens with guys.
"When you're a [recent] high school player ... you've got to wait for the mental part to reach the physical part."
After a July 1 start, the Dodgers dropped him back to Jacksonville for a little more seasoning, but he was gone less than a month. And when he came back, he was back for good. The Dodgers stuck with him after a horrendous outing in Colorado -- three innings, 13 baserunners -- and he rewarded the faith with five consecutive quality starts, averaging more than six innings with a 1.45 ERA, striking out 29 and walking only nine.
Never after a setback has Kershaw failed to rebound -- and improve.
"His greatest strength is just his confidence," Honeycutt said. "He's got great ability, but ... he expects to do well. There's no fear in him. There's that part of him that wants the ball. He wants to go deep in the game. He wants to be one of the best.
"The other side of the coin for that strength is him learning himself better, in how he prepares his game."
After getting his postseason feet wet in 2008 as a reliever, Kershaw was on the Opening Day roster in 2009 and went through more of the same. In his
second start of the year
, he struck out 13 Giants in seven innings while allowing only a single walk and a single hit, a home run by Bengie Molina. The control issues still would flare up -- he walked four batters or more in 13 of his 31 starts -- but his season ERA fell from 4.26 in 2008 to 2.79 in 2009, and he led the National League in fewest hits per nine innings. In
Game 2 of the 2009 NL Division Series
, he held St. Louis to two runs over 6 2/3 innings, keeping the Dodgers alive for their dramatic, ninth-inning comeback victory.
But Kershaw faltered in the NL Championship Series. After shutting out the Phillies for four innings
in Game 1
, his fifth inning consisted of three walks and three wild pitches to go with a single, a double and a home run, a five-run collapse that reinforced in the general public's mind this was still a baby in a man's world. Next to cries for Jonathan Broxton's head or Manny Ramirez's testosterone tests, nothing was heard more from the peanut gallery than "The Dodgers need an ace."
Within a year, the Dodgers were out of the playoffs, but their ace had arrived.
Growth spurt
In his first start of 2010, Kershaw walked six batters in 4 2/3 innings. By the end of April, he had walked 22 in 29 1/3 innings. And then, on May 4 against Milwaukee, he was battered: 1 1/3 innings, seven runs. His ERA sat at 4.99, and numerous pundits suggested this might be the real Kershaw. Jon Heyman of
SI.com tweeted
:
kershaw may be regressing faster than billingsley. not sure. close competition. #howcanbradpennybebetterthanboth?
"There was a point [in May] last year," Honeycutt recalled of Kershaw, "where things were not going [as] well as he would like or we would like. He actually made a few adjustments, even in his 'pens, that we talked about. That's really when he started coming up with a smaller breaking ball. You can call it a slider ... [but] a shorter breaking ball that he could throw for strikes more consistently.
"There was more importance on commanding the lower part of the zone in his bullpens than just getting his work in."
Kershaw's next start was
May 9
against the hottest pitcher in baseball at that moment, Colorado's 26-year-old Ubaldo Jimenez, who had made six starts to that point and allowed four total runs. Kershaw outpitched him that day, nursing a 1-0 lead with eight shutout innings, allowing two hits and three walks while striking out nine. It was an arrival game.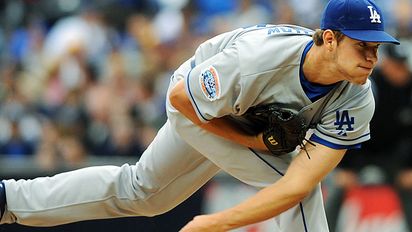 Christopher Hanewinckel/US PresswireKershaw worked his way through 204 1/3 innings last season, striking out 212.
Other gems followed, culminating in his first major league shutout. Kershaw had come close before, but finally in San Francisco on
Sept. 14
(a night the Dodgers had only one hit in nine innings), a complete-game, 1-0 victory was his. But more impressive than the individual highlights was the overall growing control. Starting with the Jimenez game, Kershaw's walk rate for the 26 starts that finished off his 2010 season was a career-best 2.95 per nine innings. Not coincidentally, he averaged a career-best 6 2/3 innings per start in that stretch. His ERA was 2.54, and opponents had a mere .277 on-base percentage and .303 slugging percentage against him.
"I just think experience helps," Kershaw told ESPNLA's Tony Jackson. "The more times you go out there, the more experience you get and the more confidence you get. I don't think it was a matter of walking a lot of guys because I had bad control. I was just trying to be too fine and not letting my stuff do its thing. Now, I'm just trying to go after hitters more."
Said Honeycutt: "I think again it was ... maturity and not just thinking you have to go 100 percent on every pitch. There's that fine line, pitching at that level and saying, 'I can throw at 90 percent and maybe be a little bit more under control and get the ball in an area a little bit better.'"
Gearing up for '11
No one, least of all Kershaw, thinks he has it made. For all his improvement and excellence, Kershaw had at least one start go awry every month of last season. Preparation for taking another two steps forward in 2011 -- ideally without the typical one step back -- has been at the forefront of everyone's mind.
"From [the] first time I talked to him [this winter], he had already been doing his conditioning," Honeycutt said. "He came out to Arizona and threw a couple of 'pens and just looked great already, just physically and arm-wise. ... He's very aware of where he wants to be and what we're trying to work on."
"It was mostly throwing changeups," Kershaw said, "because that is the pitch that is the toughest for me to get a feel for, so that's obviously something I wanted to work on. I also just worked on gaining strength and trying to get stronger.
"My high school [Highland Park] finally got an indoor facility. That was where the Packers trained before the Super Bowl. So that was awesome to have a place like that to work out in the winter time."
Kershaw's offseason has had some non-baseball moments of a grand scale: his marriage to longtime girlfriend Ellen in December, followed by a brief honeymoon and then a goodwill trip to Zambia in January. Any of this could have proved distracting, but Kershaw said he stayed on his offseason plan.
"I just took it with me," he said. "I threw while I was in Africa and got my work in. I worked out pretty much the entire winter except for the four days we were on our honeymoon in Mexico."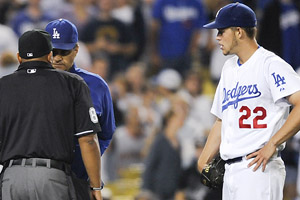 Gus Ruelas/APJoe Torre and umpire Adrian Johnson debate Kershaw's ejection after hitting San Francisco's Aaron Rowand with a pitch July 20.
With his ascendancy on the mound coupled by his growing maturity on and off the field, there's a ray of hope that Kershaw could become a leader in a Dodgers clubhouse that many say is crying out for one, especially from its newest generation. Kershaw, Colletti and Honeycutt all tamped that notion a bit, noting a pitcher is handicapped as a clubhouse leader by how often he plays relative to the position players.
"We have a lot of guys who have more experience than I do," Kershaw said. "For me personally, I just pitch. It's the only thing I can do."
"They're in two different realms most of the time," Colletti said of pitchers and position players. "But certainly from a pitching standpoint he can [lead]. And he's had great support, too, from the other guys. He and [Hiroki] Kuroda have been close since Kuroda got here. [Ted] Lilly and he hit it off right away. Lilly helped in his maturation process. So it's possible that he starts to take more of a leadership role."
In that respect, it might turn out that Kershaw's influence is felt less among the 25 men on the major league roster at any one time and more specifically on the minor league pitchers coming up through the farm system -- a group that as a whole suffered through a rocky 2010.
"We had this prospect camp in Arizona," Colletti said. "The major league guys know about it, but they're not required to be there. And he showed up. We had him address the prospects -- the other guys, the Withrows, the Millers, the Martins, the Eovaldis -- all those young arms. He addressed them a couple of times, and it was very interesting to hear this young man speak from the perspective of prioritization and work ethic, and on bringing the mental side of the game.
"He talked about how he came here and he thought he was pretty good right away, but how much he has learned and how much he continues to learn, to become as good as he can be."
Pitfalls and pinnacles
How good can Kershaw be?
He's already viewed by many as the Dodgers' best lefty since Fernando. To become the Dodgers' best lefty since Koufax -- to help boost the team above the early season predictions positioning it as an also-ran to San Francisco, to start a mania in Los Angeles -- Kershaw is going to have to become even more consistently excellent, avoiding the short start in which the runs suddenly pour across in bunches.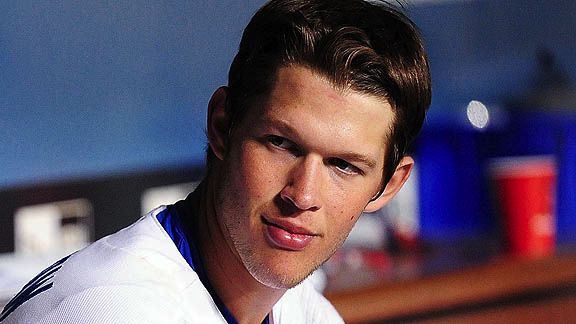 Gary A. Vasquez/US PresswireKershaw's career high for pitches in a game is 118.
"He's starting to get to the point where he's keeping his pitch count decent, starting a game out where the first inning isn't a lot of pitches," Colletti said. "Some guys, there's an excitement to coming out of the gate, and maybe you rush a few things here and there, maybe you don't warm up quite as thoroughly as you do when you're into the game."
Honeycutt said the Dodgers, who were extremely protective of Kershaw from a pitch-count perspective when he arrived in the majors, will continue to loosen their grip in 2011, bit by bit.
"He's definitely strong enough and has shown the ability to obviously go deeper," Honeycutt said. "With any starting pitcher, the game itself kind of dictates what you're gonna do, and not that we don't want him [to go long], but you still want to be conscious the whole goal is to keep him healthy for 32-34 starts and the postseason."
Following a tough inning, the Dodgers still plan to be conservative with Kershaw, but "when things are going smooth, you let it ride," Honeycutt said.
"He definitely has the ability to be a 120-125-pitch-type guy, where you don't have to worry about him coming back. He's gotten stronger, and his recovery over five days has been very consistent," Honeycutt said. "The main thing is be smart with him like we would anybody. ... I think you feel more comfortable about letting the reins loose."
In each of the past two seasons, a top young Dodgers pitcher suffered a prolonged, second-half setback: Chad Billingsley in 2009 and Broxton in 2010. With Kershaw still younger than either of those pitchers were then, it's hard not to consider that, even as the best is yet to come, the worst might arrive first.
"I don't think there's any way for predicting," Honeycutt said. "I still think a lot of Chad's situation was he was a little tight there around the All-Star break, and then he had a hamstring injury right after the break, so there were some physical issues there. Obviously, Broxton being a reliever, it's a little bit different. ... It's trying to be very conscious of where each individual is. Each is gonna hit little walls. What's tougher I think sometimes for a young guy is that communication process of knowing exactly what's happening.
"I think [someone who's] more of a veteran guy might have a light side in between starts. Derek Lowe, a lot of times as the season went on, would be, 'I'm not gonna do a side this time. Just let my body recover.' ... But there's no perfect formula."
Heir to the throne
If it all comes together for Kershaw, if he becomes a
Clayton
or a
Kershaw
(or gets a nickname besides the one launched on Dodger Thoughts, "Minotaur," that isn't based in a superstitious fear of him becoming more myth than legend), the one thing no one seems to worry about is the lefty's ability to thrive amid the attention.
The fans want someone to love. Kershaw can handle the love.
"He's had quite a bit of attention already," Honeycutt said. "We've thrown everything at him already, coming up as a 19-year-old and being a starter in the playoffs [at age 21], those are advancements that you just don't throw on anyone unless you feel he can handle them. In my view, he's handled things extremely well.
"He's the type of guy that always seems to want a challenge. Some people like to shy away from a challenge, but the great ones want those head on. ... He puts the team first, which has been a real plus to him from the start. It hasn't been about him, but it's about how [he] can help the team."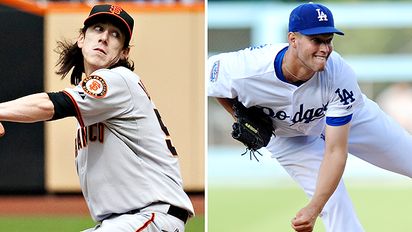 Icon SMIThe Opening Day showdown: Lincecum versus Kershaw.
It's not as if Kershaw is some robot that pays no mind to his surroundings. But the subtext keeps coming back: maturity and perspective.
"I wasn't in awe, but definitely, the first time I got in here, it was different," Kershaw said of his comfort zone in the majors. "You don't really look at these guys as your teammates at that point. We had guys like Jeff Kent here, a lot of guys like that. But over time, the more familiar you become with something, the more comfortable you get with it."
On March 31, Kershaw will take the mound in the first game of the 2011 major league baseball season, in front of a yearning Dodger Stadium crowd and a national television audience, against the defending World Series champions and two-time NL Cy Young Award winner Tim Lincecum. If Kershaw loses, you can put the fanfare on hold.
But if he wins, and wins impressively, then get ready, Los Angeles. Just get ready.
February, 17, 2011
2/17/11
3:38
PM PT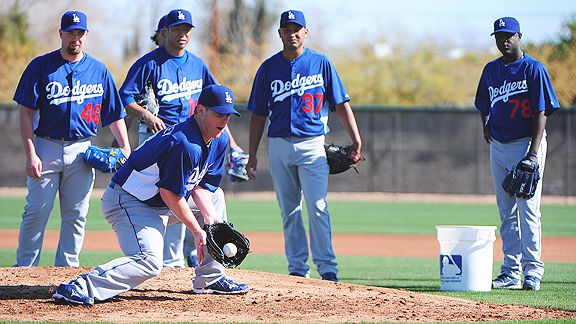 Kyle Terada/US PresswireChad Billingsley is digging fielding practice today at Camelback Ranch.
Friend this ...
February, 14, 2011
2/14/11
7:27
AM PT
To extend, or not to extend – that is the question.
One part of my recent interview with Ned Colletti that I couldn't work into
the main story
was his thoughts about offering multiyear contracts to younger players before they become free agents. Here's what he had to say: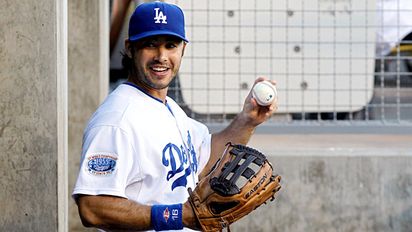 Ric Tapia/Icon SMIAndre Ethier was arguably the only arbitration-eligible Dodger who didn't decline in 2010 after receiving a multiyear contract.
"You have to have some predictability to performance," Colletti said. "Usually, clubs gain a benefit from going multiyear, and it's got to be seen as that from the club's perspective, because you're not guaranteeing performance. All you're guaranteeing is the financial end of the equation.
"If the right situation presents itself, where the guy's in the right place in his career, his life and his priorities, and there's a savings a club can realize, then it's worth doing. But if only the first part's there, that we're gonna pay on the guy maximizing (his performance), there's really no reason to do it – let him go out and do it every year. Some guys who are flawed in an area or who don't possess everything they need, the agent will ask you to pay as if that
is
occurring, in the event that it does."
In short, Colletti needs confidence that the player is going to stay on track performance-wise, and he needs there to be some savings for making the guaranteed payment. The Dodgers need to get some rebate in exchange for the security that they're offering.
That being said, Colletti said that Clayton Kershaw is the kind of player for whom a multiyear deal might make sense, but that the process wouldn't begin until next winter, when he first becomes eligible for arbitration.
"It'd be something we may think about as this year unfolds and we get into the offseason," Colletti said. "Not this spring. He's got four more years here."
That might appropriate to some, too casual to others. Let's take a closer look.
Colletti signed three key arbitration-eligible players to multiyear deals before the 2010 season – Andre Ethier, Matt Kemp and Jonathan Broxton – and based on 2010 performance, Colletti might well regret two of those contracts. He's also probably quite pleased that he didn't go multiyear with Russell Martin, and not really worried that he hasn't done so with James Loney,
who signed his latest one-year deal Friday
. Perhaps he should have bought low on Chad Billingsley last winter. (I would have, but I would have also wanted to do so on a lot of the other guys.) In general, recent experience has probably made Colletti even more wary in discussing them with other players.
Here's a snapshot of the salaries for the players we're talking about over a four-year period (multiyear deals in bold, Martin's Yankees salary in parentheses):
| Player/Year | 2008 | 2009 | 2010 | 2011 |
| --- | --- | --- | --- | --- |
| Billingsley | $415,000 | $475,000 | $3,850,000 | $6,275,000 |
| Broxton | $454,000 | $1,825,000 | $4,000,000 | $7,000,000 |
| Ethier | $424,500 | $3,100,000 | $6,000,000 | $9,250,000 |
| Kemp | $406,000 | $467,000 | $4,000,000 | $7,050,000 |
| Kershaw | | $404,000 | $440,000 | $500,000 |
| Loney | $411,000 | $465,000 | $3,100,000 | $4,875,000 |
| Martin | $500,000 | $3,900,000 | $5,050,000 | ($4,000,000) |
Note that Billingsley got a 63 percent raise for 2011 following a well-regarded season, and Loney got a 57 percent raise for a season considered a disappointment. That gives you some guideposts for the following speculation:
Not signing Billingsley to a multiyear deal in 2010 might have cost the Dodgers a few hundred thousand bucks this year. But not signing a multiyear deal in 2009 might have saved the team money in 2010.
The two-year deal in 2010 for Broxton probably cost the Dodgers more than $600,000 for 2011. With a three-year deal in 2009, perhaps they would have broke even, though that involved more risk.
Ethier's two-year deal has probably saved the Dodgers a little bit of money; a three-year deal in 2009 might have saved them a bit more.
With Kemp, I'm honestly not sure that going year-to-year would have made much of a difference. His 2011 salary appears higher than it otherwise would have been, but that might have been a case of backloading the contract, because the 2010 salary looks a little low. Kemp's 2009 performance was stronger than Billingsley's, and that's not reflected in the $150,000 difference between their 2010 paychecks.
Going year-to-year with Loney probably saved the Dodgers money, but less than $1 million.
Martin, of course, is where the big savings comes – if he had signed a multiyear deal in 2009, he might have been paid an extra, say, $2 million last year. And if it had been a three-year deal, the Dodgers might be paying Martin $8 million this season. Only if Martin has a whopping comeback will the Dodgers regret this.
Given that Colletti didn't have a crystal ball, it's hard to complain much about how he's handled things. The decision to show restraint on Martin has arguably saved the Dodgers $6 million, which more than covers any fringe costs with Broxton, Billingsley, Ethier or Kemp. The only way this would be reversed is if one of those four or Loney has an MVP or Cy Young season, and you're then fretting that the Dodgers haven't bought out some of their free-agent years, the way Colorado has with Troy Tulowitzki or Carlos Gonazlez. We should be so unfortunate.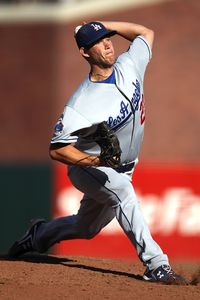 Brad Mangin/Getty ImagesClayton Kershaw, nearly four years younger than Tim Lincecum, had a lower ERA than the Giants ace in 2010.
That brings us back to Kershaw, who becomes eligible for salary arbitration after this season and eligible for free agency after 2014. (Gosh, that seems so nice and far away right now.) How urgent is it for Colletti to lock Kershaw up for multiple years? It would sure feel nice, but you can't say there isn't risk.
Let's turn to the contract status of arguably the reigning young aces of each league (at least until Kershaw decides to do something about it).
One year ago Saturday, Tim Lincecum signed a
two-year, $23 million contract
(plus incentives in the thousands). The deal came after Lincecum and the Giants were
$5 million apart
– $8 million vs. $13 million – in their 2010 arbitration filing. It didn't come close to addressing his free-agent years; it just was a hedge against what Lincecum might have earned going year-to-year. Hypothetically, if Lincecum had settled for a 10.5 million salary in 2010, he might have been looking at something like $17 million this year, making for a total in the neighborhood of $28 million. (Though Lincecum slipped a bit in the 2010 regular season, his postseason performance would have helped rectify matters.)
Put one way, the Giants a year ago risked committing $13 million in 2011 salary in order to save about $5 million. That's some high-stakes Mahjong.
Over in the American League, Felix Hernandez and the Seattle Mariners played things differently. After earning $3.8 million in 2009 and facing a $4.3 million gap in salary arbitration filings ($7.2 million vs. $11.5 million), Hernandez signed a
five-year, $78 million pact
that locked away his first three years of free agency (2012-14). The contract averages $15.6 million per year for five years, $19.3 million for the three free-agent years. Again, there's no mistaking the double-edged sword: You can assume that $58 million for three years wouldn't have cut it for Hernandez after this season, but the risk is catastrophic if something goes wrong.
I think it's pretty clear where my sentiments lie with Kershaw – I'd sign him to a multiyear contract tonight – but you can understand why Colletti might hesitate or procrastinate. For another example, look how quickly opinions turned on Eric Gagne before his multiyear deal vs. after he got hurt. It's harder to stomach paying big bucks for an injured player than it is to pay bigger bucks for a healthy superstar.
On the other hand, better Clayton Kershaw than Jason Schmidt.
In my head, I can understand the patience, as much as I believe it should be done.
February, 7, 2011
2/07/11
1:20
PM PT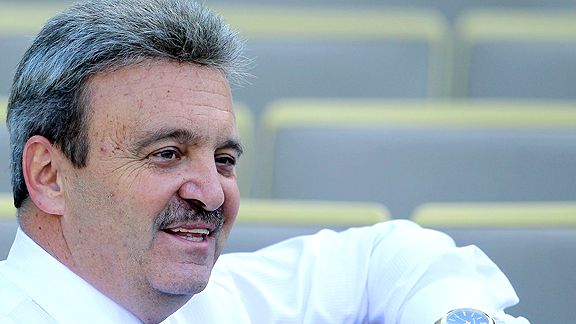 Jeff Gross/Getty ImagesNed Colletti is beginning his sixth season as Dodgers general manager. The team has averaged 86 regular-season victories during his tenure.
Ten days.
The Dodgers rose from the basement of the National League West in May to the best record in the league in June, then sat only two games out of first place in the division at the All-Star Break.
Yet as far as Dodgers general manager Ned Colletti was concerned, it was almost a mirage. During an interview at his Dodger Stadium office last week, Colletti fully acknowledged that the Dodgers' second-half fade, as much as he and everyone else tried to reverse it, came as disturbingly little surprise to him.
Ten days. In Colletti's view, that's how long the Dodgers played championship-quality baseball in 2010.
"I think the second half, in a lot of ways, was the result of the first half and the spring," Colletti said. "I can't say I had more than a 10-day period where I thought we were truly playing as well as we could play. In '09, we had a pretty good defense, and we executed, played well in clutch situations, found a way to win games. We really hadn't done that very much in the first half of the season. And I think it caught up with us in the second half.
"And what I did last year wasn't acceptable. How I prepared for last year didn't meet the results that I have for myself."
The Dodgers will arrive to spring training later this month, in many ways, a different team than a year ago, starting with a greater emphasis on starting pitching that represents Colletti's most visceral response to his roster concerns from 2010. At the same time, Colletti said the experience the returning core gained from last year's disappointment has the potential to play a significant, positive role in 2011.
"They're professional, and this is their livelihood," he said. "And you believe there's enough pride and adjustment and education from this past year. A lot of guys haven't gone through what they've gone through in the past year. That will put them in the right place coming in to know it's got to be better and it's got to be more focused.
"Because they've (succeeded) before, I'm confident. But then, last year was what it was. I'm cautious by nature. I take nothing for granted, at any point in my life at any stage. So I don't take it for granted that it's just gonna happen. I think it has to be prepared in order to happen.
Translated, Colletti believes the talent is there but the effort, focus and confidence need to return. He said the offseason preparation "is done to some point, and when you get to camp now it's going to be up to Don [Mattingly] and his staff to have certain procedures in place and certain accountability set forth. And I obviously have to support that, and they have to buy into it."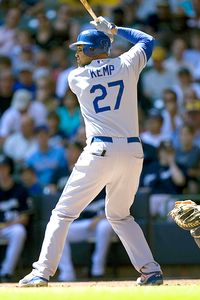 Jeff Hanisch/US Presswire
Matt Kemp had homered once in 31 games prior to hitting one out in each of his final five games of 2010.
Comeback kids?
Despite leading Dodgers regulars on offense, Andre Ethier never fully seemed to recover from the pinky injury he suffered in May and fed doubts about his long-term ability to hit left-handed pitchers (.625 OPS against them in 2010, .681 for his career). James Loney went from decent before the All-Star Break (.803) to disastrous after (.616). Jonathan Broxton's second-half collapse is as well-documented as anyone's, and Matt Kemp ... well, let's just say his season could have been the inspiration for what made Linda Blair's head spin in "The Exorcist."
The question, Colletti agreed, is which of the players will hit a hurdle in their development in 2010, and which have hit a wall. And it's a question that's due for an answer. Mulligans that were handed out last year won't be found so easily or at all in 2011.
"In the past, I've been more patient than open-minded," Colletti said. "I think that one of the toughest characteristics you have to have in these jobs is patience because everybody expects everything to turn overnight. … It doesn't work that way. Everybody's human; these guys are all human. They take maturation, physical maturation, all kinds of processes.
"I won't be able to be just completely patient with it [this year]. We're not an old team, but we're not a team overwhelmed with rookies, either. We have experience, and a lot of our players have been to the postseason at least twice and sometimes three times in the last five years. So it's there, it's really kind of going back to that point and being focused about it and passionate about it and tough-minded about it."
It might surprise people to learn that Colletti seems particularly bullish about Kemp, the target of a radio critique by Colletti in April.
"I think probably from middle of August on, things became a little bit more focused for him," Colletti said. "He and I had a conversation, probably in August, that was really a man-to-man, heart-to-heart, one-on-one conversation. And I was trying to take some of the weight off. I think he understands it; I think he understands what transpired last year. I think from my conversations this winter, from the last month of the season and this winter, I think he understands more than he did a year ago about himself and about the game, about preparation. So I think he's got a chance to really have a great year."
It's possible Colletti might have said the same thing about Russell Martin, except Martin is no longer around. The circumstances of the Dodgers' decision to let Martin go rather than offer him salary arbitration weren't discussed, but Martin's
recent offseason comments
about "distractions" that affected him led to a broader comment from Colletti about the difficulty of playing in Los Angeles.
"Sometimes, it's commitment, prioritization and commitment," Colletti said. "I read what Russell said, but I don't know what the true context was or what his underlying thoughts were as to why he said it. ... There are a lot of distractions in this city. There's a lot of different things to be doing, a lot of places your mind can wander off to, but if you're a professional baseball player, if you're a Dodger, you've got to figure out life. ... And it's not easy to do it."
Without going into many specifics, Colletti indicated that the ability to play in Los Angeles is a factor in some trades of young players he has made. He called Carlos Santana the prospect he regrets parting with "probably more than anybody" before he added that there were a couple of other guys he would have to wait and see on.
"Again, Los Angeles isn't for everybody," Colletti said. "Sometimes we make a move on a player because we know in this environment here, they're not going to be very good in it."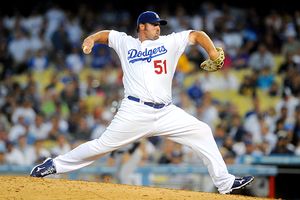 Chris Williams/Icon SMI
Jonathan Broxton issued 25 of his 28 walks last season after June 23.
Pitching paradoxes
As for Broxton, count Colletti among those who see his second-half crumble as an issue of confidence, rather than health problems that might have been caused by his 48-pitch tar-and-feathering against the Yankees last June.
"He never complained," Colletti said. "And at the end, he wasn't thrilled with it, but I said, 'Jonathan, I need you to take a complete physical -- your arm, your shoulder, your elbow.' A week to go in the season. And he said, 'I feel great. I don't need to do it.' And I said, 'I need you to do it.' So he said, 'I'll do it,' and everything came back clean."
Colletti is aware of the volatility of relief pitchers, comparing them to great goaltenders who can go through "a month or two where they can't stop anything." But this awareness cuts both ways. It leads Colletti to give relievers who have performed in the past long leashes, and it compels him to have as many alternatives on hand as he can, as seen through the acquisitions of set-up men Matt Guerrier and Blake Hawksworth and oblique references to No. 6 starter Vicente Padilla's potential to close games.
Again, however, Colletti believes that at rock bottom you can often find a trampoline. Look no further than Chad Billingsley, banished from the Dodgers' starting rotation by the end of 2009 before rising anew last season.
"Most of our young players did not experience a lot of failure as young players, minor leagues [or] early in the big leagues," Colletti said. "They really didn't struggle. And when it finally hits you, and you do struggle for whatever reason and you're doing it in front of 45,000 people in Los Angeles all the time, on television every day, that's a tough time to struggle for the first time, for the really first time, and be able to come out of it."
Interestingly, Colletti's faith in failure recovery played a partial role in what many believe is the Dodgers' greatest weakness heading into this season: the lack of a bona fide left fielder.
Angst in the outfield
This winter, the Dodgers didn't bid on the two marquee outfield free agents, Carl Crawford and Jayson Werth, and you can safely conclude that was a reflection of their overall contract demands and the Dodgers' budget. But when it came to alternatives, Colletti was wary of blocking two Dodgers outfield prospects who could each be major league ready a year from now, Trayvon Robinson and Jerry Sands, especially
after the experience
Robinson had in Jacksonville last summer.
"Robinson last year started off slow in Double-A, and we stayed with him and he figured it out," Colletti said. "That to me was huge. Because he's gonna have to figure that out. Because everybody struggles up here."
There is the caveat that it's not as if the current Dodgers never struggled in the majors or minors before 2010 -- one could easily make the case that they did, but that their subsequent triumphs blotted out the memory. In any event, if he had found a signable veteran outfielder worthy of a multiyear deal, Colletti no doubt would have pulled the trigger. But he does feel optimistic over the long term about what he has.
"If I would have signed a left fielder for three years, who was again not one of those robust guys -- I'm not sure there was a guy out there -- then I'm really kind of blocking one of those two kids, and I've got faith in both of them," he said. "Hopefully, not this year. Hopefully, it's a year from now, but I have faith in both that they'll be able to play and contribute. And actually I told them both that, too, in the fall -- I told Trayvon way back in the summertime, 'It's important for me to know who you are and how you play. Because you know what, Manny's not gonna be back next year. And I've got to make a decision whether I'm gonna go and tie up his spot for three or four years, or be patient and mix and match for a year and wait for you.'"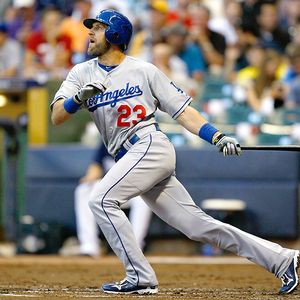 Scott Boehm/Getty ImagesCasey Blake had an .895 OPS against lefties last year, .663 against righties.
In the interim, Colletti is under no illusion that he has gold in the third outfield slot, so the Dodgers will essentially play it by ear in the outfield, with Mattingly looking at matchup opportunities for Tony Gwynn Jr., Marcus Thames, Jay Gibbons and Xavier Paul (if he makes the squad), and on an infrequent basis, Casey Blake or Jamey Carroll.
"Right now Matty's the center fielder," Colletti said. "Andre's the right fielder. I want to see what Tony can do offensively. He'll play as much as the offense allows him, I think ... using the whole field, bunting more, figuring out ways to get on base, because his on-base percentage isn't high even when he hits .270. See if he can become more disciplined at the plate, use his speed more to get on. I don't expect power out of him. I don't expect gap power out of him, but I would like to see him get on base a lot more, because if he does it perhaps changes the dynamics in the outfield.
"And in the meantime, I've got two guys that can hit, one from the left side and one from the right side -- actually two from the left side with X. Paul and Gibbons, and then Thames. ... And perhaps they're five- or six-inning guys, and then you go defense later. But you've got two guys that might be able to hit 20 homers between them."
Third base offers a secondary question for the Dodgers because, while Blake is sure to start against lefties and some righties, no one seems to be beating the drum for him to play 146 games like he did last season. With the Dodgers' minor leagues fairly thin at second and third base, this time Colletti took the plunge on a multiyear stopgap in Juan Uribe.
"Our system's produced a lot of guys," Colletti said. "But except for really [Ivan] DeJesus, we don't really have a second baseman that's on the verge of being here. We have a shortstop coming probably in Dee Gordon and after him [Jake] Lemmerman, and right now third base is a bit of an open spot too -- we had [Pedro] Baez in the Cal League last year. So Uribe, while the on-base percentage isn't Moneyball-ish or whatever, the run production is still pretty good, in that he can play second, short or third, and we don't have anybody that's going to press him at third for a while, and really De Jesus is trying to transition to play second. I needed somebody I can run out there who's a big league guy."
Because of what he sees as a potential benefit to have Uribe play some at the hot corner, Colletti emphasized that De Jesus has a legitimate chance to make the Opening Day roster as a backup infielder. Obviously, someone like Carroll could also make several starts to allow Blake to rest.
In any case, Colletti is aware of how much a juggling act the Dodgers' everyday lineup has become. Though he has in one sense traded last year's lack of a fifth starter for this year's lack of an everyday left fielder or third baseman, Colletti sees the two situations as apples and oranges.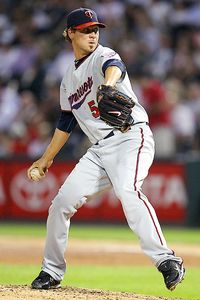 Jonathan Daniel/Getty Images
Matt Guerrier, 31, has allowed 11.5 baserunners per nine innings in his career.
Never enough
"You really didn't have in my mind many choices that were going to be able to play every day," Colletti said. "We had to fix the pitching first, and we had to upgrade the bullpen if we could.
"You can't finesse pitching. Maybe a day here or there, but you need to have it. And the list [of available pitchers], we were kind of picking near the top of the list, even though it isn't sexy to say you signed Ted [Lilly] or Hiroki [Kuroda], it's not necessarily 'wow,' but it's solid. It gave us a little bit of depth. So we had to start there. The kid from Minnesota, Guerrier, is gonna be a good add for us. He's pitched in a lot of big games; he's always had positive results.
"It's the most volatile group, but once [Joaquin] Benoit got three years and [$16.5 million], that's what people expect to get ... and if you really need a guy, sometimes you have to go the extra distance to go and get him."
Add together the total commitments the Dodgers made to their free-agent signees of this past offseason, and you barely pass the total value of Adrian Beltre's deal by itself, while falling short of the Crawford or Werth contracts. And like it or not, Colletti was not going to enter another season shy on pitching or dependent on unproven rookies such as James McDonald or Scott Elbert.
"I was apprehensive all winter long last year" Colletti said of the starting pitching. "I knew we were short going in; I knew we weren't going to be able to rally it. In the spring, J-Mac and Scotty both struggled. We may have sent them both out early, in fact, because they couldn't throw strikes; they were all over the board. So right from the beginning, I knew we were going to be short. I didn't know how we were gonna mix and match, and we couldn't afford an injury certainly."
If there's an ongoing concern on everyone's minds, it's how the Frank McCourt ownership crisis is affecting spending on the team on the field. You can argue that different owners might have allowed Colletti to sign one big-ticket free agent in addition to shoring up the pitching, but Colletti doesn't contend that the divorce itself is having an impact on personnel.
He also makes the case,
as McCourt did a year ago
, that the Dodgers are aiming to spend more money to deepen their prospect population.
Farm aid
"We've had basically the same [major-league] payroll," Colletti said. "Though we dipped a little bit last year, we're coming back this year. It's not really how much you have, it's where you spend it. We do have to get better at international signings; we have to reinvest there. I think we've let Venezuela slip for a few years, and we've made some changes in the staffing.
"We've done a decent job in the D.R. [Dominican Republic] -- not what we did 25 years ago, but with all due respect, 25 years ago there wasn't 30 teams down there, either. So, it's not like we could just cherry-pick the players we want like we probably did at the outset of the country opening up to having players signed. But we do have to get better at that to support our player development system. It's been fruitful. Obviously, a lot of players are in the big leagues now that we drafted, but we have to keep flowing, and they have to keep getting better. I know we've hit a touchable lull right now and I think we're probably a year or two away from having another group come forward."
[+] Enlarge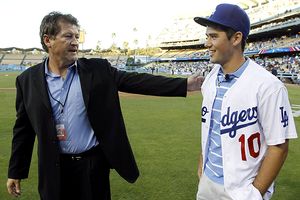 Chris Carlson/APLogan White escorts newly signed Zach Lee in his Dodger Stadium visit in August.
Colletti didn't rule out the Dodgers' top draft choice of 2010, Zach Lee -- whose signing shocked most baseball observers -- being part of the Dodgers' graduating class of 2012. Amid the height of McCourt tensions, Lee received a $5.25 million signing bonus, a record for a Dodgers' draft pick. The previous record-holder, Clayton Kershaw, reached the majors less than two calendar years after he was picked, and Lee could do the same.
"We really liked this kid," Colletti said. "We really liked his makeup, his demeanor, his abilities, athleticism, his toughness. ... Not only are the physical skills different than most kids you see, but the way his mind works is different ... probably from playing at the highest levels at a couple of sports, including going to LSU for a summer and having that experience, which as long as he didn't get hurt it didn't bother me."
Colletti's hope is that the Dodgers' minor league pitchers drafted in previous years allow Lee as much time as he needs to develop. There was an epidemic of setbacks among the farm system's arms in 2010 -- so many that if Colletti wants to see who can overcome hurdles, wish granted.
"It's concerning to me," he said. "Probably a lot of the guys that we could both probably name should be a year farther along than they are. They've all struggled with command. … Some are converted players, some weren't pitchers necessarily in high school or college. So they're still learning that.
Curing the epidemic
And to circle back to the beginning of our piece, in some ways, older players never stop learning and developing. Witness Colletti's additional assessment of the contagion that struck the Dodgers' offense in 2010:
"I think hitters sometimes without results start to get impatient, so they start to chase out of the zone," he said. "They're trying to build more offensive numbers in a quicker period of time and so they're not as diligent to work the count, and all that stuff starts to compound through the course of it. ... When people are starting to slump, sometimes it produces more guys that go in that direction than less. And that's what started to happen. It started to spiral where one guy struggled and then two. And then the third guy saw the other two and then he struggled, and it continued to mount."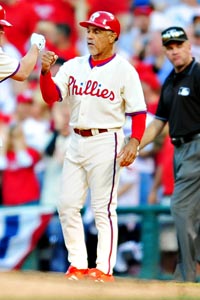 Alex Gallardo/APDavey Lopes will switch to a Dodgers' uniform for the first time since Game 6 of the 1981 World Series.
When you take Colletti's view of what went wrong with the Dodgers last year and what's needed to make it right, it makes sense that he sees one of the most promising offseason moves as one that even some jaded Dodgers fans embraced: the hiring of Davey Lopes as a coach.
"I've known him a long time and I've admired him," Colletti said. "You know, I was with him in Chicago when he was still a player and I've certainly watched him from the other side of the field when he managed and when he was coaching. And I think what he brings here is -- you're talking about first -- someone who was an iconic Dodger who understands Los Angeles and understands the Dodgers and was here during one of the greatest periods in our franchise's history. That's important.
"What he did in Philly with baserunning and defense and fine-tuning that position, the first-base coaching position, to make it a far more valuable position to the organization, is something we noticed. And I think he's going to have a great impact on our club. I think there are some players that could turn their game up a notch with his instruction, with his thought process. I think, while it's a coaching position, I think it's a huge addition for this franchise."
Will a new manager, new coaches, new players and new spirits be enough to right the Dodgers' ship? It's too soon to say, but if the Dodgers are to play more than 10 days of great baseball in 2011, Colletti will expect to see strong signs of it before Opening Day arrives.
December, 5, 2010
12/05/10
10:25
PM PT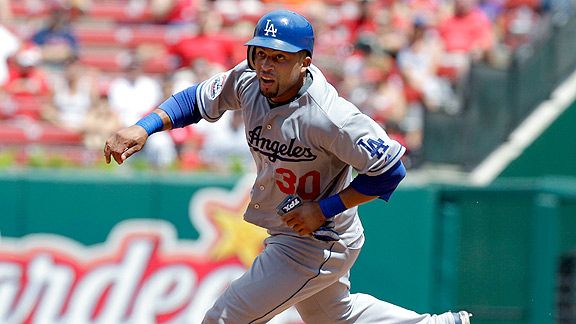 Jeff Roberson/APAre the Dodgers sincere when they say Xavier Paul is a contender to start next season?
Overall, I'm satisfied - even impressed – with how Ned Colletti has pulled together the 2011 Dodger starting rotation over the past month.
I was worried about how the Dodgers would fill their three offseason vacancies in the rotation. Then, thanks in part to Hiroki Kuroda's agreeability, the Dodgers got their front four. As in the past, I would have been prepared for the team to enter Spring Training with a combination of youngsters and journeymen battling for the No. 5 spot. But the Dodgers didn't even make us wait until December before filling that spot with a solid (though not spectacular) starter in Jon Garland.
There was another shoe to drop: Garland admitted to
AM 710
that there are concerns about his health. Whether this means shades of Jason Schmidt remains to be seen, but it's hard to get too worked up when the salary commitment to Garland is about 90% less than what the Dodgers paid Schmidt (are still paying, in fact). Garland figures to give the Dodgers something, and perhaps more than something.
There have been rumors that the Dodgers aren't done with the pitching, that they are contemplating also
bringing back adding Vicente Padilla as a swingman
, a super-utility pitcher. The addition would further increase the Dodgers' chances of presenting a smothering pitching staff next season, led by Clayton Kershaw in the role of Tim Lincecum, only wholesomer. Yes, my friends, the Dodgers have their ace – or rather, their king and his court.
All that being said ...
The left-field situation resembles what we expected the No. 5 spot in the starting rotation to look like. Journeymen, kids and babies. Jay Gibbons is Jeff Weaver, Xavier Paul is John Ely, Jamie Hoffmann is Carlos Monasterios, Trayvon Robinson and Jerry Sands are Chris Withrow and Rubby de la Rosa. I'm not losing sleep over it – certainly not in December. Should it remain this way until April, I'll admit I'll be surprised. But also fascinated.
If the Dodgers don't make any big additions in the outfield – and it could be months before we know – they will be doing exactly what they did when they handed four April starts to Charlie Haeger. That they did so once means they could do it again, but I have trouble believing the Dodgers have invested all this money in catcher, second base and the starting rotation, just to let left field twist in the wind.
On the other hand, they might sign Scott Podsednik and think they've done something useful, and simply be wrong.
* * *
Following the news that former Dodger outfielder Jayson Werth had signed a remarkable
seven-year, $126 million contract
with Washington, I
tweeted
the following:
At Matt Kemp's current age (26), Jayson Werth hit .235/.338/.374 before sitting out his age-27 season because of injury.

Through 2009: Matt Kemp career 116 OPS+, Jayson Werth career 115 OPS+. Kemp is 5 1/2 years younger.
The point, I hope is clear, is not to say that Matt Kemp is better than Jayson Werth (though he might be, sooner than people think). Rather, it's to remind people that it's a wee bit early to be giving up on Kemp because he had a disappointing season at age 25.
If we stipulate that Kemp has some issues to address going forward, let's remember that they are not insurmountable.
* * *
I was very satisfied with the season finale of "Boardwalk Empire," both in how it wrapped up this season's threads and set up Season 2. We haven't had any formal TV chat here in a while, so if anyone wants to share their thoughts, please feel free.
October, 19, 2010
10/19/10
10:04
PM PT
The Dodgers held a mini-press opportunity tonight related to the Ted Lilly signing, and general manager Ned Colletti told Tony Jackson of
ESPNLosAngeles.com
and other reporters that the Dodger player payroll budget would rise for 2011, though he didn't say by how much. So the news value here is: It's not going down.
Elsewhere ...
Some nice and arguably thrilling pictures of the Kirk Gibson auction items were posted by Roberto Baly at Vin Scully Is My Homeboy. Gibson is raising money for his foundation, which supports "Michigan State athletics and to help fund partial scholarships at the two Michigan high schools where his parents taught," according to The Associated Press. Tom Hoffarth of the Daily News explores the question of why this stuff hasn't gone to the Baseball Hall of Fame.
Ivan DeJesus, Jr., who had a single, double and homer today in Arizona Fall League action, is profiled by Danny Wild of MLB.com.
Former Dodger Takashi Saito is officially a free agent. Per a clause in his contract, Atlanta could not offer Saito arbitration.
And now, this ...
Video: Homeless Man Lipdubs Under Pressure
March, 3, 2010
3/03/10
7:46
PM PT
It bothers me that the Dodgers seem more upset about relief pitcher Ronald Belisario's current visa problems than they were about
his arrest for driving under the influence
last summer.
I understand that with the DUI still awaiting adjudication, there's a presumption of innocence for Belisario, who pleaded not guilty. So my point is not that the Dodgers should have immediately disciplined Belisario for the arrest.
Rather, it seems to me if you're going to cut the guy some slack for something that serious, you should do the same for his visa issues.
Yeah, Belisario messed up with his paperwork – for the second year in a row. It stinks. But it happened. Yet, even as manager Joe Torre tells Tony Jackson of
ESPNLosAngeles.com
that the situation is now out of Belisario's hands and at the mercy of the U.S. government, general manager Ned Colletti is still in a snit.
"While he is sitting in Venezuela, other people are here trying to make the club," Colletti said. "Maybe one of them will take food off his table."
Forgive me for thinking Colletti is sounding a little like
Inspector Javert
.
Meanwhile, all this talk about the Dodgers losing Belisario to waivers continues to be overblown,
as I suggested a week ago
. Jackson reports that the Dodgers can "suspend Belisario without pay and require him to stay behind in extended spring training." So Belisario can be punished more than amply for his sins, without the Dodgers losing him forever.
Odds remain that Belisario won't miss any more regular season time because of his visa problems in 2010 than he missed when he went on the disabled list in 2009 – for an injury that some would argue happened because of the Dodgers' irresponsibility in their use of him. The Dodgers, as Colletti suggests, have plenty of candidates to replace Belisario in the short-term – it's not as if his visa problems will make or break their season.
The attention to this issue, it seems to me, is the result of having not enough things to complain about. The McCourts aren't a presence in Arizona right now, and the silly furor over Manny Ramirez last week has died down. It's almost like people are having too good a time – so by all means, let's make an example of Belisario.
And I know I'm asking too much, but I just wish the attention were centered on an issue that might actually mean something.
February, 17, 2010
2/17/10
8:42
PM PT
Dodger general manager Ned Colletti was interviewed on Sirius XM radio's "Power Alley" by Seth Everett and Jim Duquette (link via
Vin Scully Is My Homeboy
), and he gave this explanation of why the Dodgers didn't offer Randy Wolf salary arbitration. I had heard this from sources off the record, but this was the first time I believe I've heard it on the record.
"The reason (we didn't offer arbitration) was we thought he would take it," Colletti said. "At $12-13 million a year, we weren't prepared to do that. And you know what, the people I've talked to since, that are very close to him, say that 'You know what, he would have taken it.' And I wasn't prepared to pay him $12-13 million for one year, nor was I prepared to pay him $8 or $9 million for three years."
The last part of the comment refers to a scenario where Wolf would have leveraged the potential eight-figure annual salary into a multiyear contract that would have been cheaper annually but ultimately guaranteed him much more money.
I still believe that the Dodgers should have offered Wolf arbitration. I do feel that Wolf, who had 2 1/2 sub-par seasons in a row before turning things around in mid-2008, is poised to decline entering his age-34 season in 2010 – so despite how good he was for the Dodgers in 2009, if you're convinced he was going to accept arbitration, there is a case that you can find better ways to spend money. Whether the Dodgers have done that or not is another matter.