Dodger Thoughts:

Nick Green
June, 17, 2010
6/17/10
7:32
AM PT
Placement on the bereavement list means that Furcal will miss
from three to seven games
.
All my sincerest condolences to Furcal.
Update:
Furcal went to the Dominican Republic to see an ailing family member, reports Tony Jackson of
ESPNLosAngeles.com
.
* * *
Nick Green opted out of his minor-league contract and became a free agent, reports Christopher Jackson of Albuquerque Baseball Examiner.
Claudio Vargas returned to the Dodger organization, signing a minor-league contract with the Isotopes, whose pitching has been trashed by injuries, absences, promotions and demotions.
Russ Mitchell homered twice and singled for Albuquerque on Wednesday, while Michael Restovich doubled, tripled and homered, and Xavier Paul and Ivan De Jesus, Jr. also each had three hits.
Kyle Russell hit his first AA home run for Chattanooga, while Trayvon Robinson had three hits.
Fred Claire has a nice story at MLB.com about Monte Irvin, who at age 91 will have his number retired by the Giants. Among other tidbits was this revelation:


... Irvin revealed that when he got out of the service in 1945 he signed a contract with the Dodgers.

"I had been selected by Branch Rickey to break the color barrier," said Irvin. "I had the talent and I was easy to get along with."

Irvin said that even though he had signed the contract with the Dodgers, he asked to return to play in the Negro Leagues "because I didn't want to go to the Major Leagues until I had my game back after three years in the service."

Irvin said a dispute developed over the contract between his Negro League team and the Dodgers, and he didn't get his opportunity in the Major Leagues until a deal was worked out with the Giants in 1949.

"Things have a way of working out and I'm just happy that I had the chance to play the game that I loved," he said.

Matt Kemp's struggles get an analysis from Chad Moriyama of Memories of Kevin Malone.

Second-round draft choice Ralston Cash is close to signing with the Dodgers, reports Bill Murphy of the Gainesville Times.
Ernest Reyes of Blue Heaven passes along a neat find: a 1955 Brooklyn Dodgers ticket order form. Get your box seats for $3 ...
Here's a fun historical site: CalTrafficSigns.com (via Franklin Avenue).

No details yet, but the Dodgers announced in a 7:30 a.m. e-mail that Rafael Furcal had been placed on Major League Baseball's bereveament list. Chin-Lung Hu has been called up to take his roster spot, though he will not arrive in Cincinnati in time for the start of today's early game.
May, 4, 2010
5/04/10
1:58
PM PT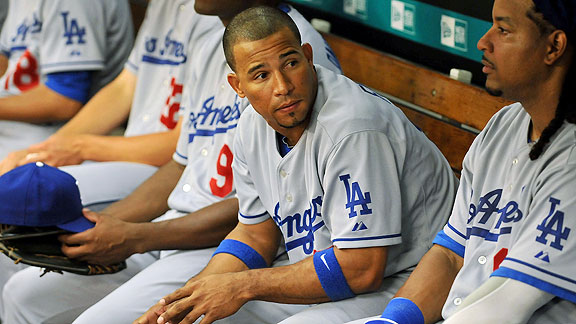 Steve Mitchell/US Presswire
Rafael Furcal
The Dodgers officially placed Rafael Furcal on the disabled list and chose to call up Nick Green instead of Chin-Lung Hu to take his place on the roster, according to their daily press notes. Furcal will be eligible to come off the DL on May 13. Cory Wade was moved to the 60-day disabled list to make room for Green on the 40-man roster.
Mike Scioscia's Tragic Illness
argues why Hu should have gotten the call.
March, 29, 2010
3/29/10
5:08
PM PT
Joe Torre told reporters today that the Dodgers would probably start the season with 11 pitchers and then go to 12. That would allow the team to keep Blake DeWitt as a starting second baseman and Nick Green as backup shortstop.
"I'll let you know the fifth starter in L.A.," Torre said. "It's not because I'm unsure, but because we've got work to do with the other guys. We're looking at 11 pitchers now to start. I think we're still determining who the 11 will be. I think 12 will be the number for most of the year. We're going to need a fifth starter four times in April."
As I've written before, I don't agree with the need to keep Green but I'm far from surprised by it, because the Dodgers essentially did the same thing last year in saving a spot for Juan Castro almost the entire season.
I also suspect that the decision to go with 11 pitchers is a response to the probability of both Ronald Belsiario and Hong-Chih Kuo missing Opening Day. The competition for the bullpen isn't quite as tight.
At this point, I would bet heavily on these 10 pitchers being on the Opening Day roster: Chad Billingsley, Clayton Kershaw, Hiroki Kuroda, Vicente Padilla, Charlie Haeger, Jonathan Broxton, George Sherrill, Ramon Troncoso, Carlos Monasterios and Ramon Ortiz. The remaining competition, I believe, is for the 11th spot.
* * *
Hiroki Kuroda had a breezy seven innings in a minor-league game today, allowing one run (a solo homer) on two hits with no walks and seven strikeouts in 91 pitches. Russell Martin, looking more and more like the Opening Day catcher, caught all seven innings.
Josh Lindblom won the 2010 Jim and Dearie Mulvey Award for being the top rookie at Spring Training.
It's a Dodger Divorce day, with Josh Fisher providing numerous updates on today's spousal support hearing.
Mike Petriello has a fun wrap-up of his trip to Camelback Ranch at Mike Scioscia's Tragic Illness.
Of the 19 pitchers in baseball last year who had RBIs after the seventh inning, according to Stat of the Day, four were Dodgers. Can you name them?
If you haven't already, be sure to make your 2010 Dodgers prediction in the thread below.