Dodger Thoughts:

Nomar Garciaparra
September, 18, 2011
9/18/11
7:57
AM PT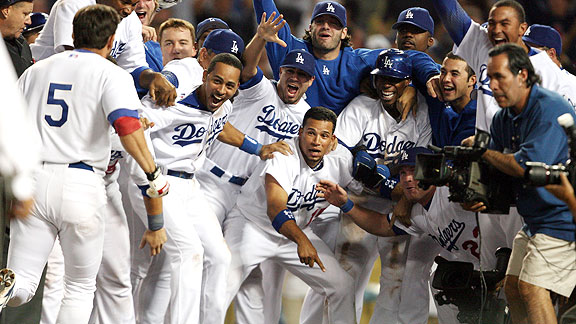 Jeff Lewis/APThere's home, Nomar. There's home.
For the five years since it took place, I've had this vision of
the 4+1 game
.
September 18, 2006. I replay the game in my head, a game that, unfathomably, stood toe-to-toe with
the R.J. Reynolds game in 1983
as the greatest game in Dodger Stadium history, and I hear The Who's "Had Enough" as the soundtrack.
As the 2006 baseball season bore down on its finish, the Dodgers were in a vexing battle with the San Diego Padres for first place in the National League West. An 11-5 pasting by the Padres knocked Los Angeles into last place on May 5. The Dodgers staggered back and reached first barely a month later, but in a tight division, San Diego drove them back to last with a 7-6, 11-inning victory July 24.
It was that kind of year. When the first day of August dawned, the Dodgers were still on the bottom looking up. Just 10 days later, Kenny Lofton's walkoff RBI single beat Colorado, and the Dodgers were atop the NL West looking down.
And there in first place they stayed, until September 17, when Padres pinch-hitter Termel Sledge's RBI single in the ninth inning broke a 1-1 tie, leading to Jonathan Broxton's first career loss in the majors. The Dodgers had handed first place back to San Diego again.
And so when I think of September 18, 2006, I hear Roger Daltrey singing, practically shouting …
I've had enough of bein' nice
I've had enough of right and wrong
I've had enough of tryin' to love my brother …
* * *
It was an unusual night – a Monday finale of a four-game series. "Here we go ahead for the final time," Vin Scully said at the start of the local cable broadcast, "the Dodgers desperate for a win. … If it feels like a playoff or postseason game, that of course is the aim of each team."
Three players who had begun Sunday's game on the bench were in the Monday starting lineups. The fellow batting cleanup for San Diego was familiar – his name was Mike Piazza, slugging .500 in his first season in San Diego after 7 1/2 in New York and in his final season in the National League.
For the Dodgers, the two big changes were these: Rookie outfielder Andre Ethier was rested in favor of new acquisition Marlon Anderson, and returning to play after missing two games with a strained quad was Nomar Garciaparra, who had talked manager Grady Little into starting him. At the time, you had to know their numbers or their looks to know who these guys were – this was part of the brief era in which the Dodgers wore no names on the back of their jerseys.
On the mound, who knew what to expect? Brad Penny had earned a start in that summer's All-Star game, striking out Ichiro Suzuki, Derek Jeter and David Ortiz in the first inning, but had been inconsistent ever since, posting a 5.81 ERA. In his past two starts, he had lost 7-0 to the Mets and won 6-0 against the Cubs. On the other side, Jake Peavy had been dominating the Dodgers as usual (two runs allowed in 14 previous innings that year), but his overall season ERA was a modest 4.17.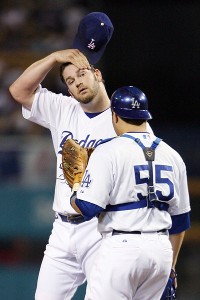 Jeff Lewis/APRussell Martin tries to settle down Brad Penny in the midst of San Diego's four-run first inning.
With fans still pouring in to the ballpark, Penny retired the first two hitters, Dave Roberts and Brian Giles, before Adrian Gonzalez lined a 3-1 pitch into center field, bringing Piazza to bat.
"In recent games against the Dodgers, Mike looked like he was pressing," Scully said as Piazza worked the count full. "He was trying to pull pitches that were down and away." Almost on cue, we saw vintage Piazza, hammering the 3-2 pitch, driving it five feet below the top of the center-field wall on the fly, for an RBI double. The game was on: 1-0 Padres.
Penny walked Russell Branyan, bringing a visit to the mound from Rick Honeycutt and a visit to the plate from Mike Cameron, whom Scully pointed out had hit five home runs against the Dodgers so far in 2006. On the first pitch after Honeycutt returned to the dugout, Cameron shot the ball off the short wall in right field for a standup triple, driving in two runs (Nos. 14 and 15 vs. Los Angeles that year) to make the score 3-0.
"The Dodgers in a huge hole," Scully said. Down in the Dodger bullpen, Aaron Sele began to warm up – not for the first time this night. Not by a longshot.
Nor was the hole finished being dug. Geoff Blum hit an 0-2 pitch to right field to drive in Cameron for a 4-0 lead, before Josh Barfield flied out to finally end the inning.
But the Dodgers wasted no time trying to rally. Rafael Furcal bunted for a single, and Lofton's hit sent him to second. Garciaparra hit into a 6-4-3 double play, but ever-irascible Jeff Kent doubled to deep center field, driving home Furcal to get Los Angeles on the scoreboard. Peavy limited the damage to one run, but as he walked off the mound, he and Dodger first-base coach Mariano Duncan began shouting at each other.
I've had enough of bein' good
And doin' everything like I'm told I should
If you need a lover, you'd better find another …
* * *
The Dodgers pulled closer. After Penny struck out three in the second inning, Anderson – the August 31 discard from the Washington Nationals who had made surprising contributions in Los Angeles – hit a one-out solo home run. And after Russell Martin threw out Cameron trying to steal to end a two-out Padre threat in the top of the third, Furcal hit a solo homer of his own to dead center field.
"A mighty man is he," Scully said of Furcal, who hit 15 home runs that year. "And you want to talk about a team trying to bounce back."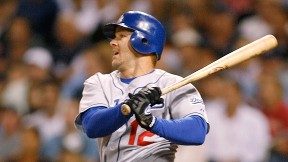 Jed Jacobsohn/Getty ImagesJeff Kent, shown here against the Padres in August, went 4 for 5 with three extra-base hits.
Before the inning was over, Kent hit his second double in as many at-bats, once more to center field, a ball at the wall that Cameron leaped for but came up empty. "Standing hands on hips, trying to figure out how he missed it," Scully observed.
J.D. Drew entered the box next, and he sliced a breaking ball left up in the zone by Peavy for a ground-rule double to left field to tie the game, bringing the crowd to its feet. In fact, Martin then almost put the Dodgers ahead right there, but Peavy speared the first-pitch line drive off his bat.
The score was 4-4 after three innings. Not once over the next four innings was a team retired in order, but not once did a team score.
Each missed a tremendous opportunity. In the top of the fifth, after another Gonzalez single, Penny walked Piazza and Branyan to load the bases with two out, but Cameron flied to right. In the bottom of the sixth, Anderson singled, Wilson Betemit walked and pinch-hitter Oscar Robles loaded the sacks with none out when he sacrificed and reached first on a fielder's choice. But Furcal hit into a forceout at home, and then Lofton grounded into a 1-2-3 double play.
By the eighth inning, the starting pitchers were long gone. And so was any remnant of sanity in this game. The attendance was announced. Five years ago tonight, the Dodgers drew a legitimate 55,831 fans. Five years ago tonight, the Dodgers registered their highest ticket sales for a Monday game ever, capping a record for a four-game series: 219,124.
Broxton entered the game in the eighth inning. Scully commented that after Sunday's loss, Broxton had said wasn't nervous, but he was worried he had been tipping his pitches. "Jon was just 22 in the middle of June when he made the jump from Jacksonville, and now he has the key role as the set-up man." It was his fifth game in seven days; he had thrown 88 pitches since the previous Tuesday, and was about to throw 22 more.
Things soon turned grim. With one out, Blum walked, and Barfield drove one to right-center field that Drew couldn't get. Lofton overran the carom, Martin dropped the throw home, the go-ahead run scored and Barfield ended up on third base. Pinch-hitter Todd Walker then hit a flare over the drawn-in infield to give San Diego a two-run lead.
Roberts struck out (a career-high fourth for the former Dodger outfielder), but Walker went to second on a steal and third on a wild pitch. Giles then sent Drew to the right-field wall, which he banged into while making the inning-ending catch.
Not once had the Dodgers led, but not once had they failed to score in an inning in which they trailed. Sure enough, off reliever Scott Linebrink, Anderson drove one down the right-field line, running through a stop sign to reach third base with a triple, and Betemit lined an 0-2 pitch up the middle. Just like that, the lead had been reduced to one.
"Boy is this a game, huh?" Scully marveled. "Wow. And this crowd loving every moment of it. It's been a roller-coaster ride from depression to euphoria and all the stops in between.
"Boy, it's not Monday night here. It is Mardi Gras night. It is New Year's Eve night."
With two out, Lofton doubled with two out to send pinch-runner Julio Lugo to third base. Tying run was 90 feet away, go-ahead run one base behind him.
But Garciaparra struck out. You could practically fit the goat's horns for him.
Life is for the living
Takers never giving …
* * *
Takashi Saito, the 36-year-old first-year major-leaguer from Japan, was asked by the Dodgers to protect the one-run deficit. There was little reason to expect he wouldn't: In 70 innings, emerging in the spring in the wake of Eric Gagne's last gasp as a Dodger, Saito had a 1.93 ERA and 93 strikeouts against 63 baserunners in 70 innings.
The importance of keeping the Padres close was clear, as Scully noted. "They've won 26 games by one run," he said, "and one of the big reasons is warming up in the bullpen. Yep, it's Trevor time."
But Gonzalez led off the ninth with his third single of the game, and Manny Alexander (Piazza had exited the game for a pinch-runner in the seventh) bunted him to scoring position. Up came Josh Bard, the Padres' lesser-known catcher but one who had an .869 OPS, even better than Piazza at that moment.
On a night filled with long fly balls, Bard drove what appeared to be the capper of the night, to deep center. Lofton went back. He leaped. His glove went over the fence; the ball banged off his wrist and back onto the field, while an uncertain Gonzalez advanced only to third. "Goaltending," remarked Scully as he watched the replay.
Saito walked Cameron intentionally in the hopes of forcing an inning-ending double play, but his next pitch to Blum went to the backstop, and the Padres doubled their lead. Then Blum hit a sacrifice fly, and San Diego led by three in the ninth. Scully practically threw the white flag.
"And the Dodgers will have to collect themselves and go after Pittsburgh," he said. "It has been a Friday night and a Saturday night combined emotionally, but now it's starting to feel like Monday."
It's not as if the Padres got greedy after that, but you could argue they suffered from an embarrassment of riches. After Barfield singled to drive in Cameron and give San Diego a 9-5 lead, Scully glanced back at the Padres bullpen, looking to see if Trevor Hoffman was still getting loose.
"We said it was Trevor time, but maybe not," Scully reported. "Nope, it's Jon Adkins now. That figured."
Jack Cust made the third out of the top of the ninth. The Dodgers trailed by four runs in the bottom of the ninth.
Up to that point, Adkins had allowed one home run in 51 1/3 innings in 2006.
"The Dodgers are asked to do what they did (before), but they've run out of innings," waxed Scully.
Here comes the end
Here comes the end of the world ...
* * *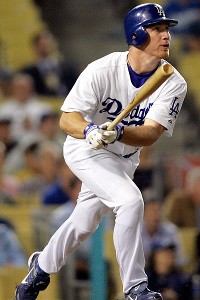 Francis Specker/APJ.D. Drew follows through, bringing the Dodgers within two.
And then, a symphony …
Kent conducts a 1-0 pitch to center field, over Cameron, and out of the park.
"So Adkins is rudely treated," Scully says. "Two pitches, one run."
Drew, strumming the strings on a 2-1 pitch …
"And another drive to deep right center, and that is gone! Whoa, was that hit!" exults Scully.
"What is that line? Do not go gentle into that good night. The Dodgers have decided they're not going to go into that night without howling and kicking."
Hoffman is quickly rushed into the game. "He has been absolutely magnificent against everybody, but especially against the Dodgers," Scully says, adding that Hoffman's last blown save against the Dodgers was in April 2001.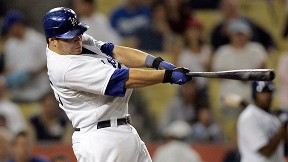 Francis Specker/APMartin hits it a ton, bringing the Dodgers within one.
Hofman throws his first pitch.
"And a drive to left center by Martin," calls Scully. "That ball is carrying into the seats! Three straight home runs!"
Bedlam at Dodger Stadium, bedlam like it's the ninth inning on September 11, 1983. But the Dodgers, as Scully reminds us, "are still a buck short."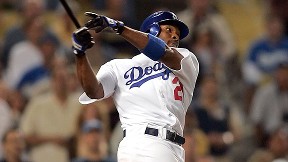 Francis Specker/APMarlon Anderson lets it fly, and the Dodgers are tied.
Anderson is the next batter. He has four hits and needs a double to hit for the cycle.
Hoffman throws his second pitch. Anderson swings. Immediately after his follow-through, he jolts out of the box …
"And another drive to right center …"
… two arms thrusting in the air …
"Believe it or not, four consecutive home runs! And the Dodgers have tied it up again!"
As Martin practically had to be restrained in the dugout from running onto the field, Anderson raced around the bases, leaping into his high five at home plate before sprinting to the dugout, where he disappeared under a white and blue volcano.
It was the first time since 1964 that a team had hit four consecutive home runs, and the first time it had ever been done in the ninth inning, let alone to erase a four-run deficit. (The six homers in nine innings were also the most by the Dodgers since they hit eight in the Shawn Green game in May 2002.)
"Can you believe this inning?" exclaimed Scully, still agog. "Can you believe this game? … It is an unbelievable game."
Before the cheering had even begun to subside, Lugo swung at his first pitch – still only the third pitch Hoffman had thrown in the game – and hit it on a trajectory to right-center that, for an instant, made the fans double-take. But it landed in Cameron's glove. Ethier, batting for Saito, blooped out.
In the Dodgers' last chance to win in nine innings, Furcal, 2 for 5 with a home run already, tattooed one himself, taking Giles to the warning track to right field before it was caught.
"Well, wouldn't you know this was gonna go extra innings?" Scully said. "No, I don't think you did when it was 9-5 in the ninth.
"This crowd is beside itself with joy. You can come down the wall now."
* * *
With their top relievers already used, the Dodgers turned the guy that had warmed up for the first time back in the first inning, Aaron Sele. One of general manager Ned Colletti's ongoing reclamation projects on the mound, Sele had joined the Dodger starting rotation in May and had a 2.91 ERA in 65 innings before the All-Star break. After a couple of poor July starts, soon followed by the acquisition of Greg Maddux, Sele ended up spending most of his second half in the bullpen (the Dodgers' No. 5 starter that September, you might be surprised to remember,
was Hong-Chih Kuo
). Sele's ERA had risen to 4.35, and he had pitched three total innings in the past two weeks.
But with the score 9-9, the Dodgers went to Sele over the other available options in the September Dodger bullpen: Giovanni Carrara, Elmer Dessens, Tim Hamulack and Eric Stults.
Sele retired Roberts (0 for 6) on a fly to center, but Giles doubled on a sharp hit down the left-field line past Lugo. Gonzalez, who had been tormenting the Dodgers all night – then again, who hadn't – was walked intentionally.
Paul McAnulty, pinch-hitting for Alexander, killed a Sele pitch that Lofton caught at the wall. "That ball had a chance to go out but just died at the last minute," Scully said. "There is a light breeze, but barely a zephyr."
Sele dodged that bullet, but couldn't avoid the next. Bard singled to right field, and Giles came home from second to score and once again give the Padres the lead.
Threatening to once again put the Dodgers down by four, Sele walked Cameron, who became the 23rd Padre to reach base. With no room to put anyone else, Sele, on the Dodgers' 200th pitch of the game, induced an inning-ending fly to right.
"Boy, you talk about the anguish of a fan," Scully said. "There's a lot of it, but they'll remember this game for a while."
Padres 10, Dodgers 9, heading into the bottom of the 10th.
Rudy Seanez, who had pitched for the Dodgers in 1994 and 1995 (and would do so again in 2007), was the Padres' 23rd player of the game and seventh pitcher, chosen ahead of relievers Scott Cassidy, Brian Sweeney and Mike Thompson. Nearing his 38th birthday. Seanez had struck out 52 in 51 innings combined with Boston and San Diego, but he had walked 29 and allowed seven home runs.
His first pitch to Lofton was a called strike, but his next two missed the zone. Strike two came on a check swing, but the next pitch was high and the one after that was inside, "and the Dodgers have a rabbit as the tying run," Scully said as Lofton dropped his bat and headed to first base.
To the plate came Garciaparra.
Low and outside for ball one. Fastball for a strike. Low and outside for ball two. Inside for ball three.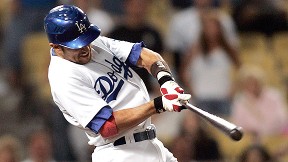 Francis Specker/APNomar, hero.
On the 376th pitch of the night of September 18, 2006 …
"And a high fly ball to left field – it is a-way out and gone! The Dodgers win it, 11-10! Ha ha ha - unbelievable!"
The end of the world.
"I forgot to tell you," Scully said after watching the celebration at home plate. "The Dodgers are in first place."
* * *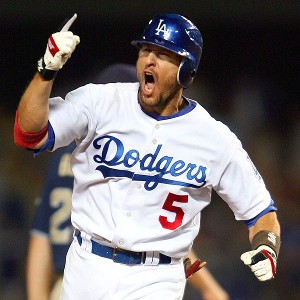 Jeff Lewis/APGarciaparra celebrates on behalf of Dodger fans around the ballpark – and televisions and computers.
To this point, I haven't quoted from the Dodger Thoughts game thread from the night of
September 18, 2006
. But while any one of us would rather have been in the ballpark, the online experience is not one I'll forget.
You can see
some of the highlights here
, or you can go back to the original thread and re-experience from start to finish. But there's only one way to finish this remembrance, and that's with this classic:
2006-09-18 22:40:43
604. Xeifrank
Gameday seems to be broke. It keeps on saying every Dodger hitter is hitting a home run. Major software bug or something.
vr, Xei
July, 6, 2011
7/06/11
2:35
PM PT
during a conference call
:
Q. Nomar, Matt Kemp is doing this for the first time. Maybe he's not your traditional slugger type body type. He might be more your body type. So speaking from experience, how does this kind of event mess around with your swing or is that kind of an overrated thing that gets talked about too much?

Garciaparra: Well, first of all, I wish I had his body type. I don't think we're the same body type. Are you kidding me? Wow. I don't think it will mess with his swing. I think the hardest thing and the important thing is you've got to be big and strong for this event.

It is totally different when you're in batting practice you can kind of get into rhythm. The pitcher's throwing the ball and you're going. In batting practice they say don't look at the ball. You're supposed to just hit. You can kind of get in that rhythm.

Here it's swing, watch, tend to sit back in the box and let's swing as hard as you can again. Step out, get back in the box. That is difficult to do as a hitter. That takes a lot of sheer strength body wise all through the body.

When I look at the way Matt Kemp is built, he has that. So I think he'll be all right. The difficult thing is to get away from all the emotion that's surrounding it. Get away from the anxiety, because that is all going to be a part of it.

You realize there are thousands and thousands of people in the stands. All they're doing is focused on you and watching. All eyes are on you in this one swing and every one you do. I know it's like that during the season, but this is a totally different way to do it. There are nerves, anxiety, adrenaline, and you have to combat all of that, especially for your first time. But I think he has the body and strength to do it.

Q. Is the talk about how swings get messed up from doing this overrated?

Garciaparra: I think so. I think the All Star's just a unique thing. When you do that, you go out there and swing and swing hard. At this level to be successful if you're an All Star, you know what you have to do to get back on track.

Kruk: I agree with Nomar. I think every player that's ever played from a guy that hits two home runs a year to a guy that hits 50 home runs a year, they have a point in batting practice where they're trying to hit home runs.

Tony Gwynn every once in a while would try to do it too, and he used to hit .380 every year. Didn't do too much to his swing. Everyone does it, so it doesn't mess up your swing.
I'm pretty sure that someone did a study about whether it was fact or fiction that Home Run Derby participation ruins a player's swing, but I can't seem to find it right now. So instead, here's what Two Guys From ESPN, Nomar Garciaparra and John Kruk, had to say on the subject
March, 10, 2010
3/10/10
12:03
PM PT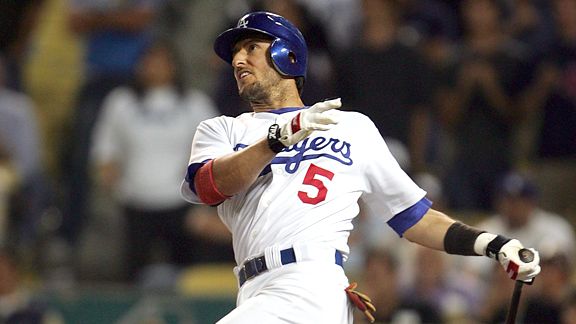 Jeff Gross/Getty Images
Nomar Garciaparra follows through in the 10th inning, Sept. 18, 2006.
Nomar Garciaparra, whose place in Dodger lore was cemented with his game-winning home run in the
4+1 game
, announced his retirement today. He is moving on to work
for ESPN
as a "Baseball Tonight" and game analyst.
Diamondbacks at Dodgers, 12:05 p.m.
Today's Lineup
Rafael Furcal, SS
Blake DeWitt, 2B
Andre Ethier, RF
Matt Kemp, CF
Brian Giles, DH
Reed Johnson, LF
Doug Mientkiewicz, 1B
Nick Green, 3B
A.J. Ellis, C
(Vicente Padilla, P)
Continuing the
theme of the day
, Garciaparra had nine walkoff hits in his career and five in his three Dodger seasons —
four of them in 2006
. Garciaparra had another game-winning home run six days after the 4+1 game.
Rob Neyer of
ESPN.com
is among those with more on Garciaparra.
* * *
Memories of Willie Davis have dotted the Internet. Here are a selected few, provided by Tony Jackson of ESPNLosAngeles.com, Phil Gurnee of True Blue L.A., Buster Olney of ESPN.com, Neil Paine of Stat of the Day and Bruce Jenkins of the San Francisco Chronicle. Also, Steve Dilbeck of Dodgers Blog interviewed former Dodger owner Peter O'Malley about Davis. In addition, here's a link to one of my favorite pieces, the 2007 SI.com column I wrote about Vin Scully in which Davis' 31-game hitting streak played a prominent role.
The Dodgers' Taiwan sojourn left behind very few infielders in Arizona, Eric Stephen of True Blue L.A. notes.
Ivan DeJesus, Jr. is the subject of the latest prospect profile at Memories of Kevin Malone.
Vin Scully Is My Homeboy documents his trip to Camelback Ranch. Love the picture with George Foster.
Forty years ago today, Ross Newhan of the Times celebrated the potential of the Dodgers' young infield of "Billy Buckner, 20, Bill Grabarkewitz, 24, Bobby Valentine, 21 and Bill Russell, 21." (via the Daily Mirror)

Don Mattingly had this to say to reporters about his Dodger future:

"Everything will come off of what Joe does. I talked to the Dodgers after my first interview with Cleveland. They expressed that they wanted me to be a part of their future. Yes, the word 'manager' was brought up."I like it here. I like California. Nothing definitive was said or done. ... I'm not worried about money or things like that right now. I'm worried about our ballclub and soaking up as much as I can. I know where I want to go, but I have to keep my priorities straight."