Dodger Thoughts:

Octavio Dotel
September, 18, 2010
9/18/10
1:40
PM PT
... plus the 18 2/3 innings they got in between from
Octavio Dotel
,
who went to Colorado in another trade
today. That would be the Dodgers cutting their losses. Dotel will help the Rockies try to make the playoffs but is ineligible for the postseason because the trade happened after August 31.
August, 18, 2010
8/18/10
10:55
PM PT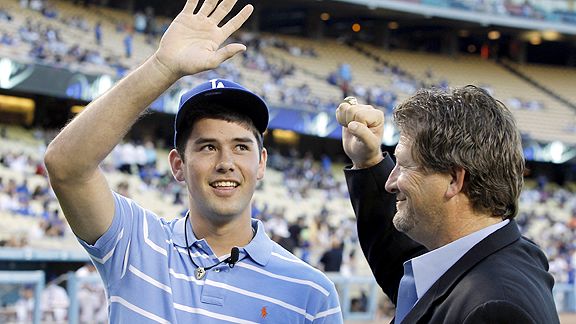 Chris Carlson/APLogan White introduces Zach Lee to Dodger fans before tonight's game.
In the three games that Jonathan Broxton has pitched in since he lost his status as the Dodgers' top reliever, he has twice been used in situations that, if I were manager, I would probably use the team's top reliever.
Friday at Atlanta
, he was the first reliever used with the Dodgers down by a run in the eighth inning.
Tonight against Colorado
, he was the first reliever used with the Dodgers tied in the eighth inning.
Those, for some reason, are considered lower-pressure situations, even though they are situations when it's almost imperative you don't give up a run. Certainly, they are tougher assignments than when you enter a game needing three outs with a three-run lead, as was the case Thursday in Philadelphia.
Meanwhile, in the last two games he has pitched in since he was promoted to co-closer status, Octavio Dotel has flailed, giving up a walk and a game-winning single Monday, and then tonight's crazy appearance in the 10th, walking three and throwing three wild pitches to bring about the Dodgers' 3-2 loss to the Rockies.
Not trying to make too much of this, just that it's kind of goofy. But then, such is the baseball scene in Los Angeles. Broxton certainly knows how ridiculous it can get.
Once again, Hiroki Kuroda pitched well: seven innings, seven baserunners, seven strikeouts. Once again, the Dodger offense struggled, compounded by a missed suicide squeeze attempt by A.J. Ellis. And once again, the Dodgers lost more of what little ground they have left in the playoff race.
The game's final play had its own brand of poetry. With Reed Johnson on first base and two out, Scott Podsednik hit a blooper to center. Dexter Fowler dove but couldn't glove the ball. Johnson, racing around the bases, tried to score, but was nailed at the plate in "from you to me" fashion by Troy Tulowitzki's relay. Even Steve Lyons, on the postgame show, questioned why Bowa would send the runner on a longshot attempt against Tulowitzki's arm.
Anyway ... Manny Ramirez walked, singled and struck out as a designated hitter in his rehab game tonight. He had no health issues, according to the Dodgers, and is expected to play the field tomorrow.
August, 14, 2010
8/14/10
9:50
PM PT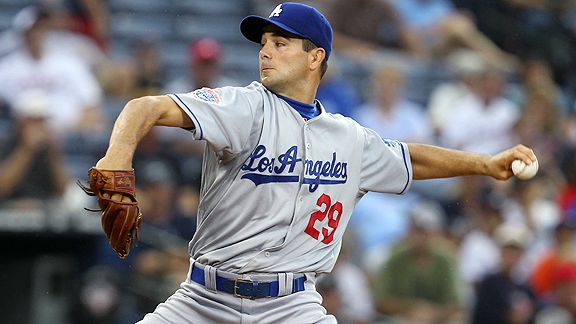 John Bazemore/APTed Lilly
In a relief of a win that could have been another vexatious loss, the Dodgers funneled 12 hits into only two runs, but made them stand up for a
2-1 victory over Atlanta
on Saturday.
Major credit for the result goes to Ted Lilly, who had his third consecutive sharp start since coming to Los Angeles. Lilly allowed five baserunners over six shutout innings, lowering his ERA with the team to 1.89. He has allowed 10 hits and two walks while striking out 15, and if the rest of the team were jelling, we'd be talking in glorious tones about how he was spearheading the Dodgers' pennant drive.
As it is, even if he keeps up this pace and makes me look bad for
questioning his consistency
(though I also said "undoubtedly, Lilly will provide some short-term gain in the rotation"), he does figure to have only about 10 or fewer starts left in a Dodger uniform before leaving as a free agent. So I'm still feeling a little bittersweet about him. But so far, he has absolutely pitched well – a perfect fit for the team.
Octavio Dotel even chipped in 1 1/3 perfect innings tonight; he has retired 14 of 19 batters as a Dodger since coming from Pittsburgh.
Staying with the theme of new players, I'll even throw a little love Scott Podsednik's way, reluctantly. Podsednik went 3 for 5 tonight and now has 12 hits and two walks in his past five games. Of course, that's outstanding.
Now, without this incredible hot streak – which he won't be able to maintain – Podsednik will revert to being that ordinary player that I still don't really want much part of. Even as well as he has played for the Dodgers, Podsednik has two extra-base hits in 74 plate appearances with the team. I'm willing to live with a sub-.400 slugging percentage from my catcher (Russell Martin) or my utility infielder (Jamey Carroll) if they're getting on base a lot. But from my left fielder, I think the offense needs more. And if a hot streak of singles convinces the Dodgers that this is the guy they want starting in left field next year, at age 35, that's going to make me even more unhappy.
Living in the now, though, Podsednik has provided an admitted boost. I'm going to be even more of a sourpuss with regard to Ryan Theriot, however.
Theriot has been a poor man's Podsednik, going 2 for 4 tonight to give him a .283 batting average as a Dodger. That has made a lot of observers feel good about the trade, but it's an empty .283: accompanied by a .328 OBP and .302 slugging percentage. He may be a better fielder than Blake DeWitt, but again, I feel like this has opened the door for the Dodgers to settle for aging mediocrity when they need something better. (By the way, DeWitt's numbers since leaving the Dodgers and his overall 2010 numbers remain better than those of Theriot.)
Right now, there's no doubt the Dodgers added talent in the short term last month, at a time when there was legitimate postseason hope. That pretty much fulfills the mission as Ned Colletti saw it, I imagine. He has gotten results.
And yet it all feels so temporary ...
August, 13, 2010
8/13/10
4:00
PM PT
ESPNLosAngeles.com
has details.
Kuo is not available tonight (neither is Kenley Jansen), so Dotel is the man if the Dodgers have a ninth-inning lead. Broxton is available depending on the game situation.
Torre also said that Manny Ramirez is finally making progress ... but then added that a rehab assignment might or might not start in the middle of next week. Rafael Furcal is probably not going to be activated from the disabled list when he becomes eligible Wednesday.
* * *
Hiroki Kuroda has fared much better against the National League East and Central divisions than he has against teams from the NL West, according to Stats LLC (via the Dodger press notes). His lifetime ERA against the NL West is 5.05 (.294 opponents' batting average); against the rest of the league, it's 2.57 (.220).
Odd.
* * *
Justin Havens of ESPN's Stats and Analysis group sent along some stats about Matt Kemp that won't surprise you: on-base percentage down from .352 last year to .319 this year, for example. Strikeout rate up from 22.9 percent to 27.4 percent. His fielding woes have been well-documented, and his Wins Above Replacement figure has fallen from 5.1 in 2009 to 0.6 so far in 2010.
I was curious about how much batting average on balls in play might account for the OBP dip, and found that his BABIP has dropped from .345 to .314 - or .031, almost exactly the same amount as the .033 OBP drop. And then I looked at Kemp's walk rate, and this is what surprised me the most.
2009: .078 walks per plate appearance
2010: .078 walks per plate appearance
That's sort of remarkable, amid all the chaos around Kemp's 2010 season, that he's walking at the same rate. The BABIP really accounts for much of Kemp's falloff at the plate.
Anyway, as far as this regression thing with Kemp goes, do people remember that we've been through it before? Kemp's 2008 season was
a disappointment relative to the promise laid out in 2007
.
* * *
Hot dogs at Dodger Stadium? There will be on August 21 if the weather heats up on
Bark in the Park
night.
Sounds fun, but why do I think something is bound to go wrong? Must be the worrywart in me.
Reacting to Jonathan Broxton's slump, the Dodgers have moved Hong-Chih Kuo into the primary closer role, and Octavio Dotel will close on days that Kuo can't, Joe Torre told reporters today. Tony Jackson of
July, 31, 2010
7/31/10
1:47
PM PT
Octavio Dotel, 36 years old with 52 baserunners allowed in 40 innings for Pittsburgh this season against 48 strikeouts,
comes to Los Angeles
as the Dodgers give up on James McDonald and minor-league outfielder Andrew Lambo.
Dotel has had a brief resurgence
since mid-June
, so the Dodgers will try to ride that wave and hope this isn't another Edwin Jackson for Danys Baez.
In a way, the Dodgers are copying the Padres' formula -- trying to smother the opposition with pitching options, and hope the offense scores just enough to make it worthwhile. It's a plan that could work, especially if Manny Ramirez comes back and Matt Kemp and Andre Ethier step things up. I'm just not in love with the guys they acquired this week to try to make it happen.
* * *
In other news, Andre Ethier is away from the team for the birth of his second child.