Dodger Thoughts:

Pedro Guerrero
September, 16, 2011
9/16/11
10:27
PM PT
The Dodgers
beat the Pirates tonight, 7-2
, to keep their playoff hopes alive for at least another night. But no matter what happens on the field between now and the end of the regular season September 28, there's a big postseason showdown on tap for the Dodgers in October.
On October 12, Frank McCourt's attorneys will formally ask the federal bankruptcy court that is overseeing the Dodgers
to permit negotiations and possibly an auction for the franchise's local television rights
for 2014 and beyond. Should the court grant the request, it will pave the way for McCourt to retain ownership of the Dodgers – at least until Frank-Jamie II takes place in the courts sometime in the spring or summer of 2012.
Interested parties – Major League Baseball in particular – can and probably will file objections to the Dodgers' request until September 30. The bankruptcy court's first duty is to the creditors whom the Dodgers owe; what's up in the air is whether MLB can make the case that there's a better way to do this than by giving McCourt the chance to save his ownership – while further mortgaging the franchise's future – through the future rights sale.
From
The Associated Press
:
... In a 37-page motion filed Friday with U.S. Bankruptcy Judge Kevin Gross, the Dodgers say "market conditions are optimal for licensing the telecast rights because the market for sports media rights in Los Angeles is vibrant at this time."

The Dodgers say "there can be no assurance that these ideal market conditions will last" and they should be allowed to sell rights now "to avoid any risk of deterioration in value." ...

One argument against McCourt is that MLB commissioner Bud Selig is supposed to be able to approve any TV rights deal, and that McCourt shouldn't be rewarded for steering the Dodgers into bankruptcy by being allowed to circumvent the sport's chieftain. Whether that argument will hold any sway with Judge Gross, I don't know.
Bill Shaikin has more in the
Times
, where he also
passes along the news
that the Dodgers are seeking to retain an expensive New York-based public relations firm.
... The two primary spokespersons (from the firm) charge $750 and $400 per hour, according to the filing in U.S. Bankruptcy Court.

"Much of the media reporting on off-field issues has been inaccurate or misleading, and LAD requires a seasoned communications firm such as Kekst to better ensure that media coverage of LAD is more evenhanded and accurate going forward," according to the filing, using the "LAD" abbreviation for the Dodgers.

The filing does not include any examples of inaccurate or misleading coverage. ...

As far as I'm concerned, you can take this as another example of how deluded or desperate McCourt is – and no, the new PR firm won't change my negative thinking on this. As Molly Knight of ESPN the Magazine
tweeted
:
What makes McCourt's media blaming so laughable is the best stuff we got was straight from his mouth in public court filings. Amnesia maybe?

You can't file mountains of court documents crying poverty to get out of paying spousal support and not expect fans to think you are broke.
* * *
In other inspiring news, Jonathan Broxton will have surgery Monday, 4 1/2 months after he last pitched for the Dodgers, to remove a bone spur and some chips, reports Tony Jackson of
ESPNLosAngeles.com
:
... Although Broxton's bone bruise had improved dramatically, Dodgers medical director Stan Conte said the spur and loose bodies were the cause of repeated setbacks Broxton suffered in his effort to return, Dodgers manager Don Mattingly saying earlier this week that club officials no longer expected Broxton to pitch this season.

Broxton underwent what Conte said were "three or four" MRIs on the elbow during the season, but Conte said the chips were revealed only after Broxton underwent a CT scan, which was ordered when he experienced mild discomfort earlier this week during his first bullpen session in several weeks.

"CT scans normally aren't done on elbows," Conte said. "But we just wanted to make sure the bone bruise wasn't turning into microfractures."

The surgery will be performed by team physician Dr. Neal ElAttrache, after which Broxton is expected to need four to eight weeks to recover before he can begin throwing again. However, with free agency pending, it is possible Broxton has pitched his final game for the Dodgers, who already have replaced him in the closer's role with rookie Javy Guerra and might balk at re-signing Broxton this winter to a major league contract. ...
The surgery will take place nearly 15 months after Broxton began to lose effectiveness.
Jackson adds that Tony Gwynn Jr. will miss at least the remainder of this weekend's series with the Pirates because of a jammed shoulder, which first happened last week in Washington and was aggravated Wednesday against Arizona.
* * *
Back on the field, the Dodgers came back strong tonight after Hiroki Kuroda allowed an unearned second-inning run, scoring once in the bottom of the second, twice in the third and four times in the sixth, capped by James Loney's first career pinch-hit home run, a three-run blast that enabled him to reach 10 on the season.
Dee Gordon made his ninth error in his 45th game of the season, but had two hits and stole his 20th and 21st bases. Kuroda gave up a sixth-inning home run to Alex Presley (whom Vin Scully's wife thinks looks like Tom Cruise, Scully told us), but was otherwise unscored upon. He allowed five hits, walked two and struck out seven.
Scully also passed along a story that warmed my heart: Rod Barajas chose uniform No. 28 with the Dodgers because of how much his mother loved Pedro Guerrero in the 1980s.
December, 19, 2010
12/19/10
10:26
AM PT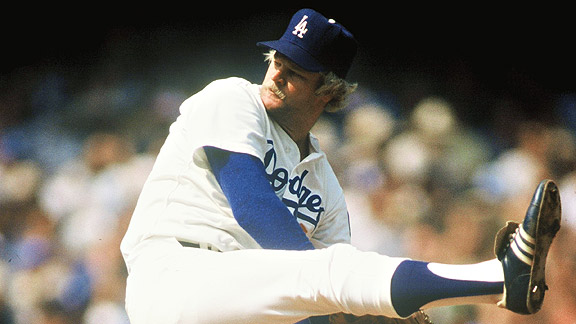 Getty ImagesJerry Reuss pitched 10 complete games in 29 starts for the Dodgers in 1980.
When the Dodgers were attempting to rally from three games behind Houston with three games to play on the final weekend of the 1980 regular season, I was on my school's eighth-grade retreat at world-famous
Camp Ta Ta Pochon
.
I listened to the final innings of the
Friday comeback victory
with my transistor radio and an earphone while we were watching the rather odd youth movie,
"Bless the Beasts and the Children."
And I listened to the final innings of Sunday's dramatic triumph surrounded by classmates on the bus ride home.
But I had never heard a moment of the Saturday game until this week, when I was granted the privilege thanks to a cassette package mailed to me by longtime Dodger Thoughts friend and commenter Stan from Tacoma. The Saturday game is the least discussed of the four games the Dodgers played against Houston to end the season, but it was a minor gem in its own right – an utterly taut affair from start to finish.
Jerry Reuss started for the Dodgers against future Hall of Famer Nolan Ryan of the Astros. A high-profile free-agent signing, Ryan was in his first season in the NL since being traded from the Mets to Angels in December 1971. At age 33, Ryan had gotten his 3,000th career strikeout midway through 1980. His ERA in 1980 was a stylish 3.35, though given the advantages of pitching in the Astrodome, this was arguably a down year for the Express.
Reuss had come to the Dodgers before the 1979 season and been something of a disappointment, though his 7-14 record belied his 3.54 ERA. In any case, he began the 1980 season in the bullpen, before emerging as one of the team's top starters: a 2.51 ERA and an National League-leading six shutouts, including his
June 27 no-hitter
at San Francisco.
Even with those credentials, Reuss was under the microscope of Dodger manager Tommy Lasorda. Just two batters into the game, after Reuss walked Houston leadoff hitter Joe Morgan on a 3-2 pitch and then gave up a single to Enos Cabell, Dodger radio announcer Jerry Doggett saw that Rick Sutcliffe – banished to relief after winning NL Rookie of the Year honors in 1979 – had gotten up in the bullpen.
But Reuss bounced back. He got Dodger nemesis Jose Cruz to pop to shortstop Derrel Thomas, and then Cesar Cedeno hit into a 4-6-3 double play to end the inning. Sutcliffe sat down and never rose again, as Reuss went on to retire nine batters in a row.
The Dodgers struck first in the bottom of the second inning. Steve Garvey, who entered the game needing four hits for 200 on the season, notched a single on a blooper that Morgan normally would have caught. (Both second basemen were ailing: Morgan had strained his knee in Friday's game, while Davey Lopes had a severely strained neck. Neither finished the Friday or Saturday games.) One out later, Pedro Guerrero, the Dodgers' center fielder, singled Garvey to second base. Ryan struck out Joe Ferguson, but facing Thomas, the Dodger utilityman who had become the team's starting shortstop in place of an injured Bill Russell, dropped a single the opposite way into left field to score Garvey for a 1-0 Dodger lead.
The Dodgers caught a break to score their first run; the Astros caught one to score theirs. With one out in the top of the fourth, Cruz hit one to center that Guerrero lost in the smoggy sky (Doggett and Vin Scully both commented on how ugly the air was this day). Cruz stole second, went to third on a Cedeno grounder and then scored on a single to center by Art Howe to tie the game.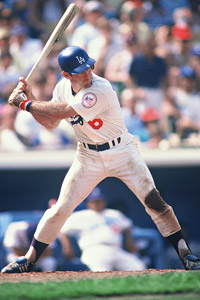 Getty Images
With three hits against Nolan Ryan, Steve Garvey was on a .412/.452/.647 hot streak over his past 17 games.
The next run of the game was no gift. Garvey started the bottom of the fourth with a no-doubter blast, his 26th homer of the season – giving him, as Scully noted, at least one home run against every NL team this season. Garvey would later single in the sixth inning for his 199th hit of the season and ninth in 18 at-bats against Ryan. "If you can go 9 for 18 against a million-dollar pitcher, that's like owning a condominium, isn't it?" said an admiring Scully. "Garvey is undoubtedly one of the greatest hitters to wear a Dodger uniform," added Doggett when he returned to the mic for the final three innings. "Undoubtedly."
The score remained 2-1 entering the seventh inning, thanks in large part to huge defensive plays by Los Angeles. In the fifth, the aching Lopes managed to snag a line drive off Morgan's bat and turn it into an inning-ending double play. And with one on and none out in the sixth, Thomas took a carom off Reuss' glove and converted it into a 1-6-3 twin killing. Then Guerrero, still struggling with the October sky, struggled with a Cedeno fly but managed to catch up to it to end the top of the sixth.
Like Garvey, Ryan was also on a quest for 200 – in fact, both of them entered the seventh inning at 199. In Ryan's case, it was strikeouts, and he got his 200th on the second-to-last batter he faced. The victim was Reuss, who went down after failing to sacrifice Joe Ferguson to second base.
Both teams went down in order in the eighth, Reuss easily navigating pinch-hitters Terry Puhl (the Astros' leading home-run hitter in 1980 with the grand total of 13) and Jeffrey Leonard, while reliever Frank LaCorte held off Garvey's final Saturday bid for his 200th hit. Reuss' strikeout of Puhl was his seventh of the game, a season high.
That brought us to the ninth, with the crowd audibly willing the Dodgers to hold on. By this time, the Dodgers had made three defensive replacements: Jack Perconte for Lopes at second base, Rudy Law for Dusty Baker (also hurting) in left field and Mickey Hatcher for Rick Monday in right field. Those replacements proved meaningful both for what they didn't and didn't do.
First, Perconte made a nice play on a Cabell grounder to get the first out.
Then, Guerrero, again getting a late read, put the crowd in suspense before making yet another last-instant catch. The Dodgers were one out away from victory, but under 24 hours before, the same had been true of the Astros.
Up came Cedeno, who had been having a most unlucky day. This time, the luck turned – he hit a blooper that Perconte couldn't reach, keeping the Astros alive. Art Howe then hit another blooper to center that Guerrero, playing deep to prevent an extra-base hit, had no chance at. Suddenly, the tying run was at third base for Houston.
With soon-to-be Rookie of the Year Steve Howe warming up in the bullpen, Dodger pitching coach Red Adams visited Reuss at the mound. But there was no hook. According to Reuss on the postgame show, Adams simply told him, "Just relax."
Doggett, I should say at this point, was about the best I have ever heard him – totally on his game in describing the game and setting the scene. "What excitement – what a series!" he said over the roaring crowd. The batter was Gary Woods, who had gotten the start over Puhl against the left-handed Reuss but had struck out three times. Finally making contact, he hit one to Perconte, in the thick of the fray in this, only his 14th major-league game. Perconte tossed to Garvey, and the Dodgers had stayed alive for one more day.
Reuss thanked the fans on the postgame show with Ross Porter. "I've heard it in other places, but not this many, this loud," Reuss said. Porter asked Reuss about the fact that he was starting on three days' rest. "I never gave it a thought until someone said something about it, and then I said, 'What the heck.' "
Garvey also thanked the fans, and said how much he enjoyed the pressure situations. And then, as Porter thanked him for the interview, Garvey said, "Hi to Cyndy and the girls."
Those fans listening on the radio who were geared up for hearing Scully do Sunday's big game were in for a surprise. Here are his closing words for the day:
"Well, friends, it has been a magnificent day, a great weekend and a most exciting season, and of course tomorrow the Dodgers and the Astros this time put it all on the line. All of the pressure had been on the Dodgers, but now it will be equally shared amongst the Astros, because they suddenly find themselves in a must-win situation. It's Burt Hooton and Vern Ruhle. And I have a confession to make – I won't be here, unfortunately, as my schedule has me doing a football game down in Anaheim. And my mind, and my eyes and all of my senses will be in Anaheim, but boy, will my heart ever be here at Dodger Stadium. Hope you'll be here. Hope you'll find out about tomorrow, and then if it be so, why it'll be my pleasure to be talking to you again on Monday. So we'll see. But right now, that'll do it for today, from Dodger Stadium,
as the Dodgers nip the Astros, 2-1.
"
The Rams would beat the 49ers, 48-26, and then we'd see Vin on Monday. I'd have that transistor radio with me at school.
June, 14, 2010
6/14/10
3:38
PM PT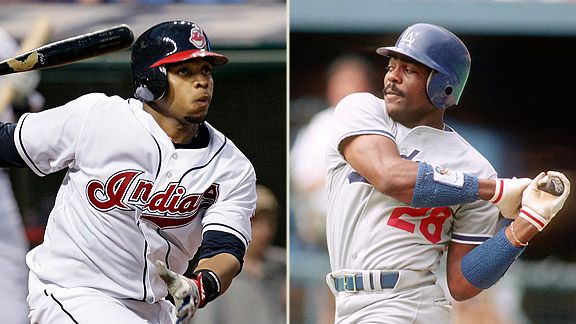 Getty Images/AP
The agony and the ecstasy ...
Bruce Ellingsen
,
Carlos Santana
and
Jonathan Meloan
for
Pedro Guerrero
and
Casey Blake
.
May, 3, 2010
5/03/10
3:10
PM PT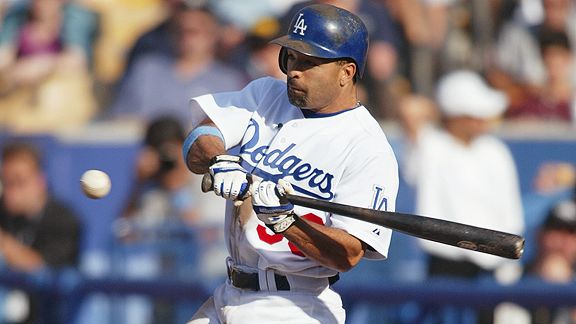 Streeter Lecka/Getty Images
Before being sent to postseason glory in Boston, Dave Roberts stole 33 bases in 34 attempts as a Dodger in 2004.
Dave Roberts, who ranks
10th in Los Angeles Dodger history in stolen bases
, is
suffering from Hodgkin's lymphoma
. Still only 37, Roberts has had two rounds of chemo and says his prognosis is good.
With Roberts, the question always comes up about why he was traded by the Dodgers. The Dodgers entered the
2004 stretch run
with an overload of outfielders: Steve Finley, Jayson Werth, Milton Bradley, Juan Encarnacion and Shawn Green. Dodger general manager Paul DePodesta basically did Roberts a favor by sending him somewhere where he wouldn't be buried on the bench, but DePodesta was quoted later as saying it was a trade he truly regretted.
Roberts' last season was in 2008, and he now works for the Padres as a special assistant.
Elsewhere, Ken Gurnick of
MLB.com
has posted the most in-depth feature in my memory on all-time Dodger Thoughts favorite Pedro Guerrero. Guerrero dug quite a hole for himself off the field, so it's nice to see some hopeful news about him.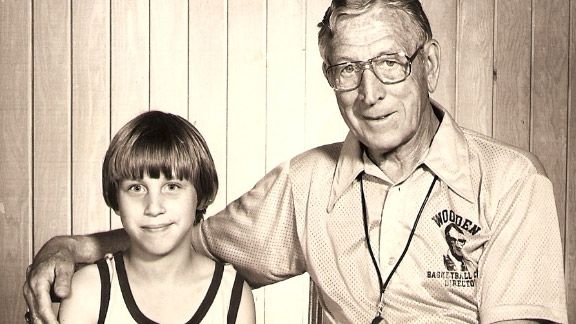 When you think back to being a kid, who were the stars that meant the most to you? They weren't actually all stars, were they?
The heroes of my youth, the people in sports and culture who affected me, influenced me and changed me ... it's no April Fool's joke, but no one in their right or wrong mind would have the same group. A mix of legends and larks – some off the wall, some on – all making for good stories.
Some were special for obvious reasons, some only because they arrived in my consciousness at just the right time, just when I needed someone to emulate, or celebrate, or maybe just smile about. They arrived just when I was ready to love them. And I think I do love them. I don't think I'd be writing about them today if I didn't love them.
Here is a tribute to some of those who, for different reasons, made a lifelong impression on me as a kid growing up in Los Angeles:
Happy Hairston
: In 1972, my final year of living in the first house I knew, the Lakers were having a little bit of a winning streak. For the first time that I can recall, I played basketball with my older brother in the driveway. I was 4 going on 5; he was 8 going on 9. We would pretend to be the Lakers, and he would be Gail Goodrich and tell me that I was Happy Hairston. Even at that young age, I had the sense that I was getting the second-fiddle player – something told me that a basketball player named Happy couldn't be that good, and might even be a
dwarf
. But
he wasn't bad
, and most importantly, he was my guy. My first sports identity.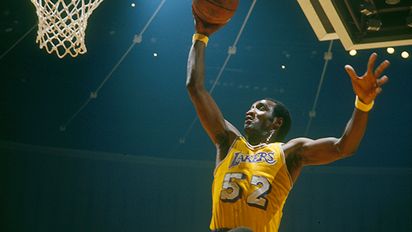 George Long/WireImage/Getty Images
* * *
Kent McCord:
My earliest "What do you want to be when you grow up" was a policeman. Then, I decided I wanted to be a TV star. Then I saw
Adam-12
, and I realized I could become both. Even at such a young age, I learned the names of the actors. Kent McCord wins in a tossup over Martin Milner. (It's funny how times change – my 7 1/2-year-old daughter still hasn't seen a primetime show because of all the kiddie options available to her, but I was soaking them up on my own TV before my fifth birthday.)
* * *
Hank Aaron: On vacation at the White Stallion Ranch in Tucson, Arizona, when I wasn't riding horses, avoiding cactii, wearing a bolo tie (John Wooden got it from me) and getting covered in dust, I was chalking up the earliest baseball memory that sticks with me to this day: being in front of a TV set with a bunch of other dude ranchers when Henry Louis Aaron hit his 715th home run. I don't remember it well – it's more of a still frame shot in my mind – and deep down, I fear my sister will read this and tell me I've got the details all wrong, but all I know is I've been seeing that scene in my memory forever. (Below is Vin Scully's marvelous call.)
* * *
Dr. George Fischbeck: Lots of different things work into this one. At the end of a field trip to a museum early in grade school, I came home with a book, "The World of Weather and Climate." Around the same time, I started going beyond the comic section of the newspaper and into the weather page. And then there was night after night of watching Channel 7 Eyewitness News on our 5-inch black-and-white kitchen TV, with Jerry Dunphy, Christine Lund, Fast Eddie Alexander, Stu Nahan ... and Dr. George, the Captain Kangaroo of weathermen. My brother, sister and I even wrote a song one December, "We Wish You a Merry Fischbeck." Not only did he introduce me to barometric pressure, he also hosted Saturday night, pre-prime-time half-hour shows, including one burned into my brain that introduced me to the Hindenberg. Oh, the humidity! TV cop had been replaced in my ambitions. I was going to be a TV weatherman.
* * *
James Harris: I just liked him at first because he was good. He was the quarterback the night I truly became a sports fan – August 9, 1975, a preseason 35-7 slaughter by the Rams over the Cowboys at the Coliseum, where for the first time I was truly captivated by the game in front of me. (And they say exhibitions don't matter!) That I later learned that Harris was a relative pioneer as a black quarterback only enhanced my childhood passion for him. I even had a brief fascination with Grambling. I went from weather to sports, and almost never left.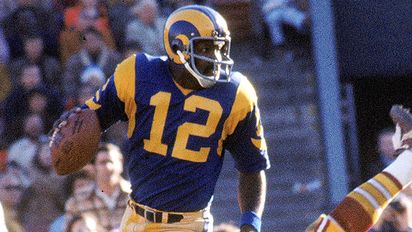 Nate Fine/Getty Images
* * *
Lawrence McCutcheon: Lawrence of Los Angeles. I still have the T-shirt I wore 35 years ago - I even had my 5-year-old son try it on ... carefully ... a few weeks back. One 1,000-yard season after another. The first great player that I discovered for myself. O.J. Simpson and Franco Harris were more famous, but they weren't mine. Lawrence was my first Pedro Guerrero – an underappreciated heavy-hitter.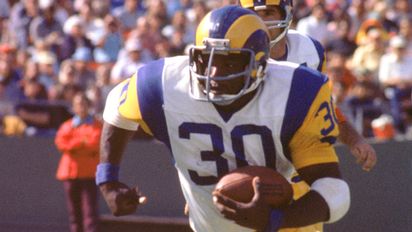 Martin Mills/Getty Images
* * *
Spider Sabich: Later immortalized (if I may use the term ironically) in news and then on "Saturday Night Live" as the skier who was "accidentally shot" by Claudine Longet, Sabich was in a ski film that we watched during our beginner days at June Mountain in the mid-'70s. A race announcer said that Sabich had broken his neck. Then there was a pause. And then, the announcer said – as if he needed time to think about it – that Sabich would be unable to continue racing that day. My brother and I thought that pause was just hysterical. Poor Spider.
* * *
Manny Mota: This one really needs no explanation. Suffice it to say, Mota might have been my first sports folk hero.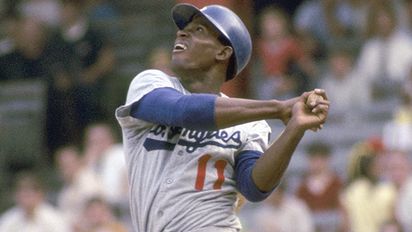 Diamond Images/Getty Images
* * *
Bob Cousy: The sports books I read as a kid had a profound effect on me. I checked a Cousy biography out of the school library, not really knowing anything about him – honestly, I'm not sure I had even heard of him. I might have just checked it out because there was a basketball player on the cover. Reading about the hours and hours of practice he put in as a schoolboy, I got my first introduction to the idea of working at becoming a great athlete – up to that point, I think I assumed sports heroes were born great. For a brief time, I allowed myself to believe that if I worked at it, I could become great – and though that turned out not to be true, I can't say that ethic has hurt me.
* * *
The Superstars: It was an exhibition ... but you couldn't have told me it didn't matter. The Superstars on ABC in the mid-'70s were huge to my brother and me. We would watch religiously and stage elaborate recreations. Just thinking of the Obstacle Course makes me sigh ... I mean, this was even bigger to me than Battle of the Network Stars.
* * *
Reggie Smith: Garvey, Lopes, Cey and Russell should maybe be on this list, but again, the underappreciated tend to win out for me. And on those 1970s Dodger teams, Smith was underappreciated. I used to think "cool" meant the Fonz and the Sweathogs. Then I realized "cool" meant Reggie Smith. The Yankees could have their Reg-gie, Reg-gie – I liked ours.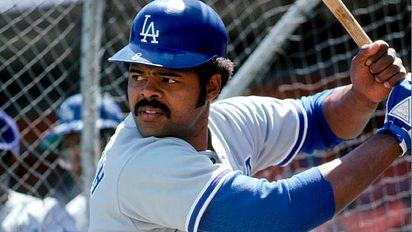 Michael Zagaris/Getty Images
* * *
Lynn Swann: In the first Super Bowl I can remember watching live on TV, my life was forever changed by Swann's tip-to-himself catch of a Terry Bradshaw bomb in a key moment of the Steelers' victory over the Cowboys. No other football play in my life did I reenact more.
* * *
Ron LeFlore: The roots of this story go to LeVar Burton's portrayal of LeFlore in "One in a Million: The Ron LeFlore Story," a TV movie. A baseball player who came ... from jail? Rock my world.
* * *
Slick Watts and Curly Neal: For reasons that I can't explain, if you were a bald basketball player with incredible skills, you had me transfixed.
* * *
Don Chaney: I couldn't shoot when I first started in grade-school pickup games. My first summer at John Wooden Basketball Camp, when I was 9, my coach actually had me stay in the backcourt while our team was on offense. Thank goodness for the Lakers acquiring Chaney, which introduced to me the concept of the defensive specialist. Now that was something I could aspire to. Now that blocked shot I had at basketball camp on a one-on-one fast break wasn't just a random event – it was the start of something big. Of course I was fooling myself just as much, but you can still credit most of my understanding that there was more to basketball than scoring to Don Chaney.
* * *
Franz Klammer: "Into the bear turn!" To this day, Klammer winning the gold at Innsbruck is the greatest ski run I've ever seen.
* * *
Wes Unseld: One day I decided either I needed a new favorite basketball player, or I wanted to adopt someone who wasn't a Laker – I forget which, but either way it was just for fun. So I took the boxscores of that morning's sports section, closed my eyes and stuck a finger down on the name Unseld. I can't remember the point total next to it, but it probably said 2. And the next day, maybe it said 5. At first, I was disappointed that I had landed on someone who didn't even score as much as Happy Hairston, but eventually I learned what a great defender and rebounder he was. Wes Unseld was all right in my book.
* * *
Abraham Lincoln: Okay, it's not exactly profound to include Lincoln, but he makes the list because his geared-for-kids biography was a primary example of the right book making someone larger than life accessible to me. I can't tell you how many times I re-read that book. It three-dimensionalized him.
* * *
Magic Johnson: Another of my favorite sports stories from kidhood comes from John Wooden Basketball Camp. Each session, Wooden would hold a Q&A with the campers. In the summer of '79, shortly after the NBA draft, one of the campers asked Wooden which new first-round draft pick would be better for the Lakers: Brad Holland or Earvin Johnson. Wooden avoided the easy choice – Holland, the UCLA graduate – and went out on a limb to choose Magic. And then Magic hugged Kareem, and everyone in Los Angeles had a new best friend.
* * *
Pedro Guerrero: I can remember when Guerrero played second base for the Dodgers. That's how solid my Guerrero cred is. I can tell you how he batted .625 in his first season. I can explain to you the Bill James argument for why he should have been the 1981 World Series MVP – by himself – and tell you all about the glorious summer of 1985. I will stand no aspersions cast at Pedro Guerrero.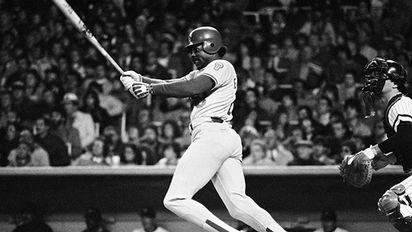 AP
* * *
Ken Coleman: The Red Sox announcer wrote a book, "So You Think You Want to Be a Sportscaster." As it happens, I did think I wanted to be a sportscaster. And I read Coleman's book inside and out, up, down and sideways, and began trying to broadcast games in my bedroom. And then I turned to writing.


* * *
Steven Bochco: Along with Michael Kozoll, Bochco was the man behind "Hill Street Blues," the television love of my life. Turned onto it by my brother, I watched it every Thursday, rooting for it to survive its terrible ratings. When my brother went off to college in 1981, I recorded every episode, watched them, then watched them again in late-night marathons with my brother on winter and spring vacations. But strangely, it never occurred to me as a kid to write for television as a grownup, and I think you can blame my overall obsession with sports for that. I spent more time dreaming of making a leaping catch at the wall or a turnaround three-pointer at the buzzer than writing for the greatest show of my generation.
* * *
R.J. Reynolds: Hmm, I think I've said a thing or two about R.J. in the past.
* * *
Vin Scully: Around the time I realized I was never going to be a pro athlete, there was Vinny to give my life purpose. I can't tell you how lucky I feel that to this day, he exists as a role model, as well as the greatest broadcasting voice I'll ever know.