Dodger Thoughts:

Peter O'Malley
November, 11, 2011
11/11/11
8:57
AM PT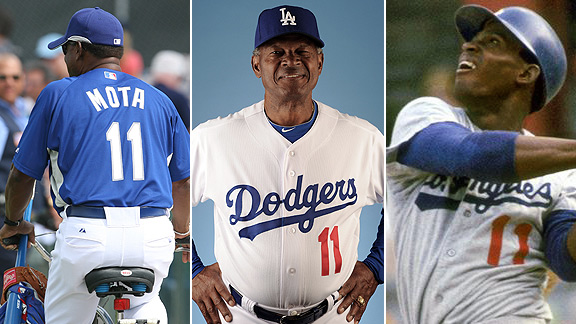 Getty ImagesManny Mota Mota Mota ...
There has still been
no contact
from the kidnappers of Washington catcher Wilson Ramos, more than a day
since he was abducted
. But Venezuelan authorities
have said they are confident
they will find him.
I can't tell that this story is getting the coverage it deserves, although it is mostly just a painful waiting game. I'm thinking my best thoughts.
* * *
Catching up on some Dodger ownership news and notes:
* * *
Elsewhere ...
November, 10, 2011
11/10/11
9:56
AM PT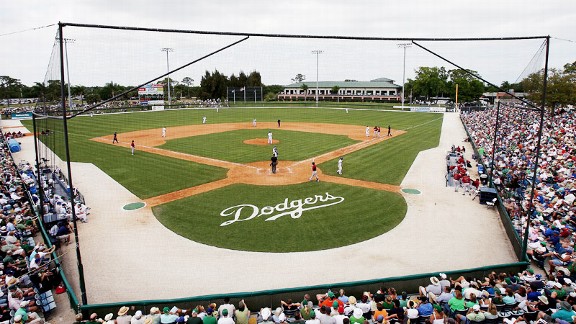 Doug Benc/Getty ImagesA view from the final Dodger Spring Training game at Holman Stadium, March 17, 2008.
Former Dodger owners Peter O'Malley and sister Terry Seidler and former pitchers Chan Ho Park and Hideo Nomo have joined forces with Minor League Baseball to operate the old Dodgertown complex now known as the Vero Beach Sports Village.
O'Malley, a candidate to buy the Dodgers themselves from Frank McCourt, will be chairman and CEO of the new enterprise, and MiLB president Pat O'Conner will be president and COO, while Craig Callan will remain in control of operations of the facility, where he has worked for 33 years.
O'Conner said the goal of the group is to use the facility "for local, domestic and international sports programs" that will attract a variety of visitors.
"This combined effort of Minor League Baseball, the O'Malley and Seidler families and members of our extended baseball family will undoubtedly have a positive impact on Vero Beach Sports Village," O'Conner said in a statement. "Peter O'Malley and his family have a long and storied history in Vero Beach and baseball in general, both domestically and internationally.
"Chan Ho Park and Hideo Nomo provide insight from a player's perspective, as well as enormous credibility in Asia and the Pacific Rim."
Nomo has been bringing Japanese youth players to the U.S. for the past couple of years for competition and cultural exchange.
"Being a part of the group that will operate a facility that provides youths with resources they can use both on and off the field is extremely rewarding," Nomo said. "Those who come to the facility can improve not only as athletes through tournaments and training, but can also develop skills to help them mature into young men and women."
Added Park: "I have many fond memories of Dodgertown from my nine seasons playing for the Dodgers. I love it there and look forward to seeing many teams and individuals enjoy all of the unique features of the complex and take full advantage of the amenities it has to offer, as I did when I trained and played there."
For O'Malley, it's a return to his roots — he was director of Dodgertown from 1962-65. Seidler worked there in the 1950s as the secretary for the Dodgertown Summer Camp for Boys.
"I embrace this wonderful opportunity to use this iconic facility that my family has cherished for decades to promote baseball," O'Malley said in a statement. "Vero Beach Sports Village should always be an asset and a jewel to the citizens of Vero Beach and Indian River County, and I look forward to adding further luster to its rich history.
Though MiLB began operating the old Dodgertown facility in 2009 and events have continued to take place there, it has been in jeopardy ever since Dodger Spring Training left for Camelback Ranch in Arizona, with lots of speculation that it could eventually be sold off and converted for non-sports use.
"We know the Dodgers have a long-term spring training commitment with the community of Glendale, Arizona, and our endeavor in Vero Beach in no way impacts that relationship," O'Malley said.
In other words, even if O'Malley ends up back with the Dodgers, don't expect Spring Training to return to Vero Beach. Still, for fans of Dodgertown, this is welcome news.
November, 3, 2011
11/03/11
1:47
PM PT
Steve Garvey and Orel Hershiser were never teammates, except perhaps in Spring Training. Garvey's last game with the Dodgers was October 3, 1982, while Hershiser's debut came on September 1, 1983.
As a San Diego Padre, Garvey came up to the plate against Hershiser 24 times
from 1983-1987
and had a single, a double, a walk and 21 outs. Garvey's .087 batting average against Hershiser was his worst against any major-league pitcher he faced at least 20 times.
I bring this up only because I'm struck by the peculiarity of 1980s Dodgers being in competition with each other for post-McCourt ownership of the team. Garvey and Hershiser are united in their pursuit (though they never played together), yet at least for now, united against a potential ownership group that features former Dodger owner and president Peter O'Malley and still another that features former Dodger general manager Fred Claire, who worked under O'Malley for nearly 30 years. All of them played significant roles in at least one of the Dodgers' last two World Series titles.
Just feels kind of weird. But as far as Claire is concerned, the more the merrier.
"From my standpoint, I think it's great that Peter is involved in seeking the team — as well as Steve and Orel," Claire said in an e-mail. "The reason for this is that my goal is the see the Dodgers end up in the best hands as possible, and I have great respect for Peter, Steve and Orel.
"I have been involved with our group headed by (biotech executive) Ben Hwang for four months because I share Ben's views as to how the Dodgers need to regain their place in the community and in Major League Baseball. As far as competition, the only group I want to see win are the Dodger fans."
Claire was also interviewed by Max and Marcellus
on ESPN AM 710 today
.
"I'm not going to mislead anybody," Claire told them. "We have a lot of work to do as far as raising the capital. This is an enormous amount of money.
"The leader of the group, (who) is really going to be there at the owners' table when it comes down to one representative per club, is going to be a very significant person, and we're hopeful of identifying such a person and having the capital to be prepared to make our case."
* * *
Former Times sportswriter Ross Newhan offers his latest take on the Dodger ownership situation at
Newhan on Baseball
.
September, 16, 2010
9/16/10
7:03
PM PT
Times
that he believes the team should have new ownership.
He said he is not interested in returning to ownership but would be willing to smooth the transition for potential new owners on what he called a "short-term" basis.

"For many years, the Dodgers have been one of the most prestigious institutions in our city and throughout professional sports," O'Malley said. "Sadly, that is not the case today."

McCourt responded through a statement from his spokesman, Steve Sugerman.

"Frank has made it abundantly clear he is the long-term owner of the Dodgers," Sugerman said, "and he looks forward to the day when his four boys own and operate the team." ...
* * *
Dodger coach Bob Schaefer had some weirdly noteworthy comments today in an interview with Jim Bowden on XM radio.
Mike Scioscia's Tragic Illness
has details.
One of them was a no-comment on Matt Kemp that was followed by a comment that indicates there is no love lost there. Another reportedly had Schaefer saying that Don Mattingly had turned down "managerial positions" to stay in Los Angeles, but I'm wondering if Schaefer really meant or said "managerial interviews."
Also, it's one thing for me to say
the Dodgers have issues for next season
, but it's a bit unusual for a coach to say the team "will have to pull a rabbit out of the hat" to contend. Presumably, Schaefer has already plotted his own exit from the organization.
Schaefer said he doesn't think Joe Torre will manage the Dodgers next season, but that he will stay in the game in some capacity. However, Torre told reporters that
* * *
David Brown has a barrel-of-fun interview with Vin Scully at Yahoo! Sports' Big League Stew.
Russ Mitchell is the only Dodger since 1920 to start a game at first, third and the outfield in his first season, according to Eric Stephen of True Blue L.A.
One of my earliest memories as a baseball fan is reading in Baseball Digest about Rennie Stennett's 1975 7-for-7 game, in which Pittsburgh shut out Chicago, 22-0. Chris Jaffe recalls the event in The Hardball Times.
Howard "Howie" Levine, the longtime Grant High School boys basketball coach whom I first met more than 20 years ago as a Daily News sportswriter, has worked as a Dodger Stadium usher for 38 years. On Tuesday, the night that the Dodgers honor their employees of 25 years or more, Levine will sing the National Anthem.
Former Dodger owner Peter O'Malley, who has publicly been almost completely silent on the current ownership issues with the team, told Bill Shaikin of the
September, 8, 2010
9/08/10
5:14
PM PT
In case you're wondering why Russ Mitchell is getting to make his major-league debut ahead of John Lindsey,
this Dodgers.com video
of Ned Colletti congratulating Lindsey on his call-up and telling him he would fly his Mississippi-based family to the Dodgers' upcoming four-gamer in Houston offers a clue.
* * *
Former Dodger owner Peter O'Malley figures prominently in this
Sports Illustrated feature
by Lee Jenkins on the chaos in team ownership.
* * *
Eric Stephen of
True Blue L.A.
looks at just how poor the Dodger outfield has become. Interesting tidbit: Andre Ethier has been striking out more than Matt Kemp, which is saying something.