Dodger Thoughts:

Ramon Ortiz
May, 27, 2010
5/27/10
10:04
AM PT
The Dodgers did a little bait and switch: After telling us 18 hours ago that Ramon Ortiz would back up Carlos Monasterios in the latter's start Friday, they designated Ortiz for assignment., according to manager Joe Torre (via the Dodgers' public relations department).
Los Angeles has brought up
Justin Miller
from Albuquerque, just in time for Vin Scully to talk about the ex-Giant's many tattoos on this weekend's telecasts from Colorado. Miller has a 2.22 ERA for the Isotopes in 24 1/3 innings with 25 baserunners allowed against 25 strikeouts.
Miller had a 3.18 ERA with 36 strikeouts in 56 2/3 innings
for San Francisco in 2009
, a year that ended with arm trouble.
Torre told reporters that the Dodgers have offered Ortiz a minor-league assignment and that Ortiz is discussing it with his agent. Torre also said that Charlie Haeger will rejoin the Dodgers sometime soon.
Finally, Andre Ethier will play in minor-league rehab games for Albuquerque at Memphis on Friday and Saturday.
May, 19, 2010
5/19/10
10:59
PM PT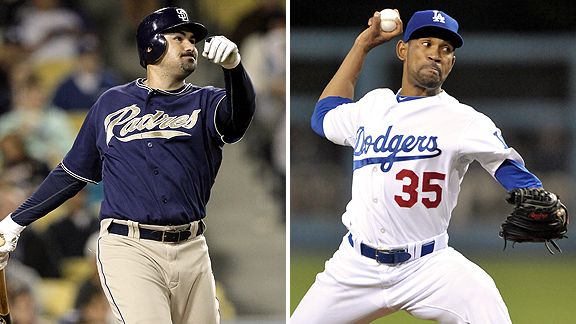 AP/US Presswire
Adrian Gonzalez raised his career numbers against Ramon Ortiz to 7 for 13 with four walks and two homers – and finished the night with six RBI.
Joe Torre gave Ramon Ortiz another start tonight for the Dodgers, despite Ortiz pitching rather poorly in San Diego last week – not that I think anyone was all that surprised by Torre's decision. Allowing three runs in four innings in pitching-friendly San Diego was nothing to be proud of, but Torre seemed to feel not only that it was a reasonable first effort, but that it outshone the four innings of one-run ball that Carlos Monasterios gave the Dodgers against Pittsburgh two weeks earlier.
This isn't anything to start lighting effigies over, but the lack of a second chance for Monasterios is a bit vexing in light of the unexpected success that John Ely has had. While there's no certainty that Ely can maintain his outstanding performance to date, no one wants to jump off that train just yet. Why Torre was so quick to get off Monasterios' choo-choo to get on Ortiz's doesn't make a whole lot of sense.
Remember, though, that even Ely's second start was delayed so that Torre could give Charlie Haeger one more opportunity – one that ended up rather disastrous for the knuckleballer. And so maybe, Torre's rope for Ortiz will be cut now that the 37-year-old righty has followed up that last start against San Diego with a stinker in tonight's
10-5 defeat
: 3 1/3 innings, five runs, six hits, three walks, one strikeout. Ortiz now has a 6.30 ERA (thanks in small part to Ramon Troncoso, who allowed an inherited run to score and gave up two homers in a five-run fourth). Monasterios, after throwing three shutout innings tonight, is at 1.90.
James McDonald or Scott Elbert should be grabbing that No. 5 spot in the rotation, but they haven't. I might just throw McDonald out there to see what happens, but in their absence, it's time for Monasterios to get another shot – not with the expectation that he'll give you six innings, but that he'll keep the score more manageable in the early going than Ortiz would. With the rest of the Dodger starting pitching having stabilized, the Dodgers can afford this. Whether the Dodgers next use a fifth starter on May 25 (after an off day) or May 29 (the next time it's necessary), Ortiz is no longer the man to bridge the gap between now and Vicente Padilla's return.
All this being said, the Dodgers hung on for most of tonight's game despite allowing six RBI to Adrian Gonzalez and five times on base to Will Venable, and despite being down 8-3 after four innings (that took two hours to play). They threatened constantly, tallying 15 baserunners for the game, but simply couldn't get the big blow, and after George Sherrill allowed two more runs in the ninth, fell to defeat for the first time in 10 games. It cost the Dodgers a chance to move into first place in the National League West. On the other hand, maybe it moved them one step closer to figuring out the starting pitching they're supposed to have.
* * *
Manny Ramirez was a late scratch from tonight's starting lineup because of a left foot injury he suffered during pregame warmups, according to Tony Jackson of
ESPNLosAngeles.com
. Ramirez pinch-hit for the Dodgers in the fifth – no further details on the injury were immediately available.
May, 10, 2010
5/10/10
5:30
PM PT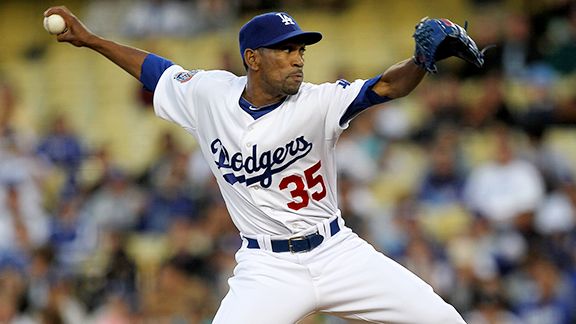 Stephen Dunn/Getty Images
Ramon Ortiz's last major-league start was in 2007.
Joe Torre told reporters tonight that as of this moment, he plans to start Ramon Ortiz on Friday instead of taking advantage of Thursday's off day to skip the No. 5 spot in the rotation. Torre wants Clayton Kershaw and Chad Billingsley to get the extra day of rest.
Ortiz has a 5.24 ERA in 22 1/3 innings with 31 baserunners allowed (including four home runs) against 16 strikeouts. In relief against Colorado on Saturday, he was charged with two runs on eight baserunners in five innings. He'd be taking the mound next in pitching-friendly San Diego.
Torre indicated that he expects John Ely to stick around for a while, that
this second callup
isn't a one-time thing. A start Friday by Ortiz would bump Ely's next outing from San Diego to Monday in Houston.
Torre also said that Charlie Haeger's heel has been bothering him and that he wasn't letting on about it. If Haeger's injury isn't invented and he really has been pitching hurt, well, you know, that was really irresponsible of him.
May, 1, 2010
5/01/10
9:52
PM PT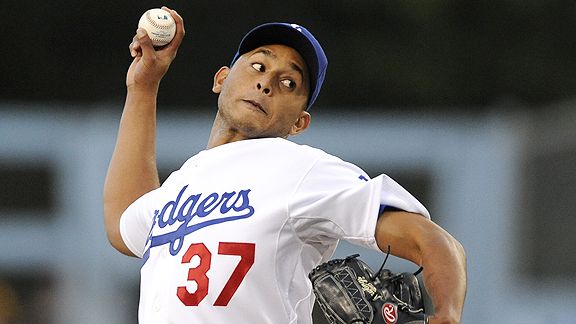 Gus Ruelas/AP
Carlos Monasterios allowed three baserunners in each of the first two innings, but just one run.
Fluke or find? Carlos Monasterios continues to make the question an intriguing one.
From a town called Obscurity come the man who continues to make it across the tightrope when the Dodgers need him to, Monasterios this time pitching four innings of one-run ball – while also keying a game-changing three-run third inning with his first career hit – in the Dodgers'
5-1 victory over Pittsburgh
tonight.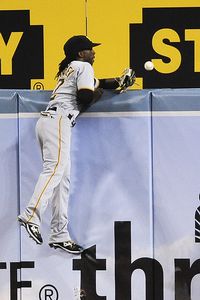 Gus Ruelas/AP
Andrew McCutchen can only watch Andre Ethier's third-inning drive go beyond his reach.
Working with a 75-pitch limit, Monasterios didn't avoid trouble, giving up three hits (including a first-inning Andrew McCutchen home run) and a walk while hitting two batters in the first two innings, but he held strong in adversity. And in his final two innings, he retired six of seven batters.
In the bottom of the third, Monasterios and Russell Martin singled ahead of Andre Ethier's three-run homer that gave the Dodgers a lead they didn't come close to surrendering.
Ramon Ortiz succeeded Monasterios and was even more impressive, striking out five in three innings while allowing two baserunners, and Hong-Chih Kuo pitched a perfect eighth. I haven't gotten to the Ramon Troncoso story yet, but inexplicably the righty pitched a one-hit ninth in his 16th appearance in 24 games – a 108-game pace. Yeah, this is worth exploring.
In the meantime, the Dodger bullpen, counting the nine innings tonight, has allowed one run in its past 14 2/3 innings.
Ethier and James Loney each added two doubles, and Reed Johnson had a double and a single.
April, 3, 2010
4/03/10
10:35
AM PT

With Jeff Weaver, Ramon Ortiz and Garret Anderson added to the Opening Day roster Friday, the Dodgers have 23 of their 25.

Starting pitchers (5): Chad Billingsley, Clayton Kershaw, Hiroki Kuroda, Vicente Padilla, Charlie Haeger

Relief pitchers (5): Jonathan Broxton, George Sherrill, Ramon Troncoso, Jeff Weaver, Ramon Ortiz

Starting lineup (8): Russell Martin, James Loney, Blake DeWitt, Rafael Furcal, Casey Blake, Manny Ramirez, Matt Kemp, Andre Ethier

Bench (5): Jamey Carroll, Ronnie Belliard, Brad Ausmus, Reed Johnson, Garret Anderson

Carlos Monasterios is all but a lock for a sixth bullpen spot, bringing the team to 24.

A.J. Ellis would sub in for either Martin or Ausmus should a last-minute health issue flare up, but otherwise is headed to Albuquerque, where Chin-Lung Hu (who made an ugly error to allow the winning run to score in Friday's 4-3 loss to the Angels) and Xavier Paul will be among his teammates.

Luis Ayala and Justin Miller were sent to the minors Friday.

Barring a last-minute recovery by Hong-Chih Kuo, that leaves pitcher Russ Ortiz and infielder-turned-utility man Nick Green contending for the title of Mr. Irrevelant – the 25th man that no one actually wants to see in a game. (I'd be pretty happy to see Kuo on the roster, even if he's only pitching once every week to 10 days, over Ortiz or Green.)

Normally, you'd expect a Joe Torre-managed Dodger team to go with at least 12 pitchers. But Torre seems curious about the possibility of knuckleballer Haeger serving as the seventh reliever in between starts, so it's plausible that Ortiz would start the season in the minors. The Dodgers would then go with 11 pitchers until Ronald Belisario or Kuo were ready to be activated.

On the other hand, today's start of Carroll at shortstop indicates that Torre is still entertaining the possibility of him being Rafael Furcal's backup at that position.

In any case, I think we have to face up to the fact that Ortiz will be in a Dodger uniform at some point this season. I had predicted that he would be this year's Shawn Estes, but he's looking more like this year's Weaver or Eric Milton.

For comparison, here are the changes (that we can be reasonably sure of) from the 2009 Opening Day roster:

Starting pitchers: Padilla and Haeger replace Randy Wolf and James McDonald.

Relief pitchers: Sherrill, Weaver, Ramon Ortiz and Monasterios replace Kuo, Guillermo Mota, Will Ohman and Cory Wade.

Starting lineup: DeWitt replaces Orlando Hudson.

Bench: Johnson, Anderson, Carroll and Belliard replace Juan Pierre, Mark Loretta, Doug Mientkiewicz and DeWitt.

Two members of the 2009 Opening Day bullpen, Wade and Ohman, ended up being non-factors for 2010 before April was done.
March, 28, 2010
3/28/10
4:54
PM PT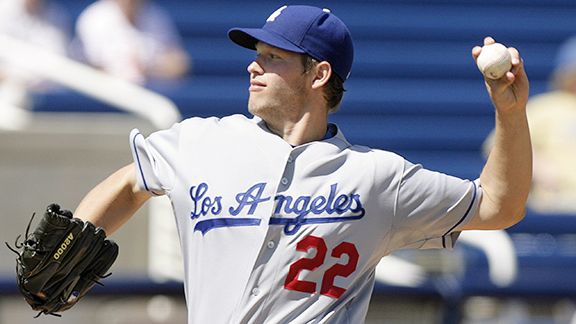 Paul Connors/AP
Clayton Kershaw
It was only two Marches ago that Clayton Kershaw emerged from the theoretical to the tangible with his
"Public Enemy No. 1"
to strike out Sean Casey in an otherwise forgettable Spring Training game. Just two years.
Now, Kershaw is a ripe old 22 years old, and most of the debate about him is whether he'll be great or merely good. And so today, as Kershaw cruises through six innings of his final March outing, striking out seven and walking just one while allowing one run on 99 pitches, Dodger fans don't need to marvel. They just nod and smile. "Yeah, we know."
In two blink-of-an-eye years, Spring Training is no longer a proving ground for Kershaw. It's merely a workout room, a waystation for bigger and hopefully better things.
Update:
The latest on Kershaw's improved repertoire, from Dylan Hernandez of the
Times
:
Clayton Kershaw couldn't throw his curveball for strikes in the first couple of innings Sunday, something that would have spelled trouble at an earlier stage of his career.

But his fastball was working. So was his slider. And changeup.

According to a chart kept by pitching coach Rick Honeycutt, Kershaw threw seven of eight changeups for strikes and recorded three outs with the pitch. Seven of his nine sliders were thrown for strikes.

Relying on the two relatively new weapons in his arsenal, Kershaw was able to bide time until his curveball started dropping into strike zone. He exited his final Cactus League start having held the Cincinnati Reds to one run, six hits and one walk over six innings. ...

* * *
There's a little tiff brewing, reports Ken Gurnick of MLB.com, between the Dodgers and Doug Mientkiewicz, who wants the team to release him before their Friday deadline so that he can have a better shot at getting a spot with another team. The Irony Committee has issued an approval on the fact that the reason the Dodgers want to hang on to Mientkiewicz as long as they can relates to the possibility of their first-choice lefty pinch hitter, Garret Anderson, suffering a major injury like Mientkiewicz incurred last April. He provided the example of the need to not grant his wish.
Working on his second consecutive day, Ramon Ortiz struck out two of the three batters he faced, passing probably the last test (other than waking up healthy Monday) for him to make the team.
Chad Gaudin signed with the A's, ending speculation the Dodgers might go for him.
Fifteen Dodger pitchers
have Spring Training ERAs of 0.00, so it's not exactly a rare feat at this stage of 2010. But it's fair to tip one's hat to Ramon Ortiz, who has extended his scoreless string to nine innings (with seven baserunners and 11 strikeouts) after throwing four shutout frames today in the Dodgers' 4-0 victory over the Angels.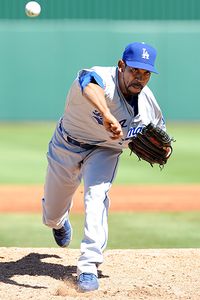 Lisa Blumenfeld/Getty Images
Ramon Ortiz allowed two baserunners in four innings today, while striking out five.
It doesn't mean that Ortiz will end 2010 a better pitcher than Scott Elbert, who had some soreness about as soon as Spring Training began and was optioned to the minors today with a 20.25 ERA. But it does mean that Ortiz has made himself a very real part of the No. 5 starter
conversation
, along with fellow 0.00ers Eric Stults, Russ Ortiz and Carlos Monasterios.
I emphasize the word "conversation" because we are still three weeks away from Opening Day, which means we're still at the talking stage as opposed to the decision stage. The Ortizii also operate at a disadvantage to Stults, Monasterios and Charlie Haeger, all of whom the Dodgers would lose if they're not on the April 5 roster.
As I wrote last month
, neither Ortiz (combined age: 73) has had a major-league ERA below 5.00 since 2004. So this isn't just a question of turning over a new leaf - did they upend the entire tree?
Predictably, there's all kinds of talk of Ramon Ortiz succeeding by adjusting to his limitations, as seen here in Tom Singer's
MLB.com
article this afternoon. Tony Jackson of
ESPNLosAngeles.com
reports that Ortiz benefited by learning to throw a curveball in Japan in 2008. I'm not ruling it all out – nor am I ruling out the possibility that Ortiz will leapfrog the others and earn a spot on the staff in April. I just happen to still have major doubts that we'll be waxing positive about Ortiz in September.
* * *
When Spring Training began, there were at least two spots on the pitching staff open for competition. But now there could be as many as five – if Ronald Belisario begins the year on the restricted list, if Hong-Chih Kuo begins the year on the disabled list and if the team goes with a 12-man staff. (At this point, my bets would be: yes, no, yes.)
There are at least 10 remaining candidates: Ortiz, Ortiz, Stults, Haeger, Monasterios, Jon Link, James McDonald, Josh Towers, Justin Miller and Jeff Weaver. Too soon to say what will happen, but the most intriguing decision might be whether McDonald will be in the Dodger bullpen or the Isotopes starting rotation, alongside Elbert.
* * *
Trayvon Robinson Saturday, Brian Cavazos-Galvez Sunday and Angelo Songco today – all hitting no-doubter home runs. I can't remember a Spring Training when the Dodgers got homers in three consecutive games from players 22-and-under – two of them not even out of A ball yet. Fun.
Argenis Reyes, Brent Leach, Travis Schlichting and Ivan De Jesus, Jr. were sent to the minors this afternoon.
Doug Mientkiewicz has a .421 on-base percentage in Spring Training after going 2 for 3 today; Garret Anderson is at .400 (2 for 5 in two games).
There will be a memorial service for Willie Davis on Tuesday at Dodger Stadium, according to The Associated Press.
Now that "Sugar" is making the rounds on cable and DVD – Josh Wilker wrote about it today at Cardboard Gods – it's time for any of you who ignored my recommendation to see it to go see it already!
Update: What do Jamie McCourt and Leslie Knope have in common? The ambition to be President of the United States, according to Bill Shaikin of the Times.