Dodger Thoughts:

Ramon Troncoso
October, 14, 2011
10/14/11
5:57
PM PT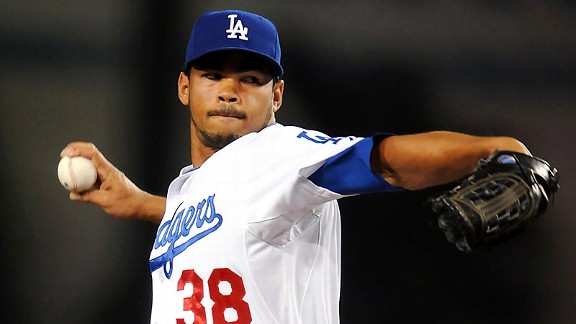 Jayne Kamin-Oncea/US Presswire
Ramon Troncoso
(18)
The setup:
Superb for the Dodgers in 2009, Troncoso hadn't really been the same since, coincidentally or not, a stretch of 2010 in which he pitched in 16 of the Dodgers' first 24 games, never with more than one day of rest (not counting how many times he warmed up but didn't enter a game). Troncoso had a 6.08 ERA from May 1 through Independence Day that year, at which point he found himself
back in a place
he probably thought he had left behind for good, Albuquerque. He shuttled back and forth for the remainder of the 2010 season. Though a better
final two weeks
in Los Angeles (9 1/3 innings, 12 baserunners, 1.93 ERA, six strikeouts) offered a bit of encouragement that the rocky road of relief might run the right way once more, Troncoso still wasn't a sure thing. Given that he still could be optioned to the minors in 2011, he had to prove himself again in Spring Training.
The closeup:
After turning 28 in February, Troncoso turned back to Albuquerque in March, failing to make the Dodgers' Opening Day roster. The team's reliever roulette brought Troncoso back
in mid-April
(thanks to a Hong-Chih Kuo trip to the disabled list), but in two games, he allowed six runs on 12 hits in 2 2/3 innings. And so back to the Isotopes he went.
Given that memory, and the 6.75 ERA he ended the 2011 season with, you might have the impression that Troncoso never contributed, but that's not really the case. In two later stints with the Dodgers (May-June and September), Troncoso had an ERA of 2.75 with 14 strikeouts against 25 baserunners in 19 2/3 innings, stranding five of eight inherited runners. That's not outstanding, but it was occasionally useful.
On June 10 in Colorado
, for example, Troncoso stranded two inherited runners while throwing 2 1/3 shutout innings in a game that the Dodgers nearly came back from a six-run deficit to win.
OK, now I'm going to tell you I cheated a bit in that last paragraph.
On Closing Day
, Troncoso gave up all five runs in the ninth inning of what nearly became the Dodgers' second mega-collapse in as many days, so that May-September performance wasn't quite so lofty. Still, to get a grasp of Troncoso's season, factor in that he allowed no earned runs in 13 of 18 appearances. He allowed two earned runs in a game once, three earned runs twice, four earned runs once and five earned runs once.
Coming attractions:
Next spring, Troncoso will find himself in much the same position he was before — trying to prove he has the reliability and durability to hold down a major-league job. Despite the ascension of pitchers like Javy Guerra, Kenley Jansen, Scott Elbert and Josh Lindblom, there's still room for someone capable of providing occasional long relief like Troncoso — if he's able. Perhaps
Cory Wade
can be his inspiration.
June, 1, 2011
6/01/11
9:55
PM PT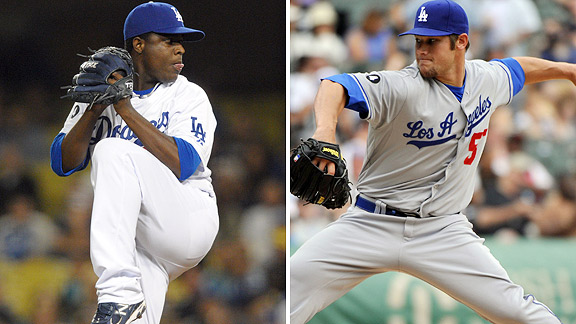 Icon SMI/US PresswireRubby De La Rosa and Scott Elbert brought relief from the minors.
The kids have come to the rescue of the Dodger bullpen, and not nearly enough has been said about it.
Jonathan Broxton went on the disabled list May 6, followed within 10 days by Hong-Chih Kuo, Vicente Padilla and Blake Hawksworth. To replace them, the Dodgers brought up Kenley Jansen (who had temporarily gone down to Chattanooga), Scott Elbert, Javy Guerra and Ramon Troncoso.
Another week later, the Dodgers dispatched mop-up man Lance Cormier and replaced him with Rubby De La Rosa. Then in the past week, Jansen went on the disabled list and was replaced by Josh Lindblom, who made his major-league debut with an inning in the finale of the Colorado series Wednesday.
Of the replacements, Troncoso was the veteran with all of 177 1/3 career innings. The
combined
career experience of Jansen, Elbert, Guerra, De La Rosa and Lindblom was 39 2/3 innings. Their average age: 23 1/2. Think about it – more than half of the bullpen handed over to runts.
Here's how they've done, including the
3-0 Dodger loss to Colorado
, in which the bullpen followed Jon Garland's six-inning, three-run start with shutout ball:
Jansen: 7 2/3 innings, 13 baserunners, four earned runs (4.69 ERA), 13 strikeouts, 0 of 5 inherited runners scored
Troncoso: six innings, six baserunners, no earned runs (0.00 ERA), two strikeouts, 2 of 5 inherited runners scored
Guerra: seven innings, nine baserunners, two earned runs (2.57 ERA), five strikeouts, 0 of 0 inherited runners scored
De La Rosa: five innings, four baserunners, one earned run (1.80 ERA), five strikeouts, 0 of 0 inherited runners scored
Elbert: 4 2/3 innings, six baserunners, no earned runs (0.00 ERA), seven strikeouts, 1 of 6 inherited runners scored
Lindblom: one inning, two baserunners, no earned runs (0.00 ERA), no strikeouts, 0 of 0 inherited runners scored
Total: 31 1/3 innings, 40 baserunners, seven earned runs, 32 strikeouts, 2.01 ERA, 3 of 16 inherited runners scored
That's remarkable, especially considering we can assume that we can possibly attribute three of the seven runs allowed to the shoulder inflammation that sent Jansen to the disabled list.
The news that
Padilla is expected to return to active duty Friday
will, barring injury, start pushing the runts back to the minor leagues, but each has made the case to stay with the big club. Considered a weakness less than a month ago, the Dodger bullpen will in less than 48 hours have eight effective relievers to choose from, with more to come as Broxton, Kuo, Hawksworth and Jansen get back on their feet.
The other noteworthy thing is that with all the injuries, Dodger manager Don Mattingly has basically been forced to throw the idea of a designated closer out the window, instead bringing in pitchers simply based on the situation rather than their title or status. Unshackled from a pecking order, the Dodger kids haven't suffered – they've thrived. Jansen, Guerra and De La Rosa have all finished close games, while Elbert and now even Lindblom have pitched in situations where giving up a single run could be a killer. De La Rosa, whose destiny remains starting pitcher, could be a circa-1992 Pedro Martinez-like smokejumper, giving you a couple innings at a time as long as there's sufficient rest in between.
Message to Mattingly: Do yourself a favor. As the veterans return to the pen, don't get caught up in who your closer is. Just keep doing what you're doing. Manage according to the situation, not according to resume.
April, 16, 2011
4/16/11
4:45
PM PT
ESPNLosAngeles.com
has details, including the "oh, of course" news that Kuo has been "bothered by back discomfort all season."
Ramon Troncoso has been recalled to join the Dodgers' now all-righty bullpen.
A lower-back strain has knocked Hong-Chih Kuo off the abled list. Tony Jackson of
March, 16, 2011
3/16/11
8:22
AM PT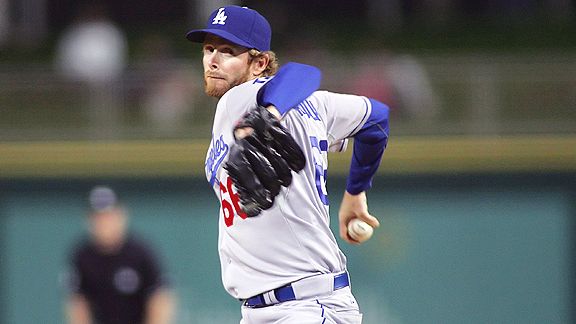 Jake Roth/US PresswireDespite a 7.23 ERA last year with St. Louis, Mike MacDougal has taken advantage of Dodger injuries to carve out a chance at a roster spot.
On the last off day before the start of the season, this seems like a good time to check in on how the Dodger 25-man Opening Day roster is shaping up.
On track (18):
Starting pitchers (4):
Clayton Kershaw, Chad Billingsley, Hiroki Kuroda, Ted Lilly
Relief pitchers (5):
Jonathan Broxton, Hong-Chih Kuo, Matt Guerrier, Blake Hawksworth, Kenley Jansen
Catchers (1):
Rod Barajas
Infielders (4):
James Loney, Juan Uribe, Rafael Furcal, Jamey Carroll
Outfielders (4):
Andre Ethier, Matt Kemp, Tony Gwynn Jr., Marcus Thames
Likely (3):
1) Casey Blake, 3B:
The
latest news on Blake
sounds about as good as one might have expected – inflammation with no evidence of a muscle strain. So while anything could happen, we won't assume that he'll be on the disabled list March 31.
2) Mike MacDougal, RP:
A 0.00 spring ERA, veteran's moxie and all the positive things people are saying about him in the press make MacDougal this year's most likely prize off the scrap heap.
3) Dioner Navarro, C:
A.J. Ellis can still be optioned to the minors, so we'll put him aside. Though Hector Gimenez presents an alternative, Navarro seems safe.
Roster spot battles (4):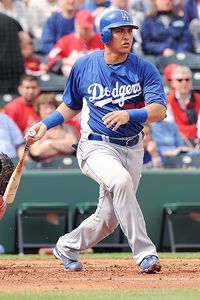 Norm Hall/Getty ImagesAn .847 spring OPS has helped make Hector Gimenez a longshot as opposed to a no-shot.
1) Jay Gibbons vs. Xavier Paul vs. Trent Oeltjen, OF, vs. Hector Gimenez, C/1B:
Gibbons' spring has been a nightmare, to the extent that Tony Gwynn Jr. might already have passed him in the pecking order for playing time. Xavier Paul, seemingly healthy and performing better as the month goes on, is now adding to the pressure while the eyesight-plagued Gibbons tries to solve his vision problems. A third-party candidate is Trent Oeltjen, who has been hitting all spring – and we'll even leave open the possibility that Gimenez could take this spot instead of a sixth outfielder.
Chances: Gibbons 45%, Paul 35%, Oeltjen 10%, Gimenez 10%.
2) Aaron Miles vs. Ivan De Jesus Jr. vs. Justin Sellers vs. Juan Castro, IF:
A veteran has the automatic edge when you're talking backup infielder, so it seems safe to knock out De Jesus and Sellers, neither of whom have seized the day. Miles has had a better spring than Castro and is also centuries younger. Castro has that Brad Ausmus-like zen quality that Ned Colletti admires, but Miles has sufficient experience to fill the role.
Chances: Miles 80%, Castro 10%, De Jesus 5%, Sellers 5%.
3) + 4) Ron Mahay vs. Scott Elbert vs. Ramon Troncoso vs. Lance Cormier, RP, vs. John Ely vs. Tim Redding, SP, vs. position player:
These two final spots seem very much up for grabs at this point, compounded by the uncertainty over whether the Dodgers will start the year with four or five starting pitchers, and whether they'll start with 11 pitchers overall or 12.
If they keep a fifth starter, it's still an open battle. Both Redding and Ely can be sent to the minors, though the difference is if Redding is placed on the major-league roster, he would then have to clear waivers before he could go to Albuquerque (once, say, Vicente Padilla or Jon Garland was healthy). The Dodgers can yank Ely up and down this year at will.
Both Ely and Redding started the spring excellently, then faltered (like every other Dodger starter in the past week). Ely is on the upside of his career but with something to prove; Redding is on the downside of his career with something to prove. My guess is that even if Ely wins the job, the Dodgers won't want him to lose his rhythm by pitching in long relief during the opening days of the season – meaning he would start the season in the minors and then come up April 12 when he is needed. I'm not sure they'd have those reservations with Redding.
Among the lefthanders, Mahay finally had a decent inning Tuesday, though the four batters he faced had 19 career major-league homers. Still, it's hard to imagine that, short of a 180-degree turnaround, the Dodgers are ready to rely on Elbert, who has walked nine of 20 batters he has faced this spring.
Troncoso has outpitched both lefties, though I'm not sure the Dodgers are convinced he's all the way back from his 2010 struggles. If he were, he and MacDougal would exchange places. Lance Cormier has gotten little attention while throwing four innings and allowing seven hits while striking out one, but he remains in the running.
And then there's the chance the Dodgers go with an 11-man staff and keep six guys on the bench. Gimenez, anyone?
If the Dodgers were making their final cuts today, I'd predict they keep two relievers at the outset and fly Ely to San Francisco on April 12.
Chances: Troncoso 45%, Mahay 45%, Cormier 30%, Ely 30%, Redding 25%, position player 20%, Elbert 5%.
March, 6, 2011
3/06/11
8:04
PM PT
Cubs 5, Dodgers 3 (10)
Highlights:
Chad Billingsley (above) went 3 2/3 innings before giving up the first earned run allowed by a Dodger starting pitcher this weekend. He allowed four baserunners and struck out two.
Ramon Troncoso retired all four batters he faced (one admittedly on a dicey umpire's call) and has allowed one hit in 3 1/3 shutout innings. Tony Jackson of ESPNLosAngeles.com has more on Troncoso's growing chances of making the Opening Day roster.
The platoon of Jay Gibbons (wearing awesome big white sunglasses, the best Dodger eyewear since Eric Gagne) and birthday boy Marcus Thames went 2 for 5 with an RBI double (by Thames).
Aaron Miles tripled in his only at-bat.
Ivan De Jesus, Jr. made a nice backhand grab running into the outfield, drawing a big smile from the Cubs' third-base coach, Ivan De Jesus, Sr.

Lowlights:
Justin Sellers committed a double-error (bobble and bad throw) on the Dodgers' first defensive play of the game.
Right fielders Xavier Paul and Jerry Sands combined for a golden sombrero.
Luis Vasquez the Magician made the game disappear when he allowed a two-run walkoff homer to D.J. LeMahieu in the bottom of the 10th.

Sidelights:
In the above-referenced piece by Jackson, he addresses the James Loney situation.


Although the tightness in first baseman James Loney's knee isn't serious and Loney tentatively is expected back in the lineup by Wednesday, the momentary scare did underscore the fact the Dodgers don't have a lot of depth at Loney's position.

Third baseman Casey Blake and outfielders Jay Gibbons and Marcus Thames all have some experience -- but not a lot of it -- at first base, and Mattingly said any or all of them could be a viable alternative if Loney were to be lost for, say, two or three games. But if Loney suffered a major injury that sidelined him for a month or more?

In that case, Mattingly said, the Dodgers would have to bring up a first baseman from the minors. And the most likely candidate would be Russell Mitchell, a third baseman by trade who also can play left and right field but played all of 13 games at first for Triple-A Albuquerque last year.

"We feel like Russ can be pretty flexible," Mattingly said. "He can handle himself out there, and he has actually played some second. He even did some catching in the Instructional League, so we feel like we could trust him with catching. That emergency third catcher can be pretty valuable in the National League because it allows you to maybe pinch run for your catcher without having to get nervous about not having another catcher left on the bench." ...

The Dodgers' starting baseman is still healthier than the Angels' Kendry Morales, notes Mark Saxon of ESPNLosAngeles.com. The Angels might turn to Triple-A power hitter Mark "Don't call me Dalton" Trumbo, writes Mike DiGiovanna of the Times.
Scott Elbert is working on a mechanical adjustment, writes Gurnick, who adds that Jamey Carroll will miss a few days of game action after being hit by a pitch on his right index finger (X-rays were negative).
Josh Suchon says that he and his new KABC 790 AM talkmate Joe Block will be the broadcast team for Dodger games on Prime Ticket this Wednesday and Thursday.
Mullet Mania: Jackson gave us a hint this morning, but later came the full story on Travis Schlichting's new 'do from Jeff Passan of Yahoo! Sports.


I understand that this is going out on a fragile limb above a pool shared by sharks and alligators, but I witnessed the greatest mullet in baseball history Sunday morning, and I refuse to believe otherwise.

Randy Johnson may have sported the curly afterbirth on his neck, and John Kruk may have rocked the accompanying gut, and Troy Tulowitzki may have had the ironic twist to his charity mullet, but nobody – nobody – can compete with the absolute resplendence that topped Travis Schlichting's head on Sunday. ...
February, 18, 2011
2/18/11
9:57
AM PT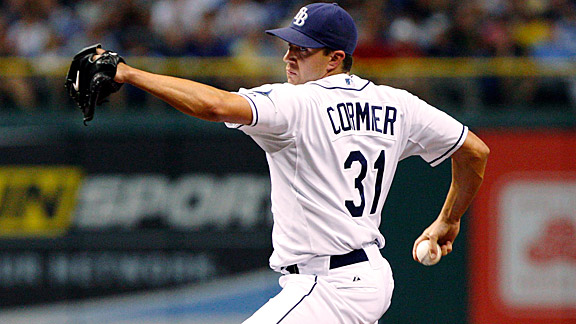 Kim Klement/US PresswireIn the past three seasons, Lance Cormier has allowed a sub-.700 OPS against left-handed batters, including 26 extra-base hits in 486 plate appearances.
Outside of the left-field conundrum, the Dodgers' biggest question mark for Spring Training might be how they will address the task of getting left-handed batters out with their almost completely right-handed bullpen. No one wants to see Hong-Chih Kuo relegated to facing only lefties, and the only other left-handed thrower on the 40-man roster is the uncertain Scott Elbert.
Three non-roster invitees to major-league camp are left-handed: 39-year-old Ron Mahay, achy-hamstringed Dana Eveland (whose career 5.74 ERA will apparently be sidelined for weeks after Thursday's injury) and Wilkin De La Rosa, who has never pitched about Double-A. After that, you start dipping down into the minors for developing players like James Adkins.
With Ronald Belisario's absence seemingly opening up a roster spot, Mahay would seem to be the default candidate. He had a .520 OPS allowed against lefties last season. But the previous two seasons, his OPS allowed against lefties was above .700 — which isn't terrible, but isn't exactly the kind of authoritative performance you're looking for when you really want someone to come in and get that guy out.
I got to wondering if there were any righties among the Dodger relievers who were reliable against lefties. Here's a chart of the bullpen candidates' OPS allowed against lefties over the past three seasons in the majors:
| | 2010 PA/ | 2010 OPS | | 2009 PA/ | 2009 OPS | | 2008 PA/ | 2008 OPS |
| --- | --- | --- | --- | --- | --- | --- | --- | --- |
| Belisario | 86 | .793 | | 122 | .720 | | | |
| Broxton | 123 | .626 | | 148 | .414 | | 126 | .800 |
| Colon | 5 | .650 | | 94 | .713 | | | |
| Cormier | 162 | .718 | | 180 | .671 | | 144 | .667 |
| Elbert | 4 | 2.000 | | 40 | .699 | | 14 | 1.000 |
| Eveland | 59 | .802 | | 60 | .999 | | 170 | .646 |
| Guerrier | 102 | .649 | | 120 | .525 | | 126 | .801 |
| Hawksworth | 185 | .886 | | 76 | .724 | | | |
| Jansen | 51 | .586 | | | | | | |
| Kuo | 69 | .271 | | 40 | .524 | | 98 | .557 |
| Link | 16 | .962 | | | | | | |
| MacDougal | 39 | 1.353 | | 124 | .760 | | 24 | .858 |
| Mahay | 68 | .520 | | 111 | .743 | | 110 | .721 |
| Monasterios | 188 | .709 | | | | | | |
| Padilla | 166 | .590 | | 352 | .837 | | 385 | .944 |
| Redding | | | | 282 | .860 | | 402 | .808 |
| Schlichting | 39 | .465 | | 9 | .905 | | | |
| Troncoso | 99 | .823 | | 157 | .751 | | 84 | .707 |
| Villarreal | | | | | | | 68 | .862 |
Some observations:
The Dodgers have a few righties who seem consistently effective against their opposite numbers: Jonathan Broxton, Matt Guerrier and, based on a small sample size, Kenley Jansen.
Oh, and another guy who probably isn't on your radar ... late signee Lance Cormier.
Based on only his one season, Carlos Monasterios offers an intriguing first impression — though looking at the chart, you can see how much these numbers can fluctuate. Look at what happened to Ramon Troncoso, for example, or moving in the other direction, Vicente Padilla.
For extreme small-sample candidates, there's Roman Colon and Travis Schlichting. Consider at your own risk.
If the Dodgers decide that Kuo, Broxton, Guerrier, Jansen and Padilla are all effective against lefties, they could decide to go without a second left-handed pitcher — especially if they also think Cormier is worth a roster slot. It might still be Mahay's spot to lose or Scott Elbert's spot to win, but Cormier might be this year's guy you least expected.
August, 9, 2010
8/09/10
1:05
PM PT
The Dodgers announced today that they have sent
Ramon Troncoso back to Albuquerque
:
Los Angeles Dodgers relief pitcher Ramon Troncoso was optioned to Albuquerque today, creating an opening for fellow reliever Ronald Belisario to return to the active roster from the restricted list Tuesday.

Troncoso pitched 2 1/3 shutout innings over two games since being recalled from Triple A on Aug. 3, when Jeff Weaver was placed on the disabled list. Troncoso -- like Belisario, a mainstay of the Dodgers' bullpen in 2009 -- has a 4.85 ERA in 39 innings this season.

The Dodgers, who were off Monday, did not immediately confirm that Belisario would be activated before Tuesday's game in Philadelphia. However, Dodger manager Joe Torre said over the weekend that Belisario, who made rehabilitation appearances for Class-A Inland Empire on Saturday and Sunday, was close to a return.

Belisario has not pitched for the Dodgers since July 5. He was placed on MLB's restricted list effective two days later, for reasons still not publicly disclosed. Belisario, who resumed workouts two weeks ago, has a 3.79 ERA in 35 2/3 innings for the Dodgers.

Belisario's 2010 season also began on the restricted list, after visa problems delayed his spring training arrival. Belisario had a 2.04 ERA in 70 2/3 innings last season.
What's interesting to me is that the Dodger bullpen suddenly seems so deep that it could part with Troncoso even though he had not been scored upon since his return — and that's with Weaver still sidelined. The offense, certainly, remains a different story.
* * *
After Brandon Morrow threw a 17-strikeout one-hitter Sunday,
Stat of the Day
made a list of all the pitchers under age 26 since 1920 who had thrown one-hitters while striking out at least 10, within their first 160 career games.
Two Dodgers are on this quirky list. Sandy Koufax is one. If you can guess the other without looking, I'll be really impressed. Name the non-Koufax Dodger under the age of 26 who struck out at least 10 batters in a one-hitter. It came in the pitcher's 22nd career game.
August, 3, 2010
8/03/10
4:33
PM PT
Jeff Weaver, who has allowed 14 runs in 13 2/3 innings since July 1, decided that it might be a good idea to admit that he was pitching with a knee problem. The Dodgers
placed Weaver on the disabled list today
with left knee tendinitis, and called up Ramon Troncoso from Albuquerque.
... "They kind of pried it out of me," Weaver said. "Obviously, I wasn't able to command my pitches like I need to. It's my landing leg, obviously, so there has been some inconsistency with it. Now is not the time to go out there not at your best. It's frustrating, but it's not something that is going to get worse or anything. It just needs a little time to work itself out. Hopefully, this will give me a chance to get it stronger."

Weaver said he didn't sense club officials were upset with him for concealing his injury, which he says came on gradually.

"They didn't really say anything about it," he said. "I think more than anything, they were happy I came forth with it instead of continuing to go out there with it." ...
* * *
Rafael Furcal is out of the starting lineup tonight, with Joe Torre telling reporters today that the All-Star shortstop is having an MRI on his back. Torre said Furcal felt something in his lower back on a throw, and that he is hoping it is not related to the back trouble that sidelined him for weeks and months in the recent past.
Also, Manny Ramirez has suffered yet another setback, reports Tony Jackson of
ESPNLosAngeles.com
.
* * *
The Dodgers' magic number to avoid last place is 42. Any combination of Dodger victories and Arizona defeats adding up to 42 will keep Los Angeles out of the cellar.
July, 3, 2010
7/03/10
3:37
PM PT
The first move was expected, and the second move isn't too much of a surprise considering that Troncoso has seemed in need of a breather for a while now. Troncoso pitched two shutout innings Friday (32 pitches) and has not been scored upon in his past three appearances, so his being optioned might have more to do with providing a fresh arm to the bullpen following Hiroki Kuroda's early exit.
George Sherrill and Justin Miller, who have performed worse, remain on the team for now, because Troncoso has options and they don't.
* * *
The Dodgers not only placed Manny Ramirez on the disabled list and called up Xavier Paul, they also optioned Ramon Troncoso to Albuquerque and called up Travis Schlichting.
July, 1, 2010
7/01/10
5:40
PM PT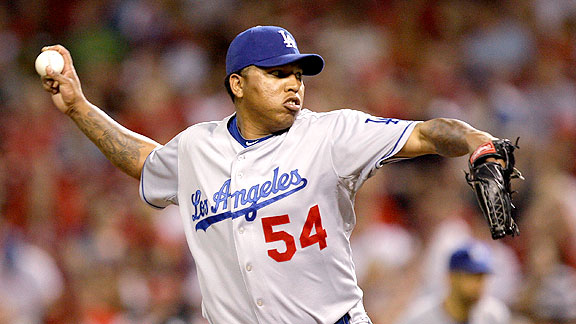 Al Behrman/APRonald Belisario
Remember all the indignation when Ronald Belisario put himself on the layaway plan when it came to Spring Training this year? Plenty of people wanted to wash their hands of the delayed arrival.
Given the current state of the Dodger middle relief, I'm not sure too many people want to cast off Belisario for his sins today.
The Dodger bullpen has shown some unexpected weakness, though circumstances aren't dire. Jonathan Broxton and Hong-Chih Kuo are brilliant short relievers, while Belisario and Jeff Weaver are satisfactory set-up men.
Carlos Monasterios will probably take the back end of the bullpen when he returns from the disabled list. Monasterios, while flaming out for the time being as a starting pitcher after a briefly glorious run, remains adequate for long relief. Assuming the Dodgers still have a long-term vision for the Rule 5 draft-day acquisition, that's where he'll be.
That covers five of seven spots in the bullpen.
Ramon Troncoso is a question mark right now. Right now, as Ken Gurnick of
MLB.com
reports, we're in the phase of Troncoso claiming that overwork isn't the issue, but execution is.
"I feel perfect, I feel brand new, like a baby with a new toy," Troncoso said. "My arm is good. I'm here to pitch every day. I'm going to pitch in 50 more games this year. Of course this year has been frustrating for me, but if we win, everything is OK. I don't care about my ERA, I just want to pitch good and help the team."

Bullpen coach Ken Howell said Troncoso's problems this year are part mechanical, which he's cautiously optimistic have been worked out, and partly pitch selection and execution.

"He's been throwing the curveball instead of the sinker in some situations, and the sinker is his money pitch," said Howell. "And he needs to be at the bottom of the [strike] zone. When he's thigh-high and up, he gets in trouble. His stuff is fine, but he's not pounding the bottom of the zone with the consistency of last year. But lately it's been better."
And then there's George Sherrill.
Sherrill looks hopeless, but his lefty-right splits indicate that he does retain some value if he were used only against left-handed batters. Ned Colletti has cut bait on his relief acquisitions before — Danys Baez didn't even last a season in Los Angeles — but something tells me that Sherrill won't be sent away.
However, either Troncoso or Sherrill might end up on the disabled list, for reasons legit or not — and for that matter, Troncoso still has minor-league options remaining. So the Dodgers are probably looking for a couple of relievers as contingencies.
The thing is, they probably have them already.
It would be ironic, if it weren't easy enough to foresee, that the reason the Dodgers might trade for middle relief this year is that last year's trade for middle relief has gone south. Right now the Dodgers' farewell to Josh Bell, the organization's top third-base prospect, for Sherrill isn't one to savor; Bell was
called up by the Baltimore Orioles
to play the hot corner tonight. It so happens that the Dodgers caught lightning in a bottle with Sherrill and his sub-1.00 ERA with the team, but Sherrill's rapid decline this year illustrates how fluky that was.
The Dodgers have Travis Schlichting, Jon Link, Kenley Jansen, Josh Lindblom, Kiko Calero and James McDonald, among others, that they can test out in middle relief. Each comes with a mitigating factor — for example, McDonald, who
returns from the minor-league disabled list tonight
, might be considered the No. 6 starter right now — but from that group of six alone, odds are that at least one can do the job. (Cory Wade, outrighted to Albuquerque today after a minor-league rehab assignment, is also in line for a try.) So if the Dodgers decide they need a break from Troncoso or Sherrill, they have people they can turn to at no cost at all.
They might be like Justin Miller, who was brilliant when he arrived but has since faltered. They might be worse. But a fresh arm that major-league hitters aren't familiar with — or heck, a fresh arm period — often works wonders coming out of the pen. And you only need to make it for two months until September, when rosters expand and it's all hands on deck.
Los Angeles needs to be very careful about any trade for middle relief. The species is too erratic. What you have might well be as good as it gets.
May, 1, 2010
5/01/10
9:52
PM PT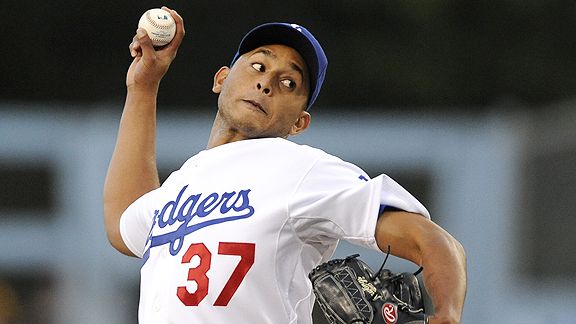 Gus Ruelas/AP
Carlos Monasterios allowed three baserunners in each of the first two innings, but just one run.
Fluke or find? Carlos Monasterios continues to make the question an intriguing one.
From a town called Obscurity come the man who continues to make it across the tightrope when the Dodgers need him to, Monasterios this time pitching four innings of one-run ball – while also keying a game-changing three-run third inning with his first career hit – in the Dodgers'
5-1 victory over Pittsburgh
tonight.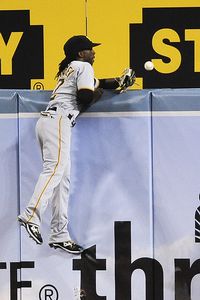 Gus Ruelas/AP
Andrew McCutchen can only watch Andre Ethier's third-inning drive go beyond his reach.
Working with a 75-pitch limit, Monasterios didn't avoid trouble, giving up three hits (including a first-inning Andrew McCutchen home run) and a walk while hitting two batters in the first two innings, but he held strong in adversity. And in his final two innings, he retired six of seven batters.
In the bottom of the third, Monasterios and Russell Martin singled ahead of Andre Ethier's three-run homer that gave the Dodgers a lead they didn't come close to surrendering.
Ramon Ortiz succeeded Monasterios and was even more impressive, striking out five in three innings while allowing two baserunners, and Hong-Chih Kuo pitched a perfect eighth. I haven't gotten to the Ramon Troncoso story yet, but inexplicably the righty pitched a one-hit ninth in his 16th appearance in 24 games – a 108-game pace. Yeah, this is worth exploring.
In the meantime, the Dodger bullpen, counting the nine innings tonight, has allowed one run in its past 14 2/3 innings.
Ethier and James Loney each added two doubles, and Reed Johnson had a double and a single.
April, 11, 2010
4/11/10
9:51
AM PT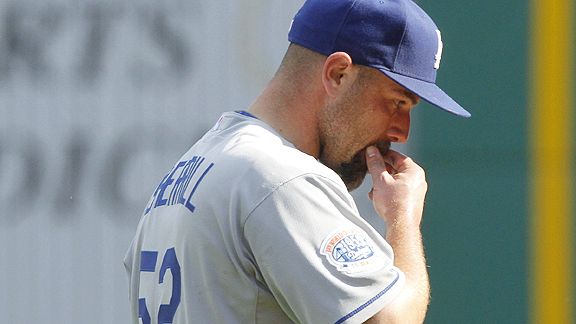 Keith Srakocic/AP
George Sherrill's bad outing against Pittsburgh on Opening Day was mere prelude to Saturday's Florida fright night.
George Sherrill should be able to get three outs before he gives up three runs. And inevitably, there was going to be a do-or-die situation this season when he would need to do that. Just as Vicente Padilla shouldn't give up
four runs on nine baserunners in 4 1/3 innings
, Sherrill needs to do better if the Dodgers are going avoid trouble.
But Padilla and Sherrill's failings are basically heat-of-the-battle failings, whereas Joe Torre's use of Jonathan Broxton this week is the equivalent of filling the bubbles in your SAT exam with Crayola burnt orange. (Assuming they still use bubbles.)
We've said it before and we hate to say it again – so this is going to be brief. If you can't afford to allow a run – as was the case when the Dodgers played extra innings in Pittsburgh on Wednesday – you use the pitcher least likely to allow a run. Only after that pitcher has been used do you turn to others. And certainly, you don't worry about saving your best pitcher for a situation in which you can allow a run and still win.
On one level, it was coincidental that Torre's use of Broxton this week led to us talking about his absence from Saturday's game. It required a specific flow of events from Opening Day on. On the other hand, we do see this from Dodger managers, including Torre's recent predecessors, all too often. If Sherrill had been used Saturday after a proper use of Broxton in previous days, people would have been talking about Sherrill overnight a lot more than Torre.
Do not save your best reliever for a save situation in an extra-inning game on the road.
One other oddity regarding Saturday and the bullpen: Torre told Ken Gurnick of MLB.com that Ramon Troncoso, who was pitched a perfect eighth inning but was pulled after giving up a leadoff single in the ninth, "is basically a one-inning guy." I realize that bullpen roles have changed with Hong-Chih Kuo and Ronald Belisario out, but especially when he hadn't pitched the day before and with Broxton out, since when is Troncoso a one-inning guy? The guy made his reputation with his ability to go multiple frames. Troncoso needed only seven pitches to get out of the eighth inning, then had thrown six pitches in the ninth when he came out of the game.
The botched squeeze in the second inning Saturday (that resulted in a bases-loaded, one-out situation imploding) was even crazier than it appeared. As many surmised, Vicente Padilla missed the suicide squeeze sign that resulted in Casey Blake getting tagged out between third and home. But from what Torre told reporters this morning, it appears that Torre himself wanted to take the squeeze off after having initially called for it – but that he gave the second sign too late for third-base coach Larry Bowa to see. So Bowa and Blake incorrectly, though understandably, thought the squeeze was still on – while Padilla, apparently, was oblivious to all of this. Torre indicated that he puts signs on and takes them off all the time.
Manny Ramirez had his 2,500th career hit Saturday, while Rafael Furcal had his 1,500th. Furcal has a .480 on-base percentage this season and is tied for the major-league lead in doubles.
Ian Kennedy is the scheduled starter for Arizona against Clayton Kershaw in Tuesday's home opener, followed by Rodrigo Lopez against Chad Billingsley on Wednesday and Dan Haren against Hiroki Kuroda on Thursday.
LeeAnn Rimes will sing the national anthem Tuesday.
Josh Lindblom was hit hard in his first 2010 start for Albuquerque – needing 77 pitches to get through three innings that saw him give up eight hits, two walks and three runs while striking out one.
John Lindsey, the 33-year-old minor-league lifer still looking for his first major-league action, is 7 for 13 with three doubles in his first three games for the Isotopes. Lindsey would need a few injuries to right-handed hitting Dodgers before he'd have a shot at a cup of coffee.
James Adkins, a 2007 first-round pick, allowed five runs in three innings of relief in his first 2010 outing for AA Chattanooga.
Ethan Martin's Inland Empire season debut was a different story: five innings, no runs, three singles, no walks, one hit batter, nine strikeouts.
Allen Webster allowed one run over five innings (six baserunners, four strikeouts) in his '10 Great Lakes debut.
Dixie Walker, the Brooklyn Dodger long remembered for starting a petition against Jackie Robinson joining the team, is revisited today by Harvey Araton of the New York Times (via Inside the Dodgers). The article's main point seems to be that Walker was remorseful and not the racist he's been accused of being:


... Though (Maury) Allen and Susan Walker suggest in the book that her father did not initiate the anti-Robinson petition, Roger Kahn, in his 2002 book, "The Era," wrote that Walker told him in 1976 that he had.

Kahn quoted Walker saying: "I organized that petition in 1947, not because I had anything against Robinson personally or against Negroes generally. I had a wholesale business in Birmingham and people told me I'd lose my business if I played ball with a black man."

In a telephone interview, Kahn said his conversation with Walker took place when Walker was the hitting coach for the Dodgers in Los Angeles.

"He invited me out for a glass of wine — somewhat shocking in that Budweiser world," Kahn said. "We talked for a while, and then he got to the point: the petition and his letter to Rickey. He called it the stupidest thing he'd ever done and if I ever had a chance to please write that he was very sorry."

Calling the Walker he met "a lovely, courtly man," Kahn said that the assumption should not be made that all early opposition to Robinson was based on core discrimination and not confusion or fear.

"Ballplayers depended on off-season work back then," he said. "When I was covering the Dodgers, Gil Hodges sold Buicks on Flatbush Avenue. Now, if you're Derek Jeter and you have a wholesale hardware business, you can say, 'So what?' "


Rachel Robinson's response in the same article: "If you're asking about forgiveness based on the context of the time, I can't say I worry about the view of them at this time. Maybe they learned better or changed, but at the time, they had a chance to move forward from segregation and chose the opposite. They had an impact."
April, 5, 2010
4/05/10
9:08
AM PT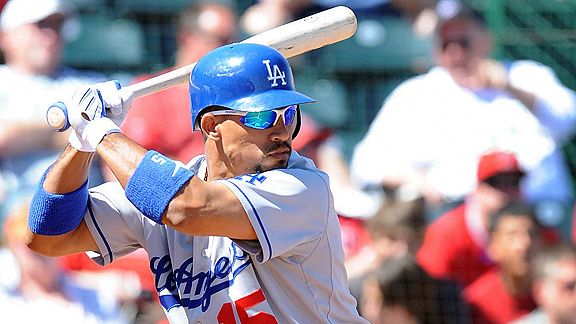 Lisa Blumenfeld/Getty Images
Rafael Furcal singled to start the 2009 season.
It's 181 days until the final day of the 2010 regular season October 3, and it never ceases to amaze me that the Dodgers' fate on only 20 of those days – the difference between, say, a 95-win season and a 75-win season – will be the difference between happiness and desolation. And 20 days is a generous estimate – for all we know, it could come down to just one.
But you don't get to find out in advance which 20 days it will be, and so we buckle up for another wild ride into the unknown. There is mystery, intrigue, thrills and not a small amount of comedy awaiting Dodger fans this season. Here's hoping it's once again a ride everyone can enjoy.
And of course, I look forward to spending the season with you all here. If you're having trouble commenting, e-mail me.
* * *
What did those schedulers know that we didn't? While it pours outside my window, weather today in Pittsburgh, according to The Associated Press, is supposed to be lovely with a chance of glorious.
Dodgers vice president of communications Josh Rawitch passed along these pregame thoughts from Joe Torre:
--Manny Ramirez has been very consistent with his balance, and Torre thinks he's going to be good offensively.
--Russell Martin has been hitting up the middle and to right the past 10 days – that, combined with his 6-for-12 history against Pirates starter Zach Duke accounts for his batting second today, and then they'll see where it goes from there.
--Chad Billingsley needs to regain his confidence. Sigh.
Ramon Troncoso and his wife had a baby girl Sunday, so he won't be with the Dodgers until Tuesday.
Baseball Analysts hosted a series of extended season preview interviews in a series called "Stakeholders." Among the participants: Joe Posnanski, Aaron Gleeman, Cliff Corcoran, Dave Cameron, Jonah Keri, Bernie Miklasz and yours truly.
The average Opening Day player salary has dropped 17 percent in a year. USA Today has updated its salary database to include 2010 salaries; here's their summary of the Dodger payroll. (Keep in mind that USA Today has its own way of factoring in deferred money.)
Some tidbits from the Dodger press notes: 1) The last time the Dodgers opened a season in Pittsburgh was the year of their first World Series title, 1955; 2) The Dodgers are 26-26 on Opening Day since moving to Los Angeles; 3) The five Dodger reserves have 60 years of major league experience; 4) Today marks the first time the Dodgers have had seven players from the previous year's Opening Day lineup since 1986-87, and the first time they were at the same position since 1978-79. (In 1979, of course, the Dodgers followed two consecutive National League West titles with a sub-.500 season.)
Update:
USA Today with a major correction: Rather than a 17% drop in salary, the paper is now reporting a 1% increase.