Dodger Thoughts:

Russ Mitchell
November, 19, 2011
11/19/11
8:48
AM PT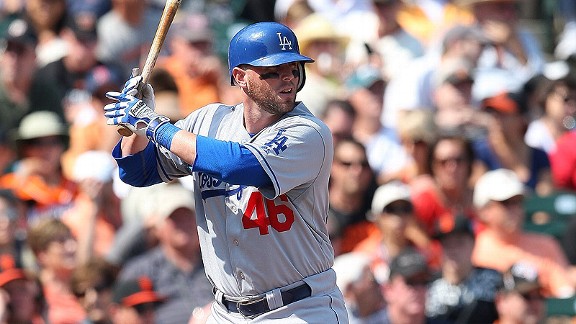 Tony Medina/Getty Images
Russ Mitchell
(40)
The setup:
With a .363 on-base percentage and .535 slugging percentage at Albuquerque in 2010, Mitchell was promoted in September to the Dodgers, for whom he put up this unusual line: 43 plate appearances, 37 outs (including a sacrifice fly), no walks, four singles, two home runs. In fact, his first two major-league hits were homers.
The closeup:
Mitchell started 2011 with the Isotopes but came to Los Angeles much more quickly, receiving an
April 29 callup
when Casey Blake went on the disabled list. Mitchell ended up with two separate one-month stints with the team, each except for walks mirroring what came before. In 58 plate appearances, he made 43 outs with seven walks, five singles, a double and two home runs. His career numbers now total a .208 on-base percentage and .290 slugging percentage with four home runs in 101 plate appearances.
His most dramatic game by far came
May 20
: Against Sergio Santos, who had a 0.00 ERA in 20 2/3 innings for the White Sox, Mitchell (batting .067) hit a two-out, ninth-inning, game-tying homer that opened the door for the Dodgers to win in extra innings.
When he wasn't with the Dodgers, Mitchell had a .372 on-base percentage and .503 slugging percentage in 392 plate appearances with Albuquerque. In general, his on-base skills showed improvement in 2011.
Mitchell's season ended with
wrist surgery on September 27
, to address torn cartilage he had been playing with since May. Expected recovery time, according to Ken Gurnick of MLB.com, was up to eight weeks; currently we are at the 7 1/2-week mark. He signed up to play winter ball, with Tiburones de La Guaira in Venezuela, but he has not shown up
in the stats
yet as having appeared in a game.
Coming attractions:
Right now, the Dodgers have seven infielders on their roster and figure to keep six. Mitchell and Justin Sellers would probably be the backups if the season started today, but you can expect increased competition by the time March arrives. There has been talk that Mitchell, who will turn 27 in February, would work on catching to increase his value as an all-purpose backup, but his wrist problem has at a minimum slowed those plans. He has options remaining with the Dodgers, so if he does not hold down a roster spot, he'll return to the Isotopes.
September, 27, 2011
9/27/11
9:10
AM PT
When Hiroki Kuroda
chose not to waive his no-trade clause at the end of July
, it left one of his leading suitors, the Boston Red Sox, scrambling.
The Red Sox ended up picking up Erik Bedard from Seattle in the three-team, seven-player deal that sent Tim Federowicz and Stephen Fife to Los Angeles and Trayvon Robinson to Seattle. And then ... well, let Gordon Edes of ESPNBoston.com tell the story.
Tonight's forecast: Gloom.

And that's just the weather (scattered thundershowers, 60 percent chance of rain).

It isn't much better for the Red Sox, who are left with no choice Tuesday but to rely on Erik Bedard, a sore-legged pitcher whose appetite for the big stage has been openly questioned by a former employer, to keep them alive for a playoff spot that should never have been in jeopardy. ...

Bedard came back from a 16-day absence because of a strained lat and sore knee last week against the Orioles and lasted just 2 2/3 innings, needing a staggering 51 pitches to record those two outs in the third. The Red Sox will need much more from him Tuesday night.
Boston has
surrendered a 10-game lead in the American League wild card race
, thanks in large part to a 7.26 ERA for their starting pitchers in September, Edes notes.
Kuroda has a 3.29 ERA since the trade deadline, though it's 4.18 in a September that has seen him have neck problems. Perhaps going to Boston wouldn't have helped, but I'm guessing the Red Sox would be happy to have him pitching on the East Coast tonight instead of for the Dodgers in Arizona.
* * *
I'm a little concerned with the talk that Don Mattingly might have Matt Kemp bat leadoff to increase his chances (rather slightly, I'd say) of reaching 40 homers and 40 steals. It could spread the impression for potential Most Valuable Player voters that Kemp's numbers were more of a gimmick in games that weren't serious. Probably doesn't matter much either way, but I'd leave Kemp at No. 3 and take his chances there.
Meanwhile, when they talk about a player's body in "Moneyball," I don't think they mean this.
David Schoenfield of ESPN's Sweet Spot asks if Kemp is having the greatest season ever by a Los Angeles Dodger position player.


... According to Baseball-Reference WAR, his season ranks only behind Adrian Beltre's 48-homer season in 2004, and just ahead of Mike Piazza's 1997. In fact, forget limiting it to just Los Angeles. The only Brooklyn Dodger seasons that rate higher are two from Jackie Robinson, in 1949 and 1951.

Today is the 75th anniversary of longtime Dodger manager Walter Alston's one and only at-bat in the majors, writes Chris Jaffe of the Hardball Times.


... on Sept. 27, 1936, he was just a young 24-year-old hoping to get his shot. He was a bit old for a prospect because he'd gone to college and only went pro after graduating.

In the minors Alston showed promise, hitting over .300 with power in the St. Louis farm system, but there was a big problem. He played first base for a team that already had Johnny Mize. Four times Alston would lead his league in homers, but there was no place for him in the majors. And the more the years went by, the less the aging Alston seemed like a prospect. ...

Russ Mitchell is having season-ending wrist surgery today, the Dodgers said. He is expected to play winter ball.
A tight hamstring is expected to keep Rafael Furcal on the sidelines for the final two games of the Cardinals' playoff push.
May, 27, 2011
5/27/11
5:03
PM PT
May, 20, 2011
5/20/11
9:17
PM PT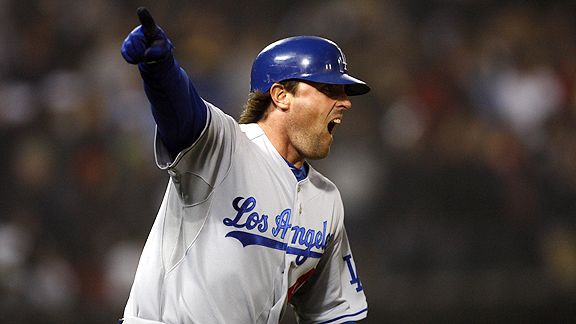 Jerry Lai/US PresswireRuss Mitchell
Banging against the door.
White Sox 3, Dodgers 2. None out, top of the eighth, bases loaded.
Banging against the door, like they were down 5-2 in the eighth Wednesday.
Banging against the door, like they were down 3-1 in the ninth Thursday.
Banging against the door, and no one will let them in.
Wednesday, tie the game then lose.
Thursday, hit a line drive with the bases loaded and lose.
Tonight, strand the bases loaded and ...
win
?
Lose another starter, Juan Uribe,
to injury
and ... win?
Two out, bottom of the ninth, bases empty and ... win?
Russ Mitchell, 1 for 14 on the season, 7 for 56 in his career and ... win?
Sergio Santos, 20 2/3 innings pitched on the season, 0.00 ERA and ... win?
Bang that door
down.
Mitchell, whose seven career hits included two home runs, drove a 2-1 fastball just inside the left-field foul pole to tie the game at 3.
Then in the 10th, after Jamey Carroll's fourth hit of the game and Matt Kemp's second, Juan Castro, who had wasted bases-loaded opportunities in his two previous at-bats this week, looped one over a leaping Paul Konerko for a 150-foot single, driving in Carroll. James Loney, who had been 0 for 4, doubled to right for a 5-3 lead. Then, after an intentional walk to Dioner Navarro (you got me), Jay Gibbons singled home the third run of the extra inning.
Was that enough? It would have to be, after Mitchell grounded into a double play. It would have to be, even as Matt Guerrier gave up leadoff singles to 77-year-old Omar Juan Vizquel Pierre.
Mitchell's heroics weren't done, as it turned out. The third baseman dove to his left to corral Alexei Ramirez's grounder for the first out of the inning.
Then Don Mattingly started playing percentages. He brought in Scott Elbert – who head-butted all kinds of doors last year – to retire Adam Dunn on a groundout to Loney for a meaningless RBI. And then Mattingly brought in Mike MacDougal, who faced Konerko.
Konerko hit it to Castro, who bobbled it but had plenty of time to pick it up and throw the final batter out.
And so finally, the script had changed. A first-inning home run by Kemp wouldn't go to waste. A three-run second inning off Ted Lilly wouldn't spell doom. The sight of Jerry Sands in center field next to Jay Gibbons in left in the late-night fog wouldn't lead to a comedy of errors. A final-inning rally would actually succeed.
On to the next door ...
* * *
To recap the last five Dodger victories:
May 20: Dodgers 6, White Sox 4 (10) – Juan Uribe left hip flexor
May 17
– Dodgers 3, Brewers 0 – Vicente Padilla unavailable
May 13
– Dodgers 4, Diamondbacks 3 – Zach Lee MRI revealed
May 11
– Dodgers 2, Pirates 0 – Hong-Chih Kuo to the disabled list
May 10
– Dodgers 10, Pirates 3 – Blake Hawksworth hurts groin
Tony Jackson of
ESPNLosAngeles.com
has a length update on all the injured Dodgers.
April, 29, 2011
4/29/11
4:14
PM PT
Casey Blake has officially shuffled to the disabled list, with the Dodgers calling up Russ Mitchell to take his spot on the active roster. On the relatively bright side, Juan Uribe and Marcus Thames are healthy enough to make their first starts in some time, while James Loney rests against Padres lefty
Clayton Richard
in favor of Jerry Sands at first base.
Not resting against the lefty is Andre Ethier, who will try to extend his hitting streak to 25 games. Ethier is 6 for 29 with one walk against lefties this season. Lefty batters hit .228 against Richard last season and are 7 for 24 (.291) this season.
Tony Jackson of
ESPNLosAngeles.com
has a nice feature on Ethier's march, while Keith Hawkins of
ESPN Stats and Information
shows that only once during the streak has there been suspense in the ninth inning. That was when Ethier doubled ahead of Matt Kemp's walkoff homer to beat St. Louis.
* * *
Frank McCourt is doing another round of interviews today, this time in Los Angeles, so expect to see lots of coverage soon. In the meantime, I have to comment on this quote from nascent Dodger vice chairman Steve Soboroff in Bill Shaikin's story in the
Times
earlier today.
"I guarantee you there is no owner or prospective owner in Los Angeles that has a better handle on the community than we do," Soboroff told Shaikin.
Actually, I don't have to comment. The words speak for themselves, don't they?
* * *
For all the chaos surrounding the Dodgers, I'm going to argue that the Atlanta Braves
have had a worse week
— thanks to a couple of ex-Dodgers.
The Atlanta Braves placed pitching coach Roger McDowell on administrative leave Friday while they investigate allegations he made homophobic comments and crude gestures toward fans before a game in San Francisco last weekend.

The former major league reliever apologized in a statement, but the team barred him from the bench heading into a three-game series against the St. Louis Cardinals.

General manager Frank Wren said he hopes to have the investigation wrapped up by end of the weekend and added that any punishment would be coordinated with Major League Baseball.

The de facto suspension of McDowell came hours after the team announced it was looking into the arrest Thursday night of starting pitcher Derek Lowe on drunken-driving charges ...
* * *
Fangraphs
passes along a great Times photo from the Dodgers' 1978 National League pennant celebration. Note, amid the jubilation, one fan trying to literally steal second, while another appears to fight with Bob Welch for the rosin bag.
April, 29, 2011
4/29/11
8:47
AM PT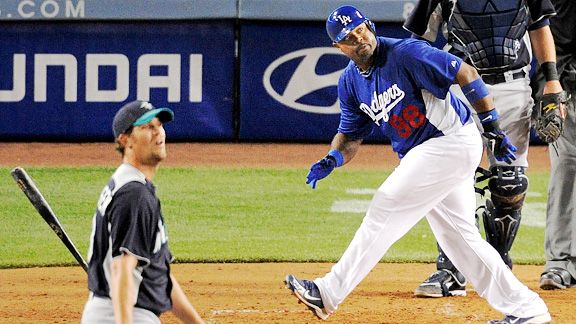 Mark J. Terrill/APCorey Smith blasted a three-run home run on the final day of Spring Training against Mariners pitcher Tom Wilhelmsen.
The Dodgers are expected today to make official the callup of Russ Mitchell to take the place of Casey Blake, who is
suffering from an infection in his elbow
. The Dodgers could have gone another way by turning to a guy you probably first heard about in Spring Training – if you heard of him at all –
Corey Smith
. Here's the why and why not:
Why:
Though he had an .898 OPS in Albuquerque last year, Mitchell only has a .281 on-base percentage and .383 slugging percentage this year.
Playing first with Chattanooga and then with Albuquerque this year, Smith has a .416 on-base percentage and .993 slugging percentage with three homers, six walks and 12 strikeouts in 77 plate appearances.
Smith has played 984 games in the minors at Blake's position of third base.
He hit some of the longest balls of any Dodger in Spring Training, when he was seven for 12 with two doubles, three homers, four walks and one strikeout.
He's this year's Mitch Jones/John Lindsey: Drafted in 2000, he has spent 12 seasons and 1,365 games in the minors without a cup of coffee in the show.
Why not:
His minor-league numbers this year aren't that special – playing in Albuquerque (1.143 OPS) has inflated his performance in Double-A (.812 OPS).
He has only played one game at third base this year (but take note – it was Thursday).
He is not on the 40-man roster, meaning that someone would have to be designated for assignment (Jamie Hoffmann?) or moved to the 60-day disabled list (Hector Gimenez?)
His Spring Training at-bats usually came against minor-leaguers and don't prove much.
All that being said, I'd kind of like to see Smith get the shot – partly for sentimental reasons, partly because I wouldn't mind seeing what appears to be a bigger offensive threat off the bench. Mitchell also has home run potential, having hit two in his September 2010 promotion last year (while going 6 for 42 overall). But on the theory that the Dodgers will probably continue to start Aaron Miles at third most of the time until Juan Uribe returns, I'm not too worried about Smith's lack of play at the position this season.
An even more radical decision by the Dodgers would be to call up outfielder Trayvon Robinson, who has started nicely in Albuquerque this year except when you consider his strikeouts, and make Jerry Sands the emergency third baseman. But I'm sure you can see the pitfalls with that ...
Anyway, this will probably all be moot by gametime, but I just thought I'd think out loud about Smith.
* * *
Dodgers getting cosmic comeuppance for abandoning Brooklyn blah blah blah, by George Vescey in the New York Times.
Earlier this week before the latest ownership explosion, the Dodgers filled their security opening by hiring former LAPD captain Rich Wemmer.
Mark Saxon of ESPNLosAngeles.com writes about the tragic offseason of Angels rookie Alexi Amarista.
Finally, I know you're sick of hearing about our wedding after all the buildup and global media coverage, but nevertheless, I still want to take this opportunity to wish a happy 11th anniversary to my wife - I love you, honey!
September, 16, 2010
9/16/10
7:03
PM PT
Times
that he believes the team should have new ownership.
He said he is not interested in returning to ownership but would be willing to smooth the transition for potential new owners on what he called a "short-term" basis.

"For many years, the Dodgers have been one of the most prestigious institutions in our city and throughout professional sports," O'Malley said. "Sadly, that is not the case today."

McCourt responded through a statement from his spokesman, Steve Sugerman.

"Frank has made it abundantly clear he is the long-term owner of the Dodgers," Sugerman said, "and he looks forward to the day when his four boys own and operate the team." ...
* * *
Dodger coach Bob Schaefer had some weirdly noteworthy comments today in an interview with Jim Bowden on XM radio.
Mike Scioscia's Tragic Illness
has details.
One of them was a no-comment on Matt Kemp that was followed by a comment that indicates there is no love lost there. Another reportedly had Schaefer saying that Don Mattingly had turned down "managerial positions" to stay in Los Angeles, but I'm wondering if Schaefer really meant or said "managerial interviews."
Also, it's one thing for me to say
the Dodgers have issues for next season
, but it's a bit unusual for a coach to say the team "will have to pull a rabbit out of the hat" to contend. Presumably, Schaefer has already plotted his own exit from the organization.
Schaefer said he doesn't think Joe Torre will manage the Dodgers next season, but that he will stay in the game in some capacity. However, Torre told reporters that
* * *
David Brown has a barrel-of-fun interview with Vin Scully at Yahoo! Sports' Big League Stew.
Russ Mitchell is the only Dodger since 1920 to start a game at first, third and the outfield in his first season, according to Eric Stephen of True Blue L.A.
One of my earliest memories as a baseball fan is reading in Baseball Digest about Rennie Stennett's 1975 7-for-7 game, in which Pittsburgh shut out Chicago, 22-0. Chris Jaffe recalls the event in The Hardball Times.
Howard "Howie" Levine, the longtime Grant High School boys basketball coach whom I first met more than 20 years ago as a Daily News sportswriter, has worked as a Dodger Stadium usher for 38 years. On Tuesday, the night that the Dodgers honor their employees of 25 years or more, Levine will sing the National Anthem.
Former Dodger owner Peter O'Malley, who has publicly been almost completely silent on the current ownership issues with the team, told Bill Shaikin of the
September, 8, 2010
9/08/10
5:14
PM PT
In case you're wondering why Russ Mitchell is getting to make his major-league debut ahead of John Lindsey,
this Dodgers.com video
of Ned Colletti congratulating Lindsey on his call-up and telling him he would fly his Mississippi-based family to the Dodgers' upcoming four-gamer in Houston offers a clue.
* * *
Former Dodger owner Peter O'Malley figures prominently in this
Sports Illustrated feature
by Lee Jenkins on the chaos in team ownership.
* * *
Eric Stephen of
True Blue L.A.
looks at just how poor the Dodger outfield has become. Interesting tidbit: Andre Ethier has been striking out more than Matt Kemp, which is saying something.
September, 6, 2010
9/06/10
8:36
AM PT
Let's start with Sunday's best story:
John Lindsey is finally a major leaguer
. From Ramona Shelburne of ESPNLosAngeles.com:
Lindsey, 33, the Los Angeles Dodgers' Triple-A first baseman who has played more seasons in the minors without earning a call-up to the majors than any current player, was among five players the Dodgers promoted Sunday afternoon.

Lindsey will be joined by third baseman Russ Mitchell, who is also making his major league debut, infielder Chin Lung Hu, and pitchers Jon Link and John Ely.

For Lindsey, set to join the team Monday, it was the realization of a lifelong dream. He's spent nearly half his adult life in the minor leagues, since the Colorado Rockies took him in the 13th round of the 1995 draft.

He's had a career season in 2010, batting .354 with 25 home runs for the Albuquerque Isotopes.

"Oh man, the second [Isotopes manager Tim Wallach] told me my whole brain kind of shut down. I was hearing what he was saying, but I couldn't even believe it," Lindsey said.

"He went to shake my hand and I had to hug him because my legs were so weak."

Lindsey said Wallach had initially tried to fool him by asking him to come into his office, then slamming the door.

"I think he was trying to mess with me, but [hitting coach] Johnny Moses was in the corner, trying to keep a straight face the whole time, but he couldn't stop smiling," Lindsey said.

"Wally told me it was the happiest day as a manager he's ever had. I walked out of that office and hugged all my teammates, called my wife, and I haven't stopped smiling or pacing around the clubhouse since.

"I probably won't sleep the next three or four days." ...
Sometimes, it's not whether you win or lose, it's that you get to play the game.
Says
Eric Stephen of True Blue L.A.
: Lindsey, who is 33 years, 219 days old today, will be the oldest non-Japanese Dodger to make his MLB debut since Pete Wojey (34 years, 213 days) on July 2, 1954.
* * *
As for Sunday's results – yes, the team looking to make a miracle comeback in the standings suffered a blow. Arizona fell to Houston, 3-2, missing a chance to close within 12 games of the fourth-place Dodgers,
who lost to San Francisco, 3-0
.
The Dodgers' magic number to clinch non-last place is 12. Los Angeles has clinched the tiebreaker against Arizona by winning the season series, so even though six of the Dodgers' final nine games are against the Diamondbacks, the odds remain in the Dodgers' favor.
Oh, as for the other races? Can't say the Dodgers are doing much there.
The Padres are the first team to stay in first place
despite a 10-game losing streak since the 1932 Pittsburgh Pirates
, and looking to be the first team to make the playoffs despite a 10-game losing streak since the 1982 Atlanta Braves, according to
Stat of the Day
. That was the year that the Dodgers took advantage of the Braves' slump to regain the National League West lead, only to run into a most bitter ending. This year is looking bitter in a different way.
Greg Zakwin wraps up Sunday's Ack-loss at
Memories of Kevin Malone
: "(Andre) Ethier, Jamey Carroll, and Matt Kemp struck out a combined eight times. Five baserunners. Thirteen strikeouts in total against just a single, solitary walk drawn. Just a single extra-base hit. No Dodger reached base more than once. Pitiful is a word that seems to perfectly describe the offensive side of things since the All-Star Break."
Hiroki Kuroda made his sixth straight start of at least seven innings, with a 2.47 ERA and .179 opponents batting average in that time, according to the Dodger press notes. Ken Gurnick of
MLB.com
notes that it was the sixth time this year that Kuroda has been on the wrong end of a shutout. As Tony Jackson of
ESPNLosAngeles.com
writes, opportunities to watch Kuroda in a Dodger uniform might be dwindling to a precious few.
* * *
Al Wolf of the Times (via Keith Thursby of the Daily Mirror) predicted in 1960 what the team's 1962 Dodger Stadium opener would be like. His conclusion: "As broadcaster Vince Scully said in his dulcet tones: 'Wotta show! Wotta show! Come on out tomorrow night, those of you who missed it. But if you can't be with us, plunk down a dollar in your pay TV set and watch it that way. Or better yet, put in two bucks and see it all in living color.'"
Fred Claire, who acquired Tim Wallach for the Dodgers on Christmas Eve 1992, puts his support at MLB.com for the Wallach for Manager campaign, though not with the Dodgers specifically. Claire, of course, was the Dodger general manager throughout Mike Scioscia's post-playing Dodger career. His departure preceded Scioscia's by about a year.
Four of the Dodgers in Sunday's game – Carroll, Ryan Theriot, Ethier and Reed Johnson – finished with a .289 batting average.
June, 23, 2010
6/23/10
8:12
AM PT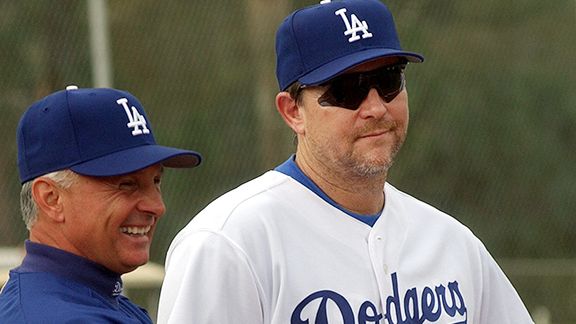 Richard Drew/AP
Tim Wallach, shown here as a Dodger coach, has handled all kinds of challenges as Albuquerque's manager.
With the Albuquerque-Los Angeles shuttle in overdrive, I thought this might be a good time to check in with Robert Portnoy, friend of Dodger Thoughts and the play-by-play broadcaster for the Isotopes. And with that largely ado-free introduction, here's the interview:
1) First, can you update us on when we might see James McDonald and Scott Elbert back in action? What can you tell us about Elbert's situation?

I don't have anything to tell about Elbert's situation. He is not with the team and we haven't received word when he might return. McDonald's recovery from his hamstring strain is coming along well in Arizona. He has thrown a simulated game and is scheduled to make his first start in an Arizona League game. [Note: McDonald
pitched two hitless innings Tuesday
, after this interview was completed.] His return date is not set, but it's not too far off.
2) How is McDonald handling things in a year he probably thought he'd be in the majors? Especially when things just seemed to be coming together for him before he got hurt.

He was very disappointed when the injury occurred, that was evident. There's no doubt he was pitching better than he had all season at the time he went down. He was handling being in Triple-A quite well. He realized he had things to work on, and he made great strides. At the start of the year, A.J. Ellis told me J-Mac's changeup has always been his best secondary pitch, the one that's always there for him, his most reliable. J-Mac said his changeup was terrible at the start of the year. He was throwing it much better before the injury. His rehab has been exclusively in Arizona, so I can't comment on how he's handled that process.
3) The roster comings and goings have been endless. How crazy has it been, particularly in the Isotopes starting rotation? How does Tim Wallach handle it?

Wallach is as even-tempered as they come, unflappable. The kind of manager who watches a terrible base running mistake, pulls the player aside for a brief moment, asks if that player's aware what he should have done, then tells him to put it behind him so he can help win a ballgame. He realizes that the primary goal is get players ready to help the Dodgers, and if that leaves his rotation depleted, he'll adjust. The injuries to key guys don't help, obviously. Yesterday, big league veteran Tim Corcoran, a reliable starter since joining the rotation, had to leave his start early. We hope he won't miss a turn.
4) What do you think of Wallach as a managerial prospect?

Fantastic. He's a players manager who keeps proper distance and maintains full authority. One step ahead, it seems, all the time. When he pitches out, they're running. His instincts are great. Always gets the matchups he wants. One game I distinctly recall talking about multiple scenarios on the air, then asking him about them after the game. He discussed those and gave three or four others he had considered. He can play the chess game with the best of them.
5) Is it a relief to see Josh Lindblom moved to relief?

Josh has a tremendous head on his shoulders, and he's a real student of the game. Talks about Clemens, Halladay, Carpenter as starters he tries to emulate, even gave me a Goose Gossage reference when talking about his favorite closers (mentioned Goose getting six outs or more for many of his saves). I had a great conversation with him on our recent road trip in Iowa. Here's the thinking: He has been a reliever, has never even thrown 100 innings in a season. His arm isn't accustomed to logging that much work yet. So, the past two seasons he's gotten run down, lost his arm strength. I think he has the stuff, the fastball command, and the makeup to be a big league starter, a real innings-eater, IF his body can adapt. If not, he'll make an above-average middle innings or setup guy who can get you up to three innings because he has four quality pitches. He's a big leaguer for sure.
6) Are you able to see what weaknesses John Lindsey has to keep him from the majors? (And when will he return to the field?)

John might rejoin the team when we get back to Albuquerque this weekend, but he could still have a bit more rehab to do before getting back on the field. He has been recovering from his calf strain in Arizona. John's a professional hitter, he could help the Dodgers with his bat right now. He's not James Loney at first base, but he can hold his own. Defense might be the only thing that's holding him back.
7) Jay Gibbons is a potential lefty bat off the Dodger bench with major-league experience. What do you see as his strengths and weaknesses at this point in his career?

Gibbons' only weakness, if you can call it that, is how hard he plays. At 33, he still leaves it all out there every day. But as a lefty bat off the bench, there's no wear and tear. He would be ideal, because he could stay in the game and play either corner OF position or 1B adequately, and he'd be great for multiple ABs because he's actually BETTER against lefties than righties, the numbers don't lie. His bat is level through the hitting zone longer than anybody I've ever seen, period. And he threw two guys out on the bases from RF in one inning in Iowa last weekend.
8) Does Xavier Paul have anything left to prove in the minors? What is he working on?

No. He's an everyday big leaguer waiting for his chance. He's working on his defense constantly, looking to continue to improve in that area any way he can. His arm is unquestioned. Just in the last week, naive hitters have tried to stretch singles into doubles when he's playing left and paid the price twice. Strong and accurate thrower. RF arm in LF when he plays there. When he keeps his focus in the field, he's an above-average defensive OF. He has shown how he can hit when he's been with the Dodgers this year. He is tearing up PCL pitching, and now he's hitting for power, which adds the final piece.
9) How is Ivan DeJesus' comeback going?

Talked with Ivan in Iowa as well. He's still working to get strength back in the surgically repaired left leg. It's a process. He told me that his rehab was rushed a bit last year, when he first tried to run his leg wasn't ready. They had to shut him down and reset the timetable. He hasn't had any problems, though. Going very smoothly. He looks great, and his swing is terrific, uses right-center a lot, and can drive the ball that way. Best of all, he's already had multiple plays this year at home plate, where he's beaten throws with a variety of slides, and he says he doesn't think about the collision that caused the injury anymore.
10) Anyone under the radar on the Isotopes roster that you like?

There are several, but if I had to pick one, I'll go with Russ Mitchell. Has been solid at the plate all year, consistent approach, hits for average and power. Really impressive at 3B, good first step and strong arm, equally good going left, right, and coming in. And he can play 1B and 2B capably as well. He's even played OF in his career, though we haven't seen him there yet. But he's not a utility guy, I like him at 3B every day. He's the one keeping everybody loose, always talking, laughing. Clearly loves coming to the ballpark, loves what he's doing.
* * *
* * *
For Dodger fans feeling down about the team's losing streak,
this should cheer you up
.
June, 17, 2010
6/17/10
7:32
AM PT
Placement on the bereavement list means that Furcal will miss
from three to seven games
.
All my sincerest condolences to Furcal.
Update:
Furcal went to the Dominican Republic to see an ailing family member, reports Tony Jackson of
ESPNLosAngeles.com
.
* * *
Nick Green opted out of his minor-league contract and became a free agent, reports Christopher Jackson of Albuquerque Baseball Examiner.
Claudio Vargas returned to the Dodger organization, signing a minor-league contract with the Isotopes, whose pitching has been trashed by injuries, absences, promotions and demotions.
Russ Mitchell homered twice and singled for Albuquerque on Wednesday, while Michael Restovich doubled, tripled and homered, and Xavier Paul and Ivan De Jesus, Jr. also each had three hits.
Kyle Russell hit his first AA home run for Chattanooga, while Trayvon Robinson had three hits.
Fred Claire has a nice story at MLB.com about Monte Irvin, who at age 91 will have his number retired by the Giants. Among other tidbits was this revelation:


... Irvin revealed that when he got out of the service in 1945 he signed a contract with the Dodgers.

"I had been selected by Branch Rickey to break the color barrier," said Irvin. "I had the talent and I was easy to get along with."

Irvin said that even though he had signed the contract with the Dodgers, he asked to return to play in the Negro Leagues "because I didn't want to go to the Major Leagues until I had my game back after three years in the service."

Irvin said a dispute developed over the contract between his Negro League team and the Dodgers, and he didn't get his opportunity in the Major Leagues until a deal was worked out with the Giants in 1949.

"Things have a way of working out and I'm just happy that I had the chance to play the game that I loved," he said.

Matt Kemp's struggles get an analysis from Chad Moriyama of Memories of Kevin Malone.

Second-round draft choice Ralston Cash is close to signing with the Dodgers, reports Bill Murphy of the Gainesville Times.
Ernest Reyes of Blue Heaven passes along a neat find: a 1955 Brooklyn Dodgers ticket order form. Get your box seats for $3 ...
Here's a fun historical site: CalTrafficSigns.com (via Franklin Avenue).

No details yet, but the Dodgers announced in a 7:30 a.m. e-mail that Rafael Furcal had been placed on Major League Baseball's bereveament list. Chin-Lung Hu has been called up to take his roster spot, though he will not arrive in Cincinnati in time for the start of today's early game.