Dodger Thoughts:

Scott Podsednik
The tough news out of Spring Training today was the latest with former Dodger minor league manager Luis Salazar,
who had to have his eye surgically removed
as he battles to recover from the line drive that hit him last week.
February, 24, 2011
2/24/11
7:19
AM PT
Catching up with two expatriates ...
Here's the first interview I've seen with Scott Podsednik since his offseason went south (non-geographically speaking). From the
Canadian Press
:
Scott Podsednik's spring is not off to an ideal start, far from it, but at least he can take some solace in knowing that other years have also started poorly and turned out fine.

Like 2009, for instance.

"It's a crazy game," he said Wednesday after checking into camp with the Toronto Blue Jays. "A couple of years ago I was sitting on my couch at the start of the '09 season, so anything can happen.

"I've learned over the years to just kind of focus on the things you can control, and all I can control is trying to get myself ready and playing my game in between the lines. Anything outside of that is not up to my decision, so I'm going to try to focus all my energy on things I can control."

A sound approach and, given the circumstances, a wise one for the speed demon and former all-star.

Podsednik arrived in camp on a minor-league contract signed last week, the best deal for him after an off-season that didn't play out anything like what he expected.

In November, he declined his end of a US$2-million mutual contract option for 2011 with the Los Angeles Dodgers and opted for free agency. It backfired since "for whatever reason my market just didn't develop," said Podsednik. ...
Then there's Russell Martin, who is not as ready for game action as he and the Yankees thought he would be. From Wallace Matthews of
ESPNNewYork.com
:
The Yankees signed Russell Martin to be their everyday catcher, but he won't be behind the plate when they open their exhibition season Saturday against the Philadelphia Phillies."I don't think he's quite ready to go and I'm not going to rush him,'' manager Joe Girardi said Wednesday at George M. Steinbrenner Field. "He still talks about [his knee] doesn't quite feel the same as it did before. I told him, I want to know when you're 100 percent. Because I don't want any setbacks with him. When I put him in, I want him to be ready to go.''

The 28-year-old Martin passed a physical before signing a one-year, $4 million contract in December to replace Jorge Posada behind the plate. But within a matter of days, it was announced he would undergo surgery to repair "a small meniscus tear'' in his right knee, the same surgery both Posada and CC Sabathia underwent in the offseason.

At the time, general manager Brian Cashman said, "It's not a serious surgery at all,'' that Martin's recovery would take two to three weeks and that the catcher would be "back to normal within a month.''But now, nine weeks after the surgery, Martin is still feeling discomfort. Worse, on Wednesday, he added three ominous letters to the mix: MCL, as in medial collateral ligament.

"I injured my MCL in the offseason,'' Martin said. "But the surgery wasn't for the MCL, it was for the meniscus. When they looked at my knee they saw that I had a meniscus issue as well, so in the time it would take for the MCL to heal, the surgery would heal, so they might as well do it. It was just a prevention type thing.''

Whatever the real extent of the injury, it has so far prevented Martin from participating in the full range of catching drills -- he has not taken part in blocking drills yet -- and will keep him out of the first spring training game at least. ...
February, 21, 2011
2/21/11
6:01
PM PT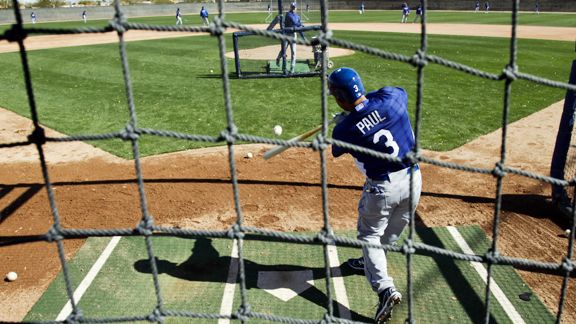 Morry Gash/APXavier Paul takes his swings at Camelback Ranch today.
Maury Wills sings
"Crawdad Hole." Thank you,
Blue Heaven
.
Elsewhere ...
February, 16, 2011
2/16/11
3:19
PM PT
When the Dodgers
picked up their half of Scott Podsednik's option
, that seemed like a shaky choice ... but not half as shaky as when the 34-year-old said
thanks but no thanks
to the guaranteed $2 million and chose free agency. Months went by, and it was not until today that Podsednik
signed a 2011 contract
.
It's a minor-league deal, for which we haven't seen the terms — it's entirely possible that Podsednik will make the major-league roster and end up with the kind of money he had envisioned, but I can't imagine this offseason went the way he imagined.
Here's some comment on Podsednik's Blue Jays future from Josh Alper at
Fanhouse
:
... Podsednik will have a pretty good shot at winning a spot on the roster. The Jays could use a leadoff man and Podsednik fits the offensive criteria a bit better than Rajai Davis. They also could be looking at a time share at the designated hitter position where Podsednik could split duties with Travis Snider and Juan Rivera as the Jays look to avoid too much of a defensive disaster in left field. There's also the possibility that the Jays will be forced to use Jose Bautista at third base, although that seems like a last resort.

So there's room for Podsednik to earn a job. Assuming he can repeat last year's production, he could even play quite a bit, although one imagines they'd rather see Rivera and Snider win regular roles with Podsednik and Davis splitting time and providing doses of speed to a lineup that's short on it.
The Dodgers traded Elisaul Pimentel and Lucas May for Podsednik on July 28.
January, 25, 2011
1/25/11
7:11
AM PT
The fifth in a series of at least five, on how close selected Dodger prospects are to the majors ...
Ivan DeJesus, Jr.
Vitals:
SS-2B, 5-foot-11, 190 pounds, turns 24 on May Day.
Summary:
For the first time in this series, we're talking about a prospect who is trying to bounce back instead of one who is ascending. Two years ago, the son of 1970s Dodger Ivan DeJesus was coming off a year in which he delivered an impressive .419 on-base percentage to go with a .423 slugging percentage in the Double-A Southern League while still 21. To compare,
Dee Gordon had an inferior .332/.355 in the same league at age 22
.
But a broken leg suffered on an ill-fated slide in Spring Training wiped out DeJesus' 2009 season. Then the Dodgers bumped him up to Triple-A as he started his comeback in 2010, and DeJesus only managed to go .335/.405 while in hitter-friendly Albuquerque of the Pacific Coast League. DeJesus still is on the young side, but his future is unclear.
For comparison's sake:
Chin-Lung Hu
comes to mind, because Hu is the most recent Dodger middle infield prospect to excite with a strong Double-A season (.380/.508 in 2007), then disappoint in subsequent years. Spending the next three seasons in Triple-A, Hu couldn't break .800 in OPS. (In 191 scattered major-league appearances, Hu's OPS is .524.) Long after they had given up on him, the Dodgers finally dumped Hu this offseason for Mets minor-league journeyman pitcher Michael Antonini. So yes, Hu got promoted, but it didn't mean a lot.
For a more off-the-wall comparison, how about
James Loney
? Different position, but same track record of having but one minor-league season with an OPS over .800. In his final minor-league action, Loney was reduced to a .345 on-base percentage and .382 slugging percentage with Albuquerque in 261 plate appearances over the first half of the 2007 season. But then Loney was promoted to the majors anyway and produced at a .381/.538 clip the rest of 2007. Say what you will about Loney as a first baseman, but if DeJesus came in at those numbers as a second baseman, people would be quite satisfied.
But as you can gather, the comparisons don't help much.
X factor:
Tales of bad vibes emerged in early September when Ken Gurnick of
MLB.com
wrote a short piece about DeJesus failing to earn a callup when rosters expanded. "DeJesus was drafted in the second round in 2005 as a shortstop, but he played second base this year, and scouts say his range and footwork around the bag need improvement, perhaps the after-effects of the injury," Gurnick said. "Sources also claim that DeJesus ... is in the doghouse because he has yet to grasp some of the subtleties of teamwork and game approach."
Gurnick found more positive words about DeJesus
earlier this month
from Don Mattingly, who managed DeJesus in the Arizona Fall League: "He swung the bat well," Mattingly told Gurnick. "I know since the injury, they say he's a step slower here or there, but he's prepared to hit at the major-league level. He has a good feel for how pitchers try to handle him. I thought he was really good offensively. Defensively, I didn't see him as much as I'd like to because of the restrictions on who plays where. Offensively, the kid is ready to hit and produce. Where he fits, who knows?"
How close is he?
Keeping in mind the usual caveat that the Ned Colletti Dodgers almost never hand a rookie a starting job in April, there's a job in Spring Training that can be won. The team has a roster opening for an infielder, and if DeJesus came out like gangbusters, the Dodgers might consider pushing Juan Uribe to third base and Casey Blake to the left field squad. DeJesus could also contend for a backup infield role.
But much more likely is DeJesus returns to Albuquerque to play the keystone opposite Gordon and work on his game, with an eye toward a midseason promotion if he shows progress. With a year of Triple-A already behind him, DeJesus' destiny is largely in his hands at this point. Whether he can become more than Hu is up to him.
Did you know?
DeJesus' dad led the National League in runs in 1978 with 104, one more than Pete Rose.
* * *
Some links:
December, 17, 2010
12/17/10
6:12
PM PT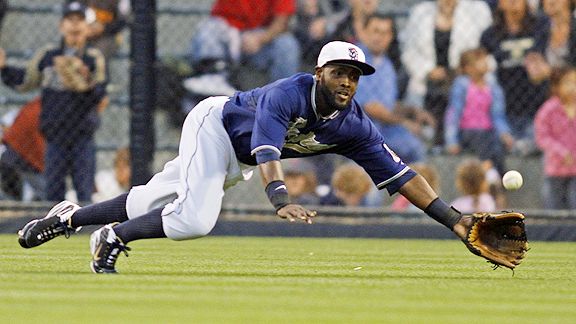 Denis Poroy/AP
Tony Gwynn Jr.
As I walk through the valley of the shadow of no frontline left fielder, with yea but another candidate
abandoning us
to aimless wanderings, my thoughts seek a place to turn.
I believe that Xavier Paul, Jay Gibbons and Jamie Hoffmann can make positive contributions, but as I started to make a case for each of them in left field, I couldn't finish the job. The offensive ceilings for Paul and Hoffmann just seem too low, and the defensive limitations of Gibbons too pronounced. I'm content to see them get a chance, but I just don't have confidence it would go all that well.
The problem with turning to a 35-year-old
Scott Podsednik
is that
his defense is pretty poor itself
. Podsednik would probably post a better on-base percentage than any in-house Dodger candidate, but not so much better that he'd be worth more millions spent by Ned Colletti.
Minor-leaguers Jerry Sands and Trayvon Robinson? Despite their relative promise, only once in five seasons has Ned Colletti promoted a AA player into a major-league starting role in April, and that happened to Blake DeWitt only because
injuries had left Chin-Lung Hu and Ramon Martinez as the only alternatives
. Paul, Hoffmann and Gibbons don't fall to that level. And I'm not convinced that Colletti should break that policy right now, because unlike with Paul and Hoffmann, I imagine Sands and Robinson still have more to learn in the minors.
There's a guy out there who would represent a pretty nice part-time addition to the roster, by the name of Manny Ramirez, but I know the Dodgers don't want to go down that road.
That doesn't exhaust all the possibilities, but there really isn't much else to talk about in terms of difference-makers. And that's why, more and more, I find myself ready to throw my lot with Tony Gwynn Jr. — if,
as was discussed last week
, he plays center field.
Of everyone discussed here, Gwynn offers the most elite skill, if not the only one — his defense. He's something of the polar opposite of Ramirez, and it seems to me that he is the one person left in the conversation who can truly transform the Dodger lineup. By placing him in center and moving Matt Kemp to right field and Andre Ethier to left, Gwynn would turn the Dodger outfield defense from a weakness to a strength.
At a minimum, it would be a low-risk way to buy some time until Sands or Robinson proves more ready to make the leap to the majors, possibly at midseason. Or, until the Dodgers decide to make their annual midseason trade.
I don't think Colletti or Don Mattingly would be opposed to asking Kemp or Ethier to switch positions. Would either player rebel? Perhaps, although if they are that selfish, we've got other problems.
Here's a Dodger lineup with Gwynn in center:
Rafael Furcal, SS
James Loney, 1B
Andre Ethier, LF
Matt Kemp, RF
Juan Uribe, 2B
Casey Blake, 3B
Rod Barajas, C
Tony Gwynn Jr., CF
Offensively, it's shaky, but it's not as if any of the other outfield options would save the day. But defensively, there's actually hope.
I've looked at the Dodgers' outfield dilemma many different ways — coming at the problem, in fact, with a bias against Gwynn signing with the team to begin with. There might be no more surprising event to me than making an argument for Gwynn to be in the Dodger starting lineup. But I just don't see a better way to go right now. Tony Gwynn Jr. has a first-rate skill that no other Dodger has, and the Dodgers absolutely must consider taking advantage of it.
November, 23, 2010
11/23/10
10:01
PM PT
In
declining to offer salary arbitration
to free agents Rod Barajas, Vicente Padilla and Scott Podsednik, the Dodgers chose the flexibility of being able to offer each contracts on the teams' terms in exchange for the rights to compensation of a draft pick after the first round should the players sign elsewhere. (Here's a list of those elsewhere who got salary arbitration offers, from
MLB Trade Rumors
. Octavio Dotel?)
But on this day, I just wish to celebrate once again the fact that baseball has eliminated its
nonsensical rule
that prevented teams from negotiating with their own free agents if they declined arbitration - a rule that gave the 29 other teams a distinct advantage over the player's most recent team. Having nothing to do with these three players, I'm just glad a stupid rule is no more.
As
True Blue L.A. reminds us
, December 2 is the deadline for the Dodgers to offer arbitration to non-free agents: Russell Martin et al.
Meanwhile, in the Noah's Ark that bears non-roster invitees to Spring Training two-by-two, the Dodgers now have a pair of sub-mediocre ex-Diamondbacks, Dana Eveland and Oscar Villarreal.
* * *
Farewell, Danny McDevitt
.
November, 4, 2010
11/04/10
11:40
AM PT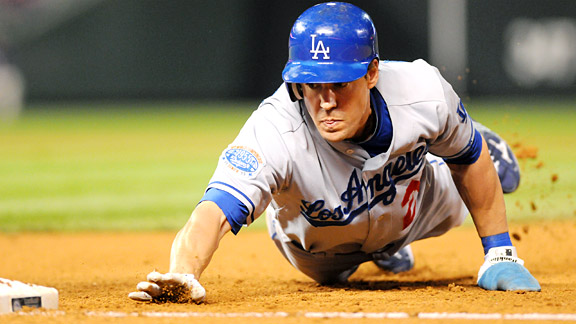 Dustin Bradford/Icon SMIScott Podsednik has dived into a new organization four times since 2008: Rockies, White Sox, Royals, Dodgers.
Scott Podsednik has chosen free agency over the guaranteed $2 million contract he could have had with the Dodgers for 2011.
ESPNLosAngeles.com
has details.
Podsednik made $1.65 million plus incentives in 2010. He hasn't ruled out returning to the Dodgers, meaning that he thinks he can get even more for his services from Ned Colletti.
* * *
Bill Plaschke of the
Times
talked to both Davey Lopes and Colletti about the prospect of Lopes returning to the Dodgers as a first-base coach and baserunning instructor. I would characterize the quotes as encouraging.
* * *
Farewell, Sparky.
November, 2, 2010
11/02/10
12:27
PM PT
Scott Podsednik and the Dodgers entered the offseason with a mutual option on his $2 million 2011 contract. Today, the Dodgers
voted yes on their half
, leaving the outfielder three days to decide if he wants to reciprocate or test free agency.
Podsednik, who will be 35 in March, made a good impression on Dodger general manager Ned Colletti despite performing rather unimpressively.
"Our thought process after watching him play for us and seeing what he added to our club was that we would like to have him back," Colletti said. "He obviously has versatility in the field, plus he has an added component in the speed he has.''
August, 14, 2010
8/14/10
9:50
PM PT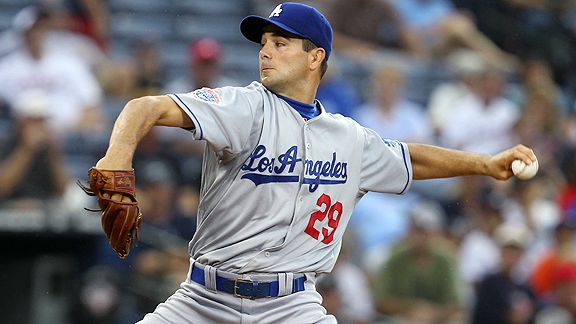 John Bazemore/APTed Lilly
In a relief of a win that could have been another vexatious loss, the Dodgers funneled 12 hits into only two runs, but made them stand up for a
2-1 victory over Atlanta
on Saturday.
Major credit for the result goes to Ted Lilly, who had his third consecutive sharp start since coming to Los Angeles. Lilly allowed five baserunners over six shutout innings, lowering his ERA with the team to 1.89. He has allowed 10 hits and two walks while striking out 15, and if the rest of the team were jelling, we'd be talking in glorious tones about how he was spearheading the Dodgers' pennant drive.
As it is, even if he keeps up this pace and makes me look bad for
questioning his consistency
(though I also said "undoubtedly, Lilly will provide some short-term gain in the rotation"), he does figure to have only about 10 or fewer starts left in a Dodger uniform before leaving as a free agent. So I'm still feeling a little bittersweet about him. But so far, he has absolutely pitched well – a perfect fit for the team.
Octavio Dotel even chipped in 1 1/3 perfect innings tonight; he has retired 14 of 19 batters as a Dodger since coming from Pittsburgh.
Staying with the theme of new players, I'll even throw a little love Scott Podsednik's way, reluctantly. Podsednik went 3 for 5 tonight and now has 12 hits and two walks in his past five games. Of course, that's outstanding.
Now, without this incredible hot streak – which he won't be able to maintain – Podsednik will revert to being that ordinary player that I still don't really want much part of. Even as well as he has played for the Dodgers, Podsednik has two extra-base hits in 74 plate appearances with the team. I'm willing to live with a sub-.400 slugging percentage from my catcher (Russell Martin) or my utility infielder (Jamey Carroll) if they're getting on base a lot. But from my left fielder, I think the offense needs more. And if a hot streak of singles convinces the Dodgers that this is the guy they want starting in left field next year, at age 35, that's going to make me even more unhappy.
Living in the now, though, Podsednik has provided an admitted boost. I'm going to be even more of a sourpuss with regard to Ryan Theriot, however.
Theriot has been a poor man's Podsednik, going 2 for 4 tonight to give him a .283 batting average as a Dodger. That has made a lot of observers feel good about the trade, but it's an empty .283: accompanied by a .328 OBP and .302 slugging percentage. He may be a better fielder than Blake DeWitt, but again, I feel like this has opened the door for the Dodgers to settle for aging mediocrity when they need something better. (By the way, DeWitt's numbers since leaving the Dodgers and his overall 2010 numbers remain better than those of Theriot.)
Right now, there's no doubt the Dodgers added talent in the short term last month, at a time when there was legitimate postseason hope. That pretty much fulfills the mission as Ned Colletti saw it, I imagine. He has gotten results.
And yet it all feels so temporary ...
July, 29, 2010
7/29/10
2:45
PM PT
With Matt Kemp being rested, Scott Podsednik is making his first CF start of 2010 today in his Dodger debut. He will be the 40th player to suit up for the Dodgers this season.
The Dodgers
designated Jack Taschner for assignment
to make room for Posednik. Taschner faced six batters as a Dodger and allowed a hit and three walks.
Joe Torre also told reporters today that Chad Billingsley, who threw under 90 pitches in his six-inning shutout effort Tuesday, will start Saturday in San Francisco on three days' rest. At this time, John Ely will not be recalled from Albuquerque.
* * *

Roy Oswalt is headed to Philadelphia
. Considering that the Astros will pay nearly half of the $23 million owed Oswalt through the 2011 season, it's natural to ask whether the Dodgers should have gotten him after all.
Philadelphia gave up one major-leaguer, 27-year-old J.A. Happ, who had a 2.93 ERA in 2009 but has pitched only 15 1/3 major-league innings this year, along with two minor leaguers: outfielder
Anthony Gose
(whose numbers aren't impressive unless you keep in mind he's a 19-year-old in A ball) and shortstop
Jonathan Villar
(same story).
I'm inclined to think that if John Ely had kept his early season performance going, or if James McDonald or Scott Elbert's 2010s hadn't largely washed out, the Dodgers could have done this deal. But none of those players were enticing enough, and so the only alternative major-league pitcher for the Dodgers would have been to trade Chad Billingsley (Clayton Kershaw is the staff leader for years to come, while free agents-to-be Hiroki Kuroda and Vicente Padilla would not have interested Houston). Trading Billingsley for Oswalt could improve the Dodger starting pitching, though at great cost and without helping fill out the fifth spot in the rotation.
The other way to have gone would have been to send more in the way of prospects. You don't need me to point out the pros and cons of that.
In short, if in fact he would have approved a trade to Los Angeles, it turns out that Oswalt wasn't out of the realm of possibility for the Dodgers, despite all their handicaps -- ownership, talent base, setbacks in player development, etc. At the same time, the fact that he isn't here underscores how relevant those handicaps are.
July, 29, 2010
7/29/10
11:45
AM PT

Newly acquired Scott Podsednik has a .353 on-base percentage and .400 slugging percentage.

Newly marginalized Xavier Paul has a .298 on-base percentage and .339 slugging percentage.

If Paul had reached base seven more times in his 124 plate appearances this season and had seven more total bases in his 112 at-bats, he'd have surpassed Podsednik's batting stats, going .355/.402. Seven more singles in those 112 at-bats would have accomplished both tasks.

This is a simplistic way to look at things, but I just find it interesting that the difference between the two is so slim. But for seven singles, Podsednik would offer no advantage in the batter's box, and despite whatever other attributes he offers, I'm guessing the Dodgers don't trade for him.
July, 28, 2010
7/28/10
6:39
PM PT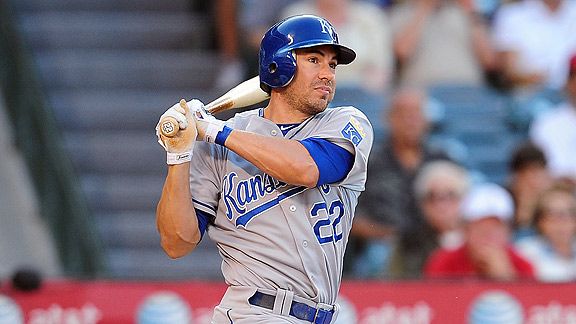 Gary A. Vasquez/US PresswireScott Podsednik
Seeking to solve their Manny Ramirez-less outfield problems, the Dodgers have agreed to a deal for Kansas City outfielder Scott Podsednik,
according to ESPN.com writer Jayson Stark's sources
. (
Update:
The Dodgers have confirmed the trade.)
The Dodgers parted with AAA catcher
Lucas May
, and more significant, Class A pitcher
Elisaul Pimentel
.
Podsednik
, a 34-year-old left-handed hitter, draws comparisons to Juan Pierre — not the least because the White Sox replaced Podsednik with Pierre this winter. Podsednik hits for a bit more power than Pierre — as well as current Dodger part-time left fielder Jamey Carroll — but of course that's not saying much. Podsednik's slugging percentage in 2010 is .400, to go with a .352 on-base percentage. Like Pierre, Podsednik likes to run -- but gets caught stealing his fair share.
In other words, this guy helps your team, but not a ton.
Podsednik is owed the remaining 40 percent or so of his $1.75 million contract for 2010, according to
Cot's Baseball Contracts
, plus a potential 2011 club option for $2 million. (Yes, the Dodgers are paying that remaining 2010 salary.)
Pimentel, who turned 22 this month, has had a very nice 2010 season for Great Lakes: 3.49 ERA with 97 strikeouts in 90 1/3 innings, against 106 baserunners. Those numbers were actually even better until a poor July.
May, 25, has an .848 OPS for Albuquerque — he probably isn't a serious catching prospect at this stage. He wasn't going to replace Russell Martin or anything next season.
This is a hard spot for me — I never like to give up promising young pitching unless it's for a major player, and I don't think Podsednik qualifies. My first reaction is that it's not the worst trade the Dodgers could make, but I'm not sure it was necessary. The only thing I'll say is that, given that Pimentel was probably going to be at least 24 before sniffing the big leagues, I'm guessing the Dodgers didn't surrender the next Pedro Martinez.