Dodger Thoughts:

Scott Van Slyke
November, 2, 2011
11/02/11
3:09
PM PT
In the soothing quiet of a slow news cycle, the Dodgers have made two more roster moves. From The Associated Press:
The Los Angeles Dodgers added outfielder Alfredo Silverio and first baseman-outfielder Scott Van Slyke to their 40-man roster.

Silverio batted .306 with 16 home runs and 85 RBIs lastseason with Double-A Chattanooga, and earned selection to the All-Star Futures Game in July.

Van Slyke won the Southern League batting title with a .348 average and had 20 homers and 92 RBIs for Chattanooga. He was named the Dodgers' minor league player of the year. He is a son of former All-Star outfielder Andy Van Slyke.
I wrote in August about Van Slyke
as an emerging 2012 roster option
. The 25-year-old had a .427 on-base percentage and .595 slugging percentage in 2011 for Chattanooga, adding up to a 1.022 OPS that was second-best
in the Southern League
behind Paul Goldschmidt (who then had a 117 OPS+ for Arizona down the stretch) .
Silverio, 24, finished his year with a .340 OBP and .542 slugging, as well as this bizarre combination: 18 triples, 11 stolen bases, 12 caught stealing.
August, 19, 2011
8/19/11
12:29
AM PT
As exciting as it's been to see Javy Guerra, Rubby De La Rosa, Josh Lindblom and Nathan Eovaldi trip from Double-A to the majors, the missing passenger on that ride for the 2011 Dodgers has been a minor leaguer who can actually hit.
How's this: The
No. 1 active hitter in the Double-A Southern League
is Dodger prospect
Scott Van Slyke
.
The only guy atop Van Slyke in OPS in the Southern is
Paul Goldschmidt
, who was called up by Arizona and now has a .353 on-base percentage and .596 slugging percentage for the Diamondbacks in his first 15 games. In Double-A, Goldschmidt was at .435 and .626.
Van Slyke, who turned 25 last month, now sits at .422 and .570 while splitting time between first base and the outfield, positions where the Dodgers look thin next year even if Jerry Sands comes through. Van Slyke has 42 doubles in 405 at-bats to go with 14 home runs, and 57 walks against 87 strikeouts.
Of late, he has accomplished the pretty feat of having two hits, three hits, four hits and five hits in his past four games, capped by a 5-for-7 performance in Thursday's 12-11 extra-inning loss.
Van Slyke had a .907 OPS with High-A Inland Empire in 2009, then struggled a bit when he moved up to Double-A in 2010. But he has more than adjusted. He's on the old side for his level, so we're not looking at a future Hall of Famer, but we should at least be looking.
When I started
wondering about 2012 back in May
, I mentioned Van Slyke, thanks in part to his hot start but more so to the fact that I needed bodies to fill out my 2012 lineup. In other words, it wasn't exactly with a strong belief that he would or even could actually start next year.
However, with Trayvon Robinson off to Seattle, and the Dodgers possibly having as little to spend in the offseason as they've had in years, Van Slyke probably needs to be taken more seriously. After all, his .992 OPS in the tougher hitting environment of Double-A is higher than
Sands' .907 OPS
in cozy Triple-A, and he has a better walk-strikeout ratio as well. (He's also better in the latter category than the otherwise hot-hitting
Alex Castellanos
, who came to the Dodgers in the Rafael Furcal deal and now has a .972 OPS in 2011).
Here's the starting lineup the Dodgers will arguably take into the offseason, before any free agents (their own or from other teams) are signed or any trades are made:
A.J. Ellis, C
Scott Van Slyke, 1B
Justin Sellers, 2B
Dee Gordon, SS
Juan Uribe, 3B
Jerry Sands, LF
Matt Kemp, CF
Andre Ethier, RF
Little has been said about Van Slyke as a prospect, but he hardly looks like the weakest hitter in that group. Even if he struggles at the outset of his major-league career, he might be worth investing some hope in.
June, 22, 2011
6/22/11
7:51
AM PT
his new book
(which I read last weekend and quite enjoyed). Today, he writes insightfully
about the Toby Whitewood character
, and in the process links to a conversation with actor David Stambaugh from last year at
The Hollywood Interview
. It's all really interesting stuff for fans of the original movie, but here's the big reveal, from my perspective:
"For a long time," Stambaugh says, "we didn't know how the movie would end, because they actually filmed the last play of the big game both ways. The one they used has Kelly (Jackie Earl Haley) getting tagged out, but they also shot footage of an extra man on base, Kelly making his home run, and the Bears winning the game. Michael Ritchie took some of us out to dinner a few days before the premiere, and that's when he told us what had been decided. I think we were all pretty happy about it. It seemed like the more authentic ending."
* * *
Jamey Carroll gave a lengthy interview to Tim Dierkes of MLB Trade Rumors.
Dodger minor leaguer Scott Van Slyke was named most valuable player of the Southern League All-Star Game. He drove in the game's first run with a single before stealing second and scoring, and later doubled and scored a second run. This season, Van Slyke has 22 doubles in 225 at-bats, a .408 on-base percentage and .516 slugging percentage.
Update: Bryan Stow's condition has been upgraded from critical to serious, reports The Associated Press. "Doctors there said Wednesday that Stow is now breathing without a ventilator and has been able to intermittently follow some basic commands."
Josh Wilker (yes, I do mean Wilker this time) has been doing a lot of retrospection on "The Bad News Bears" in support of
April, 24, 2011
4/24/11
9:04
PM PT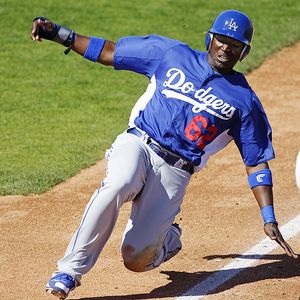 Eric Risberg/APTrayvon Robinson
Hot starts from Dodger minor leaguers:
Trayvon Robinson, 23, OF,
Albuquerque
63 plate appearances, .429 on-base percentage, .661 slugging percentage, four homers, six walks, 19 strikeouts
Jon Link, 27, RP, Albuquerque
12 1/3 innings, 16 baserunners, 10 strikeouts, 2.19 ERA
Bryan Cranston, 55, UT, Albuquerque
No stats, only video
.
Corey Smith, 29, 3B, Chattanooga-Albuquerque
63 plate appearances, .397 on-base percentage, .483 slugging percentage, one homer, five walks, 10 strikeouts
Scott Van Slyke, 24, OF,
Chattanooga
54 plate appearances, .463 on-base percentage, .830 slugging percentage, three homers, six walks, 10 strikeouts
Michael Antonini, 25, SP, Chattanooga
17 2/3 innings, 20 baserunners, 12 strikeouts, 1.53 ERA
Rubby De La Rosa, 22, SP, Chattanooga
15 1/3 innings, 20 baserunners, 19 strikeouts, 1.76 ERA
Nathan Eovaldi, 21, SP, Chattanooga
15 innings, 18 baserunners, 16 strikeouts, 1.20 ERA
Austin Gallagher, 22, 1B,
Rancho Cucamonga
62 plate appearances, .468 on-base percentage, .632 slugging percentage, two homers, five walks, seven strikeouts
Gorman Erickson, 23, C, Rancho Cucamonga
49 plate appearances, .490 on-base percentage, .575 slugging percentage, no homers, nine walks, seven strikeouts
Steven Ames, 23, RP, Rancho Cucamonga
8 1/3 innings, seven baserunners, 15 strikeouts, 1.08 ERA
Jonathan Garcia, 19, OF,
Great Lakes
65 plate appearances, .354 on-base percentage, .712 slugging percentage, six homers, five walks, 17 strikeouts
Garrett Gould, 19, SP, Great Lakes
17 innings, 14 baserunners, 12 strikeouts, 1.59 ERA
Zach Lee, 19, SP, Great Lakes
14 innings, 21 baserunners, 21 strikeouts, 1.29 ERA
Shawn Tolleson, 23, RP, Great Lakes
6 1/3 innings, seven baserunners, 16 strikeouts (out of 19 total outs), 0.00 ERA