Dodger Thoughts:

Shawn Tolleson
Baseball-Reference.com
:
1. - offensive wins above replacement (2.9)
1. - power-speed number (14.5)
1t - RBI (46)
1t - total bases (125)
2. - games played (59)
2. - home runs (15)
2. - slugging percentage (.576)
3. - runs created (49)
3. - win probability added (2.6)
4. - at-bats per home run (14.5)
4t - adjusted OPS (170)
4t - intentional walks (6)
4t - times on base (98)
4t - wins above replacement (2.9)
5. - offensive win percentage (.759)
5. - OPS (.971)
5t - stolen bases (14)
6t - strikeouts (55)
7t - hits (69)
8. - on-base percentage (.395)
8t - extra-base hits (26)
9. - batting average (.318)
Kemp is fifth in the NL in total average (.341), according to
Baseball Prospectus
. Mike Petriello of
Mike Scioscia's Tragic Illness
has more on what Kemp could achieve this year.
* * *
Fasten your seat belts. Here are the scheduled pitching matchups for the upcoming Philadelphia series:

Monday – Ted Lilly vs. Cliff Lee
Tuesday – Rubby De La Rosa vs. Roy Oswalt
Wednesday – Hiroki Kuroda vs. Cole Hamels

The Phillies have lost four straight games, two each to Washington and Pittsburgh.
Via Baseball Think Factory comes this March 1957 Sports Illustrated piece that is said to be the first mention of "Chavez Ravine" in the magazine. It acknowledges that Walter O'Malley's primary desire was to stay in Brooklyn, but here's my favorite line: "It was even suggested that with the coming of the jet age, when the Atlantic and Pacific coasts will be only three or four hours apart, New Yorkers could get to a Dodger game in Chavez Ravine in less time than it now takes to reach Ebbets Field."

Conclusion: "The next chapter in the serial will now have to be written by the City of New York some time before next October. Should they fail to get busy, O'Malley and his Dodgers will almost surely head west like so many other overcrowded, ill-housed Easterners. In that event, major league baseball will be a coast-to-coast reality no later than 1960."
Orel Hershiser has joined Steve Garvey's group that's interested in purchasing the Dodgers, reports Jill Painter of the Daily News. It's still not clear what kind of financing the Garvey-Hershiser group would have, because initial reports linking it to billionaire Ron Burkle have been disputed.
Red-hot Dodger minor-league reliever Shawn Tolleson (0.63 ERA, 52 strikeouts in 28 2/3 innings this year) and Dodger ace Clayton Kershaw were groomsmen at each other's weddings this offseason, notes Inside the Dodgers, which passes on a link to an upcoming Dodgers Magazine feature on the pair.
Dennys Reyes, who made his major-league debut with the Dodgers in 1997, is one of 21 players to steal a base in his first game and then never do so again in his career, according to Baseball-Reference.com. Reyes has by far the most appearances of anyone on the list. On July 13, 1997, Reyes walked, went to second on a single, stole third and scored on an error. He pitched six innings that game and got the win, one of 10 in his career as a starting pitcher.
Not a Dodger note, but I thought it was cool: According to the Elias Sports Bureau, Jose Reyes is only the second player since 1926 to have 10 triples by June 4. Willie Wilson in 1985 was the other.
Where Matt Kemp ranks among National Leaguers, according to
May, 14, 2011
5/14/11
8:24
AM PT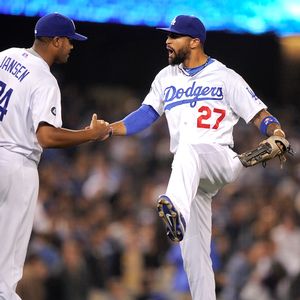 Mark J. Terrill/APMatt Kemp executes "The Crane" to topple Kenley Jansen at the All-Valley Karate Tournament.
It says something about Clayton Kershaw that he allowed back-to-back doubles leading off the first inning and loaded the bases in the third inning and still ended up pitching shutout ball. And by the end of his seven-inning outing, when he struck out 11 and retired his last 14 batters,
he had gone from backpedaling to dominating
.
It was the second-straight seven-inning shutout by a Dodger starter. Meanwhile, Los Angeles scored four runs, one unearned, and that was just enough to withstand the latest bullpen meltdown
for a 4-3 victory
.
Matt Guerrier allowed a run in the eighth inning, and Vicente Padilla allowed two in a 32-pitch ninth before Kenley Jansen came in and struck out Melvin Mora for the final out – the 15th strikeout of the game for the Dodgers.
By holding on, the Dodgers had their second three-game winning streak of the season and moved within 2 1/2 games of first place in the National League West despite an 19-20 record.
* * *
As if we hadn't gotten enough scary medical news lately, Zach Lee entered the picture. From Jim Peltz and Kevin Baxter of the
Times
:
... Lee, the Dodgers' first-round pick in last June's draft, was sent to the team's minor league complex near Phoenix for an MRI test on the right-hander's pitching elbow.

Lee complained of tightness in the elbow after his last start May 5, when he went a season-long six innings, giving up one run on five hits. But he lacked his usual sharpness, striking out just one, a career low.

DeJon Watson, the Dodgers' assistant general manager for player development, characterized the test as a standard procedure for young pitchers. He said the test showed no damage and that Lee, 19, would return to Great Lakes of the single-A Midwest League, though Watson said he did not expect Lee to pitch for 10 to 15 days.

"There's nothing wrong," Watson said. "We just want to make sure he's 100%."
Some happier tidings:
Shawn Tolleson
, who struck out 33 of the 56 batters he faced at Single-A Great Lakes while allowing only 12 baserunners and a 0.00 ERA in 15 innings,
has been promoted
to Rancho Cucamonga. (Thanks to Dodger Thoughts commenter Mike–Tink for the link.) In addition, Rancho Cucamonga reliever
Steven Ames
(60 batters, 28 strikeouts, 12 baserunners, 1.17 ERA) has moved up to Double-A Chattanooga.
* * *
Gathering dust:
Scott Elbert
has not pitched since May 9 and has thrown only one inning since May 6.
* * *
Today's game has an unusual 4:10 p.m. start. The shadows could be timely for the pitchers ...
April, 24, 2011
4/24/11
9:04
PM PT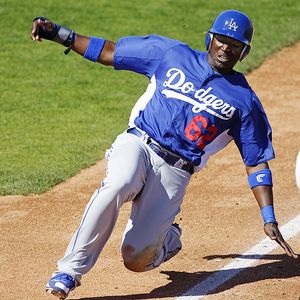 Eric Risberg/APTrayvon Robinson
Hot starts from Dodger minor leaguers:
Trayvon Robinson, 23, OF,
Albuquerque
63 plate appearances, .429 on-base percentage, .661 slugging percentage, four homers, six walks, 19 strikeouts
Jon Link, 27, RP, Albuquerque
12 1/3 innings, 16 baserunners, 10 strikeouts, 2.19 ERA
Bryan Cranston, 55, UT, Albuquerque
No stats, only video
.
Corey Smith, 29, 3B, Chattanooga-Albuquerque
63 plate appearances, .397 on-base percentage, .483 slugging percentage, one homer, five walks, 10 strikeouts
Scott Van Slyke, 24, OF,
Chattanooga
54 plate appearances, .463 on-base percentage, .830 slugging percentage, three homers, six walks, 10 strikeouts
Michael Antonini, 25, SP, Chattanooga
17 2/3 innings, 20 baserunners, 12 strikeouts, 1.53 ERA
Rubby De La Rosa, 22, SP, Chattanooga
15 1/3 innings, 20 baserunners, 19 strikeouts, 1.76 ERA
Nathan Eovaldi, 21, SP, Chattanooga
15 innings, 18 baserunners, 16 strikeouts, 1.20 ERA
Austin Gallagher, 22, 1B,
Rancho Cucamonga
62 plate appearances, .468 on-base percentage, .632 slugging percentage, two homers, five walks, seven strikeouts
Gorman Erickson, 23, C, Rancho Cucamonga
49 plate appearances, .490 on-base percentage, .575 slugging percentage, no homers, nine walks, seven strikeouts
Steven Ames, 23, RP, Rancho Cucamonga
8 1/3 innings, seven baserunners, 15 strikeouts, 1.08 ERA
Jonathan Garcia, 19, OF,
Great Lakes
65 plate appearances, .354 on-base percentage, .712 slugging percentage, six homers, five walks, 17 strikeouts
Garrett Gould, 19, SP, Great Lakes
17 innings, 14 baserunners, 12 strikeouts, 1.59 ERA
Zach Lee, 19, SP, Great Lakes
14 innings, 21 baserunners, 21 strikeouts, 1.29 ERA
Shawn Tolleson, 23, RP, Great Lakes
6 1/3 innings, seven baserunners, 16 strikeouts (out of 19 total outs), 0.00 ERA