Dodger Thoughts:

Steve Garvey
November, 3, 2011
11/03/11
1:47
PM PT
Steve Garvey and Orel Hershiser were never teammates, except perhaps in Spring Training. Garvey's last game with the Dodgers was October 3, 1982, while Hershiser's debut came on September 1, 1983.
As a San Diego Padre, Garvey came up to the plate against Hershiser 24 times
from 1983-1987
and had a single, a double, a walk and 21 outs. Garvey's .087 batting average against Hershiser was his worst against any major-league pitcher he faced at least 20 times.
I bring this up only because I'm struck by the peculiarity of 1980s Dodgers being in competition with each other for post-McCourt ownership of the team. Garvey and Hershiser are united in their pursuit (though they never played together), yet at least for now, united against a potential ownership group that features former Dodger owner and president Peter O'Malley and still another that features former Dodger general manager Fred Claire, who worked under O'Malley for nearly 30 years. All of them played significant roles in at least one of the Dodgers' last two World Series titles.
Just feels kind of weird. But as far as Claire is concerned, the more the merrier.
"From my standpoint, I think it's great that Peter is involved in seeking the team — as well as Steve and Orel," Claire said in an e-mail. "The reason for this is that my goal is the see the Dodgers end up in the best hands as possible, and I have great respect for Peter, Steve and Orel.
"I have been involved with our group headed by (biotech executive) Ben Hwang for four months because I share Ben's views as to how the Dodgers need to regain their place in the community and in Major League Baseball. As far as competition, the only group I want to see win are the Dodger fans."
Claire was also interviewed by Max and Marcellus
on ESPN AM 710 today
.
"I'm not going to mislead anybody," Claire told them. "We have a lot of work to do as far as raising the capital. This is an enormous amount of money.
"The leader of the group, (who) is really going to be there at the owners' table when it comes down to one representative per club, is going to be a very significant person, and we're hopeful of identifying such a person and having the capital to be prepared to make our case."
* * *
Former Times sportswriter Ross Newhan offers his latest take on the Dodger ownership situation at
Newhan on Baseball
.
December, 19, 2010
12/19/10
10:26
AM PT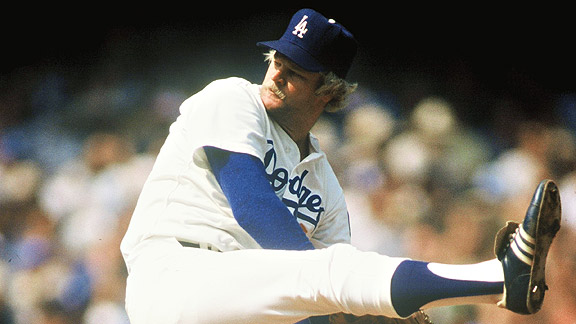 Getty ImagesJerry Reuss pitched 10 complete games in 29 starts for the Dodgers in 1980.
When the Dodgers were attempting to rally from three games behind Houston with three games to play on the final weekend of the 1980 regular season, I was on my school's eighth-grade retreat at world-famous
Camp Ta Ta Pochon
.
I listened to the final innings of the
Friday comeback victory
with my transistor radio and an earphone while we were watching the rather odd youth movie,
"Bless the Beasts and the Children."
And I listened to the final innings of Sunday's dramatic triumph surrounded by classmates on the bus ride home.
But I had never heard a moment of the Saturday game until this week, when I was granted the privilege thanks to a cassette package mailed to me by longtime Dodger Thoughts friend and commenter Stan from Tacoma. The Saturday game is the least discussed of the four games the Dodgers played against Houston to end the season, but it was a minor gem in its own right – an utterly taut affair from start to finish.
Jerry Reuss started for the Dodgers against future Hall of Famer Nolan Ryan of the Astros. A high-profile free-agent signing, Ryan was in his first season in the NL since being traded from the Mets to Angels in December 1971. At age 33, Ryan had gotten his 3,000th career strikeout midway through 1980. His ERA in 1980 was a stylish 3.35, though given the advantages of pitching in the Astrodome, this was arguably a down year for the Express.
Reuss had come to the Dodgers before the 1979 season and been something of a disappointment, though his 7-14 record belied his 3.54 ERA. In any case, he began the 1980 season in the bullpen, before emerging as one of the team's top starters: a 2.51 ERA and an National League-leading six shutouts, including his
June 27 no-hitter
at San Francisco.
Even with those credentials, Reuss was under the microscope of Dodger manager Tommy Lasorda. Just two batters into the game, after Reuss walked Houston leadoff hitter Joe Morgan on a 3-2 pitch and then gave up a single to Enos Cabell, Dodger radio announcer Jerry Doggett saw that Rick Sutcliffe – banished to relief after winning NL Rookie of the Year honors in 1979 – had gotten up in the bullpen.
But Reuss bounced back. He got Dodger nemesis Jose Cruz to pop to shortstop Derrel Thomas, and then Cesar Cedeno hit into a 4-6-3 double play to end the inning. Sutcliffe sat down and never rose again, as Reuss went on to retire nine batters in a row.
The Dodgers struck first in the bottom of the second inning. Steve Garvey, who entered the game needing four hits for 200 on the season, notched a single on a blooper that Morgan normally would have caught. (Both second basemen were ailing: Morgan had strained his knee in Friday's game, while Davey Lopes had a severely strained neck. Neither finished the Friday or Saturday games.) One out later, Pedro Guerrero, the Dodgers' center fielder, singled Garvey to second base. Ryan struck out Joe Ferguson, but facing Thomas, the Dodger utilityman who had become the team's starting shortstop in place of an injured Bill Russell, dropped a single the opposite way into left field to score Garvey for a 1-0 Dodger lead.
The Dodgers caught a break to score their first run; the Astros caught one to score theirs. With one out in the top of the fourth, Cruz hit one to center that Guerrero lost in the smoggy sky (Doggett and Vin Scully both commented on how ugly the air was this day). Cruz stole second, went to third on a Cedeno grounder and then scored on a single to center by Art Howe to tie the game.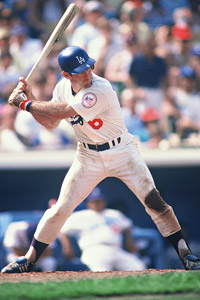 Getty Images
With three hits against Nolan Ryan, Steve Garvey was on a .412/.452/.647 hot streak over his past 17 games.
The next run of the game was no gift. Garvey started the bottom of the fourth with a no-doubter blast, his 26th homer of the season – giving him, as Scully noted, at least one home run against every NL team this season. Garvey would later single in the sixth inning for his 199th hit of the season and ninth in 18 at-bats against Ryan. "If you can go 9 for 18 against a million-dollar pitcher, that's like owning a condominium, isn't it?" said an admiring Scully. "Garvey is undoubtedly one of the greatest hitters to wear a Dodger uniform," added Doggett when he returned to the mic for the final three innings. "Undoubtedly."
The score remained 2-1 entering the seventh inning, thanks in large part to huge defensive plays by Los Angeles. In the fifth, the aching Lopes managed to snag a line drive off Morgan's bat and turn it into an inning-ending double play. And with one on and none out in the sixth, Thomas took a carom off Reuss' glove and converted it into a 1-6-3 twin killing. Then Guerrero, still struggling with the October sky, struggled with a Cedeno fly but managed to catch up to it to end the top of the sixth.
Like Garvey, Ryan was also on a quest for 200 – in fact, both of them entered the seventh inning at 199. In Ryan's case, it was strikeouts, and he got his 200th on the second-to-last batter he faced. The victim was Reuss, who went down after failing to sacrifice Joe Ferguson to second base.
Both teams went down in order in the eighth, Reuss easily navigating pinch-hitters Terry Puhl (the Astros' leading home-run hitter in 1980 with the grand total of 13) and Jeffrey Leonard, while reliever Frank LaCorte held off Garvey's final Saturday bid for his 200th hit. Reuss' strikeout of Puhl was his seventh of the game, a season high.
That brought us to the ninth, with the crowd audibly willing the Dodgers to hold on. By this time, the Dodgers had made three defensive replacements: Jack Perconte for Lopes at second base, Rudy Law for Dusty Baker (also hurting) in left field and Mickey Hatcher for Rick Monday in right field. Those replacements proved meaningful both for what they didn't and didn't do.
First, Perconte made a nice play on a Cabell grounder to get the first out.
Then, Guerrero, again getting a late read, put the crowd in suspense before making yet another last-instant catch. The Dodgers were one out away from victory, but under 24 hours before, the same had been true of the Astros.
Up came Cedeno, who had been having a most unlucky day. This time, the luck turned – he hit a blooper that Perconte couldn't reach, keeping the Astros alive. Art Howe then hit another blooper to center that Guerrero, playing deep to prevent an extra-base hit, had no chance at. Suddenly, the tying run was at third base for Houston.
With soon-to-be Rookie of the Year Steve Howe warming up in the bullpen, Dodger pitching coach Red Adams visited Reuss at the mound. But there was no hook. According to Reuss on the postgame show, Adams simply told him, "Just relax."
Doggett, I should say at this point, was about the best I have ever heard him – totally on his game in describing the game and setting the scene. "What excitement – what a series!" he said over the roaring crowd. The batter was Gary Woods, who had gotten the start over Puhl against the left-handed Reuss but had struck out three times. Finally making contact, he hit one to Perconte, in the thick of the fray in this, only his 14th major-league game. Perconte tossed to Garvey, and the Dodgers had stayed alive for one more day.
Reuss thanked the fans on the postgame show with Ross Porter. "I've heard it in other places, but not this many, this loud," Reuss said. Porter asked Reuss about the fact that he was starting on three days' rest. "I never gave it a thought until someone said something about it, and then I said, 'What the heck.' "
Garvey also thanked the fans, and said how much he enjoyed the pressure situations. And then, as Porter thanked him for the interview, Garvey said, "Hi to Cyndy and the girls."
Those fans listening on the radio who were geared up for hearing Scully do Sunday's big game were in for a surprise. Here are his closing words for the day:
"Well, friends, it has been a magnificent day, a great weekend and a most exciting season, and of course tomorrow the Dodgers and the Astros this time put it all on the line. All of the pressure had been on the Dodgers, but now it will be equally shared amongst the Astros, because they suddenly find themselves in a must-win situation. It's Burt Hooton and Vern Ruhle. And I have a confession to make – I won't be here, unfortunately, as my schedule has me doing a football game down in Anaheim. And my mind, and my eyes and all of my senses will be in Anaheim, but boy, will my heart ever be here at Dodger Stadium. Hope you'll be here. Hope you'll find out about tomorrow, and then if it be so, why it'll be my pleasure to be talking to you again on Monday. So we'll see. But right now, that'll do it for today, from Dodger Stadium,
as the Dodgers nip the Astros, 2-1.
"
The Rams would beat the 49ers, 48-26, and then we'd see Vin on Monday. I'd have that transistor radio with me at school.
Love of the Dodgers, that is.
December, 6, 2010
12/06/10
7:32
AM PT
It's no surprise, but former Dodgers Steve Garvey and Tommy John missed on their latest (and perhaps best) chance of making the Hall of Fame. The expansion committee vote also left out the most deserving candidate, Marvin Miller – by one vote –
while choosing to elect longtime executive Pat Gillick
.
Garvey and John each needed 75% of the 16 votes, but did not cross the 50% barrier.
November, 29, 2010
11/29/10
7:48
PM PT
Farewell, Gil McDougald
, one of the earliest historical names I can recall learning as a baseball fan, something that came about when reading about his
line drive off Herb Score
in an issue of Baseball Digest. McDougald was also the player doubled off first base following Sandy Amoros' amazing grab-and-throw in Game 7 of the 1955 World Series.
McDougald, who himself had been struck by a line drive in the ear, spent his entire
10-year career
with the Yankees, retiring at age 32. He coached at Vin Scully's alma mater, Fordham, from 1970-77.
* * *
A potential settlement in the McCourt divorce case could get some funding from law firm Bingham McCutchen as a way to fend off a legal malpractice suit, Bill Shaikin and Carla Hall of the
Times
reported last week.
... That (mediator and Superior Court Judge Peter) Lichtman approached Bingham does not necessarily mean that (Judge Scott) Gordon is likely to throw out the agreement, said Lynn Soodik, a Santa Monica family law attorney.

However, she said Lichtman could have identified Bingham funds as a source to narrow the nine-figure gap between what Frank has offered to settle the case and what Jamie has requested, with the probability that Bingham could stand to lose far more money in a malpractice suit.

J. Michael Kelly, a Santa Monica family law attorney, said Bingham could face liability from whichever of the McCourts loses.

"There is no way out," Kelly said.
* * *
Foley's NY Pub & Restaurant
has come up with a week-long "Steve Garvey Menu" in support of the Dodger first baseman's Hall of Fame candidacy (
via the Expansion Era committee
).
Mon, Nov. 29: Steve Garvey's Dodger Dog – to recognize his place in baseball's most enduring infield with the LA Dodgers

Tues, Nov. 30: Steve Garvey's MVP-izza – in honor of his 1974 National League MVP Award

Weds, Dec. 1: Steve Garvey's All Star Platter – in honor of his ten All Star Games, including being the first write-in selection

Thurs, Dec. 2: Steve Garvey's (San Diego) Chicken Parmigiana – in honor of his 1984 NLCS MVP with the SD Padres

Fri, Dec. 3: Steve's Shepherd's Pie – in honor of his 1981 World Series championship with the Dodgers

Sat, Dec. 4: Steve Garvey Burger with Golden French Fries – in honor of his four Gold Gloves at 1B

Sun, Dec. 5: Steve Garvey's $6 Mimosas – Champagne and California orange juice to celebrate #6 (and his possible induction into Cooperstown)
Results of this Hall vote will be announced Dec. 6.
Meanwhile, Matthew Pouliot of
Hardball Talk
highlights some names that didn't make the conventional Hall of Fame ballot in their first year of eligibility. Wilson Alvarez, Cal Eldred, Jeffrey Hammonds, Greg Myers, Jose Offerman, Paul Quantrill, Rey Sanchez, Ugueth Urbina — you are remembered.
* * *
And before I go ...
November, 8, 2010
11/08/10
9:12
PM PT
Maybe the Dodgers will
retire a number
this year after all ...
Steve Garvey and Tommy John are among a group of 12 eligible for the Hall of Fame if they can earn 12 out of 16 votes from a special committee, according to Inside the Dodgers.


... The 12 individuals who will be considered by the Expansion Era Committee in December for Hall of Fame Induction in 2011: Former players Vida Blue, Dave Concepcion, Steve Garvey, Ron Guidry, Tommy John, Al Oliver, Ted Simmons and Rusty Staub; former manager Billy Martin; and executives Pat Gillick, Marvin Miller and George Steinbrenner. Martin and Steinbrenner are deceased; all other candidates are living.

The 16-member electorate charged with the review of the Expansion Era ballot features: Hall of Fame members Johnny Bench, Whitey Herzog, Eddie Murray, Jim Palmer, Tony Perez, Frank Robinson, Ryne Sandberg and Ozzie Smith; major league executives Bill Giles (Phillies), David Glass (Royals), Andy MacPhail (Orioles) and Jerry Reinsdorf (White Sox); and veteran media members Bob Elliott (Toronto Sun), Tim Kurkjian (ESPN), Ross Newhan (retired, Los Angeles Times) and Tom Verducci (Sports Illustrated). ...


I'm skeptical that Garvey gets (or should get) the support he needs, though certainly it's as good a look at the Hall as he's ever had. Personally, I think Miller is most deserving. The results announcement will come Dec. 6
Jared Massey of LADodgerTalk did some research and thinks that an abrupt change to Jonathan Broxton's slider caused his 2010 downfall.
Stadium Review offers a mixed review of Dodger Stadium, though correspondent Drew Cieszynski did say the fans were loud. You might quibble with some points, but overall it's a pretty fair assessment.
Paul DePodesta is moving from San Diego to the New York Mets as their vice-president of player development and amateur scouting, once again working for Sandy Alderson, the new Mets general manager. I'm always nervous about posting DePodesta news for fear that it will reignite a tired debate, but I didn't want to ignore it. Congrats to Paul.
End of an era: Next year, for the first time in more than two decades, Jon Miller and Joe Morgan will not be doing Sunday Night Baseball telecasts for ESPN, though Miller might stick around to do radio. Richard Sandomir of the New York Times believes that next year's booth might be Dan Shulman, Orel Hershiser and Bobby Valentine.
Rob Neyer of ESPN.com made note of the Toronto Blue Jays trading a player to be named later for Colorado catcher Miguel Olivo, whose option they bought out for $500,000. For that price (and an offer of salary arbitration they expect to be denied), the Blue Jays expect to pick up a supplemental first-round draft pick.
Matt Bush, known for years as the disastrous No. 1 overall choice of the 2004 draft (by San Diego), has been making a comeback, having converted from shortstop to pitcher. Tampa Bay has added Bush to its 40-man roster, notes David Brown of Big League Stew, after he did his best Kenley Jansen imitation, striking out 20 in 13 2/3 innings over 10 minor-league games this season.
March, 26, 2010
3/26/10
12:52
PM PT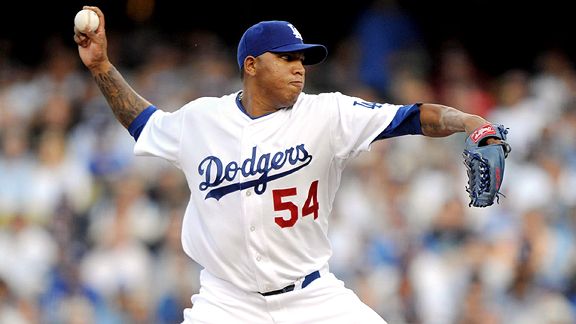 Kirby Lee/US Presswire
Ronald Belisario pitching in Game 2 of the 2009 National League Championship Series.
Ronald Belisario has been ruled out for the Opening Day roster by Joe Torre, reports Tony Jackson of
ESPNLosAngeles.com
.
Most of what I read about Belisario chides him for blowing this opportunity and letting down the Dodgers and their fans. But absent a rational explanation for what has happened, I still can't help thinking that the bigger issue is a serious problem that we should be concerned with instead of critical of.
That might make me sound soft, and if he's being a flake just to be a flake, I'll adjust my reaction accordingly. But I'm just having trouble imagining why Belisario would willfully self-sabotage. Right now, I'm still in the position of hoping Belisario makes it back, mentally as well as internationally.
* * *