Dodger Thoughts:

Steven Ames
May, 14, 2011
5/14/11
8:24
AM PT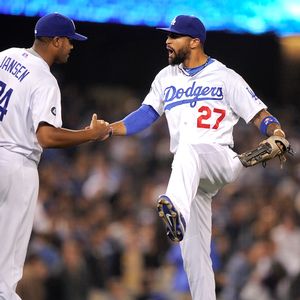 Mark J. Terrill/APMatt Kemp executes "The Crane" to topple Kenley Jansen at the All-Valley Karate Tournament.
It says something about Clayton Kershaw that he allowed back-to-back doubles leading off the first inning and loaded the bases in the third inning and still ended up pitching shutout ball. And by the end of his seven-inning outing, when he struck out 11 and retired his last 14 batters,
he had gone from backpedaling to dominating
.
It was the second-straight seven-inning shutout by a Dodger starter. Meanwhile, Los Angeles scored four runs, one unearned, and that was just enough to withstand the latest bullpen meltdown
for a 4-3 victory
.
Matt Guerrier allowed a run in the eighth inning, and Vicente Padilla allowed two in a 32-pitch ninth before Kenley Jansen came in and struck out Melvin Mora for the final out – the 15th strikeout of the game for the Dodgers.
By holding on, the Dodgers had their second three-game winning streak of the season and moved within 2 1/2 games of first place in the National League West despite an 19-20 record.
* * *
As if we hadn't gotten enough scary medical news lately, Zach Lee entered the picture. From Jim Peltz and Kevin Baxter of the
Times
:
... Lee, the Dodgers' first-round pick in last June's draft, was sent to the team's minor league complex near Phoenix for an MRI test on the right-hander's pitching elbow.

Lee complained of tightness in the elbow after his last start May 5, when he went a season-long six innings, giving up one run on five hits. But he lacked his usual sharpness, striking out just one, a career low.

DeJon Watson, the Dodgers' assistant general manager for player development, characterized the test as a standard procedure for young pitchers. He said the test showed no damage and that Lee, 19, would return to Great Lakes of the single-A Midwest League, though Watson said he did not expect Lee to pitch for 10 to 15 days.

"There's nothing wrong," Watson said. "We just want to make sure he's 100%."
Some happier tidings:
Shawn Tolleson
, who struck out 33 of the 56 batters he faced at Single-A Great Lakes while allowing only 12 baserunners and a 0.00 ERA in 15 innings,
has been promoted
to Rancho Cucamonga. (Thanks to Dodger Thoughts commenter Mike–Tink for the link.) In addition, Rancho Cucamonga reliever
Steven Ames
(60 batters, 28 strikeouts, 12 baserunners, 1.17 ERA) has moved up to Double-A Chattanooga.
* * *
Gathering dust:
Scott Elbert
has not pitched since May 9 and has thrown only one inning since May 6.
* * *
Today's game has an unusual 4:10 p.m. start. The shadows could be timely for the pitchers ...
October, 29, 2010
10/29/10
6:24
PM PT
Dodgers manager Don Mattingly has caught some undeserved grief in the past 24 hours or so because his Phoenix Desert Dogs team in the Arizona Fall League ran out of pitchers and couldn't finish
the nine-inning game
, as Scott Merkin of
MLB.com
reported.
As someone who wishes the next Dodger manager had more experience, I nevertheless found this to be completely unremarkable. Some people have been using it to launch more snark at Mattingly, but that snark betrays a lack of understanding of what the AFL is – a series of games designed to provide a limited number of players with practice in a (pseudo-)competitive setting.
The math is simple: Mattingly was given five pitchers to work with Thursday (two others were injured), and was expected to get them all in the game while adhering to strict pitch-count limits. Over the first six innings he used three hurlers, none of whom pitched all that well, leaving him with two for the final three.
The real trouble began with Dodger prospect Steven Ames, a 17th-round pick in 2009, couldn't retire any of the seven batters he faced in the seventh inning. The next pitcher, Marlins prospect Steve Cishek, fared little better, retiring only two of the next seven batters, using 36 pitches in the process.
That forced Mattingly to use a sixth pitcher, Braves prospect Cory Gearrin, who was supposed to pitch today, in order to complete the seventh inning Thursday.
Tony Jackson of ESPNLosAngeles spoke to Mattingly today and sent along these quotes:
"You only have so many guys, and we have two starters down (with injuries)," Mattingly told Jackson. "Each organization dictates how much you can use their guys and how much they can pitch. Ames just got here, and he was only supposed to go one inning or 30 pitches. And then Cishek, he could only go 40 pitches or two innings. And then I had to bring in Gearrin, and he only had 14 pitches left.'
"This had nothing to do with managing a game. I would do it every day exactly the way we did it, because I'm not going to send somebody out there and get them hurt, either somebody from our organization or from another organization. And you're not about to send another (position) player out there (to pitch) and risk getting them hurt just to get through one inning. ... We saw this coming for three or four days. We'd send a guy out there and cross our fingers and just hope he could give us an inning or get a double play or whatever, just to get us through. But it finally caught up with us.''
It's happened before, and it's happened again. Save the grievances about Mattingly for when they actually matter ...