Dodger Thoughts:

Sue Falsone
November, 16, 2011
11/16/11
8:40
AM PT
Ned Colletti said Tuesday that it's "unrealistic" that the Dodgers will sign Prince Fielder. Tony Jackson of
ESPNLosAngeles.com
has more.
Amid reports such as this from Ken Rosenthal and Jon Paul Morosi of
FoxSports.com
that Matt Kemp's soon-to-be-official eight-year contract will pay him just over $10 million next season, it would appear that the Dodgers are in for one more spring of budget tightening as the ownership transition takes place. The contract for new second baseman Mark Ellis pays $2.5 million in 2012 and $5.25 million in 2013, plus incentives, Jackson
reports
.
The Dodgers' main mystery right now is starting pitching, considering that the back end of their rotation is made up of Nathan Eovaldi and Dana Eveland and there's no guarantee yet that Hiroki Kuroda will return.
Though as a Dodger fan you might find it moot, David Schoenfeld of ESPN.com explores how much the Kemp deal will affect Fielder's next contract.
New stats-oriented director of contracts, research and operations Alex Tamin influenced the Ellis signing, general manager Ned Colletti told Ken Gurnick of MLB.com.
The Ellis signing gets a mixed review from Chad Moriyama.


... For the money, Ellis should be a passable option considering the alternatives were not exactly appealing, nor were there strong internal candidates. However, while Ellis should be better going forward than he was in 2011, he still figures to be below the league average threshold, making him a fringy or mediocre starter. Additionally, there's the real risk that he goes through a collapse in skill before the contract is up. So while the finances might pan out okay, this has to rate as an average deal at best.
October, 28, 2011
10/28/11
8:08
AM PT
Sue Falsone
became the first Major League Baseball female physical therapist in 2007 with the Dodgers
, then shifted to a consultant role
in February
. Now, Stephania Bell of
ESPN.com
reports, the Dodgers have hired Falsone as their new head physical therapist/athletic trainer and will announce it next week. The move, Bell writes, will make Falsone "the first woman to serve as head athletic trainer or head physical therapist of a team in any of the four major professional sports leagues."
Stan Conte, who has been the Dodgers' director of medical services and head trainer for five seasons, is expected to remain with the Dodgers, though it's not entirely clear what the delegation of responsibilities between him and Falsone will be. Assistant trainer Todd Tomczyk recently left the Dodgers for the Pittsburgh Pirates.
Update:
Bell sent me the following in an e-mail ... "As far as her role with the Dodgers, I confirmed that she has always been a consultant since 2007, although between 2008-10 she did have an increased role and traveled with the team, which she did not do this year. But she has always been a consultant to them ... until now where she will be formally hired."
* * *
February, 27, 2011
2/27/11
10:51
PM PT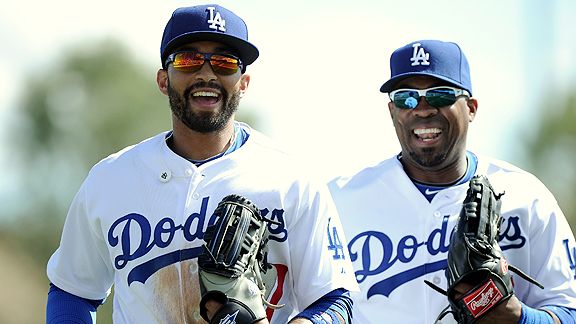 Harry How/Getty ImagesMatt Kemp and Marcus Thames feel fine in the sunshine.
Spring Training, Day 2
Highlights:
Looking to return to form and function, John Ely faced eight batters and allowed one hit, striking out three and walking none.
The Dodger bullpen followed with seven shutout innings from Mike MacDougal, Blake Hawksworth, Kenley Jansen, Ramon Troncoso and Jon Link.
Two hits from Rafael Furcal in his Spring Training debut.
Jamie(Jamey)'s got a glove: Diving defensive plays from Jamey Carroll at short and Jamie Hoffmann in left field.
Rod Barajas hit the Dodgers first homer of the spring.
Lowlights:
I didn't see the play, so I don't know how bad it was, but after hitting a two-run single in the first inning, Matt Kemp was picked off. Something for him and Davey Lopes to talk about?
Andre Ethier struck out in both his at-bats.
Sidelights: