Dodger Thoughts:

Tim Federowicz
October, 17, 2011
10/17/11
8:07
PM PT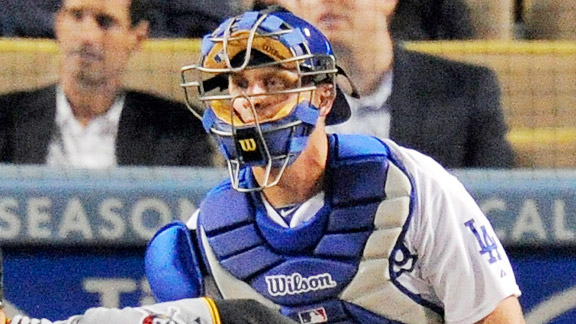 Mark J. Terrill/AP
Tim Federowicz
(21)
The setup:
A 24-year-old catcher who had a .745 OPS with Boston's Double-A affiliate Portland in the Eastern League, Federowicz came to the Dodger organization on July 31 with Juan Rodriguez and Stephen Fife
in the three-team deal
that sent Trayvon Robinson to Seattle. Despite
praise for his defensive skills
, almost every fan who cared was annoyed – a tidbit Federowicz quickly
became aware of
. Federowicz adapted to Triple-A Albuquerque easily enough, with a .431 on-base percentage and .627 slugging percentage in 102 plate appearances before getting a September promotion to Los Angeles.
The closeup:
After making his debut in the eighth inning of a September 11 game against the Giants and striking out in the ninth, Federowicz reached base three times in his first career start September 15, on a hit-by-pitch, a single to center and a walk. He singled and walked in his next start two days later, then went 0 for 7 for the remainder of the season to finish 2 for 13 with a .313 on-base percentage and no extra-base hits. He threw out two of five runners attempting to steal.
Coming attractions:
Federowicz has a big ally in Dodger general manager Ned Colletti, who moved Trayvon and earth to acquire him. The signing of a veteran catcher would probably mean that Federowicz starts the next season with more seasoning in the minors, because A.J. Ellis is finally out of options. Either way, Right Said Fed figures to be sexy enough to play in 50 to 100 games for Los Angeles in 2012.
October, 7, 2011
10/07/11
2:56
PM PT
Dodger general manager Ned Colletti gave a long interview to Jim Bowden for
ESPNLosAngeles.com
. Some highlights:
...Matt Kemp is a priority, and I plan on getting with his agent, Dave Stewart, and will work diligently in trying to work out a long-term deal with Matt. There is some urgency because he'll be a free agent at the end of the 2012 season if they don't sign him long term now. Clayton Kershaw's situation is not as urgent because he's only first-time arbitration eligible and won't be a free agent until after the 2014 season. That doesn't mean we won't have conversations and listen, and if we can make a deal that makes sense, we will be open to it -- but not with the same urgency as Kemp.

... We will entertain signing (Andre Ethier) as well, but he's coming off an injury and a subpar season. ... I am not inclined to trade any player that is a key player to our major league club right now, and he fits that category.

... We really need a middle-of-the-lineup impact bat, which would be a very key component to us winning next year. We need to figure out second base. Carroll and Miles are free agents. Right now we have the two young players in Sellers and Ivan DeJesus that we might let compete for that job next year. We need to figure out left field as well, but we're leaning towards Jerry Sands, especially after the way he finished this season with us. Behind the plate, we'll probably let Tim Federowicz and A.J. Ellis handle the duties. They are both good catch-and-throw receivers. If Federowicz can hit .240 with some power, he can be an everyday catcher.

... And finally, although we're pleased with our deep young bullpen, we'd still be open to signing another veteran reliever, but that would be a low priority based on our other team needs.

... We have a need in the middle of our lineup, and if we could do the right deal with a player in terms of duration and money, we would be willing to do it. We have flexibility if we keep catcher, second base, shortstop and left field as non-arbitration eligible players like we have now, then it is definitely possible that we could afford to spend the money on a significant middle-of-the-order bat.

... Kuroda has bought a house in Los Angeles and both of his daughters go to school here. He is an extremely loyal person to both the Dodgers and the city of Los Angeles and really doesn't want to play anywhere else. We hope he decides to stay here because he's a very important part of our rotation and clubhouse.

... Our best prospects in our system right now are mostly pitching prospects, led by Zach Lee, who pitched at the Midwest league this past season but has a chance to be special. Allen Webster and Shawn Tolleson are two other top pitching prospects. Tolleson was our minor league pitcher of the year and a close friend of Clayton Kershaw. Steve Ames is another bullpen arm that we could see as early as next season. Chris Lee, our first round pick from Stanford, of course, is also special, and we're going to try to develop him as a starter.

... We're a lot closer to winning than people realize. If we had gotten just the typical offensive contributions this year from James Loney, Andre Ethier and Juan Uribe, who knows how many games we could have won. But injuries and subpar seasons are just part of the game. If we can make a few key moves this offseason and solve some of the question marks on this team that we've just been talking about, I really believe this club can finish in first in 2012.
There's more, so be sure to read the whole interview, as well as Tony Jackson's
five key offseason questions
and Ramona Shelburne's
own interview with Colletti
.
Also, don't miss the
Kamenetzky Brothers' podcast
with "Breaking Bad" star and longtime Dodger fan Bryan Cranston.
September, 16, 2011
9/16/11
7:32
AM PT
Clayton Kershaw is not expected to draw a suspension for hitting Gerardo Parra with a pitch Wednesday, reports Tony Jackson of
ESPNLosAngeles.com
.
September, 5, 2011
9/05/11
8:55
AM PT
A.J. Ellis
has a .405 on-base percentage this season and, in 216 plate appearances, a .360 OBP in his career.
On a ballclub that has struggled with on-base skills (even considering the recent offensive surge), we're past the point of considering whether Ellis belongs. He deserves a spot on the team until he proves otherwise, not the other way around.
Ellis has thrown out 27 percent of opposing basestealers in his career (13 of 48) with one career error and two career passed balls in 511 1/3 innings behind the plate.
* * *
Meanwhile, a comparison:
Russell Martin, Yankees: 425 plate appearances, .325 OBP, .414 slugging, 17 homers, 8-of-9 stealing, 95 OPS+, .262 True average (Baseball Prospectus), 2.9 WAR (Fangraphs)
Rod Barajas, Dodgers: 289 plate appearances, .289 OBP, .445 slugging, 15 homers, 0-of-0 stealing, 102 OPS+, .261 True average, 1.3 WAR
Martin has played more and been more effective defensively, but offensively, Barajas' power has been an asset this year. Barajas would have to be willing to take a paycut to return to the Dodgers in 2012 – perhaps he will.
* * *
Tim Federowicz
has a .431 on-base percentage and .627 slugging percentage with six homers in 83 at-bats since coming to Albuquerque in the Trayvon Robinson trade. Expect the Dodgers to call up the 24-year-old in the next couple of days.
August, 22, 2011
8/22/11
10:46
AM PT
Below, you can see in graphic form the ongoing power decline for Andre Ethier,
discussed here last week
. Charts come courtesy of ESPN Stats and Information. Note not only the reduction in balls hit over the fence but also hits to the warning track, compared with 2009.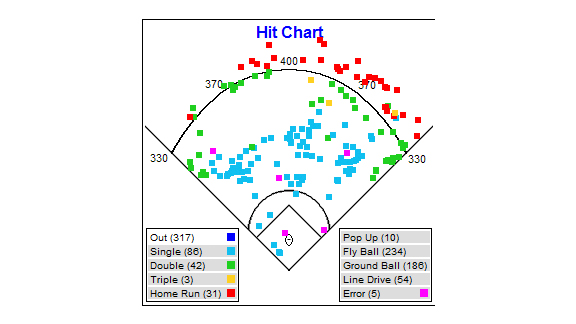 Andre Ethier 2009 hit chart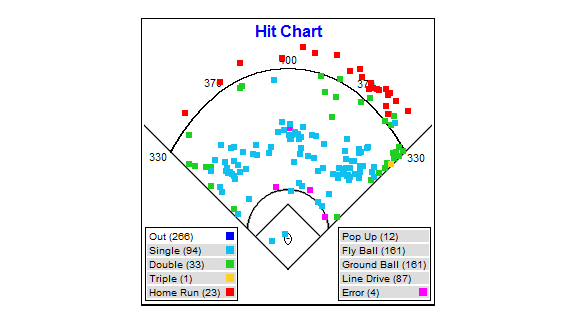 Andre Ethier 2010 hit chart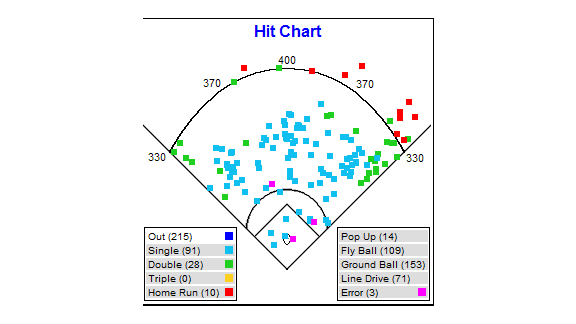 ESPN Stats and InformationAndre Ethier 2011 hit chart
* * *
Albuquerque baseball expert Chris Jackson freelanced a feature for
MiLB.com
on new Dodger catching prospect Tim Federowicz.
Fair or not, catcher Tim Federowicz finds himself under some extra pressure after being traded.

Los Angeles Dodgers fans were almost uniform in their dislike of the three-team trade that sent outfield prospect Trayvon Robinson to Seattle and brought Federowicz and two pitchers to the Dodgers organization.

The stated intent by Dodgers general manager Ned Colletti was to acquire a catching prospect, something Los Angeles lacked in its farm system. Federowicz said he understands the frustration of Dodgers fans.

"Yeah, they gave up Trayvon -- he's a great player and now he's in the big leagues, doing his thing up there," Federowicz said. "That's tough to lose.

"I guess there is a little bit of pressure to show fans what I've got. But I think it'll eventually work out the way the Dodgers want it to." ...
* * *
Grant Brisbee of
McCovey Chronicles
was kind enough to
show sympathy for Dodger fans
when Rubby De La Rosa went down for the count. Now, with the Giants verging toward tailspin, having lost 16 of 23, he might need some for himself. Or maybe time was ripe for a humbling, if you ask Brisbee. From the
New York Times
:
... Such minor hysteria — sarcastic or not — highlights the uncomfortable fact that, for some, the team's faithful have come to resemble the type of smug, and yet strangely neurotic, supporters of certain big-money East Coast franchises.

"People get on me when I say this, but it's kind of that first step toward the path of the Red Sox fan," said Grant Brisbee, 33, the editor of The McCovey Chronicles, a Web site for Giants fans. "You get a little cocky, a little arrogant. And they say, 'No, no, no, Giants fans aren't like that.' But they're not that far away from getting that really obnoxious national fan base." (Just like Yankees fans, Mr. Brisbee added.) ...
* * *
Finally, here's a cool video feature from ESPN Sport Science on last week's triple play by Milwaukee against the Dodgers:
July, 31, 2011
7/31/11
8:09
PM PT
Alex Castellanos
"... A 25-year-old right-handed hitter, he has mediocre tools but has put up big numbers this year. His plate discipline needs work, and despite the line at Springfield I'd rate him a Grade C prospect at this point, with a chance to be a bench asset."
– John Sickels,
Minor League Ball
Tim Federowicz
"... Federowicz is a catch-and-throw specialist who isn't likely to produce enough at the plate to be an average regular, but is plus across the board behind the plate (including a career 34 percent caught-stealing rate) and is no worse than a good backup in the majors."
– Keith Law,
ESPN.com
"... The best defensive catcher in the Red Sox system, with the catch-and-throw skills to be a big league regular. His pure arm strength is average, but it plays up because he has smooth footwork and a quick release. He has thrown out 36 percent of basestealers this year in Double-A, and also has shown off his receiving ability by committing just one passed ball. Federowicz's bat will determine how much he plays when he gets to the majors. He ability to hit for average and control the strike zone is decent, and he has some gap power. He runs well for a catcher and has more athleticism than most backstops."
–
Baseball America
"... A top-flight defensive catcher, he has a strong throwing arm, plenty of mobility, and excellent leadership skills behind the plate. A weak stick has kept him off prospect lists. ... He probably won't hit enough to be a major league regular, but he could last a long time as a defense-oriented reserve. He turns 24 this week. Grade C."
– John Sickels,
Minor League Ball
"... He's a very good catch-and-throw guy, with a quick release and strong arm. He's also worked very hard to improve his blocking. At the plate, he uses a middle-of-the-field approach and has average pull power. Most see him as a defensive-oriented backup at the big league level, but he could become an everyday guy if he hits a bit more than expected."
– Jonathan Mayo,
MLB.com
Stephen Fife
"... Fife probably profiles as a right-handed reliever rather than a starter because he lacks the out pitch to start; he'll touch 95 as a starter with a fringe-average curveball."
– Law
"... Didn't start pitching regularly until he was a high school senior, but after three years of college ball at Utah he worked himself into the third round of the 2008 draft. His best pitch is an 88-93 mph fastball that features good sink. He lacks an above-average secondary pitch, with his changeup (which has some splitter action) ranking ahead of his curveball. His control and command are average, and it's more likely that he develops into a middle reliever than a starter."
– Baseball America
"... His stuff is average across the board: 88-92 MPH sinking fastball, average changeup and curveball, but he throws strikes and keeps the ball low in the zone. ... In the majors, he projects as a fifth starter or more probably a long/middle reliever. I've see him as a sleeper in the past but he's never quite woken up. Grade C.
– Sickels
"... Fife is a solid right-handed starter with a three-pitch mix. An Eastern League All-Star this season, Fife can run his fastball up to 93 mph with some sink. His curveball can be an out pitch, and he's also got a pretty good feel for a changeup. He mixes his pitches well and can change speeds, but he also has enough velocity to put hitters away at times."
– Mayo
Juan Rodriguez
"... Rodriguez has a plus fastball, no average second pitch and below-average command and control – a nice arm to add to your system but a reliever at best and not a high-probability guy, either. Unless Robinson was somehow burning a hole in the Dodgers' pockets, this (trade) doesn't make a ton of sense to me, as they didn't get any prospect as good as he is in the exchange."
– Law
"... He still has room for projection in his 6-foot-5, 195-pound frame, and he already throws 93-95 mph coming out of the bullpen, enabling him to rank second among South Atlantic League relievers with 13.42 strikeouts per nine innings. There's a good deal of effort in Rodriguez's delivery, which hampers his control and command. His slider and changeup are fringy pitches, so his ceiling is as a late-inning reliever rather than as a starter."
– Baseball America
"
... His command is spotty and his slider is mediocre, but his 92-95 MPH fastball has movement and his K/IP ratio is excellent. He needs to sharpen up his command and add polish, but he's an interesting arm at least. Grade C, but has some upside."
– Sickels
"... Rodriguez is a raw, tall and lanky right-hander with plenty of arm strength. Pitching out of the bullpen for Greenville in the South Atlantic League, he's shown plus velocity, up to 98-99 mph at times. He's got a slider that's below average, and he's working to develop a better feel for an offspeed pitch. He generally throws strikes, but he needs to find more consistency with his fastball command. That, and development of his offspeed stuff, will be key. But the power and arm strength that many teams covet are definitely there."
– Mayo
July, 31, 2011
7/31/11
2:11
PM PT
Potential 2012 starting outfielder
Trayvon Robinson
, 23,
has been sent by the Dodgers to Seattle
as part of a three-team trade that brought Boston minor-leaguers
Tim Federowicz
,
Juan Rodriguez
and
Stephen Fife
to the Dodgers. Erik Bedard was the main prize of the deal, going from the Mariners to the Red Sox.
For the Dodgers, the key to the deal appears to be Federowicz, a catcher who will contend for playing time in Los Angeles next year. I think I might have been happier with
Mark Brendanowicz
. Turning 24 on Friday, Federowicz only has a .337 on-base percentage and .397 slugging percentage, however, with Double-A Portland in the Eastern League.
SoxProspects.com
praises his defense.
Rodriguez, a 22-year-old righthander, has pitched out of the bullpen this year and has 88 strikeouts in 59 innings (13.4 per nine), but with 32 walks and a 5.19 ERA. In Rookie ball last year, he pitched in 12 games, starting nine, with a 3.51 ERA and 9.4 strikeouts per nine innings.
Fife, a 24-year-old righty, has a 3.66 ERA and 6.1 K/9 in 19 games (18 starts) for Portland. That's a bit below what
John Ely
could brag about after pitching in Double-A in 2009 at age 23.
For those three, the Dodgers gave up Robinson (24 in September), who has a .375 on-base percentage and .563 slugging percentage (26 homers) this year for Triple-A Albuquerque. Robinson, who has hit well
on the road
as well as at home this season, has had his fine year marred by striking out 122 times in 100 games. But it's stunning to see him traded for such an offensively challenged catcher and two sketchy pitching prospects.
In 2007,
A.J. Ellis
had a .382 on-base percentage and .409 slugging percentage in Double-A – better than what Federowicz has – and Ned Colletti does all he can to keep Ellis from getting regular playing time.
The only rationale I can think of is that the Dodgers think they'll do better in the offseason trying to find a proper left fielder than they would trying to find a proper catcher. Essentially, Robinson was not in their plans, and they decided to unload him to fill a positional need. But it's still puzzling, because the trade feels less like a step forward behind the plate and more like a step backward in outfield depth.