Dodger Thoughts:

Tim Lincecum
As the clip above shows, Bill Buckner will appear on the next season of "Curb Your Enthusiasm."
Rafael Furcal has officially been placed on the disabled list, and Ivan De Jesus Jr. was
recalled to take his roster spot
and presumably play at least semi-regularly at second base, though Aaron Miles is getting the start tonight.
Chad Billingsley and Tim Lincecum face each other for the first time as starting pitchers in tonight's game. They did meet up in that bizarre, rain-affected game
April 2, 2008
when both entered as relievers, after Hong-Chih Kuo and Merkin Valdez started. Billingsley faced four batters in the fifth inning and got a blown save for his effort.
Click this link
to see how Lincecum has done in 11 previous outings against the Dodgers.
March, 29, 2011
3/29/11
12:40
PM PT
Some Dodger-Giant notes from
ESPN Stats and Info
:
Just 12 days after turning 23, Clayton Kershaw will be the fifth-youngest opening day starter for the Dodgers since moving to Los Angeles in 1958. He's the youngest since Fernando Valenzuela in 1983. He's also the first lefty since Valenzuela in 1988. Kershaw will be the Dodgers' fifth different opening day starter in the past five years. It's the first time in the last 90 years that the franchise has had five unique opening day starters in five seasons.

Youngest Opening Day Starter
Los Angeles Dodgers History (Yrs-Days)
1981 Fernando Valenzuela 20-159
1958 Don Drysdale 21-266
1983 Fernando Valenzuela 22-155
1959 Don Drysdale 22-262
2011 Clayton Kershaw 23-12
Most Strikeouts Before 23rd Birthday, Dodgers History
Fernando Valenzuela 584
Clayton Kershaw 497
Don Drysdale 488
Ralph Branca 397
Don Sutton 378
Kershaw's 9.3 strikeouts per nine innings is the second-highest before turning 23 since 1900 (min. 400 IP):

Sam McDowell 9.6 1961-65
Clayton Kershaw 9.3 2008-10
Dwight Gooden 8.7 1984-87
Dave Boswell 8.4 1964-67
Vida Blue 8.1 1969-72
Since 1900, no one has more strikeouts through his first four seasons than Tim Lincecum.

Tim Lincecum 907 2007-10
Dwight Gooden 892 1984-87
Hideo Nomo 870 1995-98
Tom Seaver 866 1967-70
Bert Blyleven 845 1970-73
Among the Giants' current rotation, Lincecum actually had the second-highest ERA last season. Much of that was due to an August in which he went 0-5 with a 7.82 ERA. Some notes on that month:

1) According to Elias, Lincecum became the first Giants pitcher to go at least 0-5 with an ERA of 7.80 or higher since Bud Black (0-6, 8.01 ERA) in September 1992.
2) Opponents hit .388 with runners on base off Lincecum in August.
3) Right-handed batters hit .362 in August against Lincecum. For the rest of the season, they hit just .210.
4) When you eliminate August, Lincecum was 16-5 with a 2.84 ERA in 2010.
According to Inside Edge, the velocity on Lincecum's fastball has declined each of the past three seasons:

2008 94.1 mph
2009 92.6 mph
2010 91.2 mph
His swing-and-miss percentage also has gone down each year:

2008 27.5%
2009 26.2%
2010 25.7%
The Giants are looking to be just the fourth NL team to repeat as World Series champs, and the first since the 1975-76 Reds.
The team finished with a 1.78 ERA in September, the fifth-lowest in a calendar month in the live ball era (since 1930). Opponents hit just .182 in September, the lowest since the Indians held opponents to a .174 average in May 1968.

Lowest ERA in Calendar Month
Live Ball Era (Since 1920)
Indians 1.42 May 1968
Dodgers 1.59 Sept. 1965
Dodgers 1.71 May 1920
Yankees 1.76 Sept. 1952
Giants 1.78 Sept. 2010
Don Mattingly makes his managerial debut. According to Elias, only four people have won an MVP and managed a team to a World Series title: Joe Torre, Mickey Cochrane, Frankie Frisch, Lou Boudreau. However, the latter three did so as player-managers.
Since 2008, Kershaw and Lincecum rank first and second in opponent batting average:

Clayton Kershaw .221
Tim Lincecum .223
Jonathan Sanchez .226
Ubaldo Jimenez .227
Felix Hernandez .232
This will be the 10th time since 1958 that these teams have met on Opening Day. The Giants have won six of the previous nine.
Though he had a reputation for overworking relievers, Joe Torre's Dodgers were not generally among the top teams in using a pitcher on zero days rest.

Dodgers relief appearances on zero days' rest (NL rank)
2010 66 (14th)
2009 79 (6th)
2008 69 (13th)
James Loney has 268 RBI over the past three seasons, but only 36 homers. Among the 43 players with 250 RBI since 2008, he has the fewest home runs.

Name HR RBI
James Loney 36 268
Joe Mauer 46 256
Jhonny Peralta 49 253
Bobby Abreu 55 281
Among current NL players, Loney has the third-highest career batting average with runners in scoring position (min. 500 PA):

Albert Pujols .345
Todd Helton .335
James Loney .326
Freddy Sanchez .320
February, 14, 2011
2/14/11
7:27
AM PT
To extend, or not to extend – that is the question.
One part of my recent interview with Ned Colletti that I couldn't work into
the main story
was his thoughts about offering multiyear contracts to younger players before they become free agents. Here's what he had to say: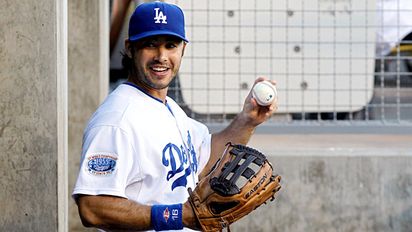 Ric Tapia/Icon SMIAndre Ethier was arguably the only arbitration-eligible Dodger who didn't decline in 2010 after receiving a multiyear contract.
"You have to have some predictability to performance," Colletti said. "Usually, clubs gain a benefit from going multiyear, and it's got to be seen as that from the club's perspective, because you're not guaranteeing performance. All you're guaranteeing is the financial end of the equation.
"If the right situation presents itself, where the guy's in the right place in his career, his life and his priorities, and there's a savings a club can realize, then it's worth doing. But if only the first part's there, that we're gonna pay on the guy maximizing (his performance), there's really no reason to do it – let him go out and do it every year. Some guys who are flawed in an area or who don't possess everything they need, the agent will ask you to pay as if that
is
occurring, in the event that it does."
In short, Colletti needs confidence that the player is going to stay on track performance-wise, and he needs there to be some savings for making the guaranteed payment. The Dodgers need to get some rebate in exchange for the security that they're offering.
That being said, Colletti said that Clayton Kershaw is the kind of player for whom a multiyear deal might make sense, but that the process wouldn't begin until next winter, when he first becomes eligible for arbitration.
"It'd be something we may think about as this year unfolds and we get into the offseason," Colletti said. "Not this spring. He's got four more years here."
That might appropriate to some, too casual to others. Let's take a closer look.
Colletti signed three key arbitration-eligible players to multiyear deals before the 2010 season – Andre Ethier, Matt Kemp and Jonathan Broxton – and based on 2010 performance, Colletti might well regret two of those contracts. He's also probably quite pleased that he didn't go multiyear with Russell Martin, and not really worried that he hasn't done so with James Loney,
who signed his latest one-year deal Friday
. Perhaps he should have bought low on Chad Billingsley last winter. (I would have, but I would have also wanted to do so on a lot of the other guys.) In general, recent experience has probably made Colletti even more wary in discussing them with other players.
Here's a snapshot of the salaries for the players we're talking about over a four-year period (multiyear deals in bold, Martin's Yankees salary in parentheses):
| Player/Year | 2008 | 2009 | 2010 | 2011 |
| --- | --- | --- | --- | --- |
| Billingsley | $415,000 | $475,000 | $3,850,000 | $6,275,000 |
| Broxton | $454,000 | $1,825,000 | $4,000,000 | $7,000,000 |
| Ethier | $424,500 | $3,100,000 | $6,000,000 | $9,250,000 |
| Kemp | $406,000 | $467,000 | $4,000,000 | $7,050,000 |
| Kershaw | | $404,000 | $440,000 | $500,000 |
| Loney | $411,000 | $465,000 | $3,100,000 | $4,875,000 |
| Martin | $500,000 | $3,900,000 | $5,050,000 | ($4,000,000) |
Note that Billingsley got a 63 percent raise for 2011 following a well-regarded season, and Loney got a 57 percent raise for a season considered a disappointment. That gives you some guideposts for the following speculation:
Not signing Billingsley to a multiyear deal in 2010 might have cost the Dodgers a few hundred thousand bucks this year. But not signing a multiyear deal in 2009 might have saved the team money in 2010.
The two-year deal in 2010 for Broxton probably cost the Dodgers more than $600,000 for 2011. With a three-year deal in 2009, perhaps they would have broke even, though that involved more risk.
Ethier's two-year deal has probably saved the Dodgers a little bit of money; a three-year deal in 2009 might have saved them a bit more.
With Kemp, I'm honestly not sure that going year-to-year would have made much of a difference. His 2011 salary appears higher than it otherwise would have been, but that might have been a case of backloading the contract, because the 2010 salary looks a little low. Kemp's 2009 performance was stronger than Billingsley's, and that's not reflected in the $150,000 difference between their 2010 paychecks.
Going year-to-year with Loney probably saved the Dodgers money, but less than $1 million.
Martin, of course, is where the big savings comes – if he had signed a multiyear deal in 2009, he might have been paid an extra, say, $2 million last year. And if it had been a three-year deal, the Dodgers might be paying Martin $8 million this season. Only if Martin has a whopping comeback will the Dodgers regret this.
Given that Colletti didn't have a crystal ball, it's hard to complain much about how he's handled things. The decision to show restraint on Martin has arguably saved the Dodgers $6 million, which more than covers any fringe costs with Broxton, Billingsley, Ethier or Kemp. The only way this would be reversed is if one of those four or Loney has an MVP or Cy Young season, and you're then fretting that the Dodgers haven't bought out some of their free-agent years, the way Colorado has with Troy Tulowitzki or Carlos Gonazlez. We should be so unfortunate.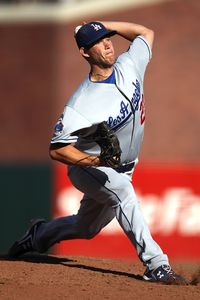 Brad Mangin/Getty ImagesClayton Kershaw, nearly four years younger than Tim Lincecum, had a lower ERA than the Giants ace in 2010.
That brings us back to Kershaw, who becomes eligible for salary arbitration after this season and eligible for free agency after 2014. (Gosh, that seems so nice and far away right now.) How urgent is it for Colletti to lock Kershaw up for multiple years? It would sure feel nice, but you can't say there isn't risk.
Let's turn to the contract status of arguably the reigning young aces of each league (at least until Kershaw decides to do something about it).
One year ago Saturday, Tim Lincecum signed a
two-year, $23 million contract
(plus incentives in the thousands). The deal came after Lincecum and the Giants were
$5 million apart
– $8 million vs. $13 million – in their 2010 arbitration filing. It didn't come close to addressing his free-agent years; it just was a hedge against what Lincecum might have earned going year-to-year. Hypothetically, if Lincecum had settled for a 10.5 million salary in 2010, he might have been looking at something like $17 million this year, making for a total in the neighborhood of $28 million. (Though Lincecum slipped a bit in the 2010 regular season, his postseason performance would have helped rectify matters.)
Put one way, the Giants a year ago risked committing $13 million in 2011 salary in order to save about $5 million. That's some high-stakes Mahjong.
Over in the American League, Felix Hernandez and the Seattle Mariners played things differently. After earning $3.8 million in 2009 and facing a $4.3 million gap in salary arbitration filings ($7.2 million vs. $11.5 million), Hernandez signed a
five-year, $78 million pact
that locked away his first three years of free agency (2012-14). The contract averages $15.6 million per year for five years, $19.3 million for the three free-agent years. Again, there's no mistaking the double-edged sword: You can assume that $58 million for three years wouldn't have cut it for Hernandez after this season, but the risk is catastrophic if something goes wrong.
I think it's pretty clear where my sentiments lie with Kershaw – I'd sign him to a multiyear contract tonight – but you can understand why Colletti might hesitate or procrastinate. For another example, look how quickly opinions turned on Eric Gagne before his multiyear deal vs. after he got hurt. It's harder to stomach paying big bucks for an injured player than it is to pay bigger bucks for a healthy superstar.
On the other hand, better Clayton Kershaw than Jason Schmidt.
In my head, I can understand the patience, as much as I believe it should be done.
July, 20, 2010
7/20/10
10:27
PM PT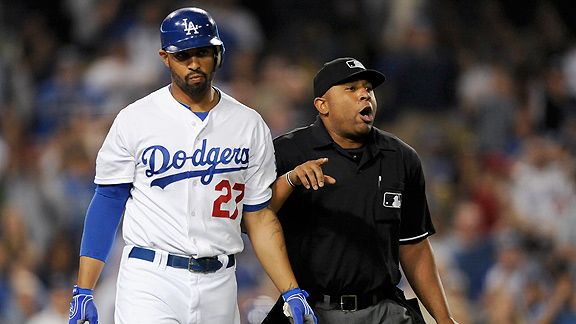 Gus Ruelas/APUmpire Adrian Johnson walks alongside Matt Kemp after the Dodger outfielder was hit by a Tim Lincecum pitch in the fifth inning.
Where to begin?
Tim Lincecum getting hammered, allowing three runs in the first inning and two more in the third? Giving up a homer to Andre Ethier and 11 baserunners in 4 1/3 innings while striking out two?
Xavier Paul getting two runs, two doubles, a single and an RBI – and still nearly costing the Dodgers the game with a dropped fly ball?
Clayton Kershaw cruising, retiring 11 in a row at one point, in his first career matchup with Lincecum?
No, we can't start there.
In the most memorable game of a season the Dodgers are desperately hoping won't be forgettable, Lincecum-Kershaw I devolved into a B-grade beanball war and D-grade display of intelligence, one that showed the Dodgers' fighting spirit but also highlighted their shortsightedness – and even stupidity.
If you thought the collapse against the Yankees was a nightmare, if Sunday's meltdown at St. Louis brought you to your knees, those games have nothing on tonight's
7-5 loss
.
The unraveling took root in the fifth inning, with the Dodgers leading 5-1, when Lincecum, who had hit one batter with a pitch this year, threw consecutive knockdown pitches at Dodgers outfielder Matt Kemp, the second one hitting him. Kemp was angry, but there was no incident. Nevertheless, home plate umpire Adrian Johnson issued a warning to both benches that no other beanball shenanigans would be tolerated. This infuriated Dodger coach Bob Schaefer (the Dodger coach that Kemp reportedly clashed with last month), who had lots of words with Johnson.
Lincecum left the game one batter later. In top of the sixth, Kershaw gave up three hits and three runs, two of them unearned because Paul dropped a long fly ball by San Francisco's Pat Burrell (one, admittedly, that looked at first like it might leave the park). In the bottom of the inning, Giants reliever Denny Bautista knocked Russell Martin down with a pitch, and Schaefer went ballistic, drawing an ejection from Johnson.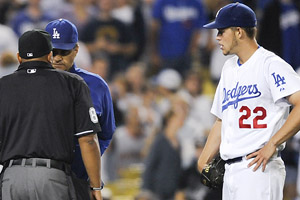 Gus Ruelas/AP
Joe Torre and Adrian Johnson go through the motions and emotions after Clayton Kershaw's ejection.
Kershaw was the next batter, which was a bit surprising considering his rough top of the sixth and the fact that he had thrown 103 pitches. What was really bizarre, however, was that the fragile Hong-Chih Kuo was warming up in the bullpen while Kershaw was batting.
Soon, we found out why.
Kershaw came out in the top of the seventh and with his first pitch, drilled Aaron Rowand of the Giants. Johnson immediately ejected Kershaw, who might also draw a suspension. And while some might have thought it improbable that the Dodgers would intentionally put the tying run on base in a game they so wanted to win, it seems clear that they did.
Further explaining what happened, a
Twitter user pointed out
that pinch-hitter Garret Anderson was the on-deck hitter when Martin was knocked down. After Schaefer was ejected, Anderson sat down, and Kershaw remained in the game to do his dirty work.
Kershaw scored points with everyone who thinks that pride depends on revenge, who thinks that all of the Dodgers' problems stem from Chad Billingsley not knocking down a Phillie two years ago, but in the meantime, the action risked putting the Dodgers in the very humbling position of losing a game that was very much worth winning. Rowand made it all the way to third base with two outs, before Kuo got Freddie Sanchez on a broken-bat liner to end the inning.
So the extra baserunner didn't cost the Dodgers the game. But ultimately, we were still reminded that pride doesn't mean victories.
Jonathan Broxton, forced into the game after Kuo threw two innings, allowed a 60-foot infield single to start the ninth, then issued an ill-advised walk to Edgar Renteria. Rowand sacrificed, and the Dodgers decided to have Broxton walk Aubrey Huff intentionally to load the bases with one out.
And then - and this is saying something – the most bizarre thing happened.
Joe Torre's heir apparent, Don Mattingly, helming the Dodgers because Torre was automatically ejected once his pitcher hit a batter after the benches were warned, visited the mound to have a conference with Broxton and the infield. He finished, walked off the mound, and then James Loney called out a question to him. Mattingly turned and took three steps back toward Loney – a step that put both Mattingly's feet onto the mound. Giants manager Bruce Bochy immediately came out to contend that this constituted two trips to the mound, and successfully got Broxton removed from the game.
And thus, we had trying to save the game, with almost no warmup, one George Friderich Sherrill.
Irony was not in supply. Sherrill did not defy expectations. His second pitch was hit for a two-run double, giving San Francisco its first lead of the game. Travis Schlichting came in, and one out later, allowed a single for another run.
Forced to rally for the first time tonight, the Dodgers came out in the bottom of the ninth against Giants reliever Jeremy Affeldt, who no doubt entered the game with one eye on Ethier in the dugout, due up fourth in the inning. Jamey Carroll was thrown out by a hair at first base. The ever-lovin' Rafael Furcal then lined one to left field, sliding into second base with a close double. Ronnie Belliard, pinch-hitting for Paul against the lefty, struck out feebly.
And
for the second night in a row with the game on the line
, Affeldt got Ethier, this time ending the contest with a strikeout.
And so yes, the Dodgers can pat themselves on the back, knowing that they were man enough to fight back against the Giants. But when they're done with that, their next move will be to scratch their heads, wondering why that manliness feels so hollow.
It's because it's not about who's
mas macho
. It's about who has scored the most runs at the end of the day. Anyone who planned to point to this tough-guy act and say this was the key to the Dodgers' season was just dreaming.
Update:
Some postgame quotes from Torre ...
"(Mattingly) didn't really know where he was. He thought he was still on the mound when James called him back.
"They didn't look upon (the brushback of Martin) as on purpose. It's a very gray area that seems to have some flaws in it, and I don't know how you fix it.
"I think it's more just (Broxton) is out of sync right now, more so than anything physical to worry about. He's pretty honest with Honeycutt as far as when he feels good.
"We've had some strange things happen. This is a test, and you have to bounce back and reestablish what kind of club you are."
Update 2:
Quotes from Mattingly ...
"I turned to walk away, and James said something and I just kind of turned around. He asked me the depth that I wanted him, didn't even realize that I was off the dirt, and obviously I was.
"I kind of had a little bit of a feeling, because Adrian (Johnson) was yelling, 'No no no, you can't go back!' as I turned to talk to James, so I had a little bit of a feeling at that point.
"I'm aware of the rule, but again felt I had just kind of turned and turned back around, but obviously I guess I didn't.
"That's what I asked (crew chief) Tim McClelland. I said, 'Can he warm up?' He said, 'Yeah, I won't do that to him. I'm not gonna take a chance on letting a guy get hurt. So at that point (I'm) talking to (pitching coach Rick Honeycutt), not realizing how many throws he's getting.
"I'm not quite sure of (why they cut Sherrill off at eight warmup tosses). Again, Honey and I talked, and pretty much turned around and George is ready to go, so I figure he's ready to go. At that point I didn't realize they cut him off at eight."
July, 20, 2010
7/20/10
10:25
AM PT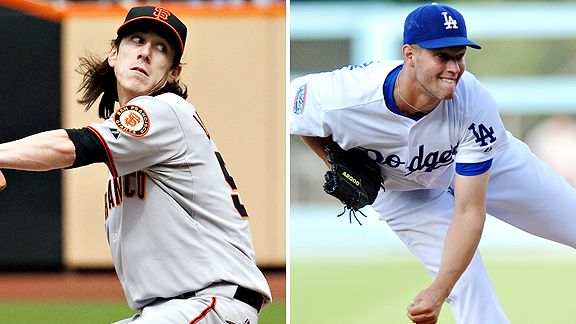 Icon SMITim Lincecum (2.94 ERA, 9.7 strikeouts per nine innings)
Clayton Kershaw (3.16 ERA, 10.0 strikeouts per nine innings)
Forget about everything else. Tonight, we've got a pure baseball matchup that you don't want to miss.
Tim Lincecum for the Giants.
Clayton Kershaw for the Dodgers.
First time ever.
The current Dodger roster has a
.239 slugging percentage against Lincecum
. Andre Ethier has done the best, while Casey Blake and Russell Martin are a combined 0 for 23.
Kershaw had been having a statistically better 2010 than Lincecum through the All-Star break, but that changed when Kershaw stunk and Lincecum shined last week.
Also of note, Kershaw has allowed 11 runs and 30 baserunners
in 19 first innings this season
. By comparison, Kershaw has appeared in 18 fifth innings and allowed one run.
The momentum is on Lincecum and San Francisco's side. But that didn't matter when Kershaw faced Ubaldo Jimenez and the Rockies in May. We'll see if it matters tonight.
March, 26, 2010
3/26/10
8:35
PM PT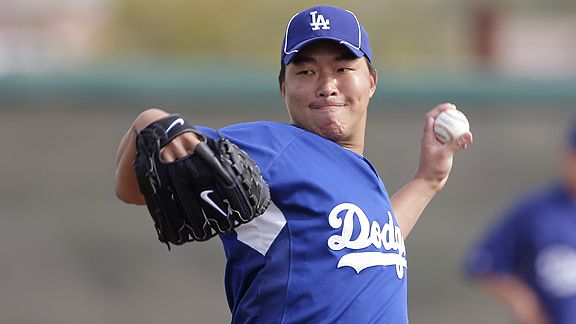 Mark Duncan/AP
Hong-Chih Kuo, shown here March 2, last pitched in a game for the Dodgers on March 19.
Another spot in the bullpen is on the verge of opening with the news from Dodger manager Joe Torre that reliever Hong-Chih Kuo has been shut down and likely will be on the disabled list when Opening Day comes, according to Tony Jackson of
ESPNLosAngeles.com
.
With Ronald Belisario
AWOL
, that leaves a core of four starters (Chad Billingsley, Clayton Kershaw, Hiroki Kuroda and Vicente Padilla) and three relievers (Jonathan Broxton, George Sherrill, Ramon Troncoso) and either four or five open spots on the pitching staff. If nothing else, Carlos Monasterios is pretty much a lock at this point to make the team.
* * *
Russell Martin will rest Saturday after a busy Friday in which he caught six innings, batted six times and scored from first on a double (in a minor-league game).
* * *
Giants pitcherum Tim Lincecum is also playing catchup, writes Chris Haft of
MLB.com
.
... Lincecum allowed only one run in four innings in the Giants' 5-3 Cactus League victory over the Los Angeles Angels on Friday, but allowed six hits and walked two -- though he did strike out seven.

The Giants ace said afterward that he's "85 percent sure with my body of what I'm doing out there and confidence-wise. Hopefully that last tuneup job will help." He admitted that he's progressing "a little slower than I wanted to."

Lincecum's final exhibition outing before he starts the April 5 regular-season opener at Houston won't be a high-profile appearance. Though his next scheduled turn would arrive next Wednesday, when the Giants play their Cactus League finale against the Los Angeles Dodgers, he's virtually certain to pitch a Minor League exhibition or intrasquad game instead.

This would serve a dual purpose. It would prevent the Dodgers from getting a studied look at Lincecum before the regular season, and it would enable the two-time National League Cy Young Award winner to address his pitching flaws in a relaxed atmosphere. ...
* * *
On weekends, my 5-year-old son sleeps in a sleeping bag on the floor of my 7-year-old daughter's room. Tonight, my daughter wanted to switch. Because of the way they were behaving before bedtime, I declined her request.
Later, my daughter went up to my son:
D: "I envy you."
S: "What does that spell?"
D: "I envy you."
S: "WHAT DOES THAT SPELL?!"