Dodger Thoughts:

Tim Redding
March, 25, 2011
3/25/11
5:10
PM PT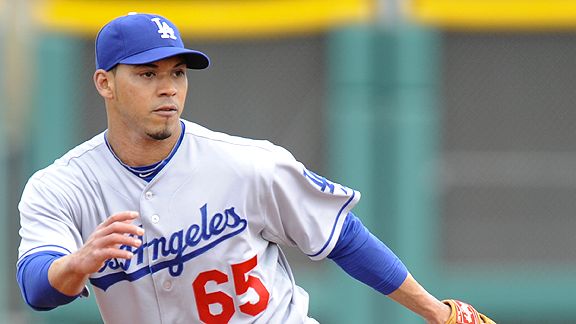 Rob Tringali/Getty ImagesIvan De Jesus Jr. has a .380 on-base percentage this spring.
"Barring an injury," writes Tony Jackson of
ESPNLosAngeles.com
, "infielder Ivan DeJesus looks like a strong bet to make the club and remain in the big leagues until Blake returns from back injury. DeJesus, who will be making his major league debut, likely will get the bulk of the starts at second base during that time, while Juan Uribe will move to third."
It's a pretty impressive feat for the infielder, who has remaining options, who had to come back from a 2009 broken leg and was even said by some to be in the Dodgers' doghouse last year.
Jackson also writes that the Dodgers will carry four starting pitchers on their Opening Day roster, and will call up a fifth starter from the minors April 12. That pitcher figures to be John Ely, especially if Tim Redding's back ailment today proves to be serious. Jackson:
... Redding returned to Camelback Ranch, the team's spring-training complex in Glendale, for further examination. No diagnosis or prognosis was immediately available. ...

The season opener for Triple-A Albuquerque isn't until April 7, so whomever the Dodgers choose to start in place of Garland could start that game and then be perfectly lined up to pitch for the Dodgers on April 12 in San Francisco. ...
* * *
Diamondbacks 6, Dodgers 3
Highlights:
Coming in to relieve the injured Redding with one on and none out in the fourth, Rubby De La Rosa got a double-play grounder and only allowed a bunt single in his first three innings.
Backup catchers A.J. Ellis and Hector Gimenez each went 1 for 2.
Xavier Paul thew out a runner at the plate.
Doubles by Aaron Miles and Justin Sellers' sandwiched Ellis' single and gave the Dodgers an early 2-0 lead.
Lowlights:
Redding allowed a two-run homer in the third and six hits total in his three-plus innings, before leaving with the back trouble.
De La Rosa allowed three runs in his fourth inning of work.
Tony Gwynn Jr. went 0 for 4, his spring OPS falling to .689.
Sidelights:
Christina Taylor Green's brother Dallas and Tucson shooting victim Ken Dorushka threw out first pitches before today's game.
Nick Charles, who has terminal cancer, will call the opening bout on HBO's "Boxing After Dark" on Saturday, says Sports Business Daily.
Rafael Furcal has been recovering from an offseason illness, reports Dylan Hernandez of the Times in this feature.
Great pics of Fernando Valenzuela pitching in Mexico last week, shared by Roberto Baly of Vin Scully Is My Homeboy.
Another great item, this from Eric Nusbaum at Pitchers & Poets, gives us Ken Levine talking about Vin Scully: "Normally I can look over somebody's shoulders, I can pick up their scorecard and I can kind of figure it out. With one exception – Vin Scully. He's got lines and dots and stuff. I have no idea. You need Navajo code breakers to figure out Vin's scorebook. I have no idea."
Here's part 3 of Mark Timmons' LADodgerTalk.com interview with Logan White.
The Dodgers aren't the only ones with injuries, by any means. The shoulder of Phillies closer Brad Lidge is hurting, and so is Philadelphia's bullpen, writes David Schoenfield of ESPN.com.
Padres starting pitcher Mat Latos is also ailing, notes Aaron Gleeman of Hardball Talk.
Will Leitch on the Mets (via Rob Neyer): "Even if this year is a write-off, the team will be more enjoyable to watch than it has been the last four years, if only because the franchise is finally moving forward. It's going to get better, soon. I promise, this isn't a scam. You are forgiven for fearing otherwise. This is, after all, the Mets."
* * *
Dodgers at Mariners, 7:05 p.m.
March, 16, 2011
3/16/11
8:22
AM PT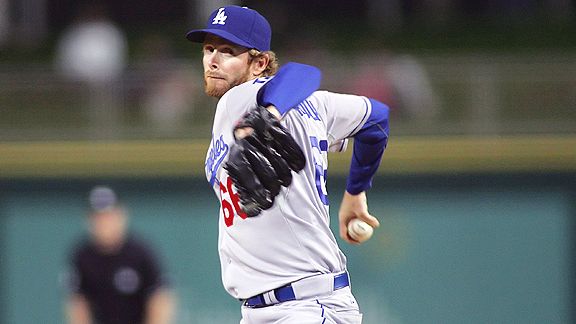 Jake Roth/US PresswireDespite a 7.23 ERA last year with St. Louis, Mike MacDougal has taken advantage of Dodger injuries to carve out a chance at a roster spot.
On the last off day before the start of the season, this seems like a good time to check in on how the Dodger 25-man Opening Day roster is shaping up.
On track (18):
Starting pitchers (4):
Clayton Kershaw, Chad Billingsley, Hiroki Kuroda, Ted Lilly
Relief pitchers (5):
Jonathan Broxton, Hong-Chih Kuo, Matt Guerrier, Blake Hawksworth, Kenley Jansen
Catchers (1):
Rod Barajas
Infielders (4):
James Loney, Juan Uribe, Rafael Furcal, Jamey Carroll
Outfielders (4):
Andre Ethier, Matt Kemp, Tony Gwynn Jr., Marcus Thames
Likely (3):
1) Casey Blake, 3B:
The
latest news on Blake
sounds about as good as one might have expected – inflammation with no evidence of a muscle strain. So while anything could happen, we won't assume that he'll be on the disabled list March 31.
2) Mike MacDougal, RP:
A 0.00 spring ERA, veteran's moxie and all the positive things people are saying about him in the press make MacDougal this year's most likely prize off the scrap heap.
3) Dioner Navarro, C:
A.J. Ellis can still be optioned to the minors, so we'll put him aside. Though Hector Gimenez presents an alternative, Navarro seems safe.
Roster spot battles (4):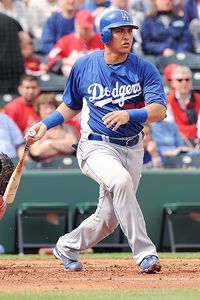 Norm Hall/Getty ImagesAn .847 spring OPS has helped make Hector Gimenez a longshot as opposed to a no-shot.
1) Jay Gibbons vs. Xavier Paul vs. Trent Oeltjen, OF, vs. Hector Gimenez, C/1B:
Gibbons' spring has been a nightmare, to the extent that Tony Gwynn Jr. might already have passed him in the pecking order for playing time. Xavier Paul, seemingly healthy and performing better as the month goes on, is now adding to the pressure while the eyesight-plagued Gibbons tries to solve his vision problems. A third-party candidate is Trent Oeltjen, who has been hitting all spring – and we'll even leave open the possibility that Gimenez could take this spot instead of a sixth outfielder.
Chances: Gibbons 45%, Paul 35%, Oeltjen 10%, Gimenez 10%.
2) Aaron Miles vs. Ivan De Jesus Jr. vs. Justin Sellers vs. Juan Castro, IF:
A veteran has the automatic edge when you're talking backup infielder, so it seems safe to knock out De Jesus and Sellers, neither of whom have seized the day. Miles has had a better spring than Castro and is also centuries younger. Castro has that Brad Ausmus-like zen quality that Ned Colletti admires, but Miles has sufficient experience to fill the role.
Chances: Miles 80%, Castro 10%, De Jesus 5%, Sellers 5%.
3) + 4) Ron Mahay vs. Scott Elbert vs. Ramon Troncoso vs. Lance Cormier, RP, vs. John Ely vs. Tim Redding, SP, vs. position player:
These two final spots seem very much up for grabs at this point, compounded by the uncertainty over whether the Dodgers will start the year with four or five starting pitchers, and whether they'll start with 11 pitchers overall or 12.
If they keep a fifth starter, it's still an open battle. Both Redding and Ely can be sent to the minors, though the difference is if Redding is placed on the major-league roster, he would then have to clear waivers before he could go to Albuquerque (once, say, Vicente Padilla or Jon Garland was healthy). The Dodgers can yank Ely up and down this year at will.
Both Ely and Redding started the spring excellently, then faltered (like every other Dodger starter in the past week). Ely is on the upside of his career but with something to prove; Redding is on the downside of his career with something to prove. My guess is that even if Ely wins the job, the Dodgers won't want him to lose his rhythm by pitching in long relief during the opening days of the season – meaning he would start the season in the minors and then come up April 12 when he is needed. I'm not sure they'd have those reservations with Redding.
Among the lefthanders, Mahay finally had a decent inning Tuesday, though the four batters he faced had 19 career major-league homers. Still, it's hard to imagine that, short of a 180-degree turnaround, the Dodgers are ready to rely on Elbert, who has walked nine of 20 batters he has faced this spring.
Troncoso has outpitched both lefties, though I'm not sure the Dodgers are convinced he's all the way back from his 2010 struggles. If he were, he and MacDougal would exchange places. Lance Cormier has gotten little attention while throwing four innings and allowing seven hits while striking out one, but he remains in the running.
And then there's the chance the Dodgers go with an 11-man staff and keep six guys on the bench. Gimenez, anyone?
If the Dodgers were making their final cuts today, I'd predict they keep two relievers at the outset and fly Ely to San Francisco on April 12.
Chances: Troncoso 45%, Mahay 45%, Cormier 30%, Ely 30%, Redding 25%, position player 20%, Elbert 5%.
March, 9, 2011
3/09/11
1:22
PM PT
Here's Tony Jackson's initial report for
ESPNLosAngeles.com
:
Jon Garland left Wednesday's Cactus League game with two outs in the top of the second inning because of a left-oblique injury. There was no immediate diagnosis or prognosis, but Garland said he would meet with a team doctor either later in the day or early Thursday morning.

Garland said no actual tests have been scheduled, but that, "I'm sure they are going to want to do that."

Garland, whom the Dodgers signed in November to a one-year, $5 million contract with an $8 million club option for 2012 to be their fifth starter, was making just his second start of the spring. After throwing the first pitch to Seattle Mariners shortstop Josh Wilson, his 30th pitch of the game, Garland knelt down on the front of the mound, stood back up and immediately made a gesture toward the dugout to summon trainer Stan Conte.

Garland then walked around the mound for a minute or two while clutching his left side before ultimately walking off the field with Conte. ...
Bill Shaikin of the
Times
wrote that "although the Dodgers have not identified the problems, his actions were consistent with an oblique injury, which can require a month or more of recovery."
With Vicente Padilla out, the leading candidates to replace Garland if he's out of the rotation for the start of the season would be Tim Redding and John Ely.
March, 2, 2011
3/02/11
6:01
PM PT
Royals 11, Dodgers 5
Highlights:
Tim Redding pitched three shutout innings, giving him five for the spring with three strikeouts.
James Loney went 2 for 2.
Relievers Ramon Troncoso and Carlos Monasterios pitched shutout ball.
Jamie Hoffmann (1 for 2) is now, like Loney, 4 for 8 this spring.
Juan Castro hit a three-run home run.
Lowlights:
Scott Elbert had a nightmare outing, walking four of the five batters he faced. From Eric Stephen of True Blue L.A.:


... With assistant GM of player development DeJon Watson in the broadcast booth with Charley Steiner, Elbert was missing the strike zone every which way. Elbert came in the game in relief of Jon Link in the fifth inning, then pitched into the sixth. Watson spoke of how Elbert got more consistent in his delivery over the winter, and was able to show two dominant pitches in the Arizona Fall League, but as those words were being spoken Elbert was missing the strike zone quite often. Elbert faced five batters, and walked four of them. He threw 21 pitches, only five of them for strikes.

On the broadcast, one could hear Watson rooting for Elbert, the Dodgers' 2009 minor league pitcher of the year, even as he was struggling. Watson said Elbert has great stuff that is "electric through the strike zone," and Watson seemed to take Elbert's outing in stride. "He's having a tough outing today, but I think you'll see better outings from Mr. Elbert in the future," Watson said. Elbert better hope so; he has faced 10 batters this spring, and walked six of them. He did strike out two, and the other two batters didn't hit the ball out of the infield, but Elbert needs to show some control before he even sniffs the 25-man roster. ...


Jon Link was charged with three runs while getting two outs; Luis Vasquez was charged with four runs while getting three outs.
Aaron Miles had a double but made his second error of the spring.
Xavier Paul struck out twice, dropping to 1 for 8 this exhibition season.
Juan Castro hit a three-run home run.
Sidelights:
Clayton Kershaw, not yet eligible for arbitration, signed his one-year 2011 contract for the expected figure of $500,000. Tony Jackson of ESPNLosAngeles.com has details. In fact, every man on the 40-man roster has now been signed for 2011, with Ronald Belisario having his contract renewed and then getting placed on the restricted list.
The adventures of Dee Gordon, again courtesy of Mr. Stephen:


There was a funny moment in the fifth inning, when Mike Moustakas lofted a foul pop near the photography well adjacent to the back of the Dodger dugout. Aaron Miles was in pursuit of the ball, but Dee Gordon, who was not in the game and sitting on the steps of the dugout, tried to evade Miles by moving out of the dugout. Instead, Gordon got the way of Miles, who was unable to make the catch. Watson, who was in the booth with Charley Steiner, could be heard saying something like, "Jesus criminey" or something to that effect.

Remarkable: Larry Granillo researched "Peanuts" comic strips for Baseball Prospectus and found Duke Snider was mentioned twice (once with Willie Mays, once with a host of players), compared to three mentions for Mickey Mantle and Mays combined, once for Mantle alone and four times for Mays alone (including the famous spelling bee episode).
James Loney fares a bit below average in David Pinto's defensive statistical rankings of first basemen from 2006-10 at Baseball Musings.
Ernest Reyes of Blue Heaven posted photos of the new grass being installed at Dodger Stadium.
Charlie Sheen meets Ron Swanson x John Wooden: The Sheen Pyramid of Greatness.
Juan Castro hit a three-run home run. From Ken Gurnick of MLB.com:


When he left the game after five innings and returned to the clubhouse, this note was posted on the bulletin board:

"Juan Castro: Please report to [Dodgers trainer] Stan Conte after the game for a mandatory steroid test."
Update:
Jackson
writes about Castro and Elbert.
February, 23, 2011
2/23/11
8:32
AM PT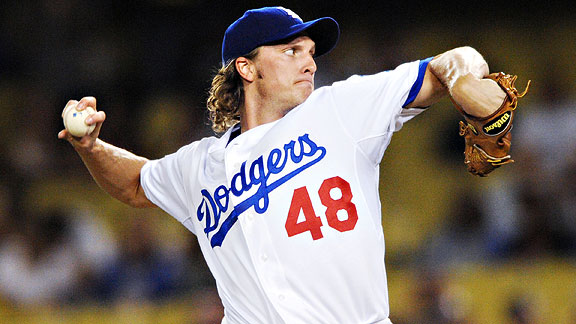 Kelvin Kuo/US PresswireJohn Ely
Vicente Padilla was ticketed for the bullpen, but everyone expected him to be the first guy Los Angeles turned to if anyone in the Dodgers' starting rotation had to miss a start. In fact, Padilla was going to be on a starters' program in the early days of Spring Training before shifting to a relievers' routine.
Dodger fans can still hope that Padilla will be back in uniform before a sixth starter is needed, but in case he isn't, who's next in line?
Blake Hawksworth started some last year for St. Louis, but Don Mattingly seemed pretty keen on keeping him in the bullpen. "As a starter he was throwing 90 (mph), 91 and out of the bullpen 94, 95," Dodger manager Don Mattingly told Ken Gurnick of MLB.com earlier this month. "Sometimes a guy thinks when he's starting he has to pace himself. Out of the 'pen he's more aggressive and attacking. We feel that's where he fits best."
Carlos Monasterios started 13 games for the Dodgers last year, but also performed much better in relief. The question is how the Dodgers view him going forward: He was ticketed for Albuquerque to start this season, but if he's going to be in the rotation, he might be someone they turn to.
The Dodgers have toyed with Scott Elbert and even Ramon Troncoso as starting pitchers in their minor-league careers, but they are firmly relievers now.
Jon Link has gotten some brief starting work in his pro career, but he seems an unlikely option.
Minor-League Pitcher of the Year Rubby De La Rosa? Maybe later, but too soon for now.
Tim Redding is the player in camp with the most starting experience: 144 starts in the 33-year-old's major-league career. But none of those have come since 2009, when he had a 5.10 ERA for the Mets.
That brings us back to last spring's rotation savior,
John Ely
. Ely had a 2.54 ERA through June 1, an 8.00 ERA after. If there's any chance that Part II was the fluke and not Part I, Ely might get the first opportunity to prove it. Elymania II?
January, 3, 2011
1/03/11
3:53
PM PT
Looks like the world is getting back to work ...
The Dodgers signed Tim Redding to a minor-league contract. Redding, who will be 33 in February, had a 2.89 ERA in 109 Triple-A innings last year, following a 2009 major-league campaign in which his ERA was 5.10 with 76 strikeouts in 120 innings.
Albert Lyu of Fangraphs has a precision look at Matt Kemp's struggles against fastballs in 2010 compared with the year before. "Kemp's whiffs against lower-90s fastballs dramatically increased in the past year, nearly doubling that of the average hitter," Lyu writes.
Ronald Belisario won a Venezeulan winter league closer of the year award, notes Roberto Baly of Vin Scully Is My Homeboy.
Baly also passes along word of the arrival of Clayton and Ellen Kershaw in Africa.
Mike Petriello of Mike Scioscia's Tragic Illness wonders if there is still room to add a second lefty reliever to the 2011 Dodger bullpen, especially because Hong-Chih Kuo can't be wasted as someone who only faces lefty batters.
Alex Belth of Bronx Banter shares a sweaty, tongue-tied New York moment, co-starring Tina Fey.
Farewell, Anne Francis and Pete Postlewaite.