Dodger Thoughts:

Travis Schlichting
January, 11, 2012
1/11/12
9:23
PM PT
Funny one-line intro ...
Here's video of John Candelaria no-hitting the Dodgers in 1976. Check out how excited color commentator Bob Gibson is alongside play-by-play man Al Michaels for the final out.
Manny Ramirez talked at length with ESPN's Pedro Gomez about events of the past year and his desire to play again. It's self-serving but take it for what you will.
Christopher Jackson of Albuquerque Baseball Examiner looks at how different this year's Triple-A Isotopes will be. An excerpt:


A total of 19 additional players who spent time in Albuquerque in 2011 became free agents after the season.

Left-handed starter Alberto Bastardo (4-3, 5.38 ERA) has signed with the Marlins organization, which puts him in contention for a rotation spot with New Orleans.

Closer Jon Link (2-2, 4.24, 11 saves) inked a deal with the Orioles, enabling him to potentially pitch closer to his Virginia home with Norfolk, another Triple-A team run by Isotopes owner Ken Young.

Right-handed reliever Travis Schlichting (5-3, 7.10, four saves) will join the wide-open competition for a roster spot in cash-strapped Oakland.

Corner infielder Corey Smith (.239, 7 HR) joined the White Sox, while utility player Eugenio Velez (.339, 31 RBI) will take his 0-for-37 skid in the Majors to the Cardinals organization.

The free agents still looking for work include pitchers Roman Colon, Roy Corcoran and Randy Keisler, plus catcher Damaso Espino, first baseman John Lindsey and outfielders Brad Coon and Jay Gibbons.

For Variety, I took a look at the state of NFL, MLB and NBA sports broadcasts on mobile and digital platforms.
World Series MVP David Freese will risk killing all his postseason good vibes with a guest appearance on maligned ABC sitcom "Work It" on January 24, if the show isn't canceled first.
Vin Scully talked to Tom Hoffarth of the Daily News about his upcoming bobblehead night. "Since I won't be here for the 100th anniversary (of Dodger Stadium), I agreed to do the 50th," Scully said. "Otherwise, I would be open to questions as to why I didn't do it. It's far easier this way."
Ted Williams, 1940: "If I were a free agent and each major league club offered me identical contracts, I'd sign with the Dodgers. ... I know I'd be a hero in Brooklyn." (Link via Larry Granillo and Baseball Prospectus.)
May, 29, 2011
5/29/11
6:14
PM PT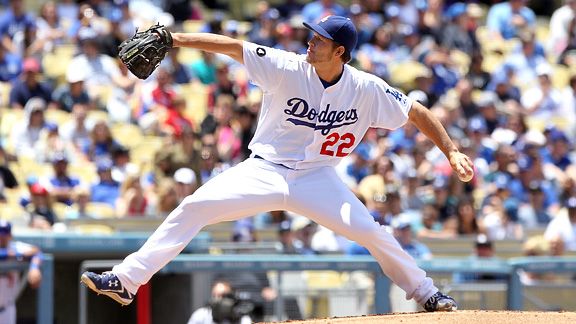 Jeff Gross/Getty ImagesClayton Kershaw
So that's what a breeze feels like.
Sailing into a storm most of the season, the Dodgers enjoyed a day with the wind entirely at their backs, with Clayton Kershaw in near no-hit form and the offense practically an arcade, leading to
an 8-0 breeze over the Marlins
.
The Dodgers took two of three from Florida for their first series victory since April 22-24 in Chicago. If you're any kind of believer – and praise be onto you if you are – this is where it starts, all the ifs and buts transforming into actual results.
Whether they can extend this one-game winning streak, matching their longest since May 13 (yes, that's right), is of course up in the air, but if in fact it's a blip on the losing radar, it was a blip to be savored.
Kershaw's marquee game in my mind remains
his showdown victory
over Ubaldo Jimenez of Colorado 12 1/2 months ago, but as Mike Petriello of
Mike Scioscia's Tragic Illness
points out, today was Kershaw's finest statistical outing ever – a
Kershawnal Best
, if you will – allowing two hits and one walk while striking out 10 in his second career shutout. The second hit off Kershaw was a ball that Jay Gibbons lost in a battle with the sun and an unusually ferocious wind, which would have been exceedingly painful for fans had Omar Infante not singled softly to left in the third inning.
In any case, Kershaw, who lowered his ERA to 2.62 and now leads the major leagues with
87 strikeouts
, was in complete control.
"He was hitting both sides of the plate and throwing inside on lefties, which you don't see that much from a lefty," Florida's Wes Helms told The Associated Press. "Kershaw just commanded all of his pitches today, and he had above-average stuff. He knows how to bury his curveball and his slider. He's not going to leave it over the middle of the plate. I mean, you get geared up for that heater, and his slider's hard enough that you can't hold up when it's in the dirt."
It was a Hershiseresque day all around for Kershaw, who had as many hits at the plate as he allowed. The 23-year-old, who was 10 for 132 entering this season, is 6 for 25 in 2011. His two hits were only 13 percent of the Dodgers' 15 off Marlins starter Ricky Nolasco, who was forced to stick it out for five innings after Florida blew out its bullpen Saturday. The total tied a Los Angeles record for the most off a single starting pitcher (Mario Soto of Cincinnati was the last victim, in 1982).
Gibbons, Andre Ethier and Rafael Furcal each had three, including Furcal's first homer of the year, a two-run shot to the right-field bullpen that gave the Dodgers their initial lead after Kershaw led off the bottom of the third with a single. Ethier reached base in all five plate appearances, while Dioner Navarro went 2 for 4 to complete a 7-for-18 week.
Dodger life is good today, for the second time in three days.
* * *
March, 6, 2011
3/06/11
8:04
PM PT
Cubs 5, Dodgers 3 (10)
Highlights:
Chad Billingsley (above) went 3 2/3 innings before giving up the first earned run allowed by a Dodger starting pitcher this weekend. He allowed four baserunners and struck out two.
Ramon Troncoso retired all four batters he faced (one admittedly on a dicey umpire's call) and has allowed one hit in 3 1/3 shutout innings. Tony Jackson of ESPNLosAngeles.com has more on Troncoso's growing chances of making the Opening Day roster.
The platoon of Jay Gibbons (wearing awesome big white sunglasses, the best Dodger eyewear since Eric Gagne) and birthday boy Marcus Thames went 2 for 5 with an RBI double (by Thames).
Aaron Miles tripled in his only at-bat.
Ivan De Jesus, Jr. made a nice backhand grab running into the outfield, drawing a big smile from the Cubs' third-base coach, Ivan De Jesus, Sr.

Lowlights:
Justin Sellers committed a double-error (bobble and bad throw) on the Dodgers' first defensive play of the game.
Right fielders Xavier Paul and Jerry Sands combined for a golden sombrero.
Luis Vasquez the Magician made the game disappear when he allowed a two-run walkoff homer to D.J. LeMahieu in the bottom of the 10th.

Sidelights:
In the above-referenced piece by Jackson, he addresses the James Loney situation.


Although the tightness in first baseman James Loney's knee isn't serious and Loney tentatively is expected back in the lineup by Wednesday, the momentary scare did underscore the fact the Dodgers don't have a lot of depth at Loney's position.

Third baseman Casey Blake and outfielders Jay Gibbons and Marcus Thames all have some experience -- but not a lot of it -- at first base, and Mattingly said any or all of them could be a viable alternative if Loney were to be lost for, say, two or three games. But if Loney suffered a major injury that sidelined him for a month or more?

In that case, Mattingly said, the Dodgers would have to bring up a first baseman from the minors. And the most likely candidate would be Russell Mitchell, a third baseman by trade who also can play left and right field but played all of 13 games at first for Triple-A Albuquerque last year.

"We feel like Russ can be pretty flexible," Mattingly said. "He can handle himself out there, and he has actually played some second. He even did some catching in the Instructional League, so we feel like we could trust him with catching. That emergency third catcher can be pretty valuable in the National League because it allows you to maybe pinch run for your catcher without having to get nervous about not having another catcher left on the bench." ...

The Dodgers' starting baseman is still healthier than the Angels' Kendry Morales, notes Mark Saxon of ESPNLosAngeles.com. The Angels might turn to Triple-A power hitter Mark "Don't call me Dalton" Trumbo, writes Mike DiGiovanna of the Times.
Scott Elbert is working on a mechanical adjustment, writes Gurnick, who adds that Jamey Carroll will miss a few days of game action after being hit by a pitch on his right index finger (X-rays were negative).
Josh Suchon says that he and his new KABC 790 AM talkmate Joe Block will be the broadcast team for Dodger games on Prime Ticket this Wednesday and Thursday.
Mullet Mania: Jackson gave us a hint this morning, but later came the full story on Travis Schlichting's new 'do from Jeff Passan of Yahoo! Sports.


I understand that this is going out on a fragile limb above a pool shared by sharks and alligators, but I witnessed the greatest mullet in baseball history Sunday morning, and I refuse to believe otherwise.

Randy Johnson may have sported the curly afterbirth on his neck, and John Kruk may have rocked the accompanying gut, and Troy Tulowitzki may have had the ironic twist to his charity mullet, but nobody – nobody – can compete with the absolute resplendence that topped Travis Schlichting's head on Sunday. ...
February, 18, 2011
2/18/11
9:57
AM PT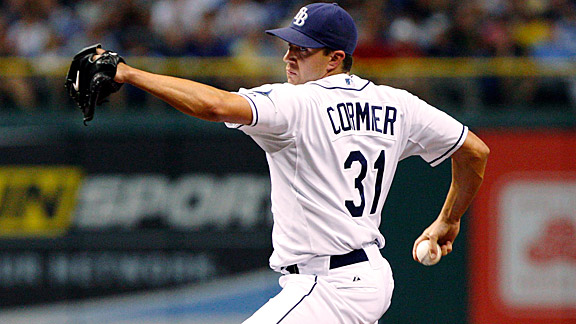 Kim Klement/US PresswireIn the past three seasons, Lance Cormier has allowed a sub-.700 OPS against left-handed batters, including 26 extra-base hits in 486 plate appearances.
Outside of the left-field conundrum, the Dodgers' biggest question mark for Spring Training might be how they will address the task of getting left-handed batters out with their almost completely right-handed bullpen. No one wants to see Hong-Chih Kuo relegated to facing only lefties, and the only other left-handed thrower on the 40-man roster is the uncertain Scott Elbert.
Three non-roster invitees to major-league camp are left-handed: 39-year-old Ron Mahay, achy-hamstringed Dana Eveland (whose career 5.74 ERA will apparently be sidelined for weeks after Thursday's injury) and Wilkin De La Rosa, who has never pitched about Double-A. After that, you start dipping down into the minors for developing players like James Adkins.
With Ronald Belisario's absence seemingly opening up a roster spot, Mahay would seem to be the default candidate. He had a .520 OPS allowed against lefties last season. But the previous two seasons, his OPS allowed against lefties was above .700 — which isn't terrible, but isn't exactly the kind of authoritative performance you're looking for when you really want someone to come in and get that guy out.
I got to wondering if there were any righties among the Dodger relievers who were reliable against lefties. Here's a chart of the bullpen candidates' OPS allowed against lefties over the past three seasons in the majors:
| | 2010 PA/ | 2010 OPS | | 2009 PA/ | 2009 OPS | | 2008 PA/ | 2008 OPS |
| --- | --- | --- | --- | --- | --- | --- | --- | --- |
| Belisario | 86 | .793 | | 122 | .720 | | | |
| Broxton | 123 | .626 | | 148 | .414 | | 126 | .800 |
| Colon | 5 | .650 | | 94 | .713 | | | |
| Cormier | 162 | .718 | | 180 | .671 | | 144 | .667 |
| Elbert | 4 | 2.000 | | 40 | .699 | | 14 | 1.000 |
| Eveland | 59 | .802 | | 60 | .999 | | 170 | .646 |
| Guerrier | 102 | .649 | | 120 | .525 | | 126 | .801 |
| Hawksworth | 185 | .886 | | 76 | .724 | | | |
| Jansen | 51 | .586 | | | | | | |
| Kuo | 69 | .271 | | 40 | .524 | | 98 | .557 |
| Link | 16 | .962 | | | | | | |
| MacDougal | 39 | 1.353 | | 124 | .760 | | 24 | .858 |
| Mahay | 68 | .520 | | 111 | .743 | | 110 | .721 |
| Monasterios | 188 | .709 | | | | | | |
| Padilla | 166 | .590 | | 352 | .837 | | 385 | .944 |
| Redding | | | | 282 | .860 | | 402 | .808 |
| Schlichting | 39 | .465 | | 9 | .905 | | | |
| Troncoso | 99 | .823 | | 157 | .751 | | 84 | .707 |
| Villarreal | | | | | | | 68 | .862 |
Some observations:
The Dodgers have a few righties who seem consistently effective against their opposite numbers: Jonathan Broxton, Matt Guerrier and, based on a small sample size, Kenley Jansen.
Oh, and another guy who probably isn't on your radar ... late signee Lance Cormier.
Based on only his one season, Carlos Monasterios offers an intriguing first impression — though looking at the chart, you can see how much these numbers can fluctuate. Look at what happened to Ramon Troncoso, for example, or moving in the other direction, Vicente Padilla.
For extreme small-sample candidates, there's Roman Colon and Travis Schlichting. Consider at your own risk.
If the Dodgers decide that Kuo, Broxton, Guerrier, Jansen and Padilla are all effective against lefties, they could decide to go without a second left-handed pitcher — especially if they also think Cormier is worth a roster slot. It might still be Mahay's spot to lose or Scott Elbert's spot to win, but Cormier might be this year's guy you least expected.
July, 3, 2010
7/03/10
3:37
PM PT
The first move was expected, and the second move isn't too much of a surprise considering that Troncoso has seemed in need of a breather for a while now. Troncoso pitched two shutout innings Friday (32 pitches) and has not been scored upon in his past three appearances, so his being optioned might have more to do with providing a fresh arm to the bullpen following Hiroki Kuroda's early exit.
George Sherrill and Justin Miller, who have performed worse, remain on the team for now, because Troncoso has options and they don't.
* * *
The Dodgers not only placed Manny Ramirez on the disabled list and called up Xavier Paul, they also optioned Ramon Troncoso to Albuquerque and called up Travis Schlichting.
June, 16, 2010
6/16/10
1:20
PM PT
Travis Schlichting
, the hero of the
14-inning 1-0 victory
over Arizona on June 2, was called up to take Chad Billingsley's spot on the Dodger roster, the team announced today.
In the two weeks since throwing four shutout innings that day, Schlichting has made three appearances for AAA Albuquerque, totaling 4 1/3 innings. He has allowed three runs on seven hits and two walks, striking out two.
June, 3, 2010
6/03/10
4:09
PM PT
With their bullpen worked over by back-to-back extra inning games, the Dodgers have activated Charlie Haeger from the disabled list and optioned
June, 2, 2010
6/02/10
9:19
PM PT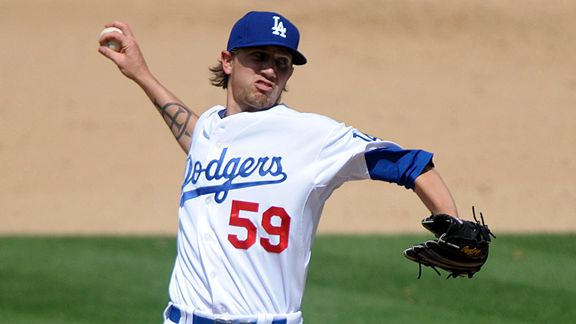 Kirby Lee/Image of Sport/US Presswire
Travis Schlichting allowed four baserunners in four unexpected but indispensable innings of relief today.
The pitch counts for the relievers in today's
14-inninger
: Ramon Troncoso 11, Justin Miller 41, Jonathan Broxton 11, Ronald Belisario 10, Travis Schlichting 60 – none of whom pitched Tuesday except Belisario, who threw 11 pitches. That gives the Dodgers four relievers they can easily use Thursday against Atlanta in back of Hiroki Kuroda: Troncoso, Broxton, Hong-Chih Kuo and Jeff Weaver.
The Dodgers might make a move to add a reliever – that move would probably include optioning Schlichting to Albuquerque. If that happens, Schlichting can make the trip knowing that he made quite a positive impression on this organization, not to mention a lifetime memory for this converted infielder who has been plagued by back trouble in his career and was pitching for the Kansas City T-Bones of the independent Northern League inside of three years ago.
Schlichting is the 19th pitcher the Dodgers have used this season, and the 11th to get a victory.
Options for the Dodgers for Thursday don't include Charlie Haeger (turf toe), James McDonald (bad hamstring), Scott Elbert (not eligible for a recall yet – and the Dodgers probably don't want him right now) or Brent Leach (threw 70 pitches for Albuquerque
today
). Perhaps most likely would be the temporary return of
Jon Link
, who hasn't pitched since Sunday and has an ERA of 0.87 in his past six appearances (10 1/3 innings) with eight strikeouts.
"Kim [Ng] is out there waiting to talk to me," Joe Torre said about a potential roster move after today's game, reports Chris Volk of
DodgerFan.net
. "She's going to come in and ask me the same question. I haven't really digested this yet and I don't know where we would make room for that person, but we are going to be a bit short, so we'll have to see."
Torre added that he would have used Weaver after Schlichting, but beyond that, Reed Johnson might have been the next arm.
"I don't know," Torre told Volk. "I didn't poll anybody. Short of one of those things, I was hoping that if we weren't going to score, that it would be Garrett making the last out so at least the next inning I'd have Johnson leading off and I'd have nine guys. Pick one of those guys to pitch. But if I had to use him in the 14th inning, then I was going to have to probably use a pitcher to play a position and not pitch, which is something I've never had to do."
As for Carlos Monasterios, he is winning a convert in the manager's chair, and the plans to move him out of the rotation in favor of Haeger might indeed be shelved a little longer – skin permitting. Monasterios would have gone out for a sixth inning today but for a blister on his right middle finger, reports Tony Jackson of
ESPNLosAngeles.com
.
June, 2, 2010
6/02/10
4:39
PM PT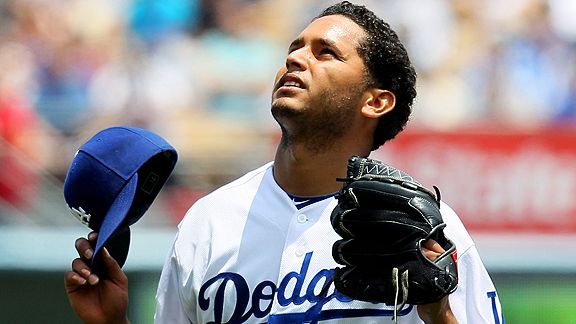 Jeff Gross/Getty Images
Carlos Monasterios looks towards the sky in the second inning, as if he knew how long this day would be for the Dodgers.
It was — or should have been — Edwin Jackson's game.
Instead, it was ... Garret Anderson's?
The maligned Dodger reserve, with 12 hits in 82 at-bats this year, singled home Matt Kemp in the bottom of the 14th inning to give the Dodgers their second-straight
1-0, extra-inning victory
over Arizona — capping a series in which the Diamondbacks were held scoreless for their final
31 innings
.
The Dodgers, whose scoreless pitching streak is their longest since a 37-inning skein July 24-28, 1991, according to the Dodger press notes, entered this series with a 4.21 team ERA, and left it at 3.99. It was the first time two MLB teams had gone scoreless into extra innings in consecutive games since 2001, and the first time for the Dodger franchise since 1919. The Dodgers also have three consecutive walkoff wins for the first time since August 5-7, 1982.
We'll talk about the Dodger offense another time, but for now we'll tip our hat once more to Arizona's starting pitcher. More than six years after Jackson's
memorable Dodger debut
against the Diamondbacks, nearly five years after his last appearance at Dodger Stadium, Jackson returned and put on a show. It was against a lineup that missed Manny Ramirez, Russell Martin, and Rafael Furcal (and for half the game, Casey Blake), but it was a show nonetheless. Jackson pitched shutout ball for nine innings, allowing three hits and three walks while striking out six.
But Jackson didn't get the win — and neither did Arizona, which was held scoreless by six Dodger pitchers, the last Travis Schlichting, who pitched four shutout innings in his 2010 Dodger debut despite not having thrown that many in a game all year in the minors.
The tone was set early by Jackson and Carlos Monasterios, who, like John Ely, has had to fight a lot of natural-born skepticism to get into the starting rotation. But with five shutout innings today, Monasterios lowered his 2010 ERA to 1.87 and threatened to give birth to Monahysteria. He allowed two singles, walked none and struck out three. He was also, like Ely, reasonably efficient with his pitch count — except for a rather bizarre stretch in the fifth inning when Adam LaRoche and Rusty Ryal combined to foul off 11 of 13 pitches. Monasterios also had to battle several three-ball counts in the second inning, but still got his five innings completed in 81 pitches.
After Ramon Troncoso, now being rationed by Joe Torre, was used for one shutout inning, it fell to recent callup Justin Miller to keep Arizona at bay. Miller immediately tattooed Arizona by hitting Stephen Drew and LaRoche with pitches, but in between came a strikeout and throwout by A.J. Ellis of Drew attempting to steal, to interrupt the scoring bid. Ryal then flied deep to Kemp in center field to end the inning.
Jackson then became the second Arizona starting pitcher in as many games to bat for himself in the eighth inning of a scoreless game — and worked Miller with an 11-pitch single. But on his 41st pitch of the game, Miller got Kelly Johnson to fly to Kemp.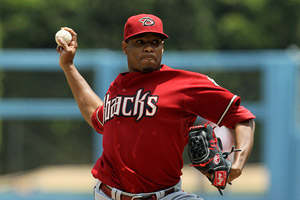 Jeff Gross/Getty Images
Arizona's offense denied Edwin Jackson his second career shutout.
In the bottom of the eighth, Jackson once again faced Manny Ramirez with a runner on first and the game on the line, as he did
May 12 in Arizona
. But instead of hitting a home run, Ramirez was called out on strikes — the third consecutive game Ramirez failed to bring home the go-ahead run in the eighth inning.
After Jonathan Broxton pitched a scoreless top of the ninth, the valiant Jackson went back to the mound. He was one strike from completing his ninth shutout inning when he gave up a line single to Jamey Carroll, who had the only three hits Jackson allowed, along with a walk. Kemp then walked on a 3-2 slider, leaving it up to Andre Ethier. In a situation seemingly scripted in the Dodgers' favor, Hollywood rejected it, with Ethier lining out to LaRoche at first base on Jackson's 123rd pitch.
Ronald Belisario's scoreless 10th inning fed into James Loney's double to start off the bottom of the 10th, the only extra-base hit in the 101 combined plate appearances by the two teams today. Ronnie Belliard walked after Anderson struck out, but pinch-hitters Furcal and Martin couldn't bring the run home.
From that point on, you could say the Dodgers' otherwise significant bullpen advantage was starting to bleed out, especially with Hong-Chih Kuo unavailable because he threw 1 1/3 innings Tuesday and Torre also wanting to give a day off to Jeff Weaver, who threw 21 pitches Tuesday night.
That left Schlichting, with
two career major-league games
, the last nearly a year ago, and a history of injury issues. Schlichting pitched a perfect 11th inning, survived two singles in the 12th and then completed a 1-2-3 13th. All the while, the Dodger offense remained silent.
But that wasn't all. Schlichting,
whose longest minor-league outing of the year was 3 2/3 innings
, batted for himself in the bottom of the 13th and stayed in to pitch the 14th. He gave up a hit and a walk with one out, but escaped on two fly balls to cap his 60-pitch effort.
Finally, in the bottom of the 14th, Kemp ended an 0-for-14 drought by the Dodger outfielders with a single. Ethier lined out for the third time in his hard-luck 0-for-6 day, but Kemp advanced to second base on a wild pitch, went to third on a Loney grounder and then, unbelievably or mercifully, scored on Anderson's hit.
With three walkoff victories, this was a series the Dodgers won't soon forget — but Arizona will sure try its best.
February, 21, 2010
2/21/10
8:36
PM PT
No. 5 starter candidate Scott Elbert had a recent bout of shoulder tendinitis, reports Ken Gurnick of
MLB.com
, but after being shut down for 10 days had a pain-free bullpen session Thursday. He is scheduled to throw again Monday.
In a separate
blog post
, Gurnick noted that reliever Travis Schlichting had a pretty significant health scare over the winter, dealing with Gilbert's syndrome, "which results in increased bilirubin levels and, in Schlichting's case, is believed to have caused fatigue and nausea that led to (a 30-pound) weight loss."
Hiroki Kuroda and Hong-Chih Kuo, among others, are having no issues so far.
Vicente Padilla was throwing (stories about) bullets. Tony Jackson of ESPN.com/LA has details. If Padilla were a duck, Casey Blake might still have a beard.
The way Joe Torre talked about Jeff Weaver, according to Gurnick, a swingman role in the bullpen is his to lose.
For those interested in injured pitchers from 2009 that the Dodgers might have signed but ended up with Oakland instead, this Associated Press update tells us that Justin Duchsherer is having back troubles, but Ben Sheets is pounding the strike zone.