Dodger Thoughts:

Triple crown
September, 26, 2011
9/26/11
9:34
PM PT
And so, reluctantly, I shift gears away from the Triple Crown.
Matt Kemp hit a mammoth 38th home run in the first inning for the Dodgers
in their 4-2 victory over Arizona
tonight, putting him one up on Albert Pujols in homers and eight ahead of Prince Fielder and Ryan Howard in RBI with two games to play. But he made three subsequent outs, lowering his batting average to .324 while Jose Reyes (.33396) was going 3 for 4 and Ryan Braun (.33393) hit a pinch-hit double. (How's that for a close race, by the way?)
It's not impossible for Kemp to come back in the batting race, in the sense that he could go something like 10 for 10 in a 20-inning game Tuesday, while the other guys had big giant 0-fers, but it's getting a bit dicey.
A 40/40 season of homers and steals, on the other hand, remains very much alive, as does of course the National League Most Valuable Player trophy.
And then there's the chance of having the best non-Tommy Davis season for RBI in Los Angeles Dodger history. As of now:
153 Tommy Davis, 1962
125 Shawn Green, 2001
124 Mike Piazza, 1997
123 Matt Kemp, 2011
121 Adrian Beltre, 2004
* * *
Dana Eveland bounced back from two sub-par starts to shut out Arizona over 5 2/3 innings, with Josh Lindblom striking out Paul Goldschmidt for the final out in the sixth to strand three baserunners. And Justin Sellers took a break from a 7-for-63 slump (with six walks) by singling home a run in the seventh inning to give Los Angeles a 4-0 lead.
Then, kookiness kame.
In the eighth, Nathan Eovaldi walked the bases loaded with one out in his first action since September 17. Scott Elbert relieved, and a run scored on a passed ball by A.J. Ellis. After Elbert issued the fourth walk of the inning, Mike MacDougal relieved and got an eight-pitch strikeout of Goldschimdt, but then delivered walk No. 5 ("That's called a low five," Vin Scully said) to Geoff Blum for the second run. Finally, Dodger nemesis Gerardo Parra flied out to end the inning.
With Javy Guerra pitching in the ninth, Dee Gordon (2 for 4) threw away John McDonald's grounder for an error, then juggled a potential double-play toss from Sellers and was lucky to a) get a force and b) not get hurt by the oncoming McDonald.
Ryan Roberts did something rather unexpected, trying to bunt for a base hit, and was thrown out easily for the second out. Aaron Hill popped to Kemp in center, and the Dodgers had their victory.
The 2011 Los Angeles Dodgers have done something few, if anyone, expected this summer. With two games to play and an 81-78 record, they have clinched a winning record.
September, 26, 2011
9/26/11
4:30
PM PT
Cliff Lee gave up a first-inning home run tonight, meaning that to catch Clayton Kershaw for the ERA title, he now needs to pitch into the 15th inning for the Phillies without giving up any more runs.
Ryan Braun, and this is understandable, is getting a day (or at least a start) off before the playoffs. So unless he pinch-hits, his batting average should remain at .333. Jose Reyes grounded out in his first at-bat to fall to .330. Matt Kemp is at .324 as play begins tonight.
September, 26, 2011
9/26/11
9:54
AM PT
Hope you know what the headline above refers to.
September, 25, 2011
9/25/11
3:51
PM PT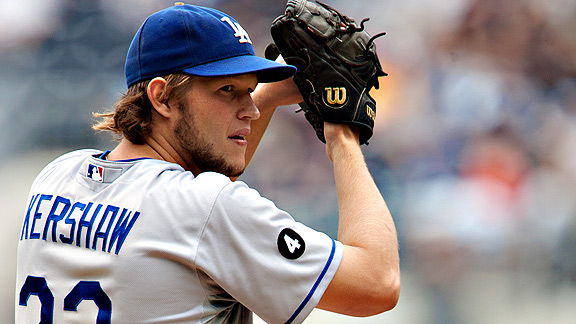 Kent C. Horner/Getty ImagesClayton Kershaw allowed a walk, a single, a double, a triple and a home run in 7 1/3 innings.
Having provided joy to the world, the fishes and the deep blue sea all season long, Clayton Kershaw can expect a little joy for himself: the National League Cy Young Award.
If Jeremiah was a bullfrog and Orel was a bulldog, Clayton is the whole hog.
Kershaw put the final touches on his portfolio today, finishing his 2011 campaign with a 2.28 ERA and 248 strikeouts, both of which lead the league, while winning his 21st game
in the Dodgers' 6-2 victory over San Diego
– all but ensuring himself the pitcher's triple crown.
(It was the Dodgers' 80th victory of the year, putting them one away from a winning season.)
Today for Philadelphia, Roy Halladay pitched six shutout innings, striking out three, to finish at 19-6, 2.35 with 220 strikeouts. Cliff Lee, scheduled to pitch Monday for the Phillies, has allowed 60 earned runs in 226 2/3 innings for a 2.38 ERA with 232 strikeouts. He needs 16 strikeouts to match Kershaw, and would need to pitch at least 10 2/3 shutout innings to beat him for the major-league ERA title.
So short of Ian Kennedy making a relief appearance against the Dodgers on Monday, Tuesday or Wednesday and stealing a 22nd win, the triple crown belongs to Kershaw, who also leads the National League in park-adjusted ERA.
Meanwhile, though he didn't reach 250 strikeouts and catch Justin Verlander for the major-league lead, Kershaw finished 2011 with the most strikeouts in Los Angeles Dodger history in a season since Sandy Koufax retired (per the Dodger press notes):
382 Sandy Koufax, 1965
317 Sandy Koufax, 1966
306 Sandy Koufax, 1963
269 Sandy Koufax, 1961
251 Don Drysdale, 1963
248 Clayton Kershaw, 2011
* * *
Kershaw retired the first eight batters he faced today on 29 pitches, striking out four of the eight, before an inexplicable walk to Padres pitcher Cory Luebke, but Kershaw struck out Cameron Maybin to end the third inning.
In the fourth, Kershaw allowed his first hit, a line single by Nick Hundley, but immediately picked him off – Kershaw's 10th pickoff of the season, according to Vin Scully.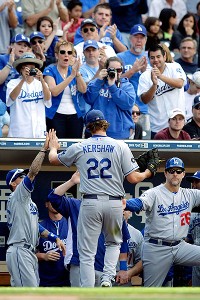 Chris Park/APKershaw is congratulated as he leaves the field for the last time in 2011.
The Padres finally scored against Kershaw in the fifth inning, when Aaron Cunningham hit a no-doubt homer with the bases empty and two out in the fifth. It was Cunningham's third homer this season and sixth in his career.
Aaron Miles made two plays to take away San Diego hits, highlighted by a spectacular diving stop of a second-inning shot by Orlando Hudson that would have been a double. In the fifth, Miles charged less gracefully on a slow Alberto Gonzalez grounder and threw late to first, but the Dodgers' got the generous call.
Retiring the side in order in the sixth and seventh innings on 25 tosses, Kershaw entered the final two innings having thrown only 82 pitches. But in the eighth, the two players robbed by Miles got their revenge. Hudson got his overdue double to lead off the inning, then scored the Padres' second run on Gonzalez's triple one out later to cut the Dodgers' lead to 6-2.
Don Mattingly came to the mound, and we bid farewell to Kershaw for 2011.
Kenley Jansen relieved Kershaw, and just as he did against the Giants on Tuesday, he struck out both batters he faced. That put Jansen at 16.10 strikeouts per nine innings this season, making him at this point the all-time single-season record holder in that category with three games remaining in 2011. Jansen has struck out 31 of his past 49 batters, including 31 of his past 37 outs.
Javy Guerra pitched the ninth with a four-run lead, so he didn't get a save, but he did preserve the victory for the magnificent Kershaw.
* * *
On the Triple Crown and Most Valuable Player scene, Ryan Braun continued to make it a challenge for Matt Kemp. Braun went 2 for 3, including his 33rd home run, in Milwaukee's rout of Florida, boosting his batting average to .333 and giving anyone leaning toward him for MVP that much more ammunition.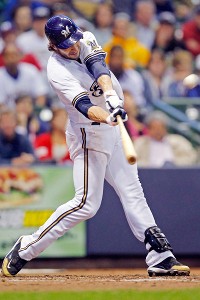 Jeffrey Phelps/APRyan Braun went 5 for 10 with a walk and 14 total bases in three games against Florida.
Jose Reyes, meanwhile, went 2 for 4 to improve his batting average to .331.
Kemp got off to a good start, with a double to the left-center gap that raised his average to .326 and drove home Jamey Carroll with RBI No. 120. But then fortune stopped smiling.
In the third inning, Kemp hit a sky-high ball to the warning track in right-center field that Scully said would have been a home run in Dodger Stadium.
In the fifth, Kemp reached first on a slow roller that went under the glove of Padres third baseman Alberto Gonzalez, a ball that the official scorer seemed to correctly call an error, though some tweets from the press box indicated that the decision would be reconsidered after the game.
In the seventh, Kemp struck out against reliever Luke Gregerson on three pitches, leaving him .008 behind Braun.
In the ninth, granted an extra at-bat when Rod Barajas hit an eighth-inning home run to give the Dodgers a 6-1 lead, Kemp struck out again.
Kemp did come away with the 18th season of at least 120 RBI in Dodger history.
It's not over for Kemp, however, as far as the Triple Crown. An 0 for 4 from Braun would knock three points off his batting average in one day – if Kemp can rev up his bat in Arizona, he's back in business.
September, 25, 2011
9/25/11
7:55
AM PT
Jose Reyes (.32950)
September, 24, 2011
9/24/11
7:59
PM PT
The latest came in the sixth inning tonight, when Kemp hit a 400-foot drive to center that was caught at the wall – a vintage Petco Park out.
Braun, 2 for 3 with Milwaukee, leapfrogged Jose Reyes in the batting title race and put a hair more distance tonight between himself and Kemp, who singled in the first inning but was hitless in his final three at-bats, the last one a 4-6-3 double play (hit to Orlando Hudson, positioned almost directly behind second base) against Padres closer Heath Bell,
who finished off San Diego's 3-0 victory over the Dodgers
.
After
no-hitting the Dodgers for six innings in July
, Aaron Harang pitched shutout ball against Los Angeles for eight tonight. In his past 14 innings against the team, Harang has allowed no runs, three hits and three walks with 11 strikeouts.
James Loney, Jerry Sands and Dee Gordon had the Dodgers' other hits. Sands, interestingly, had his 15th double – putting him fifth on the team for the entire season despite barely having 200 plate appearances.
* * *
In his final start of 2011, Chad Billingsley had a one-hit shutout for 4 2/3 innings, then with two runners on, threw a 66 mph curveball to Will Venable that shocked Vin Scully with its lollipopness. Venable delivered an RBI single, Hudson followed with another RBI single and then a Tim Federowicz throwing error brought home a third Padre run. Billingsley hit Cameron Maybin in the back with a 3-2 pitch before getting out of the inning on a Chase Headley groundout.
Something to remember before throwing Billingsley under a bus, besides the ongoing worry (at least on my end) that there's a physical problem: A year ago at this time, Kemp was wrapping up a disappointing year. People do bounce back. Billingsley had a rough second half in 2009, and came back strong in 2010 with a 3.57 ERA.
That being said, the decline in Billingsley's strikeout stuff remains distressing.
Not that I'm watching every Ryan Braun or Jose Reyes at-bat to see how close their outs were to becoming hits, but Matt Kemp has missed some close ones this weekend in San Diego.
September, 24, 2011
9/24/11
4:58
PM PT
Once more unto the breach, dear friends ...
Ramona Shelburne of ESPNLosAngeles.com traces Clayton Kershaw's development to superstar.


... When Kershaw's second pitch in the top of the sixth inning hit Parra on his front elbow, plate umpire Bill Welke ejected the pitcher immediately.

The next day I asked the same veteran player who had told Kershaw it would be OK to back away from this fight whether or not Kershaw had proved something to him, whether he liked him more or less than he had the day before.

"Neither," the player said. "I already knew him." ...

Here's an interview on YouTube with Vin Scully talking about Matt Kemp, Kershaw and more, courtesy of Marty Caswell.
Peter Gammons endorses Kemp for NL MVP in a long piece at MLB.com.
Joe Block of Dodger Talk speculates that, because of the theory of "progression to the mean," injuries deprived Juan Uribe the opportunity to recover from his poor first half of the season.
Kevin Baxter of the Times runs a list of the top 10 free agents this offseason alongside the cautionary tale of the top 10 free-agent flops of last offseason.
John Sickels of Minor League Ball checks in on some minor-leaguers with major-league bloodlines, including one Matt Scioscia.
September, 23, 2011
9/23/11
9:48
PM PT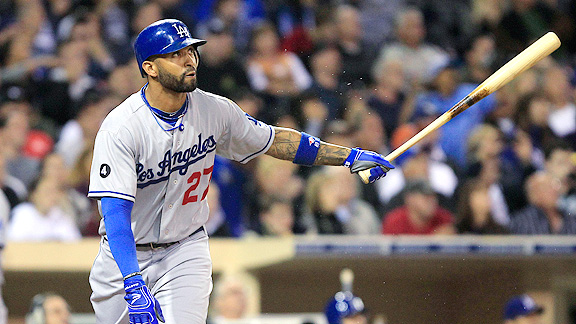 Lenny Ignelzi/APThe Bison roams free.
In St. Louis, Albert Pujols had a double, but no home runs.
In Milwaukee, Ryan Braun was 0 for 3, extending his recent slump to 1 for 16.
But then in the bottom of the eighth inning against the Marlins, with the score tied 1-1, Braun hit a three-run home run that, in no particular order, helped clinch the National League Central for the Brewers, raised his batting average back to .329 and seized the headlines in the NL Most Valuable Player race all at once.
Matt Kemp had struck out and flied out in his first two at-bats, and perhaps the momentum seemed to be shifting.
But then, on his 27th birthday, with his mom in the front row of Petco Park, Kemp unloaded on a 1-2 fastball from San Diego lefty Wade Le Blanc and tattooed it to right-center field, tying Pujols with his 37th home run of the season
in the Dodgers' 2-0 victory over the Padres
.
This is as thrilling a finish to an after-they've-been-eliminated season for the Dodgers as I believe I've witnessed.
After missing a double by a foot on a hard liner that went foul, Kemp struck out in his final at-bat. We're going down to the wire for sure.
* * *
After 6 1/3 scoreless innings by a resurgent Ted Lilly (six baserunners, seven strikeouts) and an adequate two outs from Mike MacDougal, Kenley Jansen came in for the eighth inning.
He struck out all three batters he faced, of course. That gives him 91 in 51 1/3 innings this season, or 15.96 per nine innings – just .03 off Carlos Marmol's single-season record.
Jansen has struck out 29 of his past 47 batters, including 29 of his past 37 outs.
* * *
Eugenio Velez: 0 for 3, 0 for 36 in 2011 (a single-season record for non-pitchers), 0 for 45. He has tied the major-league record for consecutive hitless at-bats by non-pitchers.