Los Angeles Hockey:

Adam Burish
March, 23, 2011
3/23/11
10:36
AM PT
By
Dan Arritt
| ESPNLosAngeles.com
Ducks (40-27-5, 85 points) vs. Dallas Stars (38-25-9, 85) at American Airlines Center, 5:30 p.m. ET
Five storylines to track:
1. No bigger than this
– When it comes to late-season games, they don't get more magnified than this. The eighth-place Ducks and ninth-place Stars each have 85 points but Anaheim is ahead on the tiebreaker because it has less shootout victories. Ducks coach
Randy Carlyle
acknowledged the importance of the game following practice Tuesday, calling it the biggest game of the season. Well, until the next game Thursday in Nashville.

2. Perry continues to shine
– Ducks forward
Corey Perry
scored his career-high 39
th
goal of the season in overtime Sunday to defeat the Calgary Flames, 5-4. Perry became the first Anaheim player to score overtime goals in consecutive games, and the first NHL player since
Todd Bertuzzi
in December 2009. Perry's 39 goals are the most by an Anaheim player since
Teemu Selanne
notched 48 during the Stanley Cup championship year of 2006-07. Perry has increased his point total in each of his six seasons in the NHL.
3. Elite company
– The Ducks remain the only team in the NHL with four players owning 60 or more points this season; Perry (79), Selanne (67),
Ryan Getzlaf
(61) and
Bobby Ryan
(60). Toss in the 58 points by defenseman
Lubomir Visnovsky
and the Ducks are one of only two teams with five players owning 50-plus points. Anaheim is also the only team that has three players averaging a point a game (Perry, Selanne, Getzlaf).
4. A big plus
– While Visnovsky leads NHL defenseman in scoring, fellow blue liner
Toni Lydman
continues to lead the NHL in plus-minus rating. Lydman is plus-32 for the season, four better than
Brian Campbell
of Boston. Lydman has finished plus or even in 58 of 68 appearances this season. He's also among the top 10 in the league in blocked shots (157) and is on pace to match his career high with 28 points. He assisted on Perry's overtime winner Sunday.
5. Loui's back
– Dallas left wing
Loui Eriksson
, who is second on the team with23 goals and 63 points, is expected to return tonight after missing the previous two games with concussion-like symptoms. Eriksson was injured last week during a collision with
Douglas Murray
of San Jose. Not expected to dress are defensemen
Karlis Skrastins
(leg laceration) and
Nicklas Grossman
(knee) and forwards
Adam Burish
(leg) and
Brian Sutherby
(back).
Kari Lehtonen
is expected to start in goal.
March, 7, 2011
3/07/11
9:24
PM PT
By
Dan Arritt
| ESPNLosAngeles.com
After the 2nd period:

King 2, Dallas Stars 1

The good: The Anze Kopitar-Dustin Penner-Justin Williams line strikes again. This time it started with Kopitar winning a face off in the Kings' defensive zone. The puck came to Penner who quickly fed it to Williams who had open ice in front of him. Williams let go of a shot behind his own blue line. Dallas goalie Kari Lehtonen stopped the relatively simple shot but didn't control the rebound and it came out long. Williams used his speed to beat defenseman Jeff Woywitka to the puck. Lehtonen saved the second shot but Williams again got the rebound and this time tucked it into the net for a 2-1 lead 7:22 into the period. Kopitar got his second assist of the game, tying him for 12thon the all-time Kings' point list, and Penner earned his first as a member of the Kings.

The bad: The Kings were on the power play the first 2:45 of the period and were still out-shot by the Stars, 2-0. The Kings went right back on the power play 15 seconds later and failed to score again. That seemed to give the Stars a boost as they scored less than two minutes later to tie the score, 1-1. Alex Goligoski brought the puck up ice, passed to his right to Adam Burish, who passed to his right to Mike Ribeiro, who scored on the Stars' eighth shot of the game. Ribeiro was probably relieved to get the puck by goalie Jonathan Bernier after getting robbed of a sure goal in the first period.

The in between: Dallas has just 12 shots on goal but the Stars are right in this game. The Kings need a win in regulation to overtake them for seventh in the Western Conference standings.
March, 7, 2011
3/07/11
12:11
PM PT
By
Dan Arritt
| ESPNLosAngeles.com
Kings (36-25-4, 76 points) vs. Dallas Stars (35-23-7, 77) at Staples Center, 7:30 p.m

.
Five storylines to track:
1. Teflon team --
Here's another one of those bounce-back games that falls into the critical-win category. The Kings were frustrated in a 3-1 loss Saturday afternoon against the visiting Canucks, blaming the referees for allowing the winning goal to stand after what they felt were two penalties on the play. The Kings have dropped to eighth in the Western Conference standings but can pass the seventh-place Stars with a regulation victory. The Kings haven't gone two straight games without earning a point since Jan 18 and 20.
2. And then there were 11 --
Columbus has lost four in a row to drop out of the playoff race, joining St. Louis and Colorado as teams that were still in contention around the holidays but have since fallen like Dominoes. Minnesota, Anaheim and Nashville remain one point behind the Kings but each has lost their most recent game, blowing a chance to move into a playoff spot. After this one, the Kings hit the road for games in Detroit, Columbus, Dallas and Nashville.
3. Time for another jump start --
The Kings just haven't got it going on the power play this season. They're 19
th
in the league in efficiency but have been in the lower half of the NHL rankings for the entire season. They looked especially stale against the Canucks, failing to score on all six extra-man opportunities. The solution seems simple, create more havoc in front of the net. With the addition of
Dustin Penner
and more power play time for
Alexei Ponikarovsky
, the Kings hope to accomplish that.
4. Back to Bernier --
It's looking more like the Kings have a No. 1A goalie in
Jonathan Quick
and a No. 1B goalie in
Jonathan Bernier
. Kings coach
Terry Murray
has tapped Bernier on the shoulder for this critical game. Bernier is coming off a 1-0 shutout Thursday against visiting Phoenix. Many believed Bernier deserved the start Saturday against Vancouver but Murray went back to Quick and he was solid, allowing just two goals, including the hotly disputed one in which he claimed he was interfered.
5. Fight Night II? --
The last time Dallas visited Staples Center pugilism reigned in the 3-1 victory by the Kings.
Matt Greene
chased down Dallas left wing
James Neal
, a response to Neal leveling teammate
Jarret Stoll.
Kings rookie
Kyle Clifford
later established himself with a one-punch knockdown against
Brandon Segal,
and
Adam Burish
finished things off with a little nudge of the hip that sent Kings defenseman
Drew Doughty
head first into the boards just a few days after he returned from a concussion. If you can remember that game, you can bet the Kings and Stars do too.
January, 17, 2011
1/17/11
1:10
PM PT
By
Dan Arritt
| ESPNLosAngeles.com
With the weight temporarily lifted from their shoulders, the Kings should skate a little taller tonight in Dallas.
They sacrificed a homestand Saturday night and may have saved a season with a 5-2 victory against the visiting Edmonton Oilers.
They came into the game with their confidence lying on the basement floor of Staples Center, 1-6 on the season-long eight-game stand and losers of seven of eight overall for the second time this season.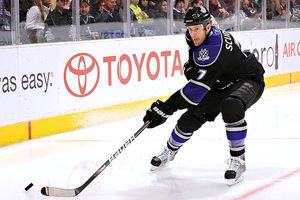 Andrew D. Bernstein/Getty Images
Will Rob Scuderi see 100% from his teammates in Dallas?

The Oilers entered last in the Western Conference but their standing was of little importance to the Kings. They needed a victory just to stop the madness.
Coach
Terry Murray
spoke to players about compartmentalizing the game into successful individual shifts, rather than focusing on the 60-minute result. That seemed to do the trick, as they improved their puck management and kept any mistakes from snowballing.
Without identifying the culprits, Kings veteran defenseman
Rob Scuderi
had previously said teammates weren't giving 100% throughout games. Murray was a little less tacit, publicly criticizing
Marco Sturm
,
Alexei Ponikarovsky
and
Michal Handzus
for their lack of intensity.
Now, it appears Murray has grown impatient with goalkeeper
Jonathan Quick
. In a move that might seem both desperate and logical, Murray announced Sunday that he would start backup
Jonathan Bernier
in goal against Dallas, the first time this season he'll start back-to-back games. Quick is 4-1 in his career at Dallas, but has lost five of his last six starts after opening the season 10-1.
November, 12, 2010
11/12/10
2:15
PM PT
By
Dan Arritt
| ESPNLosAngeles.com
EL SEGUNDO--Just a few updates from a 30-minute practice Friday morning at Toyota Sports Center, which wrapped up with this
shootout competition
.
It appears the Kings came out of Thursday night's physical 3-1 victory against the Dallas Stars at Staples Center with nothing more than a few bumps and bruises.
Drew Doughty
shows off his new shiner in the above video, courtesy of a hit by
Adam Burish
that earned him a five-minute boarding penalty.
Other than that, Doughty, who recently returned from a six-game absence due to a concussion, said he's fine.
No decision yet on Kings rookie
Brayden Schenn
, who has appeared in eight games. Once he plays in 10, the first year of his entry-level contract will kick in and the Kings will be required to pay the full year, whether he sticks with the club or not.
Schenn, who is too young to be sent to the American Hockey League, has said that just practicing with the Kings has been a great learning experience.
Kings coach
Terry Murray
was asked if it would be more beneficial for Schenn's development to stick with the Kings, even as a part-time player, than to be sent back to the junior level, where he would likely dominate.
Murray said that was a difficult question to answer because he hasn't seen a junior game in a long time.
"I need to take it upstairs to the people who know both sides of that, who see those junior teams on a regular basis," he said. "Is the competition good enough for him to go back and do the things that we're talking about?"