Los Angeles Hockey:

Brandon McMillan
October, 20, 2011
10/20/11
2:59
PM PT
By
Dan Arritt
| ESPNLosAngeles.com
ANAHEIM—Brandon McMillan still wears No. 64 on his uniform. That says a lot about the 21-year-old forward for the Ducks.

The club hasn't yet asked him to upgrade to a lower number, a rite of passage for most players as they transition into full-time members of the NHL.

Yet, the fact that he's even in the NHL says a lot about McMillan, who was selected in the third round of the 2008 entry draft, 85th overall.

Of the seven players Anaheim selected before him in that draft, he beat them all to the NHL, then went out and produced 11 goals and 10 assists in 60 regular-season games with the Ducks last season. He added another goal and an assist in the six-game loss to Nashville in the first round of the playoffs.

His speed, toughness and versatility made him a keeper after his call up following just 16 games in the American Hockey League. Now he's being asked to bring even more to the ice.

With the loss of second-line winger Jason Blake for three months due to a severe cut to his forearm, McMillan stepped into his position the last two games, putting the former third-line grinder in the team's top six grouping that includes last season's MVP, Corey Perry, a future Hall of Famer, Teemu Selanne, and three other former first-round draft picks.

McMillan had an assist in a 3-2 victory Monday night in San Jose, the fourth straight victory by the Ducks. He practiced with the second line again Thursday in preparation for Friday night's game against the Dallas Stars at Honda Center, and coach Randy Carlyle said he'll be looking for McMillan to continue contributing in the scoring column.

"The production has to be come," he said. "It's just not about playing there. It's about producing and making a contribution to our group. When you get to play those minutes with that level of players, there's going to be pressure applied to produce some points."

McMillan estimated he played approximately five games with Selanne and Saku Koivu last season. He said the challenge is staying aware that the puck can come his way at any moment.

"There are little holes this big," McMillan said, holding his hands about six inches apart. "Saku's going to fit them through, so you've got to be ready for the puck and you've got to expect the unexpected."

McMillan said his ability to keep up with Selanne on breakouts is also an asset to their line.

"Even last year, we'd get at least a 2-on-1 every game, just the way we were getting ahead of the play and behind their defensemen," McMillan said.

The Ducks will need every breakaway they can muster against the Stars (5-1-0), who are off to just as strong a start as the Ducks, winning their last four games as well.
October, 2, 2011
10/02/11
12:27
PM PT
By
Dan Arritt
| ESPNLosAngeles.com
Each day heading into their season openers Oct. 7 in Europe, ESPNLosAngeles will take a closer look at the Ducks and Kings. Where are their strengths, their weaknesses? Which star player will continue to shine, and which might struggle to maintain their previous levels? We put the Ducks back under the microscope today and attempt to answer a few key questions regarding their forwards.
The forward with the most to prove this season?
Still just 24 years of age, it would seem
Andrew Cogliano
has plenty of upside left in his career. A first-round draft pick of the Oilers six years ago, Cogliano never lived up to expectations in Edmonton, but then again it must be difficult to get excited when you're the underdog every game. Cogliano was awarded a fresh start when he was
traded
to the Ducks over the summer for a second-round pick in 2013, then quickly
signed
to a three-year deal. Now it's up to him to show if the change to a winning environment will be enough to kick start his career. One of the speediest skaters on the Ducks, Cogliano has been etched in as the team's third-line center. He won't have the pressure to produce points on a nightly basis, but should still have enough talent around him to chip away at opposing defenses. If he doesn't produce at a higher level this season, he'll be out of excuses.
The forward with the least to prove?
When you win a Stanley Cup title in your second season in the league and the
Hart Memorial Trophy
as the best player in the NHL in your sixth, what else is there to prove? The scary part is,
Corey Perry
is just entering the prime of his career. The 26-year old right wing scored a league-high 50 goals last season after not totaling more than 32 in his first five seasons in the NHL. About the only question left is, can he become the second player in the 21st century to score to 60?
April, 27, 2011
4/27/11
2:59
PM PT
By
Dan Arritt
| ESPNLosAngeles.com
As the Ducks tie the bow on an entertaining but somewhat unfulfilled 2010-11 season, they face another summer of the unknown. One area of uncertainty has become an annual ritual in Anaheim's front office, while the other is stumbling block they've never encountered before.
Here's a closer look at the key areas that need to be addressed in the offseason, and the ones that seem fine the way they are.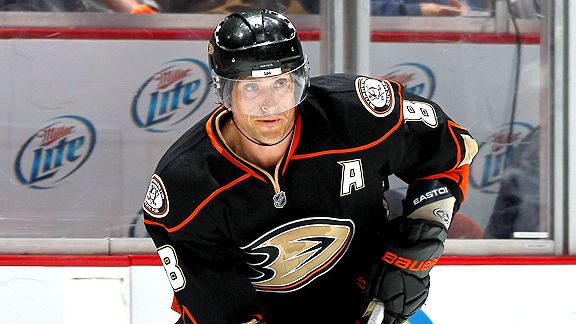 Jeff Gross/Getty ImagesWho knows, right? Teemu Selanne could retire and un-retire three times before the All-Star break.
I. Will he or won't he?
Teemu Selanne
heads off on his summer retreat with another heavy decision on his mind. Selanne will turn 41 on July 3, but was the spriest and most productive player on the Ducks during their six-game loss to Nashville in the Western Conference quarterfinals.
After an 80-point regular season, Selanne scored a career-best six goals during the Nashville series and delivered a flat-on-his back assist late in Game 5 that provided the final roar of the season at Honda Center. He showed plenty of durability during his 19
th
season in the NHL and, most importantly, said he particularly enjoyed the experience.
Selanne will be an unrestricted free agent July 1 but it's very doubtful he'd return anywhere else but Anaheim, where he has spent the last six seasons and 11 overall. The Ducks have made it clear they want him back for another year as well.
But just like his play on the ice, oftentimes Selanne doesn't really know his next move. He just lets his instincts take over.
April, 23, 2011
4/23/11
12:04
AM PT
By
Dan Arritt
| ESPNLosAngeles.com


ANAHEIM, Calif. -- The Ducks were less than a minute away from taking their first lead in the best-of-seven Western Conference quarterfinal series Friday night at Honda Center; then they got greedy.

Instead of trying to kill off the last 40 seconds of regulation, the Ducks attempted to score an empty-net goal on the other end. They missed, resulting in an icing penalty.

Then everything snowballed.

They lost the ensuing faceoff in the Anaheim zone, and Predators standout defenseman Shea Weber promptly scored the tying goal with 35.3 seconds remaining.

Nashville maintained the momentum heading into overtime, long enough for the Ducks to make two additional mistakes just less than two minutes into sudden death, allowing Jerred Smithson to score the winning goal in the 4-3 victory.

Now it's the Predators who have the 3-2 series edge heading to Sunday's game in Nashville.

"We were 30 seconds away from being in control of this thing," Ducks captain Ryan Getzlaf said. "Now we're fighting for our lives."

After the icing penalty in the final minute of regulation, Ducks coach Randy Carlyle said he would have rather seen Saku Koivu attempt to tie up Mike Fisher on the drop. Instead, Fisher won the puck cleanly. The puck went to Cody Franson, who passed to a wide-open Weber at the point. He shot through traffic and beat Ducks goalie Ray Emery for his third goal of the series.

"You don't try to do anything pretty; you just try to push the puck over the blue line," Carlyle said of the faceoff. "They won it pretty clean. A missed assignment, and the bottom line is their top-scoring defenseman shoots the puck unchecked."

The Ducks had 15 minutes of intermission to regroup before overtime, but they never had a chance to get back in rhythm. Smithson hammered Ducks rookie Brandon McMillan as he took control of the puck in front of the Ducks' bench.

The puck came loose to Nashville forward Jordin Tootoo, who skated down the left side and behind the net, where he spotted Smithson alone in the slot. Smithson sent a one-timer past Emery 1:57 into overtime, sending the shocked sold-out crowd heading to the exit, wondering whether it's the last time they'll see the Ducks this season.

"We made a mistake," Carlyle said. "We turned the puck over along the wall and then we made a read and ran out of position and they found the open guy. There was no need for us to run out of position. There was no need for us to turn the puck over in the neutral zone, either."

Now the Ducks will have less than 48 hours to regroup heading into Game 6 on Sunday at 3 p.m. PT.

"We have our back up against the wall, and a lot of times that brings out the best in guys," Emery said. "We are going into their building and know they come hard there. We have to be at our best and give it everything. We have one shot at it and have to take it."
April, 22, 2011
4/22/11
9:00
PM PT
By
Dan Arritt
| ESPNLosAngeles.com
Western Conference quarterfinal

Game 5 (series tied, 2-2)

After the 2nd period:

Ducks 1, Nashville Predators 1

The good: The Ducks began pecking away at Nashville goalie Pekka Rinne in the second half of the period and finally got one by him on a power play with 6:21 left. Brandon McMillan, who set up the winning goal in Game 4, started things off by making a nice one-on-one move around Shane O'Brien and drawing a tripping penalty. The Ducks didn't have much luck on the power play until Luca Sbisa sent a blast at Rinne from the point. Rinne made the stop but couldn't control rebound and Ducks forward Jason Blake kept swatting away at it until it went through the legs of Rinne. Just as the puck was getting close to the goal line, Blake made one more stab through the legs of Rinne and pushed it by to tie the score, 1-1.

The bad: The Ducks spent a lot of energy killing back-to-back penalties early in the period. George Parros went to the box for high sticking and Nashville kept the puck in its offensive zone for the first 75 seconds. Patric Hornqvist missed a golden opportunity to give the Predators a 2-0 lead during the man advantage, missing the open side of the net on a perfect cross-pass from Sergei Kostitsyn. In between penalties, Corey Perry missed his own glorious scoring opportunity, but Rinne gloved his shot from the doorstep. With about 1:20 left in the period, he stopped a point-blank shot from Bobby Ryan, who took a pass from Perry from behind the net.

The in between: The Ducks had just eight shots on goal at the midway point of the period, compared to 16 for Nashville. But the Predators have just an 18-17 advantage heading into the third.
April, 20, 2011
4/20/11
8:49
PM PT
By
Dan Arritt
| ESPNLosAngeles.com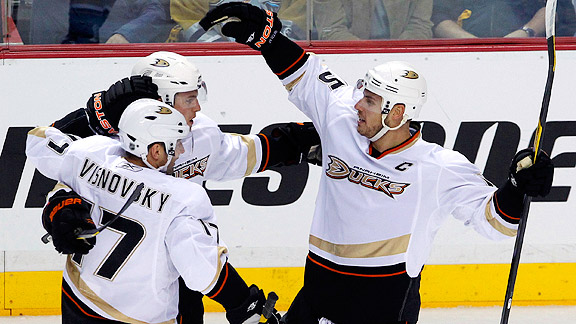 AP Photo/Mark HumphreyCam Fowler, center, Lubomir Visnovsky and Ryan Getzlaf celebrate one of the Ducks' six goals in Game 4.
Western Conference quarterfinals
Game 4
Ducks 6, Nashville Predators 3 (Ducks even best-of-seven series, 2-2)
Eight keys to the game:
THE FACTS:
The Ducks exploded for three unanswered goals in the third period Wednesday night at Bridgestone Arena in Nashville, breaking open a game that was tied after the second intermission and earning back home-ice advantage.
THE STAT:
After they were limited to 16 shots on goal in a 4-3 loss Sunday in Game 3, the Ducks came out firing and put up 38 shots on net in Game 4, chasing Nashville's stellar goalie
Pekka Rinne
early in the third period. The six goals by the Ducks were their most since a title-clinching 6-2 victory against Ottawa in Game 5 of the 2007 Stanley Cup finals.

TURNING POINT:
With the score tied, 3-3, at the start of the third period, the Ducks were attempting to kill the final 1:28 of a power play that carried over from the second period. Ducks rookie forward
Brandon McMillan
took possession of the puck in neutral ice, made a drop pass to
Corey Perry
in the offensive zone and then headed for the net, taking one of two Nashville defensemen with him. Perry skated around the other defender and flicked a backhand at the net, beating Rinne for a short-handed goal and a 4-3 lead.
HOT:
The ageless
Teemu Selanne
scored again for the Ducks, giving him five goals in this series to match his postseason career high. The 40-year-old forward gave Anaheim a 3-2 lead with a power-play goal in the second period, his fourth power-play goal of the playoffs. With 15 goals in his last 15 games, his hot streak has obviously carried over from the regular season.
NOT:
Rinne finished the regular season ranked second in the league in save percentage (.930) and third in goals-against average (2.12) but matched his career high with six goals against in Game 4. Rinne has allowed 14 goals in four playoff games against the Ducks for a paltry save percentage of .860 and a swollen goals-against average of 3.50.
GOOD MOVE:
Ducks rookie defenseman
Cam Fowler
set the tone with a power-play goal just 4:41 into the game. In addition to the goal, he also had three takeaways in the opening nine minutes of the first period, helping the Ducks out-shoot the Predators, 12-2, in that span. Fowler later assisted on Selanne's goal.
BAD MOVE:
Ducks veteran forward
Jarkko Ruutu
got back into the lineup after sitting out the last two games as a healthy scratch and he might be sitting again after knocking Nashville left wing
Martin Erat
from the game with a hit that left Erat sprawled on the ice. It has been a tough series for Erat, who lost four teeth in Game 2 when he was accidentally struck with the butt end of
Sheldon Brookbank
's stick. Good thing the Ducks have a replacement for Ruutu in
Bobby Ryan
, the team's second-leading goal scorer in the regular season who was suspended for Games 3 and 4 after stomping on the skate of Nashville defenseman
Jonathon Blum
late in Game 2.
NOTABLE:
The team that has scored first has also scored second and won every game in the series.
UP NEXT
: Game 5, Friday at Honda Center, 7 p.m. PT.
April, 17, 2011
4/17/11
11:35
AM PT
By
Dan Arritt
| ESPNLosAngeles.com
Western Conference quarterfinals
Game 3
Ducks (1-1) vs. Nashville Predators (1-1) at Bridgestone Arena, 3 p.m. PT
Five storylines to track:
1. Ryan sits
: If scoring goals against one of the league's
best goalkeepers
isn't tough enough, the Ducks will be without their second-leading goal scorer from the regular season for Games 3 and 4 in Nashville.
Bobby Ryan
was
suspended
two games by the NHL on Saturday for stomping on the skate of Nashville defenseman
Jonathon Blum
with about 3 ½ minutes left in Game 2. Ryan scored two goals in the 5-3 victory and 34 during the regular season.
2. Ruutu back?
With the absence of Ryan, the Ducks will likely reinsert
Jarrko Ruutu
in the lineup. Ruutu has been racking up the penalty minutes of late but not many points. In fact, he hasn't made the scoring column since tallying an assist Feb. 27 against Colorado. But the Ducks didn't acquire Ruutu for his scoring touch. He's purely a fourth-line agitator and he does that well. He just needs to stay out of the penalty box.
3. Top-line replacement?
The other big question in response to Ryan's suspension is, who will replace Ryan on the top line?
Brandon McMillan
practiced with
Ryan Getzlaf
and
Corey Perry
on Saturday, so that should be a good indication. McMillan had teamed with
Matt Beleskey
and
Nick Bonino
on Friday against the Predators and they had one of the
best shifts
of the game to set up Ryan's first goal, which gave the Ducks a 3-1 lead in the second period. When you're dealing with Ducks coach
Randy Carlyle
, however, it's always safe to expect the unexpected.
4. Outside the box:
This probably goes without saying, but the longer the Ducks can stay out of the penalty box the better off they'll be against the Predators. Anaheim hasn't been doing a good job of that lately, allowing 20 power plays over the last four regular-season games and 11 through the first two postseason games. The Ducks aren't particularly strong on the penalty kill, finishing 19
th
in the league during the regular season, and they've allowed three power-play goals in the first two playoff games.
5. Dangerous Predator:
Nashville is best known for goaltender
Pekka Rinne
and the defensive pairing of
Shea Weber
and
Ryan Suter
but a key player to stop up front is
Mike Fisher
, who has four points in the first two playoff games. Fisher came over to Nashville in February in a trade with Ottawa. In addition to his scoring touch, Fisher was teammates with Ducks goalie
Ray Emery
for parts of five seasons in Ottawa, so he should know Emery's weaknesses better than others.
April, 16, 2011
4/16/11
12:05
AM PT
By
Dan Arritt
| ESPNLosAngeles.com
ANAHEIM — Before the start of the Western Conference quarterfinal series, Ducks coach
Randy Carlyle
talked about the importance of his role players stepping up against Nashville.
For about 60 seconds Friday night in Game 2 at Honda Center, the third line of
Brandon McMillan
,
Matt Beleskey
and
Nick Bonino
did just that, dominating the Predators in the offensive zone to set up a key goal in the 5-3 victory, tying the series at 1-1.

After cycling the puck and pounding away at Nashville's top defense pairing of
Shea Weber
and
Ryan Suter
, the Predators couldn't get off the ice fast enough to get some fresh bodies in the game.
They didn't get on quick enough, as
Francois Beauchemin
passed the puck up to
Ryan Getzlaf
who was camped out at the blue line. Getzlaf fired a shot at Nashville goalie
Pekka Rinne
who made the stop, but
Bobby Ryan
was in position to send the rebound into the net for a 3-1 lead.
It was the first even-strength goal allowed by the Predators in the series and seemed to deflate them less than three minutes after they had cut the deficit to one.
"It was a heck of a shift by three young guys," Ryan said. "They controlled the pace of the play right through that entire shift. ... They were so tired, five guys had to change. One guy was left out there. It was kind of a freebie for me. I'll take it."
McMillan and Beleskey said Carlyle called for his third line when Weber and Suter jumped on the ice.
"We just wanted to wear those guys down so the big guys would have a little more room up there," Beleskey said. "That's what we need to do and it looked like it helped them. If we're cycling and wearing guys down, it's creating momentum and it's creating offense for our team. It's a big part of our game."
Beleskey is just 22 years old, McMillan is 21 and Bonino will turn 23 next week. Bonino was making his Stanley Cup playoff debut, while Beleskey and McMillan made theirs in Game 1. For Beleskey, his first playoff game wasn't that memorable, as he committed two penalties in the opening eight minutes, leading to a power-play goal by the Predators in their 4-1 victory.
"We didn't play them a tremendous amount, but we played them enough that they got a taste of playoff hockey," Carlyle said. "I thought they did a heck of job for us."
April, 15, 2011
4/15/11
9:35
PM PT
By
Dan Arritt
| ESPNLosAngeles.com
Western Conference quarterfinal
Game 2
After the 2
nd
period:
Ducks 4, Nashville Predators 1

The good
: First of all, Ducks defenseman
Lubomir Visnovsky
returned at the start of the period after leaving in the first following a collision with teammate
Francois Beauchemin
. The Ducks gave up a power-play goal to get their lead trimmed to one, but a great shift by the third line of
Matt Beleskey
,
Brandon McMillan
and
Nick Bonino
wore out Nashville and the Ducks caught them on a line change. Beauchemin passed the puck up to
Ryan Getzlaf
who was standing at the blue line near the wall opposite the benches. He shot the puck at Nashville goalie
Pekka Rinne
as
Bobby Ryan
cut to the net. Rinne made the initial save but Ryan pounced on the rebound and put it in the net for a 3-1 lead 7:12 into the period. Getzlaf then got into the act, jumping on a loose puck in front of the Nashville net and firing it past Rinne for a 4-1 lead with 4:06 left. Rinne hasn't allowed more than four goals in a game since November. Can't move on without mentioning Ducks goalie
Ray Emery
, who made his first start since April 6, when he left midway through a 6-2 victory against San Jose with a lower-body injury. Emery has stopped 24 shots, including a handful that were jaw-dropping efforts.
The bad
: Ducks enforcer
George Parros
let his anger get the best of him early in the period after he was taken down by
Jerred Smithson
in front of the Nashville bench. He went after Smithson, even though it appeared Smithson wanted nothing to do with him. Parros earned a four-minute roughing penalty, while Smithson was given just two minutes, and the Predators promptly scored to cut the deficit to 2-1 with 15 ½ minutes left in the period.
The in between
: Looking ahead to the next round, it appears top-seeded Vancouver won't have any trouble advancing past Chicago in their quarterfinal. The Canucks just went up, 2-0, in the series against the defending Stanley Cup champions.
April, 9, 2011
4/09/11
8:45
PM PT
By
Dan Arritt
| ESPNLosAngeles.com
After the first period:
Ducks 2, Kings 0


The good
: Nashville lost to St. Louis earlier today, meaning the winner of this game will finish no lower than fifth in the Western Conference. If Phoenix loses to San Jose in a game that's scoreless after the first period, the winner of this game will finish fourth and earn home-ice advantage for the first round. Unfortunately, that's not looking like the Kings.
The bad
: If the Kings continue to struggle with their power play, they'll be lucky to win a playoff game. They were on the power play for six of the first nine minutes—including a four-minute stretch after forward
Ryan Smyth
was struck with a high stick from Ducks defenseman
Francois Beauchemin
—and couldn't get the puck past third-string goalie
Dan Ellis
. Smyth basically spilt blood for nothing. The Kings are scoreless on their last 21 power plays, dating to when leading scorer
Anze Kopitar
suffered a season-ending ankle injury March 26 against Colorado. Their second power play resulted in just as many off-sides penalties (two) as shots on goal. They were then awarded a third power play with eight minutes left in the period but couldn't get through that without getting called for too many men on the ice. While both teams were skating four-on-four, Ducks rookie forward
Brandon McMillan
batted his own rebound past Kings goalie
Jonathan Quick
with 6:33 left. The play was reviewed but held up for a 1-0 lead. If the Kings end up losing by a goal, that could be a key no-call, but it doesn't appear they'll stay that close. The Ducks finally got their own power play, which transitioned into a two-man advantage for 12 seconds. They showed the Kings how to take advantage of their opportunities, taking a 2-0 lead with 4:19 left on a no-look pass from
Corey Perry
that found the stick of
Saku Koivu
, who hit the open net.
The in between
: It's not as if the Kings aren't trying. They took 15 shots on goal in the first 20 minutes, which is just three off their season-high for a period. They just don't have the skill to match up with a team like Anaheim, especially without Kopitar and second-leading scorer
Justin Williams
, who may return in time for the first round.
March, 23, 2011
3/23/11
7:57
PM PT
By
Dan Arritt
| ESPNLosAngeles.com


Depending on which player you ask, the possibility of the Kings and Ducks advancing to the playoffs in the same season for the first time ever is:

A) A great opportunity for the local teams to attract interest from fringe hockey fans and mainstream sports media.

B) Of absolutely no interest or concern, since the player is too busy fighting for his own postseason berth to worry about someone else's.

Heading into Wednesday's games, the Kings are in fifth place in the Western Conference standings, four points behind Pacific Division leader San Jose, their opponent Thursday at Staples Center, but just three points from falling out of the top eight, the cutoff to qualify for the postseason.

The Ducks, meanwhile, are in an even more precarious position. They sit in eighth place with 85 points, the same number as ninth-place Dallas and 10th-place Calgary. Anaheim plays in Dallas on Wednesday night. Anything other than a victory will drop the Ducks back out of the top eight.

As for those who liked the thought of two Southern California teams venturing into the Stanley Cup playoffs at the same time, they viewed the scenario as a win-win for the sport, which has seen the local talent pool produce two first-round draft picks last year and another former first rounder, Jonathon Blum of Rancho Santa Margarita, win a job this season manning the blue line for the Nashville Predators.

"If both teams can make [the playoffs], it's going to give a lot more people a chance to watch a little more hockey," said Ducks rookie Brandon McMillan. "I know it's not the No. 1 thing to do down here, but if both teams are playing when the weather starts getting nice, maybe it will be a little more popular and get a little more exposure."


February, 27, 2011
2/27/11
10:22
PM PT
By
Dan Arritt
| ESPNLosAngeles.com


ANAHEIM—Even the referees were poking fun at Todd Marchant.

The fourth-line center for the Ducks had gone 61 games without a goal this season, the longest drought among NHL forwards.

Something had to give.

That long-awaited moment finally occurred with just over two minutes remaining in the second period Sunday night against the Colorado Avalanche, a key contribution in the 3-2 victory that ended a five-game losing streak and kept the Ducks on the doorstep of the top eight in the Western Conference standings.

"Hopefully, this can jump start us," Marchant said. "We have some top teams coming in here the rest of the week."

Rookie forward Brandon McMillan also scored for the fourth time in the last nine games, breaking a 2-2 with 8:37 remaining in the game and continuing a trend that's vital to any team's playoff run.

"It's the secondary scoring that's really come alive," said Ducks forward Corey Perry, who assisted on a goal by Ryan Getlaf during a feisty first period that saw three fights break out in the first nine minutes.

It just so happens Ducks coach Randy Carlyle has recently asked his supporting cast to step up their contributions during the playoff run. Carlyle said Marchant has responded.

"The last two games Todd Marchant has played for this hockey club have been the two best games he has played this year," Carlyle said. "That's what we need."

Marchant's scoring play began when he received a pass from Jarrko Ruutu as he built speed through center ice. Marchant passed the puck to Luca Sbisa on his right and Sbisa took a shot that Marchant redirected into the net for a 2-1 lead.

"We were joking we were going to pick up the puck for him," Carlyle said

Marchant is hardly a newbie when it comes to scoring goals. The 37-year-old native of Buffalo, N.Y. has 186 goals in his 16-year career, including 20 in 2002-03 as a member of the Oilers.

But he has settled into a fourth-line checking role in the latter stages of his career, one that he does smoothly and effectively.

Still, he didn't expect to go this long without his first goal of the season.

"My son scored a goal the other day in his game and says, 'Now it's your turn dad,' " Marchant said. "Everybody has been very supportive. Every guy in this locker room was pretty happy for me."

That doesn't mean there hasn't been some kidding along the way.

"A lot of guys are having fun and poking fun at me and even the linesmen are having fun with me," he said. "But you what, I'll take the ribbing to get that first one out of the way."
February, 15, 2011
2/15/11
3:54
PM PT
By
Dan Arritt
| ESPNLosAngeles.com


ANAHEIM -- All's well back at the Honda Center.

The morning after World Wrestling Entertainment invaded the arena, the Ducks returned to practice Tuesday and found everything still in order. While away for four games, the most notable changes came to their mix of veterans and young guns who are quickly making a name for themselves.

Ryan Getzlaf was back in his familiar role centering the top line. Getzlaf, who has combined for more points than any player on the Ducks the last three seasons, missed 14 games after getting struck in the forehead with a puck at Phoenix on Dec. 28, causing fractures to his nasal passages. Anaheim, fifth in the Western Conference heading into Tuesday, won 10 games while he was out and four straight since he has returned.

When he skates onto the ice Wednesday against visiting Washington, it will be his first home game since Dec. 12.

"It's always nice to come home and be in a comfortable setting, in your own locker room and own building, in front of your own fans," Getzlaf said. "We have to use that to our advantage."