Los Angeles Hockey:

Brandon Segal
April, 26, 2011
4/26/11
2:13
PM PT
By
Dan Arritt
| ESPNLosAngeles.com
Drum roll, please ...
10. Show stopper
: The most spectacular scoring effort of the season belonged to center
Jarret Stoll
on Jan. 22 in Phoenix. Just under five minutes into the third period, Stoll dived for a loose puck near the Phoenix crease and backhanded it into the goal while still airborne. The goal held up for the winner in the
4-3
victory, ending a three-game losing streak. The Kings were desperate for goals after scoring just two in their previous three games and Stoll showed he was willing to risk injury to get them one.
9. Wearing it well
:
Anze Kopitar
produced the second hat trick of his NHL career in a
4-2
victory March 11 in Columbus, giving him 24 goals on the season. Unfortunately, he would appear in just seven more games and score just one more goal before suffering a season-ending right
ankle injury
two weeks later against the visiting Avalanche. His offensive production was a big loss during the postseason but probably not as much as his ability to calmly clear pucks from the defensive zone.
8. Ready to rumble
: In the most rough-and-tumble game of the season, the Kings matched their best start in franchise history with a
3-1
victory Nov. 11 against the visiting Dallas Stars. The teams combined for four fights and 91 penalty minutes.
Kyle Clifford
established himself as a fan favorite by decking
Brandon Segal
in his first NHL fight. As the season
went along
, Clifford also established himself as a quality NHL player and one of the great
success stories
.
7. Clipping the Wings
: Following their first slump of the season, the Kings faced a huge test Dec. 4 against the visiting Detroit Red Wings, who came into the game sporting a 17-3-3 record. But the Kings were up to the task, as Kopitar scored with 56 seconds remaining in overtime in the
3-2
victory. Kings rookie defenseman
Alec Martinez
, called up from the AHL a week earlier, also took a big step in establishing himself as an
NHL-caliber player
with a goal and an assist.
6. More Detroit dominance
: The victory over the Red Wings nine days earlier was a solid team effort, but the one on Dec. 13 in Detroit made the Kings looked like a Stanley Cup contender. In the opener of a five-game road trip,
Jonathan Quick
stopped a career-high 51 shots for his 10
th
career shutout in the
5-0
victory. His diving stick save on
Tomas Holmstrom
's rebound attempt was seen on highlight shows across North America. Kopitar pitched in two goals and third-year defenseman
Drew Doughty
had three assists.
5. Stunning the Sharks
: In what many perceived to be their best all-around effort of the season, the Kings overwhelmed the sluggish Sharks,
4-0
, on Dec. 27 in San Jose. Quick had 27 saves to earn his fourth shutout of the season and
Dustin Brown
scored two goals. Things went so well, even left wing
Marco Sturm
scored his first goal since coming over from the Bruins. That excitement would be short-lived, however. Sturm struggled to regain his step after offseason knee surgery and was eventually placed on
waivers
to make
room for
a bigger bust,
Dustin Penner
, and the Kings lost their next five games.
4. Capital gains
: The Kings went in to Washington D.C. in the middle of a season-long 10-game stretch away from Staples Center and pushed the Capitals all over the ice in a
4-1
victory Feb. 12. Washington, the top-seeded team for the Eastern Conference playoffs, allowed a tie-breaking goal to Kings rookie forward
Andrei Loktionov
about 3 ½ minutes into the third period, and Kings back-up goalie
Jonathan Bernier
stopped 22 shots to highlight a sold late-season run.
3. Train keeps a rollin'
: A day after they beat the Capitals, the Kings took the train to Philadelphia and knocked off the Flyers,
1-0
, behind 40 saves from Quick. Philadelphia, the second-seeded team in the East, lost in regulation to the visiting Kings for the first time in 18 years. Doughty scored the lone goal for Los Angeles, which earned at least a point in its ninth straight game and pulled itself back in the playoff hunt.
2. Postseason clincher
: The Kings clinched their second consecutive playoff berth with a
3-2
shootout victory April 6 against the visiting Coyotes. More remarkable was the continued success of Quick and Stoll in the
shootout
. Quick improved to 10-0 on the season, only the second goalie to achieve that mark in the six years since the shootout was added, and Stoll converted his ninth shootout goal in his 10
th
attempt, the best percentage by any player with more than four attempts in a season.
1. Who else?:
Once again, it was Quick who provided the most memorable moments of the playoffs. He was back to his old self in Game 2 of the Western Conference quarterfinal series, stopping 34 shots in the
4-0
victory and stealing away home-ice advantage, if only for one game. Doughty also reminded fans of his abilities, totaling two goals and two assists. Quick would be the difference in Game 5 as well, saving 51 shots in the
3-1
victory that brought the series back to Los Angeles.
March, 7, 2011
3/07/11
12:11
PM PT
By
Dan Arritt
| ESPNLosAngeles.com
Kings (36-25-4, 76 points) vs. Dallas Stars (35-23-7, 77) at Staples Center, 7:30 p.m

.
Five storylines to track:
1. Teflon team --
Here's another one of those bounce-back games that falls into the critical-win category. The Kings were frustrated in a 3-1 loss Saturday afternoon against the visiting Canucks, blaming the referees for allowing the winning goal to stand after what they felt were two penalties on the play. The Kings have dropped to eighth in the Western Conference standings but can pass the seventh-place Stars with a regulation victory. The Kings haven't gone two straight games without earning a point since Jan 18 and 20.
2. And then there were 11 --
Columbus has lost four in a row to drop out of the playoff race, joining St. Louis and Colorado as teams that were still in contention around the holidays but have since fallen like Dominoes. Minnesota, Anaheim and Nashville remain one point behind the Kings but each has lost their most recent game, blowing a chance to move into a playoff spot. After this one, the Kings hit the road for games in Detroit, Columbus, Dallas and Nashville.
3. Time for another jump start --
The Kings just haven't got it going on the power play this season. They're 19
th
in the league in efficiency but have been in the lower half of the NHL rankings for the entire season. They looked especially stale against the Canucks, failing to score on all six extra-man opportunities. The solution seems simple, create more havoc in front of the net. With the addition of
Dustin Penner
and more power play time for
Alexei Ponikarovsky
, the Kings hope to accomplish that.
4. Back to Bernier --
It's looking more like the Kings have a No. 1A goalie in
Jonathan Quick
and a No. 1B goalie in
Jonathan Bernier
. Kings coach
Terry Murray
has tapped Bernier on the shoulder for this critical game. Bernier is coming off a 1-0 shutout Thursday against visiting Phoenix. Many believed Bernier deserved the start Saturday against Vancouver but Murray went back to Quick and he was solid, allowing just two goals, including the hotly disputed one in which he claimed he was interfered.
5. Fight Night II? --
The last time Dallas visited Staples Center pugilism reigned in the 3-1 victory by the Kings.
Matt Greene
chased down Dallas left wing
James Neal
, a response to Neal leveling teammate
Jarret Stoll.
Kings rookie
Kyle Clifford
later established himself with a one-punch knockdown against
Brandon Segal,
and
Adam Burish
finished things off with a little nudge of the hip that sent Kings defenseman
Drew Doughty
head first into the boards just a few days after he returned from a concussion. If you can remember that game, you can bet the Kings and Stars do too.
January, 28, 2011
1/28/11
6:43
PM PT
By
Dan Arritt
| ESPNLosAngeles.com
Heading into All-Star weekend, one of the biggest surprises for the Kings this season has been rookie forward
Kyle Clifford
. He made the team as a long shot, then was expected to be sent back to juniors before playing in his 10th game.

That never happened, as his willingness to drop the gloves and go into the dirty areas on the ice won praise from his coaches and teammates, and turned the 20-year-old Ontario native into a fan favorite.
Here' Clifford in a long battle earlier this week against Boston veteran enforcer
Shawn Thornton
. Here's Clifford dropping
Brandon Segal
of Dallas in one of his first NHL bouts. Here he is stepping up in weight class to take on
George Parros
of Anaheim, and here he is destroying
Brad Staubitz
of Minnesota.
Clifford took a moment before taking the All-Star break to discuss his role on the Kings, and how he hopes to eventually be known more for his all-around play than his fighting ability. Note: the marks on Clifford's face are from the Thornton scrap.
January, 17, 2011
1/17/11
1:10
PM PT
By
Dan Arritt
| ESPNLosAngeles.com
With the weight temporarily lifted from their shoulders, the Kings should skate a little taller tonight in Dallas.
They sacrificed a homestand Saturday night and may have saved a season with a 5-2 victory against the visiting Edmonton Oilers.
They came into the game with their confidence lying on the basement floor of Staples Center, 1-6 on the season-long eight-game stand and losers of seven of eight overall for the second time this season.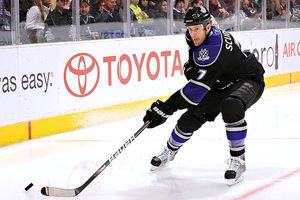 Andrew D. Bernstein/Getty Images
Will Rob Scuderi see 100% from his teammates in Dallas?

The Oilers entered last in the Western Conference but their standing was of little importance to the Kings. They needed a victory just to stop the madness.
Coach
Terry Murray
spoke to players about compartmentalizing the game into successful individual shifts, rather than focusing on the 60-minute result. That seemed to do the trick, as they improved their puck management and kept any mistakes from snowballing.
Without identifying the culprits, Kings veteran defenseman
Rob Scuderi
had previously said teammates weren't giving 100% throughout games. Murray was a little less tacit, publicly criticizing
Marco Sturm
,
Alexei Ponikarovsky
and
Michal Handzus
for their lack of intensity.
Now, it appears Murray has grown impatient with goalkeeper
Jonathan Quick
. In a move that might seem both desperate and logical, Murray announced Sunday that he would start backup
Jonathan Bernier
in goal against Dallas, the first time this season he'll start back-to-back games. Quick is 4-1 in his career at Dallas, but has lost five of his last six starts after opening the season 10-1.
November, 12, 2010
11/12/10
1:30
PM PT
By
Dan Arritt
| ESPNLosAngeles.com
Kings rookie forward
Kyle Clifford
came into training camp as a long shot to make the team, but after 14 games his physical style and intimidating presence has impressed the coaching staff enough that he's becoming a regular fixture on the fourth line.
In a 3-1 victory Thursday night against the Dallas Stars, the 19-year-old Ontario native inspired his team and the crowd when he dropped his gloves and
pummeled
27-year-old right wing
Brandon Segal
in the second period, then flashed a broad smile as he was escorted to the penalty box.
"I'm playing in the NHL, why wouldn't I be happy," he said after practice Friday.
Clifford went on to share a few other memories and personal favorites with
ESPNLosAngeles
. Here's what he had to say.
November, 12, 2010
11/12/10
12:28
AM PT
By
Dan Arritt
| ESPNLosAngeles.com
LOS ANGELES--It's only November, but playoff-style hockey has returned to Staples Center.
The Kings survived another physical challenge from the visitors Thursday night and once again matched their opponent blow for blow until finishing on top for their fifth straight win, 3-1, against the Dallas Stars.

With their seventh consecutive victory on their own ice to start the season, the Kings (11-3-0) matched their longest home winning streak to start the season. The 22 points they've amassed through 14 games also ties a club record.
They had to do it the hard way, as the Stars came in having lost 13 of the last 16 meetings against the Kings and apparently holding a grudge. The Kings didn't back down, however.
"We've got a big, strong team that can answer the bell when things like that happen," said Kings right wing
Dustin Brown
. "I think we're pretty good when it's physical like that."
The tone was set in the first period, when Dallas left wing
James Neal
crashed into Kings second-line center
Jarret Stoll
in his own defensive end, dropping Stoll to his knees and elbows. Kings veteran defenseman
Matt Greene
immediately dropped his gloves and pounced on Neal, earning him 17 minutes worth of penalties.
"We're playing a lot of teams that are really battling for points," said Greene, his lip swollen and his face scratched. "Nothing's going to be easy."