Los Angeles Hockey:

Bruce Boudreau
March, 5, 2012
3/05/12
11:33
PM PT
By
Dan Arritt
| ESPNLosAngeles.com
ANAHEIM --
Corey Perry
said it was probably the worst period of the season. From his view in front of the net,
Jonas Hiller
thought the Ducks looked scattered and disorganized.
Bobby Ryan
half expected coach
Bruce Boudreau
to barge through the locker room door during the second intermission and give his team an earful.


Instead, the Ducks stayed calm after getting outshot, 22-8, and losing their one-goal lead in the second period. Ryan scored the go-ahead goal midway through the third on a power play, and Perry added two more in the final five minutes, lifting the Ducks to a much-needed 4-2 win against the visiting Edmonton Oilers at Honda Center.
With the victory, Anaheim moved to within five points of the eighth and final playoff spot in the Western Conference with 15 games remaining.
"We needed something to pop," said Ryan, who scored his 25
th
goal of the season. "We finally got a power-play goal, which has been ever elusive for us the past five games, so we were able to build off that."
Ryan's goal was a thing of beauty. He caught the Oilers off guard on a line change and
Teemu Selanne
made a perfect stretch pass. Ryan collected the puck at full speed while racing toward the right post, cut in front of the net and dove as he flicked a backhand high into the net 8:09 into the final period.
"I came in behind the play because it was a weird [line] change and they were selling the farm there a little bit with four guys on the rush all night," Ryan said. "I wasn't sure if Teemu was going to see me but he put it in the perfect place for me to just skate right into it and not lose any speed, and the rest was just trying to make a move that I'm comfortable making."
With the assist, Selanne picked up his 1,398
th
point of his career, tying him with childhood idol and fellow Finn,
Jari Kurri
, for 19th all time in the NHL.
March, 3, 2012
3/03/12
8:30
AM PT
By
Dan Arritt
| ESPNLosAngeles.com
Kings (29-23-12, 70 points) vs. Ducks (28-27-10, 66 points) at Staples Center, 7:30 p.m.
Five storylines to track:


1. Must-win game –
Neither team can afford to lose this one, not with eighth-place Dallas trying to separate itself from the pack by earning 11 points in the last six games. The Kings have had more down time than usual since winning in Minnesota, 4-0, on Tuesday, and enter this game three points back of the Stars. The Ducks scored in the final minute Friday night to defeat visiting Calgary, 3-2, and stay within seven points of Dallas. The Ducks also passed Minnesota in the standings with the win, leaving one less team between them and eighth place.
2. Shooting their foot –
Two of L.A.'s four shootout victories this season have come against the Ducks. Of course, that was before Anaheim started its 2012 tear. Shootouts have played a key role for the Kings the last two seasons. They went 10-2 in shootouts last season, including a perfect 10-0 for No. 1 goalie
Jonathan Quick
. If they go 7-5 in shootouts last season, they don't make the playoffs. This season, well, they're 4-7, including a 4-6 mark by Quick. The way these teams know each other like the curve in their sticks, don't be surprised if this game ventures past regulation too.
3. Super Slava –
Kings rookie defenseman
Slava Voynov
continues to make the
Jack Johnson
-for-
Jeff Carter
trade look better and better for L.A. He's plus-3 with an assist since getting the call last week to fill Johnson's spot on the blue line. His plus-7 in 36 games overall is best among Kings' defensemen. Not bad for someone who just turned 22 six weeks ago. He's already shown a knack for scoring against the Ducks too, getting two of his four goals this season against Anaheim.
February, 27, 2012
2/27/12
3:26
PM PT
By
Dan Arritt
| ESPNLosAngeles.com
As expected, the Kings and Ducks were mostly quiet in the hours leading up to Monday's trade deadline.

The Ducks, who have earned more points than any team in the NHL since Jan. 1, made two deals involving minor-league players. Before their current run from 20 points out of the final playoff spot on Jan. 6 to six heading into tonight's game in Colorado, Ducks general manager Bob Murray was willing to listen to offers for anyone except veteran forwards Saku Koivu and Teemu Selanne.

"They've made it real difficult the last couple of weeks and good for them," Murray said Monday afternoon, shortly after the noon deadline had past. "I have no problem with that."

The Kings, two points back of eighth place heading into this evening's game in Nashville, made their big splash Thursday, trading defenseman Jack Johnson and a conditional draft pick to the Columbus Blue Jackets for high-scoring forward Jeff Carter.

Turns out, that was the biggest move in the NHL at this season's deadline. Carter's former teammate in Columbus, forward Rick Nash, was the most prominent name on the trading block, but his general manager couldn't put together a deal and Nash will likely become an unrestricted free agent this summer.

Anaheim's deadline day moves involved trading forward Andrew Gordon to the Vancouver Canucks for defenseman Sebastian Erixon, and defenseman Mark Fraser to Toronto for forward Dale Mitchell.

Gordon, who played for Ducks coach Bruce Boudreau in Washington last season, signed a two-year deal with the Ducks last summer. He started the season on the third line with Devante Smith-Pelly and Andrew Gogliano, and they combined for the only goal in a 2-1 shootout victory against the Rangers in the second game of the season.

But the 26-year-old from Halifax, Canada, managed just two goals and two assists the next 35 games and was demoted to the AHL following a 4-2 victory Jan. 6 against the Islanders, the day the Ducks began their run up the standings.

"Sometimes, if you're not in the plans for a team, it's better to move," Gordon told a reporter for the Syracuse Crunch.

Erixson is an undrafted 25-year-old from Sundsvall, Sweden, and has not appeared in an NHL game.

Fraser was traded from New Jersey to the Ducks in December along with forward Rod Pelley but did not appear in any games for Anaheim. Mitchell was playing with Reading of the ECHL.

Both of Anaheim's acquisitions are expected to be assigned to its AHL affiliate in Syracuse.
December, 22, 2011
12/22/11
6:54
AM PT
By
Dan Arritt
| ESPNLosAngeles.com
Kings (15-14-4, 34 points) vs. Ducks (9-19-5, 23 points) at Staples Center, 7 p.m.
Five storylines to track:


1. Sound familiar?
– Wasn't it just three weeks ago that the Ducks were introducing a new coach? Now it's the Kings turn to cross their fingers and hope a midseason coaching change will help the players shoot the puck better.
Darryl Sutter
has been handed the task of unlocking an offense that ranks last in the league in scoring. His first triumph would be getting the Kings to score at least three goals in a game. They haven't lit the lamp more than twice in the last 12.
Bruce Boudreau
hasn't had any luck turning the tide in Anaheim. Since he took over for
Randy Carlyle
following a win against Montreal on Nov. 20, the Ducks have lost seven of nine.
2. Richards ready
– The best news out of practice Wednesday was the confirmation that Kings center
Mike Richards
has been cleared to play. He missed the last eight games with a concussion suffered against Florida. Richards said he's feeling fine and ready to play against the Ducks, barring any unforeseen setbacks. Despite missing the last three weeks, Richards still leads the Kings with 11 goals. That's not a good sign. Since he's the straw the stirs the power play, it's no surprise the unit has gone into silent mode since his absence. And when he scores at least a point this season, the Kings are 12-2-2.
3. Blurring the lines
– Sutter has already made some interesting moves with his forward lines. He moved speedy wing
Brad Richardson
up to the top group with
Anze Kopitar
and
Dustin Brown
, and had Richards centering the second line with
Simon Gagne
and
Trevor Lewis
. It was just in the last month that Richardson was a healthy scratch in eight of nine games and Lewis in nine of 10. With the return of Richards on the horizon, the Kings will need to make a roster move after Christmas. Therefore, the promotions of Richardson and Lewis could also be viewed as final auditions.
December, 5, 2011
12/05/11
10:33
PM PT
By
Dan Arritt
| ESPNLosAngeles.com
Kings (13-9-4, 30 points) vs. Ducks (7-14-5, 19 points) at Honda Center, 7 p.m.
Five storylines to track:


1. Scoreless-fest?
– The Kings are struggling to score more than two goals a game, and the Ducks can't seem to keep the puck out of their net. Something has to give. At a time when both teams should be taking advantage of the lack of NBA games on the schedule, neither is delivering a particularly entertaining product. The Ducks came into the week tied with the Kings for 28
th
in the league in scoring, but have actually improved in that department lately. It's the Kings that have taken a step back, scoring two goals or fewer in five straight. What separates the teams in the standings are goals against. The Kings are fourth in the league, the Ducks are 26
th
.
2. Injury update
– The Kings will need to find a way to get through another game without leading goal scorer
Mike Richards
and top shutdown defenseman
Willie Mitchell
. Richards went on injured reserve after taking a shoulder to the chin from Florida winger
Sean Bergenheim
on Thursday. Mitchell has a slight groin strain and is listed as day-to-day, but won't play against the Ducks. More than ever, it's imperative that other players step up.
Dustin Penner
scored his first goal in 28 games Saturday in a 2-1 loss against visiting Montreal,
Justin Williams
hasn't scored in the last 17.
3. Line dancing
– Kings coach
Terry Murray
reunited the No. 1 line of
Anze Kopitar
,
Simon Gagne
and Williams during practice Monday, dropping
Dustin Brown
back to left wing on the second line and Penner to left wing on the third. The Ducks, meanwhile, broke up their No. 1 line, moving
Matt Beleskey
up with
Ryan Getzlaf
and
Corey Perry
.
Bobby Ryan
was sent to the second line with
Teemu Selanne
and
Saku Koivu
. Ducks coach
Bruce Boudreau
, hired last week to try and save the team from its downward spiral, seemed to blur the lines after a 5-3 loss Sunday night against Minnesota, saying, "The first line, if you want to call Getzlaf's line the first line, didn't seem like they were generating anything." Ouch.
4. Doughty's slow go
– Murray didn't beat around the bush when asked to evaluate the recent performances of young defensemen
Drew Doughty
and
Jack Johnson
. He said the duo needs to get more involved offensively and not be so hesitant to shoot. Doughty is under even more pressure to perform after missing training camp while his representatives squeezed the Kings into offering the richest contract on the team. Doughty has two goals and six assists in 21 games. It's interesting to note, Doughty had one goal and six assists through 21 games last season, then blew up for three goals and 15 assists over the next 21.
5. Fighting words
– Boudreau was once part of the Kings organization, coaching their AHL affiliate in Manchester from 2001-2005. Therefore, he's no stranger to the I-5 rivalry that's developed between the clubs. He summed it up by saying this of the impending match up: "I think there's going to be a lot of hatred on both sides. When I was part of the Kings organization, they certainly didn't like the Ducks. So now that I'm here, I certainly don't like the Kings." Enough said.
December, 1, 2011
12/01/11
4:34
PM PT
By
Dan Arritt
| ESPNLosAngeles.com
ANAHEIM --
Ryan Getzlaf
compared it to the first day of grade school.
Bobby Ryan
said it was more like a first date.
Whatever the occasion, the Ducks had the look of a team beginning anew during practice Thursday at Anaheim Ice, still mindful they were letting go of an important piece of the past.
Randy Carlyle
, two months into his seventh season as coach of the Ducks,
was fired Wednesday night
within an hour of a 4-1 victory against the visiting Montreal Canadiens. He was immediately replaced by
Bruce Boudreau
, who was let go Monday as coach of the Washington Capitals.
The Ducks, who began Thursday with the second-worst record in the Western Conference, hope the move will provide a shot in the arm.
"It's going to be a bit of an energy boost for us, hopefully," Getzlaf said.
To read the full story on the team's first practice with Boudreau,
click here
.
November, 30, 2011
11/30/11
11:20
PM PT
By
Dan Arritt
| ESPNLosAngeles.com
ANAHEIM, Calif. --
Randy Carlyle
stood outside the Anaheim Ducks' locker room Wednesday night at Honda Center, oblivious that he was
about to be fired from a job
he had held for a little more than six seasons.
He had just coached the Ducks to a 4-1 victory against the visiting Montreal Canadiens, only their second victory in the past 15 games and third since Oct. 17.
He was already thinking ahead to Friday night's game against visiting Philadelphia.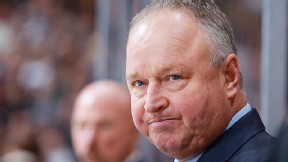 Jeff Vinnick/NHLI/Getty ImagesRandy Carlyle had coached the Ducks the last six-plus seasons before being fired late Wednesday night.
"My mandate is, now what do we do for the next one?" he said. "Because the next one is coming in a hurry, and that's the most important one to me."
He then walked down the hall toward his office, unaware that general manager
Bob Murray
was waiting outside the door.
Carlyle had guided the Ducks to the Stanley Cup title just four seasons ago but seemed to have lost his message with the team, which spiraled after a 4-1 start.
The Ducks have the Hart trophy winner from last season in
Corey Perry
, an All-Star goalie in
Jonas Hiller
, one of the top young centers in the league in
Ryan Getzlaf
and one of the most promising young defensemen in
Cam Fowler
, yet they went into Wednesday's game with the second-worst record in the Western Conference.
There was much speculation before the game against Montreal that winger
Bobby Ryan
would be traded to shake up the team. Turns out Murray was devising another plan, reaching out to replace Carlyle with
Bruce Boudreau
, who was fired earlier in the week as coach of the Washington Capitals.
"The amount of things that have been going on outside the game has been a huge distraction," Carlyle said during his postgame news conference. "Tonight, [the players] were rewarded and they deserved everything that they got."
Unfortunately, Carlyle might have as well.