Los Angeles Hockey:

Corey Crawford
February, 25, 2012
2/25/12
9:20
PM PT
By
Dan Arritt
| ESPNLosAngeles.com
LOS ANGELES -- The built-in storyline coming into Saturday night's game against the visiting Chicago Blackhawks was the debut of Kings forward
Jeff Carter
.


Turns out another right wing, the one who
wasn't
traded away this week, stole the show.
Dustin Brown
scored his third career hat trick and matched his career-high with four points, leading the Kings over the Blackhawks, 4-0, in front of a joyous sold-out crowd that witnessed its first victory at Staples Center since Feb. 1.
"Things went well for me tonight and I hope to build on it," Brown said. "We've been struggling as a team, and I've been struggling personally to score goals, and it definitely felt good to score some goals tonight."
In his fourth season as team captain, Brown became the object of wide-spread trade rumors Thursday night, the same evening the Kings traded defenseman
Jack Johnson
to the Columbus Blue Jackets for Carter.
He was stuck in the unenviable position of attending practice the following morning and then taking questions from a larger-than-normal gathering of media. Brown sat back and answered every one, most probing his knowledge and reaction to the trade rumors.
"I've been a King my whole career and I expect to be a King beyond the next few days," he said. "For me, personally, I probably said this [Friday], with all the rumors flying around, it's my responsibility to prepare myself to be the best I can. Tonight I felt good."
December, 28, 2011
12/28/11
9:02
PM PT
By
Dan Arritt
| ESPNLosAngeles.com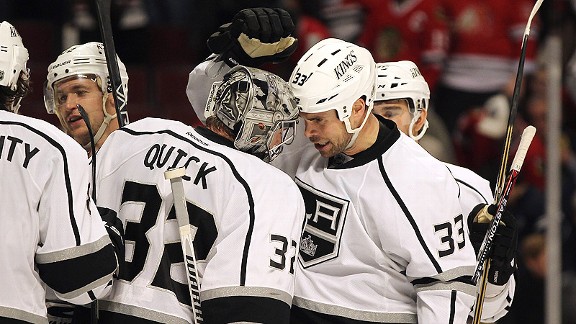 Jonathan Daniel/Getty ImagesJonathan Quick posted his league-leading fifth shutout of the season in the Kings' victory at Chicago.
Kings 2, Chicago Blackhawks 0
Eight keys to the game:
THE FACTS:
Kings goalie
Jonathan Quick
recorded his league-leading fifth shutout of the season and L.A. ended a six-game losing streak against the Blackhawks, winning for the first time in regulation at United Center since March 23, 2007.
THE STAT:
The Blackhawks came into the game with the best record in the NHL and leading the league in goals scored, but they were shut out for the fourth time this season.


TURNING POINT:
Seconds after killing their third penalty of the game, a scramble ensued in front of the Chicago net with the Kings' fourth line on the ice.
Colin Fraser
kept the puck alive with a sweep of his stick while falling to the ice,
Kyle Clifford
flicked the puck out of the grasp of Chicago goalie
Corey Crawford
as he was trying to cover and
Trent Hunter
swept in and flicked the puck high into the net for a 1-0 lead with 7:53 remaining in the second period. The fourth liners played well throughout, even earning regular ice time in the third period. Fraser, Clifford and Hunter finished with some of their highest ice-time totals of the season.
HOT:
Kings defenseman
Drew Doughty
assisted on the second goal, his fifth straight game with at least one assist, tying his career-high point streak. Doughty took a shot that was blocked back to him. He shot at the net again and the puck was deflected to the side, where
Justin Williams
took a whack. The rebound came out again and
Jarret Stoll
was there to poke it back in for a 2-0 lead 1:16 into the third period. Williams started the scoring play by winning a puck battle behind the net against Chicago defenseman
Niklas Hjalmarsson
.
December, 28, 2011
12/28/11
7:40
AM PT
By
Dan Arritt
| ESPNLosAngeles.com
Kings (17-14-5, 39 points) vs. Chicago Blackhawks (23-9-4, 50 points) at United Center, 5:30 p.m. PT
Five storylines to track:


1. Starting anew –
For coach
Darryl Sutter
, scoring more than two goals Monday night wasn't as important as getting the two points. Accomplishing both in the 4-3 victory against the visiting Phoenix Coyotes was just a cool breeze to compliment a sunny day. The victory ended a well-documented streak of 14 consecutive games without scoring at least three goals, a franchise record in the futility department. Sutter seems to be turning things around in a hurry. Since he was hired last week, the Kings have earned five of the available six points and finally put to rest one particularly embarrassing streak.
2. No Gagne –
The news isn't getting any better for Kings left wing
Simon Gagne
. Sources confirmed to ESPN that he indeed suffered a concussion against the Coyotes. He has been placed on injured reserve. Gagne has a well-documented history of head injuries. Coupled with the new NHL guidelines involving evaluation and treatment of concussions, Gagne could be out a while. Gagne, a two-time 40-goal scorer, scored seven goals in the first 17 games this season, but none in the last 17. If the Kings were testing the waters for potential trade partners before, they might be doing some full-scale fishing now.
March, 26, 2011
3/26/11
8:55
PM PT
By
Dan Arritt
| ESPNLosAngeles.com
Ducks 2, Chicago Blackhawks 1
Eight keys to the game:
THE FACTS: Corey Perry
continued his scoring tear for the Ducks, scoring two third-period goals to lift Anaheim to a come-from-behind victory at United Center in Chicago and leapfrog the Blackhawks into seventh place in the Western Conference standings.
THE STAT:
Perry recorded back-to-back multi-goal games for the first time in his six-year career. He has four goals in his last two games, eight in the last five and 13 goals and four assists in the last nine.

TURNING POINT:
With about 4 ½ minutes remaining,
Bobby Ryan
jostled the puck loose from a Blackhawks player along the left wing boards. The puck squirted out to
Ryan Getzlaf
, who slid a centering pass to Perry in front of the net. Perry stopped the puck with his backhand and, with his back to rookie goalie
Corey Crawford
, spun and shot into the net for a 2-1 lead.
HOT:
Nobody's hotter than Perry, who took over the league lead in goals (44) from
Steven Stamkos
of Tampa Bay, but Anaheim goalkeeper
Ray Emery
is certainly off to the hottest start of any Ducks player. Emery stopped 27 of 28 shots to win his fourth consecutive start since joining the Ducks. He has allowed just six goals in those four victories.
NOT: Patrick Kane
, the third-leading goal scorer for the Blackhawks, not only failed to register a point but had a team-high three giveaways, including the one that set up the winning goal. He was also a minus-two and served a two-minute hooking penalty on Ryan midway through the second period.
GOOD MOVE:
Ducks coach
Randy Carlyle
gave No. 1 goalkeeper
Jonas Hiller
the night off after he allowed three goals on nine shots in a 5-4 loss Thursday in Nashville. It was Hiller's first game back after missing 15 with vertigo-like symptoms, and he clearly wasn't ready to return. Carlyle said after the Nashville game that he still planned to use Hiller down the stretch, but the points have become too valuable to take any chances.
BAD MOVE:
With the score tied, 1-1, and 11 ½ minutes remaining, the Ducks should have been awarded a power play after a Chicago player clearly hit the puck over the glass for a delay of game penalty. The referees missed it and play continued, despite a heavy protest from Ducks forward
Teemu Selanne
.
NOTABLE:
Ducks defenseman
Lubomir Visnovsky
was on the ice for both of Perry's goals. Coming into the game, Visnovsky had been on the ice for 63% of Anaheim's goals this season, the best percentage of any player in the NHL. The Ducks have now won a league-leading 27 one-goal games.
UP NEXT:
Monday vs. Colorado Avalanche at Honda Center, 7 p.m.
March, 26, 2011
3/26/11
12:39
AM PT
By
Dan Arritt
| ESPNLosAngeles.com
Ducks (41-28-5, 87 points) vs. Chicago Blackhawks (40-25-8, 88) at United Center, 5:30 p.m. PT.
Five storylines to track:
1. Too much too soon?
–
Jonas Hiller
didn't last long in his return to goal Thursday night in Nashville. After a 15-game absence because of vertigo-like symptoms, Hiller gave up three goals on nine shots before getting the hook in the first period. The Ducks staged a late comeback but ultimately lost, 5-4. Did the Ducks rush their All-Star goalie back into the lineup too soon? If they wind up missing the playoffs by a point or two, the decision to test Hiller in such a big game will be ripe for second-guessing.


2. Drum roll please
– For the second straight game, the Ducks will be playing a team that's one point and one spot ahead in the Western Conference standings. They couldn't leapfrog Nashville, but they'll get another chance against the seventh-place Blackhawks. It won't come easy as Chicago has won six consecutive home games and five of its last six against Anaheim at United Center. Chicago coach
Joel Quenneville
is also calling this the biggest game of the season, a rallying cry that has surely been heard by his players.
3. Getting noticed
– There's usually not a lot of talk of Hart Memorial Trophy winners in these parts. The only people West of Colorado and South of Vancouver to win the league's most valuable player award was
Wayne Gretzky
of the Kings in 1988-89 and
Joe Thornton
, who spent part of the 2005-06 season with the San Jose Sharks. The chatter has picked up with every goal by
Corey Perry
of the Ducks, however. He scored his 41
st
and 42nd of the season against the Predators to move one behind
Steven Stamkos
of Tampa Bay for the league lead.
4. Not as sharp
– The Ducks won't have to deal with Chicago center
Patrick Sharp
, who left Sunday's game against Phoenix because of a left knee injury and is expected to miss a majority of the team's final nine games. Sharp has a team-high 34 goals and is second with 68 points. He has nine goals and eight assists in 20 career games against Anaheim.
Viktor Stalberg
has moved into a top-line role for the Blackhawks but he's hardly the offensive dynamo that they'll miss in Sharp.
5. Chicago's own Corey
– The Blackhawks are expected to start rookie
Corey Crawford
in goal, and he needs one victory to become the first Chicago goalie to record 30 wins in a season since
Jocelyn Thibault
in 2001-02. Crawford played his first NHL game five years ago but because he has had just a handful of appearances before this season and did not turn 26 until December, he retained his rookie status, making him a viable candidate for the Calder Trophy. Crawford earned his first career shutout against the Ducks two years ago.
January, 3, 2011
1/03/11
7:56
PM PT
By
Dan Arritt
| ESPNLosAngeles.com
After the 2st period:

Kings 2, Chicago Blackhawks 2

The good: Just as the Blackhawks did in the opening period, the Kings stole back the momentum in the closing minutes of the second as Ryan Smyth scored on a breakaway to tie the score. Drew Doughty set up the play by poking the puck loose from a Chicago player. Justin Williams scooped it in and slid a perfect pass to Smyth, who was a good 20 meters in front of the closest defender. Smyth, the oldest player on the Kings at age 34, beat Chicago goalkeeper Corey Crawford for his fourth goal in the last four games.

The bad: After not allowing a power play in 12 straight home games to start the season, the Kings aren't even killing penalties well anymore. The Blackhawks scored their second power-play goal of the game on their second man-advantage situation. Anze Kopitar, one of the best penalty killers for the Kings, went to the box for delay of game after shooting the puck over the glass and Chicago didn't waste any time taking a 2-1 lead. Patrick Sharp took a cross-ice pass from Patrick Kane and blasted it past goalkeeper Jonathan Quick with 12:49 remaining in the period. After out-shooting the Blackhawks, 10-0, through the first 8 ½ minutes, shot on goal are all even, 18-18. Second line center Jarret Stoll hasn't taken a shot and he has three giveaways.

The in between: Dustin Brown, the leading goal scorer for the Kings, hasn't taken a shot, but he does have five hits. The Kings have out-hit the Blackhawks, 23-18, overall, so we'll see if that begins to take its toll.
November, 27, 2010
11/27/10
10:09
PM PT
By
Dan Arritt
| ESPNLosAngeles.com
The defending Stanley Cup champion Chicago Blackhawks paid a visit to Staples Center on Saturday night and gave the Kings a lesson on how to protect a lead.
If there's any good to come out of the 2-1 loss, the Kings' sixth in their last seven games, it's that they at least took some notes.

Except for a 5-on-3 goal by
Anze Kopitar
with 5 minutes 2 seconds remaining in the game, the Kings couldn't find the back of the net against
Corey Crawford
, who has essentially won the job from No. 1 goalie
Marty Turco
during Chicago's six-game road trip that ended with the victory against Los Angeles and a 4-2 mark.
After outplaying the road-weary Blackhawks during the first period, the Kings seemed to put their newly re-aligned offense in neutral the rest of the way, totaling just 13 shots over the final two periods, despite having five power-play opportunities.
Chicago took a 1-0 lead when defenseman
Jack Johnson
whiffed on rebound that came back to him at the point, leading to a 2-on-1 going the other way.
Patrick Sharp
took a pass from
Patrick Kane
and snuck it past Kings goalie
Jonathan Quick
at the 10:36 mark of the second period.
With captain
Dustin Brown
moving from right wing to the left side on the top line, and
Wayne Simmonds
taking Brown's spot on right wing, they provided a few moments of excitement, but Chicago seemed to adjust and limited the Kings to just three shots on goal in the second period, their lowest output for a period this season.
Kane and Sharp against hooked up early in the third period, as Sharp sent a centering pass that went off Kane's mid-section and into the Kings goal. After a brief review, the point counted and the Kings were chasing a 2-0 lead.
November, 27, 2010
11/27/10
1:20
AM PT
By
Dan Arritt
| ESPNLosAngeles.com
Chicago Blackhawks (12-11-2) vs. Kings (13-8-0) at Staples Center, 7:30 p.m.
Five storylines to track:
1.
First-line shakeup
– As was reported
here
Friday afternoon, Kings captain
Dustin Brown
is moving from right wing to left wing on the front line, and
Wayne Simmonds
will jump from the third line to Brown's previous spot at right wing. Kings coach
Terry Murray
said the move is meant as a temporary patch until left winger
Alexei Ponikarovsky
returns from a broken finger next month. Unless, of course, they start scoring in bunches, then he'll have another tough decision to make.

2.
Home cookin'
– The Kings were on the road for just a week, but it must have seemed like two months for their jittery fans who have watched them lose five of the last six games. It wasn't long ago the Kings were setting a club record for the longest home-winning streak to start the season, and their 8-1-0 record is still one of the top home marks in the league. Chicago, meanwhile, will be playing in the final game of a six-game road trip that began Nov. 17 in Edmonton.
3.
Adaptable D-man
–
Drew Doughty
is on his third defense partner in the last three weeks. He was initially paired with
Willie Mitchell
, who was then sidelined because of a broken wrist Nov. 6. Murray then tried him with another stay-at-home defenseman,
Rob Scuderi
, but a shakeup on the blueline now has him paired with rookie
Alec Martinez
, better known for his offensive knack. Doughty said Friday that his strengths as a two-way player allows the Kings to use him with different personnel. "That's why they put me with Martinez, because he can do his things offensively and I'll be back there to cover for him," he said.