Los Angeles Hockey:

Dany Heatley
December, 23, 2011
12/23/11
2:59
PM PT
By
Dan Arritt
| ESPNLosAngeles.com
Kings (16-14-4, 36 points) vs. San Jose Sharks (18-10-3, 39 points) at HP Pavilion, 7:30 p.m.

Five storylines to track:

1. It's progress – Call it a baby step for the Kings. Shoot, they would probably get down on their hands and knees and crawl just to move forward at this point. They beat the lowly Ducks in a shootout, 3-2, on Thursday night at Staples Center, their third victory in the last five games but 13thstraight scoring two goals or less. Never mind that it was Darryl Sutter's debut as coach of the Kings, the players needed the victory for themselves. Now it's time to figure out how to take another step forward and steal two points from the Pacific Division-leading Sharks.

2. Within reach – If the Kings have any hope of getting back into the Western Conference playoff race, they can't afford to just beat up on the weaklings. Of the 10 teams above them in the standings, only Minnesota has lost more games than it has won in the last 10. The Kings, meanwhile, are 4-6-0 in that span. Fortunately, the top Pacific Division teams aren't exactly steamrolling the competition. Of the six divisions, only the Pacific does not have a team with at least 43 points. San Jose, Dallas and Phoenix each lead the way with 39. Despite all their struggles the last two months, the Kings are just three points behind that crowd.


November, 11, 2011
11/11/11
3:20
PM PT
By
Dan Arritt
| ESPNLosAngeles.com
Kings (7-6-3, 17 points) vs. Minnesota Wild (8-4-3, 19 points) at Staples Center, 7:30 p.m.

Five storylines to track:

1. Knowing their limitations: Just when it appeared there might be a light at the end of the tunnel, the passage faded to black again Thursday night in a 3-2 loss against visiting Vancouver. The Kings were limited to two goals or less for the sixth time in the last seven games and 11th overall this season. Scoring doesn't figure to get any easier against the Wild, who are second in the league in goals-against average, allowing 1.9 goals a game. On the offensive end, Minnesota is second-to-last in scoring. On paper, it appears the Kings and Wild are headed for another 2-1 game.

2. Early foul trouble: Taking a page out of the list of things that make NBA coaches cringe, the Kings have fallen into a troubling trend during their recent skid. In each of the last six games, a member of the Kings (or two) has gone to the penalty box in the opening minutes of the game, taking away any chance of building early momentum. The Kings killed off the early penalties in the first five games, but weren't so fortunate against the Canucks after Trevor Lewis went to the box for a five-minute elbowing penalty. Drew Doughty joined Lewis 2½ minutes later, giving the Canucks a lengthy 5-on-3. Vancouver scored twice with the extra manpower and never relinquished the lead.

3. Milestone game: Kings coach Terry Murray will be behind the bench Saturday night for his 1,000th regular season game. Murray is tied for 20th on the all-time list with Nashville coach Barry Trotz, who will also coach his 1,000th career game Saturday night. Murray has 493 career victories, which is 18th overall and sixth among active coaches. It probably wouldn't be a stretch to predict Murray needs to get his 500th career win by the end of the year, or he probably won't be in L.A. for his 1,050th career game.


April, 26, 2011
4/26/11
5:49
PM PT
By
Dan Arritt
| ESPNLosAngeles.com
LOS ANGELES — It's safe to say the San Jose Sharks got in the last word.

On their way out of town following a 4-3 series-clinching overtime victory Monday night at Staples Center, Sharks forwards Jamal Mayers and Devin Setoguchi fired off a couple cyberspace jabs at Kings coach Terry Murray, who earlier in the Western Conference quarterfinal series had issued strong statements aimed at members of San Jose.

"Tough series with 3 OT games!" Mayers wrote on his personal Twitter account about two hours after the game. "Too bad Murray didn't have class to shake hands like players (who bled) and Asst Coaches!"

Murray was apparently not in the traditional center-ice handshake line that immediately follows the end of a series. His whereabouts were not questioned during the postgame news conference, as most reporters were too busy rushing down to the locker room or writing on deadline, to notice.

The players did.

"Would like to know why coach of the kings Terry Murray never shook our hands??," wrote Setoguchi, who assisted on Joe Thornton's overtime goal. "Might be a first??"

Murray, who will not be available to the media until Wednesday or Thursday, a team spokesman said, criticized members of the Sharks for their dangerous play after earlier losses in the series.

Following a 6-3 defeat in Game 4, Murray called a tripping penalty on Dany Heatley late in the third period a "gutless move," saying it appeared Heatley was attempting a slew foot on rookie defenseman Alec Martinez, an illegal move in which a player sweeps the leg out from under an opponent, usually from an unsuspecting blindside.

"That's where you break your leg," he said. "That's where you blow your knee out. I hate that play. That's a gutless move in my mind."

Following a 3-2 overtime loss to the Sharks in Game 1, Murray said Jason Demers' airborne check on Kings forward Ryan Smyth was "five times as severe" as the hit Kings forward Jarret Stoll leveled on San Jose defenseman Ian White. Stoll was suspended and White also missed Game 2 because of an upper-body injury.

Demers, meanwhile, did not receive a penalty and went on to score two goals in the series and add an assist.
April, 15, 2011
4/15/11
12:03
AM PT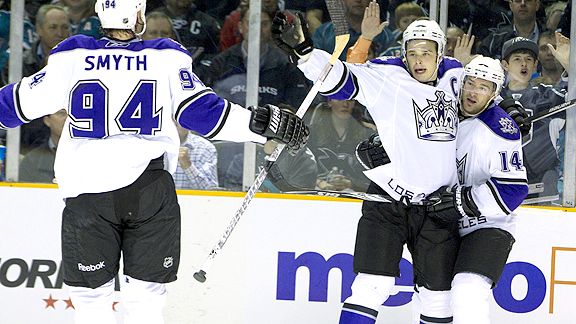 Jason O. Watson/US PresswireJustin Williams, right, assisted on a goal by Dustin Brown, center, and then later scored a goal of his own Thursday.
SAN JOSE, Calif. --
Terry Murray
wasn't sure how to answer the question. The Los Angeles Kings coach has been many things during his 31-year career in the NHL, but a doctor has never been one of them. So when he was asked how limited Kings right winger
Justin Williams
would be in his first game back since dislocating his right shoulder three weeks ago, he could only go off of what he saw in practice.
"Scratching the top of your head is basically what he couldn't do," Murray said.
It was an appropriate analogy, considering that's basically all Murray has done while watching his sputtering offense since losing Williams and
leading scorer
Anze Kopitar
within six days of each other toward the end of the regular season.
The Kings' offense was at its head-scratching worst as L.A. opened Game 1 of its first-round playoff series against the San Jose Sharks on Thursday, ultimately resulting in a bitter 3-2 overtime loss.
Forget about goals; the Kings were lucky to simply register shots on goal in the first period. San Jose outshot L.A. 14-3 and needed only 28 seconds to take a 1-0 lead as
Dany Heatley
knocked in a rebound.
Without Kopitar and Williams in the lineup, the Kings were able to score on only one of 23 power plays at the end of the regular season. They continued to be ineffective with their first two power plays Thursday night and were outshot 18-4 nearly midway through the second period.
Then a desperate team turned to a veteran desperate to get back on the ice to save them from a seemingly desperate predicament.
Williams wasn't even sure how effective he would be when he returned. He had tried his best to simulate game conditions during practices leading up to the game. He told Kings defenseman
Drew Doughty
to go at him hard and not to let up. He wasn't going to be effective if he couldn't shake off checks, and he wasn't going to be much help if he couldn't handle even the routine hip checks from teammates.
November, 15, 2010
11/15/10
11:35
PM PT
By
Dan Arritt
| ESPNLosAngeles.com
That wasn't pretty.
The Kings saw their six-game winning streak come to a screeching halt Monday night in San Jose, losing to the Sharks, 6-3, at HP Pavilion.
They also saw their penalty-kill unit come back to earth by giving up two man-advantage goals, ending a streak of 22 consecutive penalty kills.

On a positive note,
Scott Parse
scored his first goal of the season and
Justin Williams
added an assist on a goal by
Jarret Stoll
, giving him points in 10 consecutive games, a career high.
This game might be remembered best for a strange sequence that played out late in the second period. Kings left wing
Ryan Smyth
appeared to shove the puck past the goal line, but a San Jose player yanked it back out before the referees saw it and play continued.
The Sharks then scored about a minute later, causing a stoppage in play that allowed the referees to review Smyth's goal. With the scoreboard reading, 4-1, for the Sharks, it was determined Smyth's shot went in, putting one on the board for the Kings and taking one away from the Sharks. Suddenly, the scoreboard read, 3-2.
The Kings couldn't get any closer, however.
Patrick Marleau
scored on a power play just minutes into the third period, breaking the penalty-kill streak. Stoll's goal cut the deficit back to one with about 13 minutes left, but first-liners
Dany Heatley
and
Joe Pavelski
hit the back of the net to end any hopes of a comeback.
Kings goalkeeper
Jonathan Bernier
wasn't as porous as the score would indicate, but his performance will definitely be viewed as a set back for the young backup.
Look for the Kings to regroup Wednesday against Columbus at Staples Center. We'll have a report from practice Tuesday on any happenings.