Los Angeles Hockey:

Davis Drewiske
December, 19, 2011
12/19/11
9:04
AM PT
By
Dan Arritt
| ESPNLosAngeles.com
Kings (14-14-4, 32 points) vs. Toronto Maple Leafs (16-13-3, 35 points) at Air Canada Centre, 4 p.m. (PT)

Five storylines to track:

1. Less talk, more action – Frustrations boiled over following an 8-2 loss Saturday night in Detroit and a few players voiced their displeasure. It was probably about three weeks too late but much needed nonetheless. The Kings were beat up in every facet of the game against the Red Wings, magnifying the problems they've experienced during their current 4-8-1 stretch. If the Kings are going to pull out of their latest funk, it will start with the players, not the voice behind the bench.

2. Swan song – This will likely be the last game for interim coach John Stevens. Darryl Sutter is expected to be formally introduced as the next coach Tuesday, with his first game Thursday against the visiting Ducks. If the players can't muster up the desire to play well for themselves, maybe they can do it for Stevens, who was a well-liked assistant the last two seasons under previous head coach Terry Murray.

3. Unlikely leaders – Things have gotten so out of whack lately, left wing Dustin Penner and defenseman Davis Drewiske might be the hottest players on the Kings. Penner had one point in his first 12 games and was largely considered the biggest underachiever on the team, but now has six points in his last nine games, including his first multi-point game as a member of the Kings with two assists against Detroit. Drewiske, a healthy scratch in 26 of the first 30 games, has goals in the last two games.


December, 17, 2011
12/17/11
7:34
PM PT
By
Dan Arritt
| ESPNLosAngeles.com
Detroit Red Wings 8, Kings 2

Eight keys to the game:

THE FACTS: Apparently, the problems aren't just limited to the offensive end of the ice. The Kings, the lowest-scoring team in the NHL, allowed the most goals in a game in more than four years while getting held to two goals or less for the 11th straight game in the rout at Joe Louis Arena in Detroit.

THE STAT: The Kings actually out-shot the Red Wings, 29-27, but weren't nearly as efficient. Detroit had five goals on its first 11 shots on net and six on its first 16.

TURNING POINT: Two minutes into the game and the Red Wings already led, 2-0, giving Kings' fans a head start on their Saturday night plans. Kings defenseman Jack Johnson couldn't connect on a pass to Trevor Lewis and Detroit took possession. Darren Helm took a shot that was saved by Kings goalie Jonathan Quick, but the rebound came out to Drew Miller who squeezed it past the goal line for a 1-0 lead. Fifteen seconds later, Jonathan Ericsson took a shot from the point that was deflected past Quick by Cory Emmerton for the second goal of his career and a 2-0 lead.

HOT: Kings defenseman Davis Drewiske has transformed from recurrent healthy scratch to the Kings best sniper on this four-game road trip. Drewiske scored his second goal in two games late in the first period to cut the deficit to 3-1. Prior to this week, Drewiske had scored just one NHL goal and that came two years ago into an empty net. The second line of Jarret Stoll, Justin Williams and Dustin Penner also carried their offensive load against Detroit, combining for a goal and four assists.

NOT: After allowing three goals on seven shots in the first period, Quick was given the hook in favor of Jonathan Bernier, the first time this season he hasn't finished a game. Bernier wasn't any better, allowing two goals on the first four shots he faced and five overall. Since Quick's franchise-record three straight shutouts earlier this season, he has allowed 51 goals in 20 games for a 2.55 goals-against average and .906 save percentage, neither of which would rank among the top 20 goalkeepers in the NHL. Johnson, who grew up in suburban Detroit and played at the University of Michigan, was a career-high minus-4, dropping him to minus-17 in 15 career games against the Red Wings.


December, 17, 2011
12/17/11
9:28
AM PT
By
Dan Arritt
| ESPNLosAngeles.com
Kings (14-13-4, 32 points) vs. Detroit Red Wings (19-10-1, 39 points) at Joe Louis Arena, 4 p.m. (PT)
Five storylines to track:


1. Record pace
– The Kings have officially nosedived into uncharted waters. They've gone 10 consecutive games without scoring at least three goals in one of them, a drought they've never experienced in franchise history. Now they're scheduled to play a team that's tied with them for the fifth-lowest goals-against average in the NHL at 2.23 a game. The good thing is, the Red Wings' defense takes the night off once in a while. They've allowed four goals or more in seven games this season, compared to four for the Kings.
2. A positive sign
– The Kings are still buried in last place in the NHL in scoring but they received another long overdue goal Thursday night in a 2-1 victory in Columbus. Kings defenseman
Davis Drewiske
, a healthy scratch in 26 of the previous 30 games, scored early in the third period to tie the score, 1-1. It was the third straight goal by a player on the Kings who had previously not scored this season.
Brad Richardson
and
Trent Hunter
scored the previous two. Now they just need their best available goal scorer to get untracked.
Anze Kopitar
hasn't scored in the last 10 games.
3. Injury updates
– Kings leading goal scorer
Mike Richards
, who has missed the last six games with a concussion, joined the team in Detroit on Friday night but his appearance is more designed to boost the team's moral than their goal-scoring total. Richards is not expected to play the remaining two games on the road trip and his return is still a major question mark. Another veteran, defenseman
Willie Mitchell
, will likely miss his fifth game in the last six with a groin injury. Mitchell re-aggravated the injury during warm-ups Tuesday in Boston.
December, 15, 2011
12/15/11
7:28
PM PT
By
Dan Arritt
| ESPNLosAngeles.com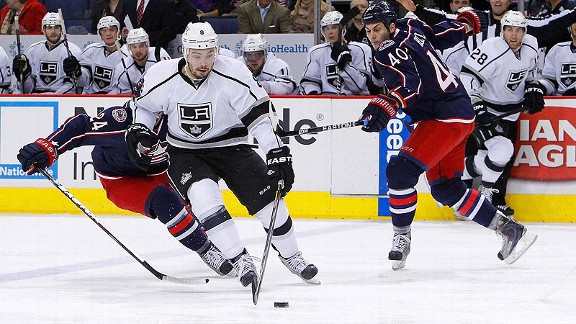 Russell LaBounty/US PresswireThe Kings' Drew Doughty carries the puck during Thursday's 2-1 win at Columbus.
Kings 2, Columbus Blue Jackets 1
Eight keys to the game:


THE FACTS:
The Kings didn't improve on their woeful scoring average, but they managed to end a five-game losing streak against the NHL's worst team Thursday night at Nationwide Arena in Columbus.
Dustin Brown
deflected in the game winner off a slap shot from
Drew Doughty
with 11 minutes 48 seconds left, and goalie
Jonathan Quick
had 24 saves to preserve the victory.
THE STAT:
The Kings, who came in as the lowest-scoring team in the NHL at 2.13 goals a game, scored two or fewer for the 10
th
consecutive game.
TURNING POINT:
The Kings had taken 78 consecutive shots on goal without scoring before defenseman
Davis Drewiske
, a healthy scratch in 26 of the previous 30 games, sent a slap shot from the left point that cut through traffic and into the net to tie the score, 1-1, with 15:27 left in the third period. Less than four minutes later, the Kings took the lead for good on Brown's goal. It was Drewiske's first goal since October 2009.
December, 2, 2011
12/02/11
1:33
PM PT
By
Dan Arritt
| ESPNLosAngeles.com
Kings (13-8-4, 30 points) vs. Montreal Canadiens (10-11-5, 25 points) at Staples Center, 12:30 p.m.
Five storylines to track:


1. No Richards
– The Kings will need to make due without their leading goal scorer,
Mike Richards
, who is expected to go on injured reserve this weekend. Richards suffered an upper-body injury during a collision with Florida Panthers forward
Sean Bergenheim
late in the second period of a 2-1 victory Thursday night. Richards was playing as well as anybody on the team lately, scoring nine goals in the previous 10 games. Fortunately for the Kings, they have enough depth at center to plug the hole for a while, and left wing
Dustin Penner
is ready to come off injured reserve after missing the last nine games with a hand injury.
2. No Mitchell
– The Kings also took a hit on the defensive side when
Willie Mitchell
left the game Thursday night with a lower-body injury. The rest of the blue liners did an admirable job picking up the slack against the Panthers, now it looks like it'll be up to
Davis Drewiske
to hold down the fort against the Canadiens. Drewiske will certainly be fresh, having played just one regular season game this season and spending the rest in the press box as a healthy scratch. He did play well in his only appearance in Philadelphia, so this is a good chance to prove that's more the norm. The Kings will also have a relatively fresh face in goal, as backup
Jonathan Bernier
is expected to start for just the fourth time this season.
3. Milestone for Murray
– Kings coach
Terry Murray
enters this game with 499 career victories. With a win against the Canadiens, he would become the 17
th
coach in NHL history to reach 500 victories and the second in his family. His brother,
Bryan
, now the general manager of the Ottawa Senators, is seventh on the list with 619 career victories. Murray's predecessor with the Kings,
Marc Crawford
, is also in the 500-win club. Buffalo coach
Lindy Ruff
is the last coach to get 500 wins, earning his last January.
October, 15, 2011
10/15/11
8:16
PM PT
By
Dan Arritt
| ESPNLosAngeles.com
Kings 3, Philadelphia Flyers 2 (OT)

Eight keys to the game:

THE FACTS: With defenseman Drew Doughty knocked from the game with an upper-body injury early on Saturday night in Philadelphia, the remaining blue liners stepped up long enough for Jack Johnson to score the game winner in overtime and lift the Kings to victory at Wells Fargo Center.

THE STAT: On the final day of a 16-day road trip through three countries and five states, the Kings were forced to play with five defensemen for nearly the entire game after Doughty took a hard hit from rookie center Zak Rinaldo in the opening minute. Doughty, who appeared to be favoring his right shoulder before he left the bench, is expected to miss seven to 10 days, the team reported. The Kings were even thinner on experience on the back end as Davis Drewiske was substituting for Alec Martinez and Drewiske had not played in an NHL game since Feb. 24.

TURNING POINT: With the score tied, 2-2, Kings forward Simon Gagne was tripped by Flyers left wing James van Riemsdyk with 19.9 seconds left in regulation. The power play carried over to overtime, giving the Kings a 4-on-3 situation and plenty of open ice to work with. Mike Richards, playing in his first game in Philadelphia since he was traded to the Kings over the summer, sent a sharp pass from the high slot to Johnson, who was stationed near the left post, and he redirected the puck past goalie Ilya Bryzgalov with one second left on the man advantage. In the season opener last week against the New York Rangers, Johnson also scored the game-winner off a pass from Richards during a 4-on-3 in overtime.

HOT: Johnson had the most noteworthy play among the depleted defensive corps, but goalie Jonathan Quick once again played well enough to get the Kings into overtime for the third time in their first four games. Quick stopped 32 of 34 shots, with the only goals coming on Philadelphia power plays. Rob Scuderi had an excellent game, blocking five shots. Johnson played 30-plus minutes for just the second time in his career and Willie Mitchell had four hits, three blocked shots and an assist on the Kings first goal.

NOT: The Kings committed seven penalties with their sticks, two of which led to goals by the Flyers. Richards was nearly on the hot seat after committing a high-sticking penalty 27 seconds after the Kings took a 2-1 lead on the second goal of the game by Justin Williams with 7:25 remaining in regulation. Philadelphia promptly scored on the ensuing power play to tie the score, 2-2.

GOOD MOVE: The second goal by Williams was a thing of beauty, as he took a pass from Anze Kopitar on the icing line, drove to the net and swiped a backhand at Bryzgalov. The first shot was stopped but Williams was in position to swipe the second past the sprawled goaltender and into the net for the Kings first lead of the game.

BAD MOVE: After the hit on Doughty, Kings left wing Dustin Penner went after Rinaldo but the aggression ended up costing him 17 minutes of penalties for being an instigator in the fight. That seemed to take Penner out of the game as he played just one shift in the third period and overtime. Penner missed the first two games this season with a lower-body injury and his health didn't seem to be a concern Saturday as he remained on the bench during the third period and overtime. He may have put himself in the doghouse with his overzealous response to the Doughty hit.

NOTABLE: Kopitar and Richards combined to win 25 of 45 face offs. The Kings improved to 4-for-17 on the power play this season. The Flyers were attempting to start the season 4-0 for the first time since 1995.

UP NEXT: Tuesday vs. the St. Louis Blues at Staples Center, 7:30 p.m.
October, 3, 2011
10/03/11
8:49
AM PT
By
Dan Arritt
| ESPNLosAngeles.com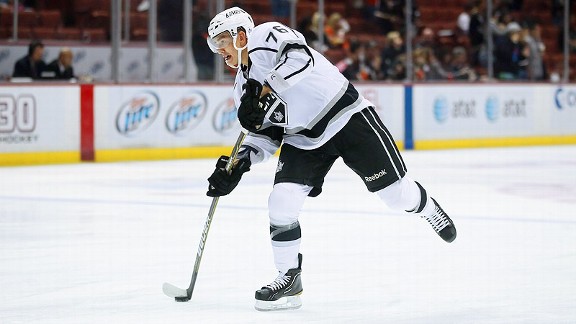 Jeff Gross/Getty ImagesYoung defenseman Slava Voynov has given the Kings plenty to think about during camp in terms of keeping him on the roster.
Each day heading into their season openers Oct. 7 in Europe, ESPNLosAngeles plans to take a closer look at the Kings and Ducks. What are their strengths, their weaknesses? Which rookie will shine, and which is destined to be returned to the American Hockey League for more seasoning? We put the Kings back under the microscope today and attempt to answer a few key questions regarding their youngest players.
The rookie who will have the biggest impact?
One of the
brightest stories
of the preseason has been the play of defenseman
Slava Voynov
. He brought impressive credentials to training camp, most notably his selection to the AHL All-Star game last season with the organization's affiliate in Manchester. But heading into the preseason, the Kings were already crowded with offense-minded defensemen, even before
Drew Doughty
ended
a two-week absence from camp while negotiating a new contract. As of this posting, the Kings still have one more cut to be made, but the skill set Voynov has displayed during the preseason has made it difficult for management to ship him back to New Hampshire. No doubt, they've been scratching their heads trying to decide whether it would be best to keep Voynov on the roster as an extra defensemen or return him to the AHL for guaranteed playing time. Either way, you'll likely see a lot more of Voynov this season.
The player who will reach double digits in goals for first time in career?
A year ago,
Kyle Clifford
was just happy to be with the Kings at the end of training camp. Still eligible to be returned to his junior team, many expected Clifford to play his nine allotted games before receiving a one-way ticket back to the Barrie Colts of the Ontario Hockey League. But the 20-year-old left wing continued to impress day after day and ended up playing the entire season with the Kings, contributing seven goals and seven assists in 76 regular-season games. In the six-game playoff loss to San Jose, he tied for the team lead with three goals and five points. Along the way, Clifford also became a crowd favorite for his willingness to fight just about any opponent who dared challenge him to a scrap. Look for Clifford to build on his experience from last year and use his tenacity around the net to potentially double his goal total.
September, 17, 2011
9/17/11
7:51
PM PT
By
Dan Arritt
| ESPNLosAngeles.com
EL SEGUNDO — Kings coach
Terry Murray
wasn't the only one keeping a close eye on
Viatcheslav Voynov
.
General manager
Dean Lombardi
stuck around for the afternoon session on the opening day of training camp Saturday at Toyota Sports Center, evaluating the player most likely to replace defenseman
Drew Doughty
if his contract negotiations linger into the regular season.
Voynov, a 21-year-old Russian who made the AHL All-Star team last season while playing for the Kings' affiliate in Manchester, shares many of the same skills as Doughty, who's still home in Ontario, Canada, as his agent
wrangles
with the Kings over a new contract.
"[Voynov] has a little bit of an edge because he's a right shot and also because he's a very skilled guy and plays the power play," Murray said. "That's one of his strengths, to be able to carry the puck, see the ice and make plays."
Doughty was a Norris Trophy finalist following the 2009-10 season, in part because of his dynamic offensive skills. He finished third in the league in scoring among defensemen that season, just his second in the NHL.
Voynov, a second-round pick in 2008,, has improved his offensive numbers each season in the AHL, climbing from 23 points in 61 games in 2008-09, to 29 points in 79 games the following season and then breaking through with 51 points in 76 games last year.
"When you pay your dues in the minors the last couple years, like he has, and keep getting better, he's a player that I'm going to keep a very close eye on," Murray said.
February, 26, 2011
2/26/11
1:31
AM PT
By
Dan Arritt
| ESPNLosAngeles.com
Kings (34-23-4, 72 points) vs. Colorado Avalanche (26-28-7, 59) at Staples Center, 1 p.m

.
Five storylines to track:
1. Bad break –
Andrei Loktionov
is still only a
phone call
away. He just won't be playing hockey for a while, according to his coach in Manchester. Loktionov, the 20-year-old rookie forward who was returned to the minors earlier in the week but was expected back with the Kings when rosters can be expanded after Monday's trade deadline, suffered an apparent upper-body injury in an AHL game Friday night, according to the
Union-Leader
. Manchester coach
Mark Morris
told a reporter he suspects Loktionov will be done for the year. Expect this latest news to have an impact on the Kings' search for another forward before Monday's deadline.


2. A benefactor? –
Loktionov's loss could be
Marco Sturm
's gain. The 32-year-old left wing was on thin ice, too slow to bounce back after offseason knee surgery and too few when it came to scoring goals. He woke up Friday morning and learned he had been waived. Unclaimed as of late Friday night, Sturm is expected to be back on the top line if he's not scooped up by the 9 a.m. expiration date, re-joining
Anze Kopitar
and
Wayne Simmonds
. If another Western Conference team really wanted to short-hand the Kings, they'd claim Sturm before then. His $3.5-million salary this season might still be too steep to pay.
3. Fear the fourth line –
That wasn't a slip of the tongue during coach
Terry Murray
's postgame news conference, he really did credit the fourth line with the 4-2 victory Thursday night against Minnesota. Murray noted that
Kyle Clifford
,
Trevor Lewis
and
Alexei Ponikarovsky
changed the momentum of the game in the second period with their stiff fore-checking and high energy. Another player that seems to be adjusting to his role is right wing
Dustin Brown.
Relegated from the top line to the third line, he had two assists against the Wild and wore them down with relentless checking.
4. Alec's back –
Alec Martinez
will be back on the blue line for the Kings. After playing 39 straight games since his call up from Manchester in November, the rookie defenseman was a healthy scratch the last two games in place of
Davis Drewiske
. Sometimes it's nice just to get a different view of the game from above. Still, it will be interesting to watch how Martinez reacts. One of his best assets is his confidence with the puck. If he starts playing hot potato, you can bet he's worried about making a mistake.
5. New addition –
After losing 11 of their last 12 games to fall off the Western Conference playoff map, the Avalanche have been busy heading into the trade deadline line and don't appear to be quite finished. Talk about skating lightly. They plan to start one of their newest acquisitions, goalie
Brian Elliott
, who didn't fare so well in his debut with Colorado, a 5-1 loss Wednesday against the Edmonton Oilers. The Avalanche will be without defenseman
Ryan O'Byrne
, who took a skate blade to the face against Edmonton and needed more than 100 stitches.
February, 23, 2011
2/23/11
11:13
AM PT
By
Dan Arritt
| ESPNLosAngeles.com
Kings (32-23-4, 68 points) vs. Ducks (32-24-4, 68) at Honda Center, 7 p.m

.
Five storylines to track:


1. Big game hunting –
There hasn't been a bigger game between the Kings and Ducks in a while. Both have the same number of points heading in, but the Kings are eighth in the Western Conference standings and the Ducks are ninth. The winner will be in the top eight by the end of the night, the loser won't. In the grand scheme of Southern California sports, it would be neat if both teams made the playoffs for the first time ever, but it's looking more like one will advance at the expense of the other. After tonight, they still play three more times against each other, including back-to-backs to end the season.
2. Strength vs. strength –
Depending on how you look at it, the key match up in this game is either the Ducks' high-flying offense against the Kings smothering defense, or the Ducks' floundering defense against the Kings' impotent offense. As has been well publicized, Anaheim had allowed 21 goals in the last three games, which just happens to coincide with the departure of All-Star goalie
Jonas Hiller
to dizzy spells. The club called up
Ray Emery
on Wednesday as a safety net for the struggling
Curtis McElhinney
, though Emery hasn't played in the NHL since last season. The Kings, meanwhile, are coming off a 3-0 loss at the New York Islanders, who have allowed more goals than any team in the Eastern Conference.
3. Martinez gets a seat –
Kings coach
Terry Murray
made another curious move with one of his rookies, delegating defenseman
Alec Martinez
as a healthy scratch for tonight's game in place of
Davis Drewiske,
who hasn't played since Jan. 6. It was just a few weeks ago that Murray was praising Martinez, even after he made poorly-timed turnovers in his own zone that led to tie-breaking, third-period goals. Some have speculated that the Kings are readying Martinez for a trade heading into Monday's deadline. Earlier this week, rookie center
Andrei Loktionov
was returned to the AHL, even though the Kings are struggling to score goals and that's his speciality.
November, 9, 2010
11/09/10
8:16
PM PT
By
Dan Arritt
| ESPNLosAngeles.com
As an NHL player moves through different stages of development, from the youth level to juniors and on to the pros, they often credit certain people with helping them accomplish their ultimate goal.

Usually it's a parent, or a high school coach, or even someone affiliated with a professional organization.

ESPNLA.com asked Kevin Westgarth, Kyle Clifford, Jonathan Bernier, Brad Richardson and Davis Drewiske who was most important to their development as an NHL player. Here's what they had to say.