Los Angeles Hockey:

Jarkko Ruutu
April, 27, 2011
4/27/11
2:59
PM PT
By
Dan Arritt
| ESPNLosAngeles.com
As the Ducks tie the bow on an entertaining but somewhat unfulfilled 2010-11 season, they face another summer of the unknown. One area of uncertainty has become an annual ritual in Anaheim's front office, while the other is stumbling block they've never encountered before.
Here's a closer look at the key areas that need to be addressed in the offseason, and the ones that seem fine the way they are.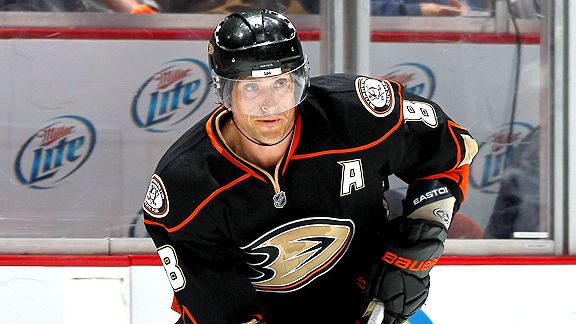 Jeff Gross/Getty ImagesWho knows, right? Teemu Selanne could retire and un-retire three times before the All-Star break.
I. Will he or won't he?
Teemu Selanne
heads off on his summer retreat with another heavy decision on his mind. Selanne will turn 41 on July 3, but was the spriest and most productive player on the Ducks during their six-game loss to Nashville in the Western Conference quarterfinals.
After an 80-point regular season, Selanne scored a career-best six goals during the Nashville series and delivered a flat-on-his back assist late in Game 5 that provided the final roar of the season at Honda Center. He showed plenty of durability during his 19
th
season in the NHL and, most importantly, said he particularly enjoyed the experience.
Selanne will be an unrestricted free agent July 1 but it's very doubtful he'd return anywhere else but Anaheim, where he has spent the last six seasons and 11 overall. The Ducks have made it clear they want him back for another year as well.
But just like his play on the ice, oftentimes Selanne doesn't really know his next move. He just lets his instincts take over.
April, 22, 2011
4/22/11
12:57
PM PT
By
Dan Arritt
| ESPNLosAngeles.com
Western Conference quarterfinals
Game 5
Ducks (2-2) vs. Nashville Predators (2-2) at Honda Center, 7 p.m. PT
Five storylines to track:
1. Getting hot in here
: This series has officially reached its boiling point.
Martin Erat
, one of Nashville's best players, was injured as a result of a late hit in Game 4 by career agitator
Jarkko Ruutu
, and
both will miss
tonight's game. That's a bad trade off for the Predators in the first place, but the Ducks also get
Bobby Ryan
back from a
two-game suspension
following his now-famous stomp on the foot of Nashville rookie
Jonathon Blum
in Game 2. The finger-pointing from both sides began last weekend but reached new heights Thursday.
2. Ryan's return
: Ryan showed some definite line-dancing potential with his foot stomp in Game 2, but that's not why the Ducks pay him. He scored 34 goals during the regular season, twice as many as Erat, and two more in Game 2. While the Ducks missed his contributions the last two games, they did manage to earn a split in Nashville and regain home-ice advantage. Ryan should also have some extra jump in his step from the added down time, which just made him simmer. "I'll certainly have a little fire lit under me," he said.
3. And then there's Teemu
: With all the barbs flying between camps, the remarkable run of
Teemu Selanne
has become a bit of a sideshow. But the speedy right wing, who is a lot closer to age 41 than 40, has a career-high five playoff goals in just four games, which also leads the NHL this postseason. Selanne is taking every inch that Nashville gives, scoring four of his goals on the power play. With one less defender on the ice, Selanne is taking advantage of his ability to find holes near the Predators net and get off swift, pin-point accurate shots on Nashville goalkeeper
Pekka Rinne
.
4. Rinne's gone downhill
: Rinne began the playoffs looking like the Rock of Gibraltar but has been more of a rolling stone the last three games, allowing 13 goals in that span. After finishing second in the league in save percentage during the regular season (.930) and third in goals-against average (2.12), Rinne's numbers have surged to .860 and 3.74 in the playoffs. Rinne got word Friday that he is one of
three finalists
for the Vezina Trophy, which goes to the league's top goaltender…in the regular season.
5. Nashville needs a surge
: Heading into the series, the Ducks had a tough time against Nashville forward
Sergei Kostitsyn
, allowing three goals and an assist in the last two regular-season games. They've done a better job of keeping him out of the net in this series, though he has totaled four assists. With Erat out of action, the Predators will need Kostitsyn to step up his production and look more like the player who scored a team-high 23 goals during the regular season. Kostitsyn signed a one-year deal for a bargain-basement price of $550,000 in the offseason, so it would benefit him to pick up the pace as well.
April, 21, 2011
4/21/11
4:53
PM PT
By
Dan Arritt
| ESPNLosAngeles.com
ANAHEIM—The NHL has suspended Anaheim Ducks forward
Jarkko Ruutu
for one game following his hit Wednesday night on Nashville Predators forward
Martin Erat
in Game 4 of their Western Conference quarterfinal series in Nashville.
Check out the full story
at this link
.
April, 20, 2011
4/20/11
8:49
PM PT
By
Dan Arritt
| ESPNLosAngeles.com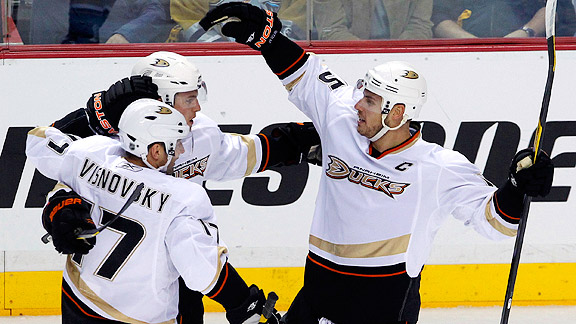 AP Photo/Mark HumphreyCam Fowler, center, Lubomir Visnovsky and Ryan Getzlaf celebrate one of the Ducks' six goals in Game 4.
Western Conference quarterfinals
Game 4
Ducks 6, Nashville Predators 3 (Ducks even best-of-seven series, 2-2)
Eight keys to the game:
THE FACTS:
The Ducks exploded for three unanswered goals in the third period Wednesday night at Bridgestone Arena in Nashville, breaking open a game that was tied after the second intermission and earning back home-ice advantage.
THE STAT:
After they were limited to 16 shots on goal in a 4-3 loss Sunday in Game 3, the Ducks came out firing and put up 38 shots on net in Game 4, chasing Nashville's stellar goalie
Pekka Rinne
early in the third period. The six goals by the Ducks were their most since a title-clinching 6-2 victory against Ottawa in Game 5 of the 2007 Stanley Cup finals.

TURNING POINT:
With the score tied, 3-3, at the start of the third period, the Ducks were attempting to kill the final 1:28 of a power play that carried over from the second period. Ducks rookie forward
Brandon McMillan
took possession of the puck in neutral ice, made a drop pass to
Corey Perry
in the offensive zone and then headed for the net, taking one of two Nashville defensemen with him. Perry skated around the other defender and flicked a backhand at the net, beating Rinne for a short-handed goal and a 4-3 lead.
HOT:
The ageless
Teemu Selanne
scored again for the Ducks, giving him five goals in this series to match his postseason career high. The 40-year-old forward gave Anaheim a 3-2 lead with a power-play goal in the second period, his fourth power-play goal of the playoffs. With 15 goals in his last 15 games, his hot streak has obviously carried over from the regular season.
NOT:
Rinne finished the regular season ranked second in the league in save percentage (.930) and third in goals-against average (2.12) but matched his career high with six goals against in Game 4. Rinne has allowed 14 goals in four playoff games against the Ducks for a paltry save percentage of .860 and a swollen goals-against average of 3.50.
GOOD MOVE:
Ducks rookie defenseman
Cam Fowler
set the tone with a power-play goal just 4:41 into the game. In addition to the goal, he also had three takeaways in the opening nine minutes of the first period, helping the Ducks out-shoot the Predators, 12-2, in that span. Fowler later assisted on Selanne's goal.
BAD MOVE:
Ducks veteran forward
Jarkko Ruutu
got back into the lineup after sitting out the last two games as a healthy scratch and he might be sitting again after knocking Nashville left wing
Martin Erat
from the game with a hit that left Erat sprawled on the ice. It has been a tough series for Erat, who lost four teeth in Game 2 when he was accidentally struck with the butt end of
Sheldon Brookbank
's stick. Good thing the Ducks have a replacement for Ruutu in
Bobby Ryan
, the team's second-leading goal scorer in the regular season who was suspended for Games 3 and 4 after stomping on the skate of Nashville defenseman
Jonathon Blum
late in Game 2.
NOTABLE:
The team that has scored first has also scored second and won every game in the series.
UP NEXT
: Game 5, Friday at Honda Center, 7 p.m. PT.
March, 24, 2011
3/24/11
12:39
PM PT
By
Dan Arritt
| ESPNLosAngeles.com


ANAHEIM—This is really starting to get old.

Teemu Selanne, the everlasting 40-year-old right wing for the Ducks, scored the tying goal with 6.4 seconds remaining Wednesday night against the Dallas Stars in a game for eighth place in the Western Conference standings.

The visiting Ducks seized the opportunity afforded by Selanne and won in overtime, 4-3, absconding with two points from Dallas and keeping their nameplate at No. 8 in the West.

Selanne's latest heroics came three days after he scored the tying goal against Calgary with 2:01 remaining, giving the Ducks a chance to win in overtime, 5-4. His last three goals have tied the score in the final minutes of regulation and each time Anaheim followed up with an overtime winner.

Four games in all have repeated that finish since Feb. 11, twice against the Stars and twice against the Flames, the two teams currently breathing down the collar of the Ducks for the final playoff spot.

He's the first player in NHL history to score four tying goals in the final three minutes of the third period in the same season.

"He just continues to find a way to deliver in clutch situations," Ducks coach Randy Carlyle said following the victory against Calgary.

Anaheim will need all the help it can get when it plays at Nashville today at 5 p.m. PT. The Predators are one point and one spot ahead of the Ducks in seventh, and are led by standout goalkeeper Pekka Rinne, who is second in the league in goals-against average (2.07) and save percentage (.930).

Selanne said he doesn't have any secrets to his late-game and late-career productivity. He's long been known for finding the seams and soft spots in defenses, especially when they're a player short. His last two goals came with the man advantage.

Like most veterans, Selanne takes extra steps to ready himself for the rigorous demands of the NHL, from getting enough rest to proper nutrition and stretching. None of that would matter if he didn't still love playing the game, however.

"That's the only reason I'm still around," he said.

With every point, Selanne seems to pass another legend in the record books. With his goal Wednesday, he moved ahead of Pierre Turgeon for 30th on the all-time points list (1,328). On Sunday, he passed Dave Andreychuk and Brendan Shanahan for 49th on the all-time assist list (699).

Teammates have always marveled at Selanne's conditioning, but it's his desire that's stands out most this season.

"When he got that attitude, combined with the working out and stretching, it does magic," said Jarkko Ruutu, a Finnish native like Selanne. "He hasn't lost a step and his skating ability is the key to getting in these scoring areas."

In fact, Selanne is having so much fun he'd rather not think about whether he'll return next year. He'll turn 41 on July 3—which happens to be the 41st anniversary of another historical Anaheim moment, Clyde Wright's no-hitter for the Angels, the first in franchise history.

While Selanne recognizes the clock is ticking on his NHL career, others do not.

. "I don't look at his birth certificate," Carlyle said. "The one thing I do notice is the size of his children because I saw them when they were babies and then now, all of a sudden, they're 13, 14, 15 years old."

Selanne's three sons, Eemil, Eetu and Leevi, are between the ages of 10 and 15 and his daughter, Veera, turned 3 in December. The boys play hockey and Selanne said they really enjoy coming to his games. Selanne also credited his wife, Sirpa, for providing the support and encouragement to continue his career.

"She's so good,' Selanne said. "She just tells me, 'Whenever you make your decision, just let me know.' Obviously, she wants me home but at the same time she knows how much I love this game."

Carlyle, when asked how much longer he feels Selanne can continue, shrugged his shoulders and said, '10 years?'

"I don't think there's anything holding him back," Carlyle said. "As long as he can stay healthy and feel strong in his abilities to continue to make a contribution.

"I think that's the most important thing for a player, is that their self-worth and their value never diminishes in their own mind and that their body tells them that they can get through the grueling schedule."

Selanne's body is obviously telling him to enjoy the ride.