Los Angeles Hockey:

Jarome Iginla
March, 7, 2013
3/07/13
10:24
PM PT
The big day is exactly four weeks away from Wednesday and we still await the headline-grabbing trades.
Will they even come?
I
wrote Tuesday
about the closeness in the standings and the short season and whether that will prevent some trades from happening.
At the very least, teams at this stage are laying the groundwork for deals that would possibly happen later in the month.
"You're talking to teams, obviously, and you say, 'If you have interest in moving Pierre LeBrun, let us know.' That's the stage it's at now. That's what I've found anyway,"
Pittsburgh Penguins
GM Ray Shero told ESPN.com on Tuesday.
I told Shero he could get Pierre LeBrun for a bag of pucks and he suggested at least future considerations.
In all seriousness, Shero said the trade market wasn't quite yet defined at least for the bigger names.
"You saw some trades earlier like
[Keaton] Ellerby
and
[Ben] Lovejoy
and this week
Mike Brown
, depth defensemen and role guys are getting moved," Shero said.
But no big names yet. That takes more time, more phone calls, more games played.
"Everyone has played from 20 to 24 games so far; you've got to adjust your thinking to making a quicker assessment," Bruins GM Peter Chiarelli told ESPN.com. "We're used to making our assessments over a longer period of time. And this year it's different. Therefore, for me it's a little funky right now to know we're that close to making deals."
What also gums up the works is that the list of UFAs-to-be, aka rental players, might shorten as the month rolls on as teams re-sign those players and take them off the trade market.
"What's happened the last five or six years is teams realizing that even if they're a seller, they realize it's not like the old days where you trade [a UFA to be] for a draft pick and easily replace them [in the offseason]," Kings GM Dean Lombardi told ESPN.com. "Even midrange players, many teams are now deciding to keep them and try to sign them versus giving them away for a second- or third-round pick. That's something that's changed in this business since I got in it; very different. Some teams are looking at that No. 4 or No. 5 defenseman and saying, 'I'm not replacing him this summer, I need to keep him and sign him.'"
The other thing, Lombardi figures, is that in today's parity-filled NHL, teams always feel just a few players away from getting back into it the following season. It's not like the pre-cap days when many non-playoff teams went into full dress-down/rebuild mode.
"Not many teams are in that stripping-down mode anymore," Lombardi said.
Hmm, food for thought.
Now let's take a look at more teams and the upcoming trade deadline:
BRUINS
The powerhouse Bruins can add a big name or two thanks to the deft salary-cap maneuvering by GM Peter Chiarelli.
Some B's fans are salivating at the possibilities that are out there.
But the GM wants everyone to know it's not written in stone he'll hit the home run.
"Just because we have cap space doesn't mean we'll make a blockbuster trade," Chiarelli said Tuesday.
But yes, he's done his homework and will continue to monitor the market to see what could be a good fit.
As reported a few weeks ago, I believe Chiarelli would covet being reunited with
Daniel Alfredsson
from his Ottawa days but that's a situation that remains to be played out with the Senators in terms of whether they hang in the playoff race -- which means Alfredsson would never move -- or even if they fall out of it, whether the Sens captain would even want to go anywhere.
My take? I think there's only one team Alfredsson would consider if he ever goes -- and that's Boston with the tie-in to former Senators teammate
Zdeno Chara
and the chance to win a Cup.
But we're getting ahead of ourselves.
Jarome Iginla
is another possibility for Boston. I didn't think so about a month ago but I think with the market not bearing out that many names this season, the B's have to at least inquire if he comes available in Calgary.
Corey Perry
would be the biggest name of them all and the B's would at least see what's going on there, but again it's not clear yet what Anaheim will do there with the pending UFA.
KINGS
The Stanley Cup champion Kings have certainly bounced back from an early-season hangover.
And they've done it while surviving injuries to three of their six defensemen who won them the Cup last spring.
Alec Martinez
is back and while
Matt Greene
remains out for a while, veteran shutdown man
Willie Mitchell
-- who hasn't played this season while recovering from knee surgery -- might be back, which would be like a huge trade-deadline addition in itself for L.A.
"He's making progress," Lombardi said Tuesday of Mitchell. "We're getting some encouraging news. There's a chance he'll play [this season]. I certainly can't go to the marketplace and trade for a Willie Mitchell."
As for whether the Kings would look to add a depth defenseman like most other contenders before April 3, Lombardi isn't sure yet he'll need to in part because
Jake Muzzin
and Keaton Ellerby have done the job for the Kings.
"Muzzin and Ellerby have been pretty good," the Kings GM said.
The silver lining is that the Kings got a look at Muzzin they probably would not have otherwise.
Otherwise, Lombardi has been pretty quiet on the trade-talk front. That can change over the next month, but right now he doesn't have much going on.
"As much as you guys hate this cliché, it is true that we'll look at anything that will improve our team," Lombardi said, chuckling.
Who Lombardi didn't talk about but I will is backup netminder
Jonathan Bernier
. That's L.A.'s No. 1 trade chip but it's not clear in my mind whether that chip gets played before April 3 or in the offseason. He's RFA after the season and it makes no sense for the Kings, cap-wise, to have to carry a more expensive contract for Bernier behind
Jonathan Quick
. So, eventually, Bernier will get dealt, whether that's now or in the offseason.
PENGUINS
The Penguins have a number of young defensemen in their organization who are drawing interest, but we'll see just how keen Shero is to divest himself of any of them for a rental player.
As I reported last week and it's been reported elsewhere, the Penguins are believed to have interest in Flames winger Jarome Iginla but just how much they'd be willing to pay on that front, or whether Iginla would have any interest in waiving his no-trade clause to go to Pittsburgh, who knows. Not to mention that the Flames haven't yet decided whether they're even moving Iginla.
Know this, Shero has never been shy of trade-deadline moves, topped by the
Marian Hossa
deal in the 2007-08 season, which helped the Penguins reach the Stanley Cup finals.
But it's going to have to be a sensible price for Shero to make any kind of trade this season. There's some realization in Pittsburgh that you can't trade away future assets year after year.
CANADIENS
The Habs made a deal last week with Dallas, netting
Michael Ryder
and a third-round pick plus opening up important offseason cap space by moving
Erik Cole
.
So now what?
Whether it's before April 3 or this summer, Montreal will continue to look for more size up front. Power forwards don't grow on trees, but what the Canadiens would love to add is someone in the
Ryane Clowe
-type mold: a rugged forward who can play top-six minutes. Canadiens GM Marc Bergevin made an excellent signing in
Brandon Prust
last summer, a player who can play on any forward line, but I believe Bergevin wants to continue on that track.
What Bergevin has at his disposal is three second-round picks in this season's draft plus two third-rounders. That could come in handy in a trade over the next four weeks.
Having said that, I don't think Bergevin will mortgage the future in terms of trading away top prospects or a high pick for a rental player. I think the Habs would rather make a traditional hockey deal where they get a player who can help them past this season. In other words, Bergevin isn't getting carried away with the Habs' surprising success this season to suddenly fool himself into thinking their window has suddenly opened to go all-in trade-wise and go for a Cup run. Of course, the Canadiens want to win this season, but they will keep on track with the long-term view in any of their moves this month or this offseason.
Lars Eller
is a name other teams were intrigued by earlier this season, but I don't believe the Canadiens would move him. I think he's staying put.
OILERS
The Oilers are not sure if they're buyers or sellers yet -- their play the next few weeks will decide that. Their shootout loss at Columbus on Tuesday night was yet another disappointing game for an Oilers team some thought could make the playoffs this season.
They're 12th in the West as of Wednesday morning, three points out, so a run this month can certainly make them buyers but it's not trending that way.
Like Montreal, whether it's over the next four weeks or this offseason, a top priority for the Oilers is acquiring a power forward, a player with grit who can also play the game at a high enough level to blend with their top-six skill.
The Oilers did acquire Mike Brown earlier this week but he's a bottom-six forward. They need more toughness in their top six in order to allow their skilled players to do their thing a little more freely.
A No. 2 defenseman is also on Edmonton's wish list. Again, not sure that's doable in the next four weeks, so it could be an offseason target instead.
Ryan Whitney
and
Nikolai Khabibulin
are the most obvious trade bait; both are UFA and neither fits the future plans of the Oil.
Ladislav Smid
is also UFA after the season and another candidate for a possible trade.
SENATORS
Can the injury-riddled Senators keep hanging in there?
If somehow they defy all odds and hand Paul MacLean the Jack Adams Award in doing so, GM Bryan Murray would love to throw his group a bone with a trade-deadline pickup if his team can stay in or close to a playoff spot over the next month.
They need offense, big time. Both up front and from the back line. They've struggled to score goals since
Jason Spezza
and
Erik Karlsson
went down, which puts them in the market for both a forward and a defenseman.
Spezza is on track to return around the trade deadline so the defenseman might be a bigger need at that point if the Senators are still in the playoff race.
One thing's for sure: Murray won't do anything short-term that will hamper the team's long-term view; he knows when all his parts are back that his club is playoff caliber next season. The big-picture view is important.
Depth in goal is where the Senators can deal from, however.
Ben Bishop
is the most probable candidate to be moved if the offer makes sense but the Sens aren't shopping him, they love what he brings. But given the presence also of
Robin Lehner
and
Craig Anderson
, the right offer can net Bishop.
If a deal doesn't make sense, Ottawa can also delay the Anderson/Bishop/Lehner decision until the offseason.
If the Senators fall out of the playoff race, then it gets really interesting on the Daniel Alfredsson front. The Senators have a simple approach: Alfredsson will decide if Alfredsson gets traded. It's all up to him.
And finally, pending UFA
Sergei Gonchar
will definitely be trade bait if Ottawa falls out of it.
January, 28, 2012
1/28/12
9:28
PM PT
By
Dan Arritt
| ESPNLosAngeles.com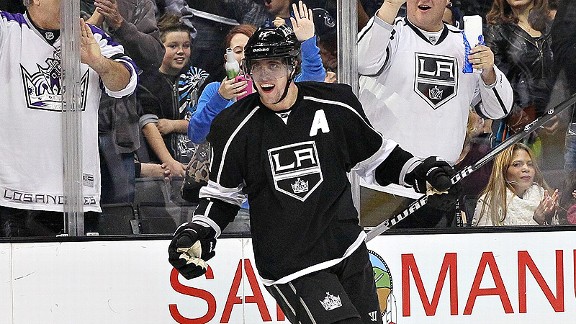 Victor Decolongon/Getty ImagesAnze Kopitar is one of many Kings whose offensive numbers are down compared to the same time last season.
Fifty games down, 32 to go. The Kings are sitting in seventh place in the Western Conference standings coming out of the All-Star break, four points out of ninth and just two short of the Pacific Division lead. Here are the key areas to watch heading into the home stretch of the regular season.
1. Scoring, scoring and, well, more scoring
– Look no further than league-wide scoring averages to pinpoint where the Kings need to improve the most. They're still last in that category at 2.14 goals a game, a hole they've been dug into the last two months. The Kings had 143 goals through 50 games last season. They're sitting at 111 now, more than half a goal per game less than a year ago. Probably not surprising, the numbers for the top three scorers from last season are also down.
Anze Kopitar
has 15 goals and 29 assists, compared to 16 and 33 through the same stretch last season.
Justin Williams
has nine goals and 25 assists. He had 18 and 21 through the 50-game mark a year ago.
Dustin Brown
has dropped from 17 goals and 20 assists to 13 and 14. Last season's second-line center,
Jarret Stoll
, has seen his numbers fall the furthest. He's sitting at five goals and nine assists after racking up 14 and 17 through the All-Star break last season. Even those who were playing elsewhere this time last year,
Mike Richards
and
Dustin Penner
, have seen their offensive stats tumble. Water always settles back at its natural level. Hopefully the Kings' offense will too.
2. Voice in the room
– The players seemed to receive a jolt when coach
Terry Murray
was fired Dec. 12 and replaced a week later by
Darryl Sutter
. They earned points in 14 of the next 15 games to climb into playoff contention in the Western Conference standings, but another goal here or there would have pushed them even higher. The Kings appeared to be falling back into old habits heading into the break, scoring five goals in four games before a 4-1 victory Monday against visiting Ottawa ended the skid. The lull may suggest that the honeymoon with Sutter is over. For the most part, he has defended his team's unsteady play, placing a big chunk of blame on the demanding schedule that included two season-opening 'home' games in Europe, followed by a two-game East Coast swing. They haven't had three days or more between games since mid-November. After an eight-day layoff, the Kings play a home game Wednesday against Columbus then embark on a season-long six-game road trip that could go a long way toward determining if they're contenders or pretenders. They went 6-1-3 during the Grammy trip last season, catapulting them back into playoff contention.
February, 5, 2011
2/05/11
12:03
AM PT
By
Dan Arritt
| ESPNLosAngeles.com
Kings (28-22-2, 58 points) vs. Calgary Flames (26-21-6, 58) at Scotiabank Saddledome, 7 p.m. PT
Five storylines to track:
1. The Flames are blazin' –
The Calgary Flames are the hottest team in the NHL, owning a record of 8-1-1 in their last 10 games. They've won six straight for the first time since 2008, scoring 23 goals in that span. This is one of those four-point games you hear a lot about this time of year, as the winner will take the lead over the loser in the Western Conference playoff race. Both teams enter Saturday one point out of eighth place.

2. House of horrors –
If it's not enough of a challenge playing the hottest team in the league, the Kings will play in an arena where they haven't won in more than five years, a span of 10 games. That's right, 0-10. Not even a point. The Kings have been sitting in Calgary since Thursday, even while the Flames finished a two-game road trip Thursday night in Atlanta. Hopefully, they had a chance to see a witch doctor and do something about breaking this spell.
3. Dynamic duo –
Kings fans have been crying for
Jack Johnson
to team up with
Drew Doughty
on the first power–play unit and they finally got their wish Tuesday in Minnesota and again Wednesday in Edmonton. Johnson and Doughty teamed up on a pair of power-play goals in the 3-1 victory against the Oilers. The goals were originally credited to
Ryan Smyth
on deflections off slap shots from Doughty, but the NHL awarded the goals to Doughty the next day because Smyth never touched the pucks.
4. Paying hit man –
Dustin Brown
announced Friday that for every hit this season he'll donate $50 to the Newborn and Infant Critical Care Unit at Children's Hospital Los Angeles. Brown has 194 hits this season so that's $9,700 in the piggy bank. Good thing Brown isn't donating money for goals. He hasn't scored in the last 11 games and has one goal in the last 17. Fellow first-liner
Anze Kopitar
has been equally snake bit, scoring one goal in the last 18 games.
5. Red-hot Flame –
The hottest player for Calgary isn't
Jarome Iginla
,
Rene Bourque
or
Alex Tanguay
, but rather
Brendan Morrison
, who has four goals and three assists during the six-game winning streak. Morrison, who played part of the 2008-09 season with the Ducks, hasn't had this long of a point streak since scoring in nine straight in late 2003 while playing for Vancouver.
November, 29, 2010
11/29/10
11:29
PM PT
By
Dan Arritt
| ESPNLosAngeles.com
ANAHEIM -- From the easternmost fringes of Canada to the West Coast of the U.S., plenty of hockey talk has swirled around potential trades involving the Kings and a high-scoring forward.
Jarome Iginla
,
Brad Richards
,
Tomas Fleischmann
. Every day it seems a different player is headed to Los Angeles to provide that final piece of the puzzle.

After their latest setback Monday night, a 2-0 loss against their Pacific Division rivals, the Anaheim Ducks, those rumors are sure to build volume.
The Kings lost for the seventh time in the last eight games, but this marked their first via shutout. They have four goals in the last four games and haven't scored an even-strength goal in the last 11 periods.
Kings captain
Dustin Brown
, looking frustrated as he sat in front of his locker at the Honda Center, said his team doesn't need to reach outside the organization for scoring help.
"No one is questioning our scoring when we're winning seven straight," he said. "Now we've lost seven of eight, or six of eight, or whatever it is, people start questioning things. The season is ups and downs and it's just a matter of staying at an even keel."
Brown has gone the extra mile to end the scoring skid, moving from right wing to the left side on the front line. However, nothing seems to be working at any level.
November, 17, 2010
11/17/10
3:53
PM PT
By
Dan Arritt
| ESPNLosAngeles.com
The "rumour" mill, as they write it in Calgary, was spinning like a hamster wheel overnight as
word spread
that the Flames and Kings were involved in trade talks involving five-time All-Star
Jarome Iginla
of Calgary and Kings rookie forward
Brayden Schenn
.
By this morning, much of that speculation
had been quashed
by Calgary's front office.

What is true is the Kings have loaned Schenn to their American Hockey League affiliate in Manchester for a 14-day conditioning assignment.
The sticky part was Schenn is too young at age 19 to play in the AHL, but general manager
Dean Lombardi
found a loophole that allows Schenn to use the stay in Manchester to get in game shape. Schenn had been a healthy scratch the last five games for Los Angeles.
Schenn, the fifth overall draft pick in 2009, has appeared in eight games for the Kings. Once he appears in 10, his entry-level contract will kick in and the Kings will be required to pay him for the full year, whether he stays with the club or not. The other option is to return him to his junior team before his 10th NHL appearance or, if rumor has it, trade him.
The original report out of Calgary, one delivered by Canadian anchor/reporter
Dean Millard
, is that the Kings want the Flames to retain the option of keeping Schenn on the roster or returning him to his junior team in Brandon, Canada.
ESPNLA has reached out to the Kings to see if anything's in the works. We'll let you know if we hear anything back.
IginLA does have a nice ring to it.