Los Angeles Hockey:

Joffrey Lupul
July, 27, 2011
7/27/11
7:43
PM PT
By
Dan Arritt
| ESPNLosAngeles.com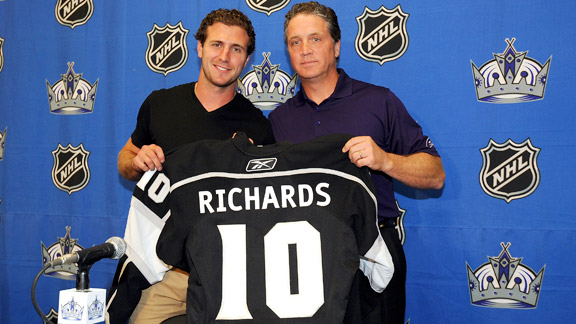 Noah Graham/NHLI/Getty ImagesMike Richards, standing with Kings GM Dean Lombardi, says he's impressed by the depth of the Kings' roster
EL SEGUNDO — Still without an explanation for what prompted the Philadelphia Flyers to trade him to the Kings a month ago, and still wondering how allegations of excessive partying could leak from his former locker room,
Mike Richards
made his debut with the Los Angeles media Wednesday at the Toyota Sports Center.
Richards, a two-time 30-goal scorer who came to L.A. in a deal for rugged right wing
Wayne Simmonds
, highly touted center
Brayden Schenn
and a future draft pick, stayed around to answer every question tossed his way, from first impressions since joining the organization to his thoughts on the stunning trade and whether there was any truth to
reports
that his after hours might have fueled his departure.
Two days earlier, a gossip columnist with the Philadelphia Daily News cited unidentified sources who claimed Richards, the team captain, got on the wrong side of Flyers coach
Peter Laviolette
because he opted against participating in a month-long pledge of sobriety, an event known in the locker room as Dry Island.
It wasn't the first time Richards came into the cross hairs of the Philadelphia media after they reported on the Flyers' exuberant nightlife. Two seasons ago, Richards
refused to speak
with local journalists after reports surfaced that
Joffrey Lupul
was traded to the Ducks for
Chris Pronger
to break up some of the off-the-ice behavior by a group of Flyers that included Richards.
Richards, 26, did not deny the latest reports, but rather questioned their importance.
"Philadelphia tends to blow things up a little more than they actually are," he said. "[Dry Island] just started out as more of a friendly, fun thing that you can joke about in the dressing room."
February, 15, 2011
2/15/11
3:54
PM PT
By
Dan Arritt
| ESPNLosAngeles.com


ANAHEIM -- All's well back at the Honda Center.

The morning after World Wrestling Entertainment invaded the arena, the Ducks returned to practice Tuesday and found everything still in order. While away for four games, the most notable changes came to their mix of veterans and young guns who are quickly making a name for themselves.

Ryan Getzlaf was back in his familiar role centering the top line. Getzlaf, who has combined for more points than any player on the Ducks the last three seasons, missed 14 games after getting struck in the forehead with a puck at Phoenix on Dec. 28, causing fractures to his nasal passages. Anaheim, fifth in the Western Conference heading into Tuesday, won 10 games while he was out and four straight since he has returned.

When he skates onto the ice Wednesday against visiting Washington, it will be his first home game since Dec. 12.

"It's always nice to come home and be in a comfortable setting, in your own locker room and own building, in front of your own fans," Getzlaf said. "We have to use that to our advantage."


December, 26, 2010
12/26/10
8:34
PM PT
By
Dan Arritt
| ESPNLosAngeles.com
When a hockey team is scoring goals as frequently as the Kings, it doesn't really matter who's minding the net.

The Kings jumped on the Ducks for four goals in the second period Sunday evening and cruised to a 4-1 victory before a sellout crowd at Staples Center.

The Kings have scored 28 goals in their last seven games, running their record to 5-2 in that stretch. They moved to fourth in the Western Conference standings.

It was the second time this season that the Kings scored four goals in a single period. The other time was Dec. 18 in a 6-1 victory at Nashville. Those are the only two games Kings back-up goalie Jonathan Bernier has played since Nov. 24.

Bernier stopped 18 shots en route to his second consecutive victory, running his record to 4-5 this season.

Wayne Simmonds scored 15 seconds into the second period for a 1-0 lead. Marco Sturm, who was playing in his third game for the Kings since he was acquired from the Boston Bruins, earned his first point for Los Angeles in his first game on the top line with Anze Kopitar and Dustin Brown.

Sturm swiped at a rebound off a shot from Kopitar and sent it back at Ducks goalkeeper Jonas Hiller, who made a second save but couldn't stop Kopitar's follow-up shot, giving the Kings a 2-1 lead with 10:50 left in the second period.

Justin Williams then took advantage of a turnover by Joffrey Lupul near the Anaheim blue line and fired a wrist shot passed Hiller for a 3-1 lead with 7:05 remaining. Brown finished off the scoring with a power-play goal with 2:03 remaining for a 4-1 lead, sending Hiller to the bench for the remainder of the game.

Kings defenseman Matt Greene was solid in his return from a five-game absence due to a concussion, registering a team-high five hits

The game was the first of four in five nights, a stretch the club hasn't experienced since the 1994-95 season. The Kings travel to San Jose for another key Pacific Division game Monday night, then head to Phoenix on Wednesday before returning home to play the Philadelphia Flyers on Thursday.

More to come from the locker room.
December, 6, 2010
12/06/10
11:18
PM PT
Joffrey Lupul couldn't help the Ducks get past the Coyotes on Sunday, but his return to the ice was a victory in itself, capping a long recovery journey after back surgery.
Read more about it here
.
November, 24, 2010
11/24/10
9:07
PM PT
By
Dan Arritt
| ESPNLosAngeles.com
The Ducks will don their third different jersey in franchise history Friday afternoon against the visiting Chicago Blackhawks. Seems like a good time for a change, considering they've played like two different teams through the first quarter of the season.

Are the Ducks the same group that won six consecutive games earlier this month? Or the team that's currently riding a five-game losing streak?

The disparities aren't difficult to identify.

"There's another level that we've been playing to," Ducks coach Randy Carlyle said of the team's recent slide. "It's very simple, we just have to play harder."

Carlyle pointed out some flaws that have arisen during the current losing streak, such as players allowing themselves to get boxed out rather easily in front of the opponent's net, or not fighting hard enough for the puck during one-on-one battles. Carlyle said he planned to show video to his players after practice Wednesday to point out their deficiencies.

"Our urgency needs to go up," he said. "Those are areas that are going to be improved upon."

The players recognize that they've lost some of their win-at-all-cost attitude.

"We need that swagger back," said forward Corey Perry, the team's leading scorer with 23 points. "One good period, one good game, one good shift, it can all turn the momentum...we just need that spark."

After losing four of their first five games and then trading wins and losses the remainder of October, the Ducks got the push they needed in a 3-2 overtime victory against visiting Tampa Bay on Nov. 3. That set off a string of six straight victories, one shy of a franchise record.

"We played some good hockey to get us back in a good situation," said Ryan Getzlaf, third on the team with 21 points but goal-less in the last five games.

The Ducks (10-10-3) went on the road following a 4-2 victory against Dallas on Nov. 13, then saw their winning streak halted two days later against the defending Stanley Cup champion Blackhawks, who scored the winning goal with 28 seconds remaining in overtime.

They've since lost at Dallas and Minnesota, and at home against Columbus and Edmonton, despite out-shooting the visitors, 90-54.

"We've been putting up a lot of shots but we're not scoring any goals," Perry said. "We've got to find a way to score goals."

Three years after winning the Stanley Cup, the Ducks seem caught between rebuilding and contending. They have a core group of young players to build around. Getzlaf and Perry, the team's leading scorers the last three seasons, are each just 25 years old, and Bobby Ryan, third among forwards in scoring the last two seasons, is 23.

Cam Fowlermade the team this season as an 18-year-old defenseman and is already drawing comparisons to a young Scott Niedermayer, who anchored the Ducks' blue line for 4 ½ seasons before retiring this summer.

However, the Ducks also have seven players age 34 or older. Teemu Selanne re-signed a one-year deal this summer, shortly after turning 40. He hasn't played a full season since 2006-07 and is currently sidelined with a groin injury.

Trying to rebuild while retaining veterans for another playoff run can be a difficult tightrope to walk.

"With Scottie [Niedermayer] gone, it was a big turnover for our back end," Getzlaf said. "Filling those shoes, you're not going to do it with one guy, so we're in between a little bit, but we're still pushing, we're still contending."

The good news is more help is on the way.

Joffrey Lupul, who scored 53 points as a member of the Ducks in 2005-06, is close to returning from back surgery that sidelined him since last December. Lupul was traded away for defenseman Chris Pronger in July 2006, then traded back to the Ducks in June 2009 for Pronger, defenseman Luca Sbisa and two first-round draft picks.

"I'm just going to keep taking it day by day, but had no real setbacks," he said. "I feel good, I feel strong, I'm definitely confident that I can jump back in whenever we decide that date is."

Kyle Chipchura, a former first-round pick of the Montreal Canadiens, is expected to return to his fourth-line centering duties Friday. Chipchura has been sidelined since Oct. 30 with concussion symptoms.

A slight break in the schedule might also do Anaheim some good. For the first time this season, the Ducks are getting four days off between games. Carlyle didn't have the team practice on Monday and Tuesday "just to kind of get away from this rink a little bit and kind of refreshen everybody."

Now, it's just a matter of which team will show up against the Blackhawks.