Los Angeles Hockey:

Ken Hitchcock
May, 31, 2012
5/31/12
4:47
PM PT
By
Dan Arritt
| ESPNLosAngeles.com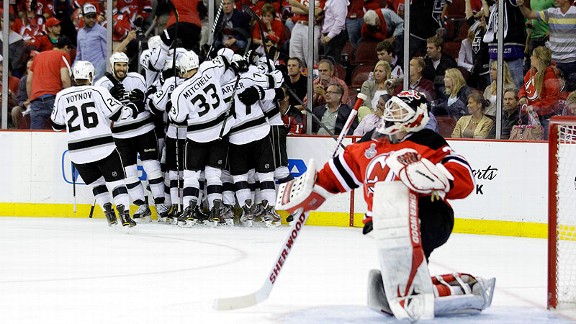 AP Photo/Julio CortezThe Kings have won Game 1 in all four playoff series this season, sparking talk of refocusing by opposing coaches.
NEWARK, N.J. -- Another Game 1 victory by the Los Angeles Kings in this incredible playoff run, another pledge by the opposition to improve areas of its game and come back with a better result.
Heard this before?
Shortly after losing the opening game of this postseason to L.A. 4-2, Vancouver Canucks coach
Alain Vigneault
said the power-play unit needed to execute better after failing on all five opportunities. To his dismay, Kings captain
Dustin Brown
scored two short-handed goals in Game 2, the difference in another 4-2 defeat.


St. Louis Blues coach
Ken Hitchcock
then asked for more commitment from his top players after losing Game 1 of the second-round series, but he could only wince as the Kings scored four unanswered goals in the first period of Game 2, throwing a bucket of cold water on the Blues in the 5-2 victory that eventually led to a series sweep.
Then it was coach
Dave Tippett's
turn to proclaim that the Phoenix Coyotes needed to take some lessons from their 4-2 loss to L.A. in the opening game of the Western Conference finals. The only lesson the Coyotes learned was that the Kings could play even better, as
Jeff Carter
scored a hat trick in Game 2 and the Kings delivered their best all-around performance of these playoffs in the 4-0 victory.
Now it's New Jersey Devils coach
Pete DeBoer
who sat before the media Thursday morning, a day after his team lost Game 1 of the Stanley Cup finals to the Kings, 2-1 in overtime, and said his team needed an all-around better effort Saturday night in Game 2 back at Prudential Center.
"We've got to be a little sharper in all our areas," he said.
Ring a bell?
Thanks to a previously scheduled Radiohead concert at the Prudential Center on Friday night, the Devils will have an extra day to analyze tape, pinpoint where they came up short and determine how they can improve.
As for the Kings, they said they'll be ready for another push back from the opposition, especially in the first 10 minutes.
"We've just got to make sure before the game that we're fully prepared for that, and we've got to exceed their work ethic," said Kings defenseman
Drew Doughty
. "They're going to be desperate."
May, 5, 2012
5/05/12
11:53
PM PT
By
Dan Arritt
| ESPNLosAngeles.com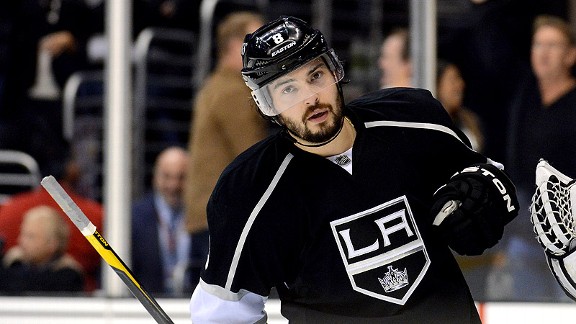 Harry How/Getty ImagesDrew Doughty has been receiving high praise from the opposing coach as well as the public.
Western Conference semifinals
Game 4, Kings vs. St. Louis Blues at Staples Center, noon (Kings lead series, 3-0)
Five storylines to track:
1. Broom town
-- Sure, the Kings are up 3-0 for the second straight series, skating on home ice with another chance to sweep one of the top teams from the regular season. But a different aura surrounds this Game 4. It's a sense of confidence, of domination and, yeah, the Blues are proving to be a lot more inferior than the Canucks. The St. Louis defense has more holes than an old pair of jeans, and goalie
Brian Elliott
is nowhere near the final obstacle that
Cory Schneider
proved to be in the Vancouver series. Throw in an offense that has been completely flummoxed by Kings goalie
Jonathan Quick
and the recipe is ripe for a fourth straight victory.


2. Popular demand
-- Kings defenseman
Drew Doughty
went to the Angels game Friday night, not to root for the home team but to support his beloved Toronto Blue Jays. Apparently, he and teammate
Trevor Lewis
were big hits with the crowd, going so far as to say it was the most attention they've received in public. The Kings have become part of the raging sports landscape in Southern California, right along with the Lakers, Clippers, Dodgers and, to a lesser degree, the Angels. The volume should only increase if the Kings can advance to the Western Conference finals for just the second time in franchise history. That could go a long way toward keeping the Kings in the mainstream sports conversation beyond this spring.
3. Earning his keep
-- St. Louis coach
Ken Hitchcock
had the highest praise for Doughty following practice Saturday. He said the 22-year-old blueliner has been the best player in the series, a compliment that goes a long way considering how well Quick has played. Doughty had a backbreaking goal in the third period of Game 3 after earning a pair of assists earlier in the contest. The regular season didn't unfold for Doughty quite the way many expected. He remained unsigned during training camp while negotiating the highest-paid contract on the team, and came up far short of the offensive numbers he produced two years ago, a watermark his representatives used in negotiations. It's amazing how easily those shortfalls can be forgotten in the haze a standout playoff performance.
4. Power please
-- The Kings ended an 0-for-30 skid on the power play in Game 3, getting a second-period goal from
Mike Richards
. They're 4-for-42 overall in these playoffs, a percentage that normally wouldn't hold up this long into the postseason. But the Kings have made up for some of their special teams futility by going 32-for-35 on the penalty kill and scoring four short-handed goals. A power-play goal or two in Game 4 could go a long way toward getting the Kings back on track, and maybe even help clinch this series.
5. Changing Blues
-- The Blues can't replace Elliott because their backup,
Jaroslav Halak
, is sidelined because of a sprained ankle, so they're benching defenseman
Carlo Colaiacovo
and replacing him with
Ian Cole
, and scratching winger
B.J. Crombeen
in place of
Ryan Reaves
, who's best known in L.A. for dropping Kings forward
Kyle Clifford
in a one-punch fight last season. Let's face it, the Blues don't have that golden ticket waiting to be found. Vancouver swapped goalies after the first two losses against the Kings, and that did little to stem the tide.
May, 3, 2012
5/03/12
3:06
PM PT
By
Dan Arritt
| ESPNLosAngeles.com
Western Conference Semifinals
Game 3 (Kings lead series, 2-0)
Kings vs. St. Louis Blues at Staples Center, 7 p.m.
Five storylines to track:
1. Ding, ding, ding –
Anyone who watched the last two periods of Game 2 probably wondered if they were viewing playoff hockey or some sort of Wrestlemania on Ice. After the Kings took a 4-0 lead in the opening period, the game disintegrated into a series of after-the-whistle scrums. There were 14 roughing penalties, five 10-minute misconducts and, as
Dustin Penner
described, a rear-naked chokehold that he applied on
David Perron
. Will the Kings get coerced into those antics in Game 3? After all, those were the two best periods by St. Louis in this series. The Kings would be better served to avoid falling into that trap. Their penalty-kill unit has been outstanding against the Blues this season, 26-for-26 to be exact, but even that has a shelf life if left on the ice too long.


2. Pietrangelo to return
– Similar to what the Canucks went through with
Daniel Sedin
in the first-round series, the Blues are hoping defenseman
Alex Pietrangelo
will provide a much-needed lift after missing Game 2 with an undisclosed injury. Blues coach
Ken Hitchcock
said after the morning skate that Pietrangelo will play in Game 3. He leads the team in ice time, is a rock on the special teams and might just be the best player for St. Louis. Of course, Sedin meant just as much to the Canucks, but he wasn't able to accomplish anything more than keeping Vancouver from getting swept.
3. On your marks
– You can almost bank on the Blues treating the first period like a 100-meter dash, similar to what they displayed in Game 1 (and the opposite of how they played in Game 2). St. Louis is a desperate hockey team and they can't afford to give L.A. another inch. The Kings scored 31 seconds into Game 2 and never looked back. L.A. shouldn't be surprised by what they see in the first period, but how they react could go a long way toward determining the result.
Jonathan Quick
bailed them out with several spectacular saves early in Game 1, but the Kings would probably rather counter the Blues with some speed and tenacity of their own. Either way, don't expect the score to get one-sided early on for a second straight game.
4. Better than nothing
– He didn't give the universal A-OK symbol when asked about his ankle following Game 2, but
Jeff Carter
at less than 100 percent is still better than most NHL forwards. He missed the final five games of the regular season with a deep bone bruise and wasn't much of a factor in the opening-round series against the Vancouver Canucks. Carter scored his first playoff goal in 10 games in Game 2, however, a patented wrist shot that hit the net before most even saw it leave his blade. With linemates
Mike Richards
and Penner playing at a high level, a productive Carter will make things even tougher on the Blues, who are finding it difficult to match up against the Kings top two lines.
5. Clifford getting close
– Out since Game 1 of the Vancouver series after an illegal hit by a vagabond forward, Kings fourth-liner
Kyle Clifford
is getting close to returning from a concussion. Kings coach
Darryl Sutter
will face a tough decision if that time comes tonight.
Brad Richardson
has stepped in nicely for Clifford, scoring the third-period tying goal in the series-clinching overtime victory against the Canucks. The fourth line has also been playing as well as any of the forward trios, and breaking up that combination now would be a gamble. Look for Clifford to remain out until the Kings clinch the series, or another forward gives Sutter a good reason to replace him in the lineup.
April, 27, 2012
4/27/12
11:43
AM PT
By
Dan Arritt
| ESPNLosAngeles.com
The Kings and Blues are scheduled to kick off their Western Conference semifinal Saturday at 4:30 p.m. PT at Scottrade Center in St. Louis. Here's a breakdown of what to watch for as the series unwinds.

KINGS OFFENSE vs. BLUES DEFENSE

Kings coach Darryl Sutter called the NHL a "3-2 league" when he was hired in mid-December to replace Terry Murray, a reference to the typical final score. This might be a 2-1 series, however. St. Louis was No. 1 in the league in goals-against average during the regular season, allowing an average of 1.89 goals a game, while the Kings were 29th in the league in scoring at 2.29 goals a game. The Blues are led on the blue line by 22-year-old Alex Pietrangelo, who had a breakout regular season with 12 goals, 59 points and a plus-14 rating. The Blues will be without No. 1 goalie Jaroslav Halak for the first two games after he injured his ankle in Game 2 of their first-round victory against the San Jose Sharks. That's hardly a big blow for St. Louis, which features a quality backup in Brian Elliott, who won all three first-round starts and had better overall statistics than Halak during the regular season. The Kings may have finished second-to-last in the league in scoring, but they averaged 2.78 goals over the final 23 games. The top line of Anze Kopitar, Dustin Brown and Justin Williams scored 22 goals or more apiece during the regular season and combined for five goals and eight assists in the first-round victory against the Vancouver Canucks. The Kings also feature plenty of firepower and postseason experience on the second line with Mike Richards, Jeff Carter and Dustin Penner.

The Edge: Blues

BLUES OFFENSE vs. KINGS DEFENSE

The Kings were no slouch on defense either, allowing an average of 2.07 goals during the regular season, second best in the league behind the Blues. The Kings and St. Louis also allowed the fewest goals in the first round of the playoffs (eight). The backstop for the Kings is goalie Jonathan Quick, a Vezina Trophy finalist who led the league and established a franchise record with 10 shutouts during the regular season. He also blanked Vancouver in Game 3. The Kings feature a nice mix of offensive-minded defensemen, led by 2010 Norris Trophy finalist Drew Doughty, and defensive stoppers Willie Mitchell, Rob Scuderi and Matt Greene. The Blues will counter with a deep forward corps that features nine players who scored 10 goals or more in the regular season. The player to watch for St. Louis is center Andy McDonald, who missed 51 games with a concussion and six more with a shoulder injury, but flashed his talent in the first-round series, accounting for four goals and four assists in five games. Six of his points came on the power play. McDonald did not appear in any of the four games against the Kings this season.

The Edge: Kings


November, 22, 2011
11/22/11
8:10
PM PT
By
Dan Arritt
| ESPNLosAngeles.com
Kings 3, St. Louis Blues 2
Eight keys to the game:
THE FACTS:
The Kings battled back from a slow start Tuesday night at Scottrade Center in St. Louis and received the game winner on a rare goal by veteran defenseman
Willie Mitchell
with 5 minutes 49 seconds remaining in regulation.


THE STAT:
In his most flawless game in a Kings uniform,
Mike Richards
assisted on the first goal to tie the score, 1-1, then scored early in the third to give the Kings a short-lived 2-1 lead. Just as impressive, Richards won his first 15 faceoffs before losing his final draw with 1.5 seconds remaining. Richards has seven goals in his last seven games.
TURNING POINT:
Less than two minutes after the Blues tied the score, 2-2, on a goal by
Vladimir Sobotka
with 7:32 left in the game, Mitchell received a pass from
Simon Gagne
near the point and shot it toward the St. Louis goal. The puck deflected off St. Louis center
Scott Nichol
in transit and flew past goalie
Jaroslav Halak
with Kings forwards
Jarret Stoll
and
Justin Williams
providing screens. It was the 25
th
goal of Mitchell's 12-year career and his seventh game winner.
HOT:
Kings backup goalie
Jonathan Bernier
got the nod over
Jonathan Quick
and he kept the Kings in the hunt after allowing a goal on the first shot of the game. In just his fourth start this season, Bernier stopped 23 shots, none better than the one he turned away from
Patrik Berglund
after he took a pass while alone in front of the net with 4:40 left in the second period.
November, 22, 2011
11/22/11
12:17
AM PT
By
Dan Arritt
| ESPNLosAngeles.com
Kings (10-7-3, 23 points) vs. St. Louis Blues (10-7-2, 22 points) at Scottrade Center, 4:30 p.m. (PT)
Five storylines to track:


1. Rule or exception?
– Kings coach
Terry Murray
is hoping his team's performance Saturday against visiting Detroit was just a hiccup and not a step back in progression. The Kings had won three straight heading into the game and seemed to have ironed out a few kinks, but then had 15 giveaways, many in the neutral zone, in the 4-1 loss to the Red Wings. They also went without a power-play goal for the first time in seven games and were stumped in 5-on-5 play as well.
2. Two for two
– The Kings played one of their best games of the season against St. Louis in their home opener last month.
Simon Gagne
had two goals and an assist and
Jonathan Quick
stopped 27 shots for the first of his franchise-record three consecutive shutouts. The Kings haven't been as sharp in St. Louis, losing their last three games at Scottrade Center. They last won there Oct. 10, 2009, the same night the Dodgers eliminated host St. Louis from the National League Championship Series.
3. More Slava
– Before the Kings flew to St. Louis on Monday afternoon, Murray announced that second-year defenseman
Alec Martinez
would not play in St. Louis or Wednesday in Dallas because of a shoulder injury suffered 10 days earlier against visiting Minnesota. The Kings can afford to let Martinez take his time with his recovery because rookie
Slava Voynov
is more than holding his own. In eight games over two different stints with the Kings this season, he has five points and a plus-2 rating. Martinez has two points and a minus-2 rating in 16 games.
4. New man in town
– There have been a few changes since the Kings last met the Blues, most noticeably a new coach,
Ken Hitchcock
, who took over for
Davis Payne
last month after the Blues limped to a 6-7-0 start. Under their new leader, the Blues have gone 4-0-2 and have allowed just six goals in regulation. Hitchcock and Murray have coached together in the past and both demand similar styles of play. Don't expect the Kings to put another five goals on the board, but three should be enough to win.
5. Power struggle
– St. Louis has been absolutely abysmal on the power play. The Blues have scored just six man-advantage goals in 59 opportunities, a success rate of only 10.2 percent. Only one team in the last 11 seasons has finished under 11 percent. The top four point producers for the Blues,
Alexander Steen
,
T.J. Oshie
,
Kevin Shattenkirk
and
David Backes
, have not scored a power-play goal, neither has
Patrik Berglund
, who led the team with eight last season.