Los Angeles Hockey:

Marc Crawford
December, 2, 2011
12/02/11
1:33
PM PT
By
Dan Arritt
| ESPNLosAngeles.com
Kings (13-8-4, 30 points) vs. Montreal Canadiens (10-11-5, 25 points) at Staples Center, 12:30 p.m.
Five storylines to track:


1. No Richards
– The Kings will need to make due without their leading goal scorer,
Mike Richards
, who is expected to go on injured reserve this weekend. Richards suffered an upper-body injury during a collision with Florida Panthers forward
Sean Bergenheim
late in the second period of a 2-1 victory Thursday night. Richards was playing as well as anybody on the team lately, scoring nine goals in the previous 10 games. Fortunately for the Kings, they have enough depth at center to plug the hole for a while, and left wing
Dustin Penner
is ready to come off injured reserve after missing the last nine games with a hand injury.
2. No Mitchell
– The Kings also took a hit on the defensive side when
Willie Mitchell
left the game Thursday night with a lower-body injury. The rest of the blue liners did an admirable job picking up the slack against the Panthers, now it looks like it'll be up to
Davis Drewiske
to hold down the fort against the Canadiens. Drewiske will certainly be fresh, having played just one regular season game this season and spending the rest in the press box as a healthy scratch. He did play well in his only appearance in Philadelphia, so this is a good chance to prove that's more the norm. The Kings will also have a relatively fresh face in goal, as backup
Jonathan Bernier
is expected to start for just the fourth time this season.
3. Milestone for Murray
– Kings coach
Terry Murray
enters this game with 499 career victories. With a win against the Canadiens, he would become the 17
th
coach in NHL history to reach 500 victories and the second in his family. His brother,
Bryan
, now the general manager of the Ottawa Senators, is seventh on the list with 619 career victories. Murray's predecessor with the Kings,
Marc Crawford
, is also in the 500-win club. Buffalo coach
Lindy Ruff
is the last coach to get 500 wins, earning his last January.
October, 26, 2011
10/26/11
9:18
PM PT
By
Dan Arritt
| ESPNLosAngeles.com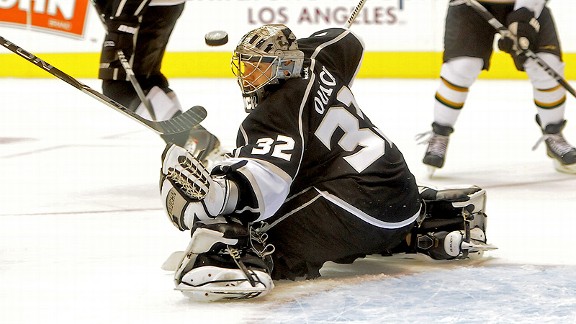 Jayne Kamin-Oncea/US PresswireJonathan Quick, who figures to start Thursday in Dallas, shut out the Stars last Saturday at Staples Center.
Kings (5-2-1, 11 points) vs. Dallas Stars (7-2-0, 14 points) at American Airlines Center, 5:30 p.m. (PT)
Five storylines to track:
1. Quick returns
-- After a one-game hiatus to allow backup
Jonathan Bernier
to get in a game, Kings goalkeeper
Jonathan Quick
is slated to be back in net, where he'll attempt to get his team a win and, less important to him and more important to everyone else outside the Kings' dressing room, extend his three-game shutout streak. Quick just faced the Stars in his most recent start Saturday, stopping 28 shots in the 1-0 victory to set franchise records for longest shutout streak and consecutive shutouts. The last NHL goalie to record four consecutive shutouts was
Brian Boucher
of Phoenix in 2003-04. He went on to set a modern-day record with five straight.


2. Scoring drought
-- Kings right wing
Dustin Brown
said it best after the 3-0 loss Tuesday night against New Jersey, "With our system, we're going to be in some tight one-goal games." Despite all the offensive skill the Kings have on the roster, their dump-and-chase system still doesn't allow for many high-scoring games, or highlight-reel goals. The Kings have scraped together just one goal in the last seven periods and three in the last nine, with the top line of
Anze Kopitar
,
Justin Williams
and
Simon Gagne
getting blanked in that span.
Mike Richards
hasn't scored a goal since the season opener and
Dustin Penner
is still looking for his first of the season.
3. Doughty close?
-- Kings defenseman
Drew Doughty
changed into a full-contact jersey for Wednesday's practice, but his availability to play against the Stars is still to be determined by the training staff. While the 21-year-old has been sidelined because of a shoulder injury, the Kings have gone 4-1. They're 8-3 without him over the last two seasons. That certainly doesn't mean the Kings are better off without their highest-paid player, but it does show the depth they have on the back end.
4. Staying positive
-- Kings defenseman
Jack Johnson
is continuing his responsible play at both ends of the ice. He's a plus-4 for the season with only one game in the red in the first eight. By comparison, he was minus-21 during the regular season last year and finished in the red 37 of 82 games. He's also the only player on the Kings to score a goal in the last two games.
5. Early nominee
-- The rookie everyone is talking about this season isn't even a player. Dallas coach
Glen Gulutzan
took the reigns after former Kings coach
Marc Crawford
was fired at the end of last season and he can't seem to make a bad move. Gulutzan, who never played or coached in the NHL before this season, has the Stars off to their best start since 2006. He's gaining recognition for having his team ready to play every game, and for his subtle in-game adjustments that give his team the edge down the stretch. Four of their seven wins have come by one goal and another in a shootout. If the season ended today, he would likely be the coach of the year.
October, 28, 2010
10/28/10
11:42
PM PT
By
Dan Arritt
| ESPNLosAngeles.com
Dallas coach Marc Crawford, who suffered through two losing seasons in Los Angeles from 2006 to '08, laid into his team Thursday night after the Kings beat the Stars, 5-2, at American Airlines Arena.
Here's the
full rant
on ESPNDallas.com but in a nutshell, he wasn't happy that the line of
Brenden Morrow
,
Mike Ribeiro
and
Jamie Benn
extended its shift longer than warranted in the second period, in an effort to build one more offensive attack.
Instead, they turned the puck over on a lazy pass, setting up a goal by
Alexei Ponikarovsky
that broke a 1-1 tie. Nine seconds later, the Kings scored again at that was essentially the game.
"You don't try to over-extend a shift you're 60 seconds into to try to get another offensive opportunity," he said. "You give the other team life. That's how you get beat."
Minnesota Vikings coach
Brad Childress
has been
called out
by members of the media for calling out quarterback
Brett Favre
following
a loss
to the Packers on Sunday night.
You wonder if Crawford also went too far.
October, 28, 2010
10/28/10
9:40
AM PT
By
Dan Arritt
| ESPNLosAngeles.com
Kings (6-3-0) vs. Dallas Stars (5-3-0) at American Airlines Center, 5:30 p.m. (PT)
Five storylines to track:
1. Red (hot) October –
Justin Williams
has always played well in the opening month of the season, dating back to when he had a goal and two assists in his NHL debut 10 years ago. Since the 2006-07 season, he has scored 42 points in 43 games during October. Avoiding injuries has been his biggest challenge as the season progresses. Williams has missed 198 games in the previous four seasons, appearing in 130.

2. Doughty no longer doubtful – Kings defenseman
Drew Doughty
is officially out for the Dallas game and it's looking like he won't return when the Kings host New Jersey at Staples Center on Saturday night. His concussion, er, we mean, upper-body injury, isn't healing as quickly as the Kings hoped and there's no need to rush back their puck-shooting prodigy. After the game with the Devils, the Kings don't play again until Thursday.
3. Brown-out – King right wing and team captain
Dustin Brown
hasn't scored in the last two games and was unusually quiet Wednesday night in a 3-1 loss at Chicago. He had just two shots on goal in the first game back since he received a game misconduct penalty for an illegal hit to the head against Minnesota, one he adamantly denied. He has also been strangely absent in the last four games against Dallas and his former coach,
Marc Crawford
, totaling just one assist.
4. Starring vs. Dallas – As a whole, the Kings have recently played very well against Dallas, winning five of six games last season and nine of 13 over the previous two. The Stars have had their own problems finding the net in the last two games, getting stoned on 65 of their last 67 shot attempts. For once, the Kings are playing a team that's more feeble on the power play too. The Stars have converted just three of 30 extra-man situations.
5. Tough break – A broken jaw couldn't sideline Stars defenseman
Stephane Robidas
during a game against the Coyotes two seasons ago, nor could a broken nose against the Ducks during the 2008 playoffs. But the team's alternate captain will be forced to watch against the Kings after receiving an automatic one-game suspension for his second game misconduct boarding penalty within a 41-game period.
Philip Larsen
has been called up from the AHL to replace him.