Los Angeles Hockey:

Martin Jones
June, 17, 2012
6/17/12
2:04
PM PT
By
Dan Arritt
| ESPNLosAngeles.com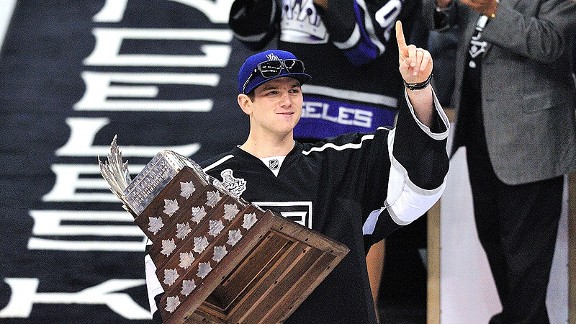 AP Photo/Louis Lopez/CSM
The biggest priority this summer is signing goalie Jonathan Quick to a long-term contract extension.
Coming off their first Stanley Cup title in franchise history, the Kings face many of the same questions most organizations do this time of year. Which players must they try to re-sign? Who can they afford to let go? In what areas do they need to bolster their roster? Here's a look at five key questions heading into the offseason.
1. Can the Kings extend Quick
? The biggest priority this summer is signing goalie
Jonathan Quick
to a long-term contract extension. Quick, who won the Conn Smythe Trophy as the NHL's top player in the postseason, will be an unrestricted free agent a year from now. The Kings can begin negotiating an extension as soon as July 1. As the 25
th
-highest-paid goalie in the league last season at $1.7 million, look for Quick to earn something in the $7 million range, similar to that of the league's highest-paid netminder,
Pekka Rinne
of the Nashville Predators. Quick's roots are on the East Coast, however. If the Kings aren't able to lock him into an extension this summer, that may be an indication his heart remains elsewhere.
2. What to do with Penner, Stoll and Fraser?
The contracts belonging to forwards
Dustin Penner
,
Jarret Stoll
and
Colin Fraser
will expire this summer, leaving all three veterans as unrestricted free agents. Penner had a solid showing in the playoffs, but was virtually missing in action the rest of his time with the Kings. If they can knock a couple of million off the $4.25 million he made last season, he might be worth keeping around. Stoll's offensive numbers dropped significantly after he was moved from the second line to the third line last season, but his attitude never wavered. He's probably better suited for the third line at this stage of his career anyway, but most third-liners don't make $3.4 million a season. Fraser, the team's fourth-line center, might actually earn a raise off the $825,000 he made last season.
3. Can the Kings avoid the Stanley hangover
? No team has repeated as Cup champion since the Detroit Red Wings in 1997-98. A number of factors are responsible for this trend, probably none bigger than the widespread parity that has developed within the league in recent years. In the past nine seasons, nine teams have raised the Cup. Another factor is the significantly shorter summer Cup champions experience after their title run, leaving them a bit slow out of the gate. The Kings have a couple of factors on their side: They remain one of the youngest teams in the league and won't lose any of their key players to free agency.
4. Is this the last we've seen of Bernier?
At least in a Kings' uniform, that seems to be the case. A former 11
th
overall draft pick,
Jonathan Bernier
is one of the best backup goalies in the league, but he has made it clear he'd rather not wear that title. He wants to be a starter and, after starting just 42 games in the past four seasons, he's more than ready to make that move. He's looking at a nice raise from $975,000 last season to $1.525 million in 2012-13, the final year of his current contract. The Kings could get that number off the books via a trade, slot
Martin Jones
in as the backup and use that cap space to bring in a forward to fill the shoes of Penner or Stoll.
5. Who will make up the fourth line next season
? The Kings suddenly have a surplus of fourth-line types on the roster. Assuming they re-sign Fraser, that leaves
Jordan Nolan
,
Brad Richardson
,
Kyle Clifford
,
Kevin Westgarth
and
Andrei Loktionov
battling it out for the final two spots. There's also a few players ready to graduate from the minors, most notably bruiser
Rich Clune
, who signed a two-year contract extension last week. Loktionov could very well inherit Stoll's third-line center position, since he doesn't have the size to survive on the wing. Clifford and Nolan are signed to two-way contracts through next season, which could leave one of them starting out next season in Manchester.
September, 12, 2011
9/12/11
12:54
PM PT
By
Dan Arritt
| ESPNLosAngeles.com
Rookie camp is underway for the Kings at Toyota Sports Center in El Segundo, with 23 players vying for a coveted roster spot.
A year ago, 19-year-old forward
Kyle Clifford
was considered a long shot to survive training camp, but impressed management enough to make the opening-day roster. Clifford played a big role during the regular season and emerged as one of the most effective players during the playoffs.
The highlight of rookie camp is expected to be scrimmages on Wednesday and Thursday against the Phoenix Coyotes at Toyota Sports Center. Wednesday's game is scheduled for 6 p.m. and Thursday's at 2. The rest of the signed players will report Friday for physicals and Saturday for the opening day of training camp.
Here's a list of the rookie camp participants, followed by their age, position, height, weight and 2010-11 clubs.
FORWARDS
Andy Andreoff (20), LW, 6-1, 205, Oshawa (OHL)
Taylor Carnevale (20), C, 6-0, 190, Windsor & Barrie (OHL)
Robbie Czarnik (21), C, 6-1, 178, Plymouth (OHL)
Michael Kantor (19), RW, 6-0, 198, Sault Ste. Marie & Saginaw (OHL)
Ray Kaunisto (24), LW, 6-4, 185, Manchester
Brandon Kozun (21), RW, 5-9, 164, Manchester
Bobby Mignardi (21), RW, 6-0, 186, Owen Sound (OHL)
Jordan Nolan (22), C, 6-3, 216, Manchester (AHL)
Michael Schumacher (18), LW, 6-3, 168, Frolunda (Swedish junior league)
Tyler Toffoli (19), RW, 6-0, 181, Manchester & Ottawa (OHL)
Linden Vey (20), RW, 5-11, 176, Medicine Hat (WHL)
J.D. Watt (24), RW, 6-2, 196, San Antonio & Abbotsford (AHL)
Jordan Weal (19), C, 5-8, 158, Manchester & Regina (WHL)
DEFENSEMEN
Michal Cajkovsky (19), 6-3, 208, Kingston (OHL)
Nicolas Deslauriers (20), 6-0, 205, Gatineau (QMJHL)
Pierre Durepos (19), 5-11, 174, Saint John (QMJHL)
Colin Miller (18), 6-1, 183, Sault Ste. Marie
Jake Muzzin (22), 6-2, 216, Kings (NHL) & Manchester
Alex Roach (18), 6-4, 227, Calgary (WHL)
Tiegan Zahn (21), 6-3, 210, Saskatoon (WHL)
GOALIES
Chris Gibson (18), 6-1, 198, Chicoutimi (QMJHL)
Martin Jones (22), 6-4, 187, Manchester
Mike Morrison (18), 6-0, 175, Kitchener (OHL)