Los Angeles Hockey:

Mathieu Garon
October, 20, 2011
10/20/11
10:01
PM PT
By
Dan Arritt
| ESPNLosAngeles.com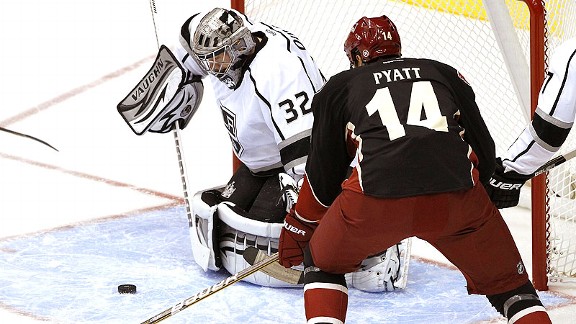 AP Photo/Ross D. FranklinJonathan Quick posted his second consecutive shutout in the Kings' 2-0 win at Phoenix on Thursday.
Kings 2, Phoenix Coyotes 0
Eight keys to the game:
THE FACTS:
Kings goalie
Jonathan Quick
stopped 28 shots at Jobing.com Arena to record his 100
th
career victory and improve his season record to 4-0-1.
THE STAT:
Quick recorded his 16
th
career shutout and first in back-to-back games. The last time the Kings recorded consecutive shutouts was April 1 and 3 of 2006, when
Mathieu Garon
posted two straight 1-0 wins against Dallas and Vancouver.


TURNING POINT:
The Kings went on the power play with 17 seconds remaining in the first period after
Daymond Langkow
was called for hooking
Anze Kopitar
. The man advantage carried over into the second period and the Kings took advantage, as Kopitar passed the puck down low to
Mike Richards
, who sent it through the crease to
Dustin Brown
and he did the rest, poking it past
Mike Smith
for a 1-0 lead. The Kings have power-play goals in five of six games this season.
HOT:
Kopitar now has 10 points in six games, scoring in each contest this season
.
NOT:
The Kings recorded just 22 shots on goal and have been held to single digits in seven of the last eight periods.
GOOD MOVE:
The fourth line contributed the second goal for the Kings.
Matt Greene
forwarded the puck to
Kevin Westgarth
, who carried it into the offensive zone and then slid it over to
Kyle Clifford
, who sent a quick wrist shot past Smith for a two-goal lead with 4:37 left in the second period.
BAD MOVE:
While holding a two-goal lead in the third period,
Ethan Moreau
and
Brad Richardson
were each whistled for needless penalties, giving the Coyotes a chance to get back in the game.
NOTABLE:
After committing eight giveaways in the first period alone Tuesday night against visiting St. Louis, the Kings did not have any against Phoenix. ... Kopitar has not scored a goal in nine straight games against the Coyotes, his longest drought against any team in the NHL.
UP NEXT:
Saturday vs. the Dallas Stars at Staples Center, 7:30 p.m.
April, 6, 2011
4/06/11
11:47
PM PT
By
Dan Arritt
| ESPNLosAngeles.com


LOS ANGELES—The Kings were headed to a shootout Wednesday night against the Phoenix Coyotes at Staples Center. Not just any shootout, but one that would clinch a Stanley Cup playoff berth for the winner.

Advantage: Kings.

They came into the game with the hottest shootout goalkeeper in the league in Jonathan Quick and the most precise shooter in Jarret Stoll, and both came through to help the Kings to a 3-2 victory and their second consecutive postseason berth.

Stoll scored his ninth goal in 10 shootout attempts this season, the highest percentage of any player with four or more attempts in the six years the shootout has been used as a tiebreaker.

Quick improved to 10-0 in shootouts this season, matched only by Mathieu Garon, who went 10-0 as a member of Edmonton in 2007-08.

"Sometimes he amazes me as to how he as to how he comes out at the end of the day in a shootout situation," Kings coach Terry Murray said of Quick. "He had to make a stop for us to win and he did."

Quick didn't hesitate to pass along the credit to players like Stoll, who make his job a lot simpler.

"I get a lot of help," Quick said. "I'm sure if you take a look at the numbers, we're right near the top of the league as far as goals scored in the shootout. It makes it a lot easier when these guys score and it takes the pressure off me."

Stoll has converted eight straight shootout attempts since his only miss Nov. 20 in Boston.

"I'm just trying to hit my shot," Stoll said. "A couple different options going in. Maybe it looks like I have only one because I've been going there a lot, but I just trying to shoot before the goalie gets set. Also, I like the challenge. [Phoenix goalie Ilya] Bryzgalov, he challenges a little bit later, so I wanted to try and get him so he wasn't set."

Murray said the most impressive aspect of Stoll's performance in the shootout this season is his poise.

"It is pretty amazing," Murray said. "He just finds a way to get it done at an important time. Everything is on the line and he looks so relaxed going to the net."

Stoll has become so successful, it appeared teammate Michal Handzus took a page out of his book on the first attempt, beating Bryzgalov up high on his glove side, a patented move by Stoll this season.

"That's good," Stoll said. "He showed me where to go."
March, 25, 2011
3/25/11
1:37
PM PT
By
Dan Arritt
| ESPNLosAngeles.com


In just its sixth season of existence, the NHL shootout doesn't have enough historical data to distinguish an all-time great shooter from a good one, or a goalkeeper who specializes in one-on-one competition vs. one who's just on a lucky streak.

But the Kings have two players who are certainly on their way to establishing new watermarks for a single season.

Jarret Stoll scored his eighth goal in his ninth shootout opportunity this season, leading the Kings to a 4-3 victory Thursday night against the San Jose Sharks at Staples Center, and goalkeeper Jonathan Quick improved to 9-0 in shootouts this season after letting just one of four slip by.

Their success is a big reason why the Kings sit in fifth place in the Western Conference standings.

"We're in a position where every point means a lot," Quick said.

According to NHL records, Stoll is on pace for the highest regular season shooting percentage in the shootout, while Quick still has a little more work to do.

Mathieu Garon, now a goalkeeper for the Columbus Blue Jackets, went 10-0 for Edmonton in 2007-08, allowing just two goals on 32 attempts. Half his victories came on the road, where he stopped all 14 shots. Quick, by comparison, has stopped 34-of-41 shootout attempts (.829). Not stellar, but certainly good enough.

Quick is quick to credit the shooters for his perfect record. There's no question that Stoll's success has benefited Quick.

"We've got guys scoring goals," Quick said. "I'm just trying to hold up my end."

Stoll came into the season just 4-for-13 on shootouts but is nearly perfect this season. His only misfire came Nov. 20 in Boston, when the first 11 shooters failed to score before Michal Handzus won it for the Kings, 4-3.

Since then, Stoll has converted seven straight.

He currently has the all-time best percentage (88.9) of any player with four or more attempts in a season. Petteri Nummelin of Minnesota made six out of seven (85.7) in 2006-07, and Wojtek Wolski of Colorado shot 10-for-12 (83.3) in 2008-09. A year ago, Sidney Crosby of Pittsburgh made eight of 10 attempts.

Interestingly, Dan Boyle of the Sharks, who used a slow-motion move to beat Quick for the only shootout goal by San Jose, improved to three-for-three on the season. No player has ever finished four-for-four or better.

On the other end of the spectrum, Steven Stamkos of Tampa Bay, who leads the NHL with 43 goals this season, has missed all seven of his shootout attempts, the most attempts without a goal by any player in the league.
February, 16, 2011
2/16/11
8:29
PM PT
By
Dan Arritt
| ESPNLosAngeles.com
Kings 4, Columbus Blue Jackets 3 (SO)
Eight keys to the game:
THE FACTS:
After the Blue Jackets tied the score with 1 minute 23 seconds left in regulation at Nationwide Arena,
Jarret Stoll
scored in the second round of the shootout and goalie
Jonathan Quick
then stopped his third straight attempt by Columbus to push the Kings' record to 8-0-2 in their last 10 games.

THE STAT:
The Kings surrendered three one-goal leads during regulation, the first two within two minutes of taking the lead and the last on
Kris Russell's
goal just as Columbus was pulling goalkeeper
Mathieu Garon
for the extra attacker.
TURNING POINT:
With the score tied, 2-2, with under two minutes remaining in the second period,
Drew Doughty
and
Trevor Lewis
committed penalties just seven seconds apart, but the Kings killed the 5-on-3 that extended into the third period to prevent Columbus from taking its first lead.
HOT:
Doughty scored from the blue line on a nice pass from
Michal Handzus
, giving the Kings a 3-2 lead six minutes into the third period. The goal was Doughty's fifth in the last 10 games. Stoll is also 5-for-6 on shootout attempts this season.
NOT:
The Kings made another move in the standings, despite another invisible game from
Anze Kopitar
and
Dustin Brown
. The team captain and alternate captain were thoroughly outplayed by the Blue Jackets' two best forwards,
Rick Nash
and
Jakub Voracek
, who combined for two goals and three assists.
GOOD MOVE:
Quick made three outstanding saves in the shootout, but his best probably came early in the third period, when he made a diving stop on a point-blank shot by Columbus defenseman
Anton Stralman
.
BAD MOVE:
Columbus first-line center
Derick Brassard
didn't make it through his first shift before taking a shot off his left hand and leaving the game. His replacement up front,
R.J. Umberger
, also left in the first period with an injury but returned late in the second.
NOTABLE:
With at least a point in 10 straight games, the Kings have strung together their longest point streak since 1980.
UP NEXT:
Thursday at New York Rangers, 4 p.m. PT.
January, 8, 2011
1/08/11
8:49
PM PT
After the 1st period:

Kings 3, Columbus Blue Jackets 0

The good: The first period was better than good for the Kings, it was outstanding. They scored three goals, played solid defense and even handily won a fight. Anze Kopitar turned in one of the better offensive moves of the season on the first goal, generating speed through the neutral zone, weaving past two Columbus players at the red line and then sliding a nifty pass behind his back to Dustin Brown, who was skating down the right side. Brown didn't waste any time letting the puck fly, sending it past goalkeeper Mathieu Garon 2 minutes 13 seconds into the game. It was the third shot on goal for the Kings, and the 17th goal of the season for Brown. Alec Martinez added a power-play goal midway through the period, and Jarret Stoll scored for the second straight game on a perfectly timed centering pass from Drew Doughty for a 3-0 lead. Columbus, by the way, has allowed 11 straight goals dating back to a 4-2 loss Tuesday against Phoenix.

The bad: This one's aimed at Derek Dorsett of Columbus. Derek, do your homework, buddy. Haven't you been watching Kings rookie Kyle Clifford pummel one middleweight after another this season? Dorsett jumped in after Clifford came after Rostislav Klesla after his hard check on Trevor Lewis. Clifford not only landed a few good rights, but then switched up and bloodied Dorsett's face with a couple lefts. The Kings might have lost five straight games, but they've won their last two fights going away.

The in between: Can't get too excited yet. The Kings gave up five straight goals after the first period Thursday against Nashville and lost, 5-2. They need to stay out of the penalty box (except for Clifford, Wayne Simmonds and Kevin Westgarth, they can fight as much as they'd like). Stoll was called for holding late in the period and the Blue Jackets will have a clean slate of ice and 49 seconds remaining on the power play when they return for the second period.