Los Angeles Hockey:

Michael Cammalleri
June, 15, 2012
6/15/12
9:40
AM PT
By
Dan Arritt
| ESPNLosAngeles.com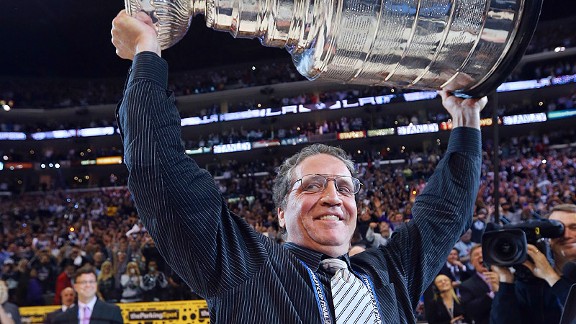 Bruce Bennett/Getty ImagesDean Lombardi is humble when it comes to the Kings' accomplishments, but he had a major hand in helping them get there.
LOS ANGELES -- What must have seemed like the longest elevator ride of his life finally came to a halt shortly before 8 p.m. Monday night.
The Los Angeles Kings had just clinched their first Stanley Cup title in franchise history, and general manager
Dean Lombardi
, in his sixth season at the helm, was rushing from the press box inside Staples Center to the arena floor, hoping to reach the ice in time for the Cup presentation by NHL commissioner
Gary Bettman
.
"Hold on, Bettman. I've got to see this," Lombardi hollered at the elevator door, which was nearly pressed against his face.
A few seconds later, Lombardi and a handful of executives were speed-walking down the hallway and disappearing around a corner.
The 45-year wait was over.
The scene was in stark contrast to my first experience behind L.A.'s curtains, 4½ years ago.
It was just after Christmas 2007, when I was asked by a senior editor at another publication in town to cover practice the following morning. Eager to move up the chain after 14 years of mostly writing about high school sports, I enthusiastically accepted the assignment, even though I kept it to myself that I hadn't been following the team in my spare time.
My first order of business was uncovering what the Kings had done lately. Much to my surprise, they had lost eight straight games, which remains their longest losing streak since dropping their final 11 in 2004.
Walking into the locker room the next day, it was as quiet as a college library during finals week.
Michael Cammalleri
, nursing sore ribs at the time, didn't even bother to look up when asked about the progress of his injury.
Rob Blake
, rumored to be heading to a playoff-bound team looking to shore up its defensive corps, said he would gladly waive his no-trade clause if approached.
Patrick O'Sullivan
looked like the most sullen guy in L.A.
That was Season 2 of Lombardi's rebuilding plan, and he said everything was proceeding as planned.
March, 28, 2012
3/28/12
10:54
AM PT
By
Dan Arritt
| ESPNLosAngeles.com
Kings (37-27-12, 86 points) vs. Calgary Flames (35-27-15, 85 points) at Scotiabank Saddledome, 6:30 p.m. PT
Five storylines to track:
1. Where they stand
– Nothing has changed since Tuesday, when the Kings lost to Vancouver, 1-0, to drop out of the top eight in the Western Conference standings. They're still one point back of eighth-place Phoenix and seventh-place Dallas, and just two points back of third-place San Jose, the Pacific Division leader. Calgary is one point behind the Kings in 11
th
. A loss for either team would be devastating at this juncture of the season. Expect both sides to play with both passion and desperation.


2. Offensively challenged, again
– After the Kings scored 37 goals in 10 games following the trade for
Jeff Carter
on Feb. 23, it appeared the offensive woes were solved. Suddenly, they aren't. The Kings have managed just two goals in the last three games, from a rookie defenseman and a fourth-line forward, throwing a bucket of cold water on their playoff run.
3. Still MIA
– There's still so much more to be expected from
Mike Richards
. After his nine-goal performance in November, things were especially giddy in L.A. But then he went down with a concussion on Dec. 1 and hasn't been the same since, scoring just five goals since. The Kings need something out of Richards down the stretch here, even if it's just an assist or two.
4. MIA No. 2
–
Dustin Brown
is the other forward who must come through in the last couple weeks if the King are going to slip into the postseason for a third consecutive year. He started a 10-game point streak the first game Carter played for the Kings, but has produced zero points in the last three. Brown has gotten away from his role, which is to hit people and meander around the goal crease in search of loose pucks.
5. Ex-factor
–
Michael Cammelleri
, who spent five seasons in a Kings uniform from 2002 to 2008, is playing some good hockey lately and he'd like nothing more than to stick it to the Kings. He had a goal and two assists Monday in a 5-4 victory against Dallas, knocking the Stars out of the Pacific Division lead. He has three goals and four assists in the last five games, and eight goals and seven assists in the 15 games since he was traded from Montreal to Calgary.
January, 19, 2012
1/19/12
10:58
PM PT
By
Dan Arritt
| ESPNLosAngeles.com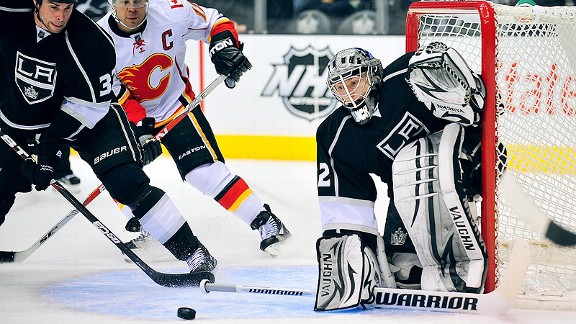 Gary A. Vasquez/US PresswireKings goalie Jonathan Quick has had a rough go in shootouts this season compared to last season.
Calgary Flames 2, Kings 1 (SO)
Eight keys to the game:
THE FACTS:
The Kings earned at least a point for the 15
th
time in the last 16 games but were beaten in a shootout when a shot by Kings forward
Mike Richards
was turned away by Calgary goalie
Miikka Kiprusoff
at Staples Center.
THE STAT:
The Kings have been tied at the end of regulation in 10 of the last 16 games, owning a 9-1-6 mark in that span.


TURNING POINT:
The Kings appeared to take a 2-1 lead in the second round of the shootout, but video replays showed
Jack Johnson
nudged the puck across the goal line after a rebound from Kiprusoff. Second chances aren't allowed in NHL shootouts.
Michael Cammalleri
then scored for the Flames, forcing Richards to come through.
HOT:
Kings winger
Dustin Brown
scored the lone goal for the Kings, jumping on a deflected shot in front of the net and shooting it past Kiprusoff for a 1-0 lead just 3:28 into the game. Brown has three goals and an assist in the last five games.
Justin Williams
was credited with an assist on the play, giving him three goals and six assists in the last seven.
NOT:
The Kings continue to get dinged on the power play, giving up a man-advantage goal for the fifth straight game.
GOOD MOVE:
Kiprusoff came up huge in overtime. A loose puck was sitting in the crease while he was lying on his side and Kings forward
Dustin Penner
took a swipe, but Kiprusoff kept his stick parallel to the ice and kept it out of the goal with 34 seconds left in the extra five-minute period.
BAD MOVE:
On the Calgary goal, the Flames took advantage of a broken stick by Kings forward
Trevor Lewis
and got the puck over to
Jarome Iginla,
who beat
Jonathan Quick
to tie the score, 1-1, midway through the second period.
NOTABLE:
Quick dropped to 4-6 in shootouts this season after finishing 10-0 a year ago.
UP NEXT:
Saturday vs. Colorado at Staples Center, 7:30 p.m.
January, 19, 2012
1/19/12
9:30
AM PT
By
Dan Arritt
| ESPNLosAngeles.com
Kings (23-15-9, 55 points) vs. Calgary Flames (21-20-6, 48 points) at Staples Center, 7:30 p.m.

Five storylines to track:

1. Ties that bind: In eight of 14 games since Darryl Sutter was hired as head coach, the Kings have been tied with their opponent at the end of regulation. They've also scored 105 goals this season and given up 105. In the last 10 games, they've won five and lost five. With a victory against the Flames, they'll have just as many wins as their combined losses in regulation, overtime and shootouts. The good thing is, they've come a long way from where they stood a month ago. Ties mean points, too, and the Kings have earned at least one in 14 of the last 15 games.

2. Them again: The Kings played Calgary five days ago in the first meeting between Sutter and his younger brother, Brent Sutter, the coach of the Flames. The result was a solid 4-1 victory by the Kings, the third straight game they scored four or more goals. Calgary, meanwhile, has scored just two goals in two games since trading for high-scoring forward Michael Cammalleri. All signs point to a Kings' victory. Will they follow the right path?

3. Goalie guesswork: It probably came as a bit of a surprise that All Star goalie Jonathan Quick played in all three games on the Western Canada swing that concluded Tuesday night with a 3-2 shootout victory in Vancouver. Quick has started the last four games overall. With the Kings beginning a four-game home stand, it seems the right time to give backup Jonathan Bernier the nod. Bernier's two starts under Sutter came after Quick had started four in a row. Then again, if Sutter's looking at the numbers, Quick has a stellar 1.84 goals-against average in eight career starts against the Flames. Bernier has faced Calgary just once in his career.


January, 14, 2012
1/14/12
6:53
AM PT
By
Dan Arritt
| ESPNLosAngeles.com
Kings (21-15-8, 50 points) vs. Calgary Flames (21-19-5, 47 points) at Scotiabank Saddledome, 7 p.m.
Five storylines to track:


1. Kopitar OK
– The Kings really dodged a bullet Thursday night.
Anze Kopitar
, the team's leading scorer the last four seasons, was feeling fine the day after getting slammed into the boards as a result of a third-period hit by Dallas captain
Brenden Morrow
. Kopitar was drilled as he attempted a wrap-around move behind the net, apparently not catching a glimpse of Morrow railroading towards him. He spun like a helicopter face first into the boards, hard enough to sustain a bloody nose. Kopitar was confined to the "quiet room" for evaluation as the Kings went on to lose in a shootout, 5-4. It appears there's nothing to keep Kopitar from playing against the Flames.
2. Defining moment
– Successful teams can typically look back on a season and spot a turning point, whether it's a come-from-behind victory, a hard-fought shutout or an adrenaline-filled line brawl. The Kings might reflect on Morrow's hit as their defining moment. As Kopitar lay sprawled face down in the corner, teammate
Mike Richards
went after Morrow, challenging and receiving a fight. Sure, the Kings playmaker earned four extra penalty minutes, long enough for the Stars to score the tying goal on the power play with just under six minutes remaining in regulation, but every player for the Kings should feel inspired by Richards' response, especially since he just returned three weeks ago from an eight-game absence due to a head injury.
December, 2, 2011
12/02/11
1:33
PM PT
By
Dan Arritt
| ESPNLosAngeles.com
Kings (13-8-4, 30 points) vs. Montreal Canadiens (10-11-5, 25 points) at Staples Center, 12:30 p.m.
Five storylines to track:


1. No Richards
– The Kings will need to make due without their leading goal scorer,
Mike Richards
, who is expected to go on injured reserve this weekend. Richards suffered an upper-body injury during a collision with Florida Panthers forward
Sean Bergenheim
late in the second period of a 2-1 victory Thursday night. Richards was playing as well as anybody on the team lately, scoring nine goals in the previous 10 games. Fortunately for the Kings, they have enough depth at center to plug the hole for a while, and left wing
Dustin Penner
is ready to come off injured reserve after missing the last nine games with a hand injury.
2. No Mitchell
– The Kings also took a hit on the defensive side when
Willie Mitchell
left the game Thursday night with a lower-body injury. The rest of the blue liners did an admirable job picking up the slack against the Panthers, now it looks like it'll be up to
Davis Drewiske
to hold down the fort against the Canadiens. Drewiske will certainly be fresh, having played just one regular season game this season and spending the rest in the press box as a healthy scratch. He did play well in his only appearance in Philadelphia, so this is a good chance to prove that's more the norm. The Kings will also have a relatively fresh face in goal, as backup
Jonathan Bernier
is expected to start for just the fourth time this season.
3. Milestone for Murray
– Kings coach
Terry Murray
enters this game with 499 career victories. With a win against the Canadiens, he would become the 17
th
coach in NHL history to reach 500 victories and the second in his family. His brother,
Bryan
, now the general manager of the Ottawa Senators, is seventh on the list with 619 career victories. Murray's predecessor with the Kings,
Marc Crawford
, is also in the 500-win club. Buffalo coach
Lindy Ruff
is the last coach to get 500 wins, earning his last January.
November, 11, 2010
11/11/10
8:00
AM PT
By
Dan Arritt
| ESPNLosAngeles.com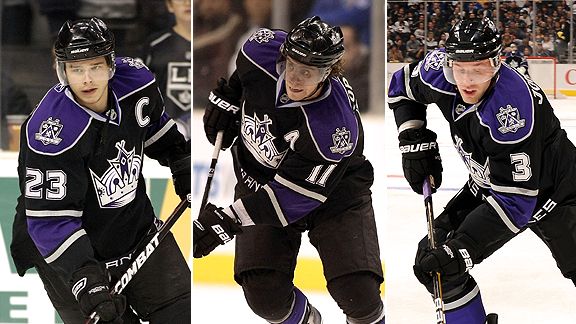 Getty Images
Dustin Brown, Anze Kopitar and Jack Johnson have a few of the keys to the Kings' hot start.
Dean Lombardi
arrived in Los Angeles in the spring of 2006, taking over as president and general manger of the Kings and bringing with him an eye for talent and a track record of success.
He had his work cut out for him.
Right from the start, Lombardi spoke of a five-year plan that involved restocking the roster with young talent and bringing in veterans who could lead by example. Still, it was a painful renovation, as the Kings finished no better than fourth in the Pacific Division the next three seasons.
"It was tough coming in here," said defenseman
Jack Johnson
, who joined the Kings as a rookie in 2007. "You wanted to win every game and you ended up being the team that was expected to lose."
But the pain and sacrifices are paying off. The Kings qualified for the playoffs last season for the first time since 2002 and began this week with the best record in the NHL.
"The rebuilding part is over now," said
Anze Kopitar
, one of only two Kings who were on the team four years ago. "Everything is clicking for us."
The overhaul arrived in stages.