Los Angeles Hockey:

Rick Nash
February, 27, 2012
2/27/12
3:26
PM PT
By
Dan Arritt
| ESPNLosAngeles.com
As expected, the Kings and Ducks were mostly quiet in the hours leading up to Monday's trade deadline.

The Ducks, who have earned more points than any team in the NHL since Jan. 1, made two deals involving minor-league players. Before their current run from 20 points out of the final playoff spot on Jan. 6 to six heading into tonight's game in Colorado, Ducks general manager Bob Murray was willing to listen to offers for anyone except veteran forwards Saku Koivu and Teemu Selanne.

"They've made it real difficult the last couple of weeks and good for them," Murray said Monday afternoon, shortly after the noon deadline had past. "I have no problem with that."

The Kings, two points back of eighth place heading into this evening's game in Nashville, made their big splash Thursday, trading defenseman Jack Johnson and a conditional draft pick to the Columbus Blue Jackets for high-scoring forward Jeff Carter.

Turns out, that was the biggest move in the NHL at this season's deadline. Carter's former teammate in Columbus, forward Rick Nash, was the most prominent name on the trading block, but his general manager couldn't put together a deal and Nash will likely become an unrestricted free agent this summer.

Anaheim's deadline day moves involved trading forward Andrew Gordon to the Vancouver Canucks for defenseman Sebastian Erixon, and defenseman Mark Fraser to Toronto for forward Dale Mitchell.

Gordon, who played for Ducks coach Bruce Boudreau in Washington last season, signed a two-year deal with the Ducks last summer. He started the season on the third line with Devante Smith-Pelly and Andrew Gogliano, and they combined for the only goal in a 2-1 shootout victory against the Rangers in the second game of the season.

But the 26-year-old from Halifax, Canada, managed just two goals and two assists the next 35 games and was demoted to the AHL following a 4-2 victory Jan. 6 against the Islanders, the day the Ducks began their run up the standings.

"Sometimes, if you're not in the plans for a team, it's better to move," Gordon told a reporter for the Syracuse Crunch.

Erixson is an undrafted 25-year-old from Sundsvall, Sweden, and has not appeared in an NHL game.

Fraser was traded from New Jersey to the Ducks in December along with forward Rod Pelley but did not appear in any games for Anaheim. Mitchell was playing with Reading of the ECHL.

Both of Anaheim's acquisitions are expected to be assigned to its AHL affiliate in Syracuse.
February, 1, 2012
2/01/12
1:04
PM PT
By
Dan Arritt
| ESPNLosAngeles.com
Kings (24-16-10, 58 points) vs. Columbus Blue Jackets (13-31-6, 32 points) at Staples Center, 7:30 p.m.

Five storylines to track:

1. Back to the grind: Eight days off can send a team in a lot of different directions. The Kings haven't played since Jan. 23, a solid 4-1 victory against visiting Ottawa. Before this week, they hadn't had three days between games since mid-November. The Kings came out of the All Star break last season with a 1-0 shootout loss in Minnesota, then proceeded to win eight of their next 11 to move into a playoff spot, which they held the remainder of the regular season.

2. Back on the hunt: The penalty-kill unit has been one of the bright spots during the first half of the season, at one point wiping out 42 consecutive power plays by the opponent. The unit was springing a few leaks heading into the break, however, as the Kings have allowed at least one power-play goal in the last seven games. It's the second time this season the Kings have had some hiccups on the penalty kill. They allowed at least one man-advantage goal in eight straight games in early November.

3. Quick it is: Kings goalie Jonathan Quick was the first player off the ice at Wednesday's morning skate, a clear indicator he will make his 43rd start of the season. Columbus has the worst record in the NHL, Quick just returned from a long weekend in Ottawa for the All-Star Game and the Kings begin a seven-game road trip with back-to-back games Friday in St. Louis and Saturday in Carolina, but coach Darryl Sutter obviously doesn't want to get caught looking ahead. After all, the Blue Jackets beat the Kings, 1-0, just 3 ½ weeks ago. Quick is 7-5 lifetime against Columbus with a 2.09 goals-against average.


January, 28, 2012
1/28/12
9:28
PM PT
By
Dan Arritt
| ESPNLosAngeles.com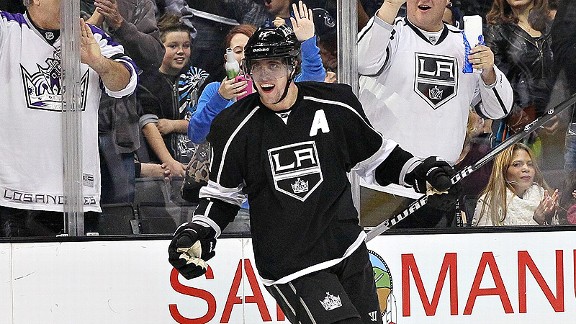 Victor Decolongon/Getty ImagesAnze Kopitar is one of many Kings whose offensive numbers are down compared to the same time last season.
Fifty games down, 32 to go. The Kings are sitting in seventh place in the Western Conference standings coming out of the All-Star break, four points out of ninth and just two short of the Pacific Division lead. Here are the key areas to watch heading into the home stretch of the regular season.
1. Scoring, scoring and, well, more scoring
– Look no further than league-wide scoring averages to pinpoint where the Kings need to improve the most. They're still last in that category at 2.14 goals a game, a hole they've been dug into the last two months. The Kings had 143 goals through 50 games last season. They're sitting at 111 now, more than half a goal per game less than a year ago. Probably not surprising, the numbers for the top three scorers from last season are also down.
Anze Kopitar
has 15 goals and 29 assists, compared to 16 and 33 through the same stretch last season.
Justin Williams
has nine goals and 25 assists. He had 18 and 21 through the 50-game mark a year ago.
Dustin Brown
has dropped from 17 goals and 20 assists to 13 and 14. Last season's second-line center,
Jarret Stoll
, has seen his numbers fall the furthest. He's sitting at five goals and nine assists after racking up 14 and 17 through the All-Star break last season. Even those who were playing elsewhere this time last year,
Mike Richards
and
Dustin Penner
, have seen their offensive stats tumble. Water always settles back at its natural level. Hopefully the Kings' offense will too.
2. Voice in the room
– The players seemed to receive a jolt when coach
Terry Murray
was fired Dec. 12 and replaced a week later by
Darryl Sutter
. They earned points in 14 of the next 15 games to climb into playoff contention in the Western Conference standings, but another goal here or there would have pushed them even higher. The Kings appeared to be falling back into old habits heading into the break, scoring five goals in four games before a 4-1 victory Monday against visiting Ottawa ended the skid. The lull may suggest that the honeymoon with Sutter is over. For the most part, he has defended his team's unsteady play, placing a big chunk of blame on the demanding schedule that included two season-opening 'home' games in Europe, followed by a two-game East Coast swing. They haven't had three days or more between games since mid-November. After an eight-day layoff, the Kings play a home game Wednesday against Columbus then embark on a season-long six-game road trip that could go a long way toward determining if they're contenders or pretenders. They went 6-1-3 during the Grammy trip last season, catapulting them back into playoff contention.
March, 11, 2011
3/11/11
8:33
AM PT
By
Dan Arritt
| ESPNLosAngeles.com
Kings (37-25-5, 79 points) vs. Columbus Blue Jackets (31-26-9, 71) at Nationwide Arena, 4 p.m. ET
Five storylines to track:

1. You snooze, you lose –
Forget losing, teams can't even step away from the Western Conference playoff race for a day without losing ground. The Kings won Wednesday in Detroit to move into seventh place, took a day to travel to Columbus and fell into eighth. The previous eighth-place team, the Phoenix Coyotes, won Thursday and jumped to fifth. Basically, the West just keeps getting tighter, with fourth through 11
th
place separated by four points.
2. Heads, it's Bernier –
You get the feeling Kings coach
Terry Murray
might just be flipping a coin when it comes to selecting his starting goalie. Just when it appeared
Jonathan Quick
had regained his confidence and full-time role in the 2-1 victory against the Red Wings, Murray announced he's going back to
Jonathan Bernier
against the Blue Jackets. Bernier is coming off a 4-3 overtime loss against Dallas on Monday, but the Stars earned every point. One thing is for certain, coaches don't mind making these tough decisions.
3. Late-season slide? –
The latest Kings forward to fall on hard times is veteran left wing
Ryan Smyth
, who has one goal in the last 17 games. That wouldn't be such a concern if he didn't have such a big drop off down the stretch last season. Smyth scored two goals in the last 20 regular-season games a year ago, and just one in the six-game playoff series against Vancouver. Smyth turned 35 last month and is the oldest member of the Kings.
4. Showing he belongs –
Ever since Murray designated
Alec Martinez
as a healthy scratch Feb. 23 against Anaheim and Feb. 24 against Minnesota, the rookie defenseman has been playing at a higher level. He assisted on the winning goal against the Red Wings and is plus-3 in the six games since he returned to the lineup. Of course, Martinez didn't waste any time making his presence known following his stay in the press box, scoring a goal in his first game back Feb. 26 in a 4-3 win against Colorado.
5. The monster Nash –
Columbus forward
Rick Nash
hasn't scored a goal in the last seven games. That's not a good sign for the Kings. Nash has been a one-man demolition crew against Los Angeles in his career, owning 15 goals and 28 points in 29 career games. In his only appearance against the Kings this season, he had a goal and two assists in a 4-3 overtime loss Feb. 15 at Staples Center.
February, 16, 2011
2/16/11
8:29
PM PT
By
Dan Arritt
| ESPNLosAngeles.com
Kings 4, Columbus Blue Jackets 3 (SO)
Eight keys to the game:
THE FACTS:
After the Blue Jackets tied the score with 1 minute 23 seconds left in regulation at Nationwide Arena,
Jarret Stoll
scored in the second round of the shootout and goalie
Jonathan Quick
then stopped his third straight attempt by Columbus to push the Kings' record to 8-0-2 in their last 10 games.

THE STAT:
The Kings surrendered three one-goal leads during regulation, the first two within two minutes of taking the lead and the last on
Kris Russell's
goal just as Columbus was pulling goalkeeper
Mathieu Garon
for the extra attacker.
TURNING POINT:
With the score tied, 2-2, with under two minutes remaining in the second period,
Drew Doughty
and
Trevor Lewis
committed penalties just seven seconds apart, but the Kings killed the 5-on-3 that extended into the third period to prevent Columbus from taking its first lead.
HOT:
Doughty scored from the blue line on a nice pass from
Michal Handzus
, giving the Kings a 3-2 lead six minutes into the third period. The goal was Doughty's fifth in the last 10 games. Stoll is also 5-for-6 on shootout attempts this season.
NOT:
The Kings made another move in the standings, despite another invisible game from
Anze Kopitar
and
Dustin Brown
. The team captain and alternate captain were thoroughly outplayed by the Blue Jackets' two best forwards,
Rick Nash
and
Jakub Voracek
, who combined for two goals and three assists.
GOOD MOVE:
Quick made three outstanding saves in the shootout, but his best probably came early in the third period, when he made a diving stop on a point-blank shot by Columbus defenseman
Anton Stralman
.
BAD MOVE:
Columbus first-line center
Derick Brassard
didn't make it through his first shift before taking a shot off his left hand and leaving the game. His replacement up front,
R.J. Umberger
, also left in the first period with an injury but returned late in the second.
NOTABLE:
With at least a point in 10 straight games, the Kings have strung together their longest point streak since 1980.
UP NEXT:
Thursday at New York Rangers, 4 p.m. PT.
November, 18, 2010
11/18/10
12:14
AM PT
By
Dan Arritt
| ESPNLosAngeles.com
LOS ANGELES -- The Kings couldn't put a Band-Aid on this one.
With injuries mounting and more inexperienced players filling the voids, the Kings suffered another letdown Wednesday night against the Columbus Blue Jackets, blowing a third-period lead and losing their second consecutive game, 5-3, at Staples Center.
"A couple of those goals looked pretty easy for them, and that's really out of character," said Kings coach
Terry Murray
. "When we have a one-goal lead in the third period like that, that's something we've been able to shut down and do the right thing the rest of the game to maintain that lead and win the game."

With defenseman
Willie Mitchell
and defense-minded forward
Alexei Ponikarovsky
out because of injuries since Nov. 6, and left wing
Scott Parse
set to undergo hip surgery next week, the Kings have had to rely on players that would be better served honing their skills at the American Hockey League level.
Jake Muzzin
was called up after Mitchell went on injured reserve because of a fractured wrist and Murray singled out him and defensive partner
Davis Drewiske
for their poor play against the Blue Jackets.
"They need to be better," Murray said.
It was Drewiske who was burned on the goal by
Rick Nash
that broke a 3-3 tie with 3 minutes 12 seconds remaining. Nash then added an empty-netter in the final minute for the two-goal cushion.
November, 17, 2010
11/17/10
6:42
AM PT
Columbus Blue Jackets (9-6-0) vs. Kings (12-4-0) at Staples Center, 7:30 p.m. PT
Five storylines to track:

1. Injuries, injuries, injuries – The Kings lost another piece of their apparatus Monday night.
Scott Parse
, who was playing left wing on the top line with
Anze Kopitar
and
Dustin Brown
, will undergo hip surgery next week and is sidelined until mid-February or so. With forward
Alexei Ponikarovsky
and defenseman
Willie Mitchell
recently landing on injured reserve, the Kings have had to dip into their AHL affiliate in Manchester to find healthy bodies.
2. Who will bounce back? – Both teams are coming off perhaps their worst efforts of the season. Oddly enough, those clunkers came two days after both teams played one of their best games of the season. The Kings lost to San Jose, 6-3, on Monday night, two days after defeating the New York Islanders, 5-1. The Blue Jackets fell to Colorado, 6-1, on Friday night, two days after blowing out St. Louis, 8-1. Neither team has lost two in a row this season.