Los Angeles Hockey:

Steven Stamkos
February, 7, 2012
2/07/12
9:16
PM PT
By
Dan Arritt
| ESPNLosAngeles.com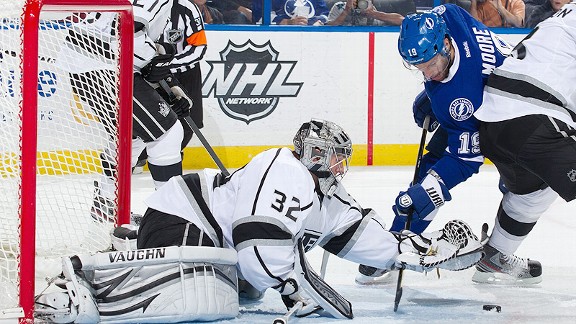 Scott Audette/NHLI/Getty ImagesJonathan Quick made 24 saves in the Kings' victory at Tampa Bay on Tuesday night.
Kings 3, Tampa Bay Lightning 1
Eight keys to the game:
THE FACTS:
The lowest-scoring team in the NHL was better than the worst defense Tuesday night, as
Anze Kopitar
,
Kyle Clifford
and
Dustin Penner
scored goals and goalie
Jonathan Quick
stopped 24 shots to lift the Kings to a much-needed road victory at Tampa Bay Times Forum.


THE STAT:
The Kings took 20 shots on goal, their lowest total since taking 19 against Edmonton on Nov. 3. Of course, the only stat they care about is the three that got through to the net.
TURNING POINT:
What originally looked like an ill-advised roughing penalty on Clifford turned out to be the break the Kings needed. Tampa Bay defenseman
Victor Hedman
hit the side of the net with a tough-angle shot just as the penalty expired, causing the arena's horn operator to mistakenly push the button. Just as the play was unfolding, Clifford skated out of the penalty box and took a perfect stretch pass from defenseman
Rob Scuderi
for a breakaway. He skated in on Lightning goalie
Dwayne Roloson
, faked a forehand and quickly switched to a backhand as he slid the puck through Roloson'a legs for a 2-1 lead with 9:44 left in the second period. It was the fourth goal of the season for Clifford and his second game winner.
HOT:
Kopitar scored for the second consecutive game, giving him 11 points in the last 12 games.
Justin Williams
, the other simmering forward for the Kings, took a drop pass from
Matt Greene
near the blue line and passed the puck to Kopitar, who was cutting toward the left post. Kopitar made a perfectly placed deflection high into the net for his team-high 17
th
goal of the season. Williams has 13 points in the last 12 games.
NOT:
The fourth line of
Brad Richardson
,
Trent Hunter
and
Colin Fraser
were missing in action for much of the game. Richardson, who came in averaging 13 minutes 15 seconds of ice time this season, played a season-low 6:30. Hunter came in averaging 10:30 but played just 6:50, and Fraser came in averaging 9:47 but was held to 7:29. The trio, who've combined for six goals in 117 games this season, combined for two shots on net against Tampa Bay.
February, 7, 2012
2/07/12
6:40
AM PT
By
Dan Arritt
| ESPNLosAngeles.com
Kings (25-18-10, 60 points) vs. Tampa Bay Lightning (23-23-5, 51 points) at Tampa Bay Times Forum, 4:30 p.m. PT
Five storylines to track:


1. Rocky road trip
– It's not yet salvage time, but another loss on this six-game road trip and the Kings will be lucky just to go home with an even split. They've done a fine job demonstrating to other fans just how they've become the league's lowest-scoring team this season, completely no-showing in a 1-0 loss Friday night in St. Louis, then playing one good period in a 2-1 defeat the following night at Carolina. Now they face a Tampa Bay team that owns the highest goals-against average in the league (3.33), pretty much leaving the Kings without an excuse should they fail to put up three goals. The Lightning gave up at least that many to 10 of 12 opponents last month.
2. Richards is poorer
– Maybe the sight of a few more Eastern Conference arenas will awaken Kings center
Mike Richards
from his scoring slump. Richards, acquired in the offseason from the Philadelphia Flyers, hasn't registered a point in the last eight games, his longest drought since he went 10 straight during the 2006-07 season. He has done well against the Lightning in his career, however, registering 10 goals and 12 assists in 21 career games. Whatever it takes, Richards needs to start resembling the player he was in November.
3. Class of '08
– Tampa Bay center
Steven Stamkos
was taken No. 1 overall in the 2008 NHL Draft. Kings defenseman
Drew Doughty
was selected No. 2. Only one has continued to live up to his reputation. While Doughty hasn't come close to matching his stellar sophomore season from two years ago, Stamkos is on pace to tickle the 100-point barrier for a third consecutive year. Stamkos might have added incentive to play well against the Kings. They're the only team in the NHL he has yet to score against.
March, 26, 2011
3/26/11
8:55
PM PT
By
Dan Arritt
| ESPNLosAngeles.com
Ducks 2, Chicago Blackhawks 1
Eight keys to the game:
THE FACTS: Corey Perry
continued his scoring tear for the Ducks, scoring two third-period goals to lift Anaheim to a come-from-behind victory at United Center in Chicago and leapfrog the Blackhawks into seventh place in the Western Conference standings.
THE STAT:
Perry recorded back-to-back multi-goal games for the first time in his six-year career. He has four goals in his last two games, eight in the last five and 13 goals and four assists in the last nine.

TURNING POINT:
With about 4 ½ minutes remaining,
Bobby Ryan
jostled the puck loose from a Blackhawks player along the left wing boards. The puck squirted out to
Ryan Getzlaf
, who slid a centering pass to Perry in front of the net. Perry stopped the puck with his backhand and, with his back to rookie goalie
Corey Crawford
, spun and shot into the net for a 2-1 lead.
HOT:
Nobody's hotter than Perry, who took over the league lead in goals (44) from
Steven Stamkos
of Tampa Bay, but Anaheim goalkeeper
Ray Emery
is certainly off to the hottest start of any Ducks player. Emery stopped 27 of 28 shots to win his fourth consecutive start since joining the Ducks. He has allowed just six goals in those four victories.
NOT: Patrick Kane
, the third-leading goal scorer for the Blackhawks, not only failed to register a point but had a team-high three giveaways, including the one that set up the winning goal. He was also a minus-two and served a two-minute hooking penalty on Ryan midway through the second period.
GOOD MOVE:
Ducks coach
Randy Carlyle
gave No. 1 goalkeeper
Jonas Hiller
the night off after he allowed three goals on nine shots in a 5-4 loss Thursday in Nashville. It was Hiller's first game back after missing 15 with vertigo-like symptoms, and he clearly wasn't ready to return. Carlyle said after the Nashville game that he still planned to use Hiller down the stretch, but the points have become too valuable to take any chances.
BAD MOVE:
With the score tied, 1-1, and 11 ½ minutes remaining, the Ducks should have been awarded a power play after a Chicago player clearly hit the puck over the glass for a delay of game penalty. The referees missed it and play continued, despite a heavy protest from Ducks forward
Teemu Selanne
.
NOTABLE:
Ducks defenseman
Lubomir Visnovsky
was on the ice for both of Perry's goals. Coming into the game, Visnovsky had been on the ice for 63% of Anaheim's goals this season, the best percentage of any player in the NHL. The Ducks have now won a league-leading 27 one-goal games.
UP NEXT:
Monday vs. Colorado Avalanche at Honda Center, 7 p.m.
March, 26, 2011
3/26/11
12:39
AM PT
By
Dan Arritt
| ESPNLosAngeles.com
Ducks (41-28-5, 87 points) vs. Chicago Blackhawks (40-25-8, 88) at United Center, 5:30 p.m. PT.
Five storylines to track:
1. Too much too soon?
–
Jonas Hiller
didn't last long in his return to goal Thursday night in Nashville. After a 15-game absence because of vertigo-like symptoms, Hiller gave up three goals on nine shots before getting the hook in the first period. The Ducks staged a late comeback but ultimately lost, 5-4. Did the Ducks rush their All-Star goalie back into the lineup too soon? If they wind up missing the playoffs by a point or two, the decision to test Hiller in such a big game will be ripe for second-guessing.


2. Drum roll please
– For the second straight game, the Ducks will be playing a team that's one point and one spot ahead in the Western Conference standings. They couldn't leapfrog Nashville, but they'll get another chance against the seventh-place Blackhawks. It won't come easy as Chicago has won six consecutive home games and five of its last six against Anaheim at United Center. Chicago coach
Joel Quenneville
is also calling this the biggest game of the season, a rallying cry that has surely been heard by his players.
3. Getting noticed
– There's usually not a lot of talk of Hart Memorial Trophy winners in these parts. The only people West of Colorado and South of Vancouver to win the league's most valuable player award was
Wayne Gretzky
of the Kings in 1988-89 and
Joe Thornton
, who spent part of the 2005-06 season with the San Jose Sharks. The chatter has picked up with every goal by
Corey Perry
of the Ducks, however. He scored his 41
st
and 42nd of the season against the Predators to move one behind
Steven Stamkos
of Tampa Bay for the league lead.
4. Not as sharp
– The Ducks won't have to deal with Chicago center
Patrick Sharp
, who left Sunday's game against Phoenix because of a left knee injury and is expected to miss a majority of the team's final nine games. Sharp has a team-high 34 goals and is second with 68 points. He has nine goals and eight assists in 20 career games against Anaheim.
Viktor Stalberg
has moved into a top-line role for the Blackhawks but he's hardly the offensive dynamo that they'll miss in Sharp.
5. Chicago's own Corey
– The Blackhawks are expected to start rookie
Corey Crawford
in goal, and he needs one victory to become the first Chicago goalie to record 30 wins in a season since
Jocelyn Thibault
in 2001-02. Crawford played his first NHL game five years ago but because he has had just a handful of appearances before this season and did not turn 26 until December, he retained his rookie status, making him a viable candidate for the Calder Trophy. Crawford earned his first career shutout against the Ducks two years ago.
March, 25, 2011
3/25/11
1:37
PM PT
By
Dan Arritt
| ESPNLosAngeles.com


In just its sixth season of existence, the NHL shootout doesn't have enough historical data to distinguish an all-time great shooter from a good one, or a goalkeeper who specializes in one-on-one competition vs. one who's just on a lucky streak.

But the Kings have two players who are certainly on their way to establishing new watermarks for a single season.

Jarret Stoll scored his eighth goal in his ninth shootout opportunity this season, leading the Kings to a 4-3 victory Thursday night against the San Jose Sharks at Staples Center, and goalkeeper Jonathan Quick improved to 9-0 in shootouts this season after letting just one of four slip by.

Their success is a big reason why the Kings sit in fifth place in the Western Conference standings.

"We're in a position where every point means a lot," Quick said.

According to NHL records, Stoll is on pace for the highest regular season shooting percentage in the shootout, while Quick still has a little more work to do.

Mathieu Garon, now a goalkeeper for the Columbus Blue Jackets, went 10-0 for Edmonton in 2007-08, allowing just two goals on 32 attempts. Half his victories came on the road, where he stopped all 14 shots. Quick, by comparison, has stopped 34-of-41 shootout attempts (.829). Not stellar, but certainly good enough.

Quick is quick to credit the shooters for his perfect record. There's no question that Stoll's success has benefited Quick.

"We've got guys scoring goals," Quick said. "I'm just trying to hold up my end."

Stoll came into the season just 4-for-13 on shootouts but is nearly perfect this season. His only misfire came Nov. 20 in Boston, when the first 11 shooters failed to score before Michal Handzus won it for the Kings, 4-3.

Since then, Stoll has converted seven straight.

He currently has the all-time best percentage (88.9) of any player with four or more attempts in a season. Petteri Nummelin of Minnesota made six out of seven (85.7) in 2006-07, and Wojtek Wolski of Colorado shot 10-for-12 (83.3) in 2008-09. A year ago, Sidney Crosby of Pittsburgh made eight of 10 attempts.

Interestingly, Dan Boyle of the Sharks, who used a slow-motion move to beat Quick for the only shootout goal by San Jose, improved to three-for-three on the season. No player has ever finished four-for-four or better.

On the other end of the spectrum, Steven Stamkos of Tampa Bay, who leads the NHL with 43 goals this season, has missed all seven of his shootout attempts, the most attempts without a goal by any player in the league.
March, 24, 2011
3/24/11
8:20
PM PT
By
Dan Arritt
| ESPNLosAngeles.com
Nashville Predators 5, Ducks 4
Eight keys to game:
THE FACTS:
Ducks goalkeeper
Jonas Hiller
didn't make it through the opening 12 minutes in his first game back after missing 19 of the last 20 because of vertigo-like symptoms. Hiller gave up three goals in nine shots against the Predators, and the Ducks couldn't make up the difference in the loss at Bridgestone Arena in Nashville.
THE STAT:
The Ducks could have jumped three spots in the Western Conference standings with a victory and a loss by the Kings against San Jose later tonight. Instead they'll remain in eighth, one point ahead of ninth-place Dallas. Nashville, meanwhile, leapfrogged the Kings and Chicago with its fifth consecutive victory and now sits in fifth place.

TURNING POINT:
Hiller made four saves in the first two minutes but was bitten on the fifth shot on goal by the Predators, a wrist shot from five feet by
Sergei Kostitsyn
at the 2:04 mark. About nine minutes later, the Predators scored two goals 19 seconds apart. Hiller was done for the night and the Ducks were in big-time catch-up mode.
HOT:
Take your pick between
Corey Perry
and
Teemu Selanne
. Perry scored two more goals to give him 42 on the season and move to within one of
Steven Stamkos
of Tampa Bay for the league lead. Perry also had an assist to give him 13 points in the last eight games. Selanne scored the other two goals, giving him four in the last three games. Unfortunately, the Ducks drew within a goal with just 27 seconds left, not enough time for Selanne to score the tying goal late in regulation for the third consecutive game.
NOT:
Anaheim rookie defenseman
Luca Sbisa
was a season-high minus-four for the game with a team-high three giveaways.
GOOD MOVE:
To get an extra attacker on the ice, Anaheim coach
Randy Carlyle
pulled
Dan Ellis
from goal with just under three minutes remaining and the Ducks trailing by two. He got the goal he wanted, just too little too late.
BAD MOVE:
What was Nashville defenseman
Ryan Suter
thinking as he kicked the puck out of the air in the final minute? He ended up booting it over the shoulder of his goalie,
Pekka Rinne
, cutting the deficit to one. If Rinne doesn't win the Vezina Trophy for top goalkeeper honors this season, Suter won't be getting a Christmas card. You have to also question whether Hiller was ready for this game.
NOTABLE:
Both of Selanne's goals came on the power play, giving the Ducks five extra-man goals in the last three games and Selanne has three of them.
UP NEXT:
Saturday at Chicago, 5:30 p.m. PT
November, 4, 2010
11/04/10
6:52
AM PT
By
Dan Arritt
| ESPNLosAngeles.com
Tampa Bay Lightning (7-2-2) vs. Kings (8-3-0) at Staples Center, 7:30 p.m.
Earning their stripes–
The Kings are off to their best start in 20 years, building their record against a series of quality teams. The Lightning will be the eighth opponent in the last 10 with at least a .500 record coming into the game, and the Kings are 7-2 in the previous nine. Tampa Bay not only has a winning mark, but is tied for the most points in the NHL with Los Angeles and the Washington Capitals. Wasn't it just 18 months ago that the Kings and Lightning finished last in their respective divisions?

The gang's all here–
Probably most remarkable about the Kings' start to the season is they have yet to be at full strength. That should change against the Lightning. Kings defenseman
Matt Greene
missed the first five games recovering from offseason shoulder surgery. Just as he returned to game shape, fellow defenseman
Drew Doughty
was sidelined for six games with a concussion. Doughty is set to return against the Lightning, as well as left wing
Scott Parse
, who has been out since the preseason with a groin pull.
Lightning killer–
Playing against Tampa Bay has provided both highs and lows for right wing
Justin Williams
. As a member of the Philadelphia Flyers, he suffered a devastating knee injury in January 2003 when he was hit low by Tampa Bay's
Brad Lukowich
. He faced the Lighting regularly as a member of Southeast Division rival Carolina from 2004 to '09 and haunted them ever since, scoring 25 points in 35 career games. His second-line mate,
Ryan Smyth
, has also been a thorn in Tampa bay's side, totaling 12 points in 16 career games.