December, 20, 2014
Dec 20
3:39
PM PT
Associated Press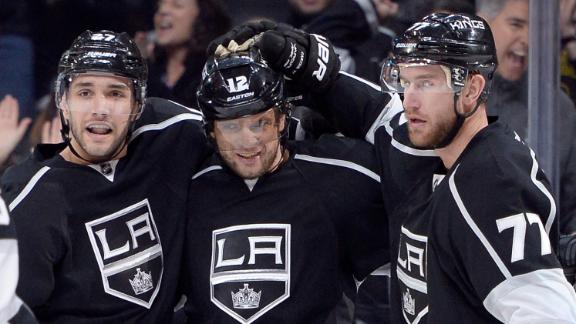 LOS ANGELES -- Defenseman Alec Martinez scored the go-ahead goal early in the third period during a power play, Marian Gaborik also connected with the man advantage for his sixth goal in four games, and the Los Angeles Kings beat the Arizona Coyotes 4-2 on Saturday.
Jeff Carter and Trevor Lewis also scored and Jonathan Quick made 15 saves for the defending Stanley Cup champions on the third anniversary of the day Darryl Sutter was hired as head coach. Anze Kopitar, who set a career high for points with a goal and four assists Thursday night in a 6-4 win over St. Louis, had three assists against the Coyotes.
Los Angeles defenseman Robyn Regehr was scratched because of an upper-body injury that occurred during the win over St. Louis. As a result, Jamie McBain was back in the lineup for the first time since Nov. 29 after nine games as a healthy scratch and got assists on both power-play goals.
Martin Hanzal and Kyle Chipchura scored for Arizona and Devan Dubnyk stopped 31 shots.
December, 19, 2014
Dec 19
2:33
PM PT
Associated Press
EL SEGUNDO, Calif. -- Defenseman Robyn Regehr was placed on injured reserve by the Los Angeles Kings on Friday with an upper-body injury.
The defending Stanley Cup champions recalled Jeff Schultz from the AHL after the latest significant setback for the Kings' defensive corps.
Regehr was hurt during the second period of Los Angeles' 6-4 comeback victory over St. Louis on Thursday. He is likely to be out at least two weeks with the unspecified injury.
The Kings' patchwork lineup is a significant factor in their intermittent defensive struggles this season after Jonathan Quick won the Jennings Trophy last year representing the NHL's best defensive team. Schultz would be the ninth defenseman to play for Los Angeles this season.
Los Angeles is still sixth in the NHL with just 2.36 goals allowed per game, but has given up 21 regulation goals in its last five games.
Regehr, Alec Martinez and Jake Muzzin have already missed significant stretches of the season with injuries, while Slava Voynov will miss his 28th straight game Saturday against Arizona while under suspension after his arrest on a felony domestic violence charge. The Russian Olympian's indefinite suspension will be one of the longest in NHL history.
December, 19, 2014
Dec 19
12:16
PM PT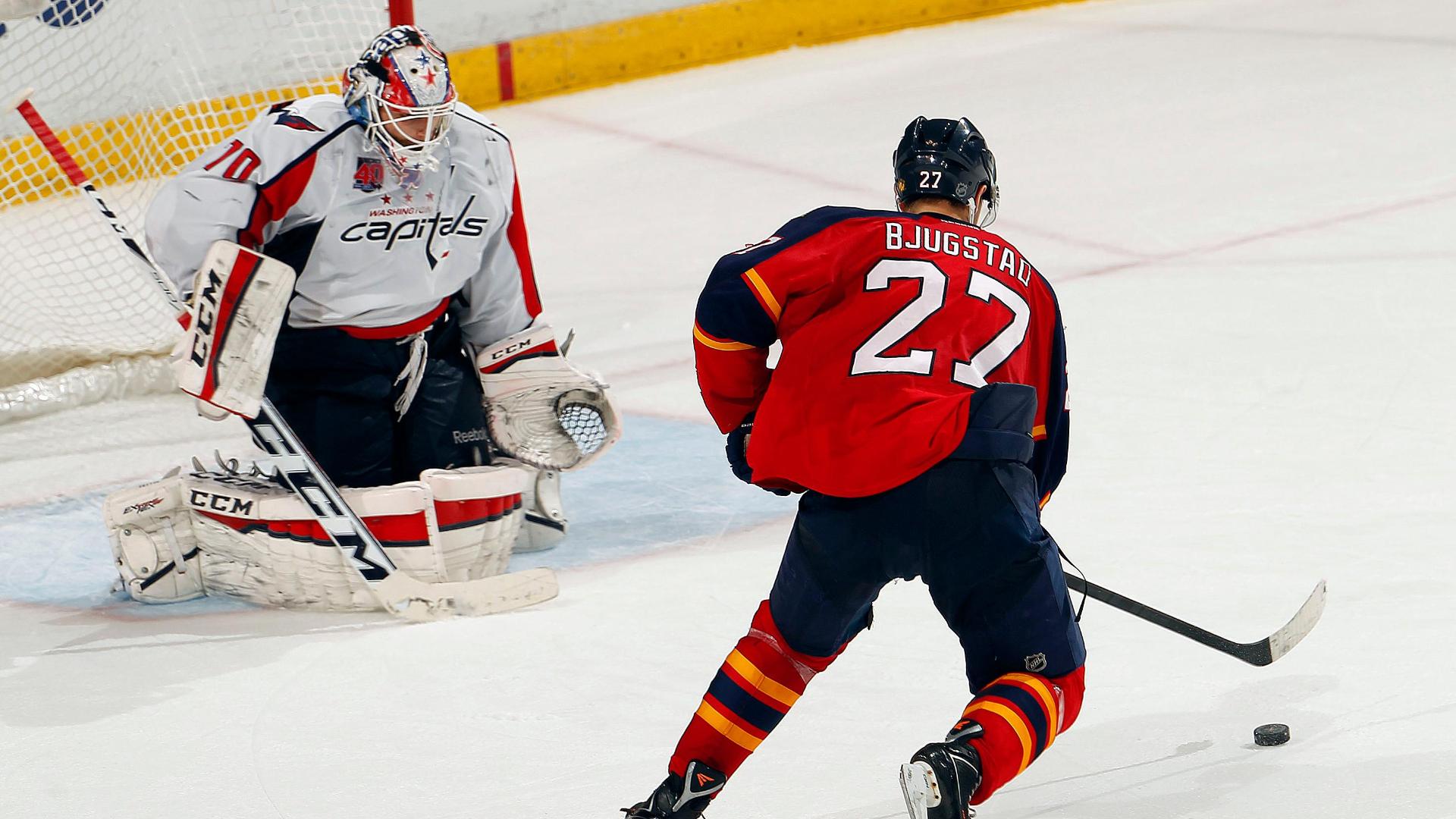 FORWARDS
Trending up: Anze Kopitar, Los Angeles Kings -- I mean, how can we overlook his most recent performance? Kopitar put up a whopping five points in the Kings' 6-4 win over the St. Louis Blues on Thursday night, marking a career-high for the Slovenian center. With six points in the last two games, Kopitar's production is on the uptick after what has otherwise been a rather slow start to the season.
Trending down: James Neal, Nashville Predators -- Yup, I'm calling him out for being the first player to be publicly shamed for his repeated diving. The NHL revealed this week that Neal has been fined $2,000 for his embellishment, after receiving a first citation and a warning. Neal can't be pleased with that, but we like the idea of using this technique to rid the game of this stuff.
Surprise of the week: Rick Nash, New York Rangers -- His skill and scoring ability are hardly a surprise, but this sort of steadiness from Nash has been a pleasant surprise for the New York Rangers. Though traditionally he has been a very streaky player, Nash has been almost mind-numbingly consistent in the midst of putting together one heck of a season for the Blueshirts. The star winger, who has 20 goals and 33 points, is riding an 11-game point streak, with 14 points during that span. He hasn't been held off the score sheet in over a month, and he's registered points in all but four games this season. Impressive.
DEFENSEMEN
Trending up: Justin Faulk, Carolina Hurricanes -- You have to figure that Justin Faulk is one of the cornerstone pieces the Hurricanes want to build around for the future, despite a dreadful start to the 2014-15 season. And though the 22-year-old blueliner has seen his share of struggles this year, he recorded a goal and an assist in the Canes' 4-1 win against the Toronto Maple Leafs on Thursday night to help halt a six-game skid for Carolina.
Trending down: T.J. Brodie, Calgary Flames -- When the Flames were riding high, their blue line was chipping in on the offensive end and giving them balanced production. That type of contribution has slipped of late, coinciding with the team's nosedive. Brodie, who has six goals and 23 points on the season, has gone eight straight games without a goal and has registered just two assists during that span. The Flames need more from him in order to make up some ground surrendered during their recent slump.
Surprise of the week: Mike Green, Washington Capitals -- It's been hard to know what to make of Green (not to mention his trade value) after injuries have hampered him in recent years, but Thursday night he provided some reminders of his offensive abilities, figuring in two important goals en route to the Capitals' 5-4 win against the Columbus Blue Jackets.
GOALTENDERS
Trending up: Marc-Andre Fleury, Pittsburgh Penguins -- Fleury not only evaded the mumps virus that has been wreaking havoc in the Penguins' dressing room but also recorded his league-leading sixth shutout of the season Thursday night in a game that not many people expected him to start. After testing negative for the mumps, Fleury made 29 saves to blank the Colorado Avalanche, despite a good performance from Avs rookie Calvin Pickard, who made 47 saves yet was saddled with the loss.
Trending down: Jimmy Howard, Detroit Red Wings -- Let us first offer a disclaimer: Howard has been terrific this season in regulation and in overtime. It's his shootout struggles that earn him this dubious honor. The Red Wings are an abysmal 1-6 in the shootout this season. Granted, their shooters need to pull their weight, as well, but we'd like to see Howard pull one out in the skills competition sometime soon.
Surprise of the week: Niklas Svedberg, Boston Bruins -- The Bruins' 25-year-old backup goalie was sensational in helping them edge the Minnesota Wild in a 3-2 overtime win Wednesday night. Svedberg made 35 of 37 saves to post a dazzling .946 save percentage, and he has a .925 save percentage overall on the season. Last season, Chad Johnson proved to be an incredibly effective backup to starter Tuukka Rask. Svedberg has shown he can fill that role nicely, as well.
December, 18, 2014
Dec 18
10:29
PM PT
Associated Press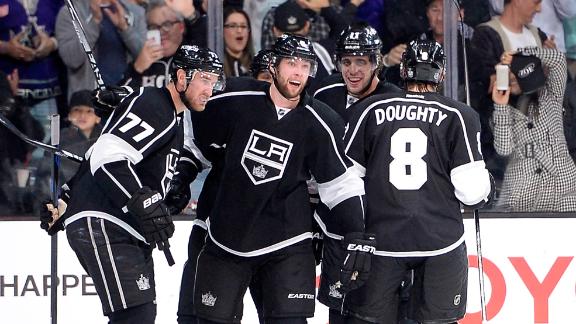 LOS ANGELES -- Jake Muzzin scored the tiebreaking power-play goal with 11:02 to play, Marian Gaborik had two goals and two assists, and the Los Angeles Kings rallied from an early three-goal deficit for a 6-4 victory over the St. Louis Blues on Thursday night.
Anze Kopitar and Jeff Carter each had a goal and three assists as the defending Stanley Cup champions avenged a loss in St. Louis on Tuesday with just their second win in seven games.
Kopitar matched his career high with four points, and Dwight King scored from the red line with 7:54 left on a bizarre bounce over Martin Brodeur to cap a rough night for the NHL's career victories leader in his third start for St. Louis.
December, 16, 2014
Dec 16
7:59
PM PT
Associated Press
ST. LOUIS -- Vladimir Tarasenko scored three goals, and the streaking St. Louis Blues netted four in the third period in a 5-2 comeback victory over the Los Angeles Kings on Tuesday night for their fifth straight win.
The Blues scored three times, including two power-play goals, in a span of 2:30 in the third. Tarasenko added an empty-net tally with 1:24 remaining for his 20th goal of the season.
Jake Allen made 21 saves for the Blues, who will begin a three-game road trip against the Kings on Thursday.
Los Angeles has lost three straight and five of six. The Kings have dominated the Blues in recent seasons, winning seven of eight in the regular season and 17 of 21 including the playoffs.
The Kings had taken control of this one when Marian Gaborik scored twice in the second period.
December, 16, 2014
Dec 16
5:01
PM PT
December, 15, 2014
Dec 15
12:07
PM PT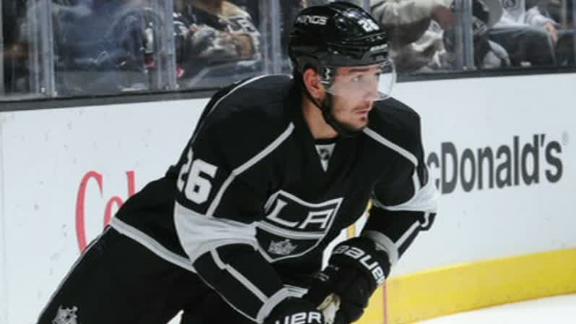 Suspended Los Angeles Kings defenseman Slava Voynov will stand trial on a felony charge of domestic violence after a judge deemed there to be sufficient evidence to move forward with the case Monday.
The 24-year-old Voynov, who was charged with a felony count of corporal injury to a spouse with great bodily injury last month, appeared in a Torrance, California, court Monday for a preliminary hearing during which shocking details emerged.
According to reports of police testimony Monday, an officer of the Redondo Beach Police Department told the court that Voynov had punched, kicked and choked his wife, Marta Varlamova, at the couple's home in October.
Additionally, the Los Angeles County District Attorney's office lead prosecutor, Frank Dunnick, said, "There's evidence to suggest prior domestic violence," according to the Los Angeles Times.
Voynov, through his California-based lawyer Craig Renetzky, maintains his innocence, and Voynov's wife has also stated through her personal attorney that the incident was an accident and that she does not want her husband charged.
But from testimony heard Monday, the incident sounded much different. The officer who gave testimony told the court about a bloody scene he discovered at the couple's home and that Varlamova said she was scared.
According to reports out of the courtroom, Varlamova had a wound above her left eye, caused after Voynov pushed her into a flat-screen television, that required eight stitches to close.
Voynov, who was arrested at the hospital after medical staffers called police, was immediately suspended by the NHL and has not played a game since Oct. 19.
Earlier this month, the Kings were fined $100,000 for allowing Voynov to practice with the team, violating the terms of his suspension.
December, 15, 2014
Dec 15
10:52
AM PT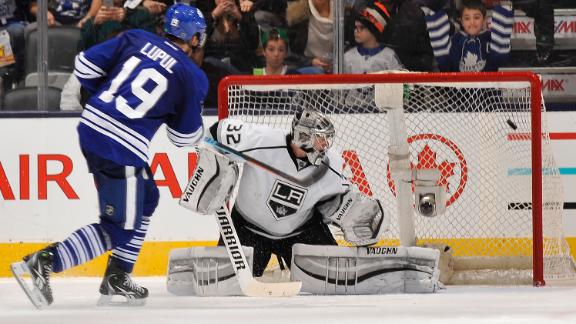 Maybe the Los Angeles Kings have the rest of the NHL right where they want it.
Hanging on to a wild-card spot by the slimmest of margins, the defending NHL champions look like the sluggish, Cup hungover sorts that they dearly hoped not to be.
Oh, there are spurts of great hockey for sure, but not consistently enough.
They arrived at camp in September in an impressive frame of mind, intent on not adhering to the script that so many Cup champions followed the past two decades.
There's a reason no team has repeated since the 1997 and 1998 Red Wings. It's a merciless grind, mentally and physically, to play until June then turn around and do it all over again.
These Kings have played a lot of hockey over the past three-plus years, as Cup champions in 2012 and 2014 with a trip to the Western Conference finals sandwiched in between.
Over the opening three months of the season, some of L.A.'s top guys are having a tough time ramping up the emotional level due to these long runs over the past three springs.
"It's like they know it's there and they can't bring themselves to get it there all the time," said TSN color commentator and former NHL center Ray Ferraro. "I don't think there's any way to play as many games as they've played over the last three years and not have this catch up to you. I don't think there's anything they could do. Look at their team. It's not like they're a bunch of floaters; there's a lot of character guys."
They care. They do. The look on Anze Kopitar's face as he exited the visitors' dressing room after Sunday's 4-3 shootout loss to the Toronto Maple Leafs said it all.
December, 14, 2014
Dec 14
10:09
PM PT
TORONTO -- Once the
Los Angeles Kings
saw their SoCal rivals, the
Anaheim Ducks
, lose players to mumps last month, they didn't take too long to react.
Kings head coach Darryl Sutter said Sunday that his players were all vaccinated about "2-3 weeks ago."
Not that his players seemed particularly worried about it, even after the news that the game's top player,
Sidney Crosby
, was diagnosed with it on Sunday.
"I don't even think about it, to be honest," superstar Kings blue-liner
Drew Doughty
said after Sunday's 4-3 shootout loss to the Maple Leafs. "I'm not too worried about it. If I get it, I get it. I hope I don't. I hope no one on our team does, but there's really nothing we can do. We have sanitizers all over the rink and all over the plan and stuff like that. We're trying not to get it, obviously."
While the Kings were given the shot, the Maple Leafs say they gave their players the option of getting the vaccine shot, although it appears most players did it.
"Well, I just got my shot today," Leafs coach Randy Carlyle said Sunday. "They dragged me in, I was the last one. I thought that I had [been vaccinated] 58 years ago, so I didn't think I'd need another one, but I guess there's a new strain out that they better look after us."
The NHL and NHL Players' Association have been closely monitoring the situation.
[+] Enlarge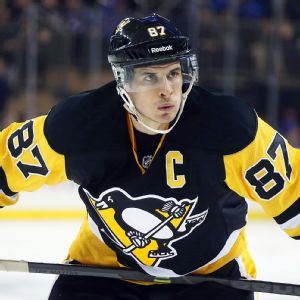 Bruce Bennett/Getty ImagesSidney Crosby was diagnosed Sunday with the mumps.
"We have been in touch with our clubs through our infectious disease committee and circulated information on how best to minimize the outbreak," deputy commissioner Bill Daly told ESPN.com via email Sunday. "Most if not all of our clubs have now vaccinated all of their players, regardless of whether they were vaccinated in their youth."
The problem, Daly added, is that the mumps are highly contagious, and the period from contraction to the onset of symptoms is unusually long. That allows players to pass it along before they know they have it, Daly said.
"The NHLPA has been actively educating the players regarding the recent outbreak, while providing best practices on how to avoid contracting and spreading mumps," NHLPA senior spokesman Jonathan Weatherdon said Sunday.
Each season at training camp, players are asked about their vaccine histories annually by team physicians, and players are encouraged to bring copies of their immunization records with them, according to another source.
Better bet that players will be on this next season at camp.