November, 26, 2014
Nov 26
7:50
PM PT
Associated Press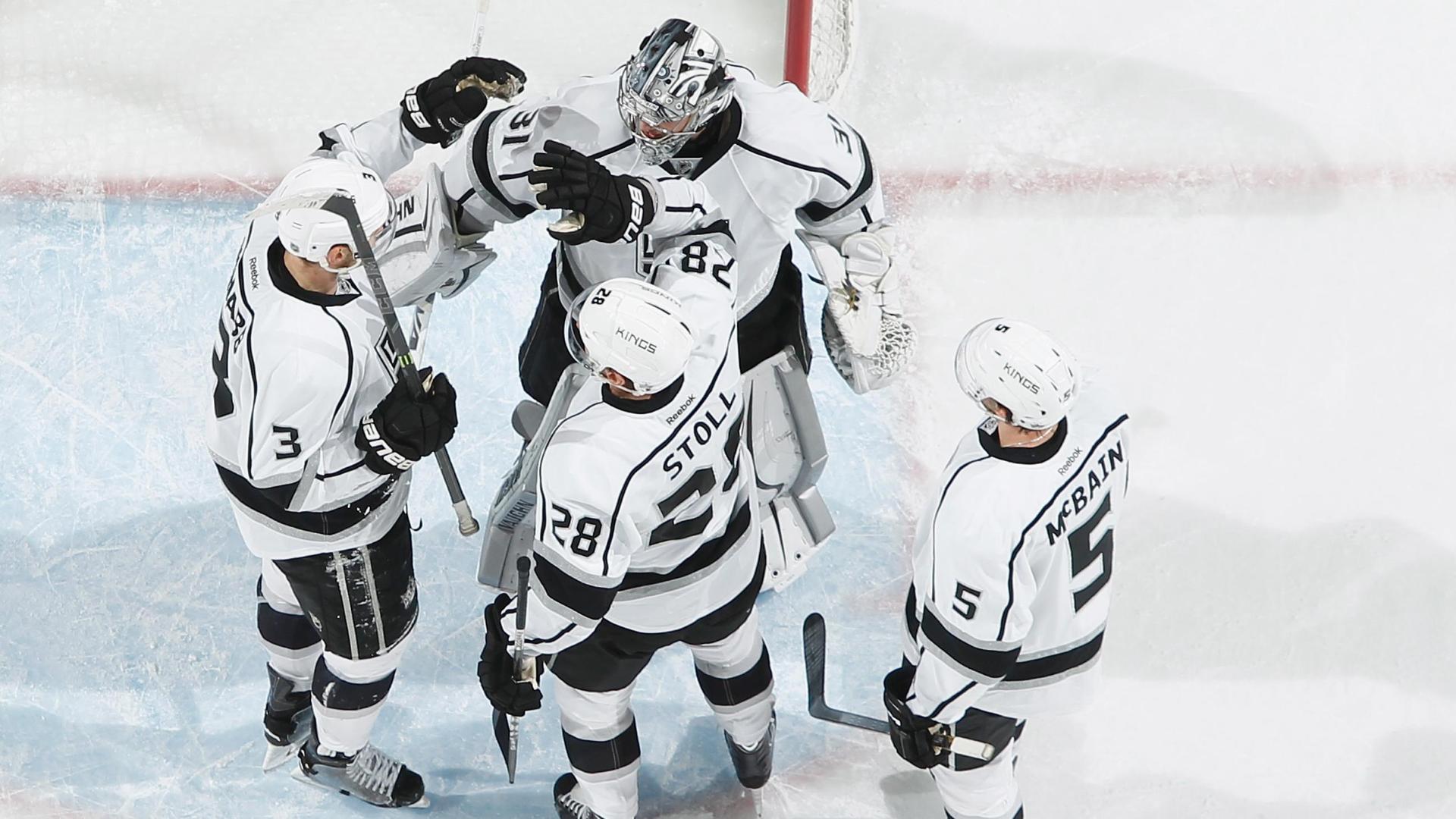 ST. PAUL, Minn. -- Dustin Brown's goal and assist helped ignite a four-goal first period, Martin Jones earned his fifth career shutout, and the Los Angeles Kings beat the Minnesota Wild 4-0 on Wednesday night.
Mike Richards, Tyler Toffoli and Justin Williams also scored for the Kings, who won on the road for just the second time this season.
Starting his second straight game and given a comfortable lead after the first, Jones stopped 28 shots for his first shutout since April 10, 2014. On Tuesday night, Jones was in the net when the Kings lost after a six-round shootout at Nashville.
Darcy Kuemper gave up all four first-period goals on 10 shots before being replaced by Niklas Backstrom to start the second.
November, 25, 2014
Nov 25
8:20
PM PT
Associated Press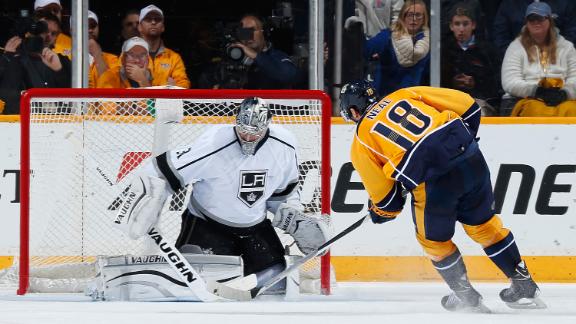 November, 25, 2014
Nov 25
7:55
PM PT
Associated Press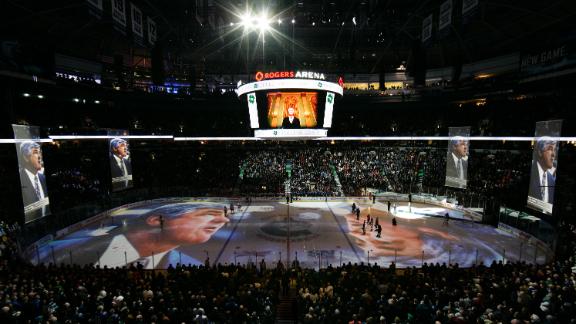 VANCOUVER, British Columbia -- The Vancouver Canucks honored late coach Pat Quinn in a pregame ceremony on Tuesday night.
A moment of silence was held for Quinn before the Canucks hosted the New Jersey Devils. A video tribute was played while Mark Donnelly sang "Danny Boy."
Canucks players wore "PQ" decals on their helmets that will remain for the rest of the season.
Quinn, who died Sunday at 71 following a long illness, was a defenseman with the original Canucks team that entered the NHL in the 1970-71 season.
He later served as team president, general manager and coach between the late-1980s and late-1990s. Quinn guided the Canucks to Game 7 of the 1994 Stanley Cup finals against the New York Rangers.
Quinn also coached the Philadelphia Flyers in the 1980 finals and held coach and executive positions with the Los Angeles Kings, Toronto Maple Leafs and Edmonton Oilers.
Internationally, he guided Canadian Olympic, World Cup, world junior and under-18 teams to gold medals. Even after leaving the Canucks, he maintained strong ties with Vancouver.
Quinn had a home on the city's north shore and held a minority ownership position with the Vancouver Giants of the Western Hockey League.
The Canucks plan to hold a more extensive tribute for Quinn at a later date.
November, 25, 2014
Nov 25
10:28
AM PT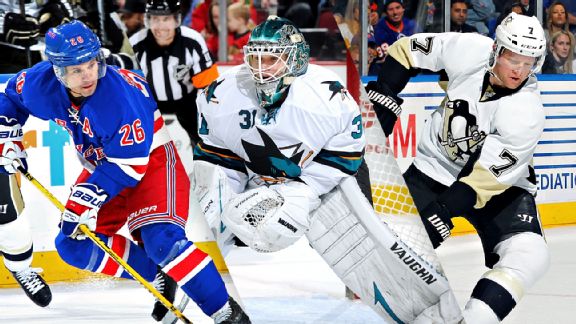 Getty Images Martin St. Louis, Antti Niemi and Paul Martin are the top impending free agents at their positions.
When
Jason Spezza
signed his four-year contract extension with the
Dallas Stars
worth $7.5 million per season, the initial thought was that it seemed high for a player on the downside of his career.
All it took was a quick glance at the 2015 free-agent center options, and suddenly that money didn't look so bad.
The free-agent market seems to get thinner each year, making signing your current players a smart priority. That's one reason why Spezza likely isn't the last to get a deal done here in the next month or so.
"You're going to see teams try to get deals done. There might be more of an urgency to get deals done," said one agent with a couple of high-end players in contract years. "The cap isn't going to go up significantly, so the prominent guys are being locked in."
Spezza would have been one of the top three players available. What does the UFA list look like without him? Here's an early look at the Top 20, with updates on where some of negotiations currently stand:
---
1. Martin St. Louis, F, New York Rangers
The Rangers were St. Louis' preferred destination when he was leaving Tampa Bay, so there's no reason to believe he's going anywhere. He's been a great fit with the Rangers, was their spiritual leader during their trip to the Stanley Cup finals and has 17 points through 20 games so far this season. At 39, he might be at the point where he's willing to do one-year deals that come with bonuses that can be rolled over.
November, 24, 2014
Nov 24
1:53
PM PT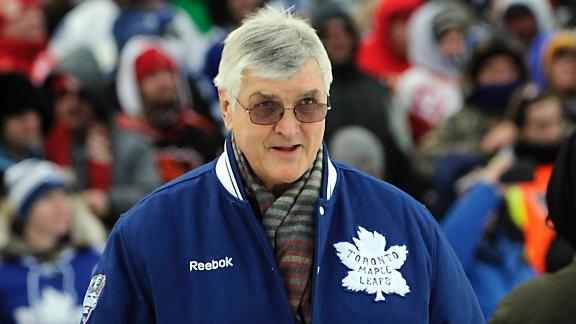 Hockey icon Pat Quinn died Sunday at age 71. Scott Burnside and Pierre LeBrun weighed in on Quinn's passion and legacy around the game.
BURNSIDE:
Well, Pierre, I know that folks in the hockey world had been bracing for Pat Quinn's passing for some time now, but it still remains a shock to hear that the big Irishman is indeed gone, passing away in Vancouver on the weekend. Both you and I had many opportunities to spend time around Quinn over the years during his tenure as head coach in Toronto, and then as he took on international gigs, including the 2002 Olympic team, Canada's World Cup of Hockey squad and later the Canadian entry in the World Junior Championship. I still remember the day at the Leafs' practice facility in Etobicoke, someone (I think it might have been our friend Ken Campbell of The Hockey News) asking about something that provoked Quinn, who insisted we were all sheep and continued to make baa-ing noises that would then be replayed about a thousand times on Toronto radio. But in spite of his sometimes-prickly relationship with the local media, Quinn remains among my favorite hockey figures when it came time to talk the game, to discuss big-picture ideas or to put various issues in context.
LEBRUN:
I actually don't agree that Quinn had a prickly relationship with the media, at least not here in Toronto when you and I got to know him, Scotty. Sure, he could challenge you and argue with you, but I always felt Quinn was respectful of what we did for a living and, for the most part, a lot of fun to be around during those years. Quinn handled the pressure in this market really well and always gave us lots to write about. He handled being a coach in Toronto perhaps as well as anybody in a long time. In fact, there are certainly parallels to be drawn between Quinn and Pat Burns, inducted into the Hockey Hall of Fame last week. Both were larger-than-life personalities who could balance gruff demeanors with a gentle touch behind the scenes. What really struck me while interviewing former star players for both the Burns HHOF piece and the story on Pat I wrote today is just how strong the bond is between coach and player. It was beyond the normal relationship.
Bryan McCabe
made a point of saying that Quinn was so much more than a coach but a friend as well.
[+] Enlarge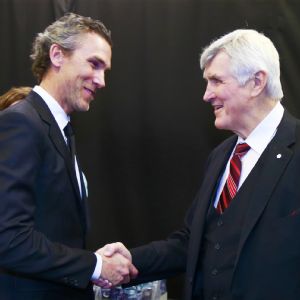 Jeff Vinnick/NHLI/Getty ImagesPat Quinn was an influence on many of today's executives, including Vancouver's Trevor Linden.
BURNSIDE:
OK, you say potato, I say potatoe, but I don't think there's any doubt that Quinn is one of those rare people who towered above the game while at the same time kept the game sacrosanct. Loved that he was rarely without a cigar in his mouth, inside or outside, or that there was always the familiar cigar aroma around him. I'm not sure that people understand just how good a coach he was. You know by living in Toronto that the team has never approached the success in recent years that the Leafs enjoyed with Pat Quinn coaching. Trips to the 1999 and 2002 Eastern Conference finals must seem like a million years ago to fans now. And you were in Salt Lake City for what was another seminal moment, not just for the big Hamilton native but for an entire country. Even though he knew it might have put a stick in the spokes of his relationship with Toronto netminder
Curtis Joseph
, he pulled him early in the Salt Lake City tournament and replaced him with
Martin Brodeur
. Tough? You bet. But it was never about Pat Quinn.
LEBRUN:
That 2002 Olympic gold medal meant a lot to Quinn, especially since he never won a Stanley Cup. I was there in Salt Lake and can still to this day remember the incredible pressure that the team was facing to end that 50-year-old gold-medal drought for Canada, especially coming off that disappointment of Nagano four years earlier. That's why having Wayne Gretzky manage the team and Quinn coach the team was a perfect one-two punch, so they could combine to shield the players from the pressure and outside world as much as possible. We all remember Gretzky's famous speech/rant during the preliminary round in Salt Lake, which purposely took the focus off his players, who had started the tournament in tepid fashion. It worked wonders. But as Gretzky told me a few days ago, the way Quinn shielded the players as well was instrumental in that tournament. Ken Hitchcock was an assistant coach on Quinn's staff in Salt Lake, and he talked about that as well, how Quinn protected the players, how his people skills were so important in that tournament. Hitchcock also reflected on remembering when Team Canada celebrated on the ice at the buzzer after the gold-medal win over Team USA, that Quinn stood at the bench area with his family around him. What an emotional moment for Pat Quinn, no doubt. And a great image for us all to remember the coach whose heart was as big as his passion for the game.
November, 24, 2014
Nov 24
8:21
AM PT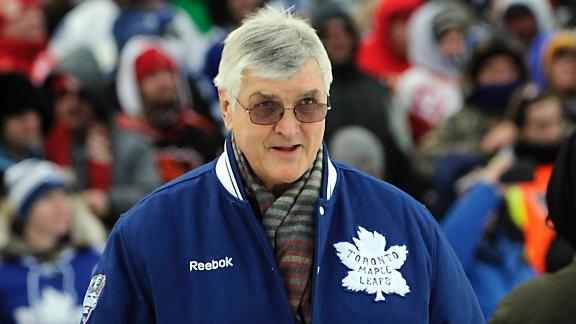 Longtime NHL coach Pat Quinn died Sunday night at Vancouver General Hospital after battling a long illness. The two-time Jack Adams Award winner was 71 years old.
"Whether he was playing for a team, coaching a team or building one, Pat Quinn was thoughtful, passionate and committed to success," NHL commissioner Gary Bettman said in a statement released Monday. "Pat's contributions to hockey, at every level, reflected the skills he possessed and the great respect with which he treated the sport.
"The National Hockey League, one of the many organizations to benefit from his devoted service, sends heartfelt condolences to Pat's loved ones and his many friends around the hockey world."
Concerns about Quinn's health were addressed recently, when he was unable to attend the Hockey Hall of Fame induction ceremony for the Class of 2014 this month. Quinn was the chairman of the HHOF.
"We are deeply saddened by the passing of Pat Quinn," Jim Gregory, vice chairman of the Hockey Hall of Fame, said in a release. "Pat is one of hockey's most respected individuals whose lifetime involvement as a player, coach and executive has made an indelible mark on the game, and our thoughts and prayers are with Sandra and all of Pat's family and friends at this extremely difficult time."
Quinn also served as co-owner of the Vancouver Giants, a major junior team in the Western Hockey League.
"Words cannot express the pain we all feel today for the Quinn family," Giants majority owner Ron Toigo said in a release. "Pat was an inspiration to all of us. He always said that respect was something that should be earned, not given, and the respect that he garnered throughout the hockey world speaks for itself. He will be sorely missed."
Quinn coached the Canadian Olympic team to a gold medal in 2002.
November, 24, 2014
Nov 24
10:39
AM PT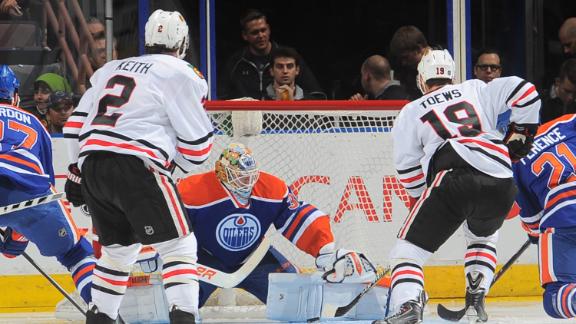 Trending up
Trending down
Dallas Eakins' job security: Twitter was abuzz Sunday with speculation over whether Eakins would be the latest casualty of the Edmonton Oilers' train wreck. Although star player Taylor Hall went to bat for his coach over the weekend, telling reporters it would be "so unfair" to give Eakins the ax, it's hard to imagine he'll survive the team's current nose dive. The club has dropped six straight, most recently a humiliating 7-1 drubbing courtesy of the Chicago Blackhawks. Dan Bylsma had better get his passport ready.
San Jose Sharks: Eakins may not be the only coach on the chopping block out West, with the Sharks continuing to stumble and Todd McLellan's seat growing hotter by the day. The Sharks surrendered their third straight in Saturday's 4-3 shootout defeat to the Arizona Coyotes. That's three losses to some of the weakest teams in the league; before Saturday's loss, the Sharks had dropped games to the Buffalo Sabres and Florida Panthers.
Injury report
St. Louis' Jay Bouwmeester saw his ironman streak end Sunday when he missed the Blues' game against the Winnipeg Jets with a lower-body injury. The veteran defenseman had played 737 consecutive games.
It is not immediately clear whether Canucks defenseman Dan Hamhuis will require surgery, but he is expected to miss extended time after suffering a lower-body injury in Thursday's game against Anaheim.
What to watch for
Unrest in Edmonton: If Eakins does not get fired this week, one would imagine the Oilers may go the trade route to try to shake things up and provide the club with a much-needed jolt heading into this week's three-game road trip. Will Oilers GM Craig MacTavish begin shopping Jordan Eberle, as many have long wondered, or put a guy like David Perron on the trading block? Don't rule out anything when it comes to floundering club.
Who steps up for Blues? The "STL Line" remains the hottest line in hockey at the moment, but we've all seen what can happen with lopsided production. Alexander Steen tallied his fourth goal of the season in the Blues' 3-2 win over Ottawa on Saturday and followed up with a pair of assists in the Blues' 4-2 win against Winnipeg on Sunday. In addition to a power-play marker from Jaden Schwartz, the Blues also got goals from David Backes, Ryan Reaves and Paul Stastny. Can they sustain such offensive balance? Also, does coach Ken Hitchcock continue to alternate with Jake Allen and Brian Elliott in goal or does he give one netminder the chance to run with it?
November, 22, 2014
Nov 22
8:14
PM PT
Associated Press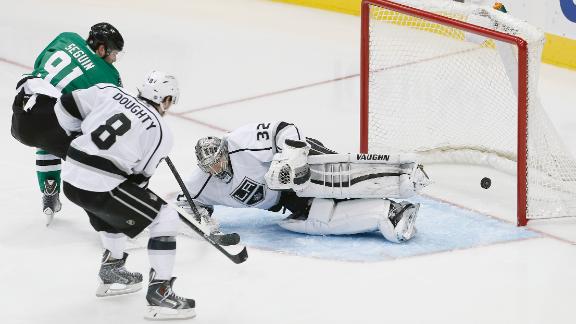 November, 21, 2014
Nov 21
5:08
PM PT
The
Los Angeles Kings
gained more than $4 million in salary-cap breathing room with Friday's agreement between the NHL and NHL Players' Association regarding
Slava Voynov
.
[+] Enlarge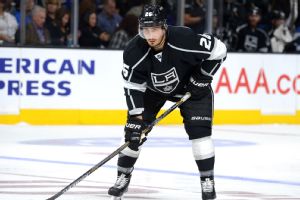 Kirby Lee/USA TODAY SportsThe Los Angeles County District Attorney's Office filed one felony count of corporal injury to a spouse with great bodily injury against Voynov.
The league and the players' union -- who were going back and forth Friday, a source told ESPN.com -- finally agreed that Voynov's $4.16 million cap hit would be treated just like that of any player under the long-term injured exception.
Voynov will still get paid by the Kings, but the club can replace his cap hit.
It's been a tough go for the Kings under the salary cap ever since Voynov was suspended by the league on Oct. 20 following his arrest on suspicion of domestic violence. The Los Angeles County District Attorney's Office filed one felony count of corporal injury to a spouse with great bodily injury against Voynov on Thursday.
The Kings even dressed a lineup that was one player short earlier this month because they didn't have the cap room to call up a player.
Now with Voynov's cap hit gone, the Kings will breathe easier.
And for those wondering how other NHL teams feel about this: Every single team executive we spoke with over the past few weeks felt the Kings should get some form of salary-cap relief. Let's not kid ourselves here, other teams realize that they could have a player in a similar position down the road. Nobody feels the Kings as a whole should be paying the price in terms of the salary cap and competitive balance because of an alleged off-ice transgression by one player.
November, 21, 2014
Nov 21
2:00
PM PT
Associated Press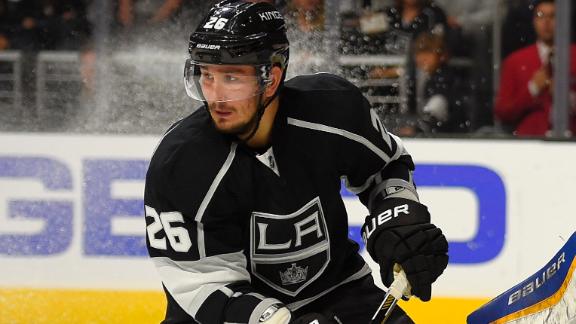 LOS ANGELES -- The NHL is giving salary cap relief to the Los Angeles Kings while defenseman Slava Voynov remains suspended indefinitely with pay after being charged with felony spousal abuse.
The league announced Friday that Voynov's salary no longer will count against the Kings' salary cap.
Voynov's $4.167 million cap hit now may be replaced in the same manner in which players with long-term injuries don't count against the cap.
The Kings had been unable to recall anyone from the minors to replace injured players recently, even forcing them to play with five defensemen at times.
Voynov has been suspended for 14 games since his arrest Oct. 20.
He is due in court Dec. 1 after the Los Angeles County district attorney's office charged him Thursday with abusing his wife.
November, 21, 2014
Nov 21
11:01
AM PT
The White House visit for defending champions is a long-standing tradition for teams in different sports, including the NHL, but the
Los Angeles Kings
are adding a new twist this season.
[+] Enlarge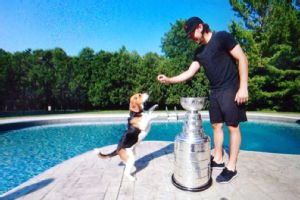 Courtesy of Drew Doughty Canadian-born Drew Doughty and the Kings are continuing the Stanley Cup celebration.
They'll still visit the White House, but there are also tentative plans to take the Stanley Cup to Parliament Hill in Ottawa, where there's an avid hockey fan in Prime Minister Stephen Harper to welcome them.
It's believed the Kings are planning a Dec. 10 visit; they play the Senators in Ottawa the following night.
A U.S. team visiting Parliament Hill? Why not, when you consider just how Canadian that Kings roster is? In many ways, the Kings are more Canadian than some of the Canadian NHL teams.
Their Game 5 Cup-winning roster in June featured 12 Canadian-born players, including
Drew Doughty
,
Jeff Carter
,
Jarret Stoll
,
Tyler Toffoli
,
Tanner Pearson
,
Jake Muzzin
and Conn Smythe Trophy winner
Justin Williams
.
While general manager Dean Lombardi is American, his affinity for Canadian-born players is well documented. It certainly wouldn't surprise me if he was behind this idea -- which is a great one, by the way.