Los Angeles Kings:

San Jose Sharks
July, 31, 2014
Jul 31
4:19
PM PT
Hair bands and hockey hair: a marriage made in heaven. So, we're dropping the needle on 30 songs that say something about each of the 30 teams -- using nothing but cheesy videos from the 1980s. The Western Conference list is below, so feel free to mullet over. (Eastern Conference is here.)
ANAHEIM DUCKS: "Maniac," Michael Sembello
Those crazy kids on the left coast will try pretty much anything. Which means it's all or nothing for the Ducks, who, if it weren't for their downtown neighbors, might be living the high life instead of never seeing the third round. But real life is hard, so that's why the Ducks went out and got Ryan Kesler and are sticking with young hotshots John Gibson and Fredrik Andersen in net, no matter what. And they mean it this time. Carpe diem, ducklings!
On the ice-blue line of insanity, it's a place most never see
It's a hard-won place of mystery, touch it but can't hold it
You work for your life for that moment in time, it could come or pass you by
It's a push of the world, but there's always a chance
ARIZONA COYOTES: "Livin' On A Prayer," Bon Jovi
Arizona Coyotes, Phoenix Coyotes ... does it really matter? With the team's arena deal hitting an unexpected bump in the road recently, this team's off-ice fortunes continue to cloud the future. Not to mention that said arena is still so far out in the boonies that no one goes to the games.
We've got to hold on to what we've got
'Cause it doesn't make a difference
If we make it or not
We've got each other and that's a lot
CALGARY FLAMES: "Holding Back The Years," Simply Red
What's the deal with these perennially lousy teams in Alberta? Not all the Brian Burkes in the world seem to able to fix this broken franchise. Jarome Iginla must be so happy he's not there anymore.
Holding back the years
Chance for me to escape from all I've known
Holding back the tears
'Cause nothing here has grown
I've wasted all my tears
Wasted all those years
And nothing had the chance to be good
Nothing ever could yeah
CHICAGO BLACKHAWKS: "U Can't Touch This," MC Hammer
"The Blackhawks are so good." "Break it down, ESPN.com!" "They are so good, no one in the West will be able to touch them. Er, until the playoffs." "You had me and then you lost me, ESPN.com!"
Cold on a mission so fall them back
Let 'em know that you're too much
And this is a beat, uh, you can't touch
COLORADO AVALANCHE: "Beat It," Michael Jackson
Time to see what you're made of, Avs. You had an overachieving season followed by a disappointingly early departure from the playoffs. How you respond after all the Patrick Roy glass-pushing and novelty wears thin will reveal your true character. Show us how funky strong is your fight. And, by the way, let's see you do it without Paul Stastny.
Just beat it, beat it, beat it, beat it
No one wants to be defeated
Showin' how funky strong is your fight
It doesn't matter who's wrong or right
Just beat it, beat it, beat it, beat it, beat it
DALLAS STARS: "Hip To Be Square," Huey Lewis And The News
We're watching you, Tyler Seguin. The fate of the Stars rests on your considerable shoulders. Show us what you've got.
I used to be a renegade, I used to fool around
But I couldn't take the punishment and had to settle down
Now I'm playing it real straight, and yes, I cut my hair
You might think I'm crazy, but I don't even care
Because I can tell what's going on
EDMONTON OILERS: "We're Not Going to Take It," Twisted Sister
All those high draft picks, all those low places in the standings, all that disappointment for a passionate fan base, all those seasons of missing the playoffs. Will the fans bail on the Oil?
If that's your best
Your best won't do
LOS ANGELES KINGS: "We Are The Champions," Queen
C'mon, you knew this one was coming: Kings, Queen, defending champions. But, seriously, can anyone dethrone the Kings?
We are the champions
We are the champions
No time for losers
'Cause we are the champions
MINNESOTA WILD: "Abracadabra," Steve Miller Band
Who's playing net here? Is it a revolving door again? That never works.
I heat up, I can't cool down
You got me spinnin'
'Round and 'round
'Round and 'round and 'round it goes
Where it stops nobody knows
NASHVILLE PREDATORS: "Notorious," Duran Duran
The Predators never seem to learn. A couple of years ago, they brought in bad boys Andrei Kostisyn and Alexander Radulov late in the season, and their late-night carousing -- in the playoffs, no less -- helped bring the previously rolling Preds machine to a grinding halt. Now, they sign Mike Ribeiro and his ambiguous "behavior issues." Ribeiro -- whose camp sought out the Predators -- says he's changed his ways. Whatever. GM David Poile must be the king of second chances, or he likes living life on the edge.
That's why I've done it again
No-no-Notorious
ST. LOUIS BLUES: "Don't You Want Me," Human League
"Sorry, Ryan Miller, but we've decided to go in another direction. It just wasn't a good fit. No, no, it was us, not you. Yes, we can certainly be friends."
Don't, don't you want me?
You know I can't believe it when I hear that you won't see me
Don't, don't you want me?
You know I don't believe you when you say that you don't need me
SAN JOSE SHARKS: "The Breakup Song," The Greg Kihn Band
Some feel the underperforming Sharks would be best to start from scratch. Will fans forgive them if they don't?
Now I wind up staring at an empty glass
Uh uh uh, uh uh uh uh uh
Cause it's so easy to say that you'll forget your past
Uh uh uh, uh uh uh uh uh
VANCOUVER CANUCKS: "Separate Ways," Journey
Poor Canucks fans. Too many good goalies, not enough good goalies, fired coach goes to the Cup finals with another team ... so confused by the unrequited love they have for their mixed-up team. Everyone who comes to this team and isn't a twin seems to eventually go his separate way.
Troubled times
Caught between confusions and pain, pain, pain
Distant eyes
Promises we made were in vain
In vain, vain
WINNIPEG JETS: "The Way It Is," Bruce Hornsby and the Range
You know the Jets aren't really that far away from being the Thrashers, right? And you remember how crappy the Thrashers were, right? This team seems to spin its wheels no matter where it is or who is coaching it. Shame, really.
That's just the way it is
Some things will never change
That's just the way it is
April, 29, 2014
Apr 29
2:19
AM PT
By
Dan Arritt
| ESPNLosAngeles.com
LOS ANGELES --
San Jose Sharks
coach Todd McLellan doesn't usually mince words in the moments after a tough loss. He stayed true to form Monday night after the Sharks were defeated in Game 6 of their Western Conference quarterfinal 4-1 to the
Los Angeles Kings
at Staples Center.
"We got cheated, simple as that," he said.
McLellan was referring to the tie-breaking goal by Kings right wing
Justin Williams
with just over eight minutes left in the game, which opened the gates for two more back-breaking goals down the stretch. Now the Sharks own the distinction of being the ninth NHL team to lose three straight games after taking a 3-0 series lead.
On the play in question, Kings defenseman
Robyn Regehr
shot the puck through traffic and into the pads of Sharks goalie
Alex Stalock
, who had trouble finding it beneath him. Williams, who was battling with a San Jose defender in front of the net, shoved the blade of his stick between the pads of Stalock, causing Stalock and the puck to slide backward in the crease.
San Jose defenseman
Matt Irwin
tried to save the puck from crossing the goal line, but seemed to inadvertently push it across. After a brief review, the goal was counted and all the momentum tumbled to the side of Los Angeles.
[+] Enlarge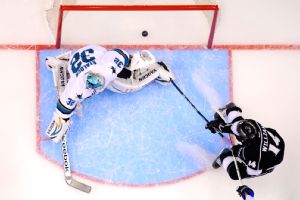 AP PhotoJustin Williams scored in the first and third periods to help the Kings steal the game and momentum from the Sharks.
"I was told that you could see the puck laying behind his feet the whole time," McLellan said. "That was obviously the turning point."
Stalock, making his first start of the series in place of
Antti Niemi
, who had struggled in the previous two losses against the Kings, was more agitated with the contact that occurred between he and Williams.
"I don't think the puck goes in if I wasn't pushed in," Stalock said.
Williams, who also scored in the first period for the Kings, said he was prepared to have the goal disallowed.
"If they decided not to count it, fine," he said. "Maybe we got a break, maybe we didn't."
The Kings and Sharks have a history of feeling cheated when they play each other. Two years ago, former Sharks forward
Ryane Clowe
used his stick to break up a rush by the Kings -- while he was on the bench late in regulation of a tied game -- and the Sharks went on to win in a shootout in a contest that carried playoff-seeding implications.
Kings goalie
Jonathan Quick
, who surrendered 16 goals in the first three games of the series but only one in the last two, remembers that game well. The Kings went on to win the Stanley Cup that season while the Sharks were knocked out by the
St. Louis Blues
in the first round.
With all that has happened in the rivalry over the years, Quick said going back to San Jose for Game 7 won't be any different than going back there for Game 5 last week.
"We didn't need game 5 to prove we could win there," he said. "We knew that. We needed Game 5 to play Game 6."
April, 29, 2014
Apr 29
1:19
AM PT
By
Dan Arritt
| ESPNLosAngeles.com
LOS ANGELES - Here's a quick look at the
Los Angeles Kings
' 4-1 victory over the
San Jose Sharks
in Game 6 of their Western Conference quarterfinal Monday night at Staples Center, evening the series at 3:
How it happened:
With the score tied at 1 just past the midway point of the third period, Kings defenseman
Robyn Regehr
took a harmless-looking shot from the left point with traffic in front of the net, and the puck managed to get through to Sharks goalie
Alex Stalock
-- a surprise starter after
Antti Niemi
was pulled from the previous two games. Stalock made the stop but couldn't locate the puck, which had settled between his pads. Kings right wing
Justin Williams
saw it, however, and he jabbed at it to get the rubber sliding toward the goal line.
Matt Irwin
, in the San Jose lineup because
Marc-Edouard Vlasic
couldn't play because of an upper-body injury, tried to sweep the puck away but appeared to give it a final nudge across the goal line for a 2-1 lead with 8:04 left. That opened the floodgates, as
Anze Kopitar
converted a rebound with 6:33 remaining and added a power-play goal with 5:18 on the clock for a 4-1 lead.
What it means:
The Kings have bounced back from a 3-0 series deficit and forced a Game 7 for the first time in franchise history. All the momentum seems to be on their side after the big swing to end the game. Based on all the fisticuffs that erupted the final few minutes Monday, the temperature is sure to rise come Wednesday.
Player of the game:
Kings goalie
Jonathan Quick
gave up 16 goals in the first three games, received some goal support in a 6-3 win in Game 4 and came back with a shutout in Game 5. He continues to play like the goalie who led the Kings to the Stanley Cup title two years ago, stopping 25 shots in the Game 6 win.
Stat of the game:
The Kings killed a second-period 5-on-3 that lasted 1:38 and then killed another penalty shortly afterward to bring the crowd to its feet. But before the Kings could settle back into even-strength,
James Sheppard
deflected
Justin Braun
's slap shot from just in front of his blue line and that was enough to get the puck by Quick. That tied the score at 1 and ended a scoreless drought that had drifted just beyond the 100-minute mark for the Sharks.
What's next:
The teams head back to San Jose for Game 7 on Wednesday night, giving the
Anaheim Ducks
another couple days to wait for their opponent for the conference semifinals.
April, 26, 2014
Apr 26
11:16
PM PT
SAN JOSE, Calif. -- The
Los Angeles Kings
have never believed in relying on history as an indicator of future results.
If they did, they would have quickly exited stage right two years ago, when they entered the Stanley Cup playoffs as the eighth seed, qualifying for that spot on the final day of the regular season. Instead, they became the first 8-seed in North American professional sports to win a championship.
If the Kings cared about the odds, they would have folded their tents last year after falling behind 0-2 against the
St. Louis Blues
in the first round of the playoffs. Instead, they stormed back and won that series in six games.
If the Kings easily crumbled under pressure, they would have found a way to lose in last year's conference semifinals, when the
San Jose Sharks
forced a Game 7 after the Kings took a 2-0 series lead. Instead, they held on and advanced to their second consecutive conference final -- and showed why the heart of these Kings should never be questioned.
It would have been easy to forget all of that before Saturday's 3-0 Los Angeles victory over the Sharks in a game that was supposed to be the Kings' last of the season, but that could eventually be seen as the turning point for another historic postseason chapter for this group.
Los Angeles didn't just drop the first three games of its quarterfinal series to the Sharks, it lost the first two games by a 13-5 margin -- and just when the Kings thought they were back in the series on home ice in Los Angeles, the Sharks escaped with 4-3 overtime win.
The last time the Kings dropped the first three games of a playoff series, they were swept in 2000. Only three NHL teams have overcome an 0-3 deficit to come back and win a best-of-seven playoff series. The last time it happened was in 2010, when the
Philadelphia Flyers
came back to beat the
Boston Bruins
.
[+] Enlarge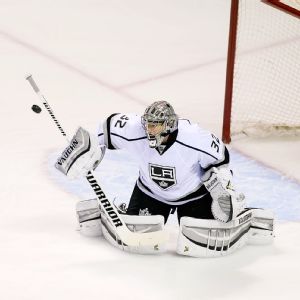 Damon Tarver/Cal Sport MediaJonathan Quick stopped 30 shots to shut out the Sharks in the playoffs for the fourth time.
That series is more than a footnote in the history books for
Mike Richards
and
Jeff Carter
, who were teammates on that Flyers squad before reuniting in Los Angeles two years later to win a Stanley Cup.
"It's obviously not the position you want to put yourself in," Richards said. "We had a pretty resilient group that year. We made the playoffs the last day of the year. We had our backs against the wall, and we knew we were in the same position and battled back. Much like that group, we have a group that's been together, a resilient group, and we've gone through a lot together.
"Just like a couple of years ago when we just got in the playoffs and did something special. Even though it's not the same year, it's the same group here. It's obviously a tough task at hand, but as long as you're still playing hockey, you still have a chance."
The calm in the Kings' dressing room before their 6-3 victory Thursday and again before Saturday's shutout was largely because of the bond that the group has forged after being together for so long.
The Kings have played 43 games in the past three postseasons, most in the NHL, and key players such as
Anze Kopitar
,
Dustin Brown
,
Jonathan Quick
and
Drew Doughty
were drafted by the Kings and grew up together. Perhaps the Kings of 2010 and 2011 -- which lost in the quarterfinals to the
Vancouver Canucks
and the Sharks, respectively -- would have gone silently into the night, but not this group. Not now.
"Our core group is going to have to lead the way," Doughty said. "We've been together for a while, and a lot of us have been together for five-six years. We built that chemistry off the ice, and that's what keeps us so close together on and off the ice -- we all love each other like brothers and we all want to win so bad. We want to do it for the organization and for each other, and that's why we believe in ourselves. We believe we can come back because we have that core group that continually tries to push and make our team better."
Quick, who looked lost in the first two games, looked like his old self Saturday, making 30 saves and shutting out San Jose for the fourth time in his career in the postseason.
"We have Quickie back there, who is solid," said Kopitar, who, along with Carter and
Tyler Toffoli
, backed him with goals. "We were able to keep everything to the outside, and we're confident enough, if they're finding the puck from the outside, that he's going to make the save -- and we have to eliminate the second and third chances, which we did."
There wasn't much celebration in the nearly empty Kings dressing room after Game 5. Most of the players were already on the team bus by the time the media was let in, and Kings coach Darryl Sutter conducted his shortest news conference of the season -- a painful, 50-second session of one-word answers and pained expressions from Sutter.
It was a demeanor and mindset adopted by his players after the game. They knew coming back from an 0-3 series deficit would be hard, and as good as they've looked the past two games, the Kings are now only halfway toward their goal of actually winning the series. Game 6 is Monday night at Staples Center.
"If anything, it feels more daunting," Doughty said. "We came this far to get two, and now we need to get two more -- and that puts even more pressure on us because we can smell it, but we can't ahead of ourselves. We have a lot of work ahead of us, and going back to Staples is a thing we want to be doing, and so we need to get a win and tie this series up."
April, 17, 2014
Apr 17
3:55
PM PT
SAN JOSE, Calif. --
Antti Niemi
gets the start in goal Thursday night for the
San Jose Sharks
, who will also welcome the return of
Raffi Torres
to the lineup for Game 1 of their first-round series with the rival
Los Angeles Kings
.
Head coach Todd McLellan had been noncommittal over the past few days about his starting goaltending but revealed after Thursday's skate that there was never any debate internally.
"Niemi's our guy," McLellan said.
Meanwhile, the lines from the morning skate:
Joe Pavelski
-
Joe Thornton
-
Brent Burns
Patrick Marleau
-
Logan Couture
-
Matt Nieto
Tomas Hertl
-
James Sheppard
-
Tommy Wingels
Raffi Torres-
Andrew Desjardins
-
Martin Havlat
On defense:
Marc-Edouard Vlasic
-
Jason Demers
Brad Stuart
-
Justin Braun
Scott Hannan
-
Dan Boyle
The skinny:
--Havlat being on the fourth line certainly created a bit of buzz at the morning skate. At least to start Game 1, McLellan feels rookie winger Nieto is a better fit on Couture's line.
Mike Brown
also took some line rushes on that fourth unit instead of Havlat, so I suspect the Sharks coaching staff will debate between Havlat and Brown for that spot. Havlat, though, can also be spotted on the second power-play unit if he's in the lineup.
--Pavelski stays on Thornton's big line, where he scored most of his 41 goals this season. This will be a continuing storyline all series as far as whether McLellan puts Pavelski back as a No. 3 center or not. But for now, he starts the series on the top line. Pavelski still takes a number of strongside draws while playing on that line, so it's not as if the Sharks wouldn't use his faceoff skills, even if he's playing wing.
--Rookie Hertl starts on the third line but eventually you figure he might be back with Thornton and Burns at some point in this series if he shows that he's becoming comfortable in his return. He played the last two regular-season games after missing most of the season with a knee injury, which required surgery.
--Torres, who hasn't played since March 8, played only five games this season after also needing knee surgery. I doubt he's 100 percent, but at this time of year you play with what you have. He was an effective player for the Sharks last spring, particularly on the forecheck; we'll have to see how long it takes him to get up to speed.
As for the 2012 Cup champions, everything was as expected at the morning skate:
Marian Gaborik
-
Anze Kopitar
-
Justin Williams
Dwight King
-
Mike Richards
-
Jeff Carter
Tyler Toffoli
-
Jarret Stoll
-
Dustin Brown
Kyle Clifford
-
Trevor Lewis
-
Jordan Nolan
Defense:
Jake Muzzin
-
Drew Doughty
Robyn Regehr
-
Slava Voynov
Willie Mitchell
-
Alec Martinez
Richards had a down year in the regular season, but his track record suggests this is when he steps up.
"Mike Richards is our most experienced forward in the playoffs," Kings head coach Darryl Sutter said after his team's morning skate. "He plays his best at this time of year."
Let's drop the puck; this series should be sensational.
"A lot of similarities" between the teams, Sutter said. "The last few years, playoffs, regular season, both teams are very close."