Los Angeles Kings:

Darryl Sutter
June, 11, 2014
6/11/14
9:39
PM PT
NEW YORK -- The
Los Angeles Kings
' second line was dominant in Game 4.
But when the final buzzer sounded,
Jeff Carter
,
Tanner Pearson
and
Tyler Toffoli
had nothing to show for their efforts.
Carter, Pearson and Toffoli combined for 14 shots, but none of them found the back of the net, and the Kings failed to become the first team since 1998 to complete a Stanley Cup finals sweep, falling 2-1 to the
New York Rangers
on Wednesday night at Madison Square Garden.
[+] Enlarge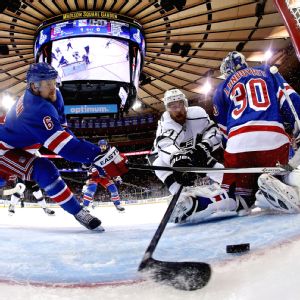 Bruce Bennett/Getty ImagesJeff Carter of the Kings couldn't quite get his stick on this puck that fluttered near the goal line during a Game 4 loss.
Game 5 is Friday night at Staples Center.
"I think [our line] created a lot tonight," said Pearson, who finished with a game-high eight shots in just 13 minutes, 15 seconds of ice-time.
"Unfortunately, things didn't go our way, but I mean, we've created a lot all playoffs. There were a couple close ones tonight, but I mean you can't really look at it, you just gotta move on to the next one."
Those close ones couldn't have come any closer. The Kings got a pair of pucks behind Rangers goaltender
Henrik Lundqvist
, but Carter couldn't get his stick on either of them.
Midway through the first period, Rangers defenseman
Anton Stralman
swatted the puck off the goal line with his stick. Then, with just 1:11 left in the third, Pearson's deflection of Kings defenseman
Alec Martinez
's turnaround shot skidded under Lundqvist's pads. But the puck was stopped by a build-up of ice right in front of the goal line, and Rangers center
Derek Stepan
alertly gloved it out of harm's way without covering it, which would've resulted in a penalty shot.
"You put those in or tap those in, and it's a whole different hockey game," Pearson said.
Carter was robbed on a breakaway by the left pad of a sprawling Lundqvist late in the second, and Toffoli came up empty on the doorstep midway through the third.
"We had a lot of good opportunities," Kings coach Darryl Sutter said. "But you got to finish. You're only going to get a handful most nights against the New York Rangers. You've got to finish a couple of them."
They didn't. That's why they're flying back to Los Angeles without the Stanley Cup in hand. A championship parade will have to wait. The Kings still have to get one more win.
While everyone talks about L.A.'s dominant first line of
Anze Kopitar
,
Marian Gaborik
and
Dustin Brown
, the troika of Carter (10-14-24), Pearson (4-8-12) and Toffoli (7-6-13) also has been quite potent. Not bad for a former 40-goal scorer and a couple of kids.
"Jeff Carter's a top player in the National Hockey League," Sutter said before the game. "Anytime you get to play with a top player, either you elevate your game or you don't play with them."
Pearson is only 21 and Toffoli is 22. It's hard to tell.
"I think you just gotta keep your head in it and realize what's at stake," Pearson said. "There's so many veteran guys on our team that help you keep your head into it, so it wasn't that hard."
June, 9, 2014
6/09/14
10:33
PM PT
NEW YORK -- Are the
Los Angeles Kings
where they are -- on the precipice of capturing their second Stanley Cup title in the past three seasons -- solely because of a single player?
Nope.
They are where they are because coach Darryl Sutter can roll four different line combinations and three different defensive pairings at any point in any game.
They are where they are because up and down their lineup -- especially down the middle -- they have an abundance of depth.
"I think that's the strength of our team," captain
Dustin Brown
said after the Kings secured a 3-0 series stranglehold with a 3-0 Game 3 victory Monday over the
New York Rangers
at Madison Square Garden. "That's where we match up really well against other teams.
"All the teams we've played, everybody's gonna have a really good first line and second line. But our third line and our fourth line, I think they tip the scales in our favor against most teams."
"I mean, that was the difference, I think, against Chicago [in the Western Conference finals]," Brown continued. "It was [
Anze Kopitar
], me and [
Marian Gaborik
] playing against [
Jonathan Toews
] and his line. It was our depth scoring that really helped us in that series and [Monday night]. That's what being a team is all about -- having everyone contribute."
On Monday night, everyone did: from second-line center
Jeff Carter
's opening the scoring with less than a second remaining in the first period to all-world goaltender
Jonathan Quick
's making 17 saves in the middle frame to No. 1 defenseman
Drew Doughty
's taking a smart penalty to prevent
Rick Nash
from tallying what would have been a sure wraparound goal.
Doughty's partner
Jake Muzzin
and fourth-line pivot
Mike Richards
provided insurance markers in the second. Depth defensemen
Willie Mitchell
and
Matt Greene
were tremendous in helping stifle the Rangers while the Kings were on the penalty kill.
It was every bit of a team effort.
"Our top players have been playing great," Doughty said. "But so far in the Stanley Cup finals, you're not seeing Kopi get a ton of points, you're not seeing myself get a lot of points [or] Carts.
"It's been [
Kyle Clifford
], [
Jarret Stoll
] and [
Justin Williams
] and guys like that that are stepping up to the plate, and that's how you win championships. I know we haven't won yet, but that's how you get to the point where we are right now. We need the whole team; that's the bottom line."
During the playoffs, 11 different Kings have registered 10 or more points, 11 different Kings have notched game-winning goals and four different Kings have notched winning overtime goals.
Los Angeles leads the NHL by averaging 3.5 goals per game during the postseason, while putting up solid percentages on the power play (24 percent) and penalty kill (83 percent).
Kopitar, the league's leading playoff scorer (26 points), was asked if the Kings' depth started at center.
"It's everybody," he said. "I think it starts in the back with Jonathan and our defensive pairings. They've been really good for us. They've been making plays out of the zone, which obviously makes it a little bit easier on the forwards going up the ice.
"We can't pinpoint anybody out there."
June, 6, 2014
6/06/14
10:11
PM PT
LOS ANGELES -- The ads started popping up in local newspapers during the postseason, before the
Los Angeles Kings
had even advanced to their third consecutive Western Conference finals or were three wins away from claiming their second Stanley Cup in three years.
The pitch for premium seats at Staples Center featured a picture of
Dustin Brown
,
Anze Kopitar
,
Jonathan Quick
and
Drew Doughty
beside a headline that read, "Be Part Of The Dynasty."
There's no doubt that our definition of a dynasty has changed over the years. No one will mistake the Kings' current three-year run -- whose latest installment, Game 2 against the
New York Rangers
, is slated for Saturday night at Staples -- with the
Edmonton Oilers
winning five titles in seven years in the mid- to late 1980s, the
New York Islanders
winning four straight in the early '80s or the
Montreal Canadiens
winning 16 titles during the 1950s, '60s and '70s. But when you look at the NHL since 1990, the Kings' current three-year run will hold up well if they go on to win the Stanley Cup.
[+] Enlarge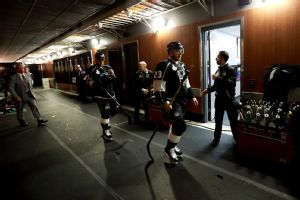 Dave Sandford/NHLI/Getty ImagesDustin Brown and the Kings go for a 2-0 lead on the Rangers on Saturday night at Staples Center.
Only the
Pittsburgh Penguins
(1991 and 1992) and the
Detroit Red Wings
(1997 and 1998) have won two Stanley Cups in three years, with both winning back-to-back titles. The Red Wings (2007-09) were the last team to play in three consecutive conference finals.
What makes the Kings' run so unique, however, is that during the regular season, they look far from a team on the verge of a dynasty. The Kings won the Stanley Cup in 2012 as a No. 8 seed, becoming the first 8-seed in North American professional sports to win a championship. In fact, they needed a win in the final game of the regular season just to secure the last seed before going on to become just the second team to eliminate the first, second and third seeds in the same postseason.
Last year, the Kings advanced to the conference finals as the fifth seed in the West after a lockout-shortened season. And this season, the Kings are back in the Stanley Cup finals as the sixth seed after becoming the first team to advance to the finals after winning three consecutive Game 7s, all on the road.
If the Kings win the Stanley Cup this season, the 2012 and 2014 teams would be the only Stanley Cup champions seeded lower than fifth to win the trophy and just the third team to win despite finishing lower than second in its division. The first was the 1993 Canadiens, who finished third in the Adams Division before going on to beat the Kings in the Cup finals.
As a franchise, the Kings have never won the Presidents' Trophy, awarded to the team with the most points in the regular season, and their only division title came in 1991, when they were eliminated in the second round. Each one of the Kings' trips to the Stanley Cup finals has come after they finished third in their division or sixth or lower in their conference.
These Kings' style of hockey lends itself to classic underdog stories, storybook road victories and historic postseason success -- but not necessarily a lot of regular-season banners Kings players would just as soon do without.
"It's funny," Brown said. "When you look at Staples, we don't have banners all the way across, but we have the banner we want. We're in the process or in search of that next banner."
There have been championship teams in the past notorious for the ability to flip a switch from the regular season to the postseason, the same team that sleepwalked during stretches, becoming almost unrecognizable. But even those outfits find a way to finish in the top four or five in a conference going into the postseason. It's almost as if being a low seed and an underdog is part of the Kings' blueprint for success come playoff time.
"

It's funny. When you look at Staples, we don't have banners all the way across, but we have the banner we want. We're in the process or in search of that next banner.

"

-- Kings forward Dustin Brown
"Not necessarily a blueprint," said Brown, a forward in his 10th season in Los Angeles. "But I think there's a mentality that goes with it. You know, do you want to be a division champion or a Stanley Cup champion? There's a mentality to that. The way we play the game, it's a tough game to play. There's teams that get far more points than us during the regular season. But when it comes to playoff time, our type of style, our type of game we play, the players that we have, we become a really hard team to beat four times in seven games."
It's not as if the Kings begin the season with aspirations of finishing third in their division or sixth or worse in the conference. That's just how it plays out.
"Our goal is to win the division, but it didn't happen," forward
Justin Williams
said. "We're built better for the playoffs. We're a playoff-built team who's got another gear and [is] able to find that extra bit that you need come playoff time. It's certainly not something you can just turn on and turn off. You slowly need to be playing better. The hardest part of the playoffs is getting in. It's always hard. We're able to find a little more every time we get in."
This season, the Kings were ranked 26th in the NHL in goals per game. In 2011-12, they ranked 29th. That's not just bad, it's bottom-five-in-the-league bad. On the flip side, the Kings allowed the fewest goals in the NHL this season and were second in 2011-12. It speaks to the defensive mindset the Kings have that works so well come playoff time, when you need to win 16 games, but doesn't always equate over the course of an 82-game regular season, when it's harder to grind out wins for six months.
"I think we understand as a group the way we need to play," Brown said. "It's not an easy thing to do for 82 games, but we understand it's about the journey. We're built for playoff hockey. Every trade deadline and every draft, they talk about how we need to get rid of this guy and that guy, but a big part of our success is that we've been together and we understand the type of team we are. It might not be 120-point-regular-season team, but we've been playing into June three years in a row, and I don't think there's any other team in the league that can say they've done that. It's not easy, but when you want to win, you'll do what it takes."
The style of hockey Darryl Sutter coaches and the kind of players general manager Dean Lombardi acquires are geared toward a physical brand of hockey, predicated on puck possession and low-scoring games. It's a style that obviously works well this time of year, but the Kings are almost resigned to the fact that it might not win them a Presidents' Trophy or even a Pacific Division title -- which is just fine with them if they are able to win another Stanley Cup.
[+] Enlarge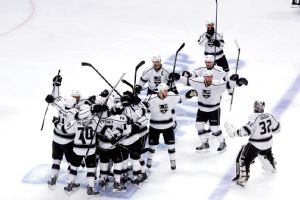 AP Photo/Charles Rex ArbogastThe Kings have won three Game 7s on the road in these playoffs, most recently in Chicago to advance to the Stanley Cup finals.
"I don't think it's a matter of pacing ourselves," Brown said. "We play a hard, physical style, and at the end of the day, 82 games are a lot of games, and when you have to play a certain way to be successful, it's not an easy thing. There's going to be nights when you just don't have it, collectively and individually. Whereas if we were a high-skilled, rush team with a lot of goal-scoring, you can find ways to win when one guy has a great game. I think that's what maybe costs us a couple points here and there in the regular season. We might be tired collectively, and we don't rely on one guy to climb us out of it. It's also the strength this time of year, where we don't have that one guy to lean on too heavily. We win with different guys stepping up at different times. That's what a team's about."
The Kings began this historic postseason run with an historic comeback over the
San Jose Sharks
, becoming just the fourth NHL team to overcome a 3-0 series deficit to eliminate their division rivals. After the Kings' victory in Game 7, a pocket of Kings fans began chanting, "Where's your banner?" at exiting Sharks fans. The Sharks actually have plenty of banners. They have won six division titles and one Presidents' Trophy since 2002, but they would surely trade them all for the banner the Kings raised in 2012 and the one they hope to raise later this year.
"We go into buildings where there are a lot of banners for divisions and conferences and other things, but ultimately it comes down to one banner which is the most important," Kopitar, in his eighth season with the Kings, said. "We've managed to come up once as an eighth seed. Our style of play is hard to maintain for 82 games, but it seems that every time the playoffs come around, we're in full stride and ready to go -- and that's really the most important thing anyway."
May, 24, 2014
5/24/14
10:30
AM PT
LOS ANGELES -- The
Chicago Blackhawks
and
Los Angeles Kings
face off in Game 3 of the Western Conference finals at the Staples Center on Saturday. The series is tied 1-1. Here's what to watch for:
* The Kings stole home-ice advantage away from the Blackhawks by rallying from a 2-0 deficit and scoring six unanswered goals in Game 2 in Chicago on Wednesday. The Kings are 3-3 in their own building in the playoffs this season.
* Blackhawks forward
Andrew Shaw
is expected to play after missing the last seven games with a lower-body injury. He'll likely replace
Peter Regin
as the third-line center.
* Kings forward
Jeff Carter
is coming off a hat trick and four points in Game 2. He has two career playoff hat tricks.
* The Blackhawks allowed a total of two power-play goals in each of their first two series. The Kings scored two power-play goals in Game 2. The Kings made the Blackhawks pay for consecutive penalties in the first six minutes of the third period Wednesday.
May, 21, 2014
5/21/14
11:50
PM PT
CHICAGO --
Los Angeles Kings
coach Darryl Sutter set a limit of two goals for the
Chicago Blackhawks
entering the Western Conference finals.
If the Kings could keep the Blackhawks under three scores in a given game, Sutter liked his team's chances against the defending Stanley Cup champs. More than two, he didn't like the Kings' odds.
Sutter has been dead on so far. The Blackhawks scored three goals in Game 1 and won. The Blackhawks scored two goals in Game 2 and lost 6-2 Wednesday night.
"We probably played better [in Game 1]," Sutter said. "The only difference between tonight and [Sunday] was not goals for, it was goals against. Give up three against them, you're in trouble."
[+] Enlarge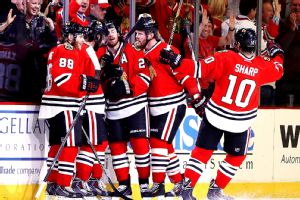 Jonathan Daniel/Getty ImagesThe Blackhawks were stoked after dominating early. But they failed on several strong chances to extend a two-goal lead to three, and the Kings pounced after that.
The absence of that third goal Wednesday will have the Blackhawks shaking their heads for a few days. The chances were there for the third goal to put the Kings away.
The Blackhawks placed themselves in a comfortable position by going ahead 2-0, when
Ben Smith
scored 1:40 into the second period. But they didn't back off. They kept pushing for another goal, and the Kings weren't putting up much of a fight to stop them.
After their second goal, Blackhawks forward
Marian Hossa
nearly scored on a shot from the slot after receiving a stretch pass to get him open with 13:23 remaining in the second period.
Michal Handzus
had a wraparound backhanded shot with 6:19 left that gave Kings goaltender
Jonathan Quick
a problem.
Off an odd-man rush shortly later, Hossa left the puck for
Duncan Keith
at the blue line, and Keith fired a shot that Quick blocked. But the Kings were fortunate the Blackhawks couldn't capitalize on the rebound.
Of all the missed opportunities, the one that will bother the Blackhawks the most was a 2-on-1 rush.
Kris Versteeg
had the puck on the left wing, and
Brent Seabrook
was to his right. After Kings defenseman
Willie Mitchell
committed to Versteeg, he pushed the puck over to Seabrook, who fired it on net. Quick shifted quickly from left to right, filled the open space and denied the puck entry.
Quick kept the Kings in it, and they took advantage, as Justin Williams scored with less than two minutes remaining in the second period to cut the lead to one. From there, the game changed.
"That's what we need Quickie to do. He does it all the time, makes those big saves when we need him, and that's just a prime example of him being himself," Kings defenseman
Drew Doughty
said. "That's a huge save for us, and from that point we got pucks to the net, put one in, and came in here down only 2-1, which is what we wanted."
The Kings scored five more goals, all in the third period, and the Blackhawks didn't score again.
Blackhawks coach Joel Quenneville thought the Kings' one goal in the second period may have been more deadly than the lack of a third Blackhawks goal.
Quenneville described his team's first 38 minutes of the game as perfect.
"Couple real nice looks there," Quenneville said. "[Seabrook] coming down the pipe and it's still 2-0 and we're fine at 2-0. You get in after two [periods] and you're up 2-0, it's a different game maybe, but certainly it didn't look ... The way it turned on a dime like that, I don't know if we've seen a game like that all year, where we're doing everything right and then all of a sudden it was a disaster."
The Blackhawks struggled to comprehend how a game they were dominating for nearly all of the first 40 minutes went against them. It's something they'll look to fix in Game 3 on Saturday.
"It's pretty frustrating," Blackhawks forward
Patrick Sharp
said. "We got off to a good start through 40 minutes. We were skating well and drew a few penalties, and then obviously things unraveled during the third.
"We're not happy and we're looking forward to getting on the plane and making up for it in Game 3."
April, 26, 2014
4/26/14
11:16
PM PT
SAN JOSE, Calif. -- The
Los Angeles Kings
have never believed in relying on history as an indicator of future results.
If they did, they would have quickly exited stage right two years ago, when they entered the Stanley Cup playoffs as the eighth seed, qualifying for that spot on the final day of the regular season. Instead, they became the first 8-seed in North American professional sports to win a championship.
If the Kings cared about the odds, they would have folded their tents last year after falling behind 0-2 against the
St. Louis Blues
in the first round of the playoffs. Instead, they stormed back and won that series in six games.
If the Kings easily crumbled under pressure, they would have found a way to lose in last year's conference semifinals, when the
San Jose Sharks
forced a Game 7 after the Kings took a 2-0 series lead. Instead, they held on and advanced to their second consecutive conference final -- and showed why the heart of these Kings should never be questioned.
It would have been easy to forget all of that before Saturday's 3-0 Los Angeles victory over the Sharks in a game that was supposed to be the Kings' last of the season, but that could eventually be seen as the turning point for another historic postseason chapter for this group.
Los Angeles didn't just drop the first three games of its quarterfinal series to the Sharks, it lost the first two games by a 13-5 margin -- and just when the Kings thought they were back in the series on home ice in Los Angeles, the Sharks escaped with 4-3 overtime win.
The last time the Kings dropped the first three games of a playoff series, they were swept in 2000. Only three NHL teams have overcome an 0-3 deficit to come back and win a best-of-seven playoff series. The last time it happened was in 2010, when the
Philadelphia Flyers
came back to beat the
Boston Bruins
.
[+] Enlarge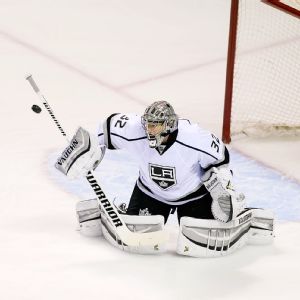 Damon Tarver/Cal Sport MediaJonathan Quick stopped 30 shots to shut out the Sharks in the playoffs for the fourth time.
That series is more than a footnote in the history books for
Mike Richards
and
Jeff Carter
, who were teammates on that Flyers squad before reuniting in Los Angeles two years later to win a Stanley Cup.
"It's obviously not the position you want to put yourself in," Richards said. "We had a pretty resilient group that year. We made the playoffs the last day of the year. We had our backs against the wall, and we knew we were in the same position and battled back. Much like that group, we have a group that's been together, a resilient group, and we've gone through a lot together.
"Just like a couple of years ago when we just got in the playoffs and did something special. Even though it's not the same year, it's the same group here. It's obviously a tough task at hand, but as long as you're still playing hockey, you still have a chance."
The calm in the Kings' dressing room before their 6-3 victory Thursday and again before Saturday's shutout was largely because of the bond that the group has forged after being together for so long.
The Kings have played 43 games in the past three postseasons, most in the NHL, and key players such as
Anze Kopitar
,
Dustin Brown
,
Jonathan Quick
and
Drew Doughty
were drafted by the Kings and grew up together. Perhaps the Kings of 2010 and 2011 -- which lost in the quarterfinals to the
Vancouver Canucks
and the Sharks, respectively -- would have gone silently into the night, but not this group. Not now.
"Our core group is going to have to lead the way," Doughty said. "We've been together for a while, and a lot of us have been together for five-six years. We built that chemistry off the ice, and that's what keeps us so close together on and off the ice -- we all love each other like brothers and we all want to win so bad. We want to do it for the organization and for each other, and that's why we believe in ourselves. We believe we can come back because we have that core group that continually tries to push and make our team better."
Quick, who looked lost in the first two games, looked like his old self Saturday, making 30 saves and shutting out San Jose for the fourth time in his career in the postseason.
"We have Quickie back there, who is solid," said Kopitar, who, along with Carter and
Tyler Toffoli
, backed him with goals. "We were able to keep everything to the outside, and we're confident enough, if they're finding the puck from the outside, that he's going to make the save -- and we have to eliminate the second and third chances, which we did."
There wasn't much celebration in the nearly empty Kings dressing room after Game 5. Most of the players were already on the team bus by the time the media was let in, and Kings coach Darryl Sutter conducted his shortest news conference of the season -- a painful, 50-second session of one-word answers and pained expressions from Sutter.
It was a demeanor and mindset adopted by his players after the game. They knew coming back from an 0-3 series deficit would be hard, and as good as they've looked the past two games, the Kings are now only halfway toward their goal of actually winning the series. Game 6 is Monday night at Staples Center.
"If anything, it feels more daunting," Doughty said. "We came this far to get two, and now we need to get two more -- and that puts even more pressure on us because we can smell it, but we can't ahead of ourselves. We have a lot of work ahead of us, and going back to Staples is a thing we want to be doing, and so we need to get a win and tie this series up."