Los Angeles Kings:

Drew Doughty
June, 10, 2014
6/10/14
1:39
PM PT
NEW YORK -- Even though they would rather win the Stanley Cup on Staples Center ice in front of the home fans, the
Los Angeles Kings
do not want to give the
New York Rangers
any hope.
The Kings are up 3-0 in the series -- and they want to finish the job Wednesday night.
[+] Enlarge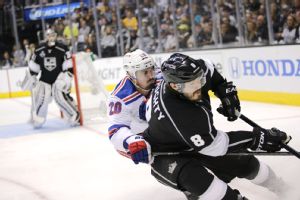 AP Photo/Jae C. HongDrew Doughty is anxious to get back on the ice for Game 4 and close out the series with a sweep.
"All it takes is one game, one momentum shift, and a team can run with it," No. 1 defenseman
Drew Doughty
said Tuesday following the team's optional skate -- well, massive soccer circle in the bowels of the arena -- at Madison Square Garden.
"That's why this next game is so important for us. We can't let them back in the series. We have to take it to them. They're going to bring their best effort without a doubt, and we need to bring ours, as well."
Two years ago, the Kings were up 3-0 in the Stanley Cup finals against the New Jersey Devils and lost the next two games before winning it all in Game 6.
Asked what the biggest difference was between then and now heading into Game 4, Los Angeles coach Darryl Sutter replied, "Game 4 was at home. There was a lot of distraction. I thought it was a lesson not just for our players, but for our whole organization."
Third-line winger
Justin Williams
explained in more detail.
"I think potentially maybe not for everyone, there were some issues that got us sidetracked a little bit," Williams said. "The thought of winning a Cup, being one game away, family issues, ticket issues, all of that stuff. That could maybe sidetrack you from the end result, and we've got the rest of our lives to see our friends and family and get them tickets and all that. You have usually one chance -- this is our second chance -- to win it and be remembered forever. That had a little bit to do with it, and obviously New Jersey not wanting to go away quietly. They certainly didn't, and we expect that the Rangers are gonna do the exact same."
Joked Sutter: "We try to keep our players in a little inner circle, which I still do. But the circle got a little bit of infringement."
That won't be the case this time around.
Los Angeles, of course, became just the fourth team in NHL history to win a playoff series after falling into a 3-0 hole just seven weeks ago against the
San Jose Sharks
.
Sutter recalled how his team fell behind the Sharks 5-0 in Game 1 but outscored them 3-1 in the third period after starting goaltender
Jonathan Quick
was pulled in favor of backup
Martin Jones
.
"We're a team that's gonna respond," Sutter said. "The other team's gonna know they played you. ... We knew we were gonna win the series. It just took a little bit longer."
On Wednesday night, the Kings will play their 63rd playoff game in the last three years.
A lot has changed over that span -- especially in the personnel department. Key 2014 contributors
Marian Gaborik
,
Jake Muzzin
,
Tanner Pearson
and
Tyler Toffoli
didn't play on the 2012 team, while
Kyle Clifford
didn't play in the 2012 finals.
"I think we've grown a ton," Doughty said. "The experience, obviously, in my first run helped us a lot, but guys have gotten older, guys have gotten better. We've added pieces to the puzzle. And when all that happens, your team just becomes a better team. We live for the playoffs, we live for these types of moments. We're a great team. We haven't finished what we have to do yet, but if we continue this for as long as we possibly can, with the right guys, the right players, we have the possibility to go deep for many years to come."
Doughty is champing at the bit to get back on the ice.
"I can't wait to get out there," he said. "It kind of sucks that the game's at 8 o'clock and we have to wait around during the day. You just wanna get out there. We don't want to get over anxious at the same time, but it's fun to play in these types of games, so when the pressure's at that type of high you just wanna go out there, play your best as a team and win games. I just can't wait to get out there and get warm-ups over with and drop the first puck."
Throughout the playoffs, the Kings, it seems, have had the hockey gods on their side.
Three Game 7 wins. A 3-0 comeback. But then you realize the type of character this team has, along with the type of toughness, resiliency, depth and talent, and it all makes sense.
Only one win separates the Kings from their second title in three seasons and yet another chance to sip from hockey's holy grail.
Asked about being in consideration for the Conn Smythe trophy, Williams replied, "The big one is what matters. God, I want to taste it again."
• Defenseman
Robyn Regehr
, who has not played in the series because of a knee injury, participated in the team's optional skate, but it is unknown if he will return to the lineup for Game 4.
June, 9, 2014
6/09/14
10:33
PM PT
NEW YORK -- Are the
Los Angeles Kings
where they are -- on the precipice of capturing their second Stanley Cup title in the past three seasons -- solely because of a single player?
Nope.
They are where they are because coach Darryl Sutter can roll four different line combinations and three different defensive pairings at any point in any game.
They are where they are because up and down their lineup -- especially down the middle -- they have an abundance of depth.
"I think that's the strength of our team," captain
Dustin Brown
said after the Kings secured a 3-0 series stranglehold with a 3-0 Game 3 victory Monday over the
New York Rangers
at Madison Square Garden. "That's where we match up really well against other teams.
"All the teams we've played, everybody's gonna have a really good first line and second line. But our third line and our fourth line, I think they tip the scales in our favor against most teams."
"I mean, that was the difference, I think, against Chicago [in the Western Conference finals]," Brown continued. "It was [
Anze Kopitar
], me and [
Marian Gaborik
] playing against [
Jonathan Toews
] and his line. It was our depth scoring that really helped us in that series and [Monday night]. That's what being a team is all about -- having everyone contribute."
On Monday night, everyone did: from second-line center
Jeff Carter
's opening the scoring with less than a second remaining in the first period to all-world goaltender
Jonathan Quick
's making 17 saves in the middle frame to No. 1 defenseman
Drew Doughty
's taking a smart penalty to prevent
Rick Nash
from tallying what would have been a sure wraparound goal.
Doughty's partner
Jake Muzzin
and fourth-line pivot
Mike Richards
provided insurance markers in the second. Depth defensemen
Willie Mitchell
and
Matt Greene
were tremendous in helping stifle the Rangers while the Kings were on the penalty kill.
It was every bit of a team effort.
"Our top players have been playing great," Doughty said. "But so far in the Stanley Cup finals, you're not seeing Kopi get a ton of points, you're not seeing myself get a lot of points [or] Carts.
"It's been [
Kyle Clifford
], [
Jarret Stoll
] and [
Justin Williams
] and guys like that that are stepping up to the plate, and that's how you win championships. I know we haven't won yet, but that's how you get to the point where we are right now. We need the whole team; that's the bottom line."
During the playoffs, 11 different Kings have registered 10 or more points, 11 different Kings have notched game-winning goals and four different Kings have notched winning overtime goals.
Los Angeles leads the NHL by averaging 3.5 goals per game during the postseason, while putting up solid percentages on the power play (24 percent) and penalty kill (83 percent).
Kopitar, the league's leading playoff scorer (26 points), was asked if the Kings' depth started at center.
"It's everybody," he said. "I think it starts in the back with Jonathan and our defensive pairings. They've been really good for us. They've been making plays out of the zone, which obviously makes it a little bit easier on the forwards going up the ice.
"We can't pinpoint anybody out there."
May, 21, 2014
5/21/14
11:50
PM PT
CHICAGO --
Los Angeles Kings
coach Darryl Sutter set a limit of two goals for the
Chicago Blackhawks
entering the Western Conference finals.
If the Kings could keep the Blackhawks under three scores in a given game, Sutter liked his team's chances against the defending Stanley Cup champs. More than two, he didn't like the Kings' odds.
Sutter has been dead on so far. The Blackhawks scored three goals in Game 1 and won. The Blackhawks scored two goals in Game 2 and lost 6-2 Wednesday night.
"We probably played better [in Game 1]," Sutter said. "The only difference between tonight and [Sunday] was not goals for, it was goals against. Give up three against them, you're in trouble."
[+] Enlarge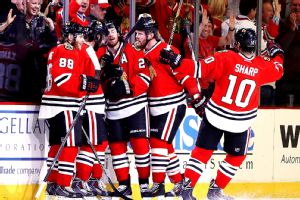 Jonathan Daniel/Getty ImagesThe Blackhawks were stoked after dominating early. But they failed on several strong chances to extend a two-goal lead to three, and the Kings pounced after that.
The absence of that third goal Wednesday will have the Blackhawks shaking their heads for a few days. The chances were there for the third goal to put the Kings away.
The Blackhawks placed themselves in a comfortable position by going ahead 2-0, when
Ben Smith
scored 1:40 into the second period. But they didn't back off. They kept pushing for another goal, and the Kings weren't putting up much of a fight to stop them.
After their second goal, Blackhawks forward
Marian Hossa
nearly scored on a shot from the slot after receiving a stretch pass to get him open with 13:23 remaining in the second period.
Michal Handzus
had a wraparound backhanded shot with 6:19 left that gave Kings goaltender
Jonathan Quick
a problem.
Off an odd-man rush shortly later, Hossa left the puck for
Duncan Keith
at the blue line, and Keith fired a shot that Quick blocked. But the Kings were fortunate the Blackhawks couldn't capitalize on the rebound.
Of all the missed opportunities, the one that will bother the Blackhawks the most was a 2-on-1 rush.
Kris Versteeg
had the puck on the left wing, and
Brent Seabrook
was to his right. After Kings defenseman
Willie Mitchell
committed to Versteeg, he pushed the puck over to Seabrook, who fired it on net. Quick shifted quickly from left to right, filled the open space and denied the puck entry.
Quick kept the Kings in it, and they took advantage, as Justin Williams scored with less than two minutes remaining in the second period to cut the lead to one. From there, the game changed.
"That's what we need Quickie to do. He does it all the time, makes those big saves when we need him, and that's just a prime example of him being himself," Kings defenseman
Drew Doughty
said. "That's a huge save for us, and from that point we got pucks to the net, put one in, and came in here down only 2-1, which is what we wanted."
The Kings scored five more goals, all in the third period, and the Blackhawks didn't score again.
Blackhawks coach Joel Quenneville thought the Kings' one goal in the second period may have been more deadly than the lack of a third Blackhawks goal.
Quenneville described his team's first 38 minutes of the game as perfect.
"Couple real nice looks there," Quenneville said. "[Seabrook] coming down the pipe and it's still 2-0 and we're fine at 2-0. You get in after two [periods] and you're up 2-0, it's a different game maybe, but certainly it didn't look ... The way it turned on a dime like that, I don't know if we've seen a game like that all year, where we're doing everything right and then all of a sudden it was a disaster."
The Blackhawks struggled to comprehend how a game they were dominating for nearly all of the first 40 minutes went against them. It's something they'll look to fix in Game 3 on Saturday.
"It's pretty frustrating," Blackhawks forward
Patrick Sharp
said. "We got off to a good start through 40 minutes. We were skating well and drew a few penalties, and then obviously things unraveled during the third.
"We're not happy and we're looking forward to getting on the plane and making up for it in Game 3."
May, 1, 2014
5/01/14
12:16
AM PT
SAN JOSE, Calif. -- Years from now, I'm sure I will tell my kids about these
Los Angeles Kings
.
When they seem down and out, when it seems as if they don't have a chance, when the odds are completely stacked against them, I will put my arms around them and tell them the story about the 2013-14 Kings.
I will tell them about this gritty group of guys that had been left for dead after losing the first three games of their playoff series against the
San Jose Sharks
.
[+] Enlarge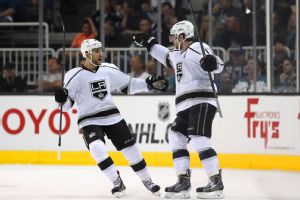 Ezra Shaw/Getty ImagesAlec Martinez, left, congratulates Anze Kopitar after a second-period goal that sent the Kings on their way to a Game 7 win at San Jose.
They didn't just lose the first two games of the series; they got smoked 13-5. They looked so bad that some fans were ready to wave the white flags they were given at Staples Center before they dropped Game 3 in overtime.
I will tell them about the mountain that Kings players talked about after losing those first three games and their confidence in being able to climb that mountain together if they all believed and pulled in the same direction.
"Anything is possible if you're still playing,"
Mike Richards
said before Game 4. "You just can't look at the mountain and expect to do it all at once. It's not a time to feel sorry for yourself. It's a time to be excited for the opportunity. Not many teams have done this so it's a good challenge for us."
And I will tell them about a magical one-week stretch where the Kings completed one of the greatest comebacks in sports history by becoming only the fourth NHL team and fifth team in North American professional sports history to come back from a 3-0 series deficit, culminating with Wednesday's 5-1 win.
Like most stories about perseverance, overcoming the odds and refusing to quit, it will be a story that will stand the test of time.
"We believed in ourselves,"
Drew Doughty
said. "We were never going to give up. ... It was so much fun. It will never compare to winning a Stanley Cup obviously, but it's right there with it -- this feeling."
This Kings team is still mainly composed of players who were on that Stanley Cup-winning team from two seasons ago that rewrote the record books. That team needed to win the final game of the regular season just to secure a playoff spot and went on to become the
first
No. 8 seed in North American professional sports history to win a championship.
That team, however, made it look so easy once the playoffs began. They took a 3-0 lead in every series and won their first 10 games on the road.
April, 26, 2014
4/26/14
11:16
PM PT
SAN JOSE, Calif. -- The
Los Angeles Kings
have never believed in relying on history as an indicator of future results.
If they did, they would have quickly exited stage right two years ago, when they entered the Stanley Cup playoffs as the eighth seed, qualifying for that spot on the final day of the regular season. Instead, they became the first 8-seed in North American professional sports to win a championship.
If the Kings cared about the odds, they would have folded their tents last year after falling behind 0-2 against the
St. Louis Blues
in the first round of the playoffs. Instead, they stormed back and won that series in six games.
If the Kings easily crumbled under pressure, they would have found a way to lose in last year's conference semifinals, when the
San Jose Sharks
forced a Game 7 after the Kings took a 2-0 series lead. Instead, they held on and advanced to their second consecutive conference final -- and showed why the heart of these Kings should never be questioned.
It would have been easy to forget all of that before Saturday's 3-0 Los Angeles victory over the Sharks in a game that was supposed to be the Kings' last of the season, but that could eventually be seen as the turning point for another historic postseason chapter for this group.
Los Angeles didn't just drop the first three games of its quarterfinal series to the Sharks, it lost the first two games by a 13-5 margin -- and just when the Kings thought they were back in the series on home ice in Los Angeles, the Sharks escaped with 4-3 overtime win.
The last time the Kings dropped the first three games of a playoff series, they were swept in 2000. Only three NHL teams have overcome an 0-3 deficit to come back and win a best-of-seven playoff series. The last time it happened was in 2010, when the
Philadelphia Flyers
came back to beat the
Boston Bruins
.
[+] Enlarge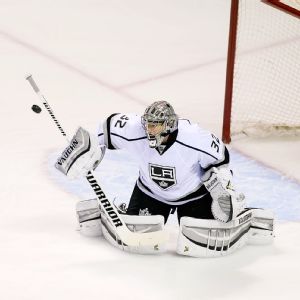 Damon Tarver/Cal Sport MediaJonathan Quick stopped 30 shots to shut out the Sharks in the playoffs for the fourth time.
That series is more than a footnote in the history books for
Mike Richards
and
Jeff Carter
, who were teammates on that Flyers squad before reuniting in Los Angeles two years later to win a Stanley Cup.
"It's obviously not the position you want to put yourself in," Richards said. "We had a pretty resilient group that year. We made the playoffs the last day of the year. We had our backs against the wall, and we knew we were in the same position and battled back. Much like that group, we have a group that's been together, a resilient group, and we've gone through a lot together.
"Just like a couple of years ago when we just got in the playoffs and did something special. Even though it's not the same year, it's the same group here. It's obviously a tough task at hand, but as long as you're still playing hockey, you still have a chance."
The calm in the Kings' dressing room before their 6-3 victory Thursday and again before Saturday's shutout was largely because of the bond that the group has forged after being together for so long.
The Kings have played 43 games in the past three postseasons, most in the NHL, and key players such as
Anze Kopitar
,
Dustin Brown
,
Jonathan Quick
and
Drew Doughty
were drafted by the Kings and grew up together. Perhaps the Kings of 2010 and 2011 -- which lost in the quarterfinals to the
Vancouver Canucks
and the Sharks, respectively -- would have gone silently into the night, but not this group. Not now.
"Our core group is going to have to lead the way," Doughty said. "We've been together for a while, and a lot of us have been together for five-six years. We built that chemistry off the ice, and that's what keeps us so close together on and off the ice -- we all love each other like brothers and we all want to win so bad. We want to do it for the organization and for each other, and that's why we believe in ourselves. We believe we can come back because we have that core group that continually tries to push and make our team better."
Quick, who looked lost in the first two games, looked like his old self Saturday, making 30 saves and shutting out San Jose for the fourth time in his career in the postseason.
"We have Quickie back there, who is solid," said Kopitar, who, along with Carter and
Tyler Toffoli
, backed him with goals. "We were able to keep everything to the outside, and we're confident enough, if they're finding the puck from the outside, that he's going to make the save -- and we have to eliminate the second and third chances, which we did."
There wasn't much celebration in the nearly empty Kings dressing room after Game 5. Most of the players were already on the team bus by the time the media was let in, and Kings coach Darryl Sutter conducted his shortest news conference of the season -- a painful, 50-second session of one-word answers and pained expressions from Sutter.
It was a demeanor and mindset adopted by his players after the game. They knew coming back from an 0-3 series deficit would be hard, and as good as they've looked the past two games, the Kings are now only halfway toward their goal of actually winning the series. Game 6 is Monday night at Staples Center.
"If anything, it feels more daunting," Doughty said. "We came this far to get two, and now we need to get two more -- and that puts even more pressure on us because we can smell it, but we can't ahead of ourselves. We have a lot of work ahead of us, and going back to Staples is a thing we want to be doing, and so we need to get a win and tie this series up."