Los Angeles Kings:

Jonathan Toews
May, 31, 2014
May 31
1:09
AM PT
LOS ANGELES -- The
Chicago Blackhawks
just won't go away.
The
Los Angeles Kings
have tried their best in two consecutive games to put an end to the Blackhawks once and for all. Twice the Kings held third-period leads on the Blackhawks, and twice the Blackhawks overcame them and fought back to win. And with that, the Kings' 3-1 series lead is no more, and the series will be decided back in Chicago.
Blackhawks captain
Jonathan Toews
took a moment after his team's 4-3 victory in Game 6 on Friday to admire what the Blackhawks have had to do to get back into the series.
"I think we know what kind of character we have in this room, what kind of group," Toews said of the defending Stanley Cup champions. "I think we're showing it to each other now. It's pretty amazing to see. We know our job's not done yet."
The Blackhawks have gotten to where they are now by handling a large amount of adversity tossed their way in the past two games.
In Game 5, it was the Kings rallying from a two-goal deficit to take a 4-3 lead. The Blackhawks were down a goal to begin the third period, and
Ben Smith
scored within the first two minutes to tie the game. After a chaotic overtime, the Blackhawks pulled out a winner in the second extra period.
[+] Enlarge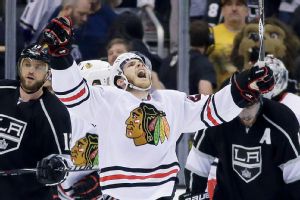 AP Photo/Chris CarlsonBen Smith's second goal in two games gave the Hawks a lead at the second intermission.
In Game 6, the drama continued. The Kings went up 1-0 in the first period. The Blackhawks responded and took a 2-1 lead after two. The Kings answered by scoring two goals in just over two minutes to go ahead 3-2 less than eight minutes into the third.
Panic from the Blackhawks' fan base could be read all over Twitter, but the players themselves resisted that feeling.
"You've just got to find a way to kind of ride those highs and keep that momentum and when things go against you -- I've said this quite a few times -- you forget about those tough moments and just don't let it affect you too much," Toews said. "Go out that next shift and keep playing."
That they did.
Duncan Keith
took a pass from
Patrick Kane
in the deep slot and tied the game 3-3. Kane played the role of hero again by scoring the winner with 3 minutes, 45 seconds remaining. Between and after those goals, Chicago goaltender
Corey Crawford
and his defense held strong to force Game 7 on Sunday night at the United Center.
"That's the way the team has been all year," Crawford said. "We don't give up. We can definitely score goals. I don't think anyone lost confidence or got down after those two goals they scored in the third. If anything, we kept pressing harder."
Blackhawks coach Joel Quenneville never doubted his team's resilience, but he was still impressed by it.
"Three lead changes in the third period, in a big game like that, it's pretty amazing," Quenneville said. "But our guys, finding a way, it's a compliment to them. Well, top players. I mean, they want to win. They find ways. They challenge one another. You see certain guys competing like that every shift. I mean, you can't help but follow along and make your contribution."
May, 25, 2014
May 25
12:27
AM PT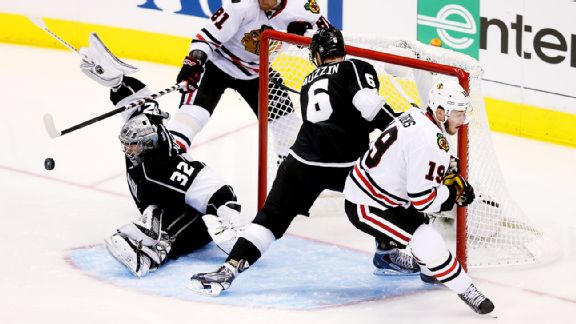 Jeff Gross/Getty ImagesMarian Hossa and Jonathan Toews, right, haven't gotten much help after their line departs.
LOS ANGELES -- The
Chicago Blackhawks
have often leaned on their offensive depth to get them past opponents, particularly in the playoffs.
The Blackhawks have relied upon everyone from their stars to their role players, and from their first to their fourth lines to give them production in the past.
The Blackhawks aren't getting that across-the-board help through three games against the
Los Angeles Kings
in the Western Conference finals, and that is part of the reason why they're facing a 2-1 series deficit.
"We have four lines that can score and we've got to show it," Blackhawks forward
Michal Handzus
said after Saturday's 4-3 loss in Game 3.
Chicago's top line has done its job:
Bryan Bickell
,
Jonathan Toews
and
Marian Hossa
have been solid offensively and defensively. They have kept
Marian Gaborik
,
Anze Kopitar
and
Dustin Brown
in check, and they've been creating offensive chances for themselves.
[+] Enlarge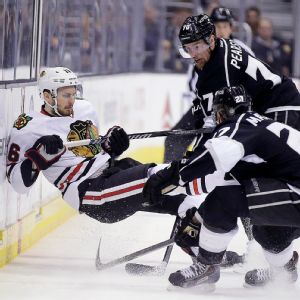 AP Photo/Chris CarlsonMarcus Kruger and his mates on the fourth line took a beating in the Hawks' Game 3 loss.
The possession numbers indicate that the Blackhawks' top line has had the puck much more than the Kings' in the series. Bickell has a 64.1 Corsi percentage; the Blackhawks have had 41 shots for and 23 shots against with him on the ice in 5-on-5 situations in the series, according to extraskater.com. Hossa has had a 61.6 Corsi percentage (45 shots for, 28 against) and Toews has had a 60 Corsi percentage (48 shots for, 32 against.)
Chicago has scored eight goals in the series. Two have come on the power play, one short-handed, one with the goalie pulled and four at even strength. Chicago's top line has accounted for two of the four even-strength goals.
The Blackhawks' other lines haven't been keeping up.
Ben Smith
on the fourth line scored a goal in Game 2, and defenseman
Duncan Keith
scored with the second line on the ice in Game 1. The three other lines' possession numbers have fluctuated as well.
Chicago's second line of
Patrick Sharp
, Handzus and
Patrick Kane
struggled the most in Game 3. Handzus had a team-worst 27.7 Corsi percentage (five shots for, 12 against), followed by Sharp at 30.4 percent (7 for, 16 against) and Kane at 30.8 percent (8 for, 18 against). For the series, Handzus has a 36 Corsi percentage (18 for, 32 against), Sharp a 30.9 (21 shots for, 47 against) and Kane has a 43.5 (30 shots for, 39 against).
The Blackhawks' third line did fare better with
Andrew Shaw
in the lineup Saturday; it had been among the team's worst possession lines during the first two games. When together, the fourth line of
Brandon Bollig
,
Marcus Kruger
and Smith turned in a Corsi below 50 percent in Game 3.
Chicago coach Joel Quenneville said he would reexamine his lines after Saturday's loss, but he wasn't sure whether they needed much fine-tuning.
"We'll look at our lines," Quenneville said. "We look at basically nine periods there, seven of them pretty good, pretty effective as far as what we've been doing, as far as chances, generating what we're looking to do. They've had two big third periods on us. That's the difference in being down 2-1.
"We can look at the lines. I don't know if we got to shake them up too much."
May, 24, 2014
May 24
9:56
PM PT
LOS ANGELES -- Here's a quick look at the
Los Angeles Kings
' 4-3 victory over the
Chicago Blackhawks
in Game 3 of the Western Conference finals at Staples Center on Saturday.

How it happened:
The Kings rallied from another deficit to defeat the Blackhawks. Down 2-1, the Kings fought back and scored two goals in the second period to take the lead.
Jeff Carter
netted the equalizer off a pass from
Tanner Pearson
at 8 minutes, 8 seconds;
Tyler Toffoli
then put the Kings ahead when he skated past two Blackhawks defensemen for a loose puck and scored on a breakaway at 14:19.
Drew Doughty
extended the lead to 4-2 in the third period.
Jonathan Toews
accounted for the Blackhawks' first two scores. He stole the puck on a Kings power play and bagged a short-handed goal at 5:26 of the first period to give Chicago a 1-0 lead. After
Slava Voynov
scored a power-play goal for Los Angeles, Toews put the Blackhawks back in front when he knocked in a rebound at 13:19 of the first. The Blackhawks cut the Kings' lead to one late with a goal by
Patrick Sharp
with 4.2 seconds remaining in the third period. Los Angeles goaltender
Jonathan Quick
made 24 saves on 27 shots. Chicago goaltender
Corey Crawford
stopped 28 of 32 shots. The Kings were 1-for-3 on the power play, and the Blackhawks were 0-for-4.
What it means:
The Kings took a 2-1 lead in the series and continued to hold home-ice advantage. The Blackhawks dropped the road opener of a series for the 10th consecutive time, a streak dating back to 2010. The Kings improved to 4-3 at home in the playoffs this season. Los Angeles was able to capitalize on its power play for the second consecutive game. The Kings scored two power-play goals in Game 2 and another in Game 3. The Blackhawks had allowed a total of four power-play goals in the playoffs prior to Game 2. L.A. held Chicago without a power-play goal for the first time in the series.
Player of the game:
Carter scored a goal and had two assists in the win. He has four goals and three assists over the past two games and eight points in the series.
Stat of the game:
The Kings outshot the Blackhawks 18-7 in the third period.
What's next:
The series remains in Los Angeles for Game 4 on Monday.
May, 24, 2014
May 24
10:30
AM PT
LOS ANGELES -- The
Chicago Blackhawks
and
Los Angeles Kings
face off in Game 3 of the Western Conference finals at the Staples Center on Saturday. The series is tied 1-1. Here's what to watch for:
* The Kings stole home-ice advantage away from the Blackhawks by rallying from a 2-0 deficit and scoring six unanswered goals in Game 2 in Chicago on Wednesday. The Kings are 3-3 in their own building in the playoffs this season.
* Blackhawks forward
Andrew Shaw
is expected to play after missing the last seven games with a lower-body injury. He'll likely replace
Peter Regin
as the third-line center.
* Kings forward
Jeff Carter
is coming off a hat trick and four points in Game 2. He has two career playoff hat tricks.
* The Blackhawks allowed a total of two power-play goals in each of their first two series. The Kings scored two power-play goals in Game 2. The Kings made the Blackhawks pay for consecutive penalties in the first six minutes of the third period Wednesday.