Los Angeles Kings:

Michal Handzus
May, 25, 2014
5/25/14
12:27
AM PT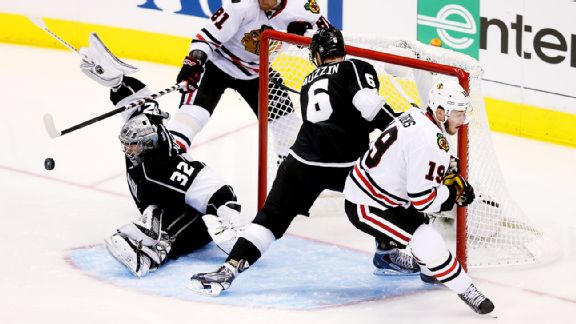 Jeff Gross/Getty ImagesMarian Hossa and Jonathan Toews, right, haven't gotten much help after their line departs.
LOS ANGELES -- The
Chicago Blackhawks
have often leaned on their offensive depth to get them past opponents, particularly in the playoffs.
The Blackhawks have relied upon everyone from their stars to their role players, and from their first to their fourth lines to give them production in the past.
The Blackhawks aren't getting that across-the-board help through three games against the
Los Angeles Kings
in the Western Conference finals, and that is part of the reason why they're facing a 2-1 series deficit.
"We have four lines that can score and we've got to show it," Blackhawks forward
Michal Handzus
said after Saturday's 4-3 loss in Game 3.
Chicago's top line has done its job:
Bryan Bickell
,
Jonathan Toews
and
Marian Hossa
have been solid offensively and defensively. They have kept
Marian Gaborik
,
Anze Kopitar
and
Dustin Brown
in check, and they've been creating offensive chances for themselves.
[+] Enlarge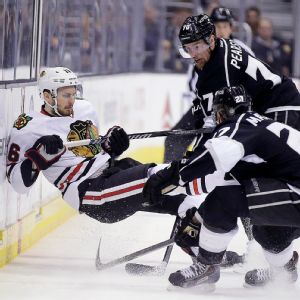 AP Photo/Chris CarlsonMarcus Kruger and his mates on the fourth line took a beating in the Hawks' Game 3 loss.
The possession numbers indicate that the Blackhawks' top line has had the puck much more than the Kings' in the series. Bickell has a 64.1 Corsi percentage; the Blackhawks have had 41 shots for and 23 shots against with him on the ice in 5-on-5 situations in the series, according to extraskater.com. Hossa has had a 61.6 Corsi percentage (45 shots for, 28 against) and Toews has had a 60 Corsi percentage (48 shots for, 32 against.)
Chicago has scored eight goals in the series. Two have come on the power play, one short-handed, one with the goalie pulled and four at even strength. Chicago's top line has accounted for two of the four even-strength goals.
The Blackhawks' other lines haven't been keeping up.
Ben Smith
on the fourth line scored a goal in Game 2, and defenseman
Duncan Keith
scored with the second line on the ice in Game 1. The three other lines' possession numbers have fluctuated as well.
Chicago's second line of
Patrick Sharp
, Handzus and
Patrick Kane
struggled the most in Game 3. Handzus had a team-worst 27.7 Corsi percentage (five shots for, 12 against), followed by Sharp at 30.4 percent (7 for, 16 against) and Kane at 30.8 percent (8 for, 18 against). For the series, Handzus has a 36 Corsi percentage (18 for, 32 against), Sharp a 30.9 (21 shots for, 47 against) and Kane has a 43.5 (30 shots for, 39 against).
The Blackhawks' third line did fare better with
Andrew Shaw
in the lineup Saturday; it had been among the team's worst possession lines during the first two games. When together, the fourth line of
Brandon Bollig
,
Marcus Kruger
and Smith turned in a Corsi below 50 percent in Game 3.
Chicago coach Joel Quenneville said he would reexamine his lines after Saturday's loss, but he wasn't sure whether they needed much fine-tuning.
"We'll look at our lines," Quenneville said. "We look at basically nine periods there, seven of them pretty good, pretty effective as far as what we've been doing, as far as chances, generating what we're looking to do. They've had two big third periods on us. That's the difference in being down 2-1.
"We can look at the lines. I don't know if we got to shake them up too much."
May, 21, 2014
5/21/14
11:50
PM PT
CHICAGO --
Los Angeles Kings
coach Darryl Sutter set a limit of two goals for the
Chicago Blackhawks
entering the Western Conference finals.
If the Kings could keep the Blackhawks under three scores in a given game, Sutter liked his team's chances against the defending Stanley Cup champs. More than two, he didn't like the Kings' odds.
Sutter has been dead on so far. The Blackhawks scored three goals in Game 1 and won. The Blackhawks scored two goals in Game 2 and lost 6-2 Wednesday night.
"We probably played better [in Game 1]," Sutter said. "The only difference between tonight and [Sunday] was not goals for, it was goals against. Give up three against them, you're in trouble."
[+] Enlarge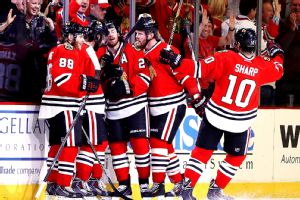 Jonathan Daniel/Getty ImagesThe Blackhawks were stoked after dominating early. But they failed on several strong chances to extend a two-goal lead to three, and the Kings pounced after that.
The absence of that third goal Wednesday will have the Blackhawks shaking their heads for a few days. The chances were there for the third goal to put the Kings away.
The Blackhawks placed themselves in a comfortable position by going ahead 2-0, when
Ben Smith
scored 1:40 into the second period. But they didn't back off. They kept pushing for another goal, and the Kings weren't putting up much of a fight to stop them.
After their second goal, Blackhawks forward
Marian Hossa
nearly scored on a shot from the slot after receiving a stretch pass to get him open with 13:23 remaining in the second period.
Michal Handzus
had a wraparound backhanded shot with 6:19 left that gave Kings goaltender
Jonathan Quick
a problem.
Off an odd-man rush shortly later, Hossa left the puck for
Duncan Keith
at the blue line, and Keith fired a shot that Quick blocked. But the Kings were fortunate the Blackhawks couldn't capitalize on the rebound.
Of all the missed opportunities, the one that will bother the Blackhawks the most was a 2-on-1 rush.
Kris Versteeg
had the puck on the left wing, and
Brent Seabrook
was to his right. After Kings defenseman
Willie Mitchell
committed to Versteeg, he pushed the puck over to Seabrook, who fired it on net. Quick shifted quickly from left to right, filled the open space and denied the puck entry.
Quick kept the Kings in it, and they took advantage, as Justin Williams scored with less than two minutes remaining in the second period to cut the lead to one. From there, the game changed.
"That's what we need Quickie to do. He does it all the time, makes those big saves when we need him, and that's just a prime example of him being himself," Kings defenseman
Drew Doughty
said. "That's a huge save for us, and from that point we got pucks to the net, put one in, and came in here down only 2-1, which is what we wanted."
The Kings scored five more goals, all in the third period, and the Blackhawks didn't score again.
Blackhawks coach Joel Quenneville thought the Kings' one goal in the second period may have been more deadly than the lack of a third Blackhawks goal.
Quenneville described his team's first 38 minutes of the game as perfect.
"Couple real nice looks there," Quenneville said. "[Seabrook] coming down the pipe and it's still 2-0 and we're fine at 2-0. You get in after two [periods] and you're up 2-0, it's a different game maybe, but certainly it didn't look ... The way it turned on a dime like that, I don't know if we've seen a game like that all year, where we're doing everything right and then all of a sudden it was a disaster."
The Blackhawks struggled to comprehend how a game they were dominating for nearly all of the first 40 minutes went against them. It's something they'll look to fix in Game 3 on Saturday.
"It's pretty frustrating," Blackhawks forward
Patrick Sharp
said. "We got off to a good start through 40 minutes. We were skating well and drew a few penalties, and then obviously things unraveled during the third.
"We're not happy and we're looking forward to getting on the plane and making up for it in Game 3."