Los Angeles Kings:

Mike Richards
September, 16, 2014
9/16/14
12:20
PM PT
Mike Richards
, it sounds like anyway, kept his word to the Mad Professor.
Faced with the possibility of his contract being bought out by the Stanley Cup champions, the 29-year-old Richards vowed to
Los Angeles Kings
GM Dean Lombardi in June that he would be more committed to his workouts this summer to help bring back the Mike Richards of old. He would commit himself to trying to bring back the player whom Lombardi traded for in the summer of 2011, the one who helped transform the Kings from pretenders into winners.
"This summer, I put in the work," Richards told ESPN.com over the phone Monday. "Of course, injuries can happen, but at least going into the season right now, I feel good and I've skated a lot more than I have in the past. I feel prepared, and I'm excited for the year."
As Richards pointed out, it's hard to know exactly how that translates to his on-ice performance once the season starts, but he says he feels much better at this point than he did a year ago.
Just in case, Lombardi did drop in on Richards in mid-August in the player's hometown of Kenora, Ontario. Now, you can look up Kenora on Google Maps, but getting to that northern Ontario town is not exactly a swift trip.
[+] Enlarge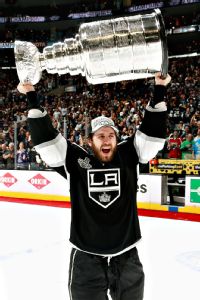 Dave Sandford/Getty ImagesMike Richards said, in the past, he didn't work as hard in the offseason as he should have to be ready for the start of the season.
But Lombardi made it indeed.
"He came up to Kenora; he was there for about five hours, I think. It's not exactly the easiest place to get into," chuckled Richards.
"He flew the night before to Winnipeg, drove up to Kenora, we woke up, worked out, and then he left. It was a pretty quick trip for him."
You can't blame the Kings GM for wanting to see for himself.
A year ago, Richards wasn't in good enough shape coming into camp, and he was chasing the rest of the season, to the point where he became a fourth-line center late in the season and in the playoffs.
It's why there was so much angst for Lombardi, who adores Richards, as he knew that this was the final window in the new CBA to buy out a player without it counting against a team's salary cap.
Richards has six years left on his deal, counting $5.75 million against the cap. No small decision.
"After the season, we sat down, actually had two meetings, lengthy meetings, really just to talk about everything," recalled Richards. "We talked about how I played, what I wanted to do, and what he wanted me to get back to. We laid it all out on the table. Obviously he likes me as a player and wants me to be part of the team, and I want to be there, too. He more or less just told me I had to get back to what I was doing a few years ago when I was having success, rather than the past couple of seasons, especially last year when I didn't play the way I wanted to other than the ending."
The ending saw Richards play his best hockey of the season as the Kings won another Cup, yet mostly as a fourth-line center. Sure, he still got some power-play time and played in key situations -- so not your average fourth-line center -- but at the end of the day, his stock had fallen.
"Obviously winning cures all, and you're happy about winning, but I don't picture myself as a fourth-line player," said Richards.
"I still feel like I can play at a high level and play against the other team's best players and not be a hazard when you're on the ice."
The drop to fourth-line center hit home.
"I'm not happy being in that role, even though you'll do whatever it takes to help the team win," said Richards. "But you feel you can do more to put yourself, prepare yourself, to be in a better situation. It was definitely a learning experience last year, maybe even a little bit of an eye-opener where you might take things for granted, or take having success for granted. We won, which is a good thing, but you feel like you can contribute to the team more and you don't want to be put in that position again. And to be honest, I deserved to be put in that position last year."
There's some humility and honesty that comes through here. And no doubt it's what came across in those meetings with Lombardi before the Kings GM had to decide on the player's future.
We shared Lombardi's viewpoint on deciding not to buy out Richards in
a June 25 article
.
No real surprise that Lombardi would give Richards the benefit of the doubt, although the player was still a bit nervous before those end-of-season meetings.
"My relationship with Dean is pretty good. I know he's a fan of me as a hockey player and a person," said Richards. "But at the end of the day, he's got to do what's best for the team, too. I guess you kind of have doubts. All I wanted is to be part of the Kings; I never looked at it as a bonus in the financial sense of maybe getting bought out and signing somewhere else. I like it in L.A., my family likes it there, my girlfriend comes down to visit once in a while and she likes it there, too. So I really didn't want to become a free agent and leave. I want to be part of the Kings for a long time. So I was a little nervous from that point; even though I didn't think Dean would do it, there's always that chance that it could happen if he thought I couldn't be the player I was before. If he thought I was on the downward track, maybe he would have done what was best for the team and bought me out. But it's good to see he has confidence I can be back to being that player. It's not easy working out every day and pushing towards it, but I've done it before and I felt I could do it. I gave him my word I would work towards being the player I was before."
According to Richards, there were indeed changes in his summer workouts.
"I worked out with trainers for the first time in a long time," he said. "I never felt that I needed to be pushed off the ice to work out, but I think it's good to have somebody there, first to make sure that you're going every day, and secondly to help me with different things; even just having a guy there to spot you so you can do that extra round, or having a guy there to make sure you're doing the right technique and you don't hurt yourself. You can push yourself harder in different areas. It was nice to have someone there that if there's a day you don't feel like going, he's there to push you, so you don't take the easy way out.
"I think before, not that I didn't work hard, but I think I just took it for granted, where stuff was going on and you could skip a workout a day or two and not think it would be problem ... and then at the end of the summer, you're probably not in the best shape you need to be in going into a season."
Did he do enough? How much better is Richards going to be this season? Will we ever see the Mike Richards of old or at something close to it?
Not even Richards can answer those questions yet. His play will do the talking, either way, in the coming months and when training camp opens at the end of the week.
What he does know is that it's been an experience.
"You live and learn," said Richards. "You take things for granted sometimes when you're having success. Things that were working when you had success suddenly aren't working anymore when you're five or six years older, when you have to work a little harder. Definitely a learning curve."
June, 26, 2014
6/26/14
9:14
PM PT
Dean Lombardi had been preparing for months for this exit meeting.
The GM of the Stanley Cup champion
Los Angeles Kings
was hoping to hear what he needed to hear from
Mike Richards
.
And he did.
"His self-analysis was dead on," Lombardi told ESPN.com Tuesday.
[+] Enlarge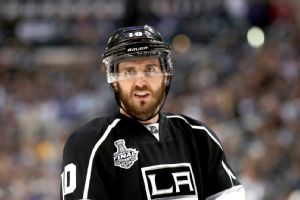 Center on June 4, 2014 in Los Angeles, California. (Photo by Mike Richards has six years left on a deal that counts $5.75 million per season on the Kings' cap.
Because of it, the NHL's last compliance buyout window of this CBA (buyouts that don't count against the salary cap) will come and go with Richards staying put.
It's no small decision. Richards has six years left on a deal that counts $5.75 million per season on the Kings' cap.
Richards' play deteriorated so badly during the regular season that he fall to fourth-line status. The rap was that Richards wasn't in great physical shape when the season started. It's hard in this league to play catch-up all year from that perspective.
"Everyone knows what this guy brings," Lombardi said. "I just think he's at a stage in his career where he has to change the way he prepares in the offseason. You can't prepare the same way at 29 you did at 22. That's what it comes down to."
Richards maintained that fourth-line role in the playoffs, although what transpired this spring is what the Kings have come to expect from him: some clutch performances in helping L.A. wins its second Cup in three years.
That playoff performance helped sway the Kings' front office to keep him, but hearing from Richards himself in the exit meeting was important, too.
So it comes down to this: Lombardi has put his trust in a player he dearly loves. But it's big-time trust given the compliance buyout window that closes June 30 for the rest of this CBA.
Lombardi has faith in a player who has had big moments.
"We don't win the first Cup without him," Lombardi said. "In terms of what he brought to the table in terms of winning, what he did in that Vancouver series in 2012 set the tone for 'this is how you win a playoff series.' Which means we're not where we are this year without having won the first Cup.
"You're loath to ever give up on that kind of player, it's very difficult to find that special ingredient. Even through his negatives this year, who rises to the occasion in the end? Time and again he shows up at critical moments."
Being that clutch player is a big reason Richards will stick around.
"No question," the Kings GM said. "That's what you'd rather have, if you have a choice you'll always take the playoff big-game player over the regular-season guy. But you still need to get both, particularly when you have a financial commitment under the cap; you can't just write it off. So you have to maintain a certain level of performance in order to hold that salary slot. But he's 29, he's clearly capable of it. He plays his best hockey when everything is on the line, not just big games, but big moments."
There's a "bigger picture" element to all this, too. These are the Kings. From Lombardi on down to the players, there's a kind of chemistry and family spirit in that organization that's almost unparalleled in the league. Richards is more to this franchise than just a player. Trading for him was the turning point, in many ways, for a rebuilding Kings team years ago, a moment when they turned the corner after acquiring a player who knew how to win.
There's a glue factor here. So despite the salary cap implications and the risk involved in being locked in now for the rest of his contract, there's a deep-rooted loyalty factor that Lombardi couldn't ignore.
"There's no question that the loyalty to him and what he's done is significant," Lombardi said. "If you're going to build something that has some emotional attachment, then you have to have loyalty mean something. Sure, you have to do it within reason. Going through this process, sure I know how much he gets paid, but he deserves our loyalty if he's willing to give us that commitment."
June, 9, 2014
6/09/14
10:33
PM PT
NEW YORK -- Are the
Los Angeles Kings
where they are -- on the precipice of capturing their second Stanley Cup title in the past three seasons -- solely because of a single player?
Nope.
They are where they are because coach Darryl Sutter can roll four different line combinations and three different defensive pairings at any point in any game.
They are where they are because up and down their lineup -- especially down the middle -- they have an abundance of depth.
"I think that's the strength of our team," captain
Dustin Brown
said after the Kings secured a 3-0 series stranglehold with a 3-0 Game 3 victory Monday over the
New York Rangers
at Madison Square Garden. "That's where we match up really well against other teams.
"All the teams we've played, everybody's gonna have a really good first line and second line. But our third line and our fourth line, I think they tip the scales in our favor against most teams."
"I mean, that was the difference, I think, against Chicago [in the Western Conference finals]," Brown continued. "It was [
Anze Kopitar
], me and [
Marian Gaborik
] playing against [
Jonathan Toews
] and his line. It was our depth scoring that really helped us in that series and [Monday night]. That's what being a team is all about -- having everyone contribute."
On Monday night, everyone did: from second-line center
Jeff Carter
's opening the scoring with less than a second remaining in the first period to all-world goaltender
Jonathan Quick
's making 17 saves in the middle frame to No. 1 defenseman
Drew Doughty
's taking a smart penalty to prevent
Rick Nash
from tallying what would have been a sure wraparound goal.
Doughty's partner
Jake Muzzin
and fourth-line pivot
Mike Richards
provided insurance markers in the second. Depth defensemen
Willie Mitchell
and
Matt Greene
were tremendous in helping stifle the Rangers while the Kings were on the penalty kill.
It was every bit of a team effort.
"Our top players have been playing great," Doughty said. "But so far in the Stanley Cup finals, you're not seeing Kopi get a ton of points, you're not seeing myself get a lot of points [or] Carts.
"It's been [
Kyle Clifford
], [
Jarret Stoll
] and [
Justin Williams
] and guys like that that are stepping up to the plate, and that's how you win championships. I know we haven't won yet, but that's how you get to the point where we are right now. We need the whole team; that's the bottom line."
During the playoffs, 11 different Kings have registered 10 or more points, 11 different Kings have notched game-winning goals and four different Kings have notched winning overtime goals.
Los Angeles leads the NHL by averaging 3.5 goals per game during the postseason, while putting up solid percentages on the power play (24 percent) and penalty kill (83 percent).
Kopitar, the league's leading playoff scorer (26 points), was asked if the Kings' depth started at center.
"It's everybody," he said. "I think it starts in the back with Jonathan and our defensive pairings. They've been really good for us. They've been making plays out of the zone, which obviously makes it a little bit easier on the forwards going up the ice.
"We can't pinpoint anybody out there."
May, 1, 2014
5/01/14
12:16
AM PT
SAN JOSE, Calif. -- Years from now, I'm sure I will tell my kids about these
Los Angeles Kings
.
When they seem down and out, when it seems as if they don't have a chance, when the odds are completely stacked against them, I will put my arms around them and tell them the story about the 2013-14 Kings.
I will tell them about this gritty group of guys that had been left for dead after losing the first three games of their playoff series against the
San Jose Sharks
.
[+] Enlarge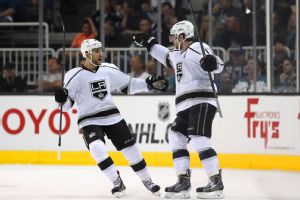 Ezra Shaw/Getty ImagesAlec Martinez, left, congratulates Anze Kopitar after a second-period goal that sent the Kings on their way to a Game 7 win at San Jose.
They didn't just lose the first two games of the series; they got smoked 13-5. They looked so bad that some fans were ready to wave the white flags they were given at Staples Center before they dropped Game 3 in overtime.
I will tell them about the mountain that Kings players talked about after losing those first three games and their confidence in being able to climb that mountain together if they all believed and pulled in the same direction.
"Anything is possible if you're still playing,"
Mike Richards
said before Game 4. "You just can't look at the mountain and expect to do it all at once. It's not a time to feel sorry for yourself. It's a time to be excited for the opportunity. Not many teams have done this so it's a good challenge for us."
And I will tell them about a magical one-week stretch where the Kings completed one of the greatest comebacks in sports history by becoming only the fourth NHL team and fifth team in North American professional sports history to come back from a 3-0 series deficit, culminating with Wednesday's 5-1 win.
Like most stories about perseverance, overcoming the odds and refusing to quit, it will be a story that will stand the test of time.
"We believed in ourselves,"
Drew Doughty
said. "We were never going to give up. ... It was so much fun. It will never compare to winning a Stanley Cup obviously, but it's right there with it -- this feeling."
This Kings team is still mainly composed of players who were on that Stanley Cup-winning team from two seasons ago that rewrote the record books. That team needed to win the final game of the regular season just to secure a playoff spot and went on to become the
first
No. 8 seed in North American professional sports history to win a championship.
That team, however, made it look so easy once the playoffs began. They took a 3-0 lead in every series and won their first 10 games on the road.
April, 26, 2014
4/26/14
11:16
PM PT
SAN JOSE, Calif. -- The
Los Angeles Kings
have never believed in relying on history as an indicator of future results.
If they did, they would have quickly exited stage right two years ago, when they entered the Stanley Cup playoffs as the eighth seed, qualifying for that spot on the final day of the regular season. Instead, they became the first 8-seed in North American professional sports to win a championship.
If the Kings cared about the odds, they would have folded their tents last year after falling behind 0-2 against the
St. Louis Blues
in the first round of the playoffs. Instead, they stormed back and won that series in six games.
If the Kings easily crumbled under pressure, they would have found a way to lose in last year's conference semifinals, when the
San Jose Sharks
forced a Game 7 after the Kings took a 2-0 series lead. Instead, they held on and advanced to their second consecutive conference final -- and showed why the heart of these Kings should never be questioned.
It would have been easy to forget all of that before Saturday's 3-0 Los Angeles victory over the Sharks in a game that was supposed to be the Kings' last of the season, but that could eventually be seen as the turning point for another historic postseason chapter for this group.
Los Angeles didn't just drop the first three games of its quarterfinal series to the Sharks, it lost the first two games by a 13-5 margin -- and just when the Kings thought they were back in the series on home ice in Los Angeles, the Sharks escaped with 4-3 overtime win.
The last time the Kings dropped the first three games of a playoff series, they were swept in 2000. Only three NHL teams have overcome an 0-3 deficit to come back and win a best-of-seven playoff series. The last time it happened was in 2010, when the
Philadelphia Flyers
came back to beat the
Boston Bruins
.
[+] Enlarge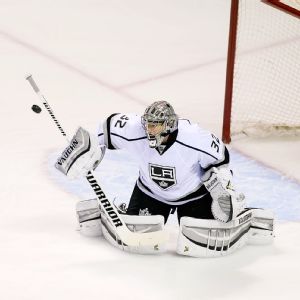 Damon Tarver/Cal Sport MediaJonathan Quick stopped 30 shots to shut out the Sharks in the playoffs for the fourth time.
That series is more than a footnote in the history books for
Mike Richards
and
Jeff Carter
, who were teammates on that Flyers squad before reuniting in Los Angeles two years later to win a Stanley Cup.
"It's obviously not the position you want to put yourself in," Richards said. "We had a pretty resilient group that year. We made the playoffs the last day of the year. We had our backs against the wall, and we knew we were in the same position and battled back. Much like that group, we have a group that's been together, a resilient group, and we've gone through a lot together.
"Just like a couple of years ago when we just got in the playoffs and did something special. Even though it's not the same year, it's the same group here. It's obviously a tough task at hand, but as long as you're still playing hockey, you still have a chance."
The calm in the Kings' dressing room before their 6-3 victory Thursday and again before Saturday's shutout was largely because of the bond that the group has forged after being together for so long.
The Kings have played 43 games in the past three postseasons, most in the NHL, and key players such as
Anze Kopitar
,
Dustin Brown
,
Jonathan Quick
and
Drew Doughty
were drafted by the Kings and grew up together. Perhaps the Kings of 2010 and 2011 -- which lost in the quarterfinals to the
Vancouver Canucks
and the Sharks, respectively -- would have gone silently into the night, but not this group. Not now.
"Our core group is going to have to lead the way," Doughty said. "We've been together for a while, and a lot of us have been together for five-six years. We built that chemistry off the ice, and that's what keeps us so close together on and off the ice -- we all love each other like brothers and we all want to win so bad. We want to do it for the organization and for each other, and that's why we believe in ourselves. We believe we can come back because we have that core group that continually tries to push and make our team better."
Quick, who looked lost in the first two games, looked like his old self Saturday, making 30 saves and shutting out San Jose for the fourth time in his career in the postseason.
"We have Quickie back there, who is solid," said Kopitar, who, along with Carter and
Tyler Toffoli
, backed him with goals. "We were able to keep everything to the outside, and we're confident enough, if they're finding the puck from the outside, that he's going to make the save -- and we have to eliminate the second and third chances, which we did."
There wasn't much celebration in the nearly empty Kings dressing room after Game 5. Most of the players were already on the team bus by the time the media was let in, and Kings coach Darryl Sutter conducted his shortest news conference of the season -- a painful, 50-second session of one-word answers and pained expressions from Sutter.
It was a demeanor and mindset adopted by his players after the game. They knew coming back from an 0-3 series deficit would be hard, and as good as they've looked the past two games, the Kings are now only halfway toward their goal of actually winning the series. Game 6 is Monday night at Staples Center.
"If anything, it feels more daunting," Doughty said. "We came this far to get two, and now we need to get two more -- and that puts even more pressure on us because we can smell it, but we can't ahead of ourselves. We have a lot of work ahead of us, and going back to Staples is a thing we want to be doing, and so we need to get a win and tie this series up."