July, 30, 2014
Jul 30
12:42
PM PT
The Los Angeles Lakers are considering signing free-agent forward Michael Beasley and brought in the six-year veteran for a workout at their El Segundo, California, practice facility Wednesday, according to multiple sources.
"[Beasley] looked very good and he has been working out," one source said. "A tiny rust from layoff, but [he] did a good job."
The former No. 2 pick in the 2008 draft averaged 7.9 points and 3.1 rebounds in 15.1 minutes per game for the Miami Heat last season. While Beasley showed improvement from his previous season when he played with the Phoenix Suns, upping his shooting percentage from 40.5 to 49.9 percent and his 3-point percentage from 31.3 to 38.9 percent, he was out of Miami's rotation by the playoffs, appearing in just four of the Heat's 20 postseason games on their run to the NBA Finals.
Beasley, 25, has already played for three teams -- Miami, Phoenix and Minnesota -- during his relatively short career. He has career averages of 13.2 points, 4.9 rebounds and 1.3 assists per game.
This isn't the first time the Lakers have expressed interest in the 6-foot-10, 235-pound small forward. The Lakers attempted to trade for Beasley twice during the 2011-12 season, when he played for the Timberwolves, but both deals fell through, the second just minutes before the trade deadline expired.
July, 30, 2014
Jul 30
6:48
AM PT
Let the record show that 2014 felt like the longest offseason ever. As I am typing this column, Kevin Love remains untraded, Eric Bledsoe and Greg Monroe remain unsigned, and the Lakers named their head coach (Byron Scott) only a few days ago.
Still, most of the desirable free agents are off the market, and teams have a much clearer vision of what their rosters will look like on opening night. In a perfect world, we would wait until sometime during the season before passing judgment on the free-agent signings of summer 2014, but we live in an imperfect world, friends, so let the judging begin.
Here are the biggest winners and losers of NBA free agency.
---
Winners (in alphabetical order)
Charlotte Hornets
Main signees: Lance Stephenson, Marvin Williams, Brian Roberts
Flashback to 12 months ago and not many people would have expected Charlotte to be on this list so soon. But the free-agency steal of 2013 (signing Al Jefferson) and a shrewd coach hiring (Steve Clifford) gave the then-Bobcats their most successful season to date -- more successful than the 2009-10 outfit that won one more game -- because this team has a chance for sustained success.
July, 29, 2014
Jul 29
3:35
PM PT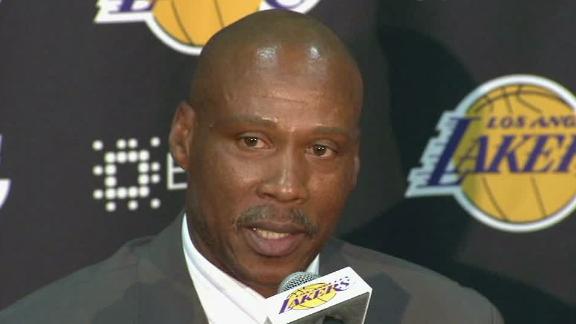 LOS ANGELES -- It was the kind of feel-good moment that has eluded the Los Angeles Lakers for the past couple of seasons. As Byron Scott sat down to be introduced as the Lakers' new head coach, Magic Johnson, Kareem Abdul-Jabbar and Jamaal Wilkes walked out from a side entrance and surprised the assembled media by standing beside their former teammate.
"This is a great day for all the former Lakers as well as Lakers fans all over the world," Johnson said. "We're just excited for what Byron will bring to the table and get back to playing Laker basketball."
As Johnson spoke, Jeanie Buss could be seen looking down on the proceedings from her office, her head peaking over the 10 Larry O'Brien trophies lined against the window.
This was a moment Dr. Jerry Buss had hoped to see before he passed. Johnson said that in 2010, three years before Buss died, Buss told him he would love to see Scott come back to coach the Lakers one day. Scott had led the New Jersey Nets to the NBA Finals twice, won coach of the year honors with the New Orleans Hornets and Buss viewed him as the perfect replacement whenever Phil Jackson left.
"I haven't even told him this yet," Johnson said. "Dr. Buss was going to make Byron the coach when Phil didn't know what he was going to do, but Byron took the Cleveland job, but he took it too early. I called him and said, 'B, you took that job too early! Dr. Buss wanted you to be the coach.'... This is a great day for Dr. Buss, even though he's not here."
The more Johnson and the former Lakers spoke, the more it became apparent that Scott wasn't hired because he was the best coach for the future of the Lakers, but because he was the most popular coach to win back the support of a frustrated fan base that includes former players such as Johnson, who regularly bashed former coach Mike D'Antoni in the media.
July, 29, 2014
Jul 29
1:14
PM PT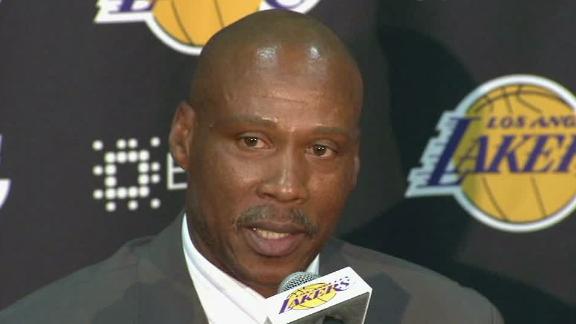 EL SEGUNDO, Calif. -- Before Byron Scott could say a word after being introduced as the chosen coach to carry the Los Angeles Lakers toward a hopeful championship future, several Hall of Fame voices from the purple and gold's past made a surprise appearance to weigh in on the hiring.
Magic Johnson, Kareem Abdul-Jabbar and Jamaal Wilkes marched into the Lakers' practice gym shortly after Scott's introductory news conference had commenced Tuesday and greeted their former teammate.
"Showtime's back, baby," Johnson said while pulling Scott in for a hug.
Scott, who played for the Lakers and won three championships from 1983 to '93 and again during Kobe Bryant's rookie season in 1996-97, was named the 25th head coach in franchise history.
"We came here today to support our brother and our former teammate and champion Byron Scott and also we're here to support the Laker organization," Johnson said. "This is a great day for all the former Lakers as well as Lakers fans all over the world. We're just excited for what Byron will bring to the table and get back to playing Laker basketball. ... We wish we could put on a uniform for you and help you, but we're here supporting you and will support you throughout. Again, congrats to the Laker organization. You chose the right guy."
Scott is the only one out of the six known candidates -- along with Kurt Rambis, Alvin Gentry, Mike Dunleavy, Lionel Hollins and George Karl -- who had multiple interviews for the coaching vacancy created April 30 when Mike D'Antoni resigned.
Lakers general manager Mitch Kupchak acknowledged the drawn-out coaching search and appreciated how Scott handled the wait.
"I just want to thank him for his patience the last six or seven weeks," Kupchak said. "I think it was clear, at least it was clear to us, that Byron was always our first choice."
Scott grew up in Inglewood, California, home of The Forum, and has long wanted the chance to coach the Lakers.
"This has been a dream of mine for so long," Scott said. "It's a dream come true to be here sitting here talking to you guys today and be introduced as the head coach of the Los Angeles Lakers. ... The passion and the love that I have for this organization is second to none. The only thing that I regret is that Dr. (Jerry) Buss isn't here today because he's somebody who showed a lot of love, a lot of confidence in me back in the day."
The longtime Lakers owner died of cancer in February 2013. Johnson told reporters that Dr. Buss confided in him that he would have hired Scott as Lakers head coach in 2010 if Phil Jackson chose to retire, but Scott had already accepted a job the previous summer coaching the Cleveland Cavaliers
July, 28, 2014
Jul 28
12:41
AM PT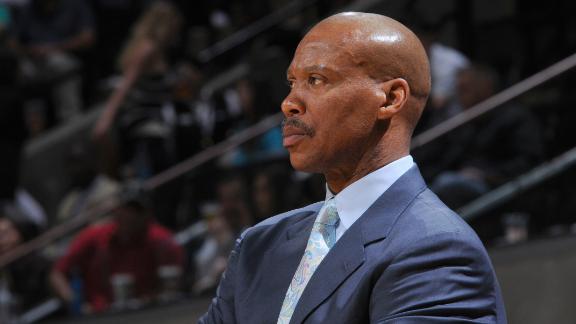 Byron Scott had to wait nearly three months to learn the Los Angeles Lakers had chosen him to be their next head coach.
Then he had to wait a little bit longer for the team to officially announce him as head coach while "we work through some little details" after he and the team agreed in principle on a four-year, $17 million contract Saturday night.
But for the chance to coach the team he won three NBA titles with as a player, he says it will be worth it in the end.
"I'm a little tired tonight," Scott told ESPN.com late Sunday after returning from a trip to the Caribbean. "But I'm extremely excited about the job, extremely excited about the opportunity to bring the purple and gold back up to championship-caliber basketball."
Scott said he's been texting with Lakers star Kobe Bryant throughout the summer and conferring about this season's team. Bryant texted Scott this weekend after news broke that he had accepted the job.
"He told me he was working out with Wesley [Johnson] and Nick [Young]," Scott said. "I told them that sounded great, but they 'better be ready to play some defense.'"
Scott laughed, but he was serious about the message. The Showtime-era Lakers were known for their offense, but they won championships because of their defense. Scott said he intends to bring that edge and discipline to this year's team.
"As a coach you have guys that police each other. This time you really have just Kobe [to do that]," Scott said. "Steve Nash, I love him, he's probably one of the nicest people I've been around. But he's not that ass-kicking type of guy.
"You always need one of those type of guys. In this situation, where it's just Kobe -- who really understands what it means to be a Laker -- and myself, who understands what it means to be a Laker -- you've got two guys coming from two different perspectives, but delivering the same message. That's important. That's important for Swaggy P and Wesley Johnson and Ryan Kelly
July, 27, 2014
Jul 27
6:29
PM PT

By Dave McMenamin
ESPNLosAngeles.com
Archive
LOS ANGELES --
Nick Young
's popularity around the NBA has grown thanks in part to his self-appointed "Swaggy P" nickname. But long before that handle became synonymous with Young's high-scoring, light-hearted exploits, he has been known as "I Am Legend" at The Drew League, a summer basketball league in Los Angeles.
"I've been a one-man show since I started at the Drew League," Young said on Sunday, explaining his other moniker. "I've been playing at the Drew for a while. I never played with no NBA people on my team or nothing. That's why."
[+] Enlarge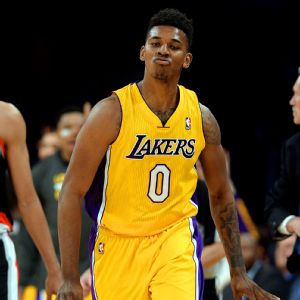 Jayne Kamin-Oncea/USA TODAY SportsNick Young is glad to be coming back to the Lakers after signing a four-year deal this offseason, and even has given himself a new moniker.
Now there are plenty of NBA players lining up to play in the league known simply as "The Drew." After Young's team won thanks to 26 points from him Sunday (on 21 shots), there were six current or former pros playing in the game after his in Baron Davis,
Metta World Peace
,
Terrence Ross
,
Jonas Valanciunas
,
Amir Johnson
and Rashad McCants.
"It's most definitely growing each year," Young said of the league that he has been playing in for an estimated 6-7 years. "We get players from everywhere coming out and it's in a bigger gym. Nike is behind it now, you get free Nikes now. Back then you had to bring your own shoes."
Nike started sponsoring the league in 2013 and moved the venue from Charles Drew Junior High School to King Drew Magnet High School of Medicine and Science to accommodate more fans.
Young used to play in "The Drew" with his brother. These days his team, M.H.P. (which stands for Most Hated Players), is coached by his father, Charles Young Jr., features his cousin Adrian "Big Meat" Pascascio on the roster, and won't go a game without his mother, Mae, cheering on from the stands.
"I'm from L.A,," Young said after saying goodbye to close to two dozen people before exiting the gym Sunday. "It's home. It's like a family up here."
Young is hoping his tenure with the
Los Angeles Lakers
will start to feel the same way. The Lakers signed Young to a four-year contract extension worth $21.5 million this offseason.
"Of course they made me a priority by giving me four years and that's something that I wanted really, just to be part of the team," said Young, coming off a season in which he averaged a career-high 17.9 points per game.
July, 26, 2014
Jul 26
7:11
PM PT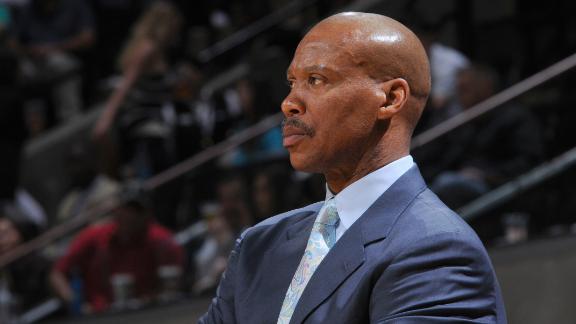 The Los Angeles Lakers have agreed to terms with Byron Scott to be their next head coach.
Sources told ESPN that Scott agreed to a four-year, $17 million contract with the Lakers, who hold a team option on the final year of the deal.
Scott confirmed the agreement to KCBS-TV on Saturday night.
"It feels fantastic," he told KCBS-TV. "This is a dream come true. I always wanted to coach the Lakers, especially when I got to coaching. It's so unreal. I have to thank [general manager] Mitch [Kupchak], Jeanie and Jim Buss to give me this opportunity."
Scott has been the front-runner for the job throughout most of the nearly three-month coaching search, which began when Mike D'Antoni resigned on April 30. His status as a three-time champion with the team during the Showtime era, his close relationship with Kobe Bryant and his familiarity with the current roster after having worked as an analyst all of last season for the Lakers television station, Time Warner Cable SportsNet, gave him the early edge.
Scott then impressed Lakers management during three interviews, the last of which took place after the team's roster had been filled out and Scott was given a chance to articulate his vision for the current personnel.
The Lakers were impressed by Scott's reputation as a disciplinarian, believing that temperament to be the right fit for a young team and able to take some pressure off Bryant in that area.
The Lakers interviewed a handful of candidates for the job, but after making quick hires in their past two coaching searches, the franchise decided to prioritize the draft and free agency over hiring a coach.
The Lakers had contacted five coaches besides Scott about the position -- Mike Dunleavy, Kurt Rambis, Alvin Gentry, Lionel Hollins and ESPN NBA analyst George Karl.
Three of those candidates soon accepted new jobs after talking to the Lakers. Hollins was hired as coach of the Brooklyn Nets
July, 25, 2014
Jul 25
3:55
PM PT

By Dave McMenamin
ESPNLosAngeles.com
Archive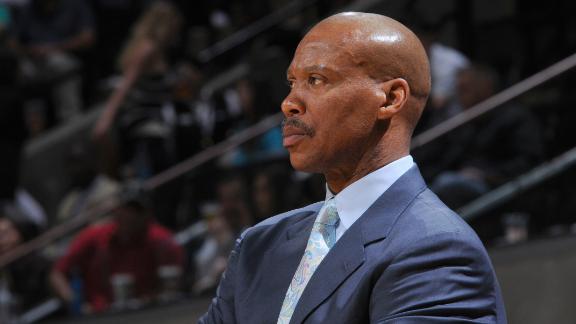 The
Los Angeles Lakers
took their good old time, but they indeed finally settled on a coach as they started contract negotiations Friday with Byron Scott,
according to ESPN The Magazine's Chris Broussard
.
The first question that comes to mind is: What took so long?
It has been nearly three months since Mike D'Antoni resigned April 30, accepting a buyout worth approximately half of the $4 million he was due to be paid next season.
[+] Enlarge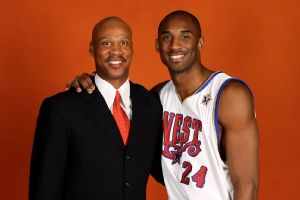 Gary Dineen/NBAE/Getty ImagesKobe Bryant endorsed Byron Scott for the Lakers job earlier this month.
League sources told me on the night that D'Antoni left that the Lakers would cast a wide net for their coaching search, and the sense was that if you could think of a coach who could feasibly step in to fill the role, the Lakers were probably mulling him over too.
The search never ended up being that widespread.
L.A. talked to only six candidates that we know of: Scott, Lionel Hollins,
Alvin Gentry
, Kurt Rambis,
Mike Dunleavy
and George Karl.
All of them you could talk yourself into and talk yourself out of. Sure, Hollins had championship pedigree as a player with those Portland teams in the '70s, but if he was really that good, would Memphis have cut him loose? Yes, Gentry has been a long-respected assistant, but other than that one run with Phoenix to the 2010 Western Conference finals, what had he done as the head guy? Dunleavy and Rambis both have Lakers ties, but the former has been out of coaching for years and the latter had 100 more losses than wins in his time in Minnesota. Karl is considered an offensive genius, but then again, the same could be said about D'Antoni.
While the Lakers weighed the pluses and minuses of the group, they purposely kept their coaching chair open.
It was no secret that if they ended up pulling off a coup and landing
LeBron James
or
Carmelo Anthony
or both, they wanted to entice the superstars to come by letting them have a say in who would coach them.
All the while, however, they kept Scott in the loop, bringing him back for a second interview June 10 prior to free agency and then again for a third talk July 16 after the Anthony/James dream had died and L.A. instead filled up its roster with the likes of
Jeremy Lin
,
Carlos Boozer
and
Ed Davis
.
Which brings us to the second question that needs to be asked: Why Byron?
It wasn't just about his ties to the Showtime era, but that surely helped. It wasn't just that he was around the team all last season as an analyst for the Lakers' television station, Time Warner Cable SportsNet, and had an intimate knowledge of what went down, but that helped too.
The Lakers franchise also wanted to establish a clear defensive identity after being atrocious on that end of the court last season, and Scott's credentials include a strong defensive-minded reputation.
But really, the Scott hire comes down to one man:
Kobe Bryant
. L.A. invested close to $50 million in Bryant over the next two seasons when he'll be 36 and a 19-year veteran and 37 and a 20-year veteran.
Despite all that's gone wrong in Laker Land since Phil Jackson retired in 2011, Bryant still remains as a box office draw and a future first-ballot Hall of Famer.
Whichever coach the Lakers decided on would have to mesh well personalitywise with Bryant first and foremost and, beyond that, play a system that would help Bryant continue to be productive even as Father Time is taking his toll.
It was no accident that Bryant publicly endorsed Scott for the job during his youth basketball camp in Santa Barbara, California, earlier this month.
"He was my rookie mentor when I first came into the league," Bryant said. "So I had to do things like get his doughnuts and run errands for him and things like that. We've had a tremendously close relationship throughout the years. So, obviously I know him extremely well. He knows me extremely well. I've always been a fan of his."
The Lakers have always operated with championships on the mind, but with a title pretty much out of the picture in the short term, they simply want to get back to having their team and everything that surrounds it be an accurate reflection of all the winning the franchise has already accomplished.
And out of all the realistic candidates for the job, Scott was the right man to start the journey from shambles back to Showtime.