August, 17, 2014
Aug 17
2:39
PM PT
ESPN.com
Which team is headed for some unhappy times this season?
Our Summer Forecast rolls on with predictions for Team Turmoil -- the squad that will have some unsettling experiences in the 2014-15 season as voted on by our ESPN Forecast team.
To participate in the discussion and perhaps get your opinion published on this page, #ESPNForecast is the Twitter hashtag to use. Or you can just follow along @ESPNNBA.
August, 13, 2014
Aug 13
6:39
PM PT
ESPN.com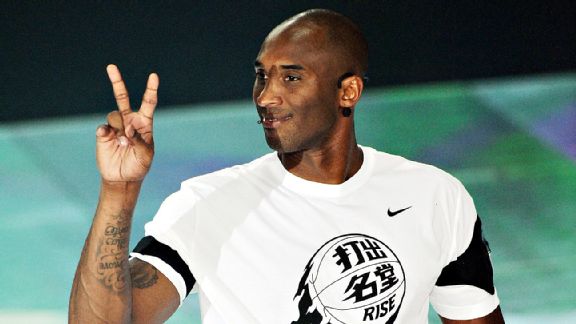 Getty ImagesHow many career points will Kobe Bryant rack up before he says goodbye to the NBA for good?
Where will Kobe Bryant finish in the NBA's scoring record books? The chase begins again next season.
Bryant, who missed all but six games last season because of injury, enters his 19th professional season with 31,700 career points, good for fourth on the all-time list. Ahead of him? Michael Jordan (32,292), Karl Malone (36,928) and the reigning champ, Kareem Abdul-Jabbar (38,387).
According to ESPN Stats and Info, if the 35-year-old Bryant averages 20 points per game for the Los Angeles Lakers, he can pass Jordan for third place in the 29th or 30th game of the 2014-15 season. The Lakers' 29th game is against Jordan's Bulls, on Christmas Day in Chicago. (Drama!)
But what about the other two spots on the list? Bryant signed a two-year, $48.5 million extension last December, ensuring himself at least 164 more games to jack up his total. But will his health hold up? Will he be able to still score like he used to as he creeps toward 40?
For those answers, we turned to the Summer Forecast panel.
And what about his on-court success?
August, 13, 2014
Aug 13
6:05
PM PT
By Steven Martinez & Deontay Morris, ESPN Stats & Info
ESPNLosAngeles.com

Andrew D. Bernstein/NBAE/Getty ImagesKobe Bryant needs 593 points to pass Michael Jordan for 3rd on the all-time scoring list.
The
2014-15 NBA schedule
has been released and we have the chance to take a quick look at the top stats to know for this upcoming season.
The return of Kobe
After missing all but six games last season,
Kobe Bryant
will make his debut on Tuesday, October 28 when the
Los Angeles Lakers
play host to the
Houston Rockets
.
Bryant has scored 31,700 career points and if he scores at least 593 points, he'll pass
Michael Jordan
for third on the NBA's all-time scoring list.
If he averages 20 points per game, he could pass Jordan on the scoring list around the 29th or 30th game of the Lakers season.
Those games happen to be at the
Chicago Bulls
on Christmas Day and at the
Dallas Mavericks
the next day.
Last season, Bryant missed the Lakers season opener for the fifth time in his career. Ironically the Lakers have won all five of those openers.
They would prefer to have him in the lineup though as his 27.2 PPG in season openers is the most among active players and seventh-highest in NBA history (Michael Jordan holds the record, 30.8 PPG).
The King returns
Making a return of a different kind will be
LeBron James
, who returns to the
Cleveland Cavaliers
after spending the last four seasons with the
Miami Heat
.
LeBron will make his season-debut on October 30 when the Cavaliers play host to the
New York Knicks
.
Another highlight for him will be on Christmas Day when he and his teammates travel to South Beach to take on the Heat (5 ET/ABC).
When LeBron returns, he'll do so as the second-leading scorer (26.7 PPG) among active players at the American Airlines Arena, trailing only
Kevin Durant
(27.6).
LeBron's teams have not lost on Christmas day since his rookie season in 2003 (7-1 record). That year, the Cavaliers lost to the Magic.
Champions quest for repeat
The defending NBA champion
San Antonio Spurs
open their season hosting the Dallas Mavericks on October 28. The Spurs are 16-4 in their last 20 home openers.
Since
Tim Duncan
debuted in 1997, San Antonio is 16-1 in season openers, the best winning percentage (.941) among all teams in season openers over this time (their only loss was to the Suns in 2008).
The Spurs and Heat will face off for the first time since the NBA Finals on February 6 (9:30 ET on ESPN) in San Antonio.
Over the last four seasons (including regular and postseason), the New York Knicks (3-4) and Heat (9-10) are the only teams the Spurs have a losing record against.
Notable rookie debuts
Maybe
Andrew Wiggins
should get some advice from his father on avoiding first game jitters. Andrew's dad - Mitchell Wiggins - scored 26 points in his first career game with the Bulls in 1983.
Wiggins, who reportedly will be traded to the
Minnesota Timberwolves
, begins his pro career on October 29 at Memphis.
As for other notable rookies,
Jabari Parker
and the
Milwaukee Bucks
open at the
Charlotte Hornets
on October 29, while
Nerlens Noel
(who missed all of last season after recovering from a torn ACL) makes his long-awaited debut with the
Philadelphia 76ers
on October 29 at the
Indiana Pacers
.
August, 13, 2014
Aug 13
3:01
PM PT

By Dave McMenamin
ESPNLosAngeles.com
Archive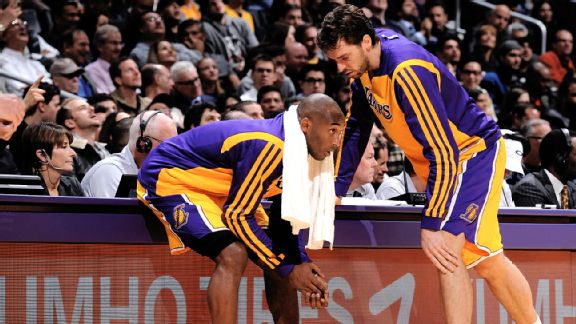 Andrew D. Bernstein/NBAE/Getty ImagesKobe Bryant and Pau Gasol will be on opposite sites when the Lakers play in Chicago on Christmas Day.
While the NBA regular season is still roughly 2 ½ months away from tipping off, it's never too early to take a look at some of the marquee games that could end up shaping the
Los Angeles Lakers
' inaugural campaign with coach Byron Scott at the helm.
The league released the entire 2014-15 season schedule Wednesday. Seeing the challenges that lay ahead for the Lakers on a night-to-night basis is a stark reminder of why ESPN.com's panel of NBA analysts picked L.A. to finish 12th in the Western Conference with a 30-52 record.
The outcomes of the games can only be predicted at this point, but the 82 contests the Lakers will play from late October through mid April? They're ripe for dissecting.
For instance, the Lakers' normal marathon-like "Grammy" road trip has been nearly cut in half, from seven games in 12 days last season to four games (New York, Milwaukee, Orlando and Cleveland) in nine days this year.
The All-Star break? It's been extended from a long weekend to a full week-long rest, as the Lakers play Feb. 11 in Portland and then don't play again until Feb. 20th.
Back-to-backs? L.A. only has 16 of them (tied for the league minimum) after 19 last season.
Familiar faces? They'll take a trip down memory lane when they play at Atlanta for the first time Nov. 18 (Kent Bazemore), at Detroit on Dec. 2 (
Jodie Meeks
), at Portland on Jan. 5 (Chris Kaman) and at Milwaukee on Feb. 4 (
Kendall Marshall
).
And of course, their trip to Madison Square Garden on Feb. 1 to play Phil Jackson,
Carmelo Anthony
and the
New York Knicks
is sure to attract a lot of attention.
With those highlights out of the way, here are 10 more games to watch for the Lakers in '14-15:

1. Home vs. Houston Rockets – Oct. 28:
As the Lakers turn the page with the season opener, they'll be forced to revisit a forgettable chapter from their past with
Dwight Howard
coming to town. While the novelty of Howard coming back to play at Staples Center has worn off since he did it last year already, the game will have a little extra gravitas assuming
Kobe Bryant
is on the court. Bryant missed all four of the Lakers' games against the Rockets last season because of injury. The game also marks a chance for
Jeremy Lin
to get some revenge against his former team after Howard and
James Harden
made comments that slighted him. Not to mention, it will be rookie
Julius Randle
's NBA debut.

2. Home vs. L.A. Clippers – Oct. 31:
The Lakers should get a sense for just how scary their season could end up turning out on Halloween, facing the Clippers for the first of four matchups on the year. After beating the Clippers in the season opener by 13 points to start off 2013-14, the Clippers went on to demolish their Staples Center cohabitants by an average of 35.7 points in their next three meetings. An added wrinkle will be Jordan Farmar wearing red, white and blue instead of purple and gold.

3. Home vs. San Antonio Spurs – Nov. 14:
L.A. will welcome in the defending champs relatively early on in the season. Having an aging
Tim Duncan
come to L.A. on his discounted contract while still playing for a contender will inevitably re-spark the conversation revolving around Bryant's $48.5 million extension. And he'll be especially vulnerable to criticism if he, personally, or the Lakers, as a team, stumble out of the gate.

4. Home vs. Minnesota Timberwolves – Nov. 28:
Not only does this game promise two of the more electric rookies in next year's class in
Andrew Wiggins
(if the much talked about trade goes through) and
Zach LaVine
, but it could also end being a preview of one of the teams that L.A. will be angling against for lottery positioning late in the season if things don't go the Lakers' way.


5. Away vs. Boston Celtics – Dec. 5:
No matter what the expectations are for either team, it's always a big game when the Lakers play in the TD Garden. This will be L.A. native
Nick Young
's first game against the Celtics since joining the Lakers – he missed both games last season, one because of an injury and one because of a suspension stemming from his fracas in Phoenix. Plus, Lakers fans will get a look at
Marcus Smart
, the combo guard that Boston took one spot ahead of L.A.'s No. 7 position in June's draft, allowing Randle to fall into the Lakers' lap.

6. Home vs. Oklahoma City Thunder – Dec. 19:
Not only are
Kevin Durant
and
Russell Westbrook
always an entertaining pair to see doing their thing, but they could end up being the Lakers' top free agency targets in 2016 (Durant) and 2017 (Westbrook). It will be interesting to see if the normally cool L.A. fan base starts the recruiting efforts early.

7. Away vs. Chicago Bulls – Dec. 25:
For the 16th straight season, the Lakers will be playing on Christmas Day. This holiday will be a twist in a couple of ways for L.A., however. The Lakers will be playing on the road for the first time since 2006 (when they went to Miami to play Shaquille O'Neal and the Heat) and they'll be going up against
Pau Gasol
for the first time since he left to join the Bulls.


8. Home vs. Cleveland Cavaliers – Jan. 15:
The league's newest super team will come to town with
LeBron James
,
Kevin Love
(presumably) and Kyrie Irving already having had about 40 games under their belt to mesh their games with one another. Will the Cavs be clicking on all cylinders by that point or still be under the microscope as a work in progress?

9. Home vs. Brooklyn Nets – Feb. 20:
Not that the Nets should be all that compelling next season with some of the offseason moves they've made to change their team, but this one is significant because it's L.A.'s first game on the calendar following the trade deadline. If the Lakers are movers and shakers at the deadline, this could be the debut of a dramatically different roster.


10. Home vs. Sacramento Kings – April 15:
The Lakers finish out the regular season with a pair of games against the Kings, first on the road on April 13 and then two days later wrap things up at home against
DeMarcus Cousins
& Co. Optimistic Lakers fans will tell you these games will matter because of playoff positioning. Pessimistic ones will assume that this will be a tank-a-thon with two teams already eliminated by postseason contention by that point.