Los Angeles Lakers:

2014 draft
June, 26, 2014
Jun 26
9:23
PM PT
EL SEGUNDO, Calif. -- The
Los Angeles Lakers
came into draft night Thursday determined to acquire another pick to pair with their No. 7 selection in the first round.
Mission accomplished.
The Lakers were able to buy the
Washington Wizards
' No. 46 pick in the second round, according to general manager Mitch Kupchak. The Wizards selected Missouri point guard
Jordan Clarkson
on behalf of the Lakers. The Lakers spent $1.8 million on the pick, according to a team source. NBA teams are allowed to spend up to $3 million per season on cash deals to buy a pick, sweeten a trade, buy a player out of a foreign contract, etc.
"A ball-handling guard that we're excited about drafting," Kupchak said. "We're looking forward to getting him in Los Angeles as soon as possible. Hopefully he'll participate in summer league, which starts in Las Vegas in about two weeks."
Clarkson averaged 17.5 points, 3.8 rebounds and 3.4 assists per game in his lone season with the Tigers after transferring from Tulsa after his sophomore season.
"It's a blessing, man," Clarkson told reporters on a conference call, reacting to being acquired by L.A. "I feel like I'm in a good situation. It was a long process, a long draft process. I worked real hard. And I feel like I'm in the right situation. I just have to make the best out of my opportunity."
Clarkson, 22, is a big guard, measuring 6-foot-5, 186 pounds.
"He's got great size," Kupchak said. "Good athlete. Really good size. Good defender. Excels probably at attacking the rim. Maybe not as good of a shooter, probably, as he will be when he works on it. He left school a year early. He transferred. So, I'm sure he was thinking that maybe he would get drafted higher and maybe he has a chip on his shoulder -- an expression you've heard today -- to come out and prove something. But we liked his size and we liked his skill at that position."
He was rated as a late first-round pick on several draft boards and was rated even higher before struggling with his shot for Missouri, shooting just 28.1 percent from 3-point range last season. Kupchak said the Lakers believed Clarkson could have gone as high as the middle of the first round.
"To get a guy like that at 46, we're pleased," Kupchak said.
Clarkson described what it was like to drop on draft night.
"My agent was telling me early on that I may go in the late first round but be prepared for anything to happen," Clarkson said. "So I was, and I just took it in stride. Now all I can do is use it as motivation to really push me in this next level."
June, 25, 2014
Jun 25
8:33
PM PT
When considering the
Los Angeles Lakers
' legacy of success, a long line of dominant big men comes to mind. From George Mikan to
Wilt Chamberlain
, Chamberlain to
Kareem Abdul-Jabbar
, Abdul-Jabbar to Shaquille O'Neal and O'Neal to
Pau Gasol
, the Lakers have always been able to rely on some of the league's premier pivot men.
While the league has transformed into a more open-floor game full of players capable of manning multiple positions, the fact remains that the basket is still 10 feet from the floor and having talented bigs on your team is a natural advantage.
The pool of forwards that the Lakers either brought in for workouts or eyed from afar during the pre-draft process is extremely varied.
There are one-and-done players and a four-year college vet. There are health question marks for some, skill question marks for others. There is the promise of upside for some and the sense that others are already bumping their heads against the ceiling of their potential.
Here's a look at seven frontcourt prospects whom the Lakers could end up targeting with the No. 7 pick in the draft:
Julius Randle
6-9, 234 pounds | 19 years old| Kentucky
[+] Enlarge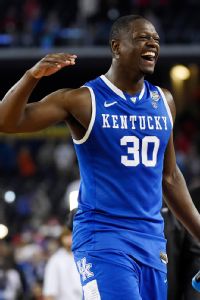 Robert Deutsch/USA TODAY SportsJulius Randle could be a major star in L.A., but some are worried about a previous foot injury.
From his 10,000-megawatt smile to the confident way in which he carries himself, there's just something about Randle that screams "future star." In a town like L.A., it's always a bonus to be a player who can master the media as well as you can take care of business on the court.
The Lakers are more concerned with what Randle can do to help them win games, of course. In his lone season at Kentucky, Randle proved he was plenty capable in that category, helping the Wildcats reach the NCAA title game thanks to averaging 15.0 points on 50 percent shooting and 10.4 rebounds as a freshman.
"I will say this," said ESPN college basketball analyst Fran Fraschilla on a conference call with reporters Wednesday. "It's very rare that you see Julius Randle take a night off, and I think it's going to serve him well in the league. He's been knocked down a few pegs on these mock drafts, and I do think that, while I thought he was overrated coming into college -- and only slightly, by the way -- I think he's underrated coming into the league."
Based on Randle's production and NBA-ready physique, he would seem like a no-brainer if he were still on the board when it's the Lakers' turn to select. Not so fast. Randle suffered a broken right foot in high school and there is a pin inside his foot that may need adjusting with an additional procedure this summer.
Randle shrugged off the story as merely a plant by another team to have his stock drop so he would be available for it to draft him. He added that in the professional opinion of the specialist he recently visited to have his foot checked out, there is nothing that needs to be done.
There was some speculation that Randle had been given a guarantee by the Lakers at No. 7 because he turned down a second workout with Boston at No. 6 after he had visited with L.A., but Randle's agent, George Bass, told ESPNLosAngeles.com that is not the case.
Regardless, Randle will be tough for L.A. to pass on if he is around when it's the Lakers' turn to draft.
Chance he'll be available:
Possible. ESPN's Chad Ford has the Lakers taking Randle in his Mock Draft 10. However, there is still the pesky issue of whether a team actually leaked the news about his foot or not. Say, hypothetically, the Celtics were the culprit. They could end up snagging him right before the Lakers are to pick.
June, 24, 2014
Jun 24
6:50
PM PT
With no head coach to run the team and up to 12 open roster spots to be filled for next season, there is very little that's settled about the
Los Angeles Lakers
as they head into this week's NBA draft.
The one position they have covered to some extent is the backcourt, with two future Hall of Famers in
Kobe Bryant
and
Steve Nash
under contract with L.A. to embark on their 19th seasons in the league.
The pair played only a combined 21 games last season, however, and with the uncertainty surrounding their health, plus the competition at guard in the Western Conference, going after a guard in the draft makes a lot of sense for the Lakers.
During a nine-game stretch from late February through early March of last season, the Lakers faced Memphis'
Mike Conley
, Sacramento's
Isaiah Thomas
, Portland's
Damian Lillard
, New Orleans'
Eric Gordon
, the L.A. Clippers'
Chris Paul
, Denver's
Ty Lawson
, followed by back-to-back games against Oklahoma City's
Russell Westbrook
and another two-game set against San Antonio's
Tony Parker
.
It's a brutal league, quite simply, if you don't have the right personnel.
Here's a look at seven guard prospects the Lakers could end up targeting with the No. 7 pick in the draft:
Dante Exum
6-6, 196 pounds | 18 years old| Australia

[+] Enlarge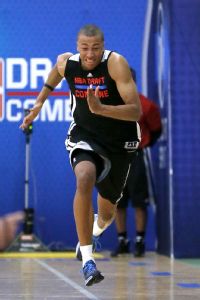 AP Photo/Charles Rex ArbogastDante Exum is unlike many players in the NBA now, but the chances of the Lakers being able to pick him are remote.
The Lakers' interest in Exum was one of the worst-kept secrets in the league in the months leading up to the draft. Fellow Aussie
Luc Longley
, who is an assistant coach on the national team, leaked the news all the way back in January that the Lakers had inquired about the point guard. The fact Exum signed with Rob Pelinka as his agent -- who also represents Kobe, as well as
Chris Kaman
and
Wesley Johnson
-- only fueled speculation that both sides were trying to find a way to land him in L.A.
Exum burst onto the scene after averaging 18.2 points and 3.8 assists at the 2013 FIBA Under-19 World Championship in Prague last summer.
"I've only known of him for the last three years, probably," said San Antonio's
Aron Baynes
, a teammate of Exum's on the Australian national team. "That's about as much as I've known him, but even in the last three years, his development [has] just been huge. I'm excited to see where he goes and even more excited to play with him over the summer and see what he can bring to the table for not only the national team, but for Australian basketball over here in the states."
Baynes struggled to think of a player currently in the NBA that Exum could be accurately compared to.
"He's a big point guard," Baynes said. "He's a smooth player, but I wouldn't really say anyone right now that plays similar to what he does. That's what makes him so interesting. He brings a different dimension to the point guard role."
San Antonio's
Patty Mills
, another Australian, also chimed in on Exum.
"From what I've seen last year playing with him on the national team, he's got huge potential," Mills said. "I think he's going to have a big impact here in the NBA and obviously for us on the national team, so I'm really excited for him and wish him all the best."
Mills broke down Exum's game.
"He's very long," Mills said. "He shoots the ball well. He's athletic. He can handle it very well as well, but his height and his athleticism lets him get to the rim with ease no matter who is guarding him.
"I think he obviously still has a lot of years to fill into his body and once he does that, he'll be tough."
Chance he'll be available:
Next to none. Exum is slated to go No. 3 to Philadelphia in Chad Ford's latest Mock Draft 10 for ESPN.com. The Lakers would have to move up in the draft to try to land him and they just don't have enough assets to pair with their pick to make that a feasible scenario.
June, 20, 2014
Jun 20
8:14
PM PT

By J.A. Adande
ESPNLosAngeles.com
Archive
Joel Embiid
is shaping up as the latest incarnation in the storied lineage of
Los Angeles Lakers
centers. He's got the back problems of
Dwight Howard
and the foot problems of Shaquille O'Neal and
Pau Gasol
.
That doesn't mean the Lakers should not take him if the two screws implanted into the navicular bone in his right foot Friday scare away enough teams to leave Embiid available at the No. 7 pick. At the moment he's a better fit for them than any other team in the draft's top 10.
With
Kobe Bryant
under contract for two high-cost seasons, the Lakers don't need to a pick for the long term. They need to extract as much as they can from what's left of Bryant's career. With that mentality, it wouldn't be as devastating to them if Embiid's career is cut short by injuries. Even one or two high-level seasons would suffice. It's the same risk they took when they brought in Howard fresh off back surgery in 2012; they shouldn't get shy because it didn't pay off.
Besides, the chances of getting a long-term franchise cornerstone at No. 7 are slim. None of the seventh picks from 2003 to 2008 has stayed with his team for the duration of his career. (Two of them,
Kirk Hinrich
and
Corey Brewer
, are back with their original teams after going elsewhere).
The long-term success of the Lakers isn't strictly dependent on striking gold in the draft. They've shown they are capable of landing major free agents or making trades with confidence that players will re-sign with them. Hearing
Julius Randle
glow about the mystique of the Lakers and his admiration for Kobe after his workout in L.A. this week served as a reminder that the Lakers still resonate with the up-and-coming generation of players. They also have the financial means to go into the luxury tax to assemble and maintain their roster.
No other team with high draft picks has that fallback. They all need their picks in this deeper-than-normal draft to click if they're going to have success.
The Lakers' fan base wouldn't freak out if they picked Embiid. While O'Neal had that problematic big toe and Gasol has dealt with plantar fasciitis, the Lakers don't have the star-crossed injury history of say, Portland, with its litany of limping big men from
Bill Walton
to
Sam Bowie
to
Greg Oden
that would immediately make Laker fans fear for the worst.
Actually, Walton's Portland years -- one great season, four injury-plagued ones -- would be more than enough for the Lakers from the No. 7 spot. Walton played more than 58 games in a season only once for the Trail Blazers, but that once was enough to get him a Most Valuable Player award, a championship and a cherished spot in the hearts of all Blazers fans. That might be more than Embiid fulfilling his potential, Bryant returning to 80 percent of his capacity and a key free agent could accomplish for the Lakers ... but at least Embiid could entice with possibilities.
There's no player in this draft who's guaranteed to make his team into an annual championship contender. Among the players the Lakers have brought in for workouts this week were Randle,
Marcus Smart
,
Aaron Gordon
,
Nik Stauskas
and
Elfrid Payton
, who is rocketing up the mock draft lists and impressed the Lakers in his session Friday. All could be good, none has the potential of Embiid.
If the Lakers take Embiid and it doesn't work out, there won't be the pervading sense of "What if?" that haunts the Trail Blazers with Oden and
Kevin Durant
. For the Lakers, it's always, "What's next?"