Los Angeles Lakers:

Chris Duhon
June, 29, 2013
6/29/13
5:14
PM PT
By ESPNLosAngeles.com
ESPNLosAngeles.com

EL SEGUNDO, Calif. -- The
Los Angeles Lakers
have waived guard
Chris Duhon
, it was announced Saturday by the team in a news release.
The team said general manager Mitch Kupchak made the announcement.
In 46 games (nine starts) last season with the Lakers, Duhon averaged 2.9 points, 1.5 rebounds and 2.9 assists in 17.8 minutes while recording three double-figure scoring games, 10-plus assists twice and one double-double.
Duhon was a point guard at Duke from 2000-04. He then played for the
Chicago Bulls
,
New York Knicks
, and
Orlando Magic
before joining the Lakers.
November, 19, 2012
11/19/12
1:34
PM PT

By Brian Kamenetzky
ESPNLosAngeles.com
Archive
The early stages of the NBA season are full of surprises and interesting numbers. Whatever happens now might be an indicator of what's coming, but it might not. Some early trends are more sustainable than others, and differentiating between the two becomes a sport onto itself.
I call it "Yeah, but" season. As in "Yeah, Player/Team X might be doing ____, but ..."
For the Lakers, you could start with "Yeah, the Lakers are 5-5, but Dwight Howard is still healing and Steve Nash has barely played. And so on. Not every construction affords that kind of naked optimism, but all are worth investigating.
Here are three more potential "Yeah, but" scenarios facing the team, and thoughts on how things will play out going forward.
1. The way Kobe Bryant is playing, the Lakers can't help but be contenders at the end.
Bryant, whose triple-double paced
Sunday's 119-108 win over Houston
, is playing next-level ball even relative to his own lofty standards: 26.4 points per game, 5.7 rebounds, 5.4 assists, 52.8 percent from the floor, 40.8 percent from downtown.
His metrics are stunning
. Bryant is currently obliterating career highs in true and effective field goal percentages, has never posted a higher with assist rate, leads the league in win shares, and his PER (27.4) would be the second best of his 17-year run.
Basically, he's spent the last 10 games
giving the death stare
to Father Time.
Yeah, but...
The percentages will fall, because even Kobe eventually goes back to career norms. He's never been better than 47 percent from the floor, so expecting him to remain above 50 while playing 2-guard at 34 years old? Not realistic. Neither is 40 percent from the arc for a guy who hasn't been over 33 percent since '08-'09. Moreover, we've seen this, or something like it, before. Last season, Kobe was incredible over the first few weeks of the season, and
hit a wall as it wore on
, shooting 40 percent in February and 39 percent in March.
Maybe, except...
Sure, the numbers will level out, but overall his performance doesn't necessarily have to. As many (myself included) suggested might happen with Nash, Dwight Howard, and Pau Gasol around, Kobe is adopting a less-to-do-more philosophy this year. His shots per game are down from 23 last season to 17.8, and his usage has dropped from a league leading 35.7 percent to 29.1, his lowest figure since '03-'04 (not coincidentally, with the last Lakers SuperTeam). All of this has happened without Nash, the guy who will unquestionably make life easier for Kobe, removing giant chunks of ball handling duties while setting him up for clean looks around the floor, or the debut of D'Antoni, an offensive genius who will undoubtedly find creative ways to free Bryant up.
Bottom Line:
Sure, Bryant won't finish the year with a true shooting percentage of 63.8, but as long as he stays healthy -- always the wild card -- and doesn't change his approach, the basic thesis remains in play: Kobe has an excellent chance of logging his most productive and efficient season in recent memory.
2. The Lakers are now piling up points. Showtime is back!
Yeah, but...
They're giving them up by the bushel, as well. In their two most recent wins, Phoenix and Houston, two middle-third offensive teams, torched L.A. through three quarters, both shooting well over 50 percent from the floor while reaching 84 and 87 points respectively. They scored at will, the Lakers just scored at will-er. Real teams won't give up points like the Suns and Rockets and will feature plenty of offensive firepower, as well. The Lakers have to tighten up defensively or ultimately they'll be short some steak for all the sizzle.
October, 26, 2012
10/26/12
10:43
AM PT
For the Lakers to make a legitimate championship run, the reserves will have to perform considerably better than last season, when they were the least productive bench in the entire league. Will that happen? We ask a member of the second unit, Chris Duhon.
October, 24, 2012
10/24/12
9:51
AM PT
As a rule of thumb, preseason games aren't used to predict regular season and playoff success. A strong October forecasts little about April-June, just as a weak October doesn't mean a struggle awaits. (Except in the case of
the Bobcats, whose current 1-5 clip
is likely a solid indicator of what lies ahead). Beyond rust gathered by months away from meaningful basketball, any extenuating circumstances render training camp results even fuzzier. For example, if a team is integrating new faces and/or a new system, confusion is expected. One can only glean so much information from a squad bit early by the injury bug. And should veteran players sit out games as a precautionary measure against "you name it," the final score can be tossed out the window.
In other words, the preseason hasn't really taught us much about the Lakers.
Today's game against the Clippers may not buck that trend.
Kobe Bryant is likely to sit out the action with a foot injury
, and Dwight Howard will be a game-time decision due to lingering soreness after his debut Sunday. Yet another game without the starting five intact, and
the same may hold true for the Clips' first five as well
. Whatever comes from this contest, it's unlikely to reveal much about the championship prospects for the new-look Lakers. That said, a handful of specifics could be revealed, even with incomplete rosters on both sides. Here are five things we might learn about the Lakers tonight.
1) Who's got the edge at backup shooting guard?
For those seeking silver-ish linings to Kobe being sidelined, at least Mike Brown will get the rare opportunity to see Devin Ebanks and Jodie Meeks in extended minutes at shooting guard, where he's earmarked both to play with a full roster. As the coach explained during Monday's practice, in a perfect world, he'll employ a big man rotation of Howard, Pau Gasol and Jordan Hill, with Antawn Jamison the primary backup at small forward behind Metta World Peace. This leaves Ebanks and Meeks penciled in for Kobe's leftovers. Unfortunately, Hill's absence has forced Brown to slide Jamison to the 4, Ebanks to the 3 and clarity to the side.
With Hill potentially on hand for a big man rotation with Gasol and Robert Sacre tonight, Brown can perhaps watch Ebanks and Meeks in his preferred spot. Brown has been complimentary of both, but their skill sets are fairly different and equally useful. Ebanks is more of a slasher, with a higher upside as a rebounder, defender and general athlete. Meeks is the more proven shooter, and this team desperately needs floor spreaders. Talking with the coach Monday,
he didn't tip his hand much about the direction he's headed
, but acknowledged the small sample size for making a decision. Perhaps this game can narrow down his decision.
October, 24, 2012
10/24/12
8:32
AM PT
Special guest Chris Duhon explains the goals of the preseason from a player's perspective, and what the Lakers have and have not accomplished while negotiating early injuries and a brand new offense.


October, 14, 2012
10/14/12
12:32
AM PT
LOS ANGELES --
Robert Sacre
was already on to the part where he needed to get his mind right to deal with all the sympathy texts. Missouri point guard Marcus Denmon had been chosen by the
San Antonio Spurs
, 59th overall in the 2012 NBA draft and the
Los Angeles Lakers
, a team he'd never even worked out for, had the last pick.
Sacre's one-year-old son Quinton was tired and ready for bed. His family had gathered at his grandparents' house in Villeplatte, Louisiana started getting concerned.
That's probably it, Sacre thought.
"But I figured I'd been watching for the last four and a half hours, might as well finish it out," Sacre said. "Mentally, I was already preparing for all the sympathy texts like, 'Don't worry, everything is going to be alright' and trying to get my head right."
And then he saw it. Or heard it. Who remembers the details now?
The Lakers took him with the 60th and last pick in the NBA draft.
In some snarky corners of the sports world, they call that distinction Mr. Irrelevant. But so far this preseason, Sacre has been anything but.
The 23-year-old rookie center from Gonzaga has started all three of the Lakers' preseason games in place of the injured
Dwight Howard
. Saturday night in the Lakers' 99-86 loss to the
Utah Jazz
he was far more than a place-holder, finishing with nine points, 10 rebounds and three blocks in 27 minutes.
"It's still pretty surreal," Sacre said. "I'm not even going to lie. All the stars are aligning for some reason.
"I'm starting. And when I look around, there's Hall of Famers on either side of me."
This won't last of course. Howard should be back in the next few weeks. So will
Jordan Hill
. And even if Howard takes a while to round into shape, Lakers coach
Mike Brown
has indicated he'd start
Pau Gasol
at center in a regular season game, not Sacre.
But for a guy who began his professional career bracing for the worst, things have taken a pretty nice turn.
"I'm not going to hold my breath because anything can happen," Sacre said, when asked if he thought he would make the Lakers' roster. "But I know I can play with these guys now. I think that's the biggest thing I've been able to show."
This would all be another nice training camp story if there wasn't a very compelling reason for the Lakers to keep Sacre and several other young players this season.
October, 13, 2012
10/13/12
7:45
PM PT
LOS ANGELES --
Los Angeles Lakers
guard
Kobe Bryant
returned to the starting lineup Saturday against the
Utah Jazz
after missing the Lakers exhibition game Wednesday night with a strained shoulder.
Lakers center
Dwight Howard
and forward
Jordan Hill
remained out with back injuries while Lakers coach
Mike Brown
said back-up point guard
Steve Blake
was unlikely to play much if at all Saturday in order to give more playing time to second-year guard
Darius Morris
and veteran guard
Chris Duhon
.
"Nothing is wrong with Steve Blake," Brown said. "If he doesn't play, he and I have already talked about it. I'm going to continue to take a look at different combinations. So tonight I'm going to play Darius Morris at some back-up point guards. And I'll probably play somebody else some minutes there the next game."
After participating in practices on Thursday and Friday, Bryant was expected to play Saturday but the Lakers held off making a final decision until game time.
Bryant said he initially hurt the shoulder Tuesday during practice when he dunked over teammate
Antawn Jamison
.
At the time, he didn't feel pain and finished the practice.
Bryant then spent another 35 minutes on the court working with assistant coach Phil Handy on shooting and ballhandling drills. Later Tuesday night, though, his shoulder swelled up.
"(Tuesday) night it was very painful," Bryant said Wednesday night. "It hurt to even lay down. But it's a lot better right now."
Bryant had surgery on his right shoulder in 2003, but said this injury is completely unrelated to that one and he didn't need an MRI.
Third-year guard
Jodie Meeks
started in Bryant's place Wednesday and would do so again if he missed another game.
October, 12, 2012
10/12/12
7:09
PM PT
EL SEGUNDO, Calif. -- It doesn't take a math whiz to look at the
Los Angeles Lakers
' backcourt options and notice there are four players on guaranteed contracts who are each generally regarded as point guards. Four point guards on a team that can dress 12 every game seems like a bit much.
So it's not all that surprising to read in
ESPN.com's Marc Stein's piece Friday
that the Lakers are very open to moving
Steve Blake
and/or
Chris Duhon
.
As Stein writes:
Sources with knowledge of the Lakers' thinking say that the team is already trying to create a backcourt opening, having made it clear to the rest of the league that Chris Duhon and Steve Blake are available via trade to any interested party willing to absorb one of those contracts.

While it's true that no trade is imminent in either case, that's also the norm in October when outlooks are still rosy in pretty much every NBA training camp and teams generally aren't ready to move. Could the Lakers eventually find a taker for one of those vets? Blake has one season left on his contract after this one valued at $4 million, but Duhon's $3.75 million salary in 2013-14 is unguaranteed, which makes his contract a more attractive acquisition.
What that means in the short term is that Lakers coach
Mike Brown
's rotation is changing quite a bit from game-to-game as Blake, Duhon and second-year guard
Darius Morris
vie to be
Steve Nash
's primary backup.
"Nobody has really locked up that backup point guard spot yet," Brown said. "[Saturday] I'm thinking about giving Darius an opportunity and giving Duhon an opportunity another day and then maybe going back to Blake.
"I'm not sure yet, but I'm going to keep giving guys opportunities. Nobody has really locked up that backup point guard spot yet."
While the Lakers pretty much know what they'll get from Blake and Duhon, Morris is still something of a wild card. The Lakers like his size (6 feet 4), defensive ability and potential, but Brown says he needs to see him "play under control" and "stay within himself a little bit more."
Both of those characterizations are pretty common for young players, especially those who only get limited opportunities as rookies on a veteran team. Morris played in just 19 games as a rookie, averaging 8.9 minutes in those games. But when he got a chance to play on the Lakers summer league team, he shined, averaging 15.2 points, 4.2 assists and 3.6 rebounds in nearly 29 minutes per game in the five games he started.
Brown said he can also see both Morris and Blake playing minutes at the shooting guard position this season.
"Darius is a big guard so if he's out there, he can play the two sometimes," Brown said. "Same with Steve [Blake], he can play the two also. I look at them as guards, rather than just point guards."
October, 6, 2012
10/06/12
6:02
PM PT

By Dave McMenamin
ESPNLosAngeles.com
Archive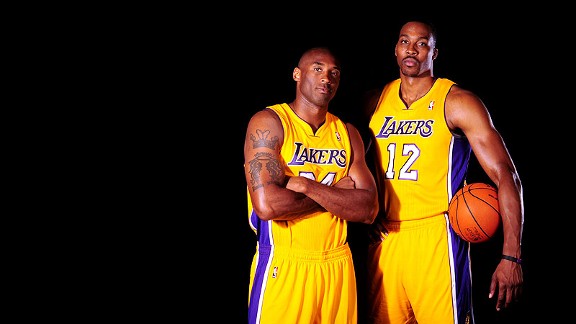 Noah Graham/NBAE via Getty ImagesKobe Bryant and Dwight Howard figure to have their fingerprints all over this coming Lakers season.
Toward the end of a recent practice,
Dwight Howard
hovered over the ball rack in the
Lakers
' facility and idly picked up the basketballs one by one as if he were inspecting grapefruits in the produce aisle.
After palming the regulation-size basketballs with ease, Howard turned his attention to the "Big Ball," an oversized basketball with a 36-inch circumference (opposed to the regulation 29.5-inch). The big man scooped the Big Ball up with no problem, throwing his arm around it every which way as the comically large ball stayed suctioned to his hand.
Soon after the 26-year-old Howard placed the ball down, the 34-year-old
Kobe Bryant
came over and placed his noticeably smaller hand up to Howard's big mitt.
The symbolism was easy to see. You could interpret it as both Kobe and Dwight having their fingerprints all over everything the Lakers do this season. You could also see it as Bryant and Howard already being hand in hand, ensuring team harmony.
Even without any deeper analysis, it's important to note that it happened.
The exchange encapsulated just how different last season's lockout-shortened training camp was compared to the way this year's camp already feels like.
There is room to breathe this time.
[+] Enlarge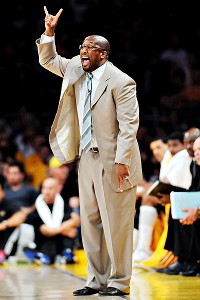 Jayne Kamin-Oncea/US PresswireMike Brown's second year with the Lakers has begun with a less frenetic pace, offering more of a chance to teach and build relationships.
There is space for those natural, hard-to-measure but oh-so-valuable camaraderie-building moments to occur. There is opportunity for the basketball geniuses the Lakers have collected to share their knowledge of the game with one another. There's a palpable, positive vibe surrounding the daily proceedings.
Even before training camp started, there were other Lakers teammates coming together like Bryant and Howard.
Steve Nash
invited
Steve Blake
and
Chris Duhon
to Phoenix for a sort of Point Guard Summit, where the trio not only got to know one another and form a bond off the court, but to also put in what Lakers coach
Mike Brown
likes to call "sweat equity" on the court. It will be their jobs, ultimately, to make the new offense work and so they took it upon themselves to put their heads together and learn it.
It was a far cry from the offseason activity Blake and a teammate were involved with last summer, when he and
Shannon Brown
got into a
public disagreement over which collective bargaining proposal Blake was in favor of
.
The start of last season felt rushed at best, awkward most of the time and downright doomed at worst. The lockout that lasted all the way into December ruined the rhythm an NBA season is supposed to have. The overruled
Chris Paul
deal left
Pau Gasol
exposed as trade bait, led to
Lamar Odom
's ouster to the team that beat the Lakers the year before and was a foreboding sign of the haphazard season the Lakers had ahead of them.
Training camp was microwaved instead of slow-roasted. Rather than a month worth of practices and eight exhibition games to get his team ready for the season, all Brown had was two weeks, two exhibition games and an intrasquad scrimmage.
"This (year) is fun," Brown said. "And it's fun from the standpoint that you can make sure that you're taking this one step at a time, that you're really using this as a process and you're not trying to get to the end of the journey right away."
September, 27, 2012
9/27/12
3:42
PM PT
Our last podKast before training camps begins. On several levels, we're quite excited about this timeline.
The show can be heard by clicking on the module and a breakdown of talking points can be found below:



- (1:00):
After taking a moment to celebrate Metta World Peace's offseason conditioning, we turn to more somber news on the health front.
Steve Blake suffered a (very strange) puncture wound to his left foot
, and will therefore be unable to participate in impact exercises for three weeks during training camp. Given that Blake could miss some scrimmages and preseason games, does this situation present an opportunity for Chris Duhon or Darius Morris to earn the spot backing up Steve Nash?
- (10:00):
Players 6-10 in #NBArank were announced Tuesday, and Kobe Bryant came in at sixth with a bullet.
BK already shared some thoughts
, so there's no need to rehash too much of what's there. Plus, as I've noted many times on the blog, I find the concept of ranking players fairly tedious, in large part because people so often work themselves into a lather. Particularly when it comes to The Mamba, whose die-hard followers can be a sensitive lot. It's important to remember hairs are being split between great players. As Brian noted, that Bryant's still part of this discussion after 16 seasons is what matters most and is most remarkable.
Having said that, I also gave Kobe a "10" (the highest possible number) when I filled out my ballot, so direct any complaints somewhere else. And those insulted by Kobe's standing can perhaps take solace in the following. Last year, at age 33, Kobe was seventh in this project. This year, at age 34, he's sixth. Thus, if trends hold, he'll land the No. 1 spot at age 39!
- (18:50):
Jason Terry made small headlines recently with
his stated mission of "killing" the Lakers and Heat
as part of a Celtics squad aiming for a title and none too fond of L.A. or Miami.
- (21:20):
The Brooklyn Nets cheerleader outfits are...
eye-catching
.
September, 24, 2012
9/24/12
9:01
AM PT
Realistically speaking, it's hard to ask for a much better starting lineup than Steve Nash, Kobe Bryant, Metta World Peace, Pau Gasol and Dwight Howard. But do Steve Blake, Jodie Meeks, Devin Ebanks, Antawn Jamison and Jordan Hill form a good enough second unit? We debate the question.
September, 19, 2012
9/19/12
4:55
PM PT
When
Dwight Howard
arrived in L.A., he didn't show up alone. Point guard
Chris Duhon
(along with forward
Earl Clark
) also were part of the Lakers' haul, and the Dukie's presence makes for a potentially intriguing battle at backup point guard.
Steve Blake
is the incumbent, and I'm guessing the current favorite. Mike Brown stuck with the Maryland product through more thin than thick, which makes me believe the job is Blake's to lose. Then again, Brown's alternatives last season were limited to rookies
Andrew Goudelock
and
Darius Morris
, which tied his hands to a certain degree. A veteran like Duhon might do a better job pushing Blake, and perhaps even steal the gig. At the very least, he should make matters interesting.
The new Laker joined us in studio Monday. The show can be heard by clicking on the module, and a breakdown of talking points can be seen below.



- (:36):
Duhon relives his front row seat for "The Dwightmare." The situation was every bit as bizarre from a locker room perspective, and while players claimed otherwise at the time, Duhon admits it was a distraction for the team.
- (4:15):
In the most recent "Sunday Conversation,"
Howard shared how trying to please everyone ultimately created a mess.
As an Orlando teammate, Duhon sensed that instinct from Dwight, along with the center's desire to make one more playoff run with the Magic. Thus, the ill-fated decision to waive his early termination option.
- (7:22):
What is the free agency process like in general, whether for superstars or a role player like Duhon?
- (12:36)
: Trade rumors and scenarios were swirling 24/7 during "The Dwightmare," with players like Duhon often mentioned with descriptors like "throw in," "filler," and "a bad contract Orlando will demand to move." The point guard took that chatter in stride, rather than personally.
- (13:30):
Duhon discusses his role on the Lakers, and whether last season's 3-point shooting (a career-high 42 percent) is sustainable.
- (16:20):
We discuss the dynamic of so many talented players on the same roster. In "superhero" terms, Kobe Bryant will probably the role of "Batman," with Howard a supremely talented "Robin," and Jodie Meeks "Aquaman."
- (19:37):
As Duhon learned firsthand, President Obama will talk some trash on the basketball court.