Los Angeles Lakers:

Houston Rockets
July, 8, 2013
7/08/13
8:08
PM PT

By Ramona Shelburne
ESPNLosAngeles.com
Archive
The
Los Angeles Lakers
have until July 16 to decide whether to use their annual one-time amnesty provision, or to give peace a chance.
Metta World Peace
, that is.
[+] Enlarge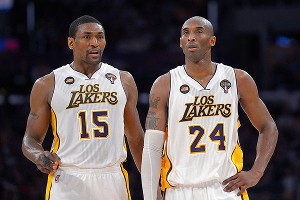 AP Photo/Mark J. TerrillKobe Bryant weighed in on the Metta World Peace amnesty talk, tweeting, "Personally I'd keep Metta and make a run with the unit we have and just add a few pieces #keepthepeace #lakersstilldeciding."
The veteran small forward is one of four players --
Steve Blake
,
Pau Gasol
and
Kobe Bryant
are the others -- on whom the Lakers can still use the amnesty provision to help lessen their luxury-tax burden next season. The Orange County Register reported Monday afternoon that "barring some late change," World Peace and his $7.7 million salary would be released via amnesty to help the Lakers save approximately $30 million in luxury-tax fees. The time frame to amnesty players is July 10-16.
Lakers sources indicated to ESPN that the team is still weighing the situation carefully and "looking at everything."
After agreeing to terms with veteran center
Chris Kaman
earlier in the day on a one-year, $3.2 million contract, the Lakers have only veteran minimum contracts remaining to fill out their roster.
Lakers guard Kobe Bryant made his feelings about the situation clear. Bryant first tweeted that "No game 7 win without Metta! This is a tough day for laker nation #misspeace #newcbacasualty," then followed it up with a subsequent tweet saying "Personally I'd keep Metta and make a run with the unit we have and just add a few pieces #keepthepeace #lakersstilldeciding."
While he was at it, Bryant offered his first public comments about center
Dwight Howard
's decision to leave the Lakers and sign with the
Houston Rockets
. Bryant had un-followed Howard on Twitter and also posted a photo of Gasol and Bryant together on the court via his Instagram account after Howard announced he had decided to join the Rockets on Friday.
"I wish d12 the best honestly," Bryant tweeted. "I just find it hard to follow players that wanna kick my teams ass #thatsjustme."
July, 8, 2013
7/08/13
7:54
PM PT

By Arash Markazi
ESPNLosAngeles.com
Archive
LOS ANGELES -- Dwight Howard's old avatar on Twitter used to be a picture of him in a
Los Angeles Lakers
uniform with the retired jerseys of George Mikan,
Wilt Chamberlain
,
Kareem Abdul-Jabbar
and Shaquille O'Neal hanging behind him.
Howard was expected to follow the Lakers' Hall of Fame lineage of centers but decided to leave L.A. less than a year after joining the team to sign with the
Houston Rockets
last week.
The two living legends in Howard's old avatar, which he immediately changed after committing to Houston, have not taken the news well.
On Monday, Abdul-Jabbar chimed in on Twitter and Facebook and wrote, "Dwight Howard is a perfect example of the fact that 'potential has a shelf life.' Laker fans should be patient and allow Mitch & company to prepare themselves to do some serious work in the free agent market."
O'Neal, while speaking at Daytona International Speedway on Saturday, said he wasn't surprised by Howard's decision to take less money to leave Los Angeles for a smaller market.
"It was expected," O'Neal said. "We've all been in L.A., and not a whole lot of people can handle being under the bright lights. Everybody wants to do it, but when you get there, there are certain pressures. I think it was a safe move for him to go to a little town like Houston. That's right, little town. I said it."
Both O'Neal and Abdul-Jabbar were critical of Howard even before he decided to leave the Lakers.
Abdul-Jabbar told the San Francisco Chronicle last month he met Howard only once and that Howard expressed an interest in learning from the former Lakers captain but he never again reached out to Abdul-Jabbar. "He's charming, he's charismatic, very nice young man," Abdul-Jabbar said. "Maturity-wise, he doesn't get it."
When Abdul-Jabbar was asked about teaching Howard the sky hook, he said, "At least he'd have an offensive move.
"He gets the ball on offense, oh my God, he doesn't know what to do. It's usually a turnover, people come and take the ball from him or tie his arms up. Offensively, he doesn't get it. Hasn't made any progress. We (the Lakers, when Abdul-Jabbar was a special assistant coach) played them in '09, and when I saw him this past season, he was the same player."
O'Neal was just as harsh in his criticism of Howard when he was on ESPNLA 710 last month.
"He's too nice," O'Neal said. "I'm a connoisseur of giggling and playing and all that and making you laugh and playing with the fans, but when I cross that line, I'm ready to tear your face off. I don't care who it is. You could put one of my aunts or uncles out there, and I'm going to give him these elbows in their chest and I'm going to throw it down in their face. That's what you have to do. ... He's just too nice. If I was him, I would get into the same mood I was in."
June, 17, 2013
6/17/13
5:54
PM PT
By Marc Stein and Ramona Shelburne
ESPNLosAngeles.com

When word began to circulate Saturday that the Clippers have weighed offering Blake Griffin and Eric Bledsoe to their Staples Center co-tenants for Dwight Howard in a
potential sign-and-trade swap after July 1
, that naturally made folks wonder where the Lakers stand in their quest to re-sign Howard when he becomes an unrestricted free agent.
Here's the latest:
• The Lakers have had several discussions with Howard's representatives over the past few weeks and remain confident that they will ultimately keep him with the franchise, even as he's made it clear he will entertain other suitors.
• Yet the Lakers also, according to sources, have not completely ruled out the idea of a sign-and-trade if they come to find next month that Howard is determined to leave. Sources say they are indeed leaning against sign-and-trade scenarios because they'd rather bank the resultant cap space from Howard's departure for the summer of 2014. But sources say they've adopted a keep-all-options-open approach. So they'll at least listen to just about anything.
• One source with knowledge of the Lakers' thinking said Saturday that any suggestion they could not philosophically allow themselves to make a major trade with the Clippers was "overblown." If the Clippers do indeed decide to formally offer Griffin and Bledsoe in a sign-and-trade package for Howard, indications are that it's a proposal the Lakers will certainly not dismiss outright.
• The threat of the James Harden-led Rockets signing Howard away from L.A. is very real to the Lakers, sources said, which means the Lakers will eventually be getting a sign-and-trade pitch from Houston as well. The Rockets will have the cap space to sign Howard outright after the expected shedding of Thomas Robinson's contract, but sources say that the Rockets will certainly attempt to convince the Lakers to take in return Omer Asik and Jeremy Lin in a sign-and-trade deal for Howard, thus theoretically keeping alive the possibility that Houston could preserve its cap space to pursue Chris Paul and possibly pair Howard with Paul.
• Asik
is
a quality defensive anchor at roughly half Howard's price. And Lin had the greatest success of his career under Lakers coach Mike D'Antoni. But sources maintain that the Lakers' main priority this offseason -- besides re-signing Howard -- is getting their financial house in order. Which is why the overriding expectation persists that L.A. will rebuff sign-and-trade proposals to simply bank the cap space for the summer of 2014 if Howard bolts.
• Should Howard decide to leave the Lakers, sources said, several options have been discussed internally in Lakerland. Among them: The Lakers could simply let him walk, go into the season with Kobe Bryant, Pau Gasol and Steve Nash as their centerpieces -- as they had planned in July 2012 before the trade for Howard materialized -- and focus on slicing into their luxury-tax bill.