Los Angeles Lakers:

Interview
October, 12, 2012
10/12/12
12:43
PM PT
This week, we had a chance to talk with two very entertaining actors, each with movies opening Friday.
First, the always awesome Bryan Cranston returned to the show ahead of "Argo," based on the true story of six American diplomats forced to hide at the home of Canada's ambassador to Iran during the hostage crisis that began in 1979. (I saw a screening earlier this week, and it's very good.)
CLICK HERE OR THE INTERVIEW.
Among the topics of conversation:
His memories of the hostage crisis.
Ben Affleck the leading man was frequently the object of ridicule. Ben Affleck the director, however, has built an impressive resume. Cranston's impressions after working with him on "Argo."
The experience as an actor of tackling such an important part of American history.
"Breaking Bad" is nearing an end, with the final eight episodes coming after the first of the year. His feelings on having to soon put Walter White to bed.
When Cranston -- a die-hard Dodgers fan -- first came on our show, he expressed interest in taking ownership of the Dodgers in a post-Frank McCourt era. Obviously it didn't happen. Any disappointment? How quickly could he take Ned Colletti's job if asked?
Kevin James opens "Here Comes the Boom," in which he plays a teacher moonlighting as a low level MMA fighter in order to raise money to save his high school's extracurricular programs.
CLICK HERE FOR THE INTERVIEW.
Among the highlights:
James is a card-carrying member of Gang Green. His thoughts on the Jets and Tim Tebow.
James named his daughter Shea, after the now-gone Mets home stadium. Lovely name, but was there any hesitation naming her after a building universally seen as an eyesore? In the process, we learn the name of James' hypothetical autobiography.
How difficult was it for James to dive into the MMA world for "Here Comes the Boom?" How good did he get?
This is the second time he's worked with Salma Hayek ("Grownups" being the other.) Fair to say she's following him around?
October, 11, 2012
10/11/12
11:28
PM PT
EL SEGUNDO, Calif. -- When the Lakers signed swingman
Chris Douglas-Roberts
on media day, I noted his somewhat unusual position.
Too good to be a camp body, but still someone fighting serious odds to make the team
.
The 40th pick of the 2008 draft by the then-New Jersey Nets, he's a guy who in his three seasons has shown the ability to score at the NBA level, and at one point was seen as a sleeper-type up-and-comer. But when the lockout came last year, Douglas-Roberts was among those players who took the bird in the hand, signing overseas with Virtus Bologna and staying in Italy after it ended.
The NBA is a tough place, where being out of sight can put a guy out of mind, too. Getting back in the league is no sure thing, even for a young player with a decent track record, making Douglas-Roberts one of the more interesting stories of Lakers camp.
I spoke with Douglas-Roberts on Thursday afternoon after practice.
Q: You were overseas the entire year. What was the calculation behind that decision, considering the labor situation the NBA faced at the time?
Chris Douglas-Roberts:
It was actually great for me, because during the lockout -- I'm was a fairly young player, I (had just finished) my third year -- so it was about basketball for me. It wasn't about money, I just wanted to play basketball. But I went over there, and made that commitment to stay. It definitely made me a better basketball player, and it made me a better person.
It made me more appreciative, because some days I didn't have heat. The living conditions were terrible. I had to heat up water to give my daughter a bath, some days. If you had the microwave on and the washer on, the electricity may go out in the whole house. It was very small. The shower at the gym that we practiced at, it was filthy. There was mold everywhere. You couldn't put your feet on the ground, barefoot. Guys were getting staph infections. It was basically back to when I was growing up in Detroit. But when I look at it, it just made me a better person and a player.
Q: Did you know what you were getting into?
CDR:
Not at all. I had no clue. When you think of Italy, you think of beauty. You think of good food, great people. Which was the case, but it's a different game over there. They look at basketball different, they look at the athlete different. You're practicing two times a day, regardless. Very hard practices, two hours both sessions, and there aren't any days off, really. It's more about the organization, really. It's not about the athlete, really.
Q: How concerned were you about taking yourself out of the NBA game? Out of sight, out of mind so to speak, for an entire year. Obviously you didn't know at the time if there would even be a season, here.
CDR:
Right. You know, I kind of made the decision to go there blindly. I've always been confident in myself, I always knew that I was an NBA player. I've performed in this league before. When I come in here, these guys know me. They don't treat me like (a guy in) the situation I'm in now. I've always been confident in myself. I felt like I could go over there and come back. I still feel that way now.
August, 27, 2012
8/27/12
3:08
PM PT

By Dave McMenamin
ESPNLosAngeles.com
Archive
The term "offseason" seems like a bit of a farce when you consider what forward Pau Gasol has been up to since the Lakers were eliminated from the playoffs in May. From visiting hospitals in L.A., to adding another silver medal to his collection in London, to continuing his charitable work with UNICEF, Gasol has been a busy man.
Gasol checked in with ESPNLosAngeles.com from the nation of Chad, where he is visiting in his role as UNICEF Spain Ambassador. Gasol hopes his trip will help bring awareness to the nutritional crisis going on in the Sahel belt, a region that spans across Africa from the Atlantic Ocean to the Red Sea. In Chad alone, UNICEF estimates that more than 127,000 children are at serious risk of malnutrition because of severe drought.
McMenamin:
Did you ever expect that your philanthropic efforts would take you all over the world? Did you ever expect to set foot in Chad?
Gasol:
No. Not really. But talking to UNICEF right after the season, we were thinking about planning a trip but also thinking and being aware of the situation right now that the whole belt of the Sahel is going through. Obviously, it's an emergency situation with a lot of kids in grave risk. So, I told them, 'Look, just tell me where you need me to go. Tell me what country needs help the most and I'll be there.'
McMenamin:
I understand it's a nutritional crisis. What exactly are you guys doing to help? Are you developing some kind of food source for the children? How are you focusing your efforts while you're over there?
Gasol:
UNICEF works more on the nutritional side of the crisis. Obviously with the lack of rain last year, the harvest has been really poor, so there's a food crisis that affects 18 million people. They're all at great risk of death because of it.
So, UNICEF provides them with nutritional centers to treat and prevent malnutrition. They also provide all the supplies -- the medical supplies, the formulas that (the children) eat, the treatment that they have to go through to get out of the malnutrition state. So, more or less, that's what UNICEF does. They also coordinate with other NGOs (non-governmental organizations) that are also here, which work at providing food and promoting agriculture and supporting by giving supplies and developing a way to get the water out of the ground (for treatment and consumption).
There's a bunch of stuff that's being done here because the infrastructure is so poor and so underdeveloped. There's a lot of things that are being done and a lot of efforts that are being put into all these areas. But still, there's more to be done.
McMenamin:
Obviously you've been involved with various causes through UNICEF; is it devastating to be there witnessing this situation? Can you describe what it's like dealing with children and your part on the ground while you're there?
Gasol:
It's hard to see the reality. I think it's positive for me to be here and experience and be able to share it with people who are interested in it and might want to listen to it because, obviously, these people need support. They need people who are willing to help them out and also to make people aware of what's going on in other parts of the world. There are people that are much less privileged than we are, just by the simple fact of being born in a different country, in a different continent. We just don't realize how lucky we are. I think it's good for me to also create awareness so these people receive a little more help.
McMenamin:
You told us in May when you
got the citizenship award
that you don't do this for recognition, but when you find out about new issues like this that you can get behind, is it in conjunction with UNICEF? How do you choose the next issue to try to help with?
Gasol
: We more or less analyze what's going on at the time. Obviously when there's an emergency like this one and a situation of crisis, a food crisis, I think that goes up in the priority list. But, if not, I like to create and be a part of more of a sustainable project, but obviously you have to attend to the basic needs and survival needs and rights in order to do something sustainable and long term. More or less, we evaluated every chance we had an opportunity to do something.
McMenamin:
I kind of touched on this before, but can you give me a sense of what the conditions are like in Chad? Are you seeing children who are so malnourished that they're having trouble doing basic tasks?
Gasol
: The severe, acute malnourished children, they're in really bad shape. All of them are in danger of dying. Luckily, if you catch them at an early state of it, you're able to treat them and it's not going to create any chronic effect after the treatment. But there are a lot of different layers. Malnutrition obviously comes from not eating properly, but also from not drinking clean water, which is another issue why I'm visiting and being here. The fact of being able to get water to drink that doesn't cause you diarrhea or cholera ... there's a lot of diseases that come from that.
August, 3, 2012
8/03/12
9:04
AM PT
Earlier in the week, Kobe Bryant said the Lakers
plan on running the Princeton offense this year
, in an effort to add more structure and better take advantage of their talent on that side of the ball. To that end, the Lakers are reportedly
adding Washington Wizards head coach and Princeton O expert Eddie Jordan to Mike Brown's staff
.



Thursday afternoon, Andy and I welcomed to the show new Lakers forward
Antawn Jamison
, who played for Jordan in D.C. for over four seasons. Among other things, we asked him what the new offense might look like for the Lakers, why it's a good fit, and how running a system helps give a team an identity:
Q: How did you enjoy playing in the offense, and more specifically how do you picture Steve Nash being used in it?
"The thing about [those seasons], we had Gilbert Arenas, Caron Butler, Larry Hughes -- we had guys that are offensive threats that can really put the ball in the basket. I think the notion of the [Princeton] offense is that it slows you down. teams that don't have that much talent use it because they're going against teams with much more talent and you're trying to slow them down, but we were up there in scoring every year.

And the thing I like about it, especially with Steve, you can do so much. Steve is a great player with the ball in his hands, and a great player without the ball in his hands. To have his kind of skill set mixed in with this offense, I think the sky is the limit. You put the defense in a bind. You're reading the defense, and every time the defense makes a mistake, it's layup after layup. Imagine having the talent of Pau Gasol or Andrew Bynum, being able to get to the elbow area and one or two dribbles they're right at the rim. You've got guys like Metta [World] Peace who can fight up and slash to the basket. And we all know what kind of attention Kobe's going to get when he gets the ball.

This offense really puts pressure on the defense, and makes them have to work. It's not you're coming down and one guy has the ball, and he's running down 15-20 seconds out of the clock and you're trying to find something. This sets up your teammates to get open shots. This sets up your teammates to create space on the floor. When you have space on the floor with the group of guys we have on this team, that's dangerous."

How important is it for a team to have a system, whatever that system might be?
"I think it's really important ... You know what teams run. It's the same sets, different terminology, or whatever... but with this offense, it gets everybody involved. That's the thing I like about it. Your center can flash up, he can be making passes. If he turns around and doesn't see anything, he has a one-on-one move. It's hard for the defense to take anything away. If they want to deny the ball, you can back-door cut. We've got a numerous amount of guys who can make those types of passes. It really puts your [opponent], defensively, in a bind because there are so many sets you can run.

There are so many things you can do out of sets, and I think with this team, with Steve Nash anchoring it, offensively guys are going to be willing to pass the ball and get guys involved. That's a formula for success ..."
Among the other topics of conversation:
What factored into Jamison's decision to choose the Lakers. It didn't even require Mitch Kupchak to sing the Carolina fight song. (:45)
How finally getting a chance to play for a title contender has recharged Jamison's batteries heading into his 15th NBA season, and what changes for him. It is, he says, "a different type of pressure." (5:30)
Interesting facts mined from www.antawnjamison.com, and the "About Antawn" essay written by ... his mom. First, was Jamison really a fat baby? And what about the junk food habit she writes about? Jamison says any photographic evidence of the former has been destroyed, but cops to the latter. Yes, he still has a weakness for the sugary stuff, with one major exception. "Oh, I don't mess with honey buns anymore." In eight or so years covering the NBA, that might be my single favorite quote. (14:00)
July, 25, 2012
7/25/12
7:29
PM PT
Wednesday afternoon in El Segundo,
Antawn Jamison
put pen to legally dense paper and
officially became a Laker. Fair to say he was very pleased to have done so
.
Reinforcing nearly ubiquitous reports about the quality of his character and solid influence in the locker room, Jamison spoke in glowing terms about the opportunity in front of him, and the desire to contribute to a winning team. He talked about coach
Mike Brown
, of his own defensive reputation, and more, but if one quote summarizes why he jumped at the chance to play in L.A. over other more lucrative financial opportunities, it's this:
"The type of career I've had, as an individual, it hasn't been bad, but as a team standpoint, it hasn't been good. And to come into this situation and know that every game, every practice, every film session, this is what it's all about. To be in this situation for me, I've been through the bad, now it's time to be a part of things that really matter."
On to the video...
Jamison, on the process of choosing the Lakers and the opportunity in front of him:
On his defense
, which he freely acknowledges hasn't been a strong suit throughout his career. Jamison vowed, however, not to be a "weak link" for the Lakers, and said playing games of consequence with highly motivated teammates will definitely have a positive impact.
Dennis Rodman
, he is not, but hopefully Jamison can avoid being a liability. Still, it's enough of a question mark that even general manager
Mitch Kupchak
joked about his less-than-stellar reputation on that end of the floor during his opening remarks. But that Jamison didn't shy away from questions nor sugarcoat answers about that part of his game is definitely a positive thing.
July, 18, 2012
7/18/12
7:59
PM PT

By Andy Kamenetzky
ESPNLosAngeles.com
Archive
There's no question the circumstances
Mike Brown
encountered during his first season in L.A. weren't easy. No offseason communication with players. A shortened, chaotic training camp filled with drama surrounding
Chris Paul,
Pau Gasol
and
Lamar Odom
. Precious little practice to install and teach a new system. An imperfect roster of players slow to warm to his game plan and presence. Being charged with implementing
Ramon Sessions
halfway through the season. Even as someone who has questioned whether Brown possesses the offensive creativity and natural gravitas to coach the Lakers,
I've never denied the hand he got dealt was pretty lousy.
(Having said that, I also thought Brown made life tougher for himself than need be at times -- particularly when it came to solidifying his rotation -- and needed to assert more authority, even as "the new guy.")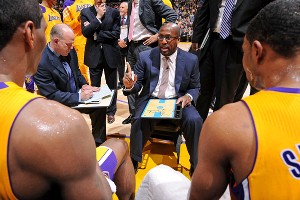 Andrew D. Bernstein/NBAE/Getty Images
Brown's job should be easier the second time around.
But that's now history in the rear-view mirror. The 2012-2013 season will be conducted under normal circumstances, and with a pretty solid new point guard to boot. While appearing today on ESPNLA 710's Max and Marcellus --
the entire interview can be heard here
-- Brown was asked what he expected to see during a calmer setting:
"I think the one thing you will see is a little bit more consistency than what we had last year. Everything was kind of done on the fly and for us, I thought the biggest adjustment was losing Lamar. You come into the season and you know you have three veteran bigs that you can rotate. And when Lamar's not there, now you've got to try to figure out how to fit a younger guy into his spot, that was a blow for us that obviously with the lockout and everything that was happening, we weren't really expecting.
"But our guys did a great job of coming together at the right time and finding ways to get wins. You know, we had a chance against Oklahoma City a couple of times down the stretch of a couple of games, and we blew it. But we can sit here and say, 'Could have, should have, would have, things might have been different.' But Oklahoma City is a very good team. You've got to give them credit and I think we'll be ready this coming year."
June, 17, 2012
6/17/12
4:49
PM PT
By the Kamenetzky Brothers
ESPNLosAngeles.com
Archive
Actor
Donald Faison
broke out with his role in "Clueless" back in 1995, then landed other solid parts before really hitting it big, cast as Dr. Christopher Turk on the long-running (and very funny) sitcom "Scrubs." He now stars on TV Land's "The Exes," kicking off its second season Wednesday night at 10:30 p.m. PT.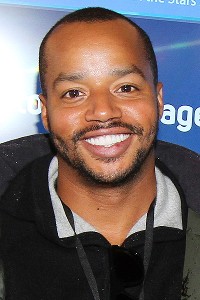 Jerritt Clark/Talent Resources/Getty Images
Donald Faison, best known for his role on "Scrubs," now stars on TV Land's "The Exes."
A huge sports fan, Faison joined us on Saturday's edition of "ESPNLA On Air."
CLICK HERE FOR THE FULL INTERVIEW
We covered a lot of ground, starting with his role as a sports agent on "The Exes." Does he draw any inspiration from current members of the profession? From there...
The mess that (still) is his beloved New York Knicks, and whether he thought Phil Jackson ever might end up there. (2:30)
After playing such a well-known character on "Scrubs," how hard is it for fans to buy him in another role? (5:45)
His role in "Remember the Titans," and what he learned from working with Denzel Washington. (8:10)
What makes for a successful TV comedy? (10:30)
Finals talk, and why he's rooting for OKC. Keep in mind, he's a Knicks fan. Plus, some love for Kobe Bryant. (12:00)